An easy crock pot meal, this slow cooker pulled beef recipe is the perfect dinner solution! Just a few minutes of prep, and your slow cooker does the rest. A fantastic way to prepare brisket, roast or flank, it's great for pulled beef sandwiches and a delicious topping for nachos, pizza and more!
This post may contain affiliate links. Delightful E Made is a participant in the Amazon Services LLC Associates Program, an affiliate advertising program designed to provide a means for us to earn fees by linking to Amazon.com and affiliated sites.
Do you love the ease and convenience of a slow cooker meal? This slow cooker pulled beef recipe is an fantastic way to enjoy a delicious, hearty meal with little work involved.
Great for busy weekdays when you have multiple activities or even a lazy weekend where you just want to relax, this slow cooker pulled beef is the perfect dinner solution.
In this recipe post I'll show you exactly how to make slow cooker pulled beef, what you'll need, and ways to enjoy the moist, juicy meat.
What do I need to make slow cooker pulled beef?
Here's a quick reference checklist of the ingredients and tools you'll need to make this pulled beef recipe:
3-4 lb. beef brisket, chuck roast or flank steak
Large yellow onion
Beef broth
Pulled Beef Seasoning:
Brown sugar – if you're watching your refined sugar intake, I recommend using Swerve Brown Sugar alternative, which is a great option.
Chili powder
Worcestershire sauce
Liquid smoke
Cumin
Salt – you could also use garlic salt
Ground pepper
Necessary Tools:
For exact ingredient amounts and full recipe instructions be sure to scroll down to the bottom of this post to the recipe card. Thanks!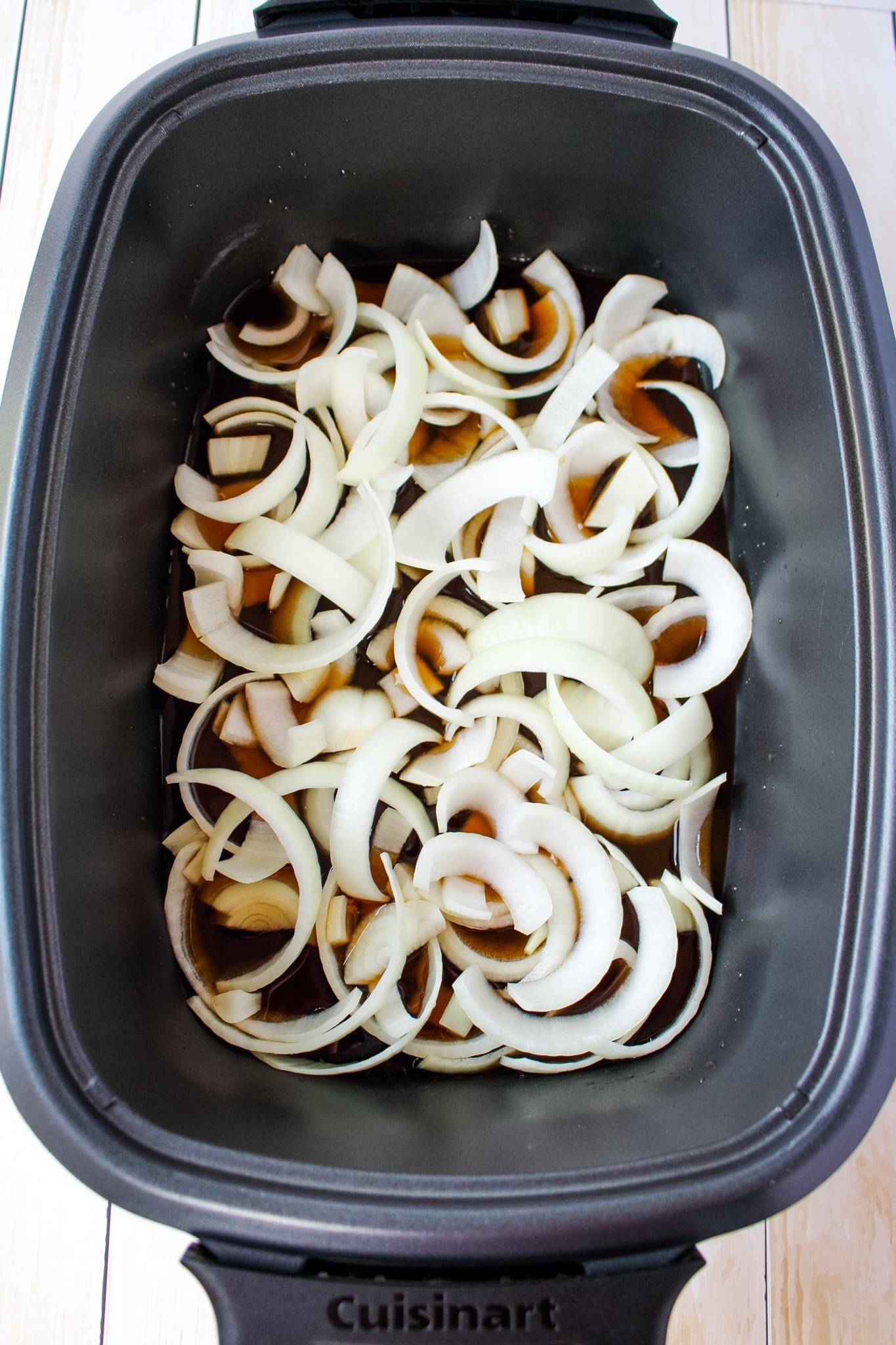 How do you make slow cooker pulled beef?
Slow cooking beef brisket or chuck roast is quite simple. Start with a large onion, and beef broth in the bottom of the slow cooker.
To season the beef, create a simple rub for the beef. The rub consists of brown sugar, chili powder, cumin, salt, pepper, Worcestershire sauce and liquid smoke. This rub is very similar to the rub I use for my Grilled Pork Loin with Sugar and Spice Rub.
The rub will go over the entire surface of the meat – top, bottom and sides of the beef.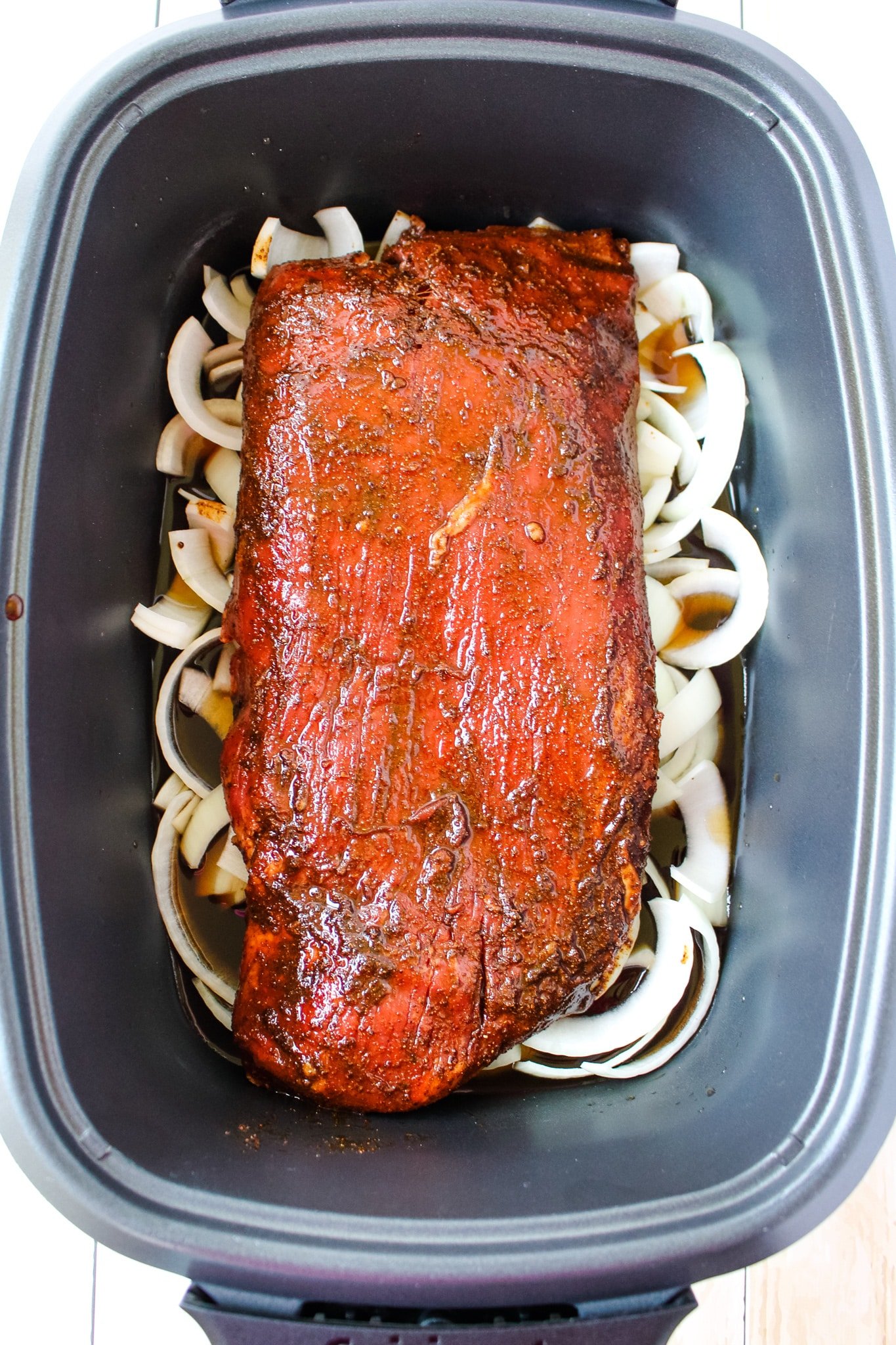 You'll then place the beef on top of the onions and broth in the slow cooker. From here, the slow cooker does the rest of the work for you. Typically this will cook for 4-6 hours on high, or 6-8 hours on low.
How do I keep beef from drying out in the slow cooker?
First, don't overcook the beef. For best results, cook the beef "slow and low." Six to 7 hours on the low setting (8 hours for a very large roast), will give it adequate time to cook, while still keeping it juicy.
Also, when cooking, make sure there is adequate liquid in the slow cooker. The beef broth and onions help keep the meat juicy while cooking.
Lastly, once the meat is shredded, transfer it back into the slow cooker with the rest of the juices to keep it moist. Not only will the meat be juicy, but it will continue to take on the flavors of the spices, onions and broth.
Once the beef is done cooking, you'll have the most amazing, tender, juicy meat! Feel free to keep the onions along side the meat, as they will be just as tender and flavorful. The onions are great served with the beef on pulled beef sandwiches!
This beef is also fantastic for topping nachos, like my Loaded Steak Nachos, or adding to pizza or pasta. Enjoying it with mashed potatoes, and gravy is pretty awesome as well!
Need a great barbecue sauce to go with this barbecue beef? Try my Smokey Chipotle Barbecue Sauce or my Homemade Honey BBQ Sauce Recipe – it's the perfect combination of smokey, spicy and sweet!
What can I serve with pulled beef?
Sides like mashed potatoes, steak fries, vegetables and pasta salad are all great side dish options for a pulled beef sandwich. Here are some of my favorite recipes that would be perfect along side this beef: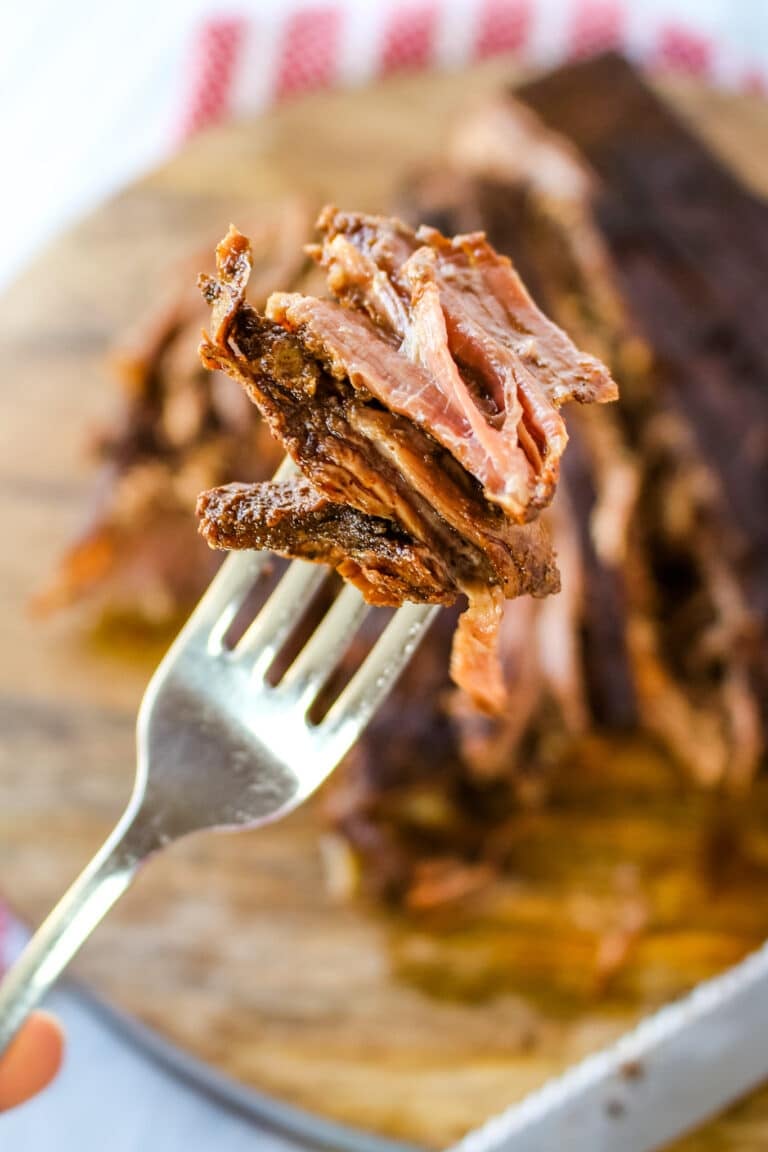 Love cooking with beef? Check out some of my other beef and steak recipes:
Looking for more slow cooker recipes? Check out my best here: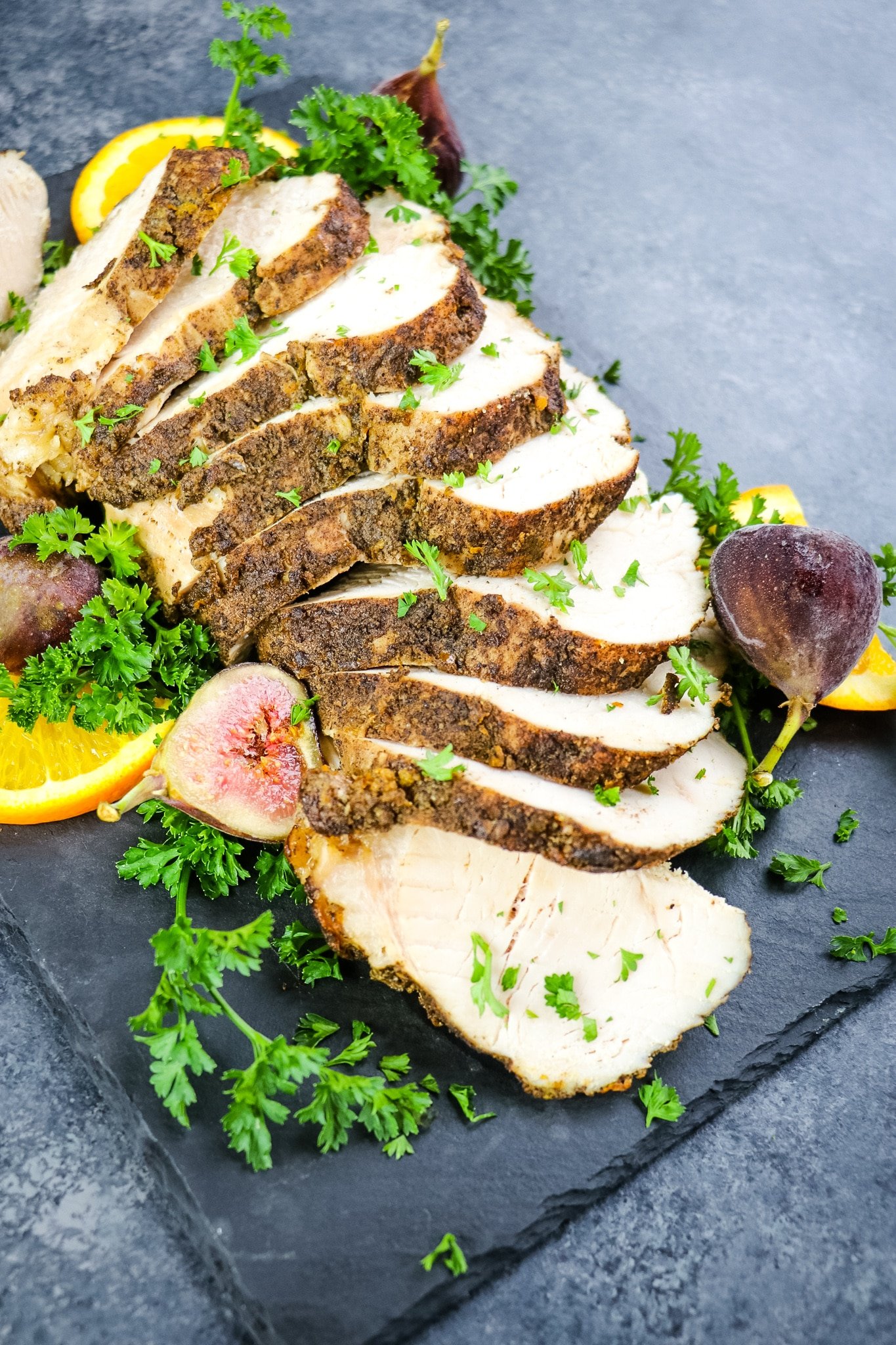 ---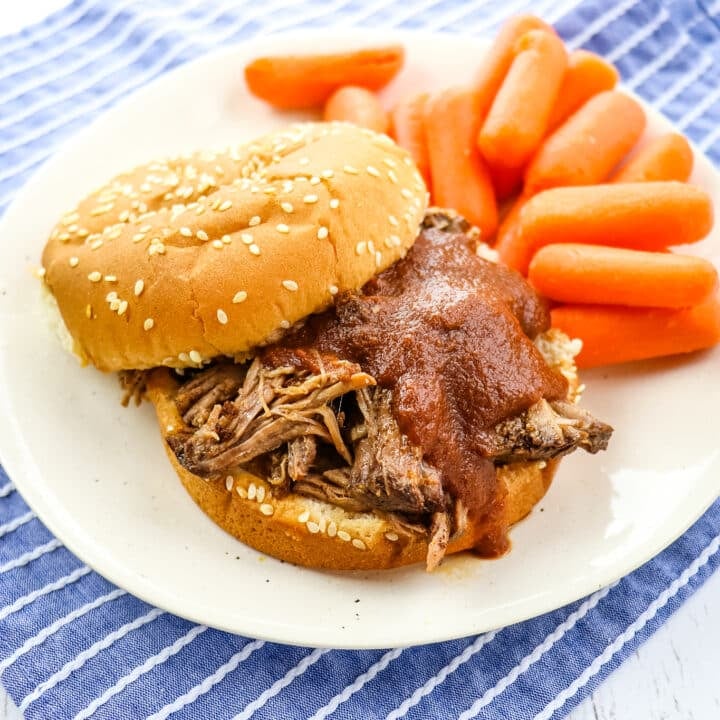 Slow Cooker Pulled Beef
Total Time:
7 hours
10 minutes
Looking for a super juicy, flavorful slow cooker pulled beef recipe? This simple shredded beef is made with just 10 minutes of prep, and your slow cooker does the recipe. Great for busy weekdays when you don't have much time to cook.
Ingredients
3 lb. beef brisket, chuck roast or flank steak, trimmed of excess fat
1 large yellow onion, sliced into large strips
1 (15 oz.) can, beef broth
Shredded beef seasoning:
1 Tbsp. brown sugar
1 Tbsp. chili powder
1 Tbsp. Worcestershire sauce
1 1/2 tsp. liquid smoke
1 tsp. cumin
1/2 tsp. salt
1/2 tsp. pepper
Instructions
In the bottom of a slow cooker, add the beef broth and onion slices.
In a small bowl, add the brown sugar, chili powder, Worcestershire, liquid smoke, cumin, salt and pepper. Stir together until combined - you'll have a wet spice rub with the consistency of a paste.
Cover the meat completely with the spice rub, on all sides of the meat. Place the beef on top of the onions and broth in the slow cooker.
Cook the beef on high for 4-5 hours or low for 6-7 hours.
Once cooked, shred with forks on a cutting board. Transfer the shredded beef back to the liquid and onions to keep warm for serving.
If desired, serve over buns or rolls for pulled beef sandwiches. Top with your favorite barbecue sauce.
Notes
Storage: store any leftovers in an airtight container in the refrigerator. Meet will keep for 5-6 days refrigerated. To keep moist, I recommend refrigerating with some or all of the juices the meat cooked in.
Nutrition Information:
Yield:

8
Serving Size:

1
Amount Per Serving:
Calories:

557
Total Fat:

34g
Saturated Fat:

14g
Trans Fat:

0g
Unsaturated Fat:

16g
Cholesterol:

198mg
Sodium:

405mg
Carbohydrates:

4g
Fiber:

1g
Sugar:

2g
Protein:

55g