Shrimp and his best friend bacon team up together in this amazing soup!  Loaded with flavor, this soup is a must-have on a cold fall or winter night.  Its the ultimate comfort food!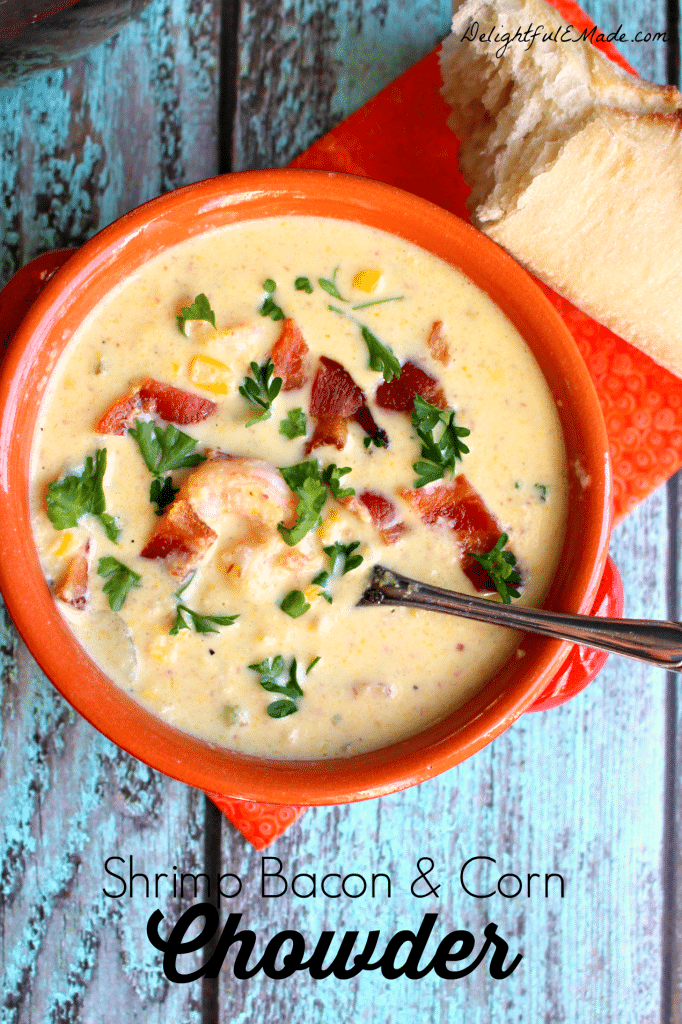 I know I've said it before, but its worth noting again; I'm pretty much always looking for and trying new dinner recipes.  They need to be easy to make, quick to prepare, include simple ingredients and on the healthier side for my family.  Can you relate? Once I come across something that's easy for me to prepare and my family enjoys it, I consider it a dinner victory!  This Shrimp Bacon & Corn Chowder is my latest dinner victory!
This soup is fabulous in so many ways!  The ingredients are simple, and items that I usually have on hand in my pantry and fridge.  The celery, onion and garlic along with the sweet corn provide a fantastic base for this soup.  These veggies add some nice texture and flavor as well.  As for the shrimp and bacon – I'll just say that they belong together!  They are absolutely fantastic in this soup and provide just the right amount of smokey, savory goodness.
One of the last steps in this easy soup recipe is something that provides great creaminess.  I put about half of the cooked soup into the blender, puree and then add the puree back to the rest of the soup.  This ensures there is still some nice chunky pieces left in the soup, but also a nice smooth texture – perfect for dunking a crusty piece of french bread.
Here's how this delicious, comforting soup comes together:

Shrimp Bacon and Corn Chowder
Chunky and creamy this amazingly delicious soup is packed with flavor! The ultimate comfort food!
Ingredients
1 (12 oz. pkg) frozen shrimp (uncooked, peeled, deveined), thawed
3 Tbsp. olive oil, divided
2 ribs of celery, chopped
1 medium yellow onion, chopped
1 (16 oz.) bag, frozen sweet corn, thawed
2 cloves garlic, minced
8 slices, thick cut bacon, cooked crisply, and chopped into pieces
2 c. chicken broth
1 c. half & half
1/4 tsp. garlic powder
1/4 tsp. onion powder
1/4 tsp. salt
1/4 tsp. freshly ground pepper
Chopped parsley (optional as garnish)
Instructions
In a medium stock pot or dutch oven, heat 2 Tbsp. olive oil on medium high heat. Thoroughly rinse the thawed shrimp, and add to the pot. Saute the shrimp for 1-2 minutes, removing from heat as soon as the shrimp begins to turn light pink. Set cooked shrimp aside.
Add the additional Tbsp of oil to the hot pot, keeping the heat at medium high. Add the chopped celery, onion and garlic. Saute for 8-10 minutes or until the onions begin to turn translucent. Add the thawed corn and saute for 3 more minutes. Add the chicken broth, half and half, garlic powder, onion powder, salt and pepper. Add the bacon, reserving a couple slices for topping the soup. Bring to a simmer.
In a blender, add about half of the soup mixture and puree to a creamy consistency. Add the puree back to the rest of the soup ingredients. Add the cooked shrimp to the rest of the soup, and simmer for 5 more minutes. Serve hot and top with remaining bacon pieces. Garnish with parsley if desired.
This soup is such a great comfort food and a delicious dinner to serve your family any night of the week.  Everyone will love the savory flavor of the bacon with the shrimp, along with the sweetness of the corn.  It has the perfect texture, as its both creamy and chunky – perfect for dunking bread.
As the days get shorter, and night come sooner, bring this fantastic comfort food to the table.  It will not only warm your body, it will warm soul as well.
Enjoy!
Erin