This Lime Chicken Chili is a healthy, delicious dinner that's done in under 30 minutes!  Made with chicken, beans and peppers along with fresh lime juice and cilantro, this chicken chili recipe is fabulous!
This post may contain affiliate links. Delightful E Made is a participant in the Amazon Services LLC Associates Program, an affiliate advertising program designed to provide a means for us to earn fees by linking to Amazon.com and affiliated sites.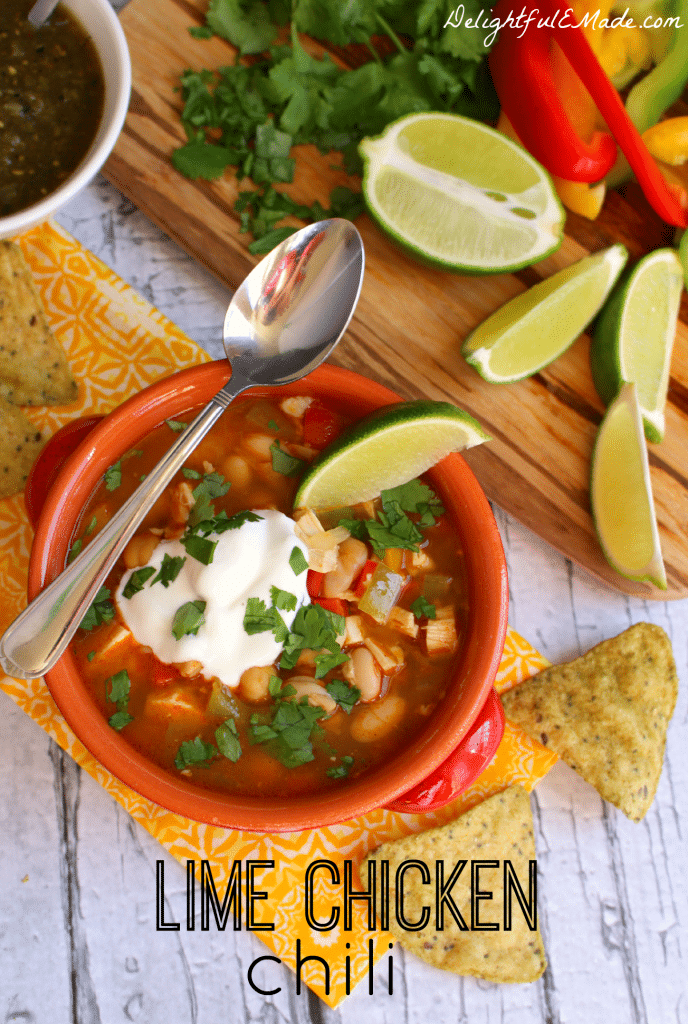 Lime Chicken Chili – the perfect Chicken Chili recipe!
Today, my son Harrison scored his very first touchdown in a flag football game! He normally plays center, and snapping the football seems to be what he's good at. However, today our fantastic coach decided that it was Harrison's turn to get into the end-zone. As he got the hand-off, he dodged the defensive players and ran it in for a touchdown. He was so excited! Lots of cheers, high fives, and fist-bumps – and that was just by the parents! The boys were thrilled to win their football game, and it turned into a game that we will remember for many years to come. Man, its days like today that I just love being a mom to that sweet kid of mine!!
The game weather was cold and windy, and by the time we got home we were all chilled to the bone. Once the celebrations subsided I knew it was the perfect day for soup. Sunday always seems to be a great day for chili. It just feels like chili and football belong together! I had all the ingredients in the fridge to make Lime Chicken Chili.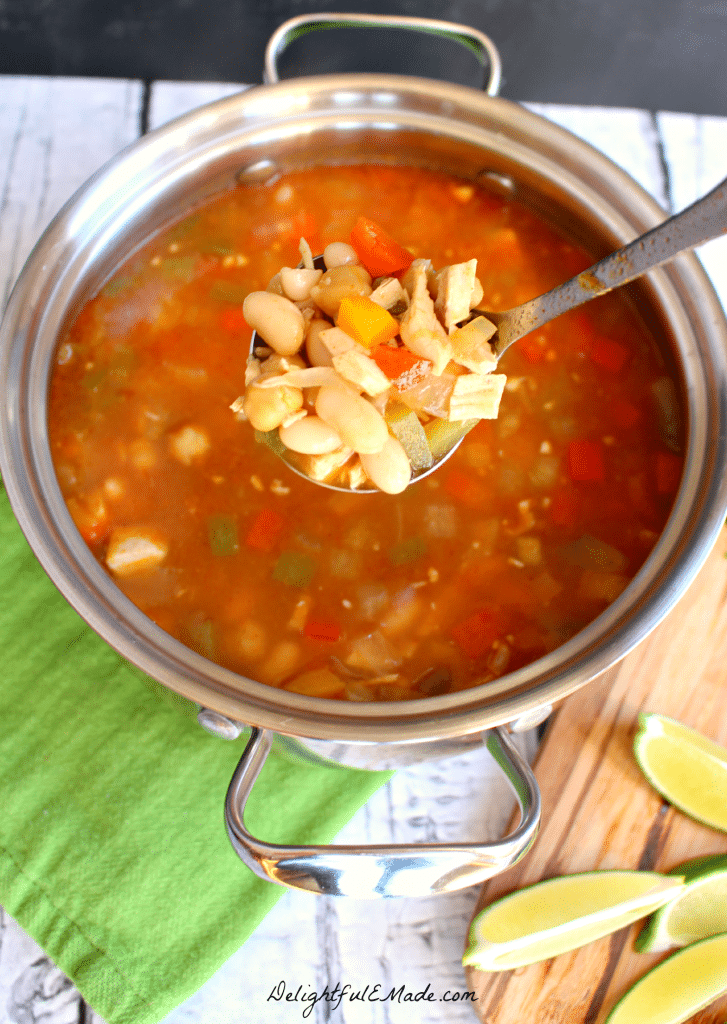 This delicious soup comes together in no time at all. Its perfect for a weeknight dinner, and utilizes simple ingredients that you may already have in your fridge and pantry. This soup ended up being the perfect lunch to feed my cold, hungry crew after a morning of football.
Topping ideas for your Chicken Chili
Topped with fresh cilantro, sour cream and a wedge of lime, this soup has a great fresh flavor. You could also add avocado, mex-blend cheese, tortilla chips, jalapenos or any other favorite chili toppings. This soup is also a nice, healthy dinner option, as it includes protein and fiber packed chicken, beans and peppers.
If you loved this simple and delicious Lime Chicken Chili, be sure to check out some of my other recipes:
This Lime Chicken Chili is completely delicious, and perfect for a cool fall or winter day. Here's how easy it is to make: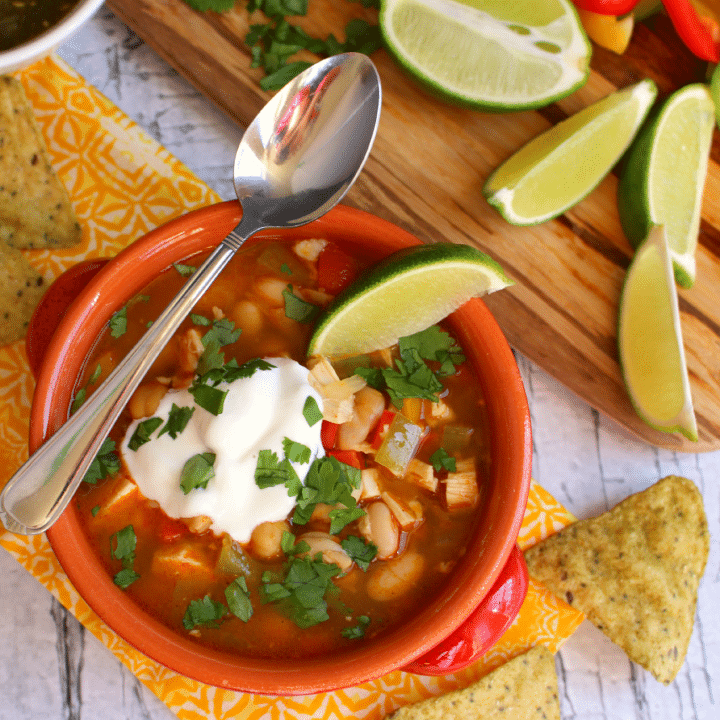 Lime Chicken Chili
Ingredients
2 Tbsp. olive oil
1 c. diced bell pepper (red, yellow, green or mix)
1 medium yellow onion, diced
3 cloves garlic, minced
1 can (15.5 oz) Great Northern beans, drained and rinsed
1 can (15.5 oz) Garbanzo beans, drained and rinsed
2 c. cooked chicken, chopped or shredded (rotisserie chicken works well)
1 carton (32 oz) Chicken broth
juice of 2 limes (about 1/3 c.)
3 Tbsp. taco seasoning (or one envelope)
Instructions
In a large sauce pan or medium dutch oven, heat the olive oil on medium-high heat. Add the diced onion and peppers. Saute for 3-5 minutes or until the onions become translucent. Add the garlic and beans and saute for 2 more minutes. Add the chicken, broth, lime juice and seasoning, stir to incorporate, and bring to a simmer. Simmer for 5-10 minutes.
Top with your favorite Tex-Mex toppings: sour cream, cheese, jalapenos, salsa verde, or tortilla chips. Enjoy!
Nutrition Information:
Serving Size:

1
Amount Per Serving:
Calories:

1290
Total Fat:

40g
Saturated Fat:

5g
Cholesterol:

23mg
Sodium:

8550mg
Carbohydrates:

178g
Sugar:

20g
Protein:

58g
This soup was perfect for a cold day like today. As the days get shorter, and the temperature drops I definitely see more of this delicious, healthy soup in our future. There may be much more football in our future as well! 😉
Enjoy!
Erin