The best potato soup recipe you'll ever make!
This super-simple Slow Cooker Loaded Baked Potato Soup is the perfect dinner solution for busy weeknights. Loaded with big chunks of ham, potatoes, and topped with lots of cheese, bacon and onions, this comfort food is a great for anyone who loves a hearty, delicious bowl of soup!
This post may contain affiliate links. Delightful E Made is a participant in the Amazon Services LLC Associates Program, an affiliate advertising program designed to provide a means for us to earn fees by linking to Amazon.com and affiliated sites.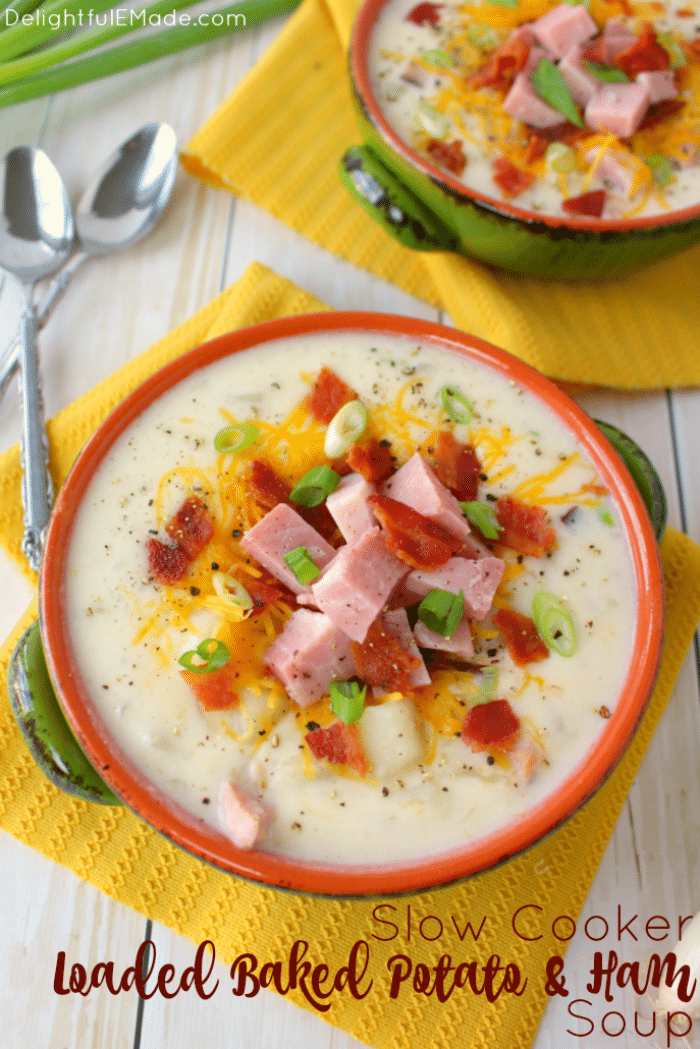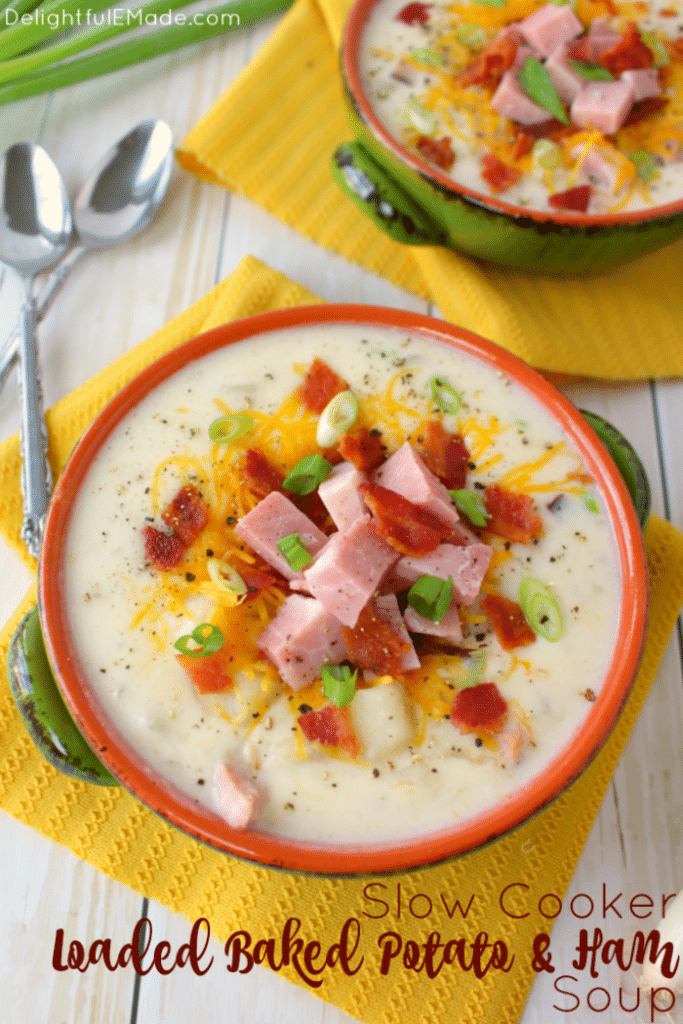 Slow Cooker Loaded Baked Potato Soup
Fall is just around the corner. It is, without a doubt, my favorite season of the year! Back to school, football season, cooler weather, and the turning of the leaves are just a few of my favorite attributes that come with the season. We'll have several activities going this fall, including my son's baseball season, Drum Corp performances, as well as all of his school activities. It's the perfect time to get the crock pot out and make a big batch of this Slow Cooker Loaded Baked Potato Soup!
It makes for a wonderfully busy (and blessed) life! With all of these busy activities, I quickly learned that having my slow cooker at the ready is a must. My trusty slow cooker is easily my favorite go-to kitchen tool. It's fantastic for having dinner ready to eat once we get back from practices and actives or before we head out to games. My newest favorite slow cooker recipe is this incredible Slow Cooker Loaded Baked Potato Soup.
Step 1: Start with Ham
One of my favorite ways to prepare baked potato soup is to cook it in the slow cooker with delicious, smokey Sugardale Ham. It is a wonderful addition to the soup. When cooking along with the potatoes and onions in the slow cooker, the ham adds amazing savory flavor, that goes perfect in this hearty soup.
I used a Sugardale Ham Roast, which is fantastic for chopping and adding to soups, stews, pasta, pizza and more! You get great value for the amount of meat you get in each roast. Plus, Sugardale Ham Roast is great prepared as Sugardale suggests in the enclosed cooking bag for an easy weeknight meal. This is great for left over ham! For this recipe, I add about two cups of diced ham to the soup. I will then chop up the remaining roast and add it to freezer bags, perfect for future meals. I've already earmarked one of these packages of ham for my Thin Crust Smokehouse Pizza, and definitely more batches of this fantastic soup!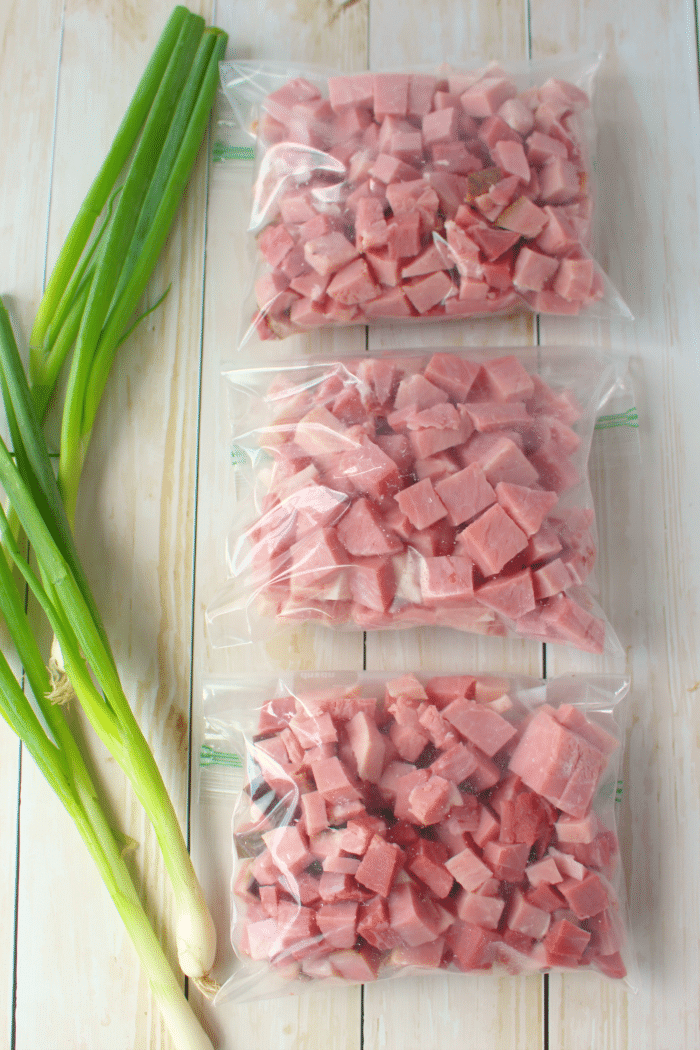 Step 2: Add the Ham, Potatoes and Onion to Slow Cooker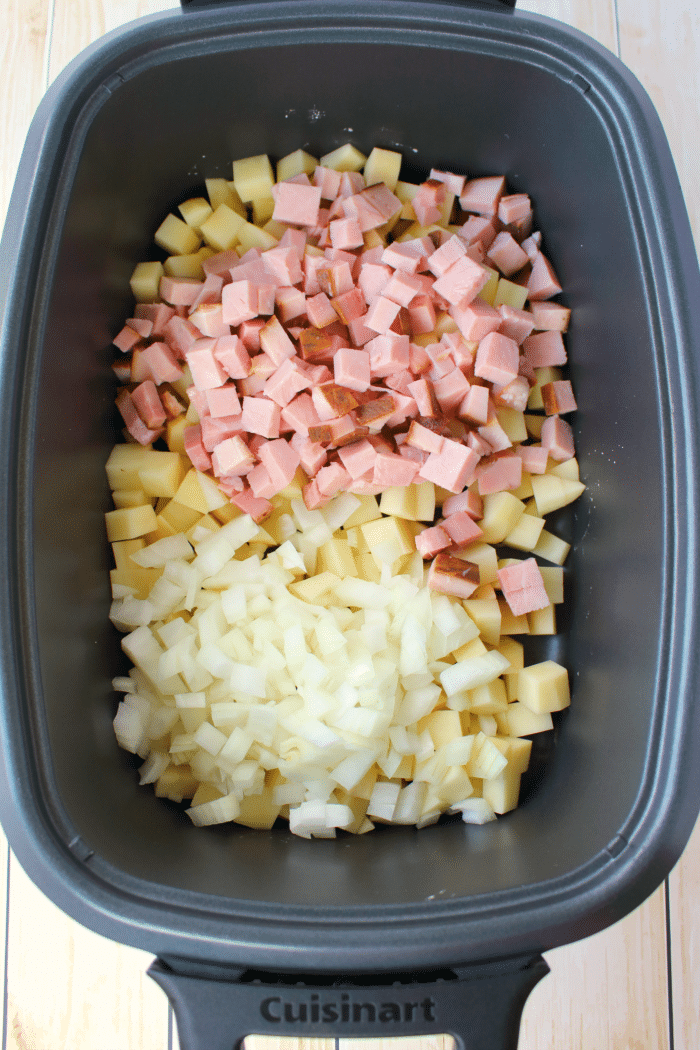 Once you've diced the ham, I'll add it, along with the diced potatoes, and chopped onion to the slow cooker. Then, add the carton of chicken broth. Depending on the time you have until dinner, set your slow cooker on low for 4-6 hours, or on high for 3-4 hours. When you come home, your house will smell amazing, with this delicious, savory soup simmering away!
Step 3: Add the Half and Half Mixture before serving
When the potatoes have cooked through, you can then add the half-and-half mixture. This comes together on your stovetop in just a few minutes. Add this to the soup, and continue to cook for another 20-30 minutes. Once your soup is done, feel free to add extra toppings, like shredded cheddar cheese, sliced green onions, more diced Sugardale ham, and even some crispy, Sugardale bacon! It will taste just like a loaded baked potato, but more creamy and comforting!
Not only is this hearty soup great for a busy weeknight, it will be fantastic for lazy Sundays when we're watching football. Keeping it warm in the slow cooker, and enjoying a big bowl of this comfort food is the perfect way to spend a fall afternoon.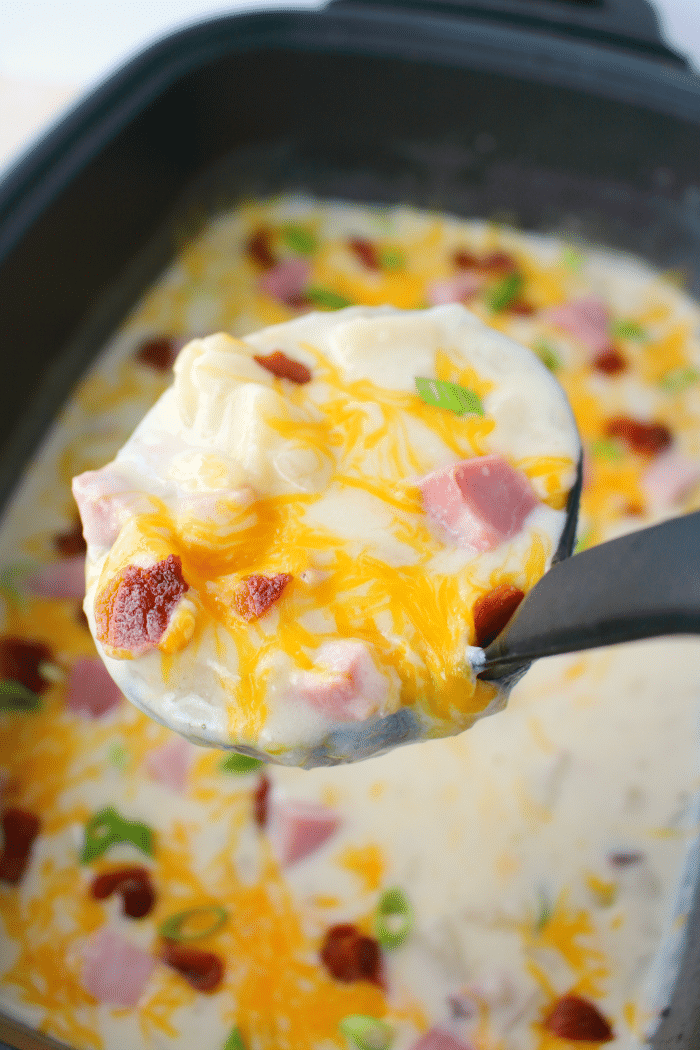 Adding extra ham, cheese and bacon to your bowl of soup is the perfect way to enjoy this delicious comfort food. It makes it wonderfully hearty and filling, and a great way to add extra flavor and crunch.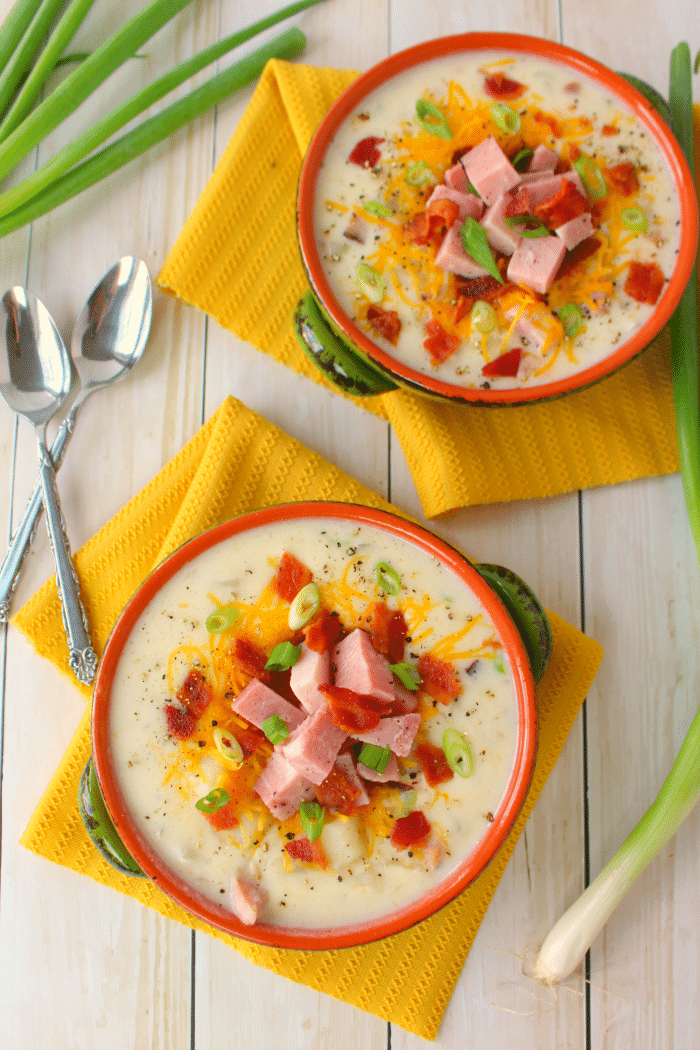 Here's a quick-reference grocery list of the ingredients you'll need for this fantastic Slow Cooker Loaded Baked Potato Soup:
Russet potatoes
Ham Roast
Yellow Onion
1 carton, chicken broth
Butter
Flour
Half and Half
Sour Cream
Ground Pepper
For toppings: Ham, Bacon, Cheddar Cheese, Green Onions or Chives
(For exact ingredient amounts and complete directions, see full recipe below.)
If you loved this Slow Cooker Loaded Baked Potato Soup recipe, be sure to check out some of my other recipes:
Here's how this easy, delicious Slow Cooker Loaded Baked Potato Soup comes together:
Slow Cooker Loaded Baked Potato and Ham Soup
The best potato soup you'll ever have! Made in the slow cooker, this super-simple soup recipe is great for busy weeknights. Loaded with big chunks of ham, potatoes, and topped with lots of cheese, bacon and onions, this comfort food is a great for anyone who loves a hearty, delicious bowl of soup!
Ingredients
3 large, Russet potatoes, peeled and diced (about 4 cups)
2 c. Sugardale Ham Roast, diced
1 medium yellow onion, chopped (about 3/4 cup)
1 (32 oz.) carton, chicken broth
4 Tbsp. butter
4 Tbsp. flour
1 pint (2 cups) half and half
1/2 c. sour cream
1/2 tsp. fresh ground pepper
Additional toppings:
additional diced Sugardale Ham
Sugardale bacon, cooked crisply, and broke into pieces
cheddar cheese, shredded
green onions or chives, chopped
Instructions
To the slow cooker, add the diced potatoes, ham, onion and chicken broth. Cover with tight fitting lid and cook on low for 4-6 hours or on high for 3-4 hours. Test potatoes with a fork to ensure they're tender.
About 30 minutes before done, melt butter in a medium saucepan. Whisk in the flour and cook for about 2 minutes, whisking continually. Slowly whisk in the half and half, and whisk until smooth, and thickened slightly. Add in the sour cream and stir until combined. Pour the mixture into the potato soup, and cook for an additional 20-30 minutes.
Add the toppings on to the top of the soup in the slow cooker, and/or serve the toppings separately and top individual soup bowls with toppings.
Nutrition Information:
Serving Size:

1
Amount Per Serving:
Calories:

1414
Total Fat:

116g
Saturated Fat:

75g
Cholesterol:

371mg
Sodium:

984mg
Carbohydrates:

67g
Sugar:

29g
Protein:

25g
For an addition tasty topping on your soups and stews, try crumbling some crisp cooked Sugardale bacon for amazing flavor and crunch!
Enjoy! ~Erin