Cereal treats brought to a whole new, fun, colorful level!  Made in a bundt pan, and loaded with colorful spring M&M's candies, and drizzled with pretty pastel candy melts, this cake is perfect for Easter, or any Spring celebration!  A fun, easy project to do with your kids, and grand kids, too!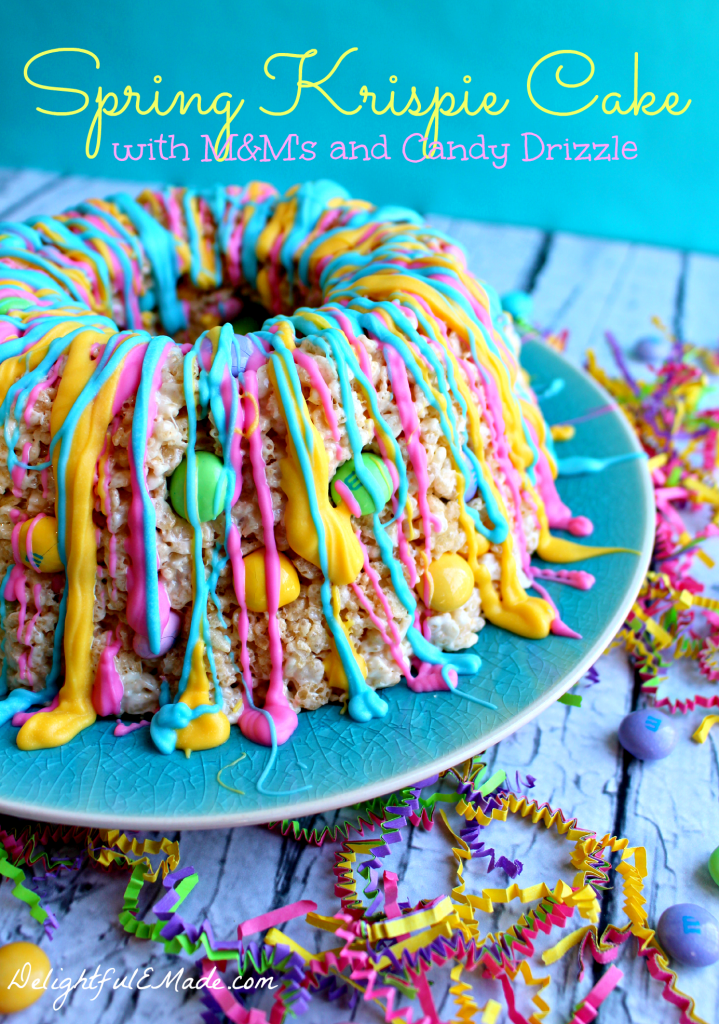 I don't know about you, but as a kid, I ate what seems to be thousands of rice krispie treats.  Because they are so easy to make, we learned to make them by ourselves pretty early on.  Between my brother and I, we could easily go through a batch in one afternoon!  We eventually discovered the art of putting M&M's in with the cereal – oh, my!  They went from good, to AMAZING!  Have I ever mentioned that M&M's are my favorite candy?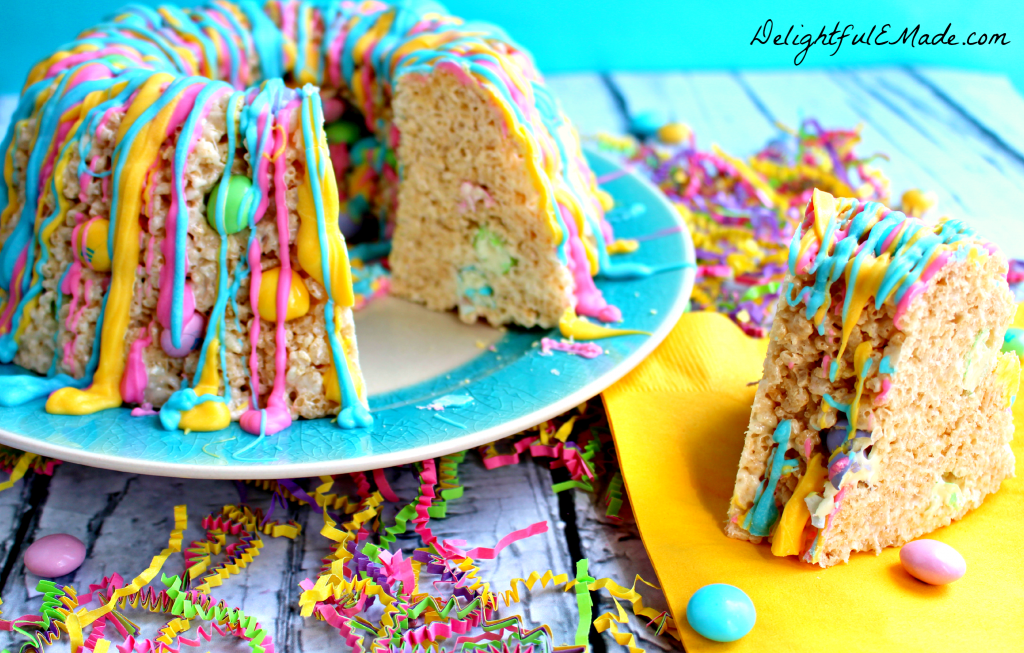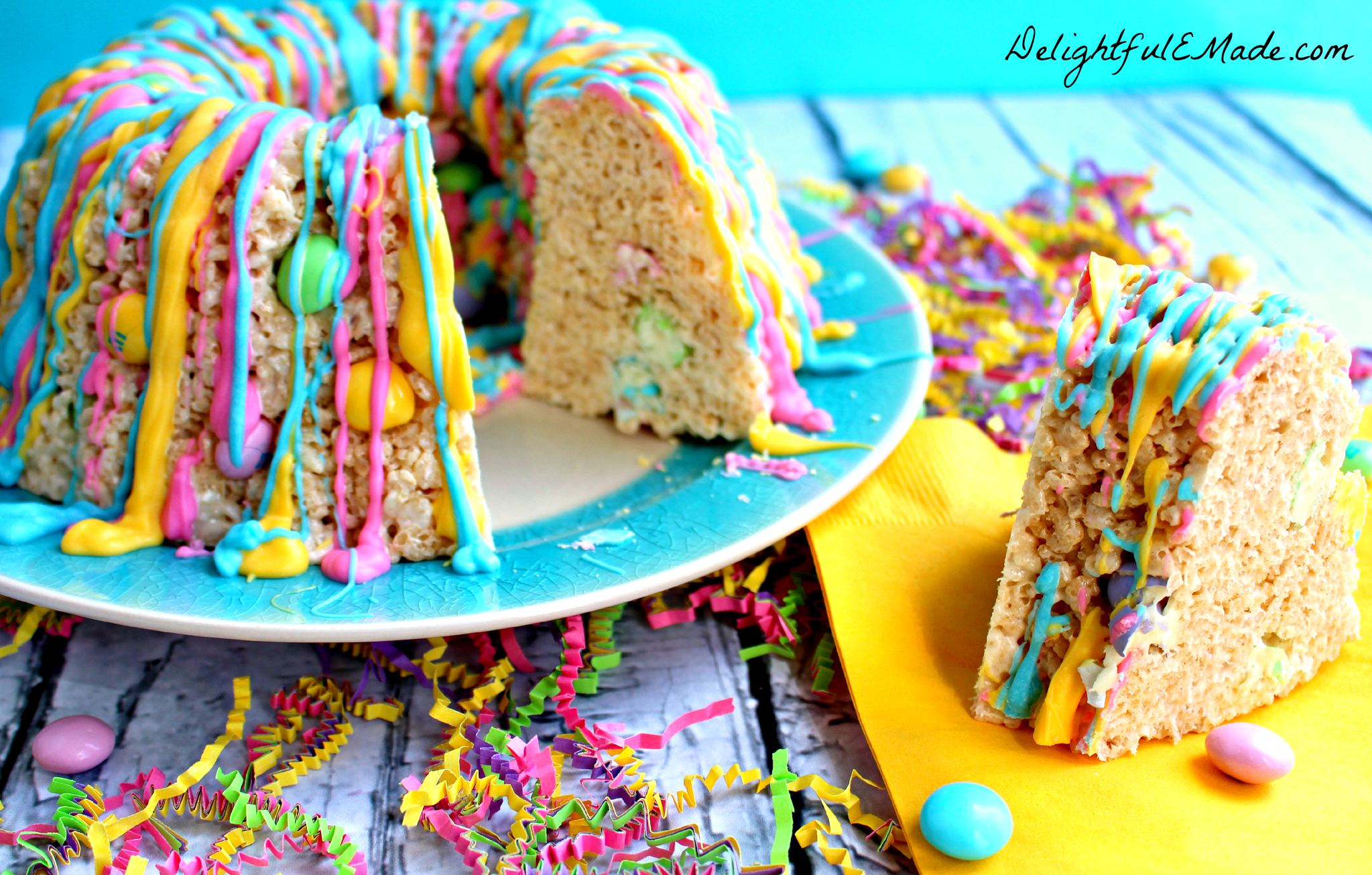 Now that I'm the mommy, I'm always looking for fun, seasonal treats for my kiddo.  While strolling through Target, I discovered they have White-chocolate Easter M&M's!!  How cool is that?  These were the perfect addition to add to my Spring Krispie Cake!  FYI – The regular milk chocolate M&M's are just as delicious as the white chocolate, and work just as well.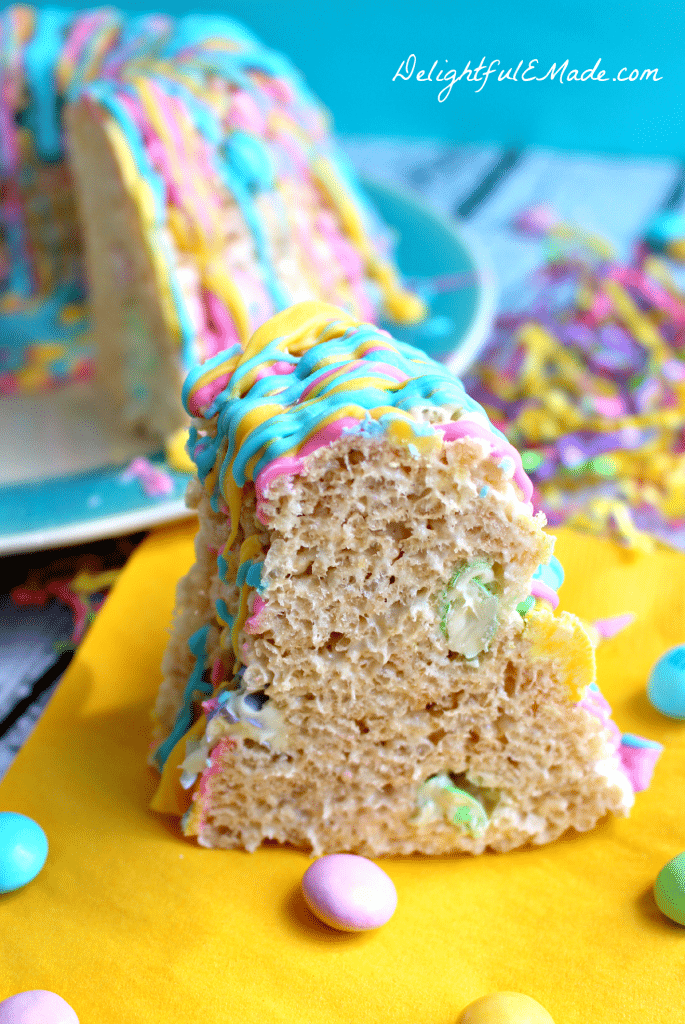 The Easter M&M's and some colorful candy melts, elevate this regular batch of krispie treats to a whole new level.  Simply putting the krispie treats with the M&M's into a bundt pan, and letting it set for a few minutes, helps make these even prettier!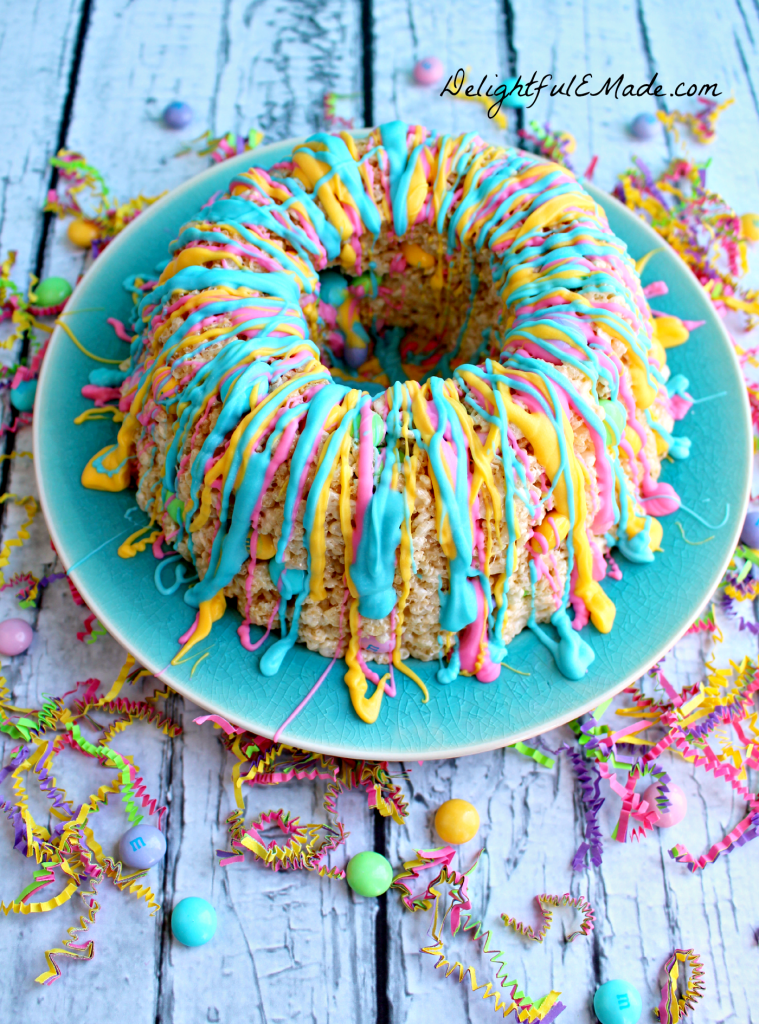 This Spring Krispie Cake is perfect for a spring celebration, a post-Easter egg hunt treat, a cute treat for a classroom clebration, or any other time your looking for a fun and pretty snack.  They also couldn't be easier to make.  Its basically just your regular rice krispie treat recipe, adding some M&M's and preparing in a bundt pan.  (Make sure you use some non-stick spray, otherwise it won't come out.)  Drizzle with the candy melts, and your done!  Easy, peasey!!

Erin Indahl-Fink
Yields 10-12
Spring Krispie Cake with M&M's and Candy Drizzle
This Spring Krispie Cake is perfect for a fun, springtime snack! Adults and kids will love these!
15 minPrep Time
15 minTotal Time
Ingredients
3 Tbsp. melted butter
40 Large Marshmallows
6 c. krispie rice cereal
1 c. White Chocolate M&M's (found at Target. Regular M&M's are great, too!)
1/2 c. candy melts (1/2 c. for each color you choose)
Instructions
In a bundt pan, generously spray with non-stick cooking spray. Set aside.
In a large microwave safe bowl, melt the butter. Add the marshmallows, and toss in the butter to coat. Microwave for 1 min, 30 seconds until the marshmallow are completely melted. Stop at 45 seconds to stir. Add the cereal, and stir until the marshmallow and cereal is combined. Add 3/4 cup of the M&M's and stir until dispersed into the cereal/marshmallow mixture. Press the mixture into the bundt pan. Let the mixture set for about 10 minutes to harden. Invert on to a plate. Press the remaining M&M's into top of the cake where needed.
Melt the candy melts in a small microwave safe bowl, on 30 second increments until completely melted. Drizzle over the cake. Do this with each color you wish to use. Let the cake set for about 30 minutes or until the candy drizzle hardens. Slice and serve.
7.8.1.2
60
https://delightfulemade.com/2014/03/27/spring-krispie-cake-mms-candy-drizzle/
Copyright by DelightfulEMade.com
These really are pretty simple to make.  Best of all, because the candy melts come in so many different colors, you can make this cake with any colors you wish!  Would be great for a kids birthday party or celebration, or a fun classroom treat using the school colors!  There are so many different combinations to choose from.  (The candy melts can be found at most craft stores, and come in a variety of colors.)
I hope you get to enjoy this fun, springtime treat with your friends and family!
Erin