A Fruity Pebbles Treats recipe brought to a whole new, fun and colorful level! These Fruity Pebbles marshmallow treats are topped with white chocolate chips and extra marshmallows in every bite.
This post may contain affiliate links. Delightful E Made is a participant in the Amazon Services LLC Associates Program, an affiliate advertising program designed to provide a means for us to earn fees by linking to Amazon.com and affiliated sites.
Is there a breakfast cereal that always brings you back to your childhood? For many, Fruity Pebbles holds a special place in their heart. These Fruity Pebbles marshmallow treats are the perfect way to enjoy those flavors from our childhood.
Made with just four simple ingredients, and no cooking needed (just a microwave) these cereal treats are really easy to make. Top with some white chocolate chips to make them extra special.
What do I need to make Fruity Pebbles treats?
Here's a quick reference checklist of the ingredients you'll need to make these easy marshmallow treats:
Fruity Pebbles cereal
Mini marshmallows – pick up two bags, you'll need one for melting and have extra on hand to stir into the treats, unmelted.
Butter – necessary for melting the marshmallows.
White Chocolate chips – optional, but a treat addition to the tops of these cereal treats.
Non-stick cooking spray – this is very helpful, not only for spraying your pan, but for spraying on your hands when pressing the cereal treats into the pan.
For exact ingredient amounts and full recipe instructions be sure to scroll down to the bottom of the post to the recipe card. Thanks!
How do I make Fruity Pebbles treats?
Fruity pebbles marshmallow treats are made just like Rice Krispie treats are made. No stove top cooking is necessary, as you can melt the marshmallows and butter in the microwave.
To start, add the mini marshmallows and butter to a microwave safe bowl. Microwave on 1 minute increments until the marshmallows are completely melted with the butter. Mixture will be very sticky.
Using a rubber scraper, fold together the melted marshmallow mixture and the Fruity pebbles. Mix together until completely combined. Then, add the extra mini marshmallows to the mixture and fold into the cereal mixture.
Press the cereal mixture into a 9 x 9″ pan that has been sprayed with non-stick spray. It is very helpful to also spray your hands with the non-stick spray to prevent the marshmallow mixture from sticking to your hands.
Once you've pressed the cereal mixture into the pan, top the marshmallow treats with some white chocolate chips. These are optional, but a great addition and topping to these treats. Press the white chocolate chips down slightly into the treats.
Let the treats cool and come to room temperature for at least 30 minutes before cutting. This will help them maintain their shape.
What can I serve with this Fruity Pebbles Treats recipe?
Here are some fun drink options that would be great with these marshmallow treats:
Love cereal treats? Check out our other cereal treat recipes: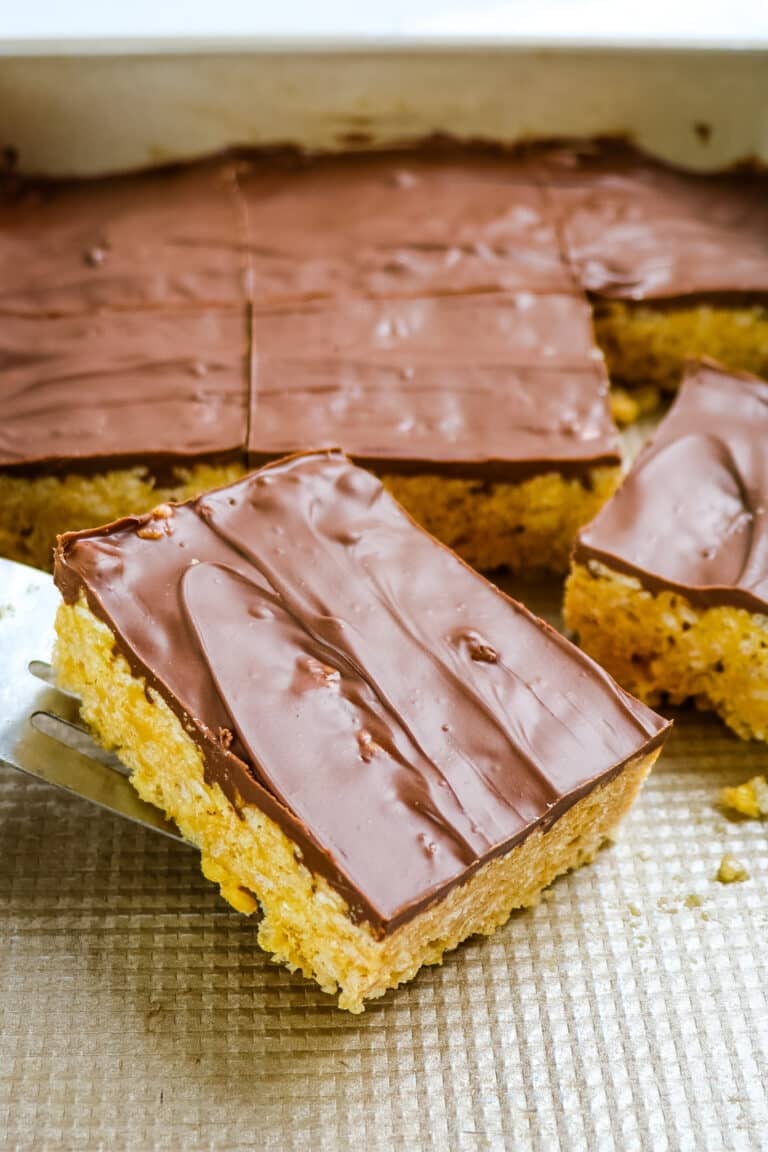 Fruity Pebbles Treats
Love a great cereal treat recipe? This Fruity Pebbles Treats recipe is great for kids and grown-ups alike. Made with just four ingredients, these marshmallow treats are simple to make for any occasion.
Ingredients
6 c. Post Fruity Pebbles cereal
3 Tbsp. butter, melted
1 (10 oz.) bag of mini marshmallows, plus additional 1 1/2 cups to stir in un-melted
1/2 cup white chocolate chips (optional)
Instructions
Spray a 9x9" square pan with non-stick spray. Set aside.
In a microwave-safe bowl, melt the butter and bag of mini marshmallows together. Microwave on 1 minute increments until just melted. Be careful not to overheat the marshmallow mixture, as this makes your treats very hard.
Once the marshmallow and butter are melted together, add the cereal to the melted marshmallow mixture and stir until the cereal is completed coated with the marshmallows. Mix in the additional 1 1/2 cups of reserved mini marshmallows.
Press the mixture into the 9x9 pan. Top the marshmallow treat with the white chocolate chips. Let the treats cool for at least 30 minutes before slicing. Slice into 16 squares.
Notes
You will need two packages of mini marshmallow - 1 full package to melt for the marshmallow mixture, and another 1 1/2 cups of marshmallows to stir in. The additional 1 1/2 cups are optional, as you could make the treats without them, however, I feel they help keep the cereal treats soft and chewy.
Store treats in an airtight container at room temperature. The treats will keep for up to 5 days at room temperature.
Recommended Products
As an Amazon Associate and member of other affiliate programs, I earn from qualifying purchases.
Nutrition Information:
Yield:

16
Serving Size:

1
Amount Per Serving:
Calories:

117
Total Fat:

4g
Saturated Fat:

3g
Trans Fat:

0g
Unsaturated Fat:

1g
Cholesterol:

7mg
Sodium:

97mg
Carbohydrates:

19g
Fiber:

0g
Sugar:

10g
Protein:

1g