The best crab cakes you'll ever have! Filled with sweet, delicious Alaskan Snow Crab, and seasoned with fresh ingredients, these crab cakes will be a perfect dinner solution any night of the week!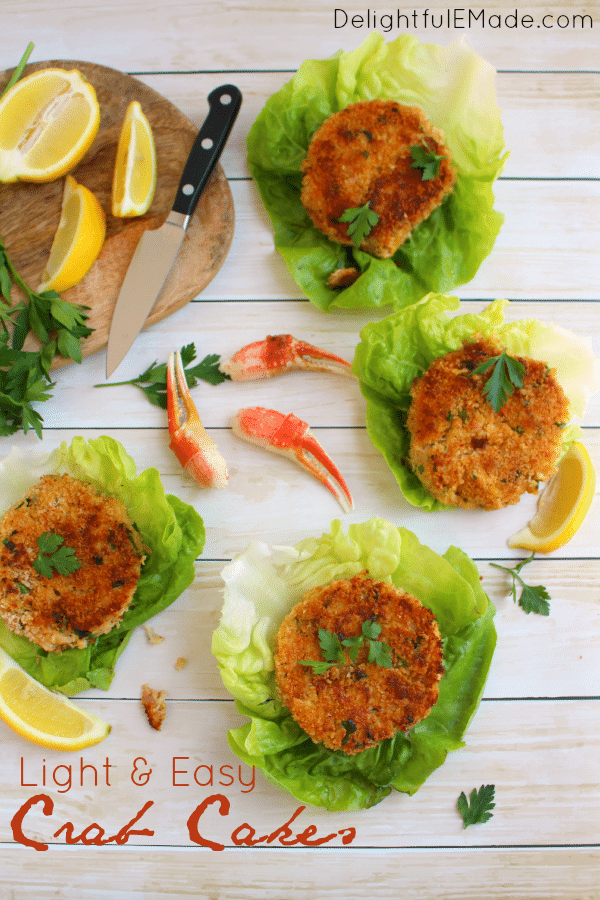 One of my absolutely favorite seafood dishes is crab cakes! However, I will say that I've been disappointed by MANY crab cakes, from pricey restaurants to the frozen, prepared crab cakes. I'm usually disappointed because crab cakes often tend to have more "cake" than crab and are often overly greasy and heavy, and not seasoned properly. I quickly realized that if I wanted a really good crab cake, I need to make them myself, and use really good crab – Alaskan Snow Crab is the best!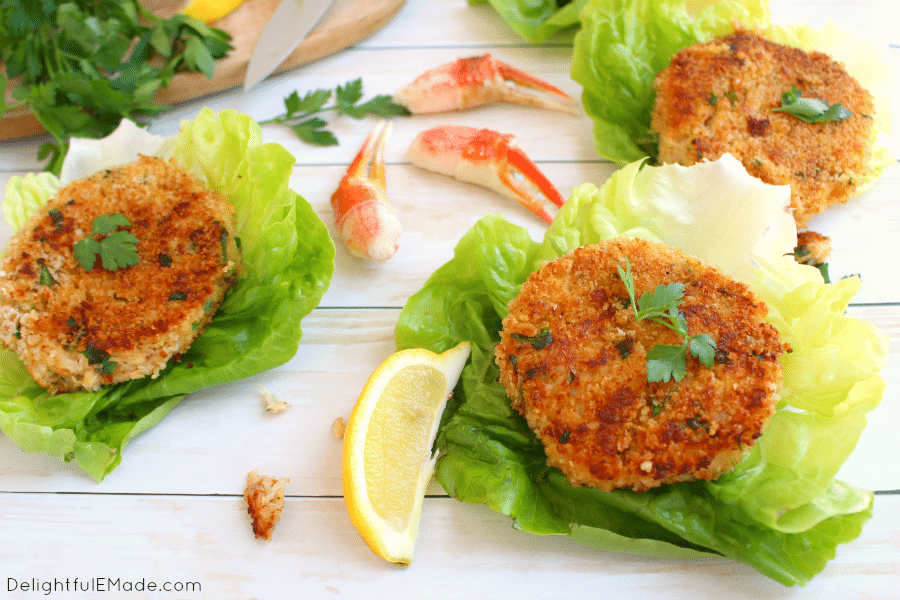 I also discovered that when you make your own crab cakes at home, you can create a very healthy, easy and delicious dish! The Alaskan Snow Crab is a wonderfully lean, healthy and protein rich meat. Additionally, Alaska seafood is high in protein, low in saturated fat, low in sodium and one of the best sources of heart-healthy omega-3 fatty acids. The cold water and natural environment of Alaska produces seafood with lean flesh, firm texture, and superior flavor that is full of high quality protein, vitamins, minerals and oils essential to good health. With the other ingredients and seasonings, and cooked in a minimal amount of olive oil, these crab cakes are a mere 200 calories per serving! Nice, right?!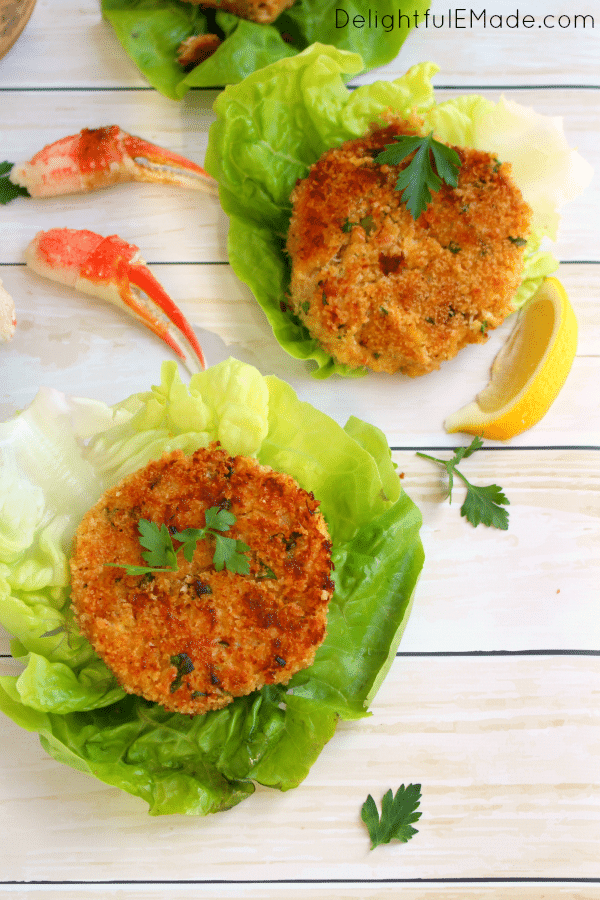 Alaskan Snow Crab is amazing! It's sweet, succulent and when paired with just a few simple ingredients, it makes the most amazing Crab Cakes you'll ever have! I was able to find Alaskan Crab at my local grocery store in the frozen seafood section. With five species of salmon, several varieties of whitefish, and numerous shellfish species, Alaska offers mouthwatering seafood options for every taste and cooking method and is available fresh, frozen and canned year round.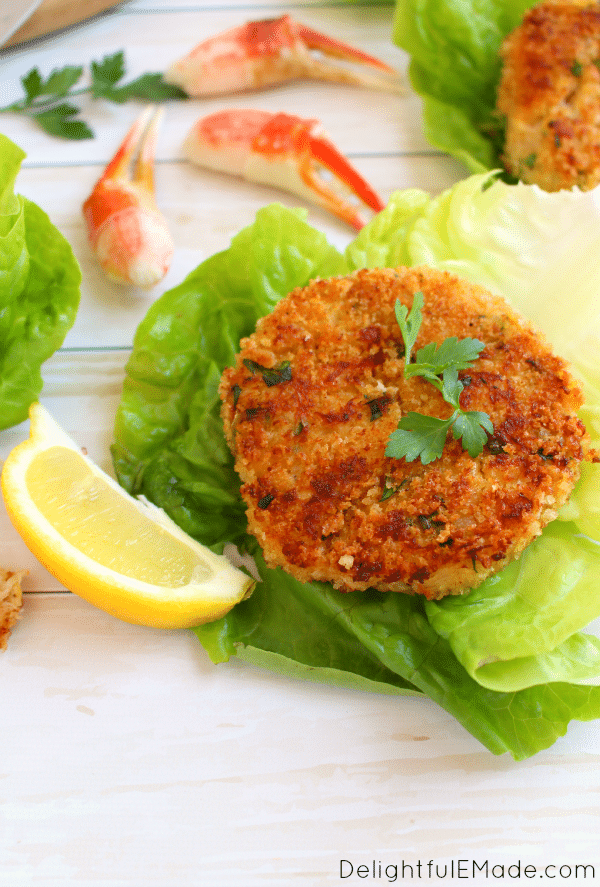 I used panko bread crumbs, along with fresh parsley, green onion and just a few other seasonings to accent the sweet snow crab meat. You don't need much panko, as the crab is definitely the star of the show! The cakes are held together nicely and need just a few minutes per side in a lightly oiled skilled to cook to a perfect golden brown.
Here's the easy recipe for these delicious Snow Crab Cakes:

Erin Indahl-Fink
Yields 4
Light and Easy Crab Cakes
The best crab cakes you'll ever have! Filled with sweet, delicious Alaskan Snow Crab, and seasoned with fresh ingredients, these crab cakes will be a perfect dinner solution any night of the week!
15 minPrep Time
6 minCook Time
21 minTotal Time
Ingredients
8 - 10 oz. Alaskan Snow Crab, peeled and broke into pieces
1 green onion, chopped
1 Tbsp. fresh parsley, minced
2 Tbsp. olive oil mayonnaise
1 Tbsp. fresh lemon juice
2 tsp. dijon mustard
2 tsp. Old Bay seasoning, divided
1 tsp. Worcestershire sauce
salt and pepper to taste (a few grinds of salt and pepper)
1 large egg
2/3 c. panko bread crumbs, divided
1-2 Tbsp. olive oil
Instructions
In a medium mixing bowl, combine the crab meat with the onion, parsley, mayo, lemon juice, mustard, 1 tsp. of Old Bay, Worcestershire, salt, pepper, 1/3 c. panko and egg. Mix to combine. Shape mixture into 4 equal balls, and press into 1/2" patties.
Heat the olive oil in a large non-stick skillet on medium high heat. Combine the remaining 1/3 c. panko crumbs and 1 tsp. of Old Bay. Dredge the patties into the crumb mixture, and add to the hot skillet. Cook for about 3 minutes per side or until golden brown on each side. Serve right away.
7.8.1.2
149
https://delightfulemade.com/2015/04/01/light-and-easy-crab-cakes/
Copyright by DelightfulEMade.com
Recipe adapted in part from Southern Living Magazine, April 2015 issue.
As you can see, making your own crab cakes couldn't be easier! Peeling the snow crab may take the most time, however, its definitely worth it, as Snow Crab is so wonderful sweet and delicious in these crab cakes!
In under 30 minutes you'll have an easy, healthy and delicious dinner that you and your family can enjoy any night of the week! Enjoy! ~Erin
I was selected for this opportunity as a member of Clever Girls and the content and opinions expressed here are all my own.