The Perfect Apple Cider Pork Chops recipe!
The ultimate recipe for glazed pork chops! Coated with an apple cider glaze, and grilled to perfection, these sweet and savory apple cider chops are perfect any time you're in the mood for meat!
This post may contain affiliate links. Delightful E Made is a participant in the Amazon Services LLC Associates Program, an affiliate advertising program designed to provide a means for us to earn fees by linking to Amazon.com and affiliated sites.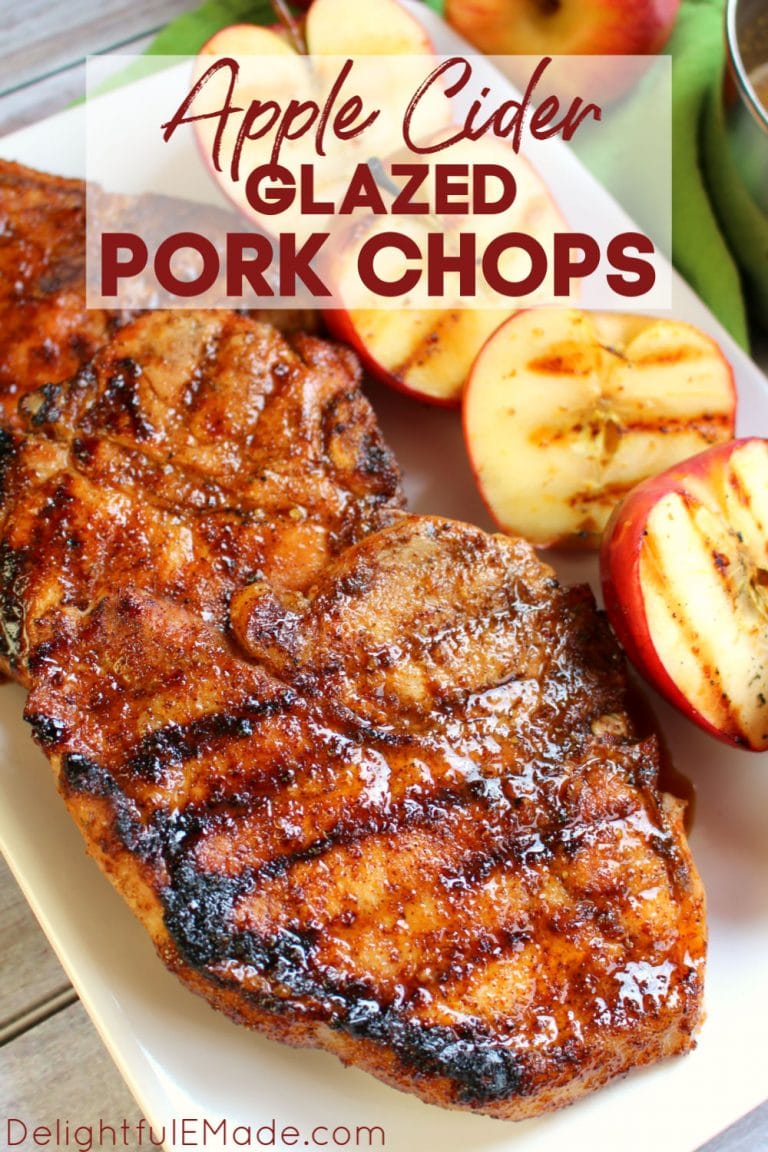 These Apple Cider Glazed Pork Chops are the perfect weeknight dinner for a family to reconnect during the week. Made with a simple, yet delicious apple cider glaze, these pork chops seriously deliver on flavor.
Glazed pork chops are fantastic for a great, easy-to-make family dinner. We love pork at our house, and I cook and grill with it often. Pork is healthy and lean, it's easy to cook, versatile, and best of all its really economical!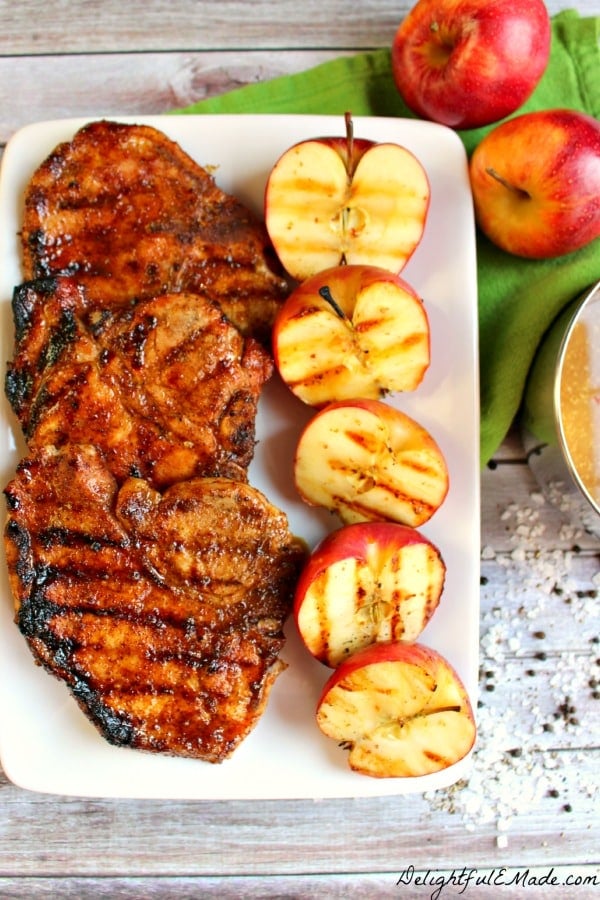 I adapted this recipe from what I normally use for grilled pork loin, and with the apple cider glaze, these chops turn out juicy, and delicious.
The spice rub seasons the pork perfectly, and as it grills you brush the chops with the apple cider glaze, which really gives the pork amazing flavor!
While grilling these bone-in chops, I also threw on some halved apples brushed with the cider glaze. These were a perfect side with the pork chops!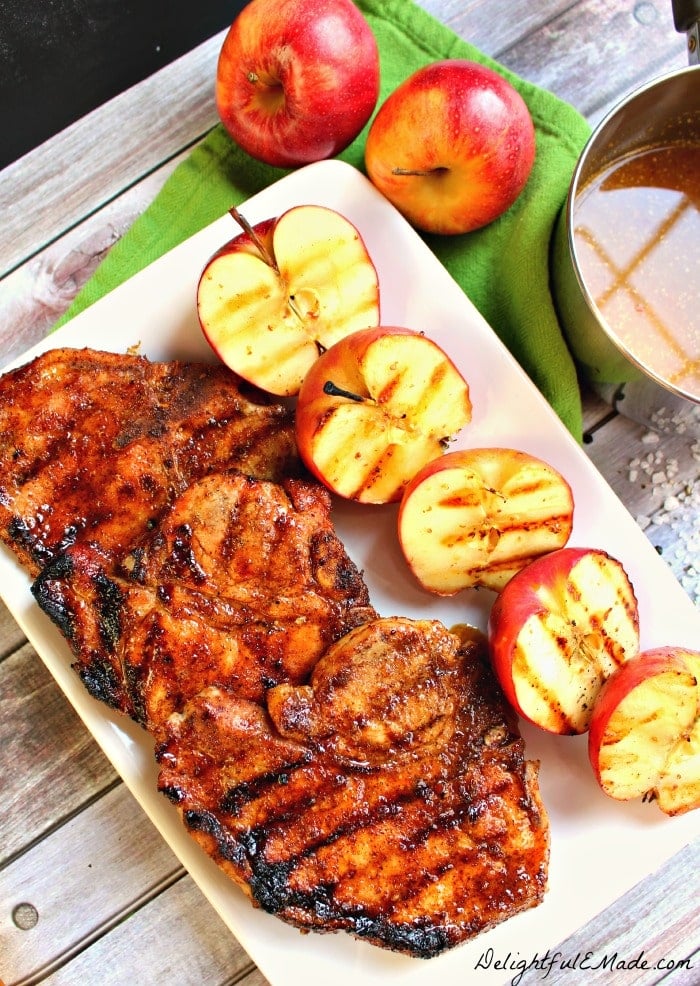 How these Glazed Pork Chops come together:
Have I mentioned that these are super-easy to make, especially for a weeknight? I start the apple cider glaze in the sauce pan, light the grill, and cover the chops with the spice rub.
By this time the cider has come to a simmer, and the chops are ready to go on the grill. Depending on the thickness of the chop, they only need about 10-12 minutes to grill on medium /medium-high heat.
When I initially put the chops on the grill I will liberally brush with the cider glaze, and let cook for about 6 minutes. I then flip, and brush the other side with the glaze, wait a couple minutes, flip, and glaze again.
Do this a few times to really get a great glaze on the chops. The more you glaze, the more flavor you'll get on the chops. They will turn out so amazingly juicy and delicious!!
Cooking Note: The glaze for these pork chops will be thin. It's not meant to be overly thick or sticky like a sauce. Brushing the chops with the glaze will add wonderful flavor to every bite!
Love cooking with Apple Cider? Check out some of my other apple cider recipes:
Wondering what to serve with apple cider pork chops? These side dish recipes are great options: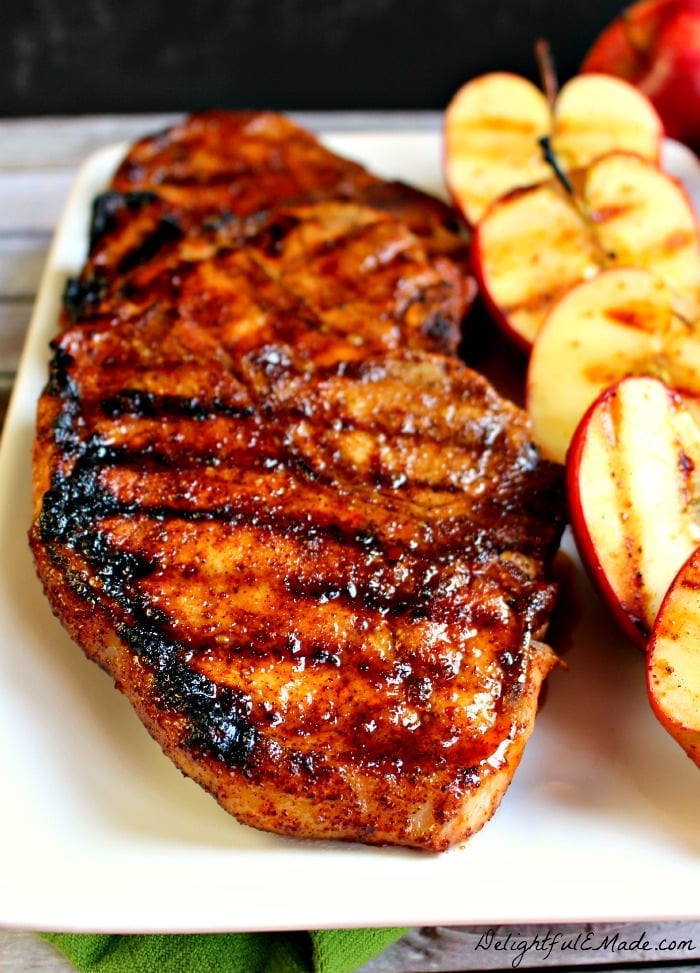 If you don't have an outdoor gas or charcoal grill, no worries. You can certainly use an indoor grill pan. If you're using a grill pan, you'll use the same technique, just be sure to adequately oil the pan, and set it on medium-high heat. Depending on the thickness of the chop (these were about 3/4″ thickness), you'll cook for about 10-12 minutes total.
Here are a few of the grilling tools I use to make these fantastic Pork Chops: (affiliate links below)
Here's a quick-reference grocery list for these fantastic Glazed Pork Chops:
1 1/2 lbs. bone-in OR boneless pork chops
brown sugar
chili powder
garlic powder
olive oil
salt and pepper
apple cider (if not available, apple juice works just as well)
maple syrup
dijon mustard
crushed red pepper flakes
If you loved this awesome recipe, be sure to check out some of my other fantastic recipes from the grill:
Here's the recipe for these amazing Apple Cider Glazed Pork Chops:
Apple Cider Glazed Pork Chops
These Apple Cider Glazed Pork Chops are AMAZING! Perfectly seasoned, juicy, delicious and ready in under 30 minutes. A great dinner any night of the week!
Ingredients
1 1/2 lbs (one package) Bone-in Pork Chops
Rub:
2 Tbsp. brown sugar
2 tsp. chili powder
1 tsp. garlic powder
1 tsp. salt
1/2 tsp. pepper
1 Tbsp. olive oil
Apple Cider Glaze:
1 1/2 c. apple cider
1/4 c. maple syrup
1 Tbsp. Dijon mustard
1/2 tsp. crushed red pepper flakes
1/2 tsp. salt
Instructions
Light your gas or charcoal grill and heat to medium high heat.
In a small saucepan, prepare the glaze by combining the apple cider, maple syrup, Dijon mustard, crushed red pepper flakes, and salt. Bring to a simmer. While the cider comes to a simmer, prepare the pork rub. In a small bowl combine the brown sugar, chili powder, garlic powder, salt and pepper. Mix thoroughly with a fork. Add the oil to the spice mixture. It will be the consistency of a crumbly paste. Pat the pork chops dry with paper towels, and then cover the chops on all sides with the spice rub.
Put the spice covered pork chops on the heated grill, and thoroughly brush with the cider glaze. Grill for about 6 minutes. Flip the chops and thoroughly brush with the glaze on the other side. Grill for about 2 more minutes, flip and brush again. Repeat this process until the chops cook for 10-12 minutes total, and reach an internal temperature of 145 degrees. Its okay for pork to have a little pink in the middle.
If you're also grilling apples, brush the halved apples with glaze and grill for about 5-6 minutes. No need to flip. Serve along with the chops.
Nutrition Information:
Yield:

4
Serving Size:

1
Amount Per Serving:
Calories:

279
Total Fat:

10g
Saturated Fat:

3g
Trans Fat:

0g
Unsaturated Fat:

6g
Cholesterol:

49mg
Sodium:

1053mg
Carbohydrates:

31g
Fiber:

1g
Sugar:

26g
Protein:

16g

In under 30 minutes you'll have some amazingly juicy, flavorful and delicious pork chops! And if you have a busy family like mine, extra time at the table to talk, and enjoy the conversations that you and your kids have is so important. Reconnecting with my family at the end of a busy day is something really important in our lives. Having a easy, delicious and healthy meal to go along with it is a bonus.
I hope you and your family enjoy these Apple Cider Glazed Pork Chops as much as we have.
Erin