Celebrate with these amazing Frosted Sugar Cookie Bars!
The BEST sugar cookie bars! These thick, chewy frosted sugar cookie bars are loaded with sprinkles and topped with a thick layer of rich butter cream frosting. Every sprinkle lovers dream!
This post may contain affiliate links. Delightful E Made is a participant in the Amazon Services LLC Associates Program, an affiliate advertising program designed to provide a means for us to earn fees by linking to Amazon.com and affiliated sites.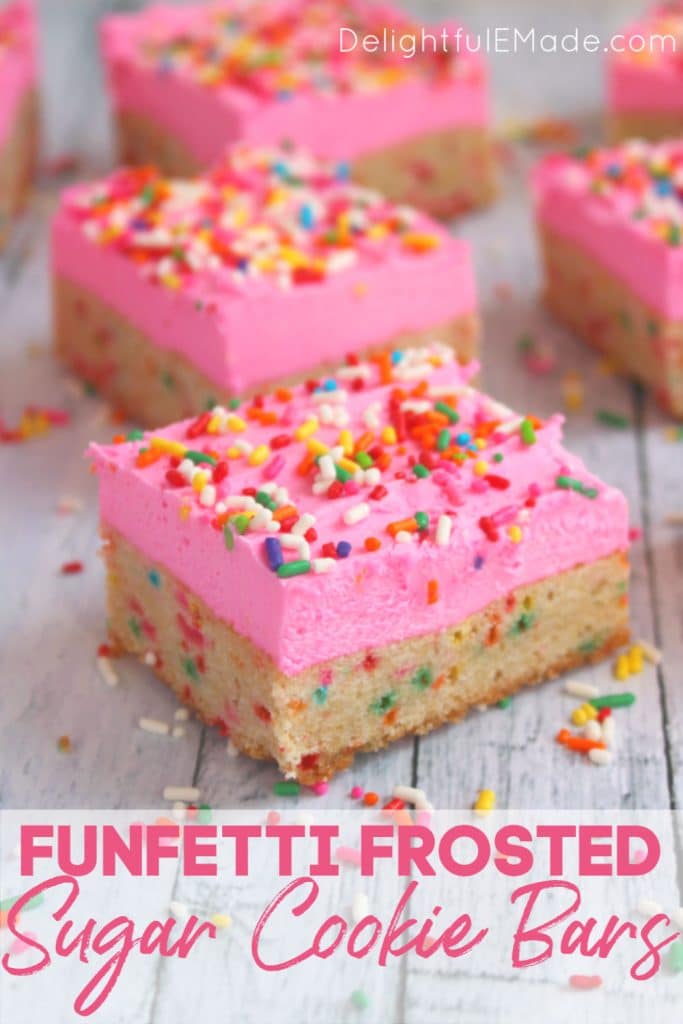 If you love sugar cookies, then these sugar cookie bars will be your new favorite treat! With all of the flavors of chewy, frosted sugar cookies, this cookie bar recipe is much easier to make.
No rolling of dough and multiple batches of cookies. Made in one 9 x 13″ pan, these sugar cookie bars are simple AND delicious!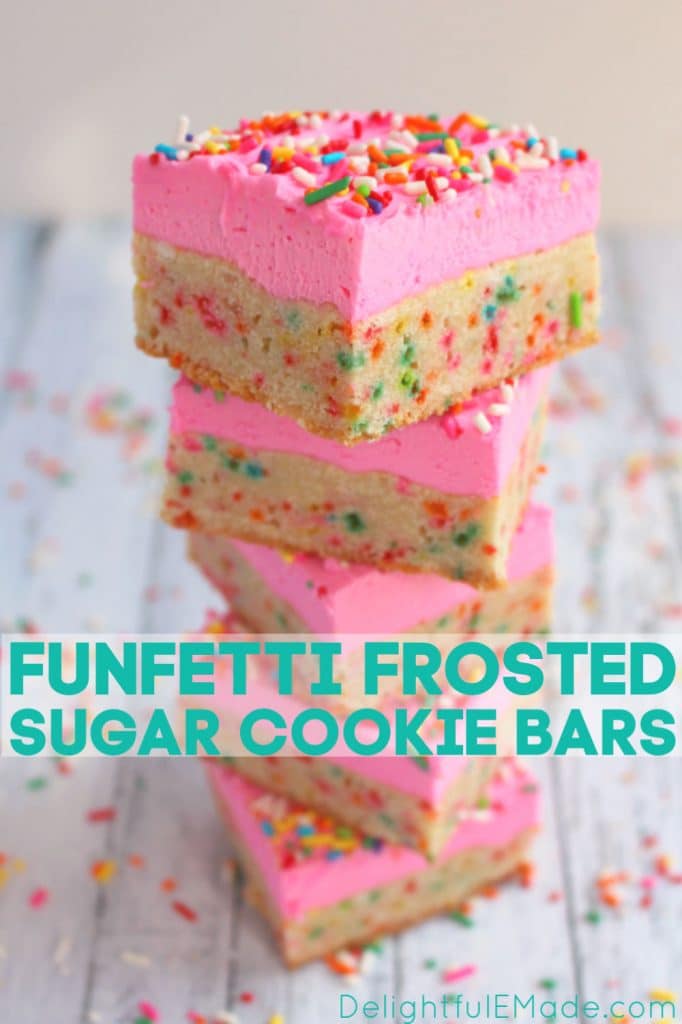 I have a major weakness for frosted sugar cookies, especially ones with sprinkles. I see sprinkles and they immediately make me happy. My all-time favorite grocery store, Wegmans, which is here in the Mid-Atlantic area, has the most amazing frosted sugar cookies in their bakery. I do my best to NOT grocery shop while I'm hungry, because if I show up to Wegman's on an empty stomach…well, its not gonna be pretty!
As much as I love sugar cookies, I don't always love rolling them out and cutting with cookie cutters. This is also why I love making cookie bar recipes! So I decided to make a simple bar, with the same delicious layer of thick frosting on top, loaded with sprinkles in the dough and on top of the frosting. I'm here to tell ya, these Funfetti Frosted Sugar Cookie Bars are just as good as they look!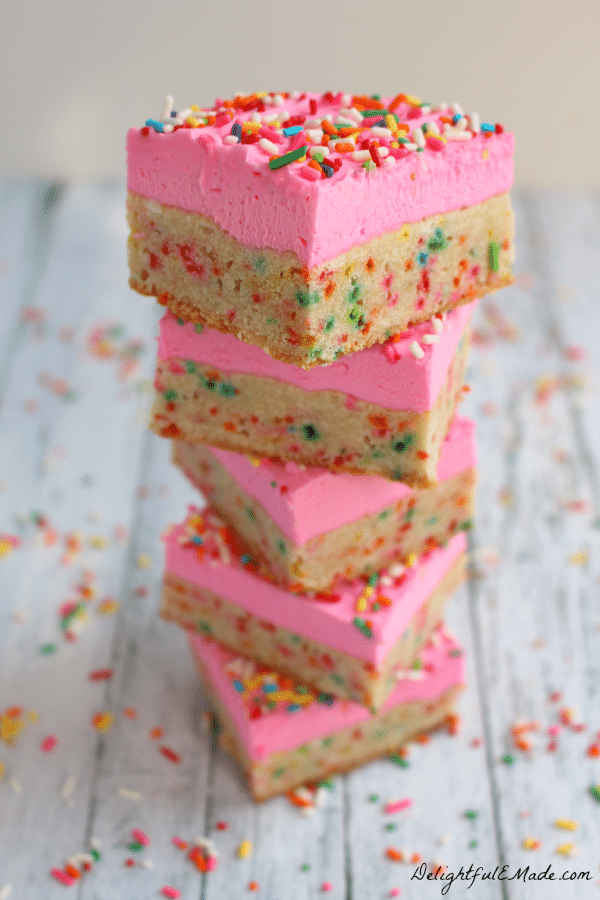 How these cookie bars come together:
I used my same recipe that I use for my Sugar cookie cutouts – check out my Love Bug Sugar Cookies. But instead of rolling out the dough, I added some sprinkles, and simply pressed the dough right into the bottom of a lined 9 x 13″ pan.
They are just as delicious, with the amazing vanilla and almond flavor, and topped with that amazing frosting, they stay soft, moist and chewy. I'm not a big fan of dry, crisp sugar cookies – I like mine soft and chewy. 🙂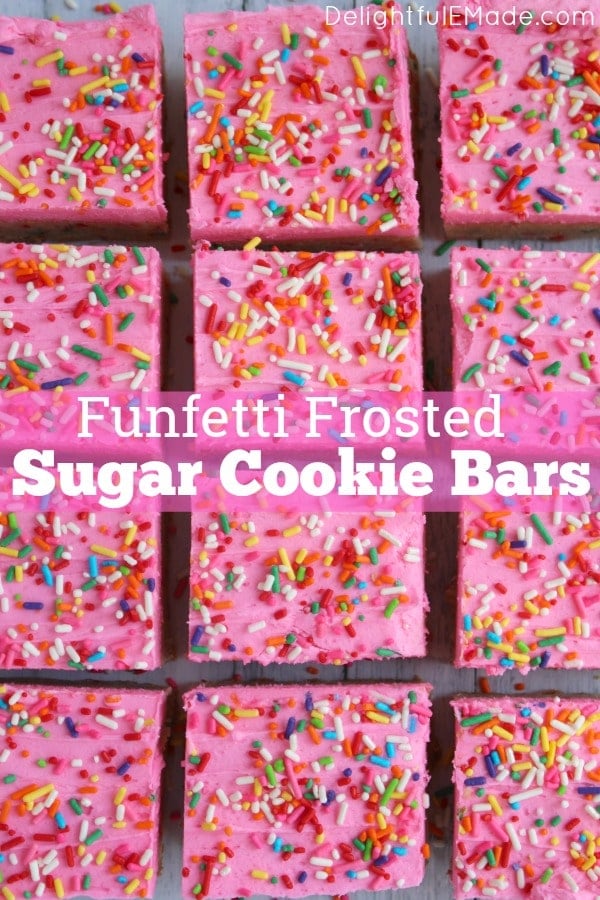 That delicious layer of frosting
I tinted my frosting pink, because, well…I'm the lone female in my household. I don't get much pink in my life, plus, it looks super pretty.
Obviously, you can tint the frosting whatever color you choose by mixing in the food coloring when making the frosting. Keep in mind, the more you add, the darker and more saturated the color becomes.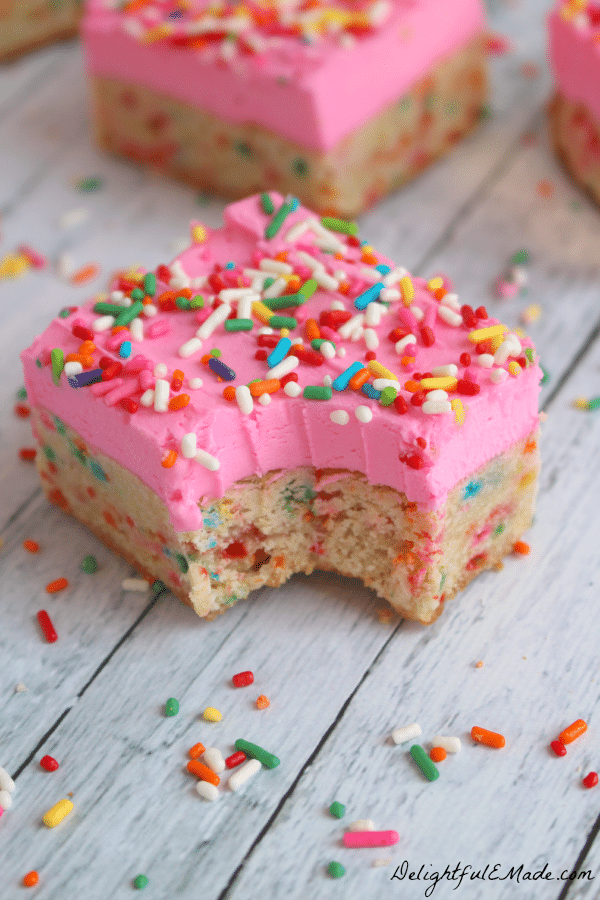 When baking the bars, be sure to not over-bake. I discovered the sweet spot for baking these is 19-21 minutes. Anything over 21 minutes your bars will begin to get overly crispy, browned and dry. The 20 minute point will ensure they are cooked through, yet still soft and chewy.
If you love sprinkles, be sure to check out my recipe for this Funfetti Cake Batter Milkshake over at LilLuna.
Here's a quick-reference shopping list of the ingredients you'll need to make the best cookie bar recipes:
Butter
Granulated Sugar
Eggs
Vanilla Extract
Almond Extract
Flour
Rainbow Sprinkles or Jimmies
Baking Powder
Salt
Powdered Sugar
Milk
Food Coloring (color of your choice)
If you love sprinkles and funfetti, check out some of my other colorful sprinkle recipes:
If you love cookie bar recipes, be sure to check out these delicious ideas:
Here's the easy recipe for my Funfetti Frosted Sugar Cookie Bars
Funfetti Frosted Sugar Cookie Bars

Thick, chewy sugar cookie bars loaded with sprinkles and topped with a thick layer of rich butter cream frosting. So good, you won't be able to eat just one!

Ingredients

1 c. (2 sticks) butter, room temperature
1 1/4 c. sugar
1 egg
1 1/2 tsp. vanilla
1/2 tsp. almond extract
3 c. flour
1 1/2 tsp. baking powder
1/4 tsp. salt
1/2 c. rainbow sprinkles or jimmies

For Frosting:

1 c. (2 sticks) butter, room temperature
1 1/2 tsp. vanilla
1/2 tsp. almond extract
4 c. powdered sugar
2-3 Tbsp. milk
Food coloring (color of your choice)
1/4 c. rainbow sprinkles or jimmies

Instructions

Preheat oven to 375 degrees. Line a 9 x 13" cake pan with aluminum foil and lightly spray with non-stick baking spray. Set aside.
For the cookie dough: With a stand or hand mixer, cream together the butter and granulated sugar until creamy and fluffy. Add the egg, vanilla and almond extract and mix until combined.
In a separate bowl, sift together the flour, baking powder, salt and sprinkles. Gradually add the dry ingredients (about 1 cup at a time) to the wet ingredients, stopping the mixer to scrape down the sides of the bowl. Dough will be thick and slightly stiff.
Press the dough evenly into the prepared pan. Bake at 375 for 19-21 minutes until just golden brown. Do your best not to overcook, as the bars will become hard and overly crisp. (20 minutes seems to be the ideal time.) Remove from oven and let cool completely before frosting.
For the Frosting: With a hand or stand mixer, cream the room temperature butter along with the vanilla and almond extract. Gradually begin adding the powdered sugar one cup at a time, stopping the mixer to scrape down the sides of the bowl. As the frosting gets stiffer, and the milk one Tbsp. at a time. Add the food coloring and mix until desired color is met. Spread the frosting over the cooled bars, and add the remaining sprinkles to the top of the frosting. For easy cutting, refrigerate the bars until just before cutting and serving.

Nutrition Information:

Serving Size:

1 Amount Per Serving:

Calories:

6732

Total Fat:

228g

Saturated Fat:

118g

Cholesterol:

491mg

Sodium:

2889mg

Carbohydrates:

1184g

Sugar:

800g

Protein:

52g
These bars are perfect for a bake sale, classroom treat for the kiddos, or a fun treat for just about any occasion. I'm fairly certain just about everyone loves sprinkles! Enjoy! Erin
Check out these other sugar cookies that are great for holidays:
Chocolate Sugar Cookie Spiders