Almond Joy Overnight Oats
If you've looking for an amazing chocolate overnight oats recipe, look no further! These overnight oats with Greek yogurt make an amazing healthy breakfast loaded with protein and fiber. Oatmeal has never tasted so good!
The Ultimate Coconut Overnight Oats Recipe – Almond Joy Overnight Oats
If you love the combination of chocolate, coconut and almonds, this Almond Joy Overnight Oatmeal will be your dream breakfast! This overnight oats with Greek yogurt has protein and fiber which helps keep you full and satiated well through lunchtime. It's the perfect chocolate overnight oats recipe!
Like this recipe? Be sure to pin it to your BREAKFAST board!
Here's how this simple, healthy and delicious Chocolate Overnight Oats recipe:
How do you make chocolate overnight oats?
Overnight oats are very simple to make. You simply mix your ingredients together the night before, cover in an airtight container, and then refrigerate. When you wake up in the morning, your healthy breakfast is ready to go.
If you've never made overnight oats before, I must say, you need to give it a try. It really is a fantastic way to have a quick, grab-and-go breakfast at the ready.
Which oats are best for overnight oats?
Old fashioned rolled oats are typically best for overnight oats. Steel cut oats need to be cooked and instant oats will become overly mushy and not hold up well in the liquid.
For this recipe I also use milk, Greek yogurt, along with the addition of chia seeds and the oatmeal. I used cocoa powder to give these oats their chocolaty flavor, and add honey for a natural sweetener. You can also sub in alternative milks like almond, coconut or cashew milk.
What toppings can I add to this almond joy overnight oats?
To give these oats a nice crunch, I added a tablespoon of slivered almonds, and toasted coconut chips. I also broke up a square of dark chocolate for a little treat. Leave this out if you're trying to watch your sugar intake.
Overnight Oatmeal FAQ's:
Do you eat overnight oats hot or cold?
Overnight oats are typically enjoyed cold, however feel free to heat up if you would rather eat it hot.
What does overnight oats taste like?
Overnight oats usually takes on the flavors that it is paired with. For example this recipe takes on chocolate and coconut flavors. Be sure to check out my Blueberry Overnight Oats recipe for a delicious blueberry option.
Is eating oats good for weight loss?
Yes, oatmeal is a good choice when trying to lose weight. When paired with protein, oats are filling and help keep you satiated, which prevent hunger and unnecessary snacking later.
If you loved these delicious coconut overnight oats, check out some of my other healthy oatmeal recipes:
Peanut Butter Banana Baked Oatmeal
Blueberry Vanilla Protein Oatmeal
Pumpkin Slow Cooker Steel Cut Oats
Are you ready to start doing some Breakfast Meal Prep?
I've compiled all of my best healthy breakfast recipes, tips, tools and ideas in my Breakfast Meal Prep post. This post is designed to be your go-to meal prep tool for helping you eat healthier first thing in the morning!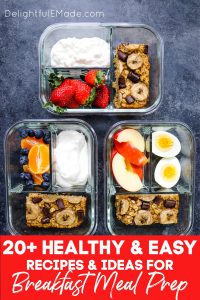 Here's the recipe for my delicious Overnight Oats with Greek yogurt:
Almond Joy Overnight Oats
Chocolate, coconut, and almonds come together to make these overnight oats the perfect breakfast. Loaded with protein and fiber this breakfast is also healthy, too! Oatmeal has never tasted so good!
Ingredients
1/2 c. plain Greek yogurt
1/2 c. milk (dairy or plant-based)
1/3 c. old fashioned oats
2 Tbsp. unsweetened cocoa powder
1 Tbsp. chia seeds
1 Tbsp. unsweetened toasted coconut flakes
1 Tbsp. honey
Optional toppings:
unsweetened coconut flakes
slivered, sliced or chopped almonds
dark chocolate chunks or pieces
Instructions
In a bowl, whisk together the yogurt, milk and cocoa powder. Whisk until smooth. Stir in the oats, chia seeds, coconut and sweetener. Pour mixture into a resealable container.
Refrigerate overnight or for at least 4 hours.
Top with your choice of optional toppings.
Notes
This makes two, 1 cup servings.
This overnight oatmeal can be made and refrigerated for up to 5 days. Great for meal prepping on the weekend.
Nutrition Information:
Serving Size:

1 cup
Amount Per Serving:
Calories:

291
Total Fat:

12g
Saturated Fat:

5g
Sodium:

50mg
Carbohydrates:

48g
Sugar:

17g
Protein:

9g