Craving something with chocolate but want to keep it healthy? This chocolate protein pudding recipe is the answer! Made with just 3 simple ingredients, this healthy chocolate snack has 14 grams of protein and only 85 calories.
This post may contain affiliate links. Delightful E Made is a participant in the Amazon Services LLC Associates Program, an affiliate advertising program designed to provide a means for us to earn fees by linking to Amazon.com and affiliated sites.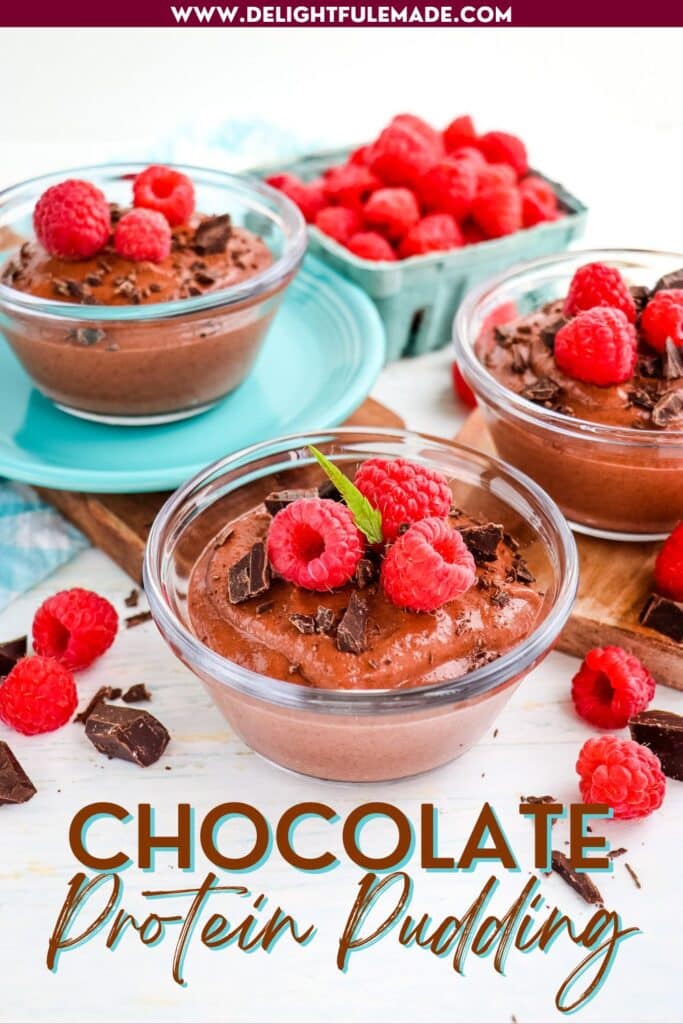 If you're trying to keep your snacking on the healthier side, but still craving something chocolaty, this chocolate protein pudding is for you.
Made with high protein ingredients, this protein pudding takes just 5 minutes to make. Best of all, you can customize your chocolate treat with numerous toppings. This healthy snack is the perfect way to indulge and stay on track with your healthy eating goals.
What do I need to make chocolate protein pudding?
There are many protein pudding recipes, but this one is thee most simple and really delivers on the best chocolate flavor. Here's what you'll need
Fairlife Chocolate Protein Shake – there are many chocolate protein drinks on the market. Fairlife is one of our favorites, as it has minimal refined sugar and delivers 30 grams of protein per serving. Fairlife also makes a Chocolate Elite Protein drink, which packs 42 grams of protein per serving.
Oikos Pro Vanilla Yogurt – I normally opt for plain Greek yogurt, but after testing this recipe with vanilla yogurt, the flavor was superior. This Oikos yogurt has 23 grams of protein per serving and 0 grams of added sugar, which is also a bonus.
Sugar Free Chocolate Fudge Pudding Mix – to keep this pudding recipe on the healthier side, we wanted to use a sugar-free mix. You can also use sugar free Chocolate mix as well
For exact ingredient amounts and full recipe instructions be sure to scroll down to the bottom of the post for the recipe. Thanks!
How to Make Protein Pudding:
Start by adding the chocolate protein shake, yogurt and pudding mix into a blender jar. Add the lid to the jar and make sure it is secured well.
Blend for 30-45 seconds. The ingredients should be smooth in consistency. The mixture will begin to thicken right away.
Pour the pudding mixture into four individual containers or one large container. Add lids to the container(s). Refrigerate the pudding for at least one hour to allow the pudding to thicken and chill.
Topping Ideas for protein pudding:
Fresh berries – the raspberries were an amazing topping. Strawberries would also be a great topping.
Chocolate chunks or chocolate chips – I chopped up a Hu Kitchen Dark Chocolate bar, which was amazing. Hu chocolate is made with only quality ingredients and has no refined sugar. Hu Kitchen also makes chocolate chips, which are a fantastic topping.
Peanut butter – if you're a chocolate and peanut butter lover, this is a must-try! Choose a good quality nut butter, preferably on that is made with just nuts, seeds and salt. The three below are some of my personal favorites. I love Smuckers Natural Creamy Peanut Butter and the Target Brand Good & Gather Crunchy Almond Butter.
Homemade Cool Whip – my homemade Cool Whip recipe is amazing and is perfect for topping this pudding. With better quality ingredients than store-bought Cool Whip, its a great healthy option for a snack. It can be made in advance and will keep for several days refrigerated.
Love peanut butter? Check out my Chocolate Covered Banana Bites and my No Bake Granola Bars, which make great healthy snack ideas.
Frequently asked questions about making protein pudding:
Is protein pudding healthy?
Protein pudding can be a great healthy snack, when made with good quality ingredients. Be sure to watch for unnecessary added and refined sugar, which will increase calories.
How many calories are in high protein chocolate pudding?
For this homemade protein pudding recipe, there are only 85 calories per serving and 14 grams of protein.
Why is my protein pudding not set up?
When making protein pudding, you'll need some form of thickening agent. For this recipe, we're using pudding mix as our thickening agent. You could also use avocado or tofu to thicken pudding.
How long will protein pudding last?
When kept in a sealed container and refrigerated, protein pudding will last up to 5-7 days.
How can I change the flavor of protein pudding?
You can change the flavor profile of pudding by adding a small amount of flavored extracts. Vanilla, almond, or even peppermint are good options. Only a small amount is needed – no more than 1/8 of a teaspoon.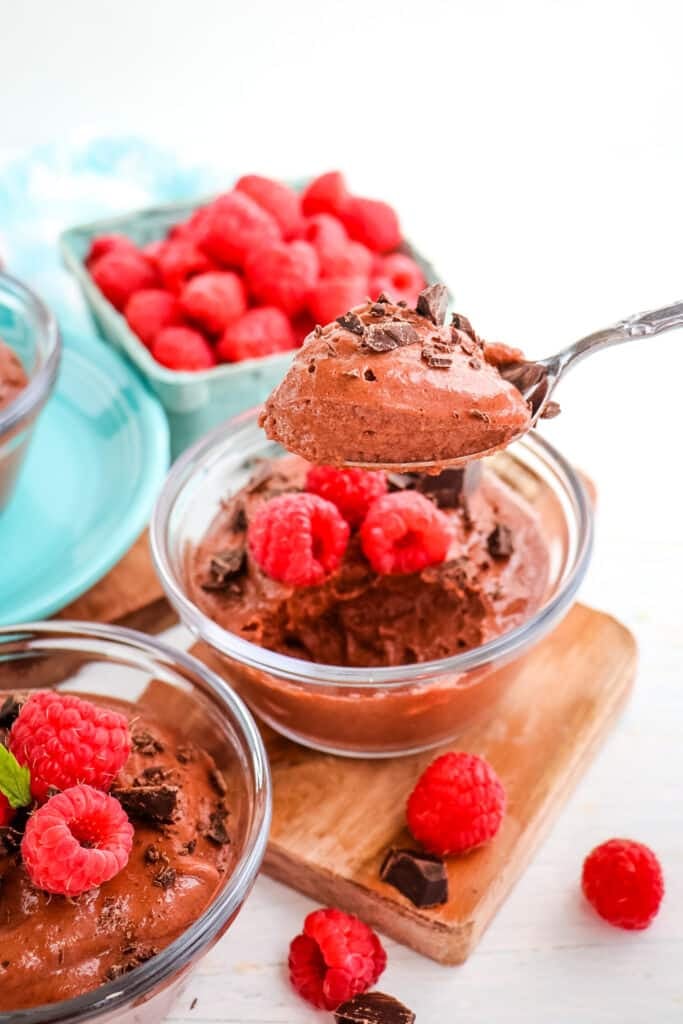 Love yogurt? Check out more of our Greek yogurt recipe ideas:
If you loved this healthy snack recipe, check out some of these other similar chocolate snack ideas: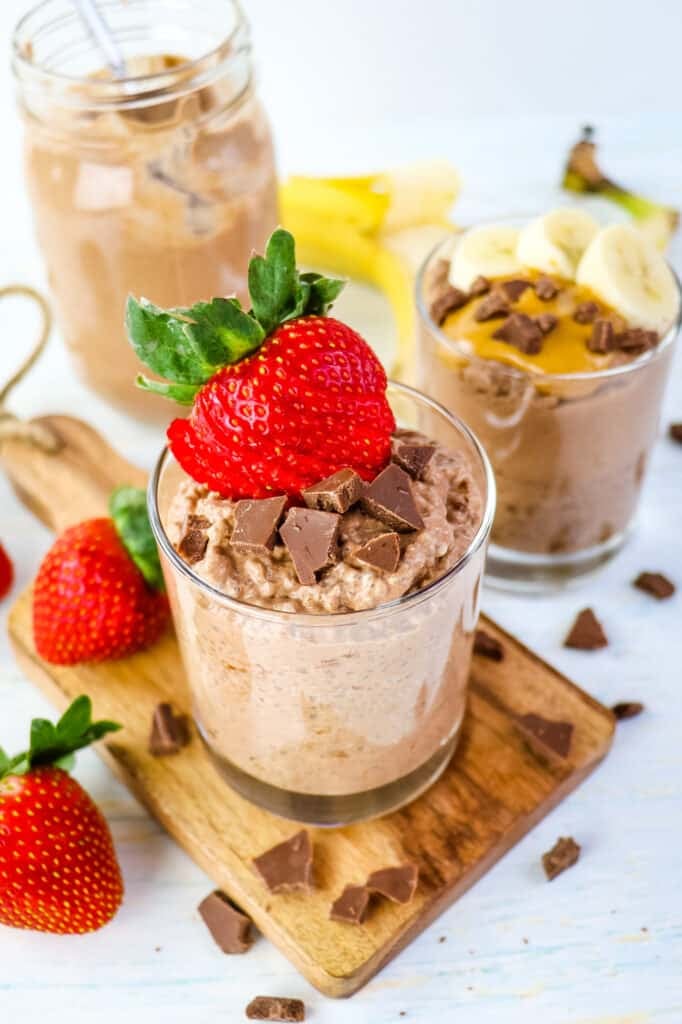 ---
---
Chocolate Protein Pudding
Looking for a healthy, delicious chocolate snack? This 3 ingredient chocolate protein pudding is a great healthy option that will keep you on track with your health. Packed with 14 grams of protein per serving and only 85 calories.
Ingredients
1 (11.5 oz) Chocolate protein shake, like Fairlife
1 (1.4 oz) Chocolate Fudge Pudding Mix (unprepared)
3/4 cup Vanilla Greek yogurt
Instructions
To a blender, add the protein shake, pudding mix and yogurt. Add the lid to the blender and make sure it is well secured.
Blend the mixture for 30-45 second until smooth. The mixture will begin to thicken right away.
Evenly divide the pudding mixture into (4) separate containers. Place a lid onto each container. Refrigerate the pudding for at least 1 hour to allow the pudding to chill and thicken.
After an hour chilling, the pudding can be enjoyed with your preferred toppings, or as is.
Notes
Recommended products: For this pudding recipe I tested the following products that were ideal for optimum chocolate flavor and consistency.
Storage: this protein pudding recipe will keep for up to 5-7 days when stored in an airtight container and refrigerated.
Nutrition Information:
Yield:

4
Serving Size:

1
Amount Per Serving:
Calories:

85
Total Fat:

3g
Saturated Fat:

1g
Trans Fat:

0g
Unsaturated Fat:

2g
Cholesterol:

6mg
Sodium:

192mg
Carbohydrates:

32g
Fiber:

1g
Sugar:

2g
Protein:

14g