Are you a peanut butter lover? If so, then these peanut butter overnight oats will be right up your alley. Made with simple ingredients, this peanut butter banana overnight oats recipe takes just minutes to stir together. Refrigerate overnight, and these pb2 overnight oats will provide you with a healthy, filling, breakfast!
This post may contain affiliate links. Delightful E Made is a participant in the Amazon Services LLC Associates Program, an affiliate advertising program designed to provide a means for us to earn fees by linking to Amazon.com and affiliated sites.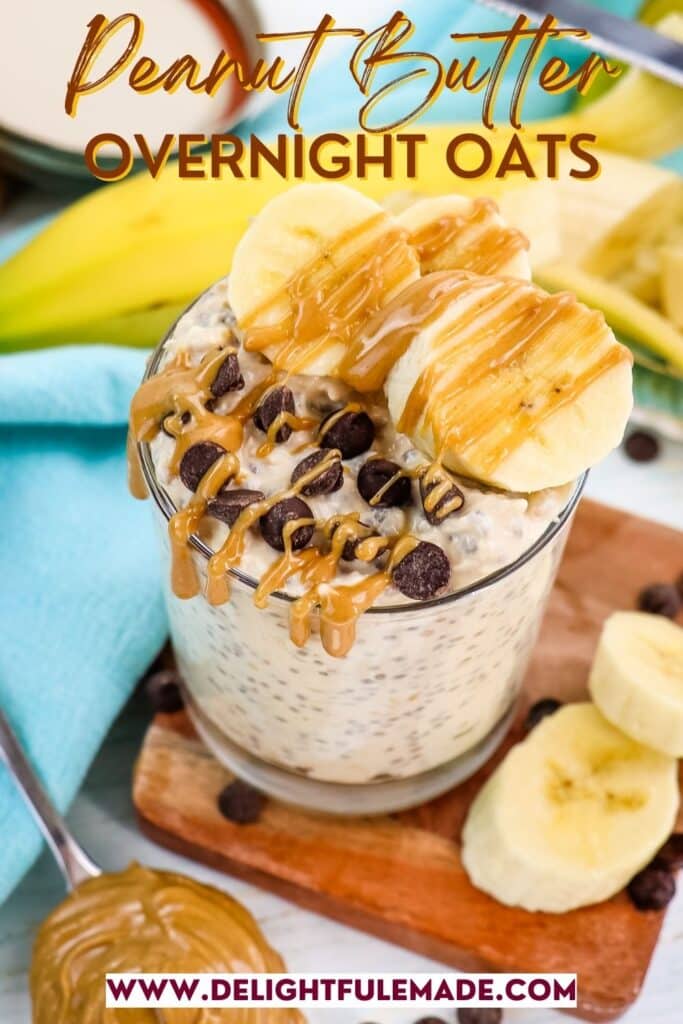 If you're looking to eat healthy, but want something that won't leave you hungry an hour later? This overnight oats recipe is not only healthy, but contains a good amount of protein and fiber that will keep you full and satiated for hours.
Enjoying a healthy breakfast that will kick-start your metabolism is also a good way to fuel your body and also prevent you from overeating. According to this article by Science Daily, there is significant research that proves eating eating a breakfast high in protein helps reduce food cravings and prevents overeating later in the day.
In this post I'll show you how to make overnight oats, what you'll need, and the delicious topping options for enjoying these peanut butter overnight oats.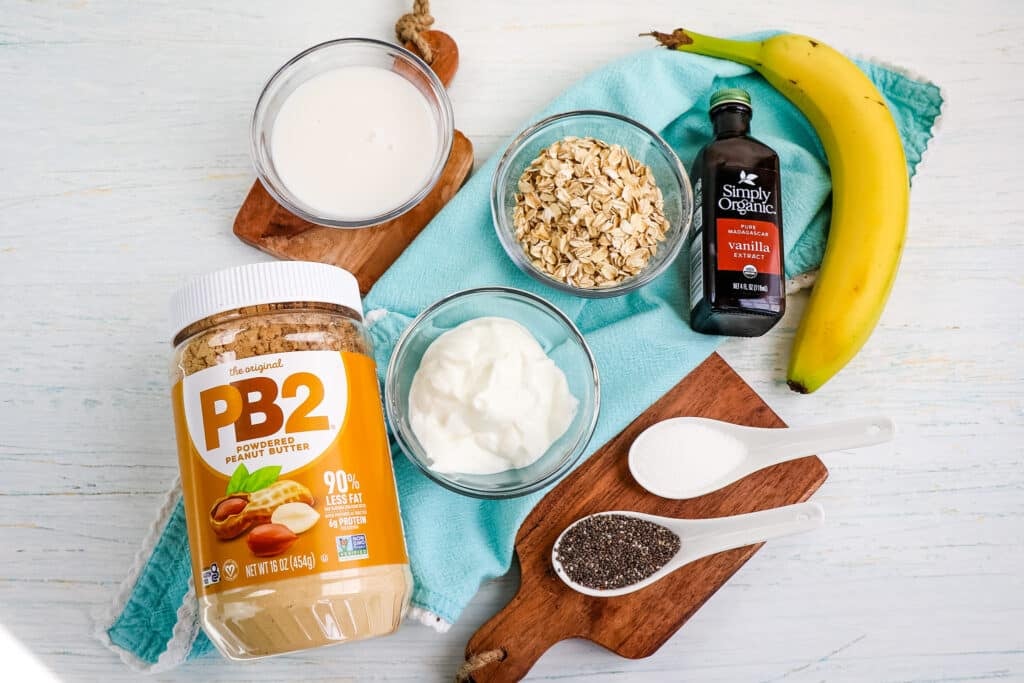 What do I need to make peanut butter overnight oats?
Plain Greek yogurt – using Greek yogurt (preferably 2% or 5%) is a great source of protein for your oats and will give them a delicious creamy consistency.
Unsweetened vanilla almond milk – feel free to use your preferred plant-based or dairy milk. Using dairy will also give you some extra protein. If you're using a plant-based milk, be sure to check the label to avoid any added or refined sugar.
Oats – I've discovered through dozens of batches of overnight oats that old fashioned rolled oats (not instant and not steel cut) are the best for achieving an ideal consistency.
Chia Seeds – chia seeds are a fantastic super-food and will provide you with Omega-3 fatty acids. They are a high-quality source of good fats, which is something we need daily.
Sweetener – use your preferred granular or liquid monk fruit/stevia sweetener. I like Whole Earth and Lakanto sweeteners, both of which contain no refined sugar and zero glycemic index.
Vanilla extract – this is great for adding flavor. If you like, almond extract is another great option for added flavor.
Powdered Peanut Butter, like PB2 – after several rounds of testing, I discovered that powdered peanut butter mixes the best for making pb2 overnight oats and still provides you with good peanut butter flavor. If you prefer, you can substitute traditional nut butter. Be sure to use a good quality nut butter without any refined oils or sugar. Ingredients should be just nuts and salt.
For exact ingredient amounts and full recipe instructions be sure to scroll down to the bottom of the post for the recipe. Thanks!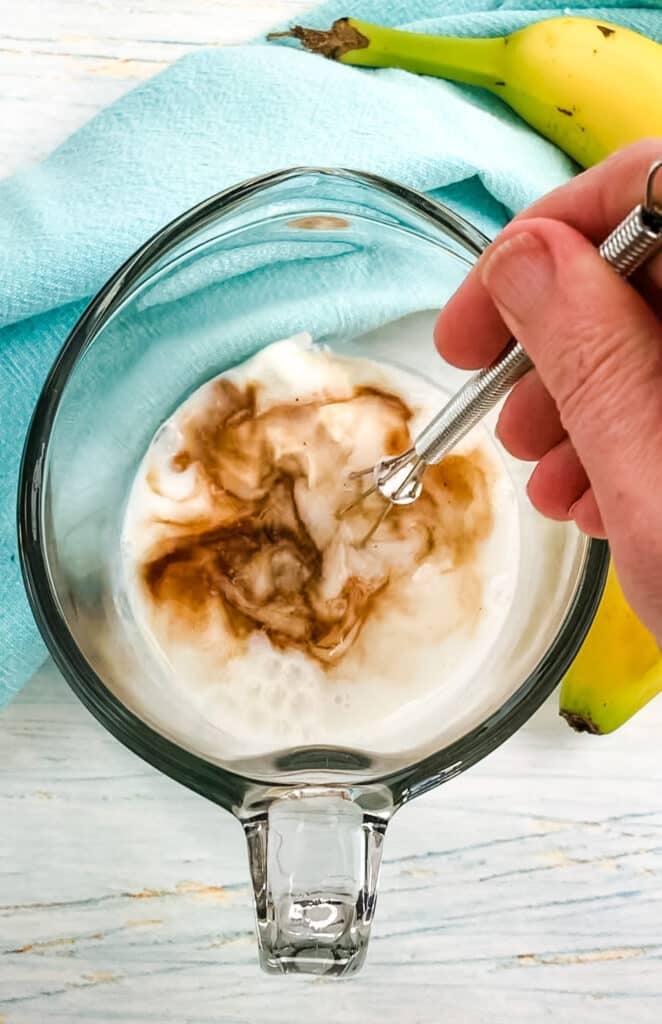 How do I make overnight oats?
Begin by mixing together the liquid ingredients; milk, yogurt, and vanilla. Use a whisk to mix to a smooth consistency. Add in the sweetener and combine.
To the liquid mixture, add in the oats, chia seeds and peanut butter powder. Use a rubber scraper to mix all the ingredients. These pb2 overnight oats will take on a delicious peanut butter flavor without the extra calories.
Transfer the mixture to a resealable container, like a mason jar or other container with a tight fitting lid.
Refrigerate the overnight oats for at least 3 hours or overnight. This will give the oats time to soak and the chia seeds to plump up and soften.
When ready to eat in the morning you'll discover your the oats have taken on a thick, creamy consistency much different than when you left them.
Wanting to add banana to your peanut butter banana overnight oats? I recommend waiting to add the banana until just before serving. You can add banana slices to the top of your oats or mix-in mashed banana for an extra sweet flavor.
Topping ideas for your PB2 overnight oats:
Fresh berries – tossing on a handful of blueberries, strawberries or raspberries will give you the delicious flavors of a PB&J. The fruit flavors pair wonderfully with the peanut butter.
Sliced banana – slicing a banana to the top of your oats is a natural pairing and goes perfectly with the peanut butter flavor.
Chocolate chips – go for a low or no-sugar chocolate chip option like Lily's No Sugar Added chocolate chips to keep your breakfast on the healthier side.
Drizzle of peanut or almond butter – either chunky or creamy peanut butter will give you that extra flavor of peanut butter in every bite.
Chopped nuts – good quality peanuts, walnuts or sliced almonds are a great choice and will give you some crunch in every bite.
Frequently asked questions about making and storing peanut butter banana overnight oats:
How long will overnight oats last?
Once prepared, store overnight oats in a resealable container like a mason jar or meal prep container. Kept refrigerated, the oats will last for up to five days.
Are overnight oats healthy?
Yes, overnight oats are very healthy. Eating overnight oats will provide your body with a good amount of fiber, fiber and nutrients. Also if you're adding chia seeds to your oats, you'll also receive a good amount of Omega-3 fatty acids.
Is overnight oats better with milk or yogurt?
I recommend using both milk AND yogurt in your overnight oats. Milk is the necessary liquid that helps soften the oats, and the yogurt provides creaminess and added protein.
Are overnight oats good for weight loss?
Yes, overnight oats provide you with a good source of fiber and protein, both of which are helpful in weight loss. Fiber and protein also help keep you full and satiated for hours, staving off hunger.
Do you eat overnight oats warm or cold?
Overnight oats are traditionally enjoyed cold. However, if you prefer to enjoy oats hot, you can heat them up in the microwave before enjoying.
How long do overnight oats need to soak?
Overnight oats need to soak/refrigerate for at least 3 hours. For best results, mix the oats together before you go to bed and refrigerate overnight. Once you wake up in the morning, breakfast will be ready to go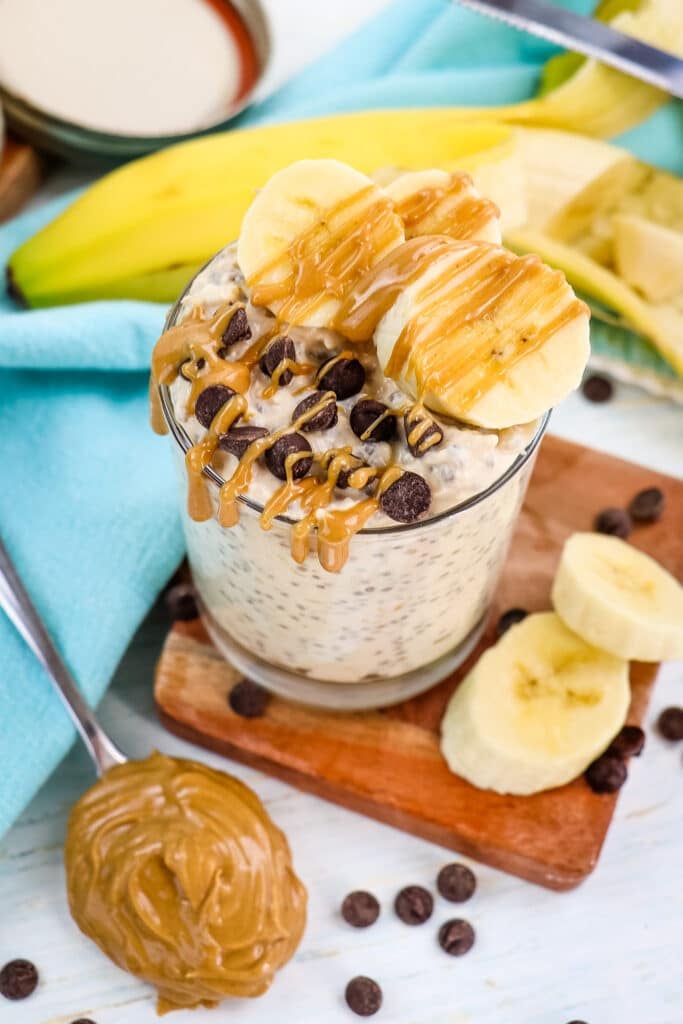 Love the ease of making overnight oats? Check out our other healthy overnight oats recipe:
Love peanut butter? Check out our other popular peanut butter recipes: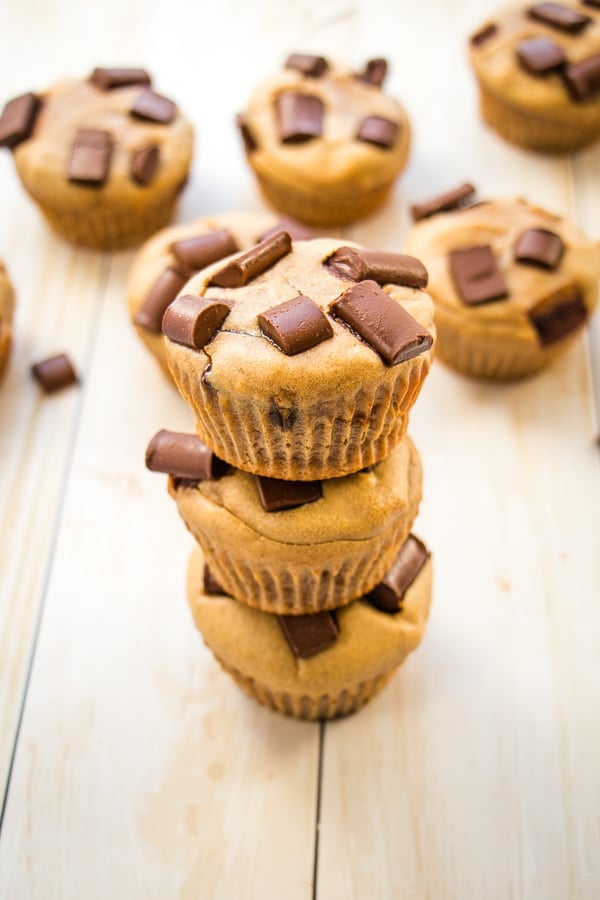 ---
---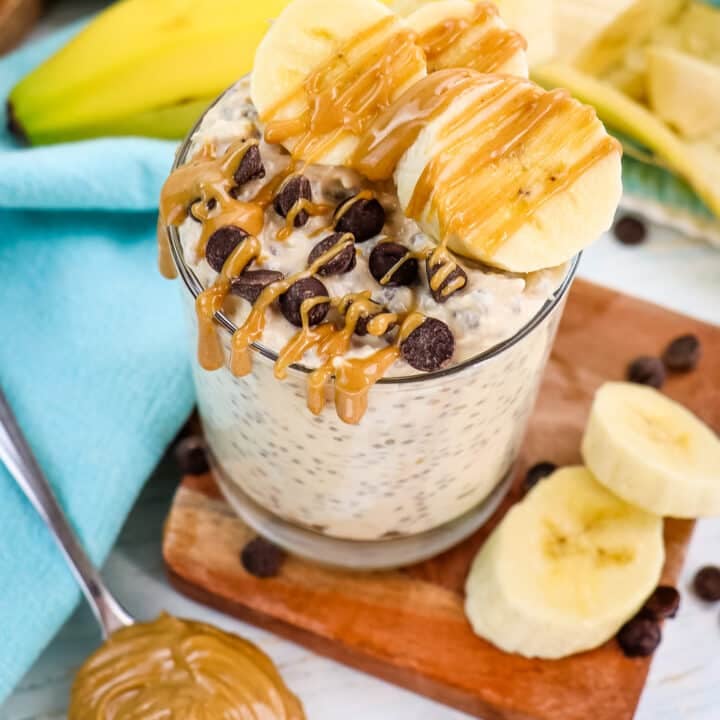 Peanut Butter Overnight Oats
Total Time:
3 hours
10 minutes
Love peanut butter? These peanut butter overnight oats are a great healthy breakfast option. Made with powdered peanut butter, these pb2 overnight oats come together quickly and easily.
Ingredients
1/2 cup plain Greek yogurt
1/2 cup unsweetened vanilla almond milk
1/2 cup old fashioned oats (not instant)
2 Tablespoons powdered peanut butter, like PB2
1 Tablespoon chia seeds
1 Tablespoon granular monk fruit sweetener
1/2 teaspoon vanilla extract
Pinch of salt
Instructions
In a bowl, whisk together the liquid ingredients; yogurt, milk and vanilla. Add in the sweetener and stir.
Using a rubber scraper add the oatmeal, chia seeds, powdered peanut butter and salt to the liquid ingredients. Stir together well to combine.
Pour into a resealable container and refrigerate overnight, or at least for 4 hours.
Once ready to eat, top with your preferred toppings, like sliced bananas, fresh berries, peanut butter and/or chocolate chips.
Notes
Overnight oats will keep in the refrigerator for up to 5 days.
Wanting to add banana to your overnight oats? For best results, add the banana just before eating. If you add the banana and then refrigerate, the banana will become brown, runny and unappealing.
Nutrition Information:
Yield:

1
Serving Size:

1
Amount Per Serving:
Calories:

355
Total Fat:

10g
Saturated Fat:

1g
Trans Fat:

0g
Unsaturated Fat:

7g
Cholesterol:

7mg
Sodium:

204mg
Carbohydrates:

41g
Fiber:

9g
Sugar:

6g
Protein:

26g