Healthy & Easy Grilled Pineapple Chicken
Are you looking for a simple & healthy pineapple chicken marinade? You've come to the right place! This easy, healthy Grilled Pineapple Chicken is the perfect dinner idea. This grilled chicken and pineapple comes together in minutes, and can be made on gas, charcoal or a stove-top grill pan.
This post may contain affiliate links. Delightful E Made is a participant in the Amazon Services LLC Associates Program, an affiliate advertising program designed to provide a means for us to earn fees by linking to Amazon.com and affiliated sites.
The BEST Pineapple Chicken Marinade for Grilled Chicken and Pineapple
Grilled pineapple and chicken is one of my absolute favorite summer dinners. The sweet and savory pineapple chicken marinade seasons the chicken perfectly and helps it stay moist and juicy!
In this post I'll show you how to make the pineapple chicken marinade, how to grill the chicken and pineapple, and ideas for serving this delicious chicken recipe!
Like this recipe? Be sure to pin it to your GRILLING or DINNER board!
Follow DelightfulEMade on Pinterest!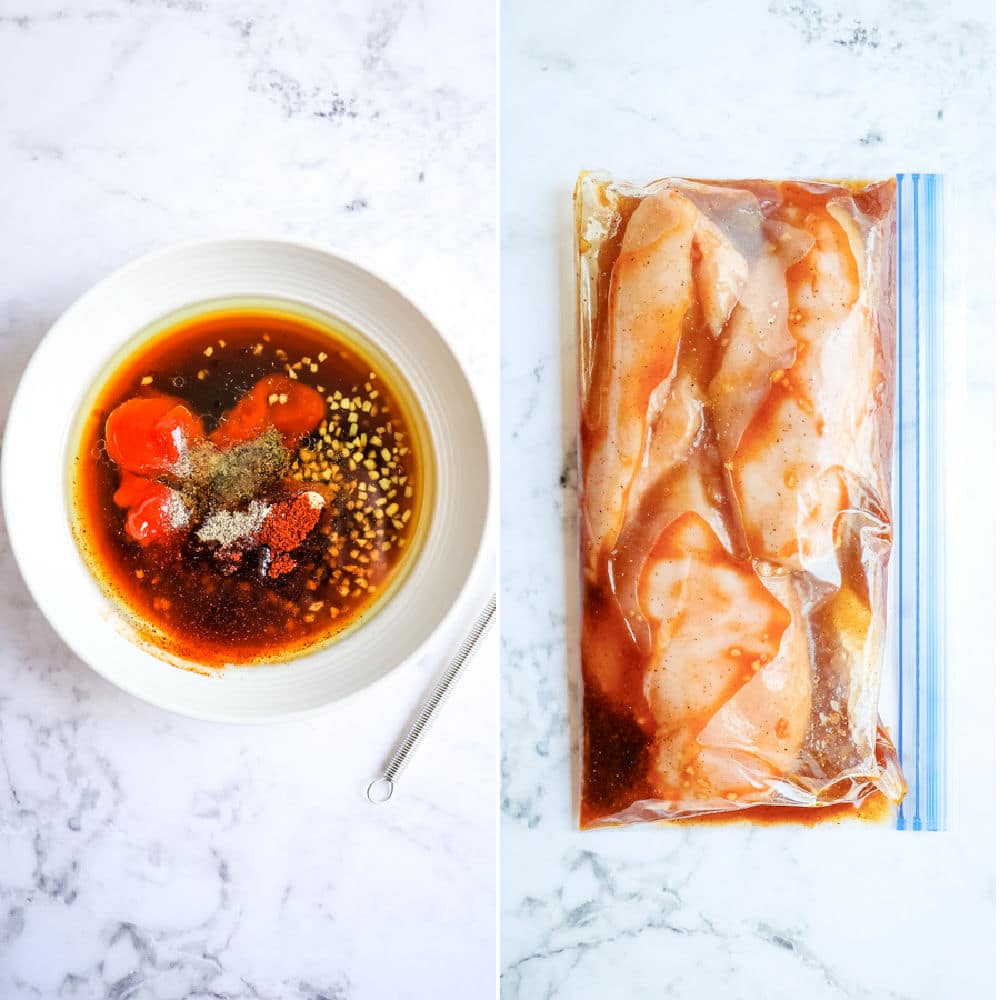 How do I make a pineapple marinade?
To make this pineapple chicken marinade, you'll simply whisk together the marinade ingredients in a bowl. You'll need the following:
Avocado oil or olive oil – I prefer avocado oil as it has a high smoke point and doesn't flame-up on the grill.
Soy sauce or liquid soy aminos – I like Bragg Soy Aminos
Brown Sugar Substitute – I use and prefer Swerve Brown Sugar Substitute
Low-Sugar or No Sugar Added Ketchup
Minced garlic
Ground ginger – fresh ginger is also fantastic!
Chili powder
Salt and Pepper
(For exact ingredient amounts and full recipe instructions be sure to scroll down to the bottom of this post. Thanks!)
Once you've whisked together the ingredients, reserve about 1/3 cup of the marinade. You will use this to brush on top of the chicken as it cooks.
Pour the remaining marinade over the top of your chicken that has been placed in a resealable bag or shallow dish. Make sure the marinade coats the chicken well. Refrigerate the marinated chicken.
How long does chicken need to marinate?
Chicken will need at least 30 minutes to take on the flavors of the marinade. It is safe to marinate chicken anywhere from 30 minutes up to 24 hours.
Ready to make your grilled pineapple chicken?
Once the chicken has spent time marinating, it is ready to be grilled.
Remove the chicken from the marinade and discard the remaining marinade. It is not safe to brush your chicken with marinade that it has been sitting in. Please throw this away.
You will use the reserved marinade to brush on to the cooked chicken. Another recipe that uses a great marinade is my Air Fryer Boneless Chicken Thighs.
What temperature is best to grill chicken?
Your chicken is ready to grill when the temperature reached 350-400 degrees. I find it best to grill over indirect heat. To do this, I turn the center burner to the lowest setting while keeping the side burners on a medium-high heat.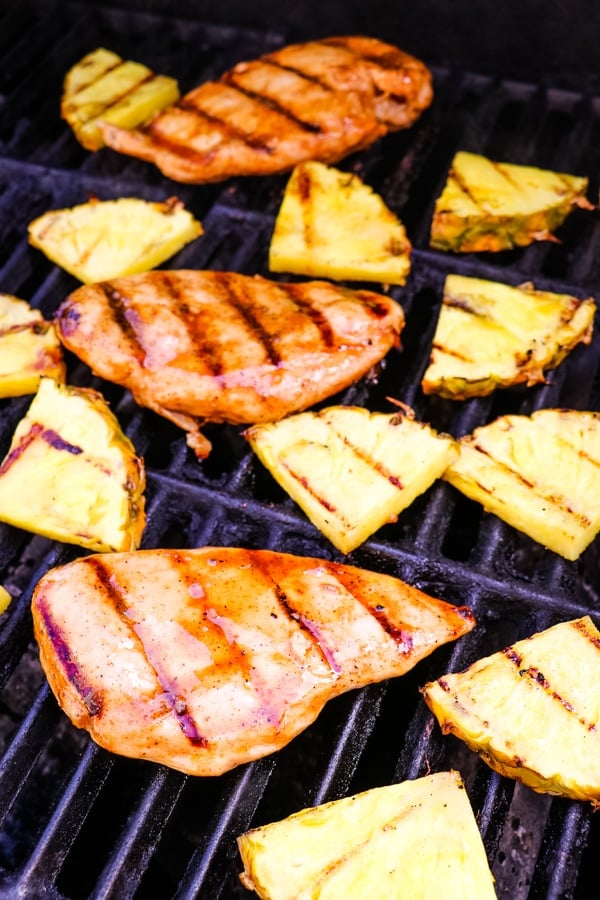 How long do I cook grilled chicken and pineapple?
When cooking over a medium-high heat, and using indirect heat (see above), the ideal cooking time for medium-sized boneless, skinless chicken breasts is about 6 minutes per side.
This time will vary given the temperature of your grill and the thickness of your chicken. To ensure your chicken is cooked to an internal temperature of 165 degrees, it is best to use a meat thermometer or an instant-read digital thermometer. I like and use this ThermaPen ONE Instant Read Digital Meat Thermometer.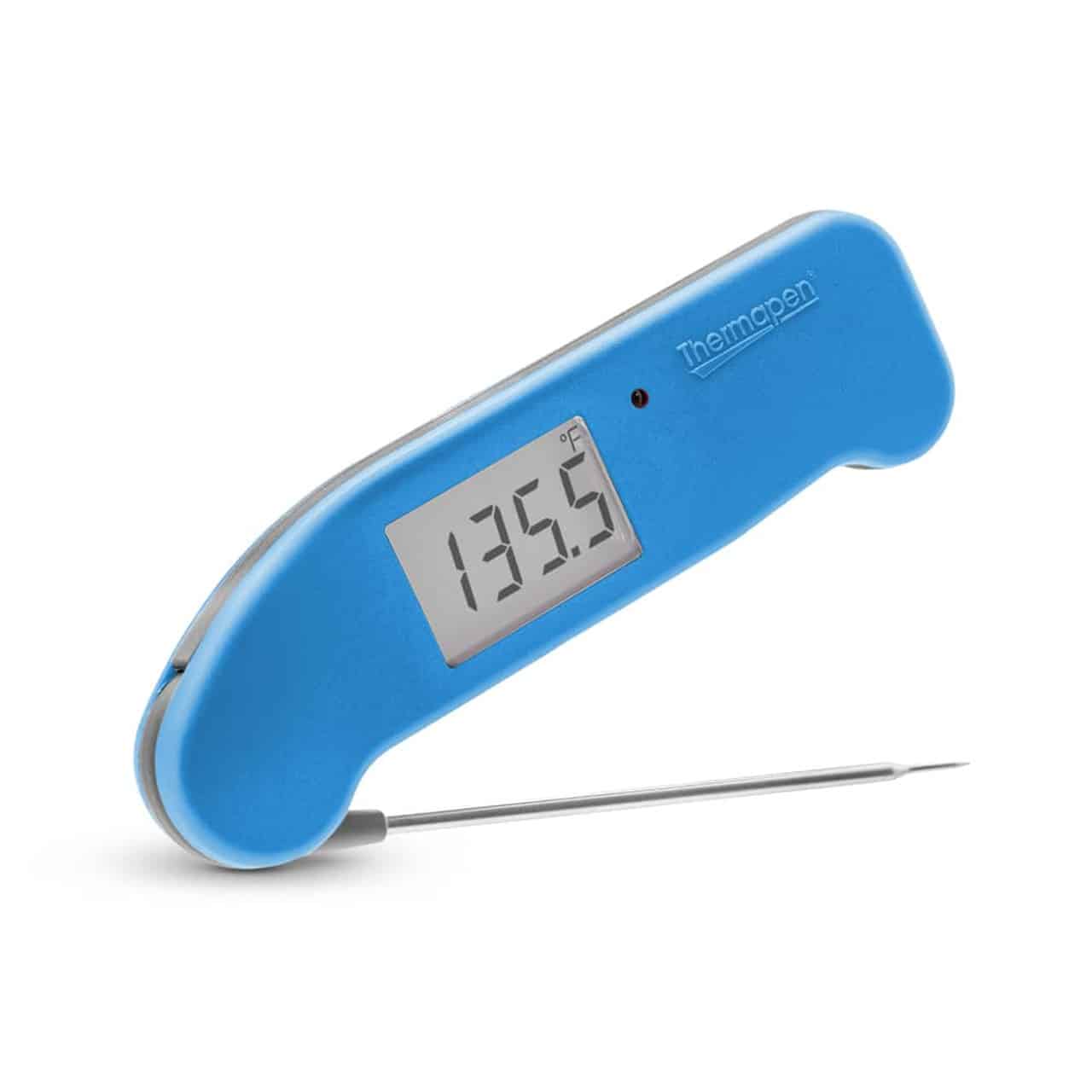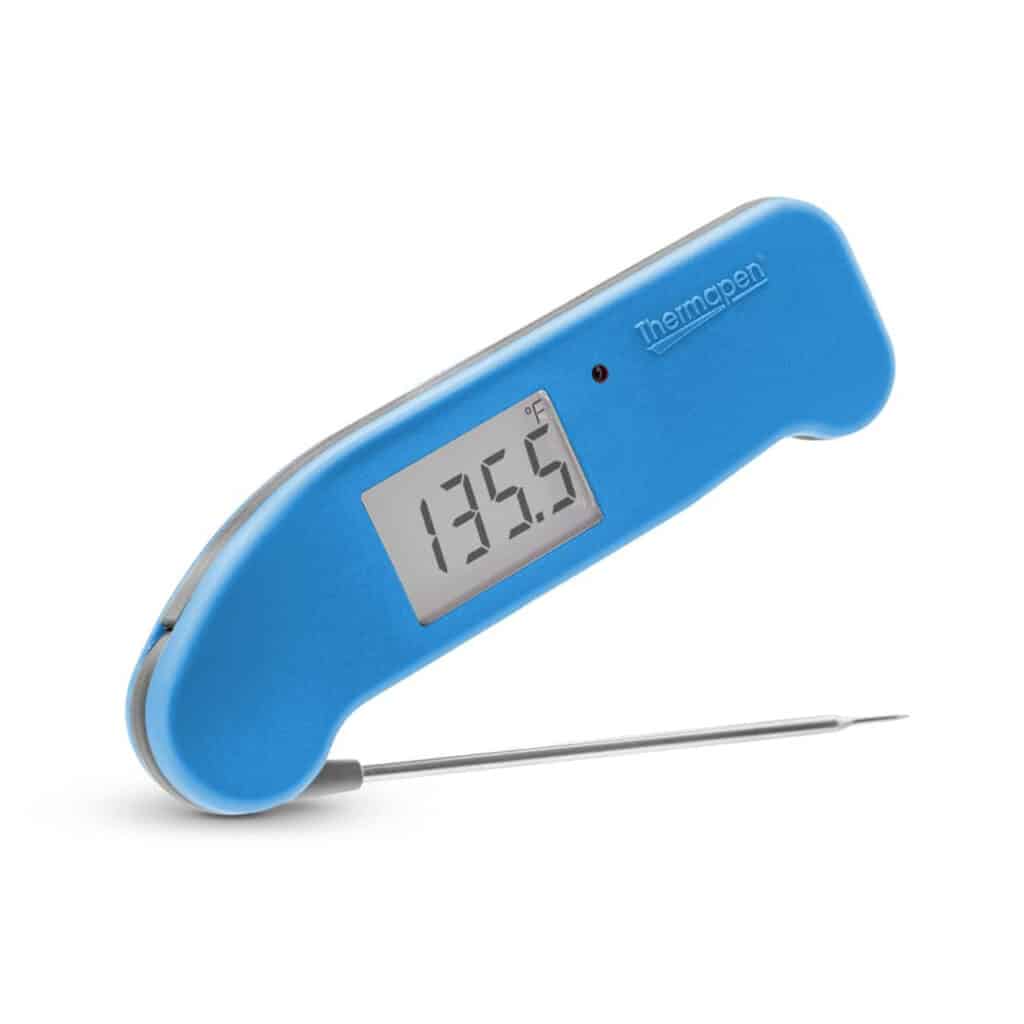 Thermapen ONE Instant Read Digital Thermometer
This is my go-to tool for grilling and roasting! With a Thermapen there's no guessing if or when the meat is done. The precise temperature will provide you with meat that is perfectly cooked, juicy and delicious EVERY time!
How long should I grill pineapple?
For fresh pineapple, grill it approximately 4-6 minutes per side. These pineapple slices were about 1/3″ thick, and were grilled the same time as the chicken – 6 minutes per side.
I would recommend brushing the pineapple with avocado or olive oil prior to grilling to prevent sticking.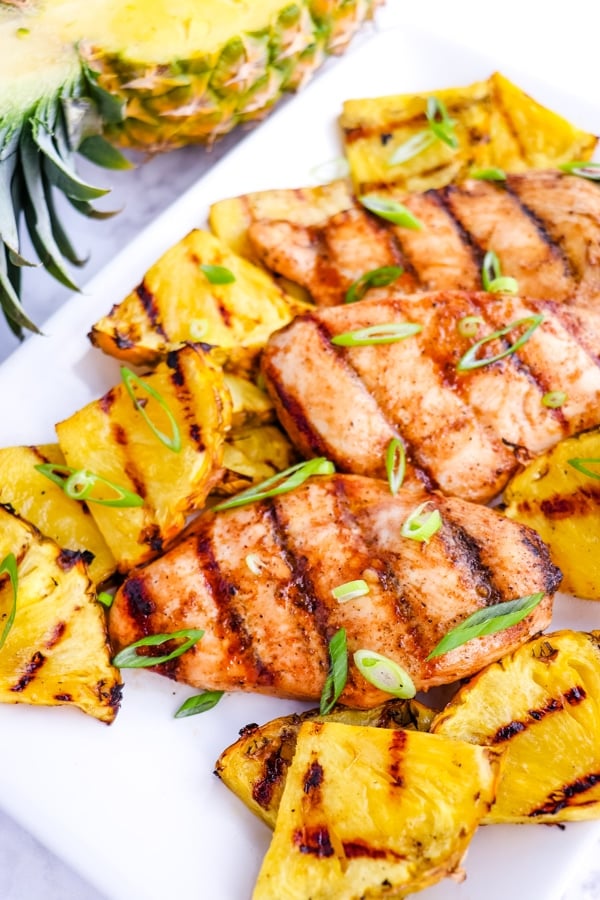 How do you grill chicken without drying it out?
Here are a few tips to grill chicken and keep it, moist, tender and juicy:
Do you love cooking with chicken breasts? Here are some of my other chicken breast recipes: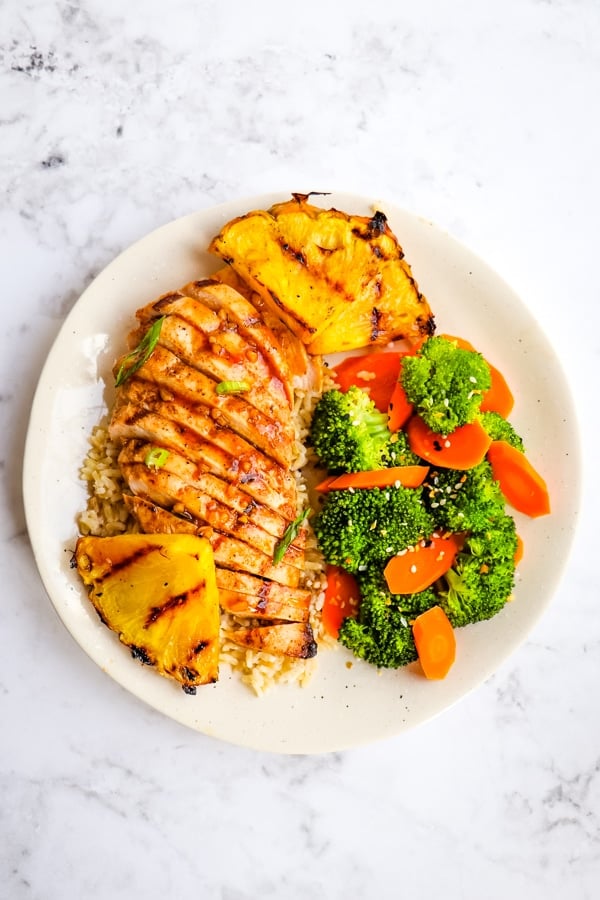 What should I serve with grilled chicken and pineapple?
Make it simple by serving sides like brown rice and vegetables. Here are a few more ideas:
Do you love pineapple? Here are some of my other popular pineapple recipes:
Make sure you check out my Google Web Story on how to make Grilled Pineapple Chicken!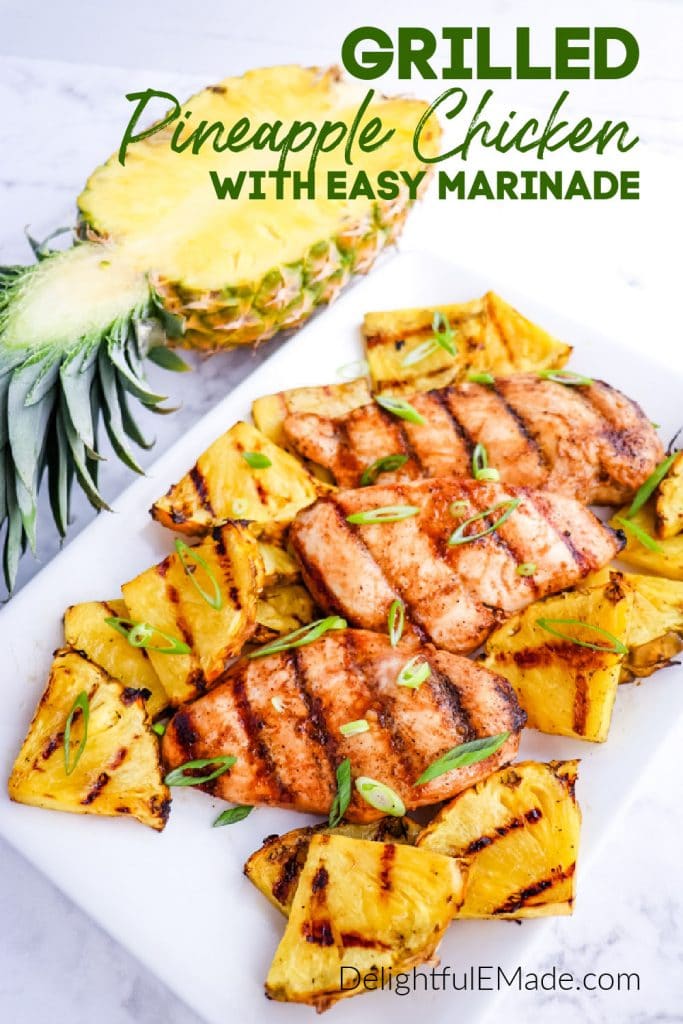 If you loved this grilled chicken recipe, check out some of my other similar recipes:
Check out my Tutorial at Food.com on How to Bake Chicken
Here's the recipe for my Grilled Pineapple Chicken:
Grilled Pineapple Chicken
Ingredients
1 lb. boneless, skinless chicken breasts (about 3-4 medium)
Pineapple Marinade:
1/3 c. avocado oil (or olive oil)
1/4 c. low sodium soy sauce (or soy aminos)
1/4 c. pineapple juice
2 Tbsp. brown sugar substitute (like Swerve)
2 Tbsp. low-sugar ketchup
2 tsp. minced garlic (about 2-3 cloves)
1/2 tsp. ground ginger
1/2 tsp. chili powder
1/2 tsp. ground pepper
1/2 tsp. salt
For serving:
Instructions
In a medium bowl, whisk together the avocado oil, soy sauce, pineapple juice, brown sugar substitute, ketchup, garlic, ground ginger, pepper, chili powder and salt. Reserve approximately 1/3 cup of the marinade and set aside.
Place the chicken breasts into a resealable bag and pour the remainder of the marinade over the chicken. Coat the chicken well and refrigerate for at least 30 minutes to 24 hours.
When ready to cook, heat grill on medium-high heat. Treat grill grates with olive oil. Place chicken over indirect heat, and grill approximately 6 minutes per side. Once you turn the chicken, brush with the reserved marinade, and let it cook for the final 6 minutes.
If grilling pineapple, brush pineapple slices with olive oil, and cook alongside the chicken. Pineapple can also cook approximately 6 minutes per side.
Remove chicken from grill, transfer to serving plate and enjoy right away alongside the grilled pineapple.