Looking for a delicious, healthy snack without refined sugar or loads of processed ingredients? These delicious chocolate date balls are a great option. Made with just 6 ingredients in your food processor, this coconut date balls recipe is easy to make and way better than any store-bought "healthy snack."
This post may contain affiliate links. Delightful E Made is a participant in the Amazon Services LLC Associates Program, an affiliate advertising program designed to provide a means for us to earn fees by linking to Amazon.com and affiliated sites.
Do you love the ease and convenience of store bough Rx bars or Luna bars, but don't like spending $2+ a pop? Do you not like the added sugar or the processed mystery ingredients that some bars contain?
This easy homemade date balls recipe will save you money that you would otherwise spend on bars. It will also save you calories, unwanted processed ingredients and provide you with a healthy snack option.
What do I need to make date balls?
Large Medjool Dates – these can be found in the produce section of your grocery store or where the dried fruits are located.
Raw almonds – unroasted, unsalted almonds are ideal.
Unsweetened Shredded Coconut – this can most often be found in the baking aisle of your grocery store. Look for unsweetened, as sweetened coconut is loaded with refined sugar.
Cocao or unsweetened cocoa powder – this will give your date balls fantastic chocolate flavor without the added sugar.
Salt – this is really helpful in bringing out the flavor of the chocolate
Water – depending on how dry your dates are, water is helpful in getting the dough to stick together.
For exact ingredient amounts and full recipe instructions be sure to scroll down to the bottom of the post for the recipe. Thanks!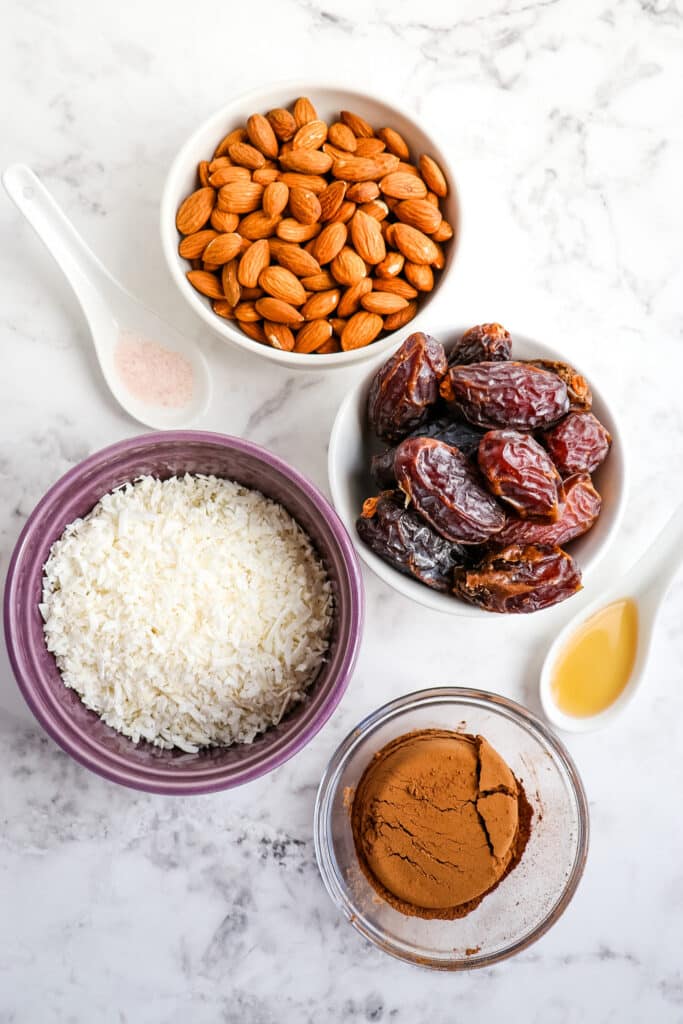 How do I make coconut date balls?
Making this healthy snack is a very simple process. It's a matter of adding your ingredients to a food processor and pulsing until you get a thick paste-like batter.
Note: before adding the dates to the food processor, be sure to cut them open and remove the pit. Some dates already come pitted, but many do not. Simply cut the date open with a pairing knife, and remove the pit from the center.
I use and love this Ninja Professional Plus Food Processor. It has a very strong motor that can easily process these ingredients into a thick and smooth batter.
When processing the ingredients, you may need to add a bit of warm water. My dates were on the drier side, and had minimal moisture. I needed to add some water to bring the ingredients together and make the batter sticky.
You may not need to add much water at all. Start with a few tablespoons and pulse. If your batter sticks together well, you won't need to add more.
Recommended mix-in's and outer coating ingredients for these chocolate date balls:
Mini chocolate chips – I personally love Lily's No Sugar Added chocolate chips. The dark chocolate mini chips would be perfect for this recipe.
Chopped almonds – give some almonds a rough chop, and roll the date balls in the chopped nuts. It will add a great crunch to every bite.
Coconut or almond extract – instead of vanilla extract, use a good quality almond or coconut extract to add a complimentary flavor to each bite.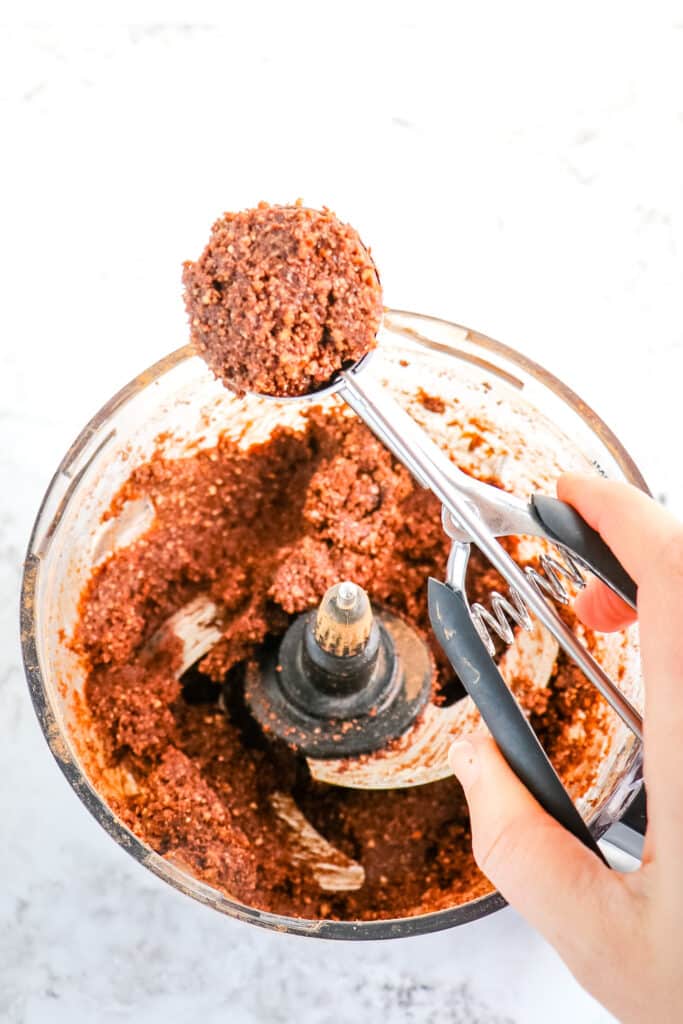 How to form date balls:
Once your dough is processes and a sticky consistency, use a cookie scoop to scoop and roll out the balls.
Using a cookie scoop will help create evenly sized balls, that are about 1″ in diameter. Simply scoop, then roll between your hands to create a ball.
If you like, roll the ball in the reserved coconut for a bit of extra texture and flavor.
Frequently asked questions about making date balls:
How many calories are in a date ball?
Calorie counts for date balls will vary widely given what ingredients are used. This recipe for chocolate coconut date balls there are 92 calories per ball.
Are energy balls heathy?
Depending on the ingredients used, energy balls can be a very healthy snack option. Be sure to limit the amount of refined sugar in the recipe.
When should you eat energy balls?
The best time to eat an energy ball is just before or after a workout. Energy balls will offer good quality energy to fuel your workout. After a workout is also a good time to consume a healthy snack. Your body will absorb much needed protein and anti-inflammatory nutrients to help build and repair muscle fibers.
Can you freeze date balls?
Yes, date balls can be frozen. They will actually keep well in the freezer and can be stored for up to 3 months. No need to thaw before eating, as they will stay soft enough the enjoy right out of the freezer.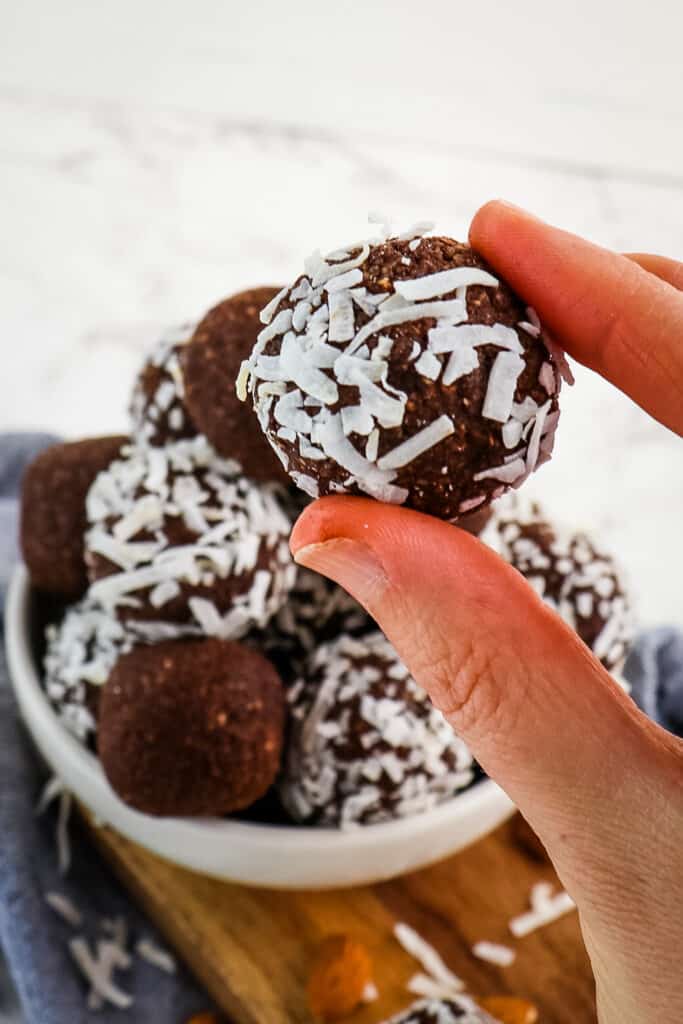 How to store date balls:
The best way to store date balls is by freezing them individually on a sheet pan, and then storing in a freezer bag or freezer container.
Freezing the balls helps them hold their shape, and also prevents them from sticking together once they are placed together in a container.
Ready to eat? There is no need to thaw – the balls are ready to enjoy right out of the freezer. They won't have a frozen, hard consistency. They stay soft and able to easily bite into!
If you loved this healthy snack recipe, check out some of our other similar posts: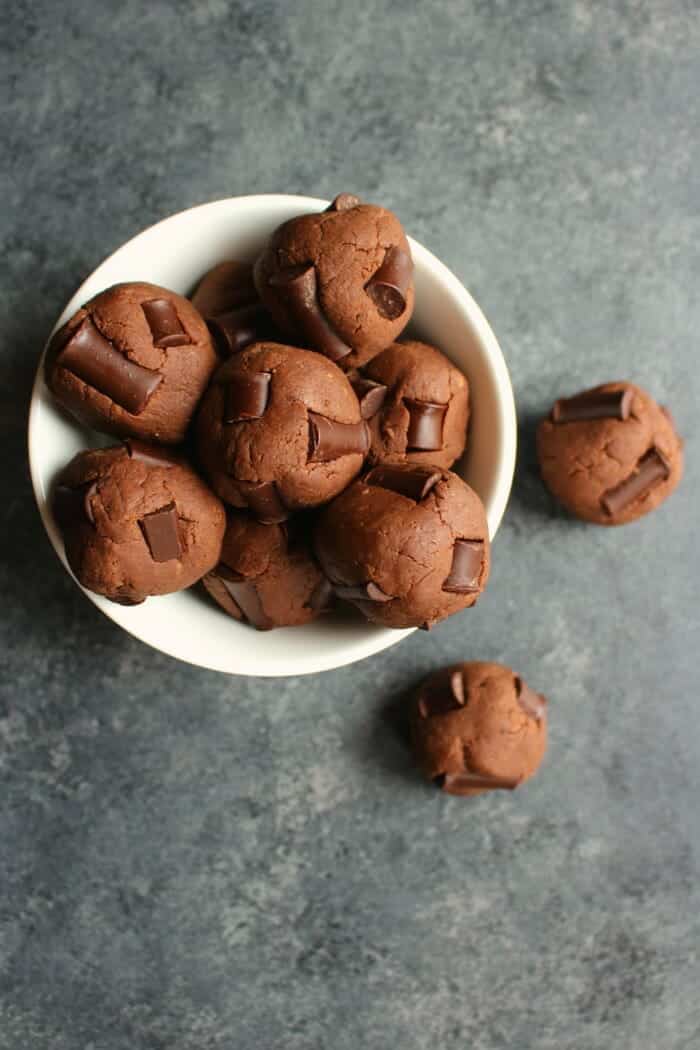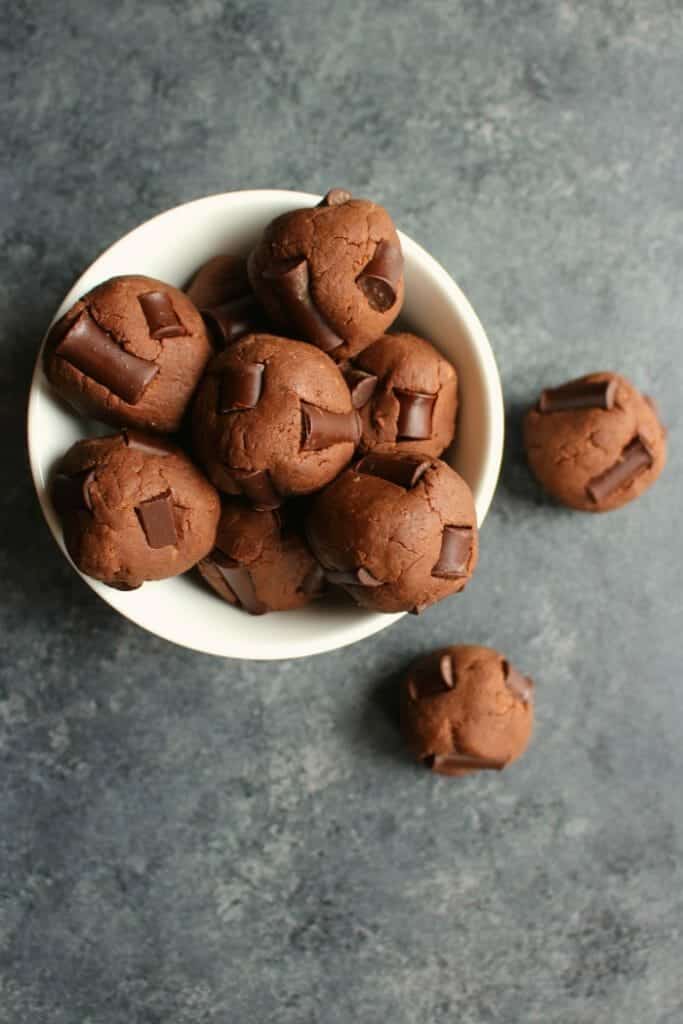 Could you use more healthy snack ideas? Check out some of our other healthy snack recipes: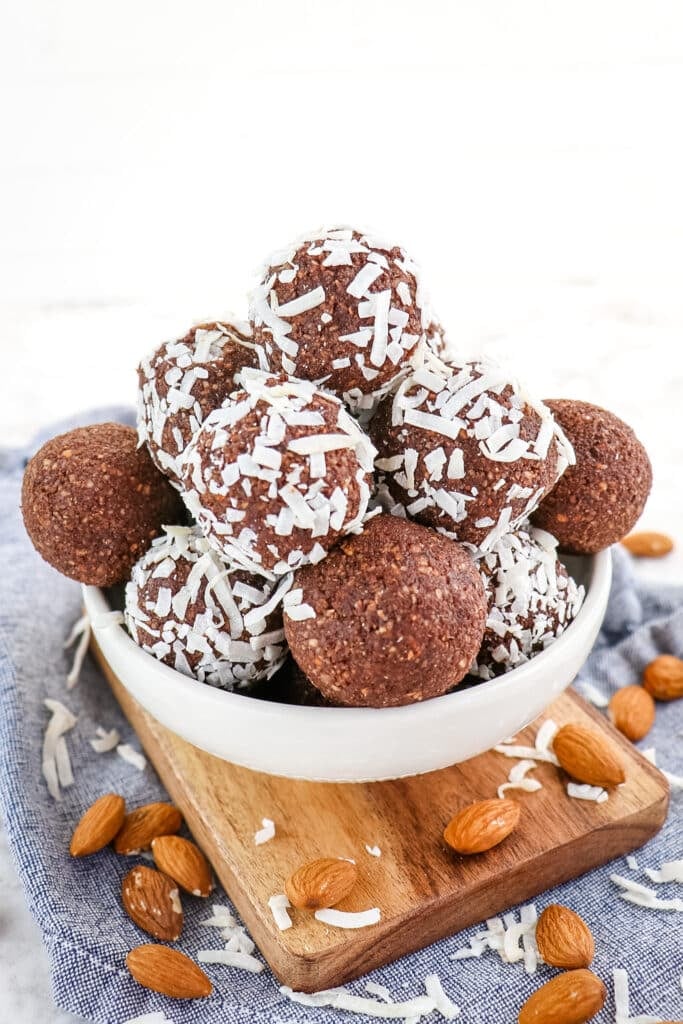 ---
---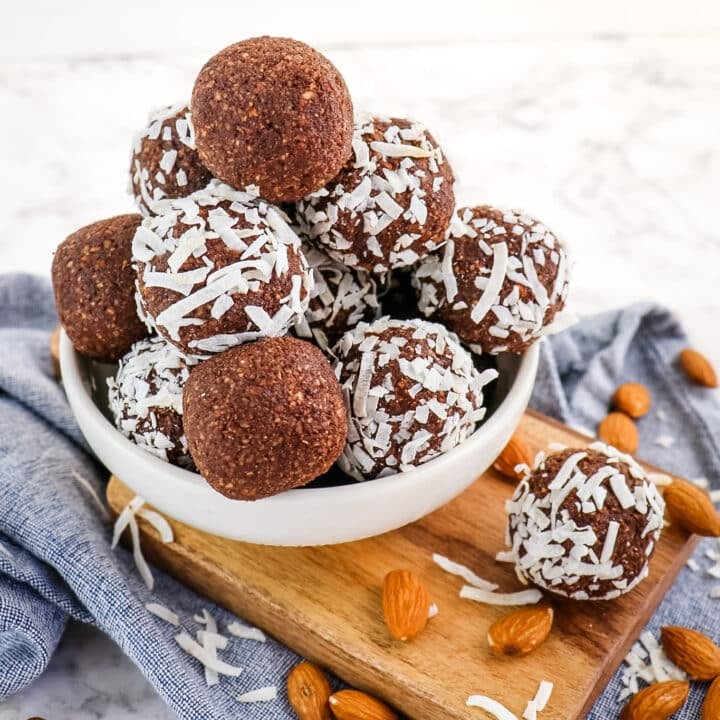 Chocolate Coconut Date Balls
Looking for a new healthy snack option? These chocolate date balls are the perfect snack to keep stocked in your freezer. Made with just 6 ingredients, this date ball recipe comes together quickly and easily.
Ingredients
1 (10.5 oz) pkg., large Medjool dates, pitted
1 1/2 cups unsweetened shredded coconut, divided
1 cup raw almonds
1/3 cup unsweetened cocoa powder
1 teaspoon vanilla extract
1/2 teaspoon salt
Instructions
Make sure all of your dates are pitted. To pit a date, slice down the middle and remove the internal pit.
Place the dates, 1 cup of coconut (reserve the other 1/2 cup of coconut for the outer coating), almonds, cocoa powder, vanilla and salt into a food processor.
Process until all the ingredients are fully processed. A thick dough will begin to form. (Note: if your dough is more like fine, blended crumbs, add 1/4 - 1/2 cup warm water, then pulse the dough a few more times to combine.) The dough should be a thick and sticky consistency.
Use a cookie scoop and scoop out the individual balls. Use your hands to roll the balls. Place on a sheet pan. If you like, roll the balls in the reserved coconut.
While still on the sheet pan, freeze the date balls for about 30 minutes. Freezing will help the balls maintain their shape. Transfer the balls to a freezer bag or container and store in the freezer. Date balls will keep for up to 3 months frozen.
Notes
For best results, store the date balls in the freezer. They will hold their shape and keep well in the freezer. No need to defrost. The date balls will be soft enough to eat right from the freezer.
Recommended Products
As an Amazon Associate and member of other affiliate programs, I earn from qualifying purchases.
Nutrition Information:
Yield:

18
Serving Size:

1
Amount Per Serving:
Calories:

92
Total Fat:

8g
Saturated Fat:

4g
Trans Fat:

0g
Unsaturated Fat:

3g
Cholesterol:

0mg
Sodium:

61mg
Carbohydrates:

5g
Fiber:

2g
Sugar:

2g
Protein:

2g