With just three ingredients, these delicious pistachio grape cheese appetizers are the perfect snack for cocktail hour! Wonderful for a holiday party, intimate gathering or wine night, these easy appetizers are sure to please!
This post may contain affiliate links. Delightful E Made is a participant in the Amazon Services LLC Associates Program, an affiliate advertising program designed to provide a means for us to earn fees by linking to Amazon.com and affiliated sites.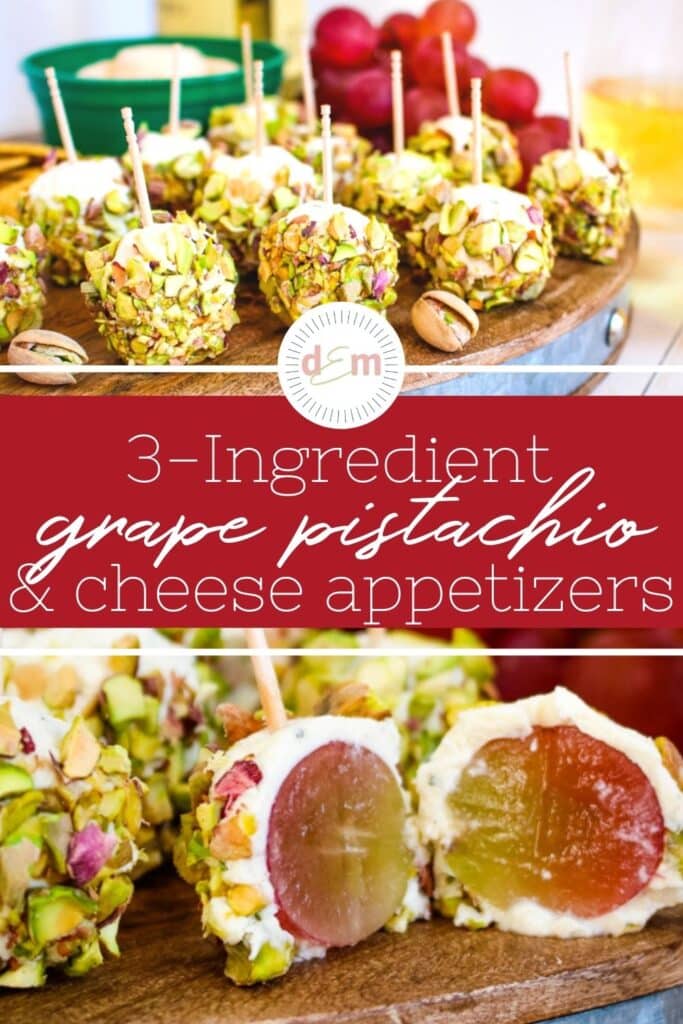 Are you having friends and family over during the holidays? Maybe just a few girlfriends over for a glass of wine? Make sure you have these delicious pistachio grape and cheese appetizers!
Made with just three ingredients, these easy snacks are super-simple to make, and even easier to enjoy!
Here's how these simple grape appetizers come together!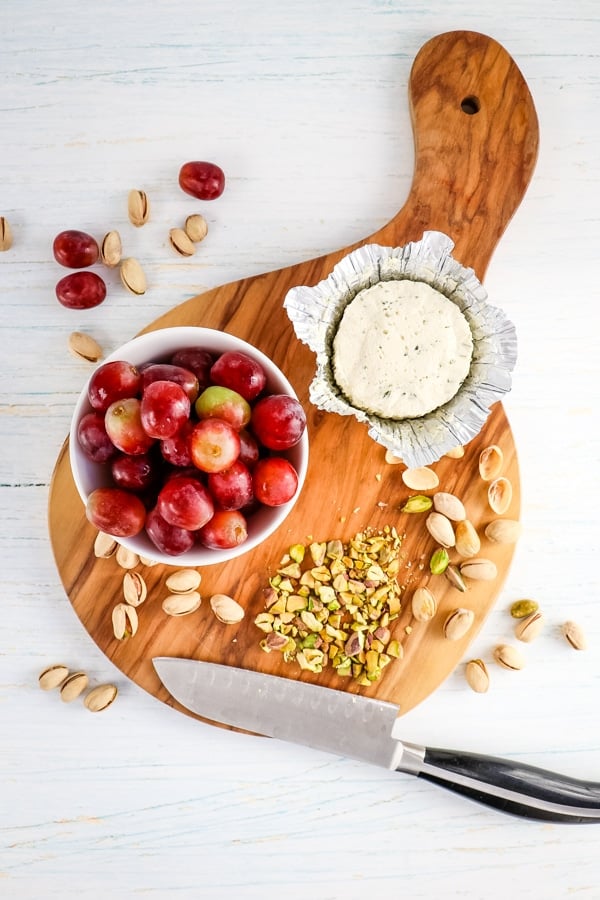 The ingredients you'll need for these Pistachio Truffles:
Pistachios – feel free to buy pistachios in the shell or unshelled.
Grapes – red or green seedless
Spreadable herb cheese, like Boursin.
With just three ingredients, these easy appetizers come together quickly. I start with large, red "globe" grapes. These are popular during the holidays, but if you cannot find the "globe" variety, standard red seedless grapes work well. Next, you'll need pistachios – you can purchase shelled or un-shelled.
You'll also need a savory, creamy cheese to go over the grapes. I used Garlic and Fine Herbs Boursin Cheese. It adds a nice, creamy, savory texture that pairs well with the sweetness of the grape inside, along with the crunch of the pistachios.
How to assemble and make sure the cheese sticks:
In order for the cheese to stick to the grapes, I made sure to rinse, and then dry the grapes with paper towels. This made the process of assembling the appetizers really easy.
For the larger globe grapes I used about a 1/2 Tbsp of cheese per grape. For a standard grape, a little less cheese. You simply just need to cover the outside of the grape on all sides.
Once the cheese on the outside of the grape, I then pierced the tops of the grapes with a toothpick. You can also use cocktail spears, which are a little longer than the standard toothpick.
Gently roll the cheese covered grapes in the chopped pistachios.
Refrigerate the grape appetizers in the refrigerator until ready to serve. This can be done up to 4 hours in advance of serving the appetizers. Anything longer, and the pistachios will begin to soften, get soggy and lose their crunch.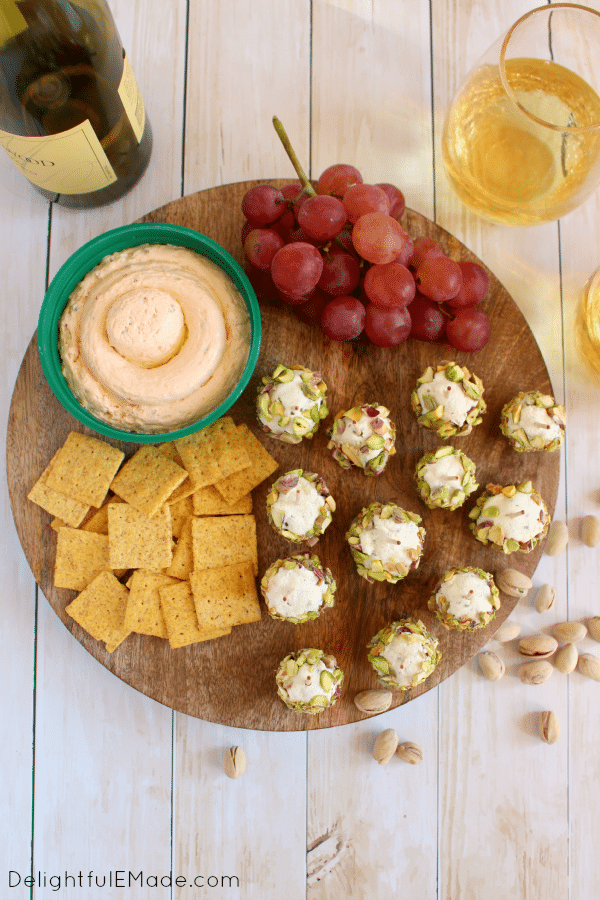 What can I serve these Pistachio Grape and Cheese appetizers with?
Pair these delicious pistachio truffles with crackers, fruit and any other cheeses or cheese spreads that you enjoy.
Not only will these make a pretty appetizer tray for your cocktail hour, but your guests will be wonderfully surprised as to what they discover inside these amazing truffles. These are also great to bring to a gathering or party, or serve to friends coming over for a glass of wine.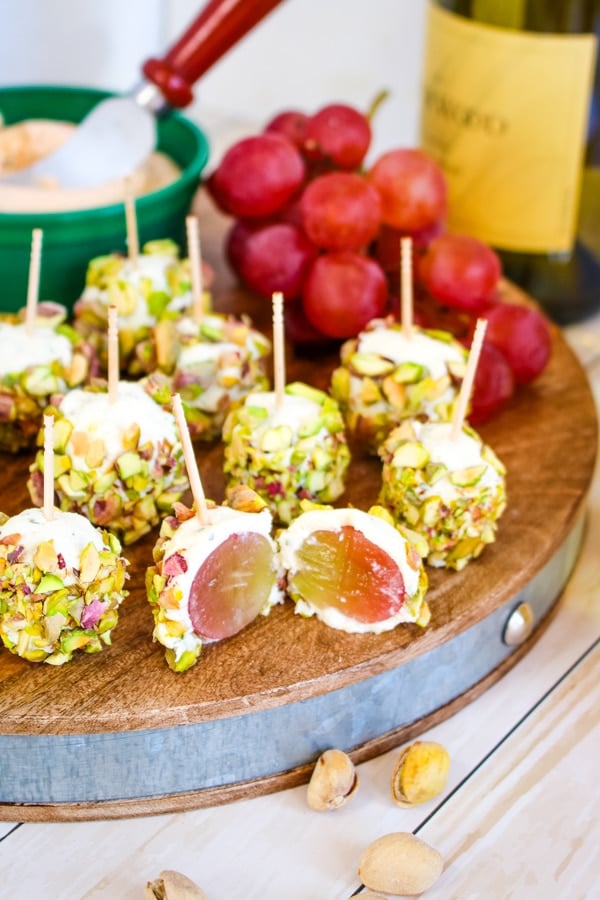 FAQ's about how to pair and serve grapes, pistachios and cheese:
What flavors go well with pistachio?
Because pistachios are savory nut, they tend to pair well with something softer and sweeter. The creamy cheese and the sweet grapes are an excellent flavor combination for the savory, crunch pistachios.
What cheese works with grapes?
Because grapes, particularly red grapes are on the sweeter side, a sharper or savory, herby cheese pairs well. This garlic herb Boursin is a great contrast to the sweet red grapes.
What goes good on grapes?
Grapes tend to pair well with yogurt, cottage cheese or any creamy, soft cheese. Grapes are also a great pairing with savory, crunchy nuts, like pistachios, walnuts, or almonds.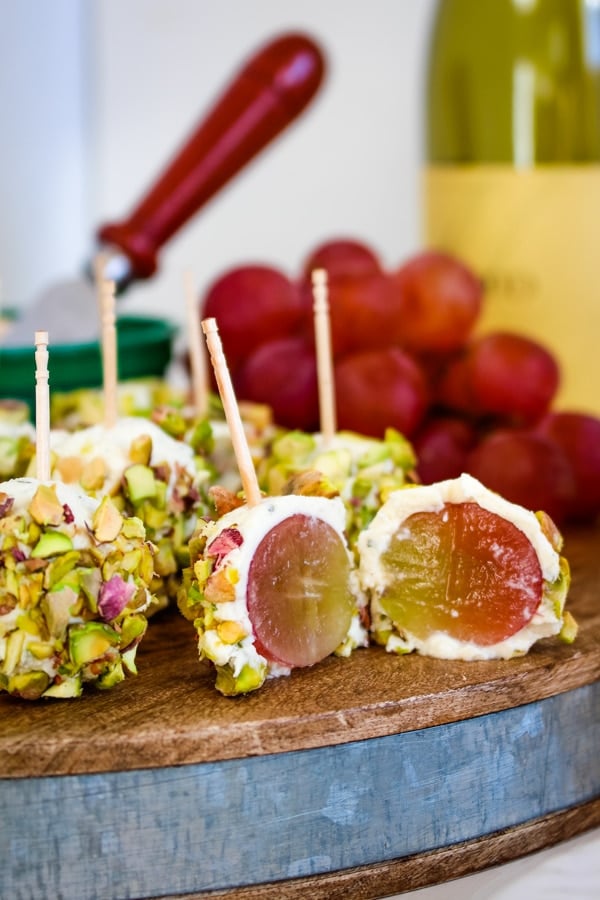 Need some additional recipe ideas for your next cocktail hour? Check out some of my other party appetizer recipes:
Love pistachios? Check out these other recipes that include pistachios:
Here's the quick, easy and delicious recipe for these Cheese Grape and Pistachio Truffles: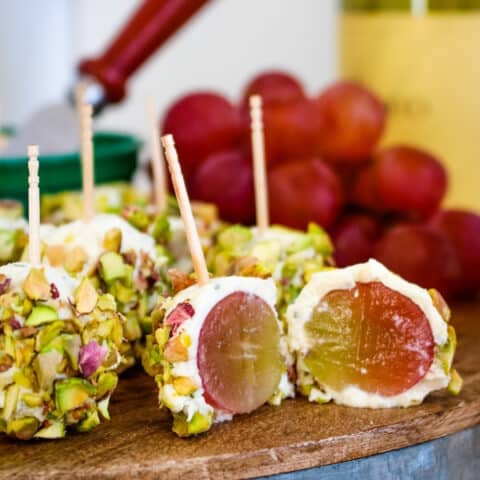 Pistachio Grape Cheese Appetizers
Need an easy cheese appetizer for your holiday party or wine night? These simple 3-ingredient pistachio grape cheese appetizers are the perfect option!
Ingredients
1 (5.2 oz.) pkg, savory cheese spread, like Boursin
18-24 red, seedless grapes
1 c. chopped pistachios
Instructions
Rinse the grapes, and gently dry with a paper towel. Cut off a heaping teaspoon amount of cheese and gently press onto the outside of the grapes, covering the entire surface.
Pierce a toothpick through the tops of the cheese covered grapes. Place the chopped pistachios on a flat surface and roll through the gapes over the pistachios.
Place on serving platter or cheeseboard and enjoy right away. Refrigerate any leftovers.


Notes
Prepping in Advance: These cheese appetizers can be made up to 4 hours in advance. Be sure to cover and refrigerate. Anything longer than 4 hours, and the pistachios will begin to soften and become soggy or lose their crunch.
Nutrition Information:
Yield:

18 servings
Serving Size:

1 appetizer
Amount Per Serving:
Calories:

58
Total Fat:

5 g
Carbohydrates:

3g
Protein:

1.3g