Dollar General Halloween Ideas
From candy, costumes, and décor, everything you need for Halloween is at Dollar General! I'll show you some spooktacular Dollar General Halloween Ideas, including cute craft and baking ideas to do with your kids, decorating on a budget and how to put together last-minute costumes!
This post was created in partnership with Dollar General. All photos, ideas and opinions are 100% my own. #sponsored
Here are three fun, easy and inexpensive things you can do with your family this Halloween:
Dollar General Halloween Idea #1: Have fun decorating an indoor or outdoor space with your kids
Dollar General has everything you need to decorate for an amazing Halloween! They offer both indoor and outdoor fall and Halloween decorations that are sure to make your space look Spooktacular!
Because our neighborhood goes all-out for Halloween, Harrison and I decided to decorate our front door area to welcome all of the trick-or-treaters. We decided to go with a scary-fun spiderweb theme, and I love how it turned out.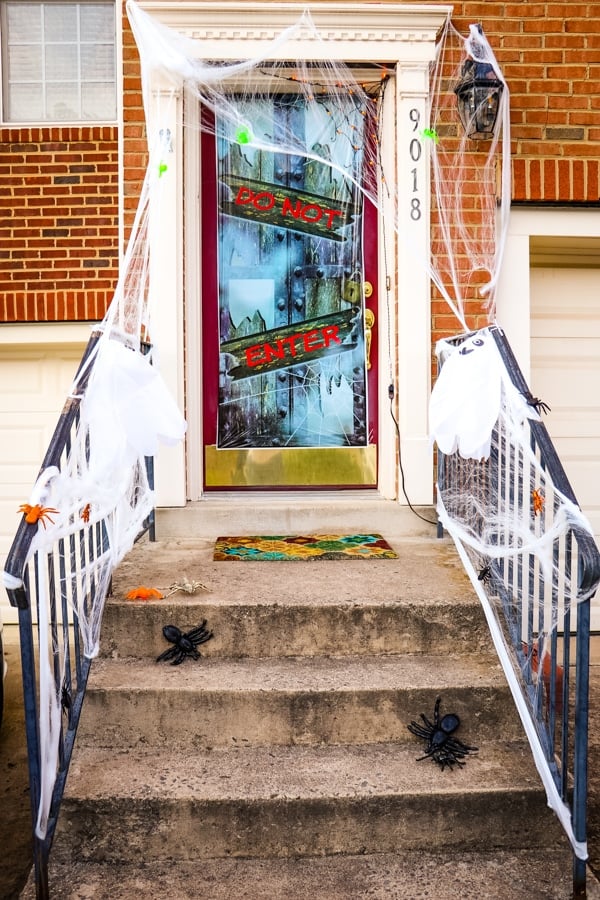 Everything that we used to decorate came from Dollar General! Here's some of the décor items that we found to complete our haunted spiderweb look:
Spiderwebs – $1/bag
Glitter Spiders (both black and Orange) – $1 for a set of 3
Glow-in-the-Dark Green Spiders – $1 for 3
Hanging Light-up Ghosts – $3.50
Large Black Spiders – $1
Do-Not-Enter Door Cover – $1
Not only does Dollar General have amazing prices, you can download the Dollar General App to your phone, where you can access digital coupons that will save you even more money at checkout! If you're shopping on October, 31st, you'll be able to use the $5 off $25 coupon for everything Halloween!
Dollar General Halloween Idea #2: Have a Mini Halloween Baking and Craft party
Because this Halloween might be different for many of us, I decided to create fun Halloween themed craft & baking party. It's not only a fun way to get into the Halloween spirit, it's a nice way to enjoy time together as a family.
Dollar General had everything I needed to complete this fun Halloween table-scape for our Halloween baking & craft party. Here's what I got:
Rold Gold Pretzels and Clover Valley Sweet and Salty Trail Mix for snacking
Halloween tablecloths, plates and napkins
Lots of Halloween Candy – Dollar General has a huge variety of all your favorites – they've got Reese's, Hershey's, KitKat, Snickers and so much MORE! Your digital coupons will apply on ALL candy purchases, so make sure you have the Dollar General App downloaded on your phone to use those coupons at check-out.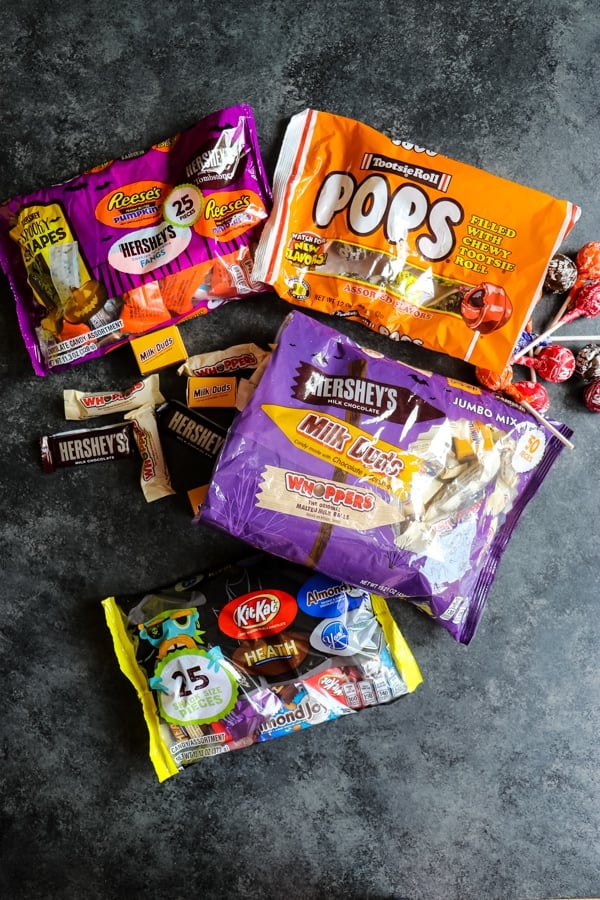 To keep with our spider theme this year, Harrison and I made these fun and simple lollipop spiders to give to his classmates for Halloween. For our baking project, we assembled these cute Chocolate Chip Spider Cookies.
Here's how the Lollipop Spiders are made:
Supplies you'll need to make these Lollipop Spiders:
Tootsie Pop Lollipops
Glitter pipe cleaners (found in the Craft Section!)
Clear and/or color gems (found in the Craft Section!)
You'll start by cutting two pipe cleaners in half, to create 4 shorter pipe cleaners. Next, tightly wrap the 4 pipe cleaners around the stem of the lollipop. Lastly, add two self-stick gems for eyes. Bend the pipe cleaners to create spider legs.
Here's how the Chocolate Chip Spider Cookies are made:
Supplies you'll need to make these Chocolate Chip Spider Cookies:
Milk Duds (I grabbed these from one of the bags of Halloween candy!)
Chocolate covered peanuts,
Candy eyes (found in the baking section at Dollar General!),
A Betty Crocker chocolate chip cookie mix,
Butter
Chocolate chips for melting
Steps to Assemble these Chocolate Chip Spider Cookies:
Start with a baked and cooled chocolate chip cookie.
Next, top with a Milk Dud and chocolate covered peanut to resemble the spider body.
Add two candy eyes to the chocolate covered peanut.
Add melted chocolate chips (melt according to package directions) to a resealable plastic bag. Cut the corner tip and pipe eight legs onto the cookie. Let cool completely for the chocolate to set.
Make sure you visit the Dollar General Crafts and Dollar General Easy Meals section on their website. They've got even more great ideas and inspiration for celebrating your Halloween in style!
Dollar General Halloween Idea Tip #3: Creative, Cute Last-Minute Halloween Costume Ideas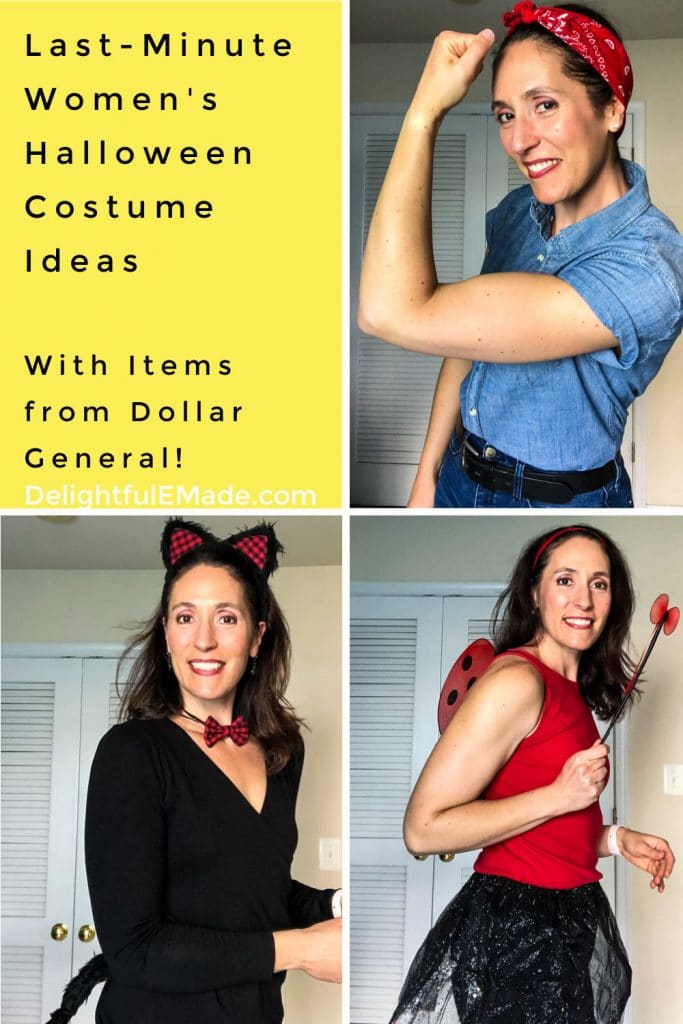 Dollar General has a fantastic selection of fun, creative Halloween costumes for the entire family!
Here are three different women's costume ideas that great for pulling together for a fun Halloween evening! I used these cute costume sets and items from Dollar General along with clothes that I already had in my closet. Here's how to put these no-fuss looks together.
Black Cat: I used this cute $5 Black Cat set that includes a bowtie, headband ears and a tail. I paired this set with a black top and black leggings to complete the look.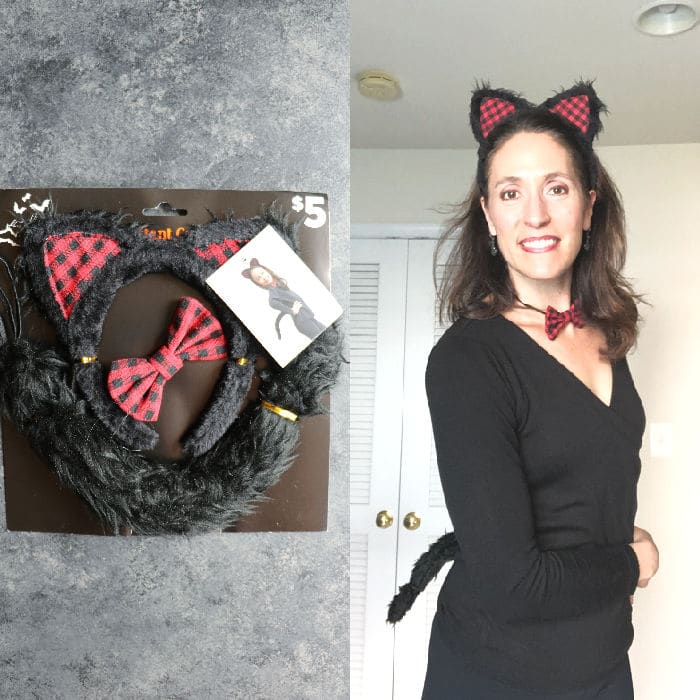 2. Ladybug: I grabbed this adorable $5 Ladybug set that includes ladybug wings, a black sparkle tutu, and a wand along with a red top and black leggings. You could also pair this with a black or red dress if you were going to a fun Costume party!
3. Rosie the Riveter: Rosie is a go-to costume for me, and I really love how it looks! Grab a set of bandanas, paired with red lipstick (A must!), black eyeliner, black nail polish (optional), and jeans with a chambray or denim top. Roll the sleeves and show your biceps for an iconic "Yes, We Can!" look!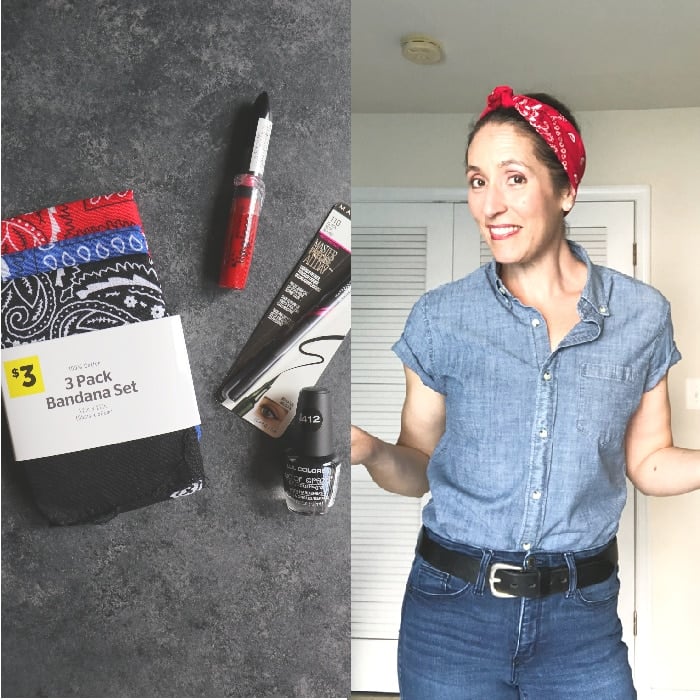 In addition to these costume ideas for myself, I made sure to pick up some masks and plain black t-shirts for Jason and Harrison. Both of these masks were just $3.50 and the t-shirts were just $5 each in the clothing section! (That's right! Dollar General has a clothing section!)
I love the fact that you can put together fun, creative, economical costumes all with items from Dollar General!
This year, no matter how you are celebrating Halloween, I hope you and your family are able to enjoy some quality time together creating memories.