Cross between pecan pie and pecan sandies, these buttery, delicious Pecan Praline Bars are perfect any time you're in the mood for something sweet! An amazing pecan shortbread crust, a delicious caramel filling and topped with brown sugar toasted pecans, these bars are incredible! The perfect addition to your holiday cookie trays!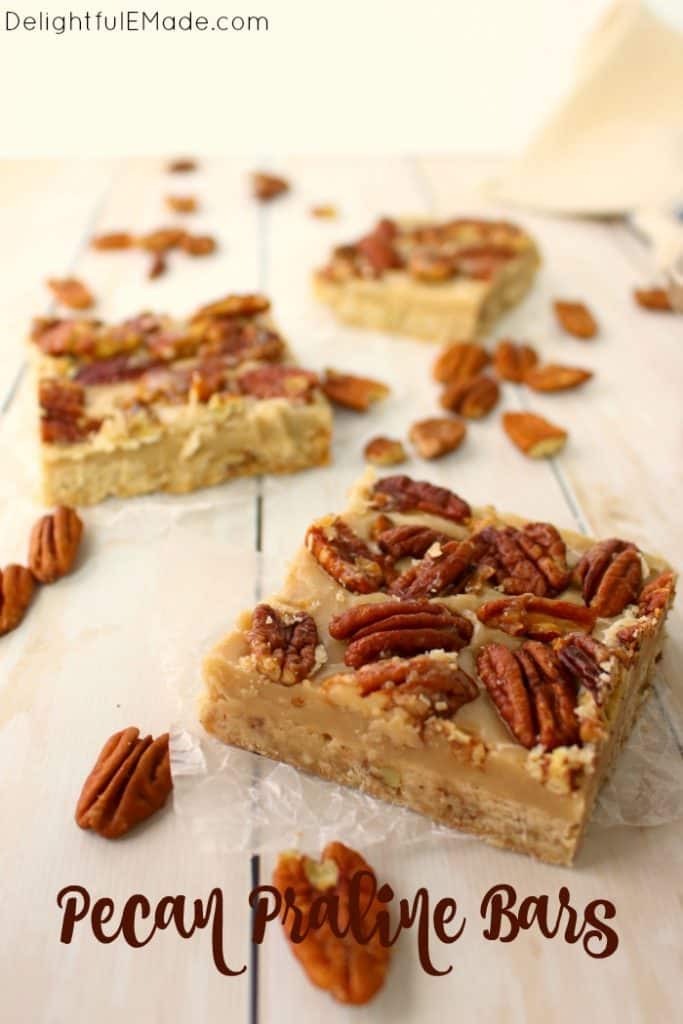 As a kid, I wasn't always the biggest fan of pecans – any nuts, really. I didn't like many foods – tomatoes, nuts, some types of meats – all of these things kinda grossed me out. Its funny, as we get older, our really palates change and evolve. I've come to really love all of these foods that I despised as a kid. I especially have grown to love pecans.
My adoration for pecans has really come full circle – I now love both cooking and baking with this crisp, slightly sweet nut. I've added these toasted brown sugar pecans to my Cranberry Citrus Salad with Goat Cheese and Pecans, and incorporated them into these delicious Orange Pecan Cinnamon Roll Donuts! However, the toasted brown sugar pecans in these Pecan Praline Bars are definitely the star of these sweet treats!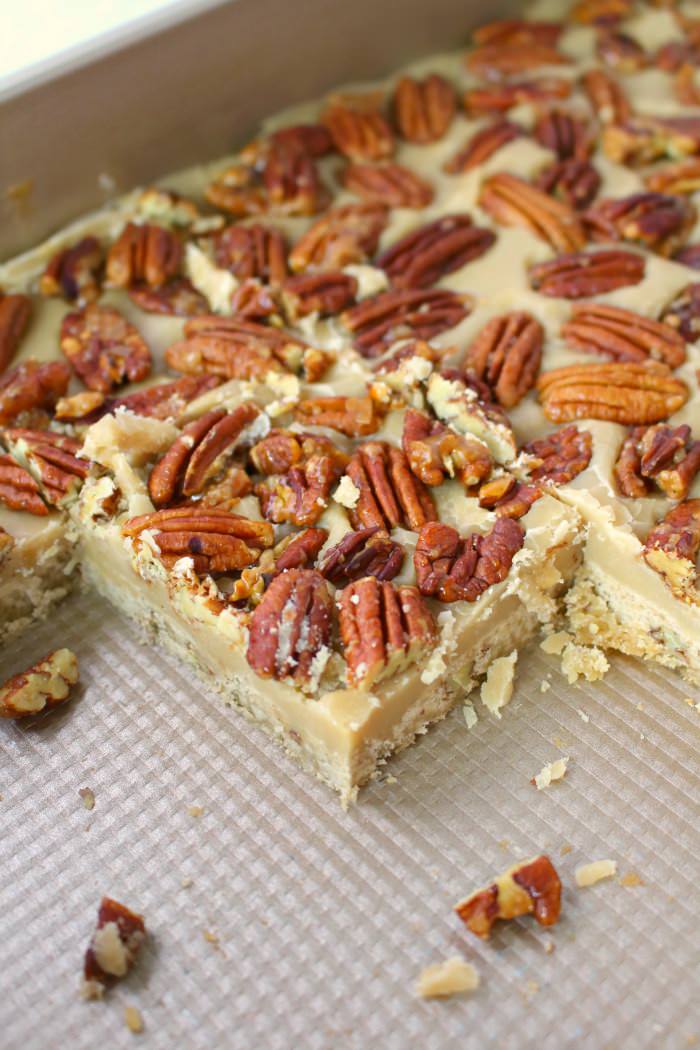 These Pecan Praline Bars are a fantastic treat for the holidays, or anytime you're in the mood for a decadent, delicious bar that is loaded with delicious pecan flavor. I've cut these into small squares and added them to my holiday cookie and candy trays. I've also made a big batch to bring in to the teachers and my son's school. Notoriously, these bars are always the first to disappear!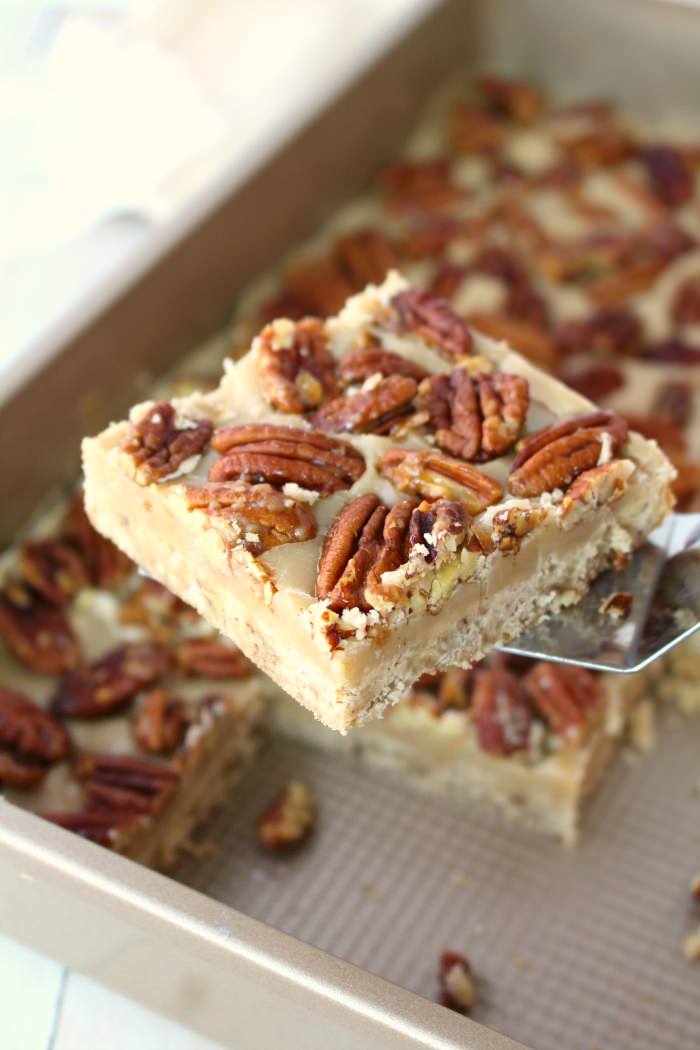 Any way you slice these bars, they are sure to be a hit! Serve them to your book club, church group, or simply pair with a hot cup of coffee and a good book.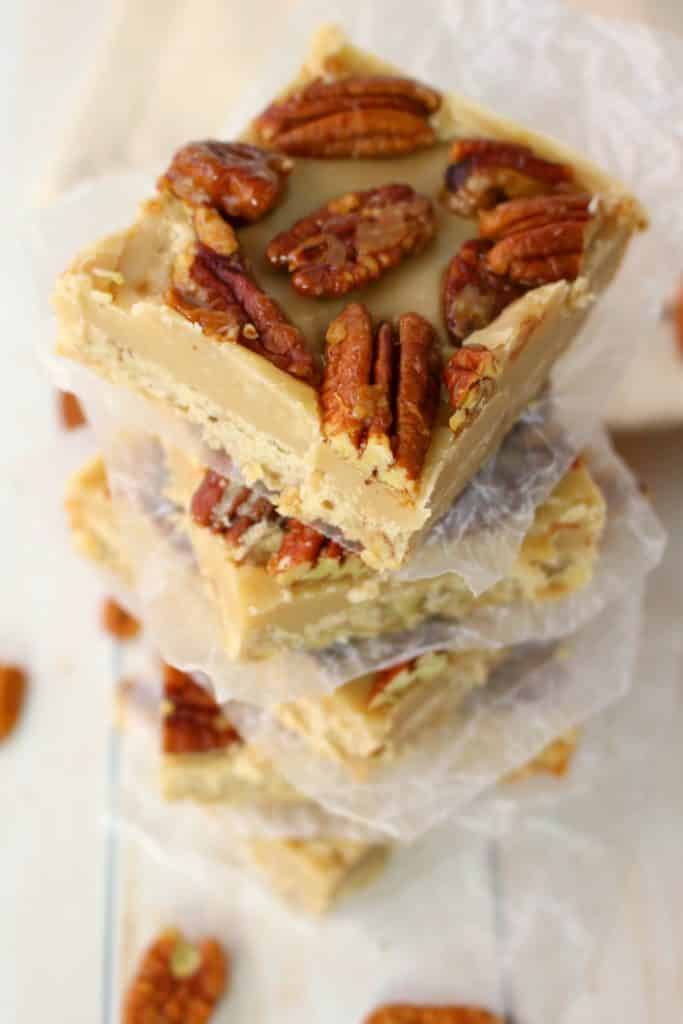 I now keep a steady stock of pecans in our house.  Maybe its because we live in the south (I think its a requirement when living south of the Mason-Dixon line!), or maybe its because they are just an amazing baking staple.  Pecans are quite possibly on of the most delicious, versatile foods available.  These Pecan Praline Bars take advantage of this amazing ingredient!  The pecan shortbread crust, and the caramel-pecan frosting make these bars rich and delicious.  They are a cross between pecan pie and pecan sandies – and will melt in your mouth!
Love cookie bars? Check out some of our other cookie bar recipes: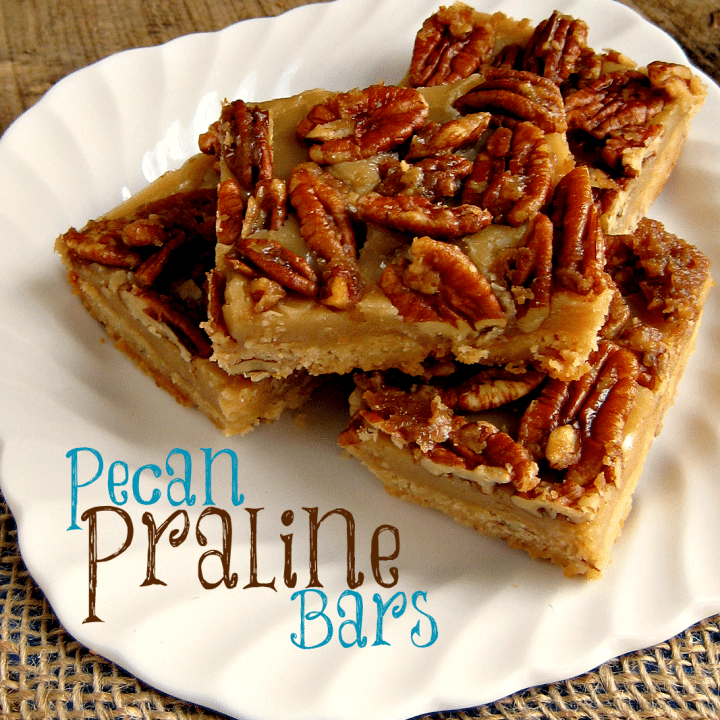 Pecan Praline Bars
Cross between a pecan pie and pecan sandies, these bars are out of this world and will melt in your mouth!
Ingredients
1 1/2 c. flour
2 c. +3 Tbsp. Brown Sugar, divided
1 1/3 c. +3 Tbsp. Butter, divided
2 c. pecan halves, divided
1/2 c. half & half
1 1/2 c. powdered sugar
1 tsp. vanilla
Instructions
Preheat oven to 325 degrees.
Spray a 9x13" pan with non-stick spray and set aside. In mixing bowl, cream together 1 c. butter (softened, NOT melted), and 1/2 c. brown sugar. Add 1 1/2 c. flour, and 1/2 c. chopped pecans. Press mixture into pan, and bake at 325 for 22-25 minutes. Set aside to cool for 30 minutes.
Adjust oven temperature to 225 degrees. While crust cools, in small skillet, melt 3 Tbsp. butter with 3 Tbsp. of brown sugar. When melted add 1 1/2 c. pecan halves. Coat pecans with sugar mixture and saute for about 3-5 minutes on medium-low heat. Transfer the coated pecans to a baking sheet at toast in a 225 degree oven for 20 minutes. When done, set aside to cool.
In a saucepan, add 1/2 c. cream, 1/3 c. butter and 1 1/2 c. brown sugar. Bring to a low boil over medium heat while stirring. Boil for 1 minute and remove from heat. Whisk in powdered sugar and vanilla until smooth. Pour over pecan crust, and top with toasted pecans. Let stand 30-45 minutes to set-up. Store in refrigerator.
This recipe was adapted and revised from the cookbook Betty Crocker: The Big Book of Cookies.
These are great for a holiday treat, or for delicious dessert any time of the year. I will have a batch of these ready for my holiday goodie trays for Christmas gatherings. I hope you enjoy these bars as much as my family has over the years.
~Erin