Pumpkin Cake Donuts make the perfect fall breakfast treat!
Need an excuse to do some fall baking? These Pumpkin Cake Donuts are the perfect recipe to indulge your pumpkin spice cravings. Baked, not fried, these donuts are topped with a cinnamon streusel and lightly glazed to perfection!
This post may contain affiliate links. Delightful E Made is a participant in the Amazon Services LLC Associates Program, an affiliate advertising program designed to provide a means for us to earn fees by linking to Amazon.com and affiliated sites.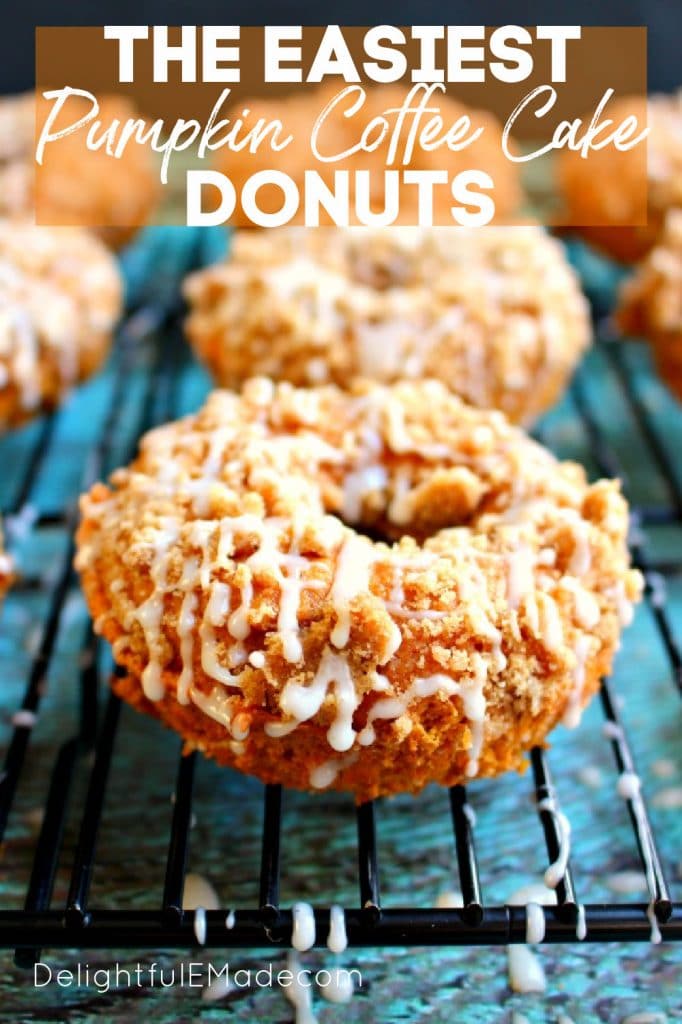 Why choose between pumpkin coffee cake or donuts – this recipe is both!
There is something about the weekend that makes me want to get up, and bake something scrumptious for breakfast. Maybe its because we're not rushed to get out the door in record time. Or maybe its the fact that I try to start my day with a healthy, light breakfast most mornings during the week.
However the desire came about, I must share with you the latest creation of my weekend baking craving. These pumpkin cake donuts will make you want to fire up the oven ASAP! They are AMAZING!!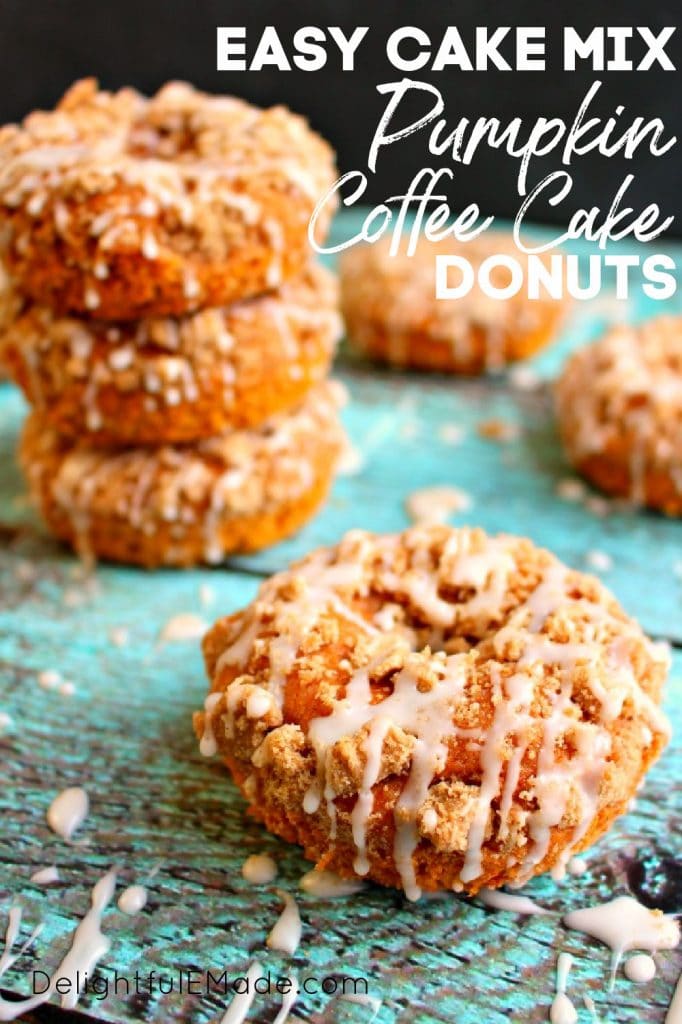 How these pumpkin cake donuts were created:
I adapted a recipe that I use for chocolate donuts, and recreated it for a pumpkin cake donut. The cake inside this baked donut is light, moist and delicious.
I then top it with a coffee-cake like streusel topping and drizzle the donuts with a perfect vanilla glaze. When you bite into this donut, you get the sweet pumpkin spice cake on the bottom, and the crunch from the streusel on top. It really is heavenly!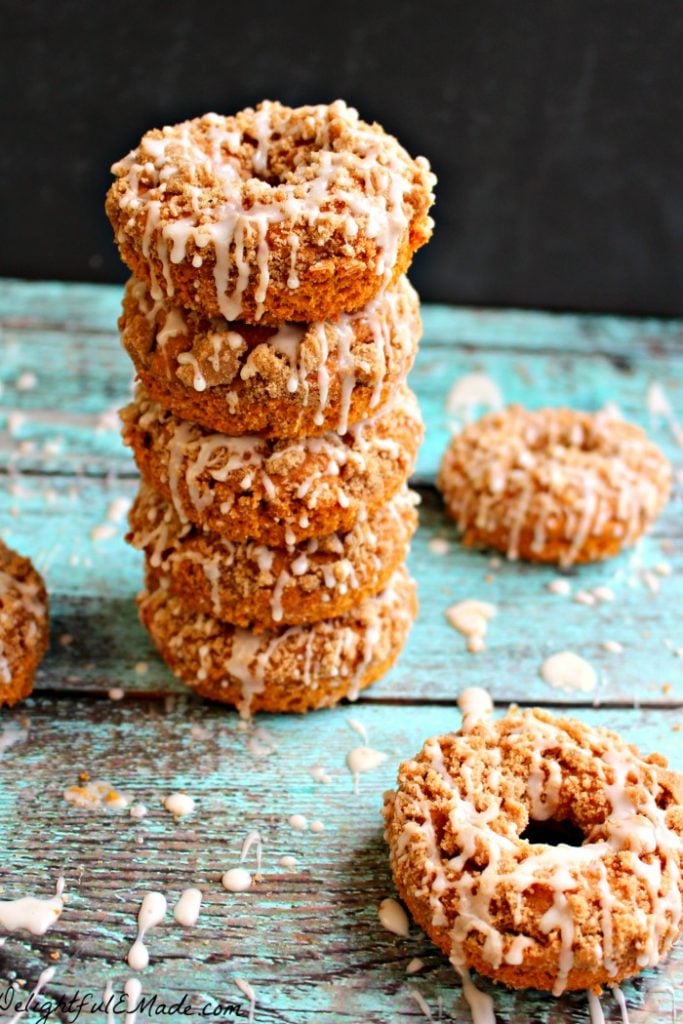 Helpful tools for making homemade donuts:
One tool that is pretty critical when baking donuts is a good, non-stick donut pan. You can get a couple of these on Amazon here Wilton Nonstick 6-Cavity Donut Pan
(affiliate link) for under $20 – a pretty great investment, especially if you love donuts as much as my 6-year-old does.
It will literally pay for itself in the first batch of donuts you make, especially if you're like us and schlep yourself out to your nearest donut shop. Take my word for it – just stay in your pajamas, and just whip up a batch of donuts at home. They're gonna taste just as good, if not better than the store-bought version.
I would definitely recommend getting a second pan if you can. It comes in very handy, as for many recipes, including this one, you'll need to let the donuts cool slightly before removing them from the pan.
Wipe down the pan after each batch of donuts:
I prefer to wipe it down before starting a new batch. The streusel topping has a tendency to burn if left on the pan over multiple batches. The second pan will allow you to work ahead having the next batch ready to go as the last batch cools.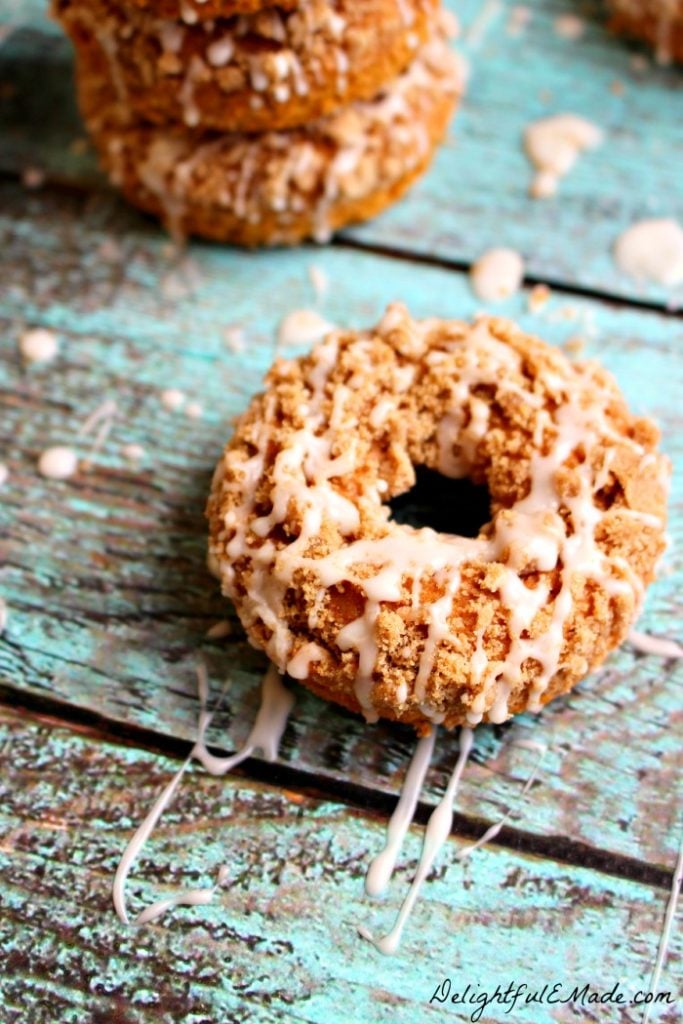 These donuts make for a wonderful breakfast treat. Bake a batch on the weekend, and keep them on hand for a quick on-the-go breakfast for busy weekday mornings. They go great with your morning coffee or tea, and would be an excellent treat to bring in to your workplace break-room. Would also make a fantastic classroom treat, or bake sale goodie!
If you loved this recipe, be sure to check out some of my other delicious breakfast treats, like these: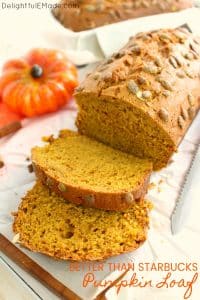 Better Than Starbucks Pumpkin Loaf
Pumpkin Cream Cheese Breakfast Braid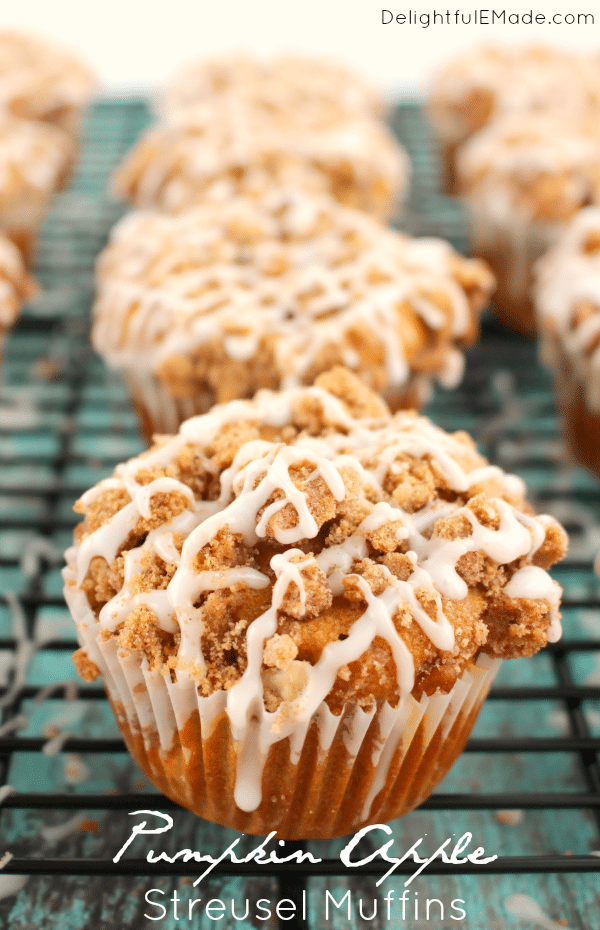 Pumpkin Apple Streusel Muffins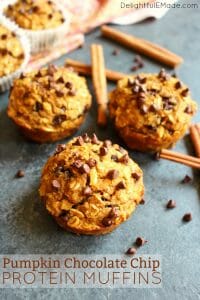 Pumpkin Chocolate Chip Protein Muffins
Here's the recipe for these delicious pumpkin cake donuts:
Pumpkin Coffee Cake Donuts
These moist, delicious coffee-cake like donuts are the perfect morning treat! Pumpkin spice cake topped with a brown-sugar struessel and vanilla glaze makes these heavenly!
Ingredients
1 box spice cake mix (like Betty Crocker or Pillsbury)
1 c. pumpkin puree
2 eggs
3 Tbsp. butter, melted
Struessel topping:
1/2 c. brown sugar
1/2 c. flour
1 tsp. cinnamon
1/2 tsp. nutmeg
2 Tbsp. butter, melted
Glaze:
1 c. powdered sugar
1 Tbsp. milk
1/2 tsp. vanilla
Instructions
Preheat oven to 350 degrees.
In a mixing bowl combine cake mix, pumpkin puree, eggs and butter. Using a hand or stand mixer, mix on low until all ingredients are smoothly combined. Batter will be thick, and slightly sticky. Mix together the struessel: in a small mixing bowl, combine the brown sugar, flour and spices with a fork. Drizzle the melted butter over the mixture and combine. The struessel will be crumbly.
Fill the donut pan: Spoon in a few teaspoons of batter into each donut well. Smooth the batter out, it should be about 1/2 to 2/3 full, and then top with the struessel crumble - about a tablespoon for each donut.
Bake for 9-10 minutes. Let the donuts cool in the pan for about 5 minutes. Gently loosen from the pan using a fork, and lift out. Cool on a rack.
Glaze: combine the powdered sugar, milk and vanilla. Stir together until smooth. Using a spoon, drizzle the glaze over the top of the donuts. Enjoy!
Notes
Recipe yields approximately 18 donuts
Nutrition Information:
Serving Size:

1 donut
Amount Per Serving:
Calories:

1768
Total Fat:

60g
Saturated Fat:

37g
Cholesterol:

154mg
Sodium:

576mg
Carbohydrates:

305g
Sugar:

237g
Protein:

18g
The next time you're in the mood to bake something fabulous for breakfast, give these amazing donuts a try. They're easy to make, and so tremendously delicious especially with you're favorite cup of coffee. You'll thank me later! 😉
Enjoy your fall baking!
Erin