The BEST Brownie Bottom Strawberry Ice Cream Cake Recipe!
This easy-to-make Strawberry Ice Cream Cake Recipe includes simple ingredients and comes together quickly and easily. With a brownie base and topped with chocolate covered strawberries, this strawberry ice cream cake is perfect for summer!
This post may contain affiliate links. Delightful E Made is a participant in the Amazon Services LLC Associates Program, an affiliate advertising program designed to provide a means for us to earn fees by linking to Amazon.com and affiliated sites.
The Easiest Homemade Strawberry Ice Cream Cake!
If you love brownies and ice cream, this strawberry ice cream cake is for you! Made with simple, ingredients, this EASY ice cream cake recipe comes together with just a few simple steps.
This recipe uses fresh strawberries, store-bought vanilla ice cream, and a brownie mix to make it super simple. Great for making with your kids or grandkids for a fun summertime treat!
Here's the simple steps to making this delicious brownie bottom ice cream cake!
Start by Baking the Brownie Into a 9″ Spring Form Pan:
Using a spring-form pan is idea for this ice cream cake recipe. It makes it easy to remove once its frozen. This 9″ Spring Form Pan is what I have and use regularly.
While the brownie bakes and cools, you can mix together your strawberry ice cream filling.
I used vanilla ice cream, but you can also use strawberry or chocolate ice cream as well. I let the ice cream soften for a few minutes at room temperature to make it easier to mix together with the sliced strawberries.
How much ice cream do I need for this ice cream cake recipe?
You'll need the full 1.75 qt. container of ice cream. This will fill the top of portion of the 9″ pan.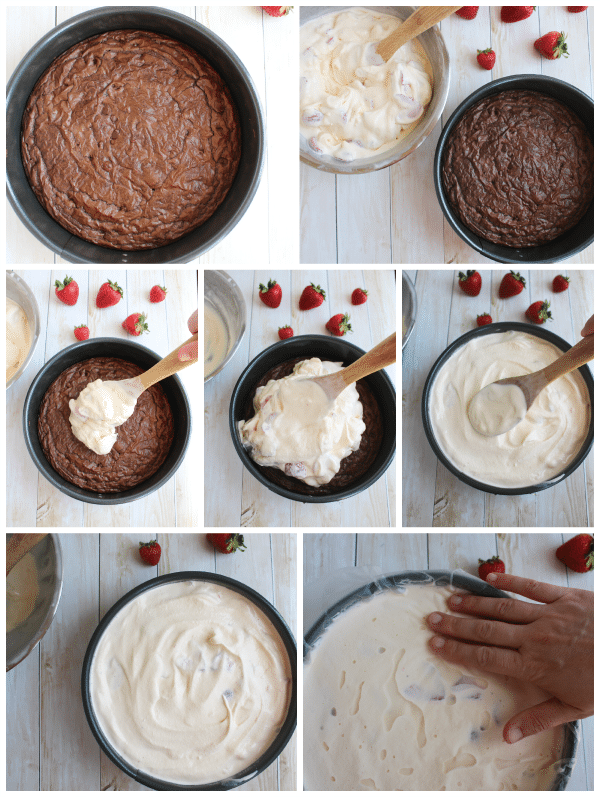 Smooth out the ice cream evenly and top with a sheet of plastic wrap.
How long does an ice cream cake need to freeze?
The ice cream cake will go into the freezer to firm up for at least 1 hour or more. Once the ice cream is solidified, it is ready to slice and serve.
When you're ready to serve the dessert, let it to soften at room temperature for a few minutes. This helps make slicing the dessert a bit easier.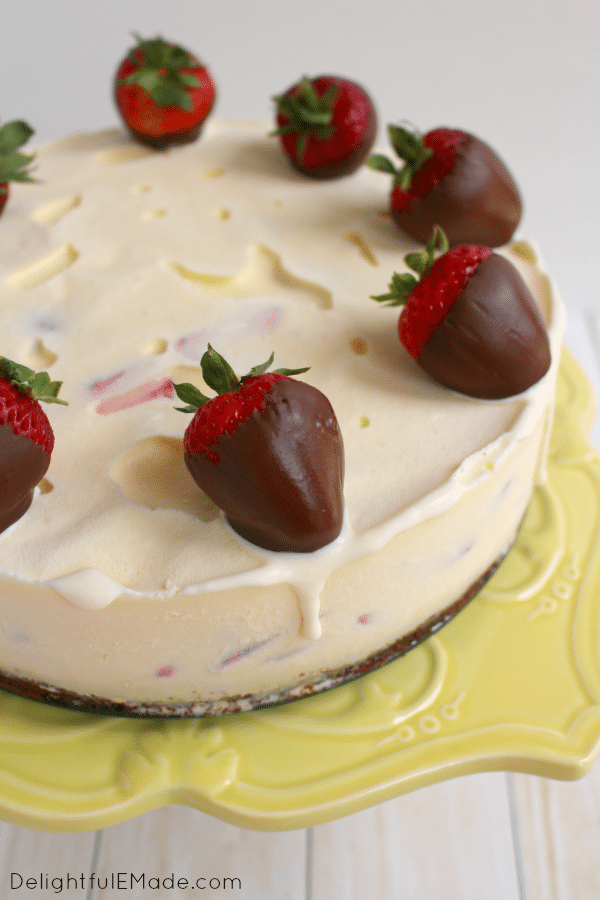 What do I serve with ice cream cake?
Serve this ice cream cake with chocolate dipped strawberries and a drizzle of hot fudge. This makes for a really pretty garnish to an already lovely dessert.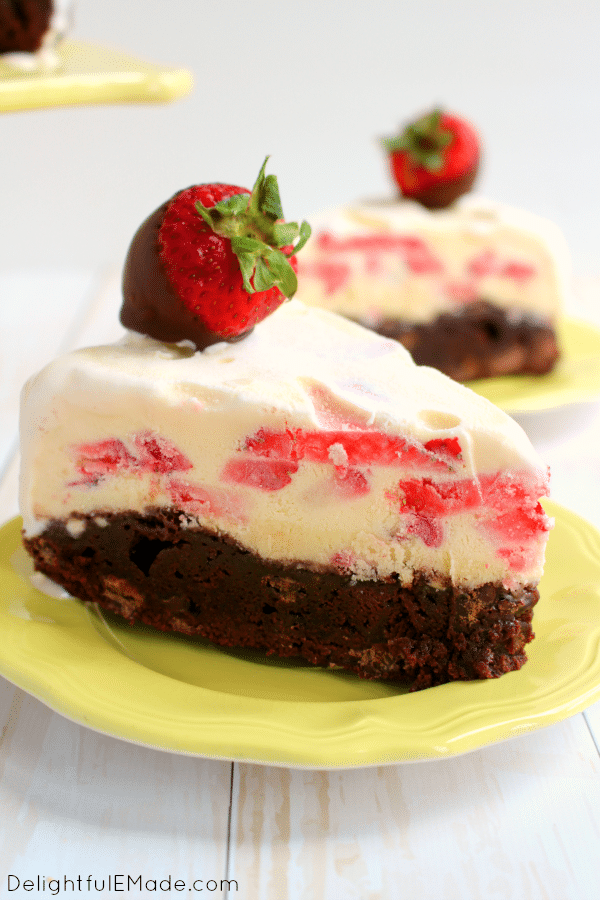 How do you keep ice cream cake from melting?
Keep you ice cream cake in the freezer for as long as possible before serving. Take out 5-10 minutes before slicing for the ice cream to soften.
You can also slice the ice cream cake in advance and keep the individual slices frozen before serving. This will help keep the ice cream cake extra cold and help save time for an event or party. This is also helpful when the weather is especially warm and you want a nice, cold dessert!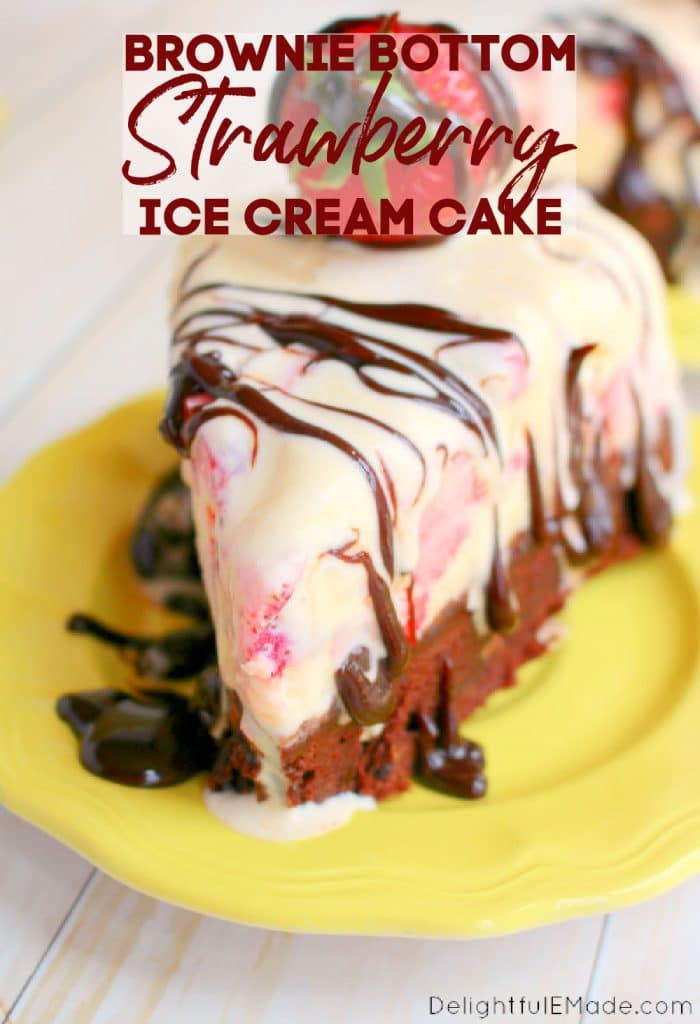 If you love homemade ice cream cakes, check out some of my other ice cream recipes:
Peanut Butter Brownie Ice Cream Cake
Check out some of my milkshakes, popsicles and frappe's too!
Copycat Chick-Fil-A Peach Milkshake
Skinny Starbucks Strawberries and Cream Frappuccino
Here's the recipe to make this easy & delicious Homemade Strawberry Ice Cream Cake:
Chocolate Covered Strawberry Ice Cream Dessert
The ultimate summer dessert! Chocolate covered strawberries tops a cool, creamy vanilla ice cream with fresh strawberries and a fudge brownie crust. Drizzled with hot fudge, its a slice of heaven!
Ingredients
1 (18.9 oz) brownie mix, or any other 8x8 brownie mix
1 (1.75 qt.) container Blue Bunny Homemade Vanilla Ice Cream
1 (16 oz.) container, fresh strawberries
2/3 c. semi-sweet chocolate chips, melted
hot fudge sauce for topping (optional)
Instructions
Preheat oven to 350 degrees. Prepare the brownie mix according to package directions. In a 9" round spring form pan, bake the brownie to package directions. (I baked mine for about 32 minutes for the 9" round pan.) When baking is complete, let the brownie cool completely.
Remove ice cream from freezer and let soften at room temperature for about 15-20 minutes. Rinse and slice about 2 cups of the strawberries, reserving about 8 of the berries to be dipped in chocolate. Add the entire container of softened ice cream to a mixing bowl. Stir in the sliced strawberries. Add the ice cream mixture to the top of the brownie, and smooth out evenly. Add a piece of plastic wrap, and refreeze for at least one hour.
When ready to serve the dessert, remove from freezer and let soften for a few minutes at room temperature. Remove the outer side of the spring form pan. Slice, and drizzle with warm hot fudge sauce. Refreeze any leftovers.
This shop has been compensated by Collective Bias, Inc. and its advertiser. All opinions are mine alone. #SunsOutSpoonsOut #CollectiveBias
As you can see, this dessert comes together quickly and easily. I hope you and your family are able to enjoy this dessert at the end of a hot summer day. Its a delicious way to enjoy summer at its best!