Need a simple, delicious bbq chicken skewers recipe? These easy bbq chicken kabobs need just 4 ingredients and are fantastic for any cookout or back yard barbecue. These chicken pineapple kabobs are also great for an easy summer dinner idea!
This post may contain affiliate links. Delightful E Made is a participant in the Amazon Services LLC Associates Program, an affiliate advertising program designed to provide a means for us to earn fees by linking to Amazon.com and affiliated sites.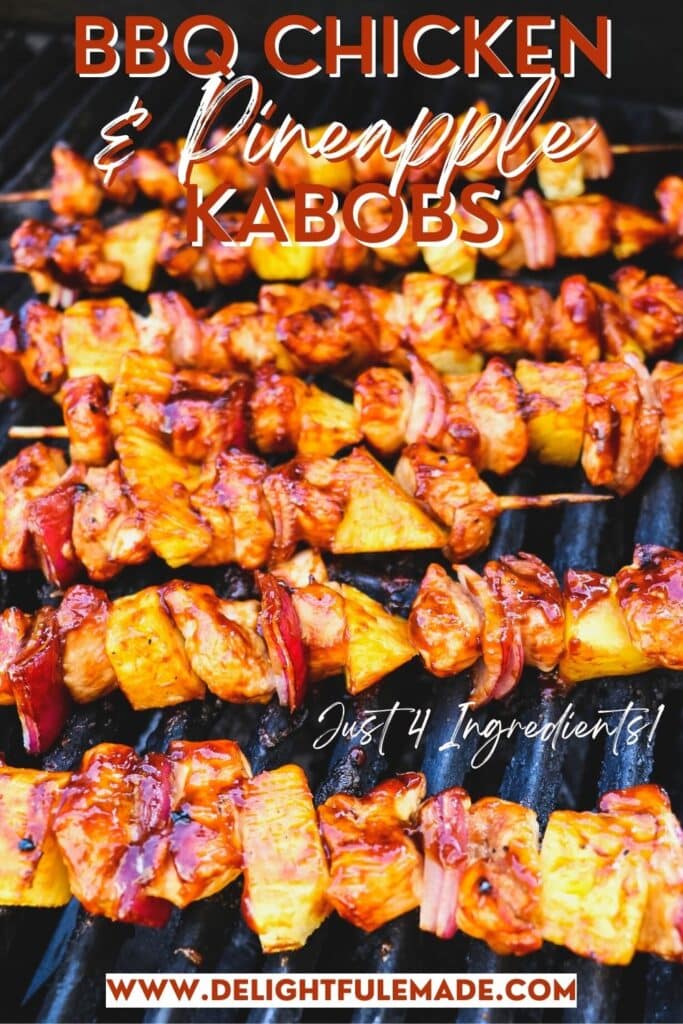 Summer evenings are always a great time to fire up your grill for a quick dinner. These bbq chicken kabobs with pineapple and red onion are a great option for an easy summer dinner.
Brushed with a smokey, sweet barbecue sauce, these chicken pineapple kabobs are a fantastic option anytime you're in the mood for a great recipe from the grill.
In this post I'll show you exactly what you need to make the kabobs, how to assemble, how to grill and best techniques for achieving maximum flavor with ease.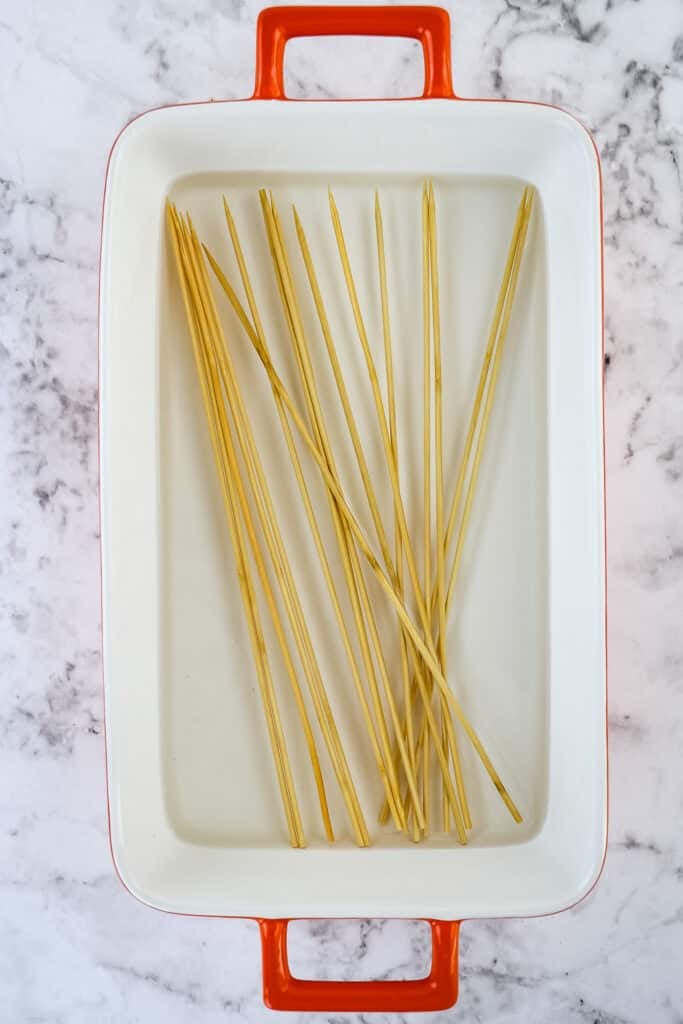 Soaking skewers for grilling
If you are using wooden or bamboo skewers for grilling, they will need to soak in water before adding ingredients. Wooden skewers need to soak in water for at least 30 minutes.
Soaking wooden skewers helps prevent them from excessively burning or catching fire while on the grill.
If you are using metal or stainless steel skewers, you do not need to soak the skewers.
What do I need to make bbq chicken skewers?
These simple grilled kabobs need just four ingredients. Here's what to add to your shopping cart to make this recipe:
For exact ingredient amounts and full recipe instructions be sure to scroll down to the bottom of this post to the recipe card. Thanks!
How do I make chicken pineapple kabobs?
Begin by coating the cubed chicken in barbecue sauce. Then, start assembling the kabobs.
It is most helpful to have the ingredients in separate bowls to for making the assembly quick and easy. Alternate chicken with onions and pineapple, as you will have approximately double the amount of chicken than you will pineapple and onions.
Ingredient substitutions and recommendations:
Bell peppers – Cut red, green, orange or yellow bell peppers into large 1″ chunks. Skewer them along with the pineapple and onions. These will add great flavor to the skewers.
Onion – if you don't want to use red onion, it can either be omitted or swapped out for a sweet yellow onion.
Sauce – don't have time to make a homemade bbq sauce? No problem. Feel free to use your preferred store-bought sauce.
If you love the flavor and quality of using a homemade barbecue sauce recipe, check out our other delicious bbq sauces: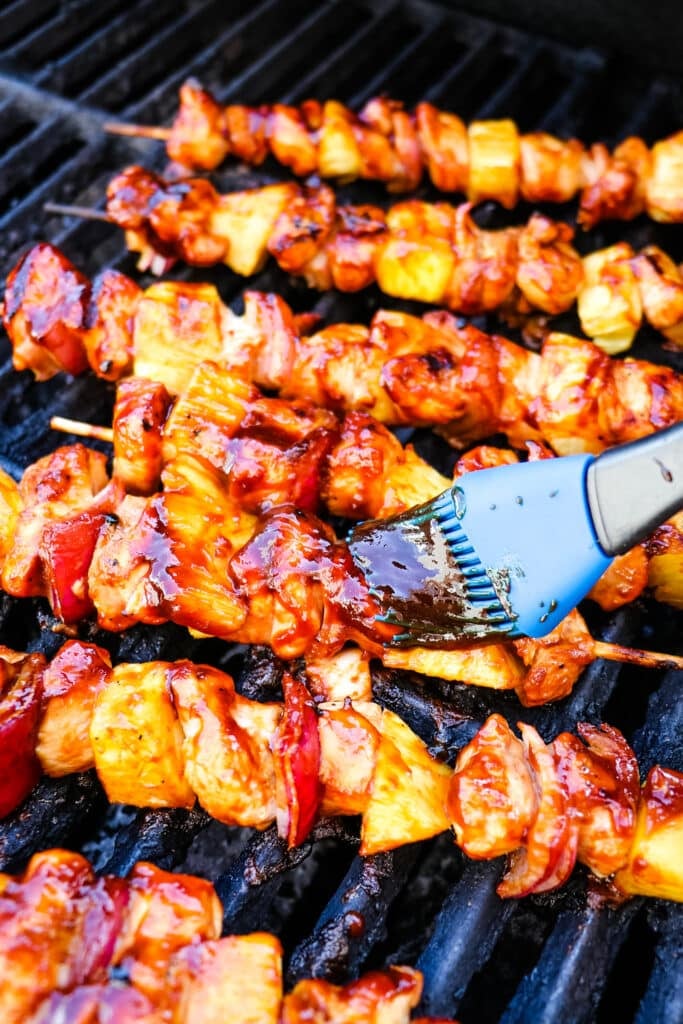 How do I grill kabobs?
Once the kabobs are assembled on to skewers, preheat your grill to approximately 400 degrees.
Place the kabobs over indirect heat, and grill on each side for 6-7 minutes. This will give the chicken ample time to cook through, without overcooking the pineapple and onions.
Once you've turned the skewers, brush with additional sauce.
The chicken will need to reach 165 degrees to be done and cooked through. For best results, use an instant read digital thermometer, to ensure the chicken is properly cooked.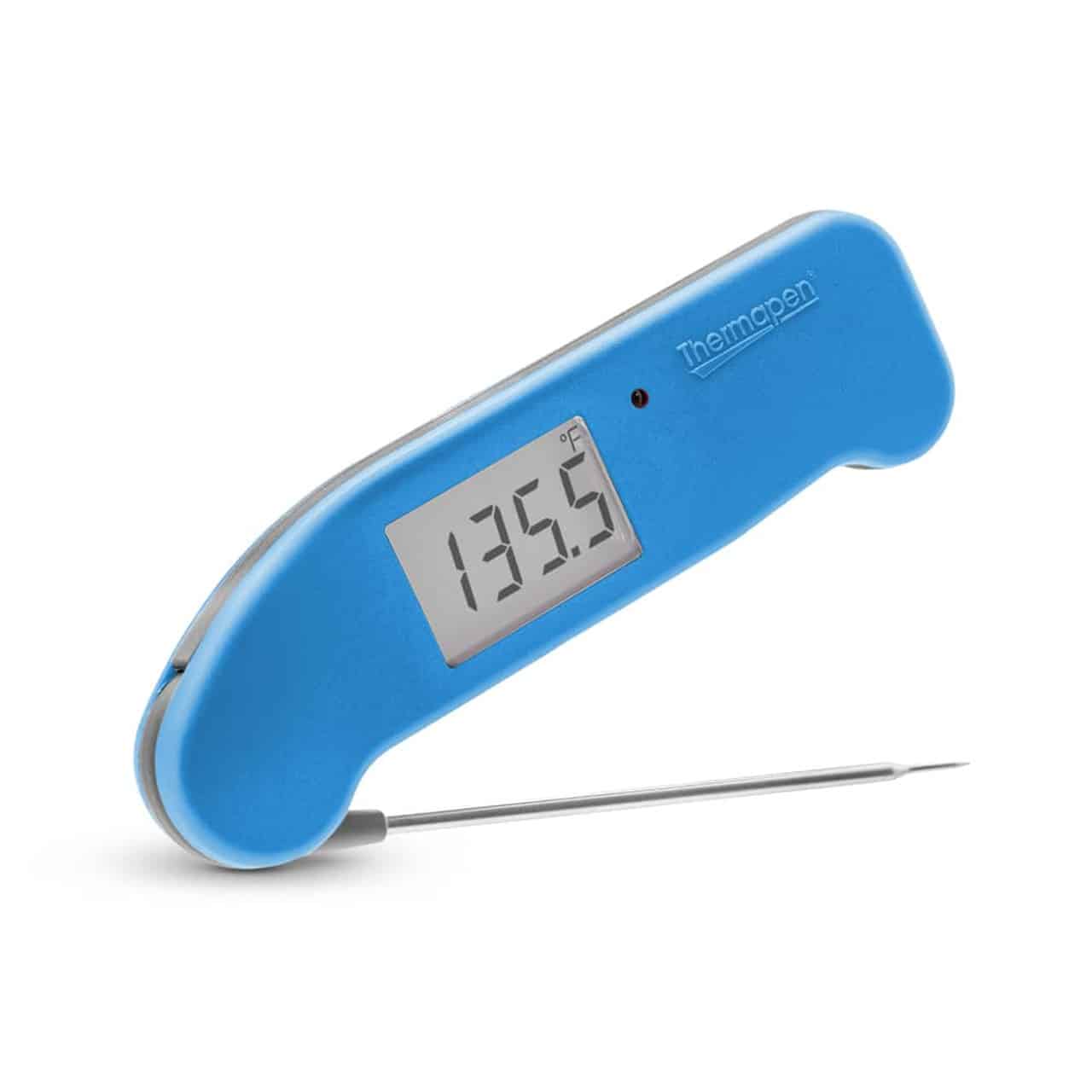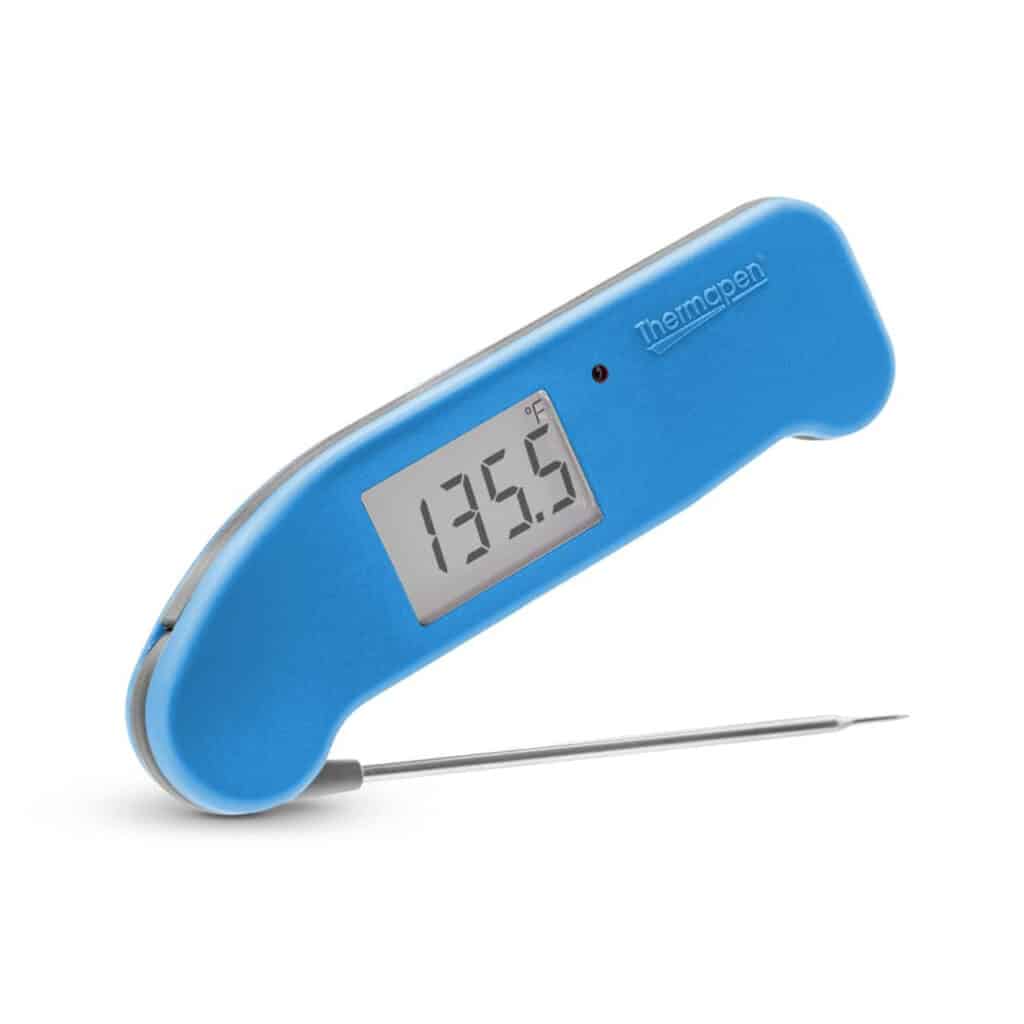 Thermapen ONE Instant Read Digital Thermometer
This is my go-to tool for grilling and roasting! With a Thermapen there's no guessing if or when the meat is done. The precise temperature will provide you with meat that is perfectly cooked, juicy and delicious EVERY time!
FAQ's for grilling bbq chicken kabobs:
How long to cook chicken kebabs on BBQ?
Chicken kebabs will need approximately 6-7 minutes per side, with grill at approximately 400 degrees. This is with 1″ chunks of chicken, along with pineapple and onions. To ensure the chicken is properly cooked through, the internal temperature needs to be at 165 degrees to be done. Use an instant read digital meat thermometer for best results.
Do you grill chicken kabobs with lid open or closed.
For even cooking, you'll want to keep the lid on your grill closed. This will allow the heat to cook the chicken and vegetables evenly, without drying out the chicken.
How long to soak skewers before BBQ?
Soak wooden skewers in water for at least 30 minutes before assembling the kabobs. Soaking the wooden skewers in water will help prevent excessive burning and flaming-up when the kabobs cook.
Do you put skewers in foil or on grill?
I recommend placing the skewers directly on the grill when cooking. This will allow the meat, vegetables and other ingredients to have a bit of char, which is desirable for flavor and texture. Turn the skewers half way through cooking to allow the ingredients to cook evenly and so one side doesn't overly brown.
How do you keep bbq chicken kabobs from drying out on the grill?
To prevent chicken from drying out, don't over cook the chicken. Grill the chicken on indirect heat and turn the chicken half way through cooking (about 6-7 minutes per side). To make sure the chicken is done, use and instant-read digital meat thermometer. The internal temperature of the chicken will need to be at 165 degrees.
Could you use more grilling inspiration? Check out some of my other recipes from the grill: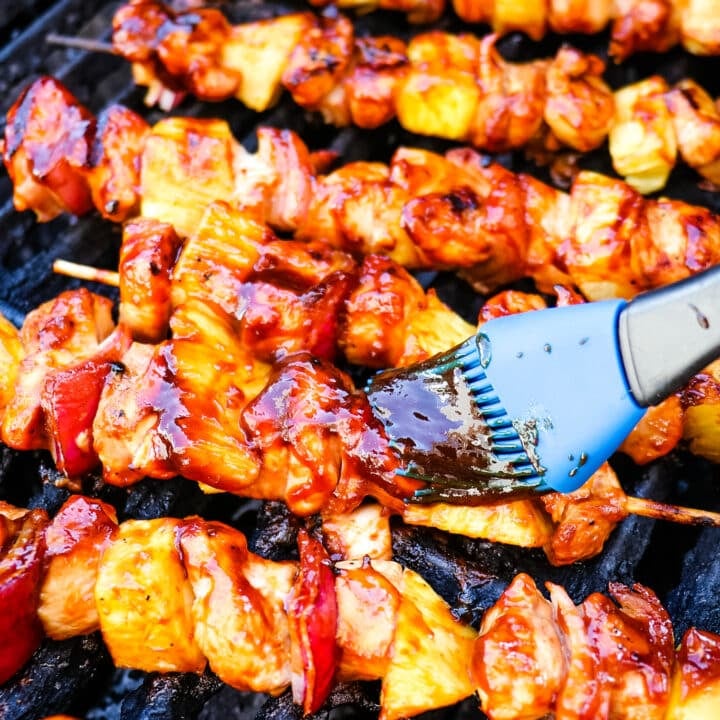 BBQ Chicken Skewers
With just 4 ingredients, these bbq chicken skewers will be an instant hit at your next barbecue or block party. Made with pineapple, onion, chicken and bbq sauce, these chicken pineapple kabobs come together easily and make a great summer dinner.
Ingredients
1 1/2 lbs. boneless, skinless chicken breasts, cut into 1" cubes
2 cups pineapple, cut into 1" cubes (fresh or frozen)
1 cup red onion, cut into 1" pieces
3/4 c. barbecue sauce, divided
Instructions
Approximately 30 minutes before cooking, soak wooden skewers in water. (If using metal skewers, skip this step.)
In a medium bowl, coat the chicken breast pieces with 1/2 cup of the barbecue sauce. Set aside the remaining 1/4 cup of sauce for brushing later. Place the pineapple and onions in separate bowls, which is helpful for assembling the skewers.
To assemble the skewers alternate pieces of chicken with the pineapple and onion chunks. (see post photos for additional assembly tips.)
When ready to cook, preheat your outdoor charcoal or gas grill. (You can also use an indoor grill pan.) To help your skewers not stick to the grill grates, spray on some non-stick grilling spray prior to adding the skewers to the grill. Once the grill reaches 400 degrees, add the skewers. Grill for approximately 6-7 minutes per side. Brush with the remaining 1/4 c. of sauce after turning.
Remove from grill and serve skewers individually, or with pieces removed from skewers. Enjoy right away.
Notes
Leftover storage: store any leftovers in a resealable container with a tight fitting lid. Leftovers will keep for up to 3 days refrigerated.
Nutrition Information:
Yield:

6
Serving Size:

1
Amount Per Serving:
Calories:

291
Total Fat:

4g
Saturated Fat:

1g
Trans Fat:

0g
Unsaturated Fat:

2g
Cholesterol:

96mg
Sodium:

442mg
Carbohydrates:

25g
Fiber:

2g
Sugar:

19g
Protein:

36g