5 Quick and Easy Taco Recipes
Wondering how to make tacos from scratch? Wondering how do you make tacos? I've got 5 super easy taco recipes that can be adapted multiple ways, given the ingredients that you already have at home. These taco recipes can be done in 15 minutes or less!
This post may contain affiliate links. Delightful E Made is a participant in the Amazon Services LLC Associates Program, an affiliate advertising program designed to provide a means for us to earn fees by linking to Amazon.com and affiliated sites.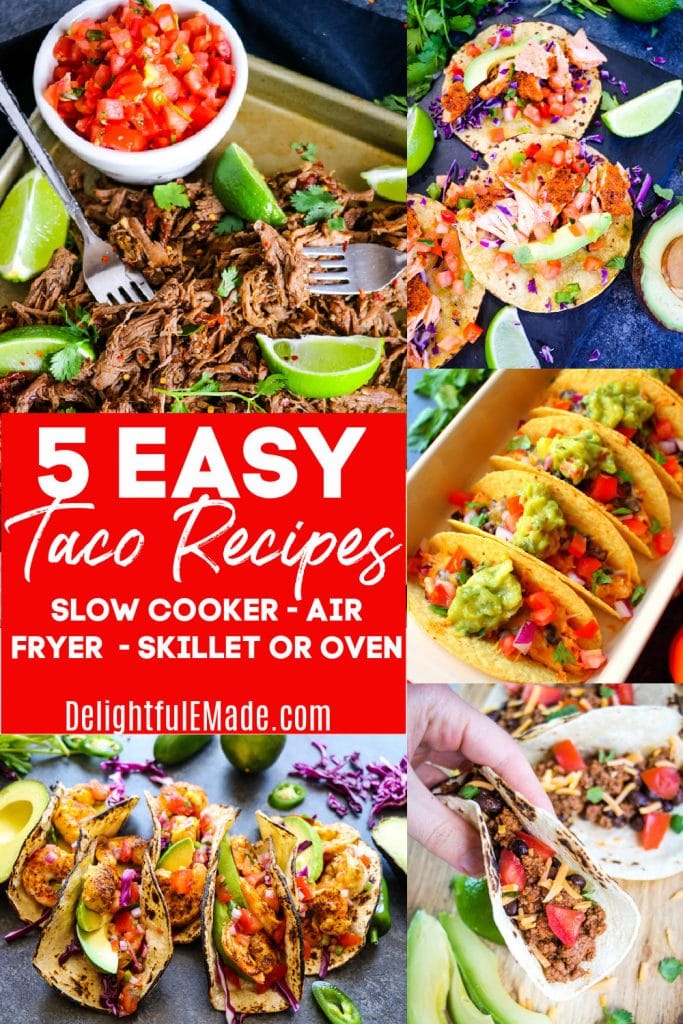 How to Make Tacos From Scratch with 5 EASY Base Recipes!
If you're wondering how to make tacos from scratch, you're in the right place. I've put together this post to if you're wondering how to make tacos, but I'll answer all of your taco related questions, including what ingredients to use.
I've included 5 base taco recipes that you can adapt in multiple ways for whatever ingredients you might have on hand. These Easy Taco Recipes include oven, skillet/stove-top, air fryer and slow cooker recipes.
Here's all of my tips and tricks for how to make tacos:
Like this recipe? Be sure to pin it to your DINNER board!
Follow DelightfulEMade on Pinterest!
How do you make tacos FAQ's:
How do you make tacos from scratch?
To make taco filling/meat from scratch you'll need a few basic ingredients; a meat/protein (beef, chicken, turkey, pork, fish or shellfish), and taco seasoning. Depending on the meat you use, you can also add tomato paste, water or lime juice.
I prefer to use my super-simple homemade taco seasoning. Most store-bought taco seasonings and sauces contain sugar, corn-fillers, starches or other unhealthy chemicals that we don't need in our bodies. This easy taco seasoning can be used in ALL of the taco recipes below.
What do you need for tacos?
Along with your seasoned meat/protein, you'll also need tortillas (corn or flour) for serving and toppings. The toppings you choose is based entirely on personal preference.
Traditional toppings for tacos can include:
Guacamole or sliced avocados
Lettuce
Shredded cheese or queso fresco
Fresh cilantro
Fresh limes for lime juice
Sliced jalapeños
Sour cream
Salsa Verde or Tomatillo Salsa at Flavor The Moments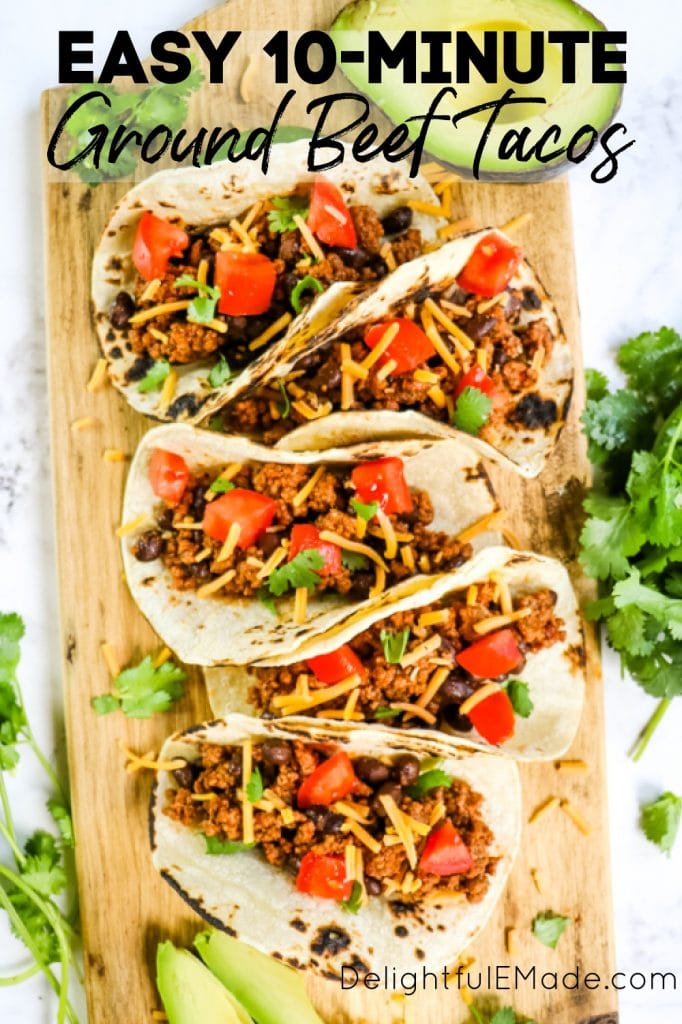 Ground beef tacos are one of the more traditional ways to prepare tacos. The ground beef in this recipe is interchangeable with ground turkey, chicken or pork.
I've discovered that the best place for standard and organic ground beef is Costco. The typically have the best prices and I can get multiple pounds of beef for the same price as what I would pay at another grocery store. Check out my page for all the Things to Buy at Costco for healthy meals and snacks.
In addition to ground beef, I also get my salmon, shrimp and chicken at Costco as well.
Making tacos in the oven is a fantastic way to prepare crispy or soft-shell tacos. For this chicken taco recipe, you'll use your slow cooker to cook the chicken. It's a fantastic no-fuss recipe for seasoned Mexican Shredded chicken that you can also use in these recipes: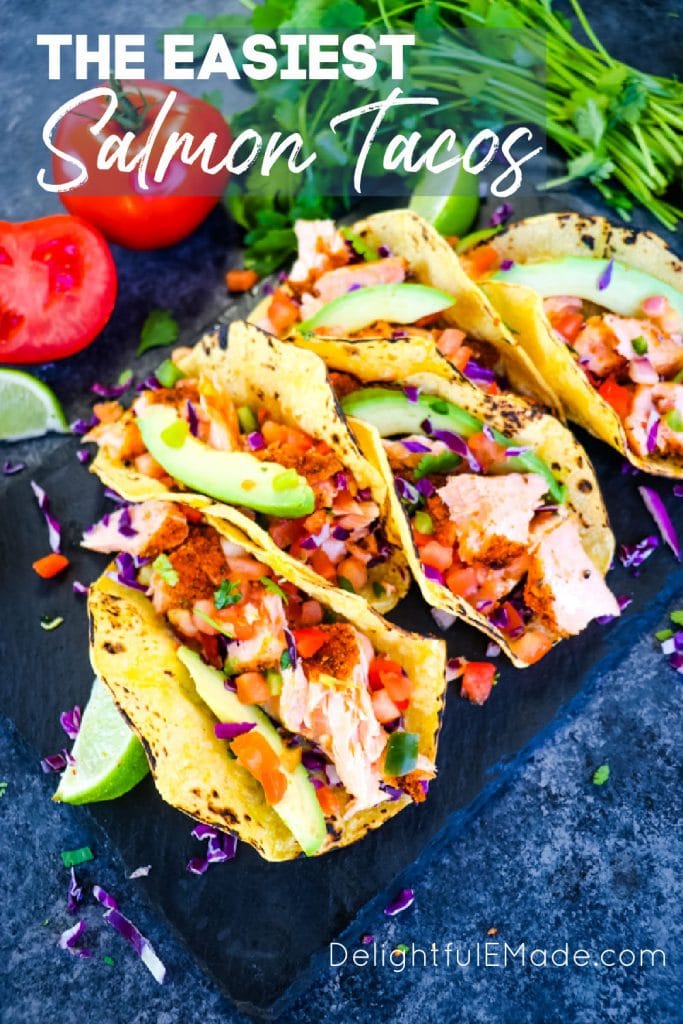 Easy Taco Recipe 3: Fish Tacos – Salmon, Tilapia, Cod or Mahi Mahi
Fish tacos are a favorite of many, and a fantastic way to tacos on the healthier side! This salmon tacos recipe can be adapted to use other fish like tilapia, cod or Mahi Mahi.
Try my delicious Tropical Pineapple Mango Salsa with these fish tacos – it's an amazing way to add some sweetness and flavor to your taco recipe!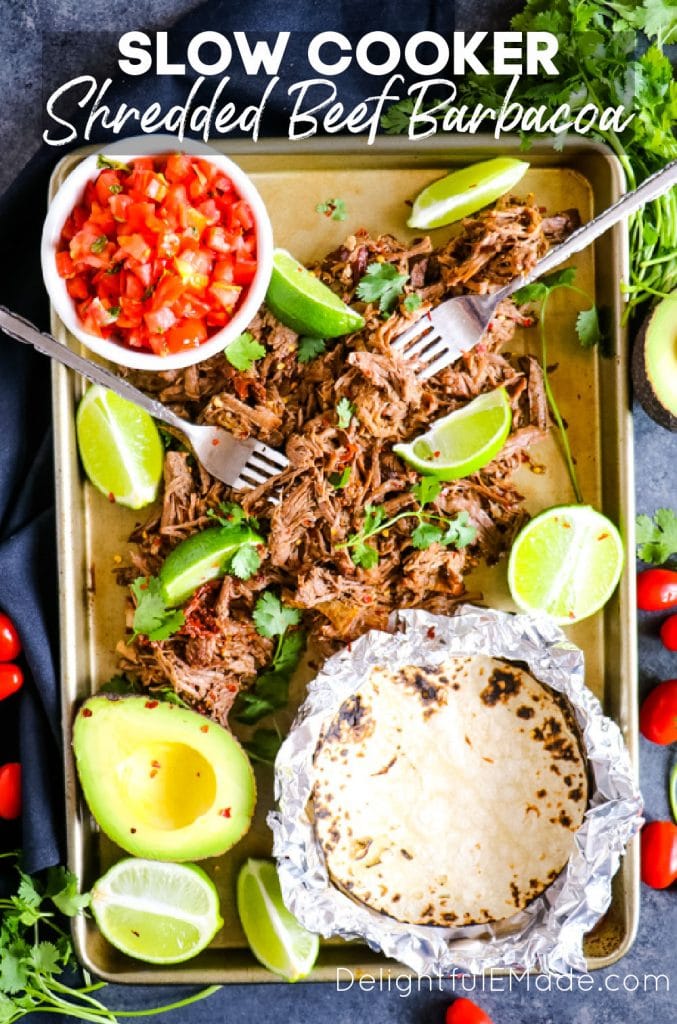 Easy Taco Recipe 4: Mexican Shredded Beef Barbacoa – Using Beef Chuck Roast or Pork Roast (carnitas)
Using your slow cooker, this Mexican Shredded Beef is an incredibly flavorful way to enjoy tacos. This recipe can use either a beef chuck roast or a pork roast. Prepping this meat in your slow cooker earlier in the day is a great way to save time when you come home for dinner.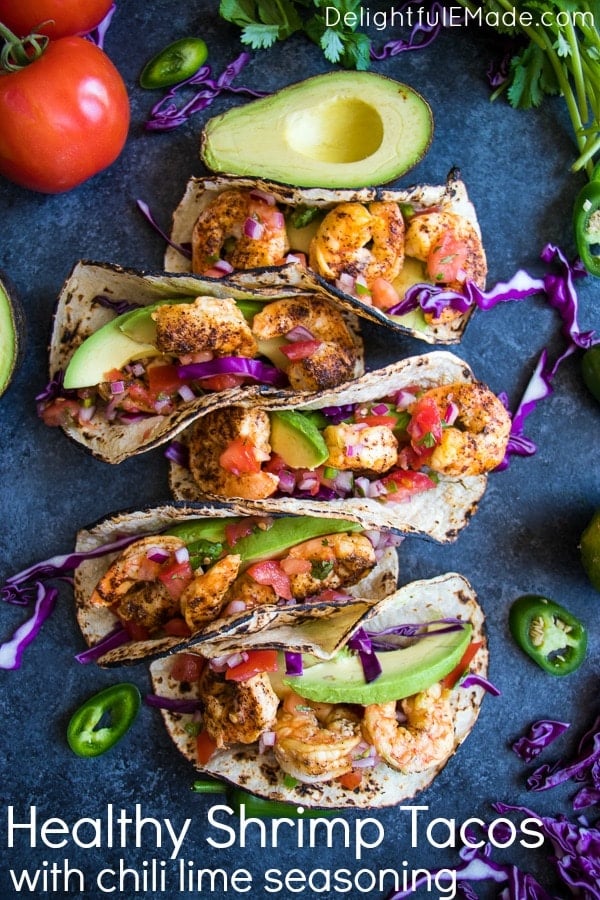 These Shrimp Tacos are fabulous! In addition to shrimp, you can also use scallops for this incredibly healthy taco option. The beauty of this recipe is that the shrimp is done in about 10 minutes in your skillet.
Serve with your favorite tortillas, salsa, avocado or guacamole and you've got the ultimate quick weeknight dinner!
Which tortillas are best for tacos?
I've discovered that corn tortillas are best for tacos. Look for the smaller size tortillas in the grocery store. Corn tortillas add to the flavor of the tacos. Flour tortillas are good as well, and tend to hold up better (tear less) than corn tortillas.
What is a good side for tacos?
Tacos are typically served with sides of black or pinto beans, and toppings for the tacos, like pico de gallo salsa, guacamole, fresh limes for juice, cilantro, shredded cheese or queso fresco and rice. Here are a few recipe ideas that go great with tacos.
Tropical Pineapple Mango Salsa – especially great with fish and shrimp tacos!
What drinks go with tacos?
It is customary to serve traditional TexMex fare with margaritas, daiquiris, mojitos or sangria. Here are some of my most popular cocktails that go wonderfully with tacos:
How to Make A Skinny Margarita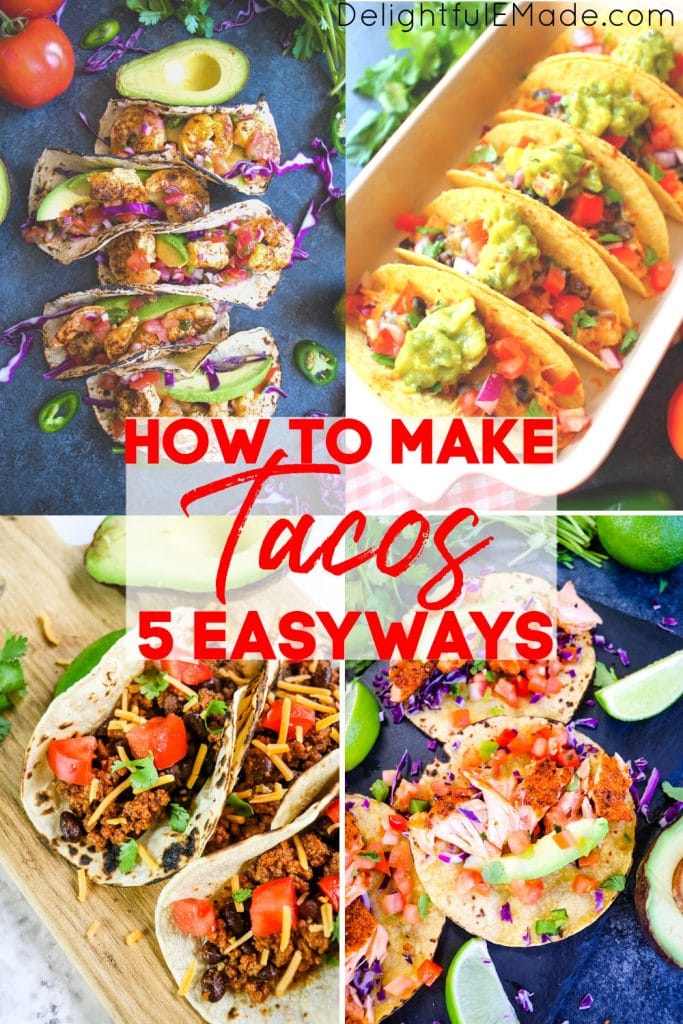 Here's the base recipe for How to Make Tacos From Scratch:
Easy Taco Recipes 5 Ways
Ingredients
1 lb. meat of preference (ground beef, chicken, turkey or shrimp)
3 Tbsp. tomato paste
2 Tbsp. homemade taco seasoning
1/2 c. water
Optional: 1 (15 oz.) can, black beans, drained and rinsed
Instructions
In a large skillet over medium heat, brown meat until cooked through. Remove from heat and drain off any excess fat.
Place drained meat back in skillet and add taco seasoning, tomato paste and water. Heat over medium-low heat until mixture comes to a low simmer. Heat for 5 minutes until mixture thickens.
Remove from heat and serve meat mixture in corn or flour tortillas or crunchy taco shells. Top with your preferred taco toppings, like pico de gallo salsa, guacamole, shredded cheese, sour cream, cilantro and/or fresh lime juice.
Notes
Refrigerate any leftovers in an air-tight container for up to 5 days.