The BEST Watermelon Cucumber Salad Recipe!
Cucumber melon salad brought to a whole new level! Crunchy cucumbers, sweet watermelon and cantaloupe along with a delicious lime-ginger dressing makes this Watermelon Cucumber Salad wonderfully fresh and delicious. This melon fruit salad makes an awesome summer side dish, perfect for picnics, pot-lucks and back yard cookouts!
This post may contain affiliate links. Delightful E Made is a participant in the Amazon Services LLC Associates Program, an affiliate advertising program designed to provide a means for us to earn fees by linking to Amazon.com and affiliated sites.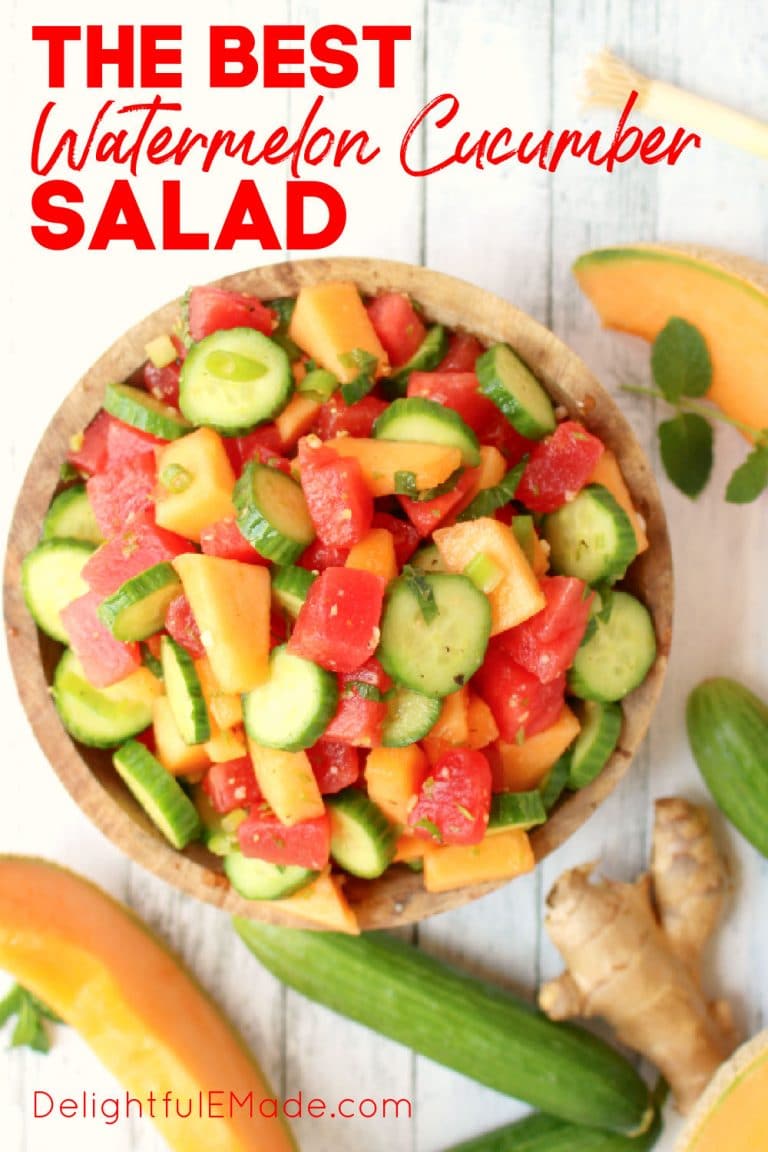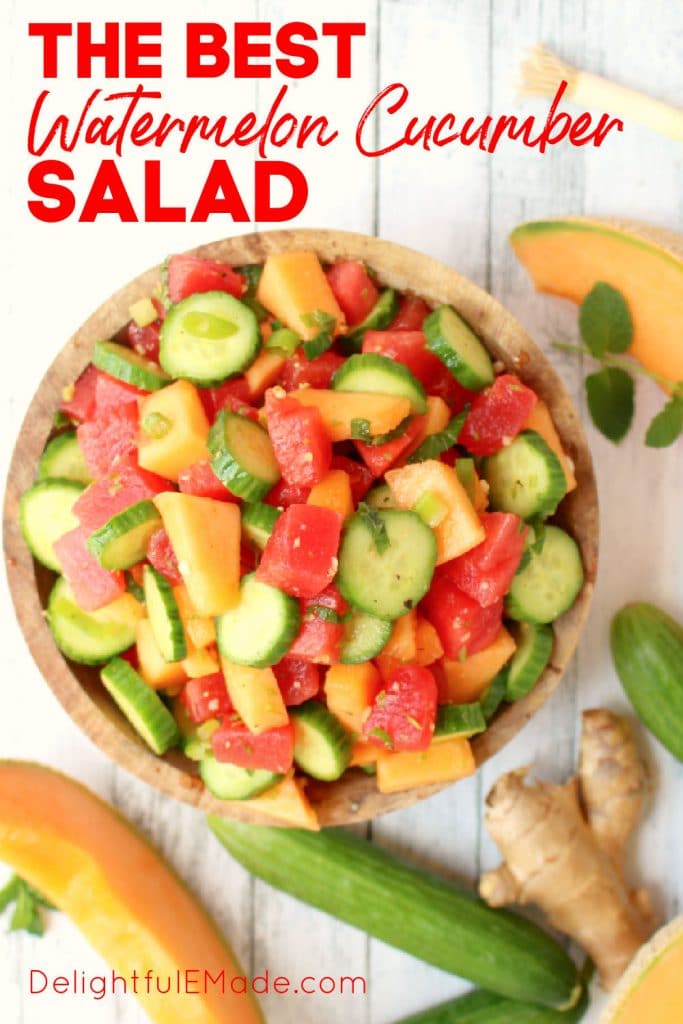 Simple, Delicious Cucumber Melon Salad Recipe!
Fruit salad is a summertime staple, but it often gets a little predictable. This Watermelon Cucumber Salad puts a new spin on the classic fruit salad recipe, with some extra flavor, freshness and crunch!
This cucumber melon salad includes watermelon, cucumbers and cantaloupe along with a few other ingredients to give it some extra flavor and zest. Perfect for your next cookout, pot-luck or neighborhood block party, this is a great healthy side to share!
Here's how this simple Melon Fruit Salad comes together: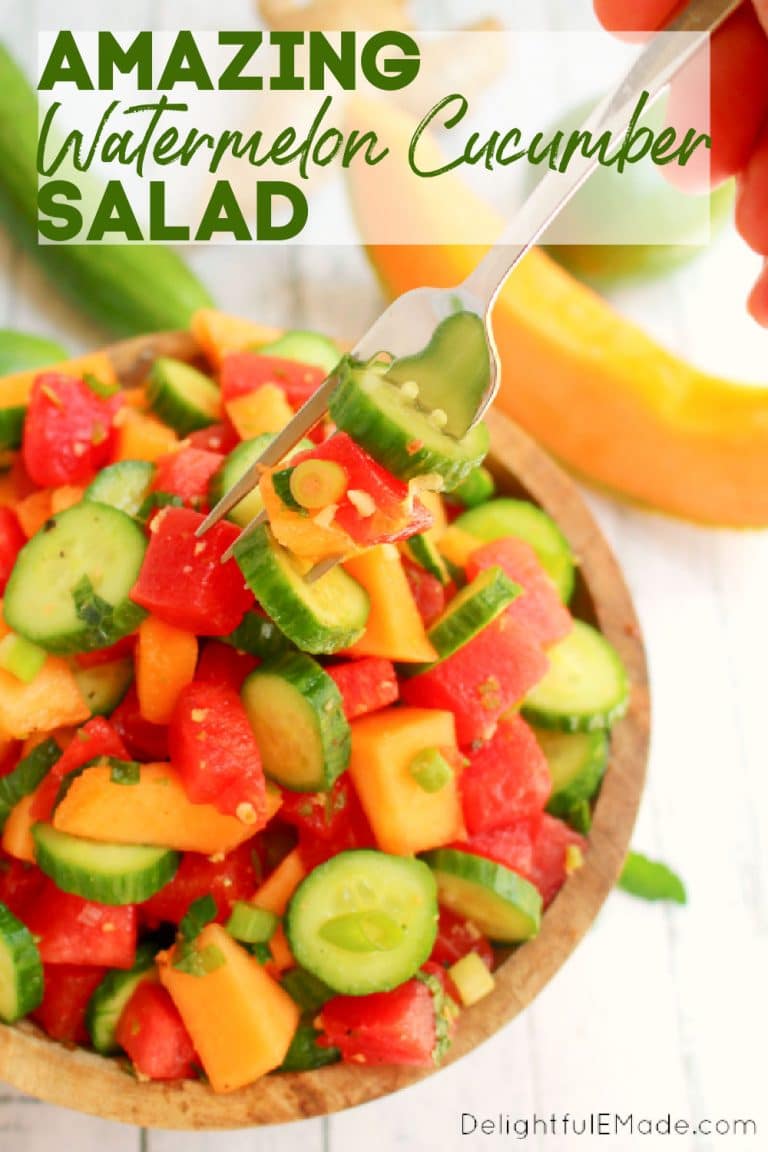 What ingredients do I need to make a watermelon salad?
For this recipe you'll need these ingredients:
Watermelon, cubed
Baby cucumbers or English Cucumber, sliced
Cantaloupe, cubed
Green onions
For the dressing, you'll need:
White vinegar
Lime juice
Lime zest
Avocado oil
Fresh ginger
Garlic, minced
salt and pepper
For exact ingredient amounts and full recipe instructions, please be sure to scroll to the bottom of this post to the recipe card.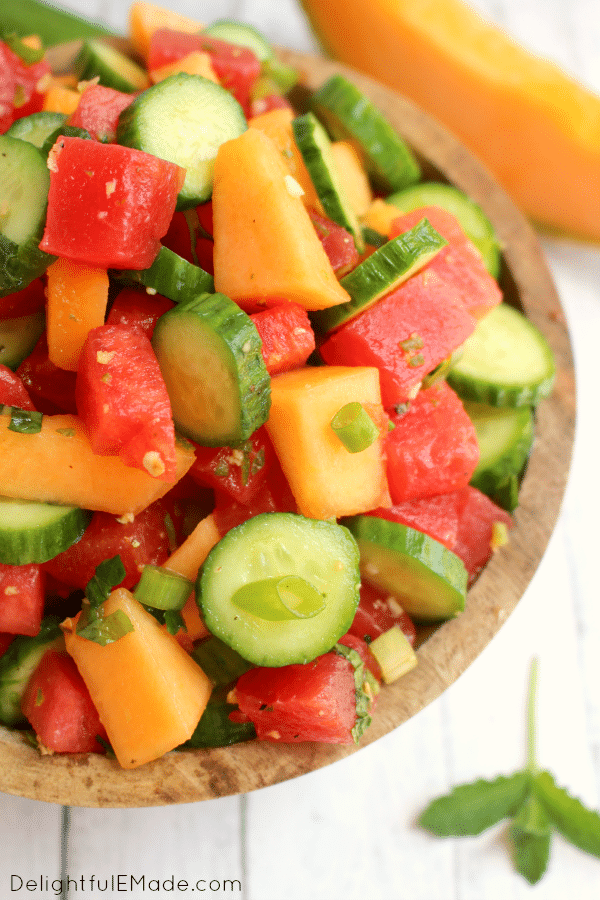 With my fresh, crispy mini-cucumbers from Melissa's Produce, I made this amazing Cucumber Melon Fruit Salad. As far as fruit salads go, this one is my new favorite! The crisp, delicious cucumbers paired with the sweet watermelon and cantaloupe, and the fresh lime ginger dressing are absolutely wonderful!
How long does watermelon cucumber salad last?
This salad is best enjoyed the same day it's made. If you are making this salad in advance for an event like a picnic, cookout or potluck, make the dressing separately, and dress just before serving.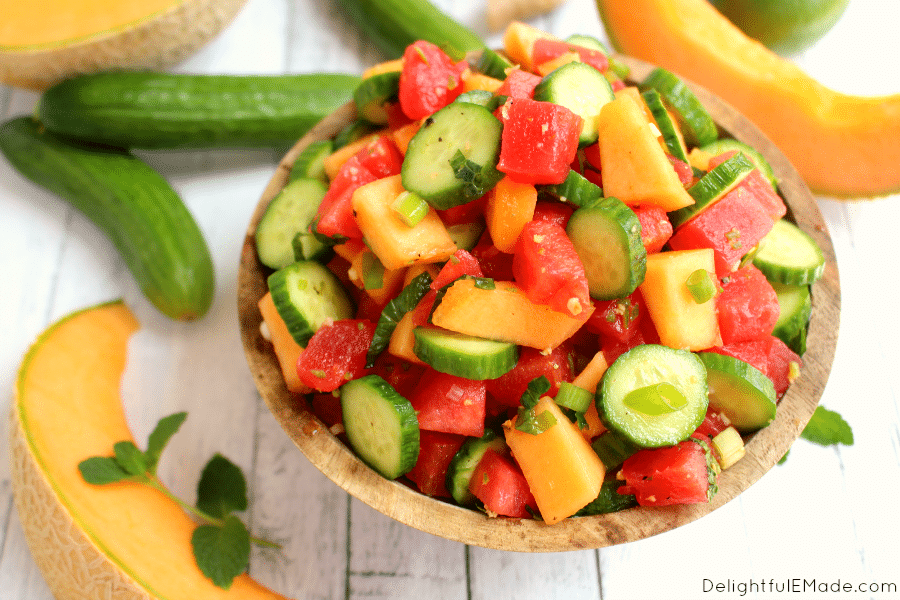 Additionally, I added some green onion to the salad for a bit of savory contrast.
There are so many fantastic flavors coming together in this salad, you'll want to keep it on hand as a side all summer long!
What goes with Watermelon Cucumber Salad?
It goes great with grilled chicken, salmon and steak, and also makes a wonderful lunchtime side with your sandwich.
Here are some of my favorite recipes that go perfectly with this cucumber melon salad: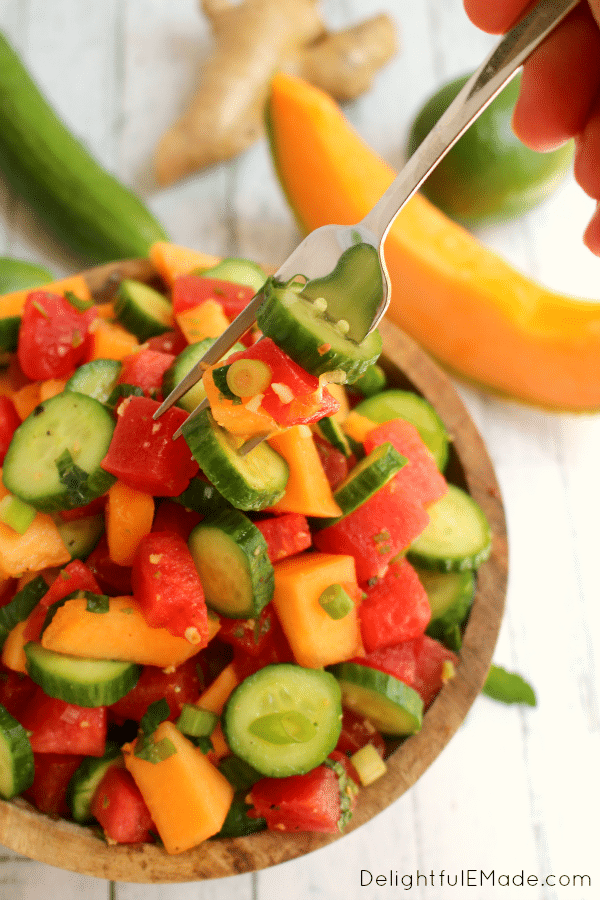 If you loved this Watermelon Cucumber Salad, check out some of my other fresh salads and sides:
Here's how this delicious Watermelon Cucumber Salad comes together: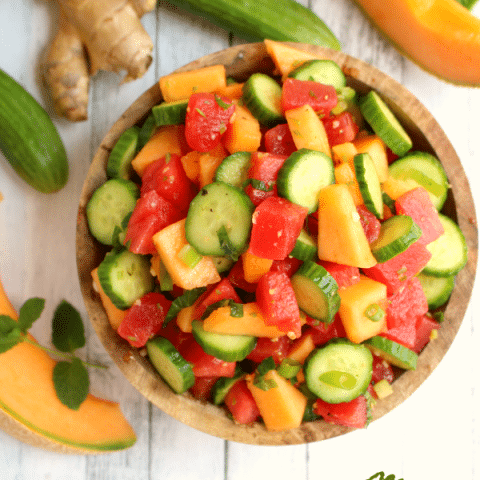 Cucumber Melon Fruit Salad
A new fruit salad brought to a whole new level! Crunchy cucumbers, sweet watermelon and cantaloupe along with a delicious lime-ginger dressing makes this salad wonderfully fresh and delicious!
Ingredients
5 Mini Cucumbers or 1 large English Cucumber, sliced
3 cups seedless watermelon, cubed
3 cups cantaloupe, cubed
2 green onions, chopped
Dressing:
1/4 c. white vinegar
juice of 1 lime (about 1/4 c.)
grated peel of 1 lime (about 1 Tbsp.)
1 Tbsp. avocado oil
1 Tbsp. grated fresh ginger root
2 cloves of garlic, minced
1/2 tsp. salt
1/2 tsp. pepper
Instructions
In a large bowl, combine the cucumbers, melons and onion. Toss to incorporate.
In a small bowl, whisk together the dressing ingredients (vinegar, lime juice and peel, oil, ginger, garlic, salt and pepper). Pour dressing over the melon mixture and toss to coat. Serve right away. Store any leftovers in an airtight container for up to 3 days.
I received free product(s) from Oxo and Melissa's Produce in conjunction with this post. Recipe, photos, and opinions are 100% my own.