The ultimate cinnamon apple bread recipe! Big chunks of apples, cinnamon and a delicious crumble topping make a fantastic treat with your morning coffee or a delicious afternoon snack.
This post may contain affiliate links. Delightful E Made is a participant in the Amazon Services LLC Associates Program, an affiliate advertising program designed to provide a means for us to earn fees by linking to Amazon.com and affiliated sites.
Your New Favorite Way to Bake Apple Cinnamon Bread!
Do you have lots of apples from your recent apple-picking trip? Make this super moist cinnamon apple bread.
Made with fresh, crisp apples, cinnamon spices and topped with a delicious crumble, this apple bread recipe is incredible. Perfect for enjoying your fall apple bounty!
What do I need to make cinnamon apple bread?
Here's a quick-reference check list of the ingredients you'll need to make apple bread:
Medium apples – I used 2 medium Granny Smith apples. Other good varieties for baking are Honeycrisp, Jonagold, Winesap, Pink Lady or Braeburn.
Vegetable oil – using oil will give you a more moist bread than butter. I also recommend unflavored coconut oil instead of vegetable oil.
Granulated sugar – if you're watching your refined sugar intake, I recommend using Whole Earth granular monk fruit sweetener, which bakes wonderfully.
Vanilla extract – great for amplifying the flavor of the bread.
All purpose flour – you could also substitute whole wheat flour or gluten-free flour, like King Arthur.
Baking powder – necessary leavening to help your bread rise.
Baking soda – also helpful in getting your bread to rise as it bakes.
Salt – highly recommended for flavor. Don't omit completely.
Cinnamon – necessary for apple cinnamon bread, and goes wonderfully with the apples.
Nutmeg – a great compliment to the cinnamon and helps amplify the flavor of the bread.
For the crumble topping, you'll need:
All purpose flour
Brown sugar – you can also use Swerve Brown Sugar Substitute instead of regular light brown sugar to cut calories and refined sugar.
Butter
Cinnamon
For exact ingredient amounts and fully recipe instructions be sure to scroll down to the bottom of this page to the recipe card. Thanks!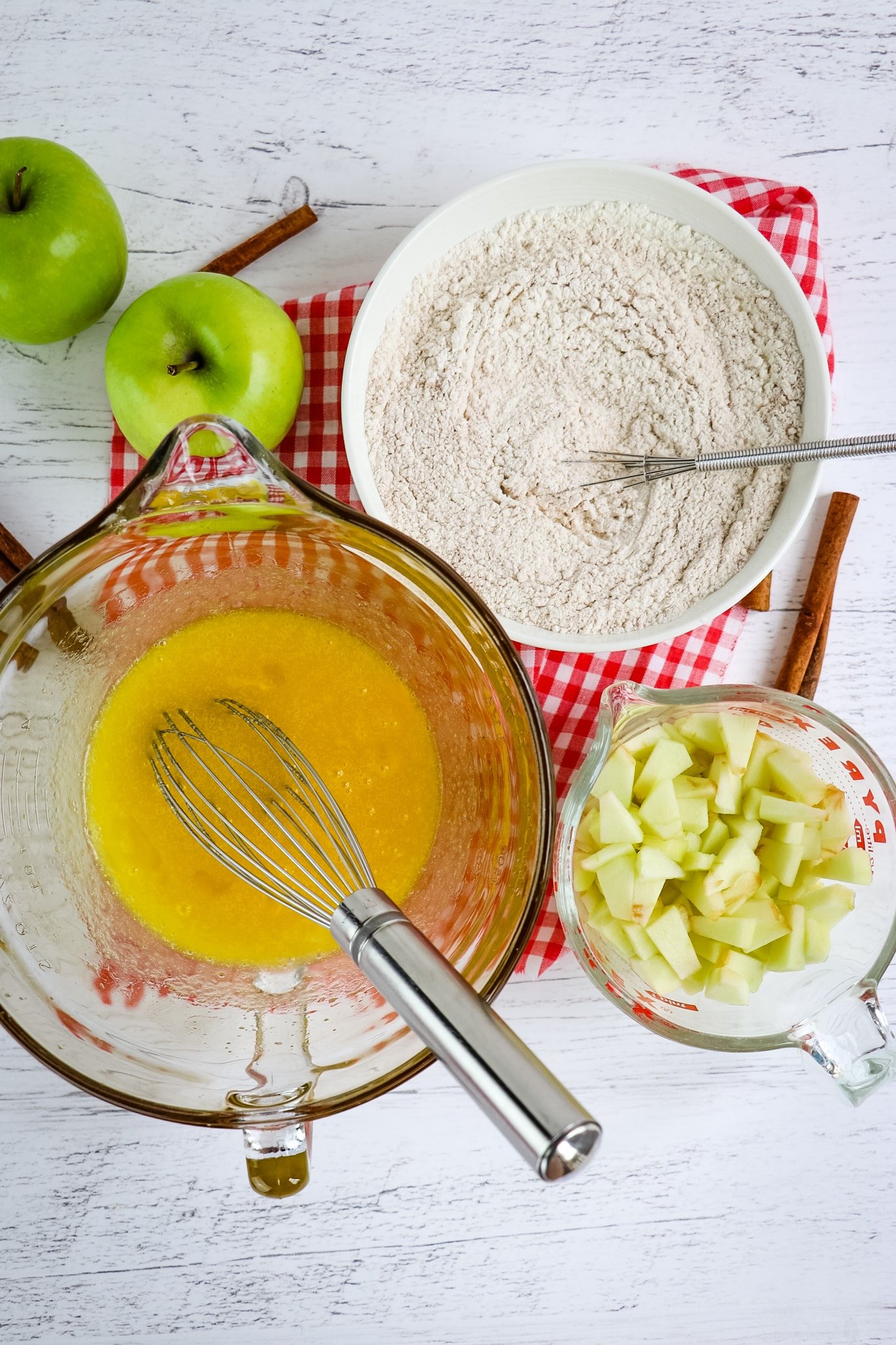 How do I make homemade cinnamon apple bread?
First, peel and chop your apples. I used two medium Granny Smith apples, which renders about two cups. Once chopped, set aside so they are ready to be stirred into the batter.
Next, mix your wet and dry ingredients separately. In one bowl, whisk together the oil, sugar (or sweetener), eggs and vanilla. In a separate bowl, whisk together the flour, baking powder, baking soda, cinnamon, nutmeg and salt.
Gradually whisk in the dry ingredients to the wet ingredients. Batter will be thick.
Using a rubber scraper, fold in the chopped apples. Then, pour the batter into a prepared loaf pan.
Mix together the crumble topping and add to the top of the batter.
Bake. To test for doneness, insert a toothpick into the center of the bread. If it comes out clean and crumb-free, the bread is done baking. Let the bread cool to room temperature before slicing.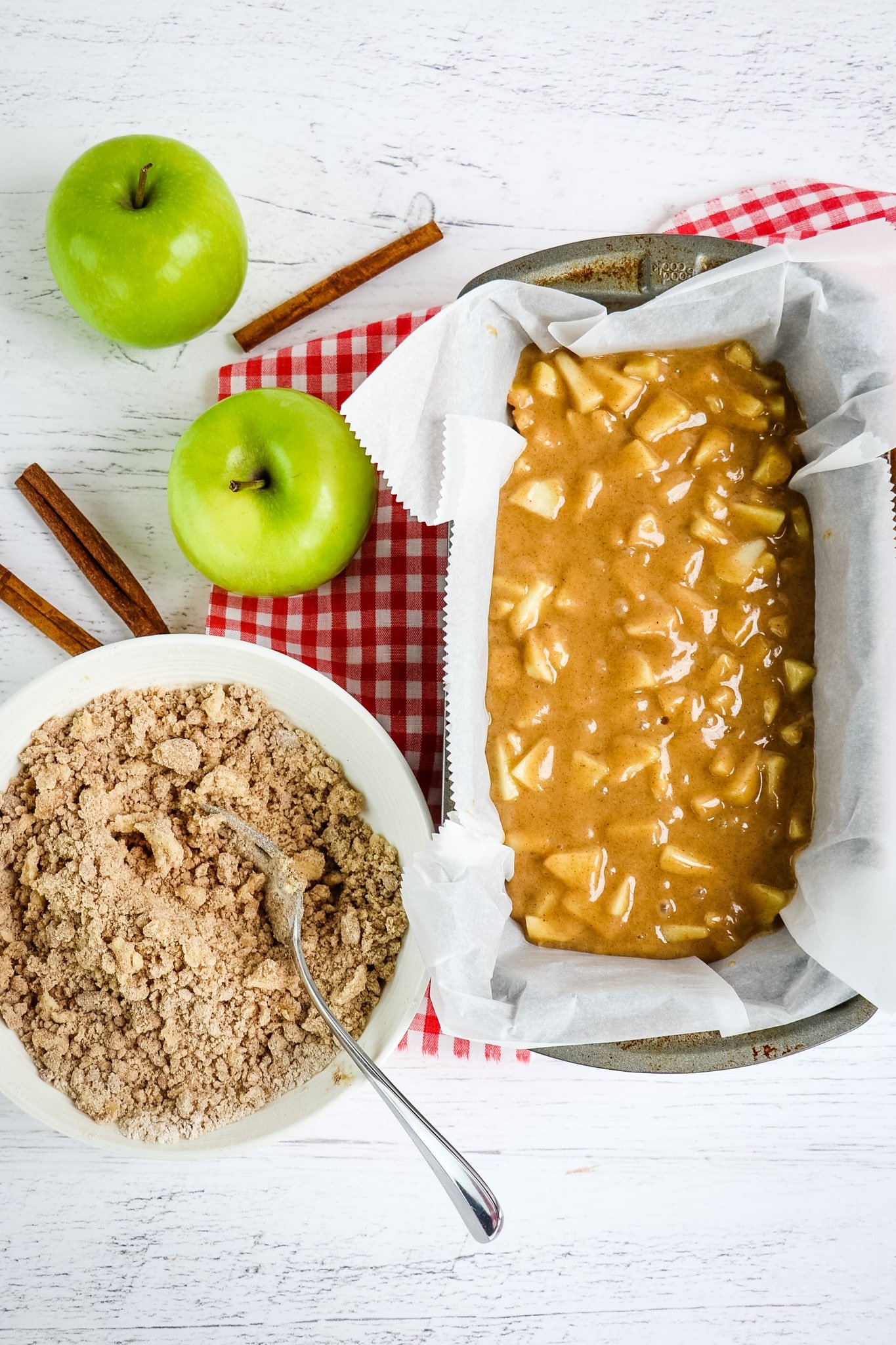 What kind of pan should I use to make apple bread?
I use and recommend a 9 x 5″ metal loaf pan. To make sure the bread comes out easily, I will line the pan with parchment paper. I absolutely love these pre-cut parchment paper sheets! They're the perfect size for loaf pans and cookie sheets.
I use this same technique with my Cream Cheese Pumpkin Bread, Healthy Pumpkin Bread and Peanut Butter Chocolate Chip Banana Bread.
I will line the pan with paper, and secure the paper with binder clips on each side of the pan. This is to simply hold the paper in place when I pour the batter into the pan.
Before putting the pan into the oven, make sure to REMOVE the binder clips from the pan. Binder clips are not oven-safe.
What kind of apples are good for bread?
Firm, slightly tart apples are best for baking. For this recipe I used Granny Smith, however some other varieties include Honey Crisp, Jonagold, Pink Lady, Braeburn and Winesap.
What can I do with lots of apples?
Coming back from apple picking with more apples than you know what to do with? Here are some additional apple recipes that are fantastic for using and enjoying your apple bounty.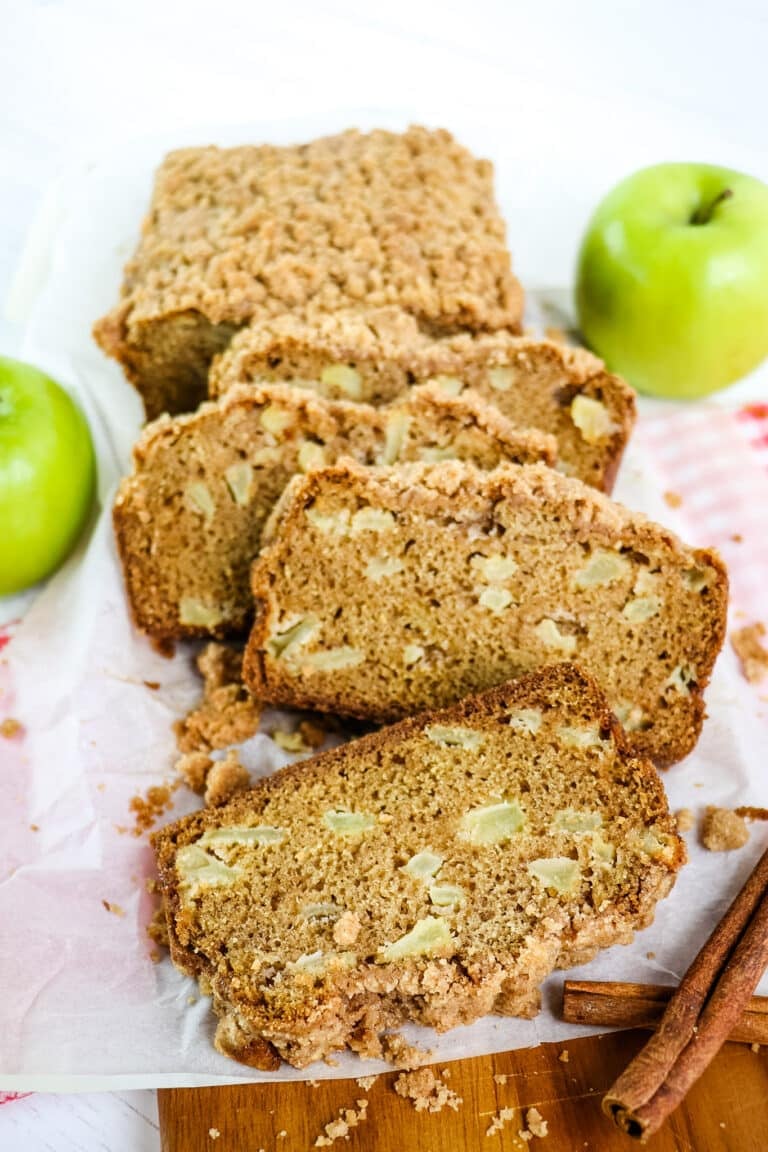 Can I freeze cinnamon apple bread?
Yes, this bread recipe can be frozen. When freezing this or any other quick bread recipe, make sure you do the following:
Make sure the bread is completely cooled to room temperature before freezing. Warm bread will quickly become mushy after thawing due to the excess moisture created from the steam still in the bread.
Wrap and seal well. I recommend wrapping the loaf in a layer of Press and Seal Wrap, creating a nice seal. Then, place the wrapped bread into a zip-lock freezer bag, making sure to squeeze out as much air as possible.
Label the bag (using a marker is fine) so you know what is in there. Write the name as well as the date you are freezing.
What can I serve with apple bread?
Tea, coffee and lattes are great served with this cinnamon apple bread recipe. Here are some of our favorite coffee, tea and latte recipes:
If you loved this delicious bread recipe, check out some of my other quick bread recipes: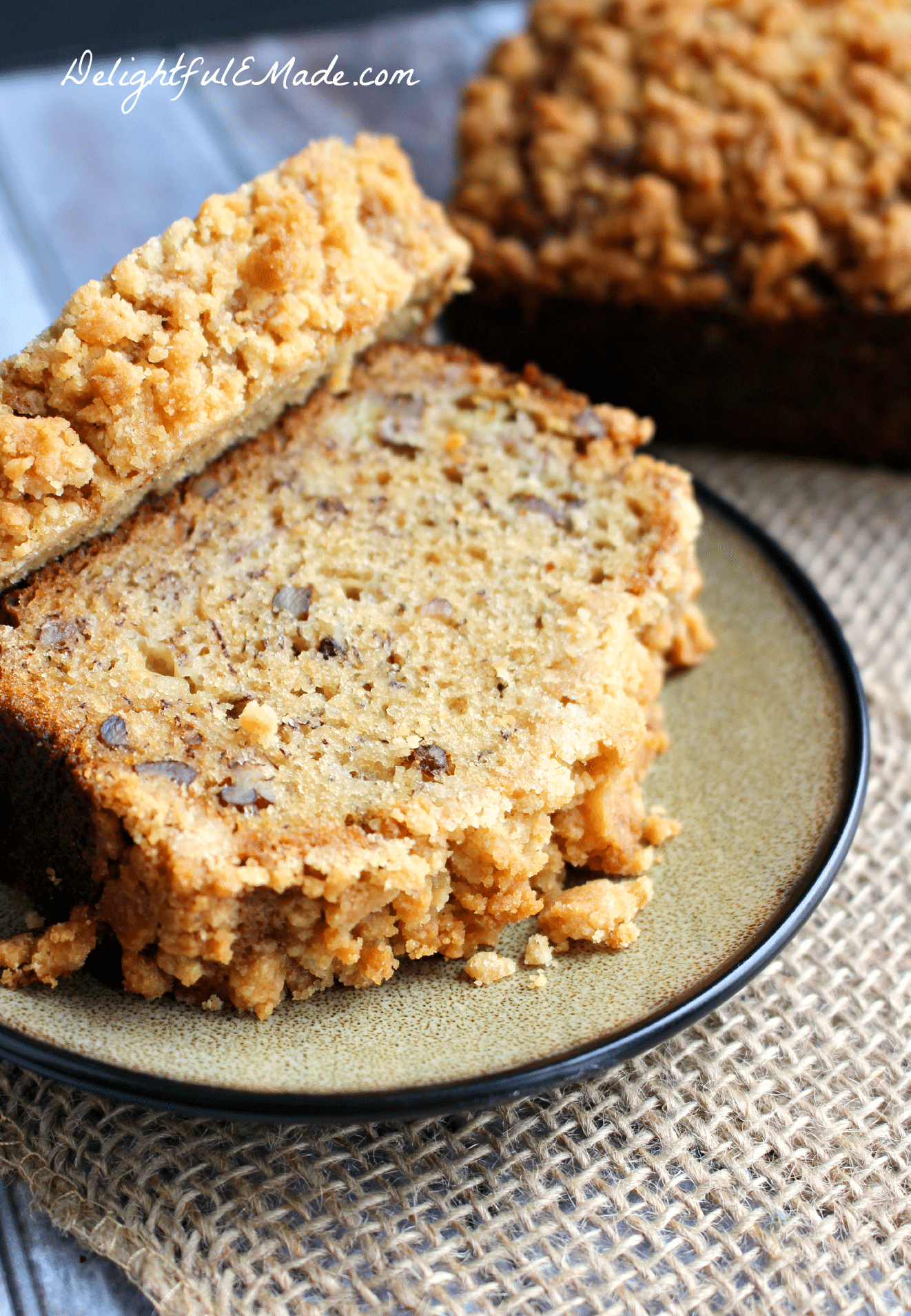 Apple Cinnamon Bread recipe: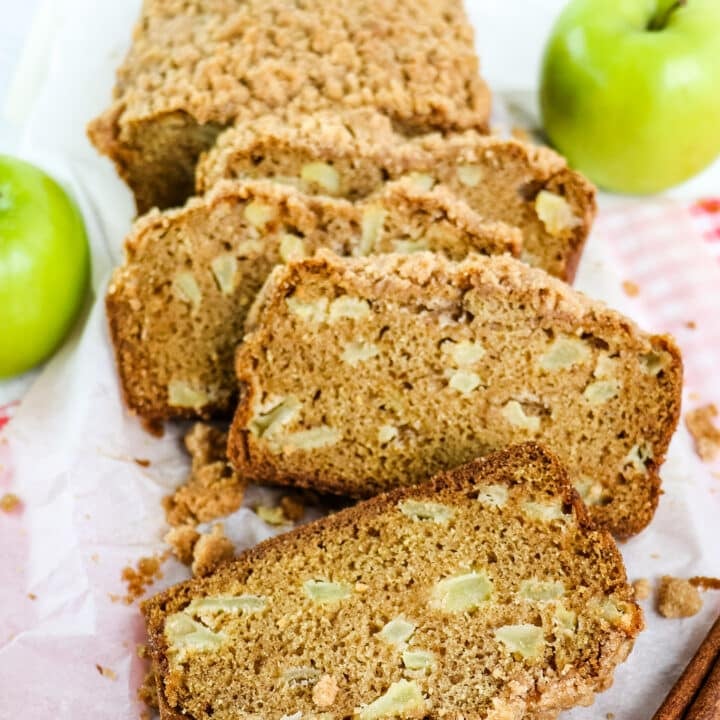 Cinnamon Apple Bread
Total Time:
1 hour
10 minutes
Looking for a super moist, delicious apple cinnamon bread recipe? This Cinnamon apple bread is simple to make and amazing with a cup of coffee or as a quick breakfast treat.
Ingredients
2 cups apples, peeled and diced (about 2 medium apples)
3/4 c. granulated sugar, or Whole Earth granular monk fruit sweetener
1/2 c. vegetable oil, or unflavored coconut oil
2 eggs
1 1/2 tsp. vanilla extract
1 1/2 cups all-purpose flour
2 tsp. cinnamon
1 tsp. baking soda
1/2 tsp. baking powder
1/2 tsp. salt
1/4 tsp. nutmeg
Cinnamon Crumble Topping:
1/3 c. all-purpose flour
3 Tbsp. light brown sugar, or Swerve brown sugar substitute
1 tsp. cinnamon
3 Tbsp. butter, melted
Instructions
Preheat oven to 350 degrees. Line a 9x5" loaf pan with parchment paper (see photos). Set aside.
Peel and chop apples. Set apples aside.
In a mixing bowl, whisk together the wet ingredients; sugar (or sweetener), oil, eggs and vanilla. In a separate bowl, whisk together the dry ingredients; flour, cinnamon, baking powder, baking soda, salt and nutmeg. Gradually add the dry ingredients to the wet ingredients. Whisk together to combine. Batter will be very thick. Using a rubber scraper fold in the apples to the batter. Pour the batter into the prepared pan. Set aside.
In a separate bowl, make the crumble topping. Using a fork, mix together the flour, brown sugar, and cinnamon. Pour in the melted butter and mix together until crumbly and gravel-like. Sprinkle over the top of the batter in the pan.
Bake the bread at 350 degrees for 55-60 minutes. To test for doneness insert a toothpick into the center of the loaf. If it comes out clean and crumb-free the bread is done.
Remove from oven. Let cool 10-15 minutes before removing from pan. Slice and enjoy.
Notes
Storage: store any leftovers in an airtight container. Will keep at room temperature for 2-3 days. Refrigerated, will keep for 5-7 days. Frozen, bread will keep for up to 3 months. (See post for freezing tips and options.)
Nutrition Information:
Yield:

12
Serving Size:

1
Amount Per Serving:
Calories:

279
Total Fat:

14g
Saturated Fat:

4g
Trans Fat:

0g
Unsaturated Fat:

9g
Cholesterol:

39mg
Sodium:

259mg
Carbohydrates:

36g
Fiber:

2g
Sugar:

19g
Protein:

3g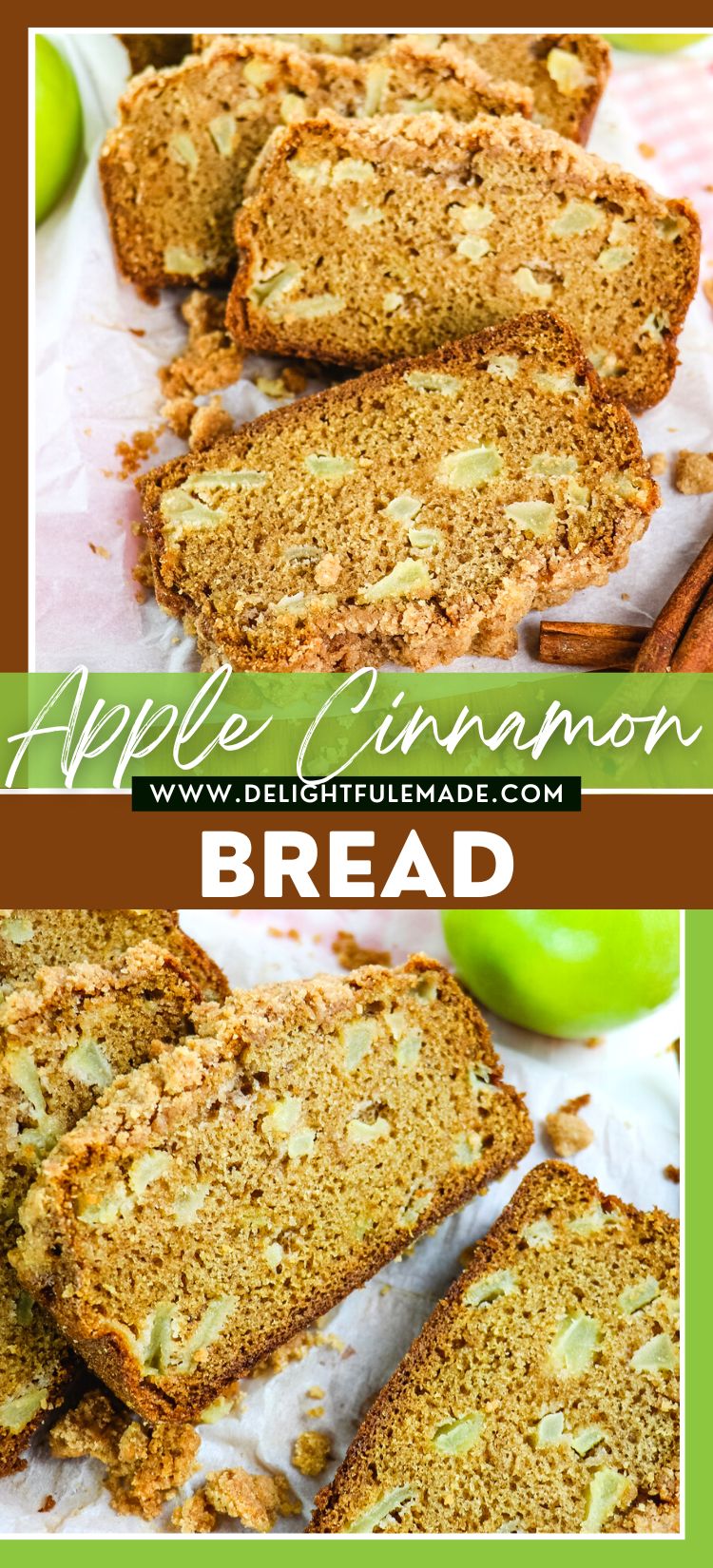 Wanna see what my blogger friends made? Check out these amazing posts by Karyn, Brianne, and Carrie that were inspired by our weekend in Charles Town, WV and our stay at the Hillbrook Inn & Spa.
Check out this incredible Dessert Charcuterie Plate by Karyn at Pint Sized Baker:
These Jam Thumbprint Breakfast Cookies by Brianne over a Cupcakes and Kale Chips would be a perfect breakfast option for kids going back to school!
These Peanut Butter Stuffed Crescent Rolls with Caramelized Bananas by Frugal Foodie Mama were inspired by an amazing breakfast we had at the Hillbrook. Doesn't this breakfast look incredible?!