Looking for a cranberry chicken salad recipe? This Cranberry Pecan Chicken Salad is wonderfully flavorful with the perfect amount of crunch. Loaded with apples, pecans, dried cranberries and more, this apple pecan chicken salad is great on a croissant or in a lettuce wrap.
This post may contain affiliate links. Delightful E Made is a participant in the Amazon Services LLC Associates Program, an affiliate advertising program designed to provide a means for us to earn fees by linking to Amazon.com and affiliated sites.
Love chicken salad but want to add some flavor and crunch? Try adding apple, pecans and cranberries for a little something extra.
This cranberry chicken salad recipe is easy to mix together and when you use Greek yogurt, it also becomes a healthy lunch option. Add it to lettuce leaves or your favorite low-carb wrap or spoon it into spring mix for a fantastic salad option.
Having this cranberry pecan chicken salad on hand is a great lunch option that can be enjoyed in numerous ways!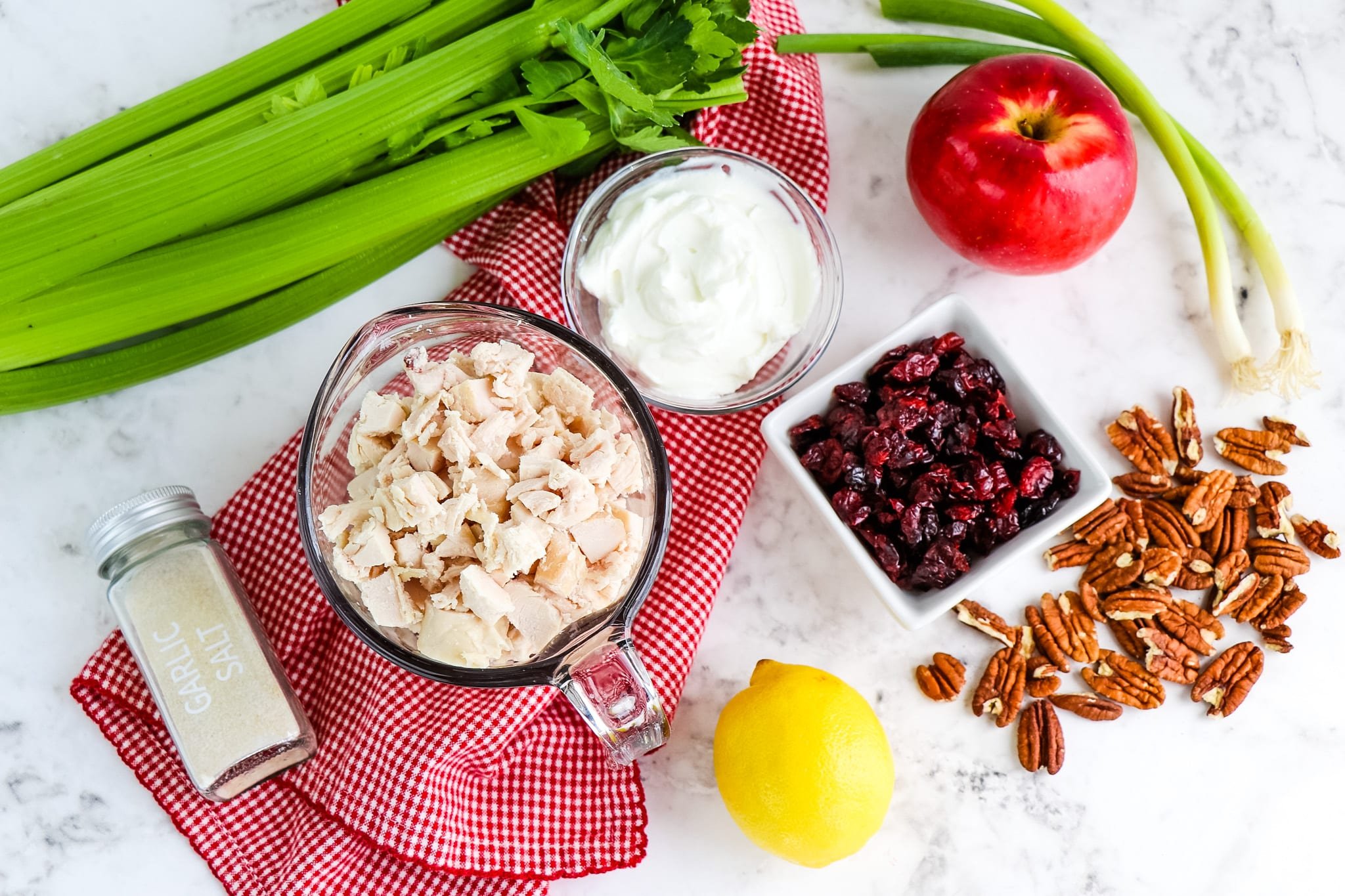 What do I need to make cranberry chicken salad?
Cooked chicken – feel free to buy pre-cooked chicken, like rotisserie chicken or a package of pre-shredded pulled chicken from Costco. This is a great time saver! Check out all of my 15 Things I Buy at Costco for Healthy Meals and Snacks.
Greek yogurt – this is my preferred dressing option for making chicken salad. Unlike mayo, Greek yogurt contains no unhealthy oils but still gives you that creamy consistency that makes chicken salad great.
Diced apple – I used a Pink Lady apple for this recipe, but feel free to use your preferred apple. Granny Smith, Honey Crisp, Jazz and Fuji apples are a great options for this chicken salad recipe.
Dried cranberries – to keep the sugar content low, I recommend buying reduced sugar cranberries, as regular store bought dried cranberries have loads of added sugar. Better yet, make your own homemade dried cranberries.
Lemon juice – the juice of a lemon is helpful in preserving the apple so they don't turn brown after cutting. This will keep it fresh for days when you refrigerate your chicken salad.
Diced celery – some say that it isn't a chicken or tuna salad if it doesn't have celery. I am in agreement on this. Celery adds a great crunch to every bite.
Green onion – the green onion adds some great flavor and welcome contrast to the sweet apples and cranberries.
Pecans – the pecans add the perfect crunch to every bite of chicken salad.
Salt and pepper – just a few grinds of each is all you need to adequately season the chicken salad.
For exact ingredient amounts and full recipe instructions be sure to scroll down to the bottom of the post for the recipe. Thanks!
How do I make chicken salad?
Start by mixing together the precooked chicken with the yogurt. Top the chopped apples with the lemon juice, and stir them in with the chicken.
Add in the celery, onion, cranberries and pecans stir together with a rubber scraper until everything is coated in the yogurt. Top with a few grinds of salt and pepper to season.
The apple pecan chicken salad can be enjoyed right away on a croissant, in a lettuce wrap, low carb wrap or whole grain bread for a sandwich. It's also great enjoyed with crunchy Wasa crackers.
Ingredient Substitutions and Recommendations:
Pecans – you can also use walnuts or chopped/sliced almonds as a substitute for the pecans.
Green Onions – don't have green onions? Finely dice a small amout (about 2-3 tablespoons) of red onion. You could also use my Quick Pickled Red Onions which are wonderfully mild and sweet in a chicken salad.
Greek yogurt – if you would prefer to use a more traditional dressing, go with a mix of 1/4 cup mayonnaise and 1/2 cup of sour cream. This will still give you the flavor and consistency of mayo, but with less calories and oil.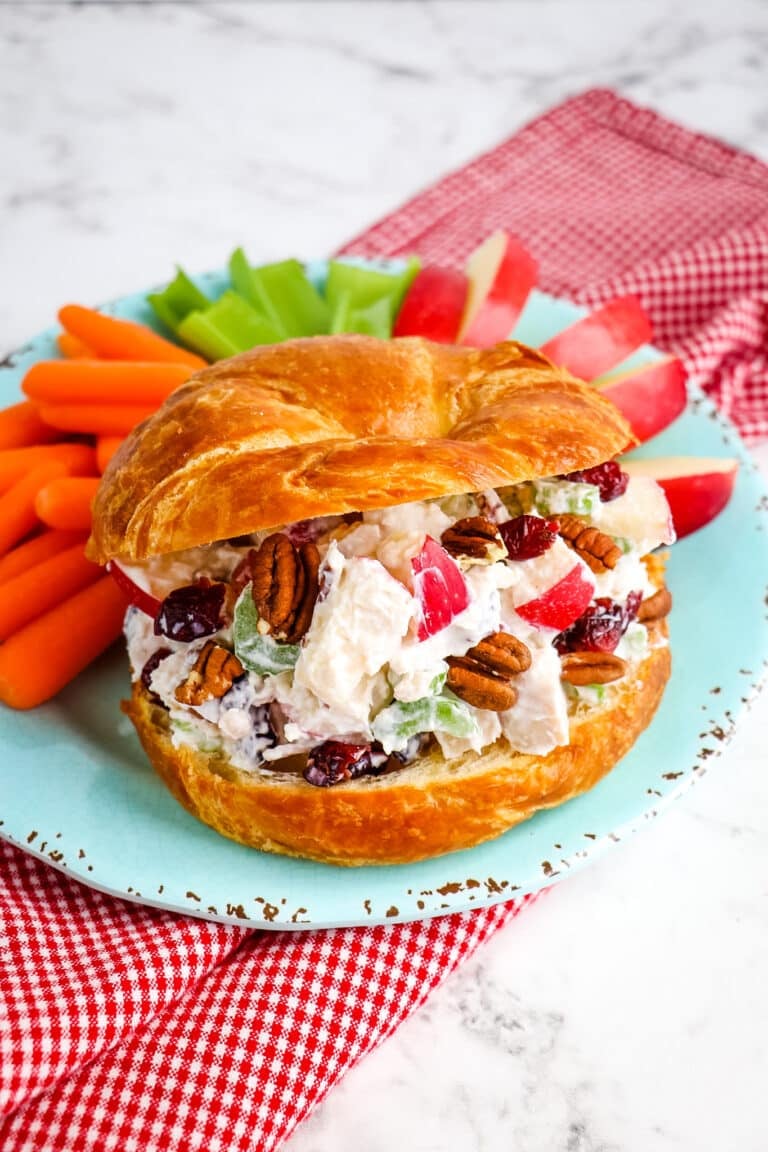 What should I serve chicken salad with?
Chicken salad is great served on a sliced croissant, whole grain bread or rice cakes for a sandwich. It can also be made into a wrap using lettuce or a low carb wrap or tortilla. Additionally, chicken salad can be paired with lettuce greens, spinach or spring mix for a delicious salad.
Frequently asked questions about making chicken salad:
What can I add to chicken salad to give it more flavor?
To make chicken salad more flavorful, stir in some diced apples, chopped pecans, almonds, walnuts, dried cranberries, grapes or mandarin oranges. Additionally, seasoning with salt and pepper will help bring out the flavor of the chicken salad.
Why is my chicken salad mushy?
Over-stirring or over-mixing will often result in mushy chicken salad. Try using diced chicken, instead of shredded chicken, and add in some celery, pecans or walnut for some added crunch.
How long should chicken salad sit?
Once mixed with the dressing, chicken salad can be enjoyed right away. If making chicken salad in advance, refrigerating the chicken salad for 1-2 hours is ideal for all the flavors to come together.
How long will chicken salad keep?
Kept refrigerated in an airtight container, chicken salad will keep for up to 5 days.
Love cranberries? Check out some of our favorite cranberry recipes:
If you loved this healthy lunch idea, check out some of our other salad and wrap recipes: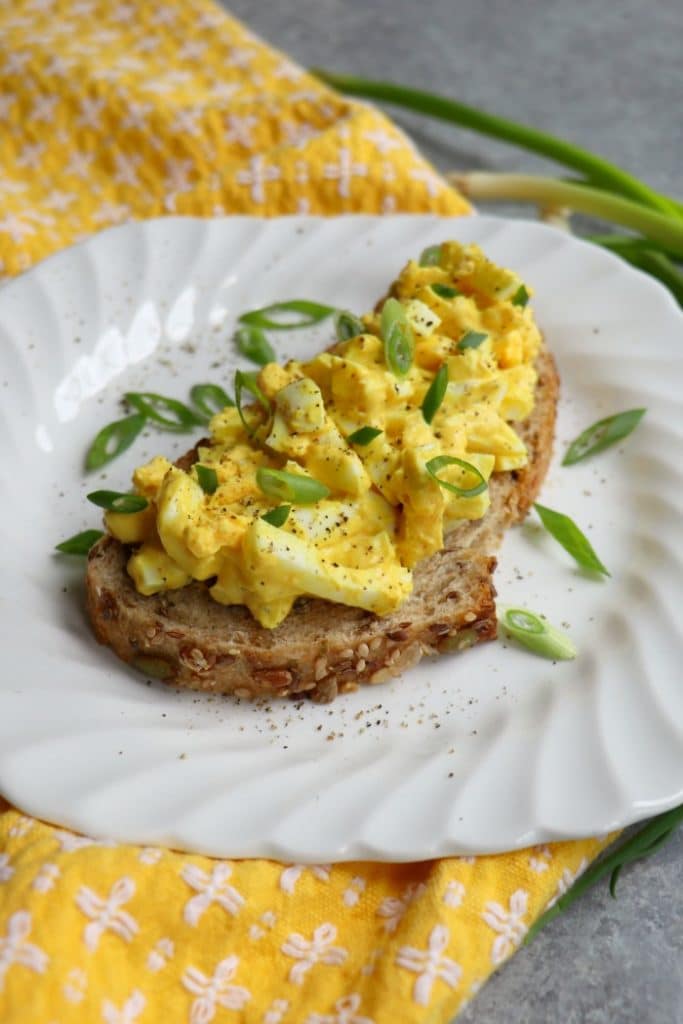 ---
---
Cranberry Chicken Salad
Looking for a great chicken salad recipe, with a little extra flavor and crunch? This Cranberry Chicken Salad with apples and pecans is fantastic. Great on croissants, lettuce wraps, salad and more!
Ingredients
2 cups pre cooked chicken, diced
3/4 cup plain Greek yogurt
1 cup chopped apples, skin on
1/2 cup chopped celery
1/2 cup dried cranberries, reduced sugar
1/4 cup chopped pecans
1/4 cup green onions, (about 2 medium green onions)
2 tablespoons lemon juice (juice of 1 lemon)
Salt and pepper to taste
Instructions
To a mixing bowl add the chopped apple, and drizzle with the lemon juice. Stir together to coat the apple pieces.
To the apple, add the diced chicken, Greek yogurt, celery, cranberries, pecans and onions. Stir everything together well with a rubber scraper to coat the ingredients with the yogurt. Top with the salt and pepper to season.
Chicken salad can be enjoyed right away.
Refrigerate any leftovers in an airtight container. Will keep for up to 5 days refrigerated.
Notes
Serve on sliced croissants, whole grain bread, rice cakes, wasa crackers, iceberg lettuce leaves for lettuce wraps, low carb wraps, or spinach, salad greens or spring mix for a salad.
Nutrition Information:
Yield:

6
Serving Size:

1
Amount Per Serving:
Calories:

206
Total Fat:

9g
Saturated Fat:

2g
Trans Fat:

0g
Unsaturated Fat:

7g
Cholesterol:

44mg
Sodium:

106mg
Carbohydrates:

17g
Fiber:

2g
Sugar:

14g
Protein:

14g