The perfect recipe for healthy pumpkin muffins that happens to taste amazing! These delicious Pumpkin Protein Muffins are loaded with protein and fiber, making them a great choice as a quick breakfast or healthy snack.
Disclosure: This post may contain affiliate links. Delightful E Made is a participant in the Amazon Services LLC Associates Program, an affiliate advertising program designed to provide a means for us to earn fees by linking to Amazon.com and affiliated sites.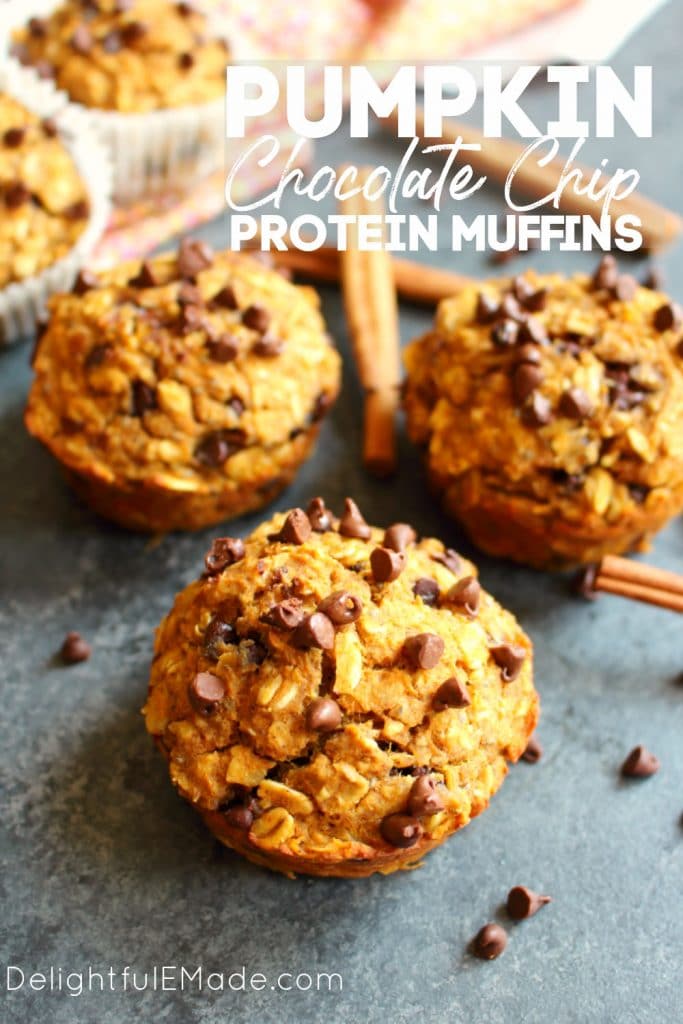 The BEST Pumpkin Protein Muffins Recipe!
Made with no oil, and no flour, these Pumpkin Chocolate Chip Protein Muffins will be your new go-to healthy snack. Great for freezing and taking out whenever the mood strikes, these simple protein muffins are a great way to curb hunger, and keep yourself fueled.
Just like everyone else, I'm always looking for healthy, protein rich snacks. Yes, there are loads of products on the market with endless claims to be healthy. Some of these products are legitimately good for you, some, not so much.
At the end of the day I just want something that I know is good for me, and the best fuel for my body. These Pumpkin Chocolate Chip Protein Muffins fit the bill perfectly.
The benefits to making your own protein muffins is that you know exactly what is going in them. Made with very simple ingredients, these muffins are made with all the good stuff – no oil or flour necessary!
Another benefit, is that when making a batch or dozen, you'll have snacks ready to go into your freezer for the entire week, or more. Not only does this save you time in the long-run, it's also saving you money over buying convenience food.
How do I make pumpkin protein muffins?
Mix the wet and dry ingredients, then combine. You start with two separate bowls. The first will include the dry ingredients:
In the second bowl, whisk together the wet ingredients:
Milk (I dairy milk, as it has more protein over almond or cashew milk)
Plain Greek Yogurt
Egg Whites
Pumpkin Puree
Combine the wet and dry ingredients until completely combined. The batter will be thick. Then, fold in the chocolate chips.
Add the batter to a muffin tin. Spoon the batter into a muffin tin that has been sprayed with non-stick baking spray. You can also use coconut oil, cupcake/baking liners. As you can see in the photo, I used both cupcake liners and non-stick spray. I will say that the muffins tend to stick to the liners, and don't peel away well. If you would still prefer to use cupcake liners, just be aware the muffin will stick to the paper.
There will be enough batter for 12 protein muffins. Fill the cups to nearly 3/4 filled. The muffin batter is very thick, but be assured that they will not rise much, and won't overflow the cups.
Bake the muffins. These protein muffins bake up beautifully! The muffins will come out golden brown, and just slightly raised. Before removing from the pan, let the muffins cool for 10-15 minutes. Then, transfer to a cooling rack to let cool completely to room temperature.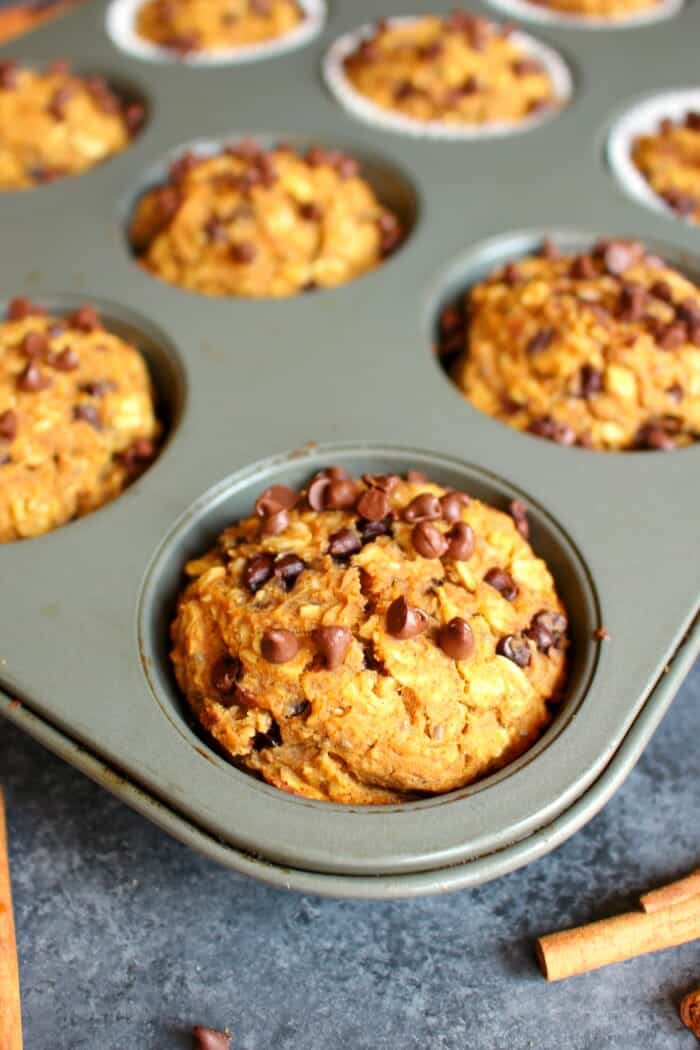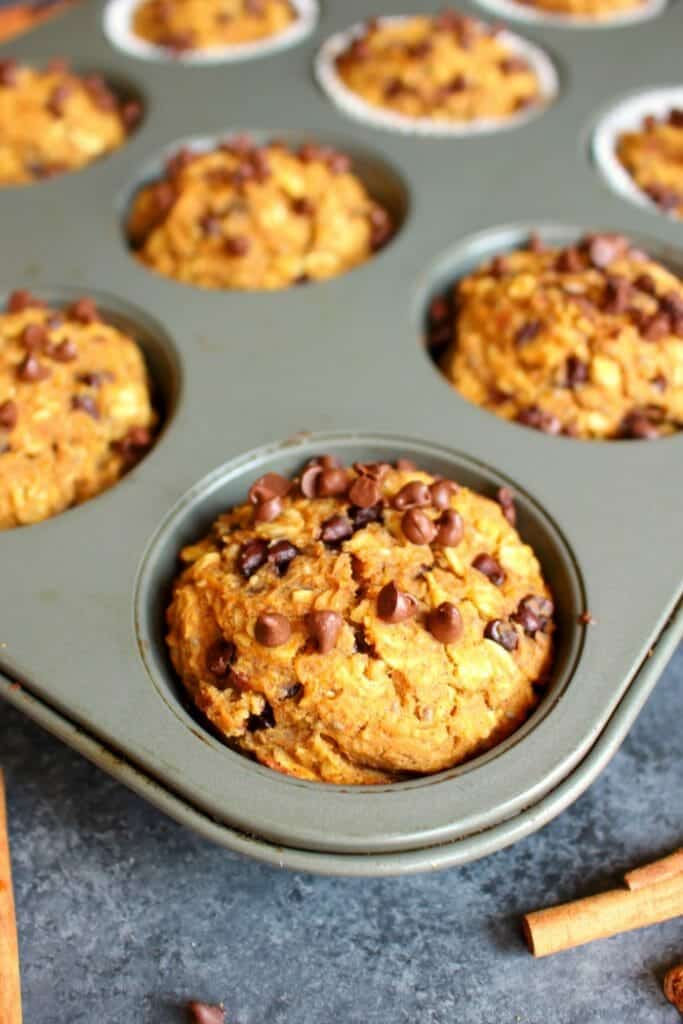 I used mini-chocolate chips for this recipe, and are a perfect pairing with the oats and pumpkin.
The pumpkin pie spice, pumpkin and chocolate chips make for amazing fall flavors. Although, I will likely make these all year long. Because who says you can't have pumpkin outside of autumn? Not me. You do you!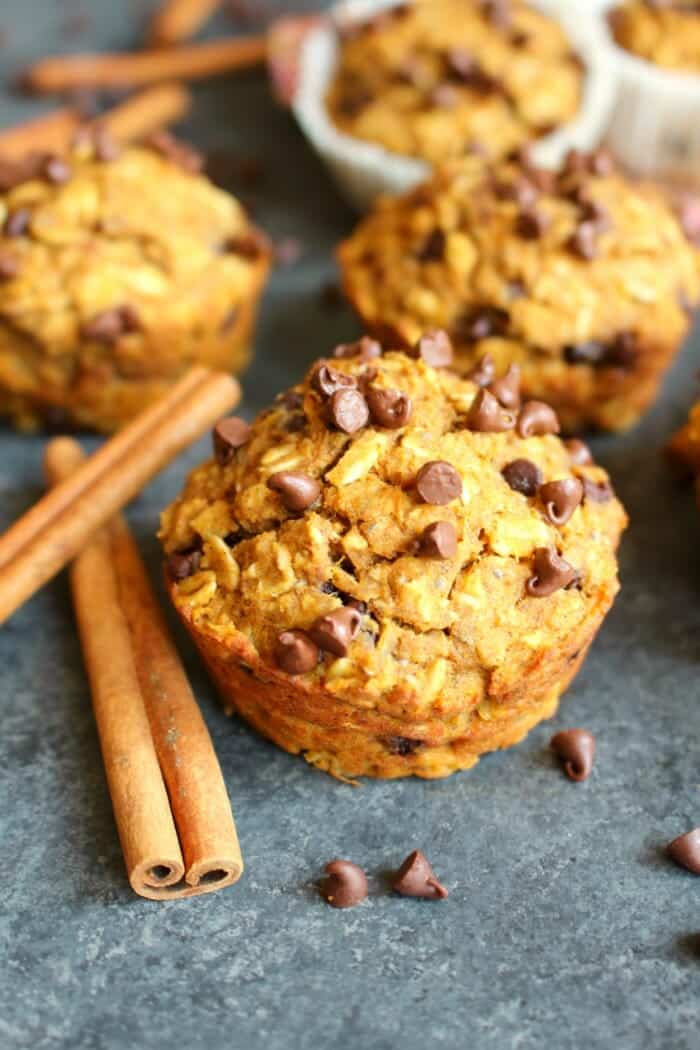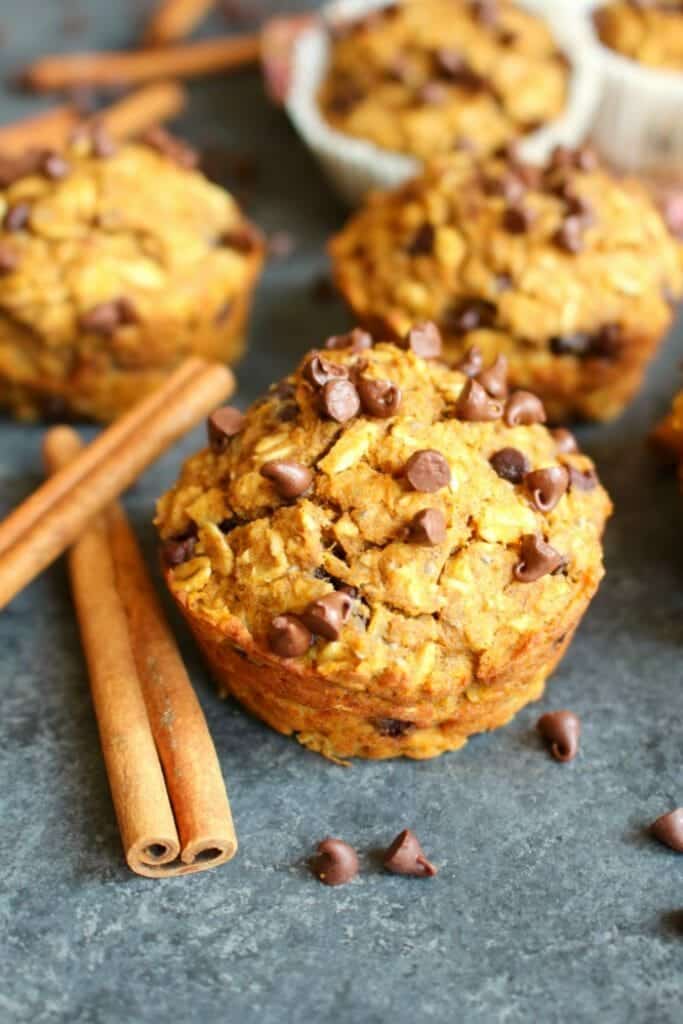 Can I freeze protein muffins?
Yes, these pumpkin protein muffins can be frozen. For best results, wrap muffins individually in Press-and-Seal Wrap, then place in a freezer-safe container or freezer bag.
To defrost; microwave for about 1 minute (on defrost setting). Then, heat for another 30 seconds until warm.
These muffins are a great pre-workout breakfast, or post-workout snack. Protein packed and filling but not overly heavy.
My son also loves to take these to school with him for a snack or to add to his lunchbox. These are a great healthy, kid-friendly snack, that is way better than any pre-packed convenience food!
Are you looking to start meal prepping breakfast?
Meal prepping breakfast is a fantastic way to make healthy choices for yourself in advance. Putting together healthy breakfast for yourself is a great way to avoid fast food or unhealthy convenience foods.
I've put together a post on Healthy Breakfast Meal Prep and included all of my healthy breakfast recipes as well as tips, tools and ideas to making meal prep easy. Also, check out my Healthy Breakfast Sandwiches and Baked Egg Muffins to get you started with healthy breakfast meal prep.
If you're just getting started with meal prep, my post Healthy Meal Prep Ideas for the Week is a great resource. It focuses on doing just one or two things in under and hour, to give yourself some great healthy options in advance!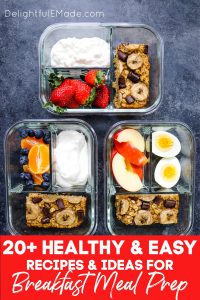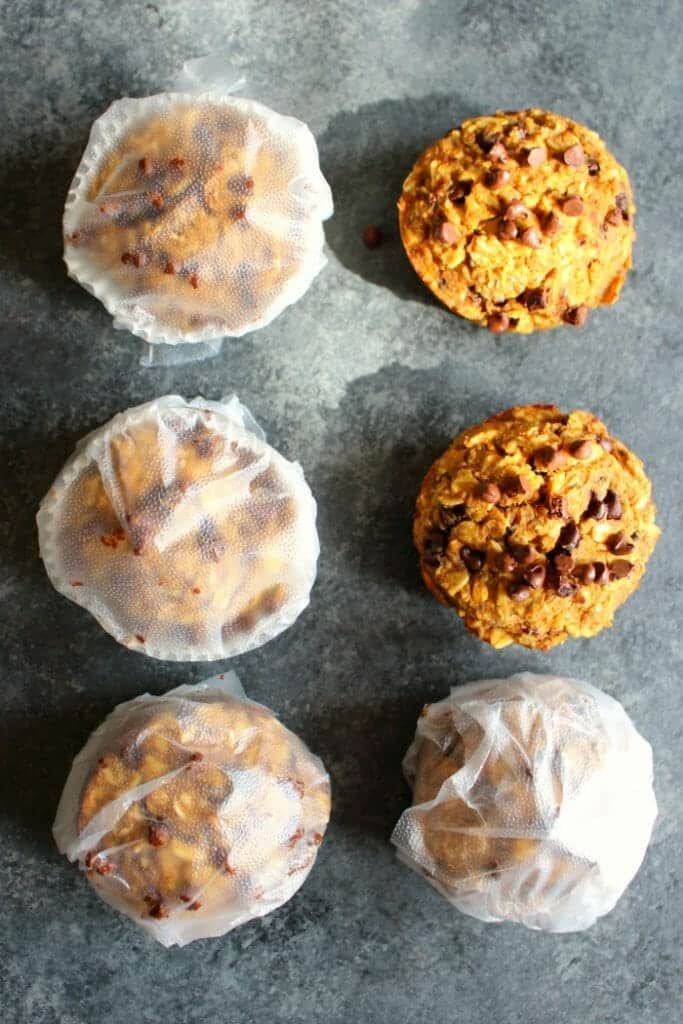 Looking for some additional pumpkin breakfast treats? Check out these:

If you love these protein muffins, be sure to check out some of my other muffin recipes:
Here's the recipe for these healthy, delicious Pumpkin Chocolate Chip Protein Muffins:
Pumpkin Chocolate Chip Protein Muffins
Ingredients
2 c. old fashioned oats, dry
4 scoops, vanilla protein powder (your preference of protein source)
1 Tbsp. pumpkin pie spice
1 Tbsp. Stevia in the raw, powder
1 tsp. baking powder
1/4 tsp salt
1 c. milk (your preference)
3/4 c. canned pumpkin puree (not pumpkin pie filling)
1/2 c. plain Greek yogurt
2 egg whites
1/2 c. mini chocolate chips
Instructions
Preheat oven to 350 degrees. Spray a muffin tin with non-stick baking spray, coconut oil or line with paper cupcake liners. Set aside.
In a mixing bowl, combine the dry ingredients; oats, protein powder, pumpkin pie spice, stevia, baking powder and salt.
In a separate bowl, whisk together the wet ingredients; milk, pumpkin, yogurt, and egg whites. Whisk until smooth and well combine. Gradually add the dry ingredients to the wet ingredients, and mix until combined. Lastly, fold in the chocolate chips. Optional; reserve a couple tablespoons of the chocolate chips to sprinkle on top of the muffins.
Spoon the batter into the prepared muffin tin, filling each cup almost full. These muffins will only rise slightly, so filling a little fuller is okay. Top with the reserved chocolate chips.
Bake the muffins at 350 degrees for 28-30 minutes. Muffins will be golden brown. Remove from oven and let cool for 10 minutes. Transfer muffins to a cooling rack to cool completely. Enjoy right away, or wrap in plastic wrap and freeze.
Notes
Your choice of protein powder will determine the taste and consistency of the muffin. It will also determine the grams of protein each muffin contain.
Nutrition Information:
Serving Size:

1 muffin
Amount Per Serving:
Calories:

2095
Total Fat:

54g
Saturated Fat:

26g
Cholesterol:

164mg
Sodium:

2636mg
Carbohydrates:

262g
Sugar:

83g
Protein:

155g
Notes about the protein content of these muffins:
The protein content for each individual muffin depends entirely on the type of protein powder that you choose. Here is a breakdown of two types of protein powders, and how the amount varies:
Bob's Red Mill Vanilla Protein Powder, with chia seeds and probiotics: this contains 40g of protein for the 4 scoops. The 4 scoops is equal to 40g of protein, or 3/4 cup. With the other ingredients included, this will give each muffin 7.2 grams of protein.
Vega Vanilla Protein Powder: FYI – this "scoop" is almost double in size. With 4 scoops of this protein powder, it rendered about 1 1/4 c. of powder, at 80 grams of protein. With the other ingredients included, this will give each muffin 10.5 grams of protein.