Dark Chocolate Pecan Pie – your new favorite pecan pie recipe!
Your favorite pie recipe made even more decadent and delicious!  This Dark Chocolate Pecan Pie recipe is topped with chocolate covered pecans for a show-stopping dessert and is perfect for your Thanksgiving or Christmas table!
My husband is one of the biggest pecan pie fans I know.  Don't get me wrong – I love it too, however, pecan pie is always at the top of Jason's must-have list for Thanksgiving, or any other holiday for that matter.  It is most definitely rich and decadent with a crunch from the roasted pecans that can't be beat.  To give some new life to this dessert, I've taken my mom's classic pecan pie recipe, and added even more richness with some dark chocolate and then topped it with chocolate covered pecans.  This pie recipe will be absolutely irresistible come Thanksgiving!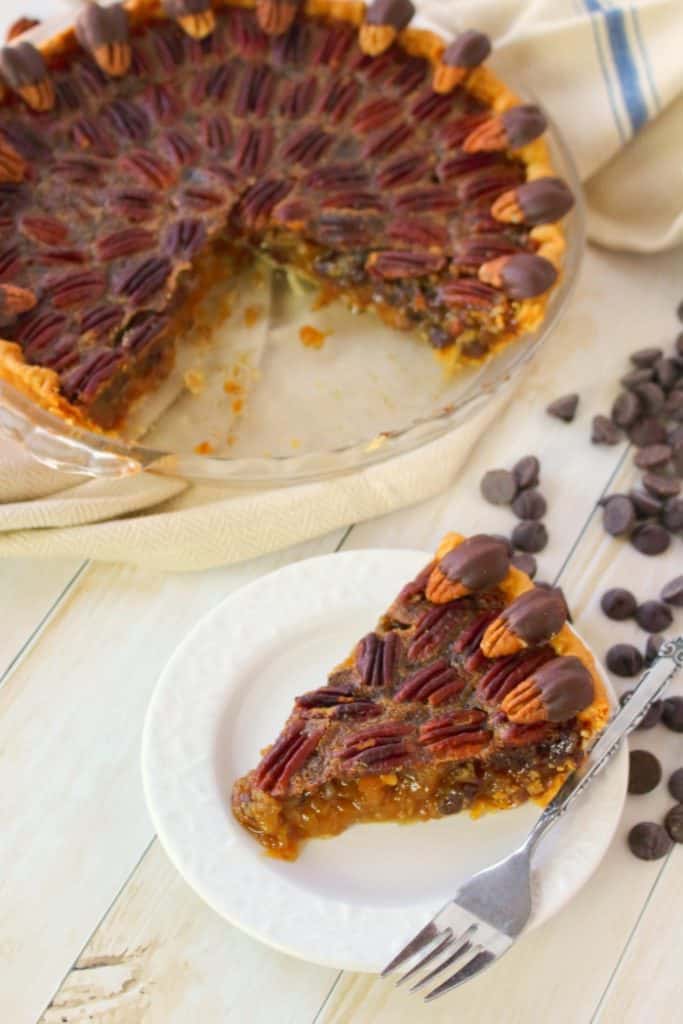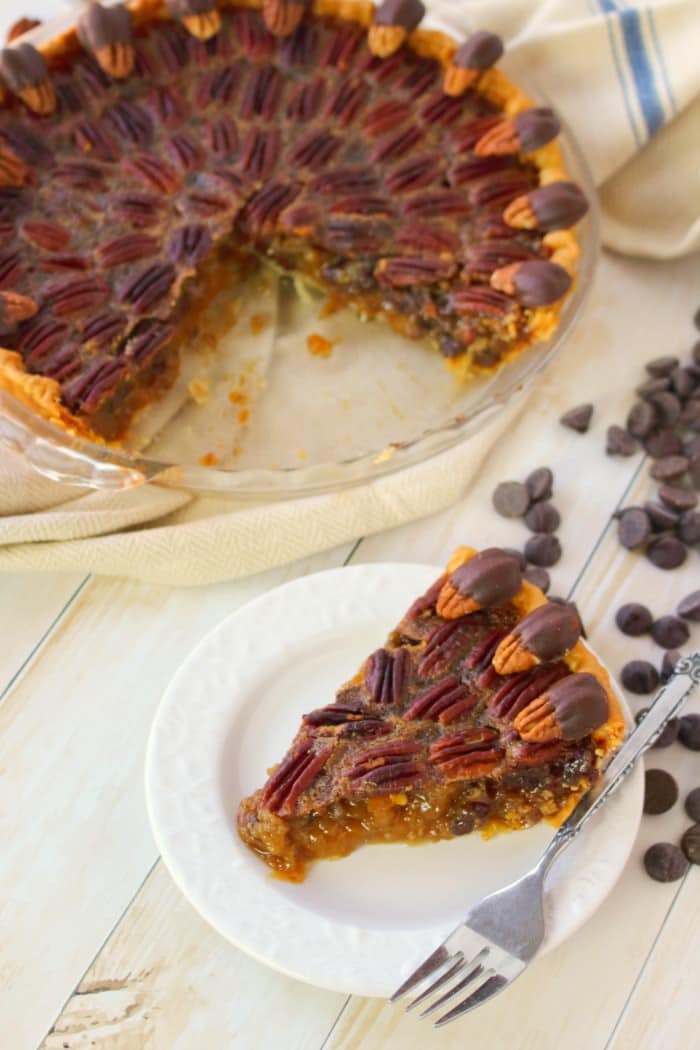 The Pie Crust:
My mom has been making pies for as long as I can remember.  She is to the point where she is pretty famous for her baking skills, and has even done local "pie crust making" workshops in my hometown.  She can easily roll out a pie crust in her sleep (probably because she actually has – waking up before dawn on most holidays to create some amazing holiday desserts!) My Mom's Famous Coconut Cream Pie is one of my absolute favorites!  Unfortunately, I did not inherit my mom's fierce pie crust abilities.  In fact, I pretty poor at making a good, flaky pie crust.
The good news is, I've become best friends with the refrigerated pie crusts that you get at the grocery store.  You simply let them come to room temperature, place them in your pie plate, crimp the edges, and you're pie is ready for its filling.  My mom would probably tell me this is cheating, but I simply consider it a shortcut, or a time saver to getting just as fabulous of a pie as if you had made the crust yourself. 🙂
Baking this Pie for a Holiday Dinner?
When you use this pre-made crust, the prep time for this pie is only about 10 minutes!  Yes, that's right! I will tell you that the bake time is nearly an hour, so I will definitely recommend that if you're making this pie for a holiday meal, bake this and any other pies (my Pumpkin Meringue Pie is awesome for Thanksgiving, too!) to make them on Wednesday or day before your big meal.  This will free up necessary oven time for your turkey or other items that need to be baked and roasted on the day of the big meal.
If you're making your pies and desserts the day before, pumpkin pie will need to be refrigerated overnight.  This pecan pie can be covered and kept at room temperature overnight.  However, after a day any leftovers I would recommend refrigerating.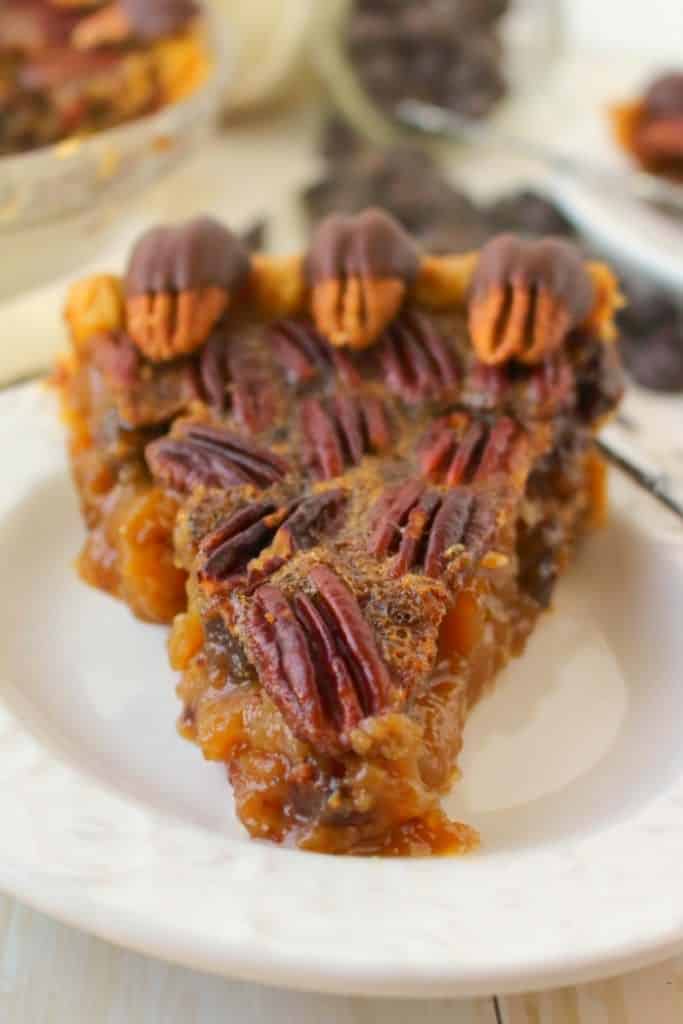 Dark Chocolate + Pecans  = Perfection!
This pecan pie recipe is downright awesome!!  I really love the addition of the dark chocolate, as it adds an extra component of flavor that goes wonderfully with the roasted pecans on top of the pie.  The dark chocolate chips will bake in the filling, so you'll have a bit of chocolate flavor in every bite.  I think this recipe has converted me over to my husband's team pecan pie!
Serve this pie along side a fresh pot of coffee and maybe a dessert wine.  Your dinner guests will be dazzled by this amazingly decadent and delicious dessert!
Here's a quick reference grocery list of the ingredients you'll need to make this amazing Dark Chocolate Pecan Pie:
Refrigerated Pie Crust
Pecan Halves
Dark Chocolate Chips
Eggs
Granulated Sugar
Dark Corn Syrup
Salt
Vanilla
(For exact recipe amounts and directions, reference the recipe card below.)
If you loved this decadent, delicious pie recipe, be sure to check out some of my other holiday dessert recipes: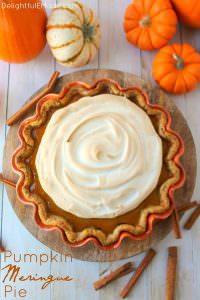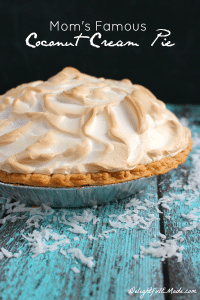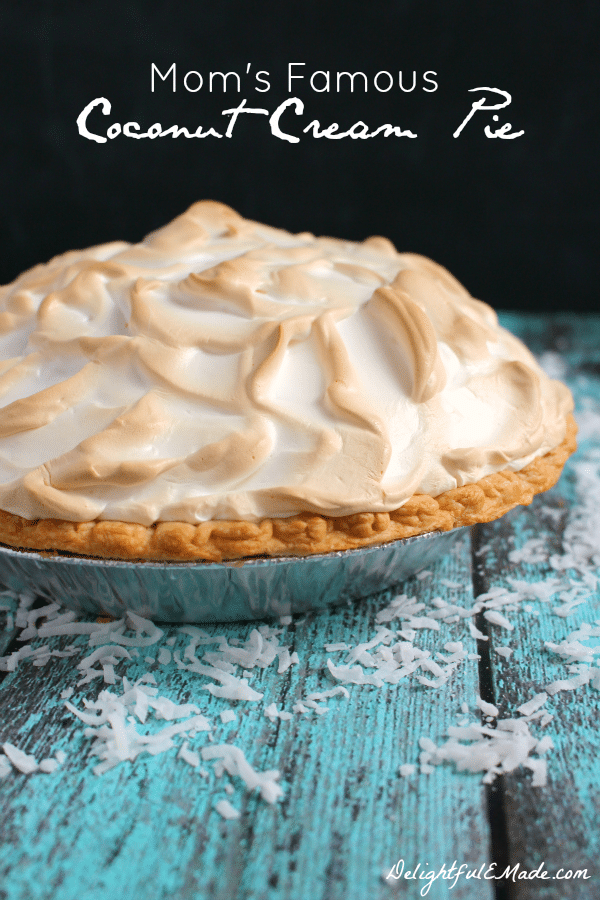 Mom's Famous Coconut Cream Pie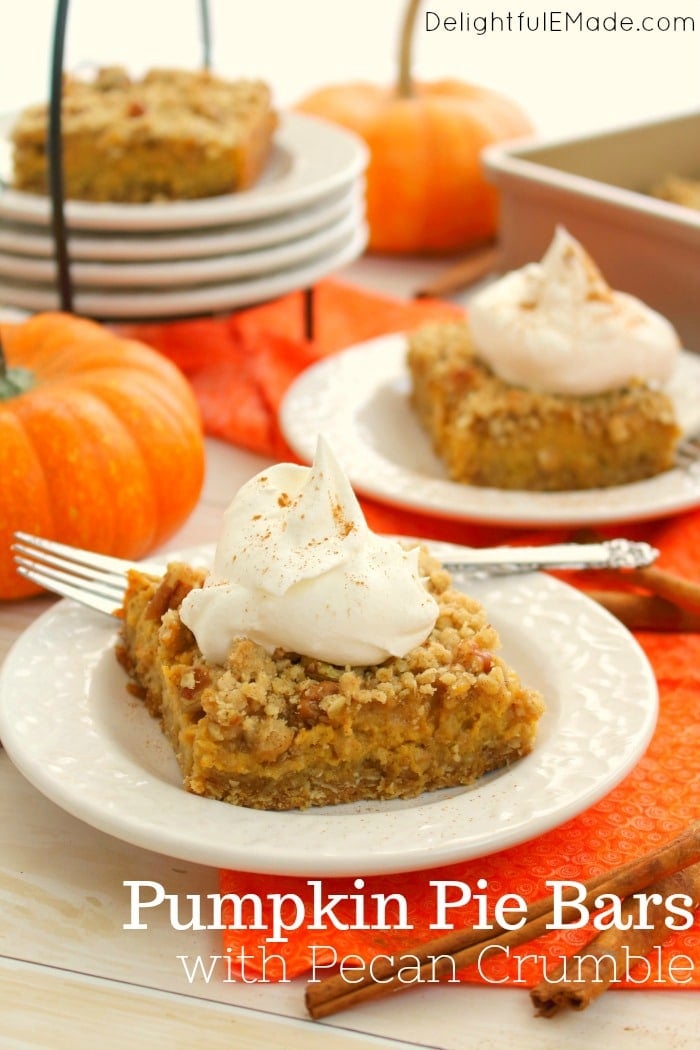 Pumpkin Pie Bars with Pecan Crumble
German Chocolate Cookie Bars at Real Housemoms
Love this Dark Chocolate Pecan Pie recipe? Pin it here:
Here's the recipe for my Dark Chocolate Pecan Pie:


Erin Indahl-Fink

Yields 8 slices

Dark Chocolate Pecan Pie

Your favorite pie recipe made even more decadent and delicious! Dark chocolate is added to this pecan pie recipe and topped with chocolate covered pecans for a show-stopping dessert! This pie is perfect for your Thanksgiving or Christmas dessert table!

20 minPrep Time

50 minCook Time

1 hr, 10 Total Time

Ingredients

1 pie crust (refrigerated crust or homemade)
1 c. good quality dark chocolate chips (at least 67% cocoa)
4 eggs, beaten
¾ c. sugar
1½ c. dark corn syrup
½ tsp. salt
1½ tsp vanilla extract
½ c. (1 stick) butter, melted
1½ c. pecan halves
18-24 pecan halves
½ c. dark chocolate chips, melted

Instructions

Preheat oven to 375 degrees.
Roll out the pie crust into a 9-10" pie plate, and crimp top edges.
Pour the chocolate chips into the bottom of the unbaked pie crust, making sure they are evenly dispersed. Set aside.
In a mixing bowl, add the eggs, sugar, syrup, salt, vanilla and melted butter. Whisk together until completely combined and smooth. Pour mixture into the pie crust over the top of the chocolate chips. On top of the filling, add the pecan halves. Feel free to add in a circular design, or just simply place on top of pie. Cover the top pie crust edges with aluminum foil strips or silicone crust guards to prevent crust from over-browning.
Bake at 375 degrees for 50-55 minutes or until filling appears to be set when the pie is gently moved. Let cool to room temperature before serving.
For Chocolate Covered Pecans: While the pie is cooling, prepare the chocolate covered pecans. Melt the chocolate chips in the microwave according to package directions. Typically 1 minute at 50% power, and then 30 second increments will get a smooth, melted chocolate. Dip the pecan halves ¾ of the way into the chocolate, and then place on a sheet of waxed paper to cool and set. Let the chocolate harden for at least 30 minutes at room temperature, or place in the refrigerator for 10-15 minutes.

7.8.1.2

285

https://delightfulemade.com/2016/11/06/dark-chocolate-pecan-pie/

Copyright by DelightfulEMade.com
I hope this pie helps you and your family celebrate the joys of the holiday season!  ~Erin