Even easier than Cherry Pie, this Cherry Almond Crumble Tart is fabulous! Loaded with fresh cherry flavor, this super-simple tart recipe, uses store-bought pie crust, along with fresh or frozen cherries. Makes an amazing Thanksgiving or Christmas dessert or just a simple weeknight treat!
This post may contain affiliate links. Delightful E Made is a participant in the Amazon Services LLC Associates Program, an affiliate advertising program designed to provide a means for us to earn fees by linking to Amazon.com and affiliated sites.
I know I've said it before, but I simply loved the flavors of summer, and all the fresh fruits that come along with it. Going to the farmers market, or even the grocery store, I can literally fill a basket with all the peaches, tomatoes, plums, melons, and cherries that it can possibly hold.
This week my local market had a huge amount of fresh, sweet cherries on hand. I grabbed a couple pounds and decided to make this delicious, easy Cherry Almond Crumble Tart.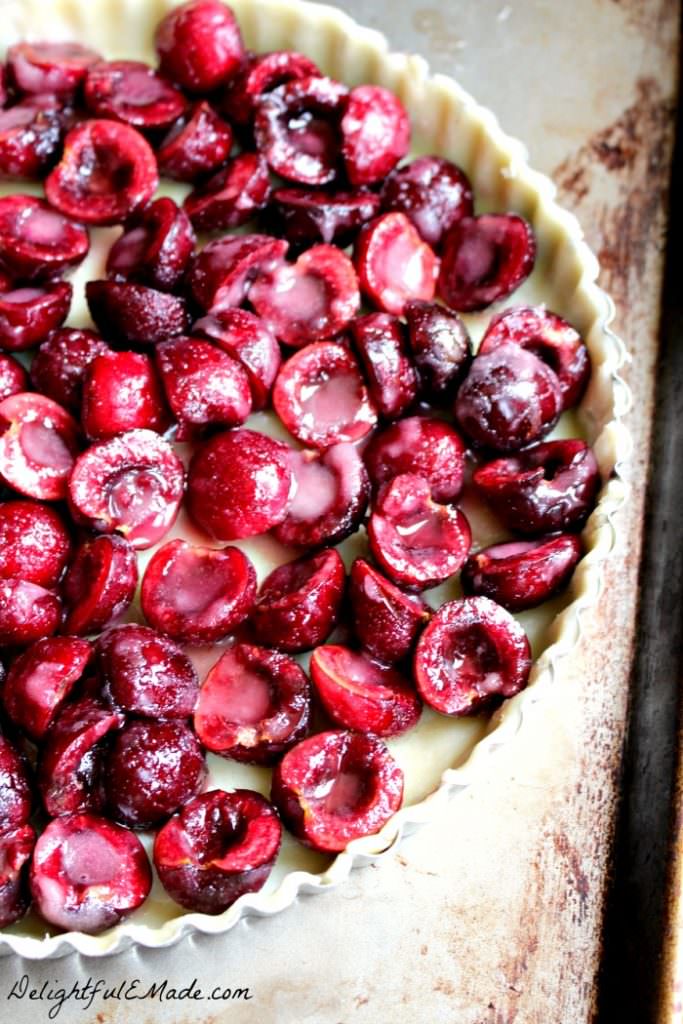 I will be the first one to tell you that I'm not a very good crust-maker. My mom, on the other hand, can roll out a home made pie crust in about 5 minutes and have it come out beautifully every time. To save myself some mental anguish, and some time, I'll purchase some store-bought pie crusts and keep them in my freezer. This recipe uses one pie crust, which fits perfectly in a tart pan.
If fresh cherries are not in season, feel free to grab some frozen cherries in the freezer section at the grocery store, which work just as well in this recipe.
The tart comes together easily. Once you have your crust pressed into the bottom of the pan, simply add your cherries, mix together the crumble topping, spread it over the cherries and pop it in the oven.
Once done baking the crumble & almonds are beautifully golden, and the cherries have cooked, bubbling into a glorious, delicious treat.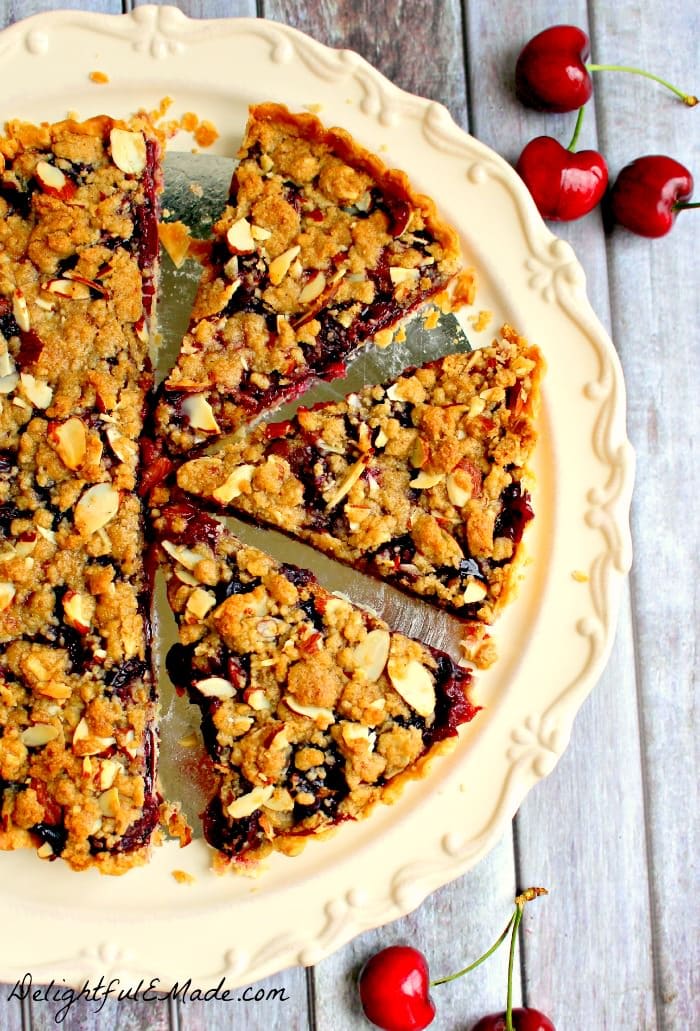 This tart is perfect for a holiday meal or when you're having company over for dinner. However, its easy enough to make on a weeknight when you're craving a fresh, delicious pastry treat.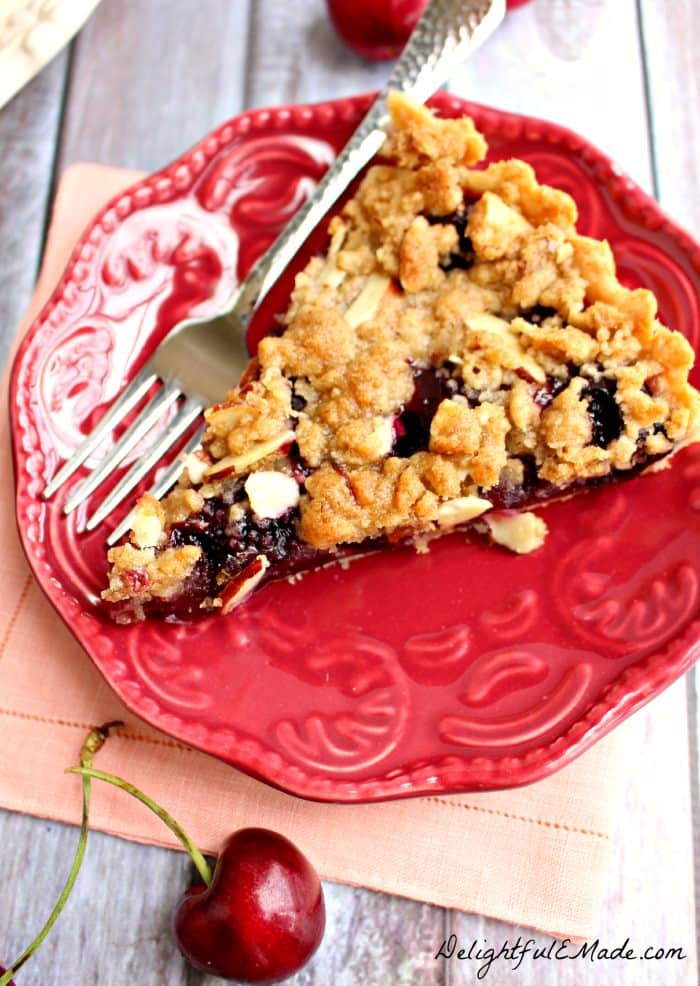 Once the tart comes out of the oven, let it cool for 10 minutes or so. Then sliced it up while its still warm, and add a big scoop of ice cream. The flavors are so wonderful together – the slightly tart cherries, and the sweet crumble topping are great together.
The crunch of the almonds give it a great texture to bring it all together. In my opinion, desserts don't get much better than fresh cherries and a delicious, creamy scoop of vanilla ice cream.
Love fruit desserts? Check out our other popular fruit dessert ideas:
Check out how easy this tart is to make: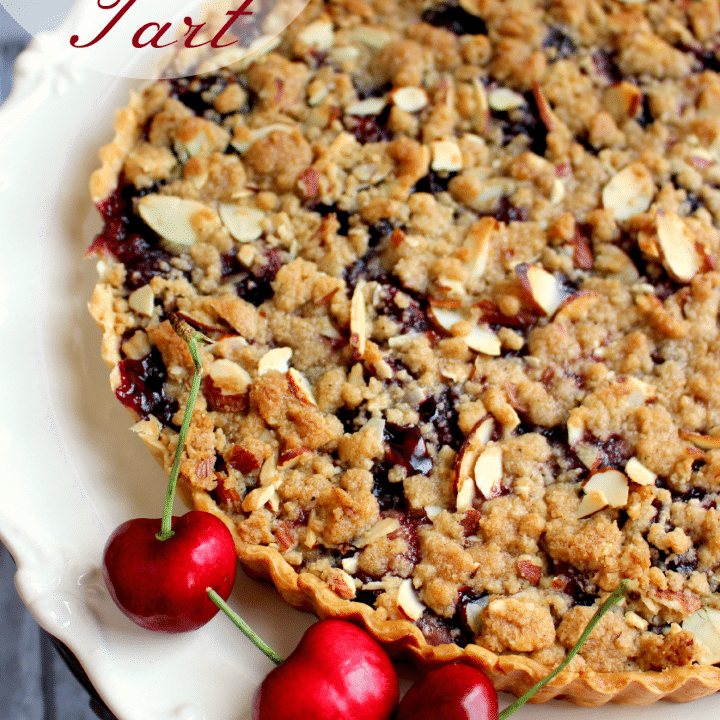 Cherry Almond Crumble Tart
Total Time:
1 hour
5 minutes
Easier than pie! This Cherry Almond Crumble Tart is a simple twist on a classic cherry pie. Slightly tart cherries along with a sweet almond crumble make this dessert great for a holiday meal or a weeknight at home.
Ingredients
1 pie crust (pre-bought or home made)
3 c. fresh cherries, pitted and halved (you can also use frozen cherries)
1/2 c. sugar
1 Tbsp. corn starch
1/2 tsp. almond extract
Crumble Topping:
2/3 c. flour
1/2 c. sliced almonds
1/3 c. light brown sugar
1/3 c. butter, soft/room temperature (NOT melted)
1/2 tsp. nutmeg
Instructions
Preheat oven to 375 degrees.
In a mixing bowl mix together the cherries, sugar, corn starch and extract, making sure the cherries are evenly coated.
In a 10" tart pan, lay out the pie crust, and press it into the bottom and sides, making sure to seal/press together any cracks or holes. Pour the cherry mixture into the crust and evenly disperse the cherries.
In another bowl mix together the crumble topping. Mix the flour, almonds brown sugar, and nutmeg. Cut in the softened butter until a crumbly mixture is formed. Evenly sprinkle the crumble over the top of the cherries. Loosely cover the tart with foil and bake at 375 for 35 minutes. Remove the foil and continue to bake for another 10 minutes to evenly brown the top. Remove from the oven and let cool for at least 10 minutes. Slice and serve warm. Cover any leftovers and store at room temperature.
Notes
If fresh cherries are not in season, substitute frozen cherries which can be found in the freezer section at your local grocery store.
As you can see, this is a pretty simple, straight-forward tart. Its a wonderful dessert that captures the flavors of summer, but is great to enjoy all year round, and especially during the holidays!
Enjoy!
Erin