Our Best Thanksgiving Stuffing Recipe!
This Thanksgiving stuffing recipe will be an instant holiday dinner favorite with everyone at the table! Loaded with apples, sausage, mushrooms, pecans and more, this easy stuffing recipe is the ultimate side dish for your holiday meal. Can be made in the oven or slow cooker!
This post may contain affiliate links. Delightful E Made is a participant in the Amazon Services LLC Associates Program, an affiliate advertising program designed to provide a means for us to earn fees by linking to Amazon.com and affiliated sites.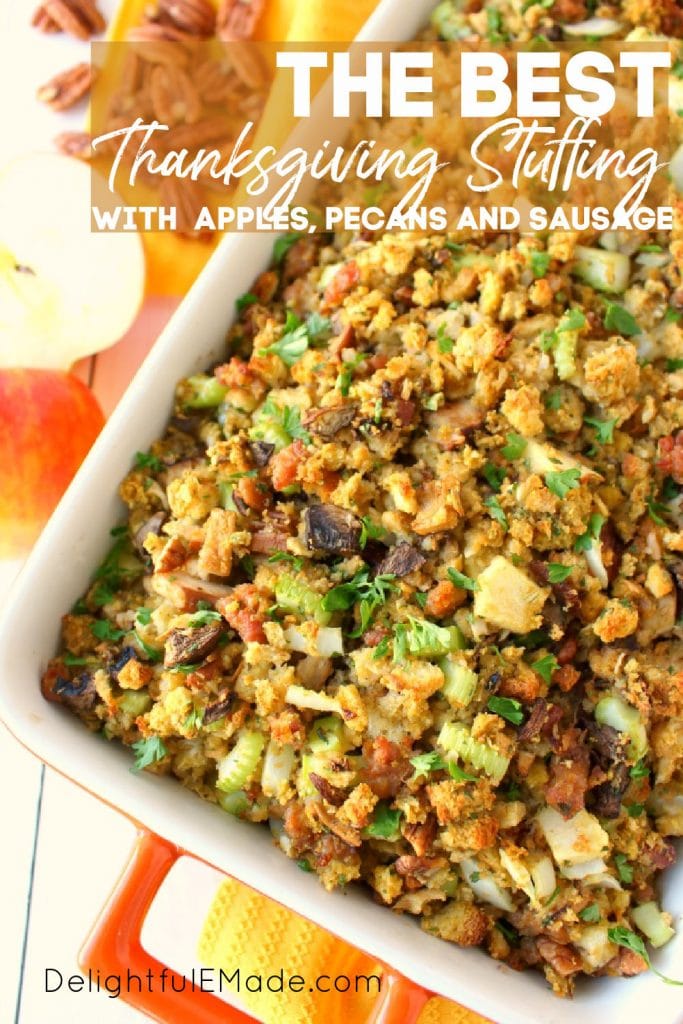 In my humble opinion, Thanksgiving dinner is all about the sides! Yes, the turkey is the centerpiece of the meal, and you cannot have Thanksgiving dinner without a really spectacular bird. (By the way, I've got 3 Easy Tips for a Moist and Delicious Turkey that you need to check out!)
But, there are certain sides like good Parmesan Mashed Potatoes, asparagus or green beans, cranberry sauce, and dinner rolls with butter are a must. Another must: a really awesome stuffing recipe, like my Everything Thanksgiving Stuffing!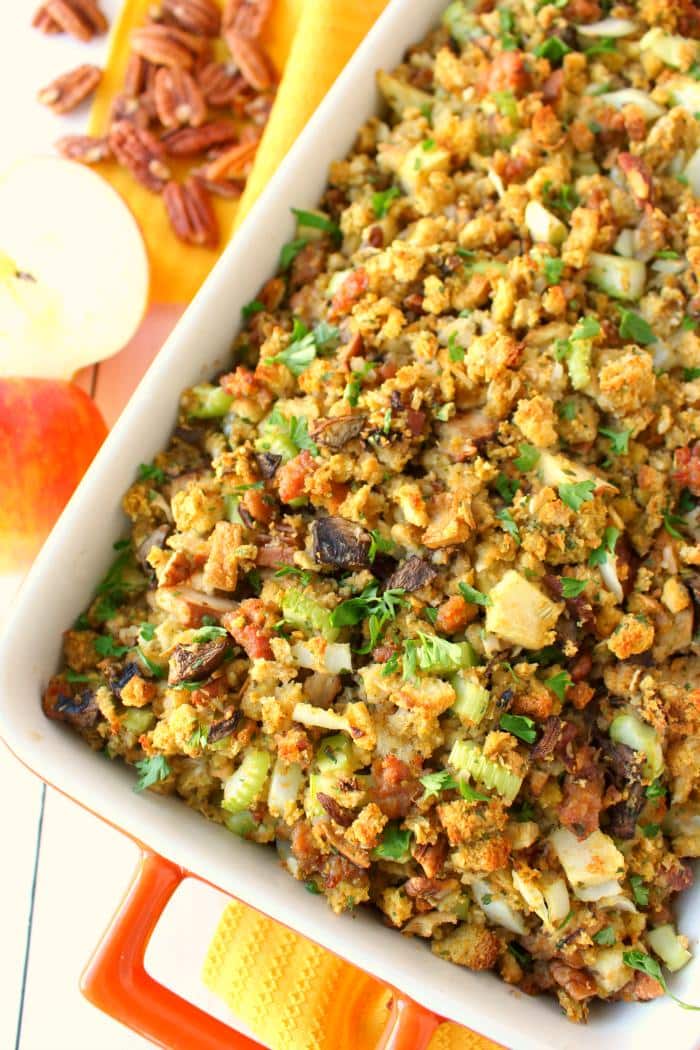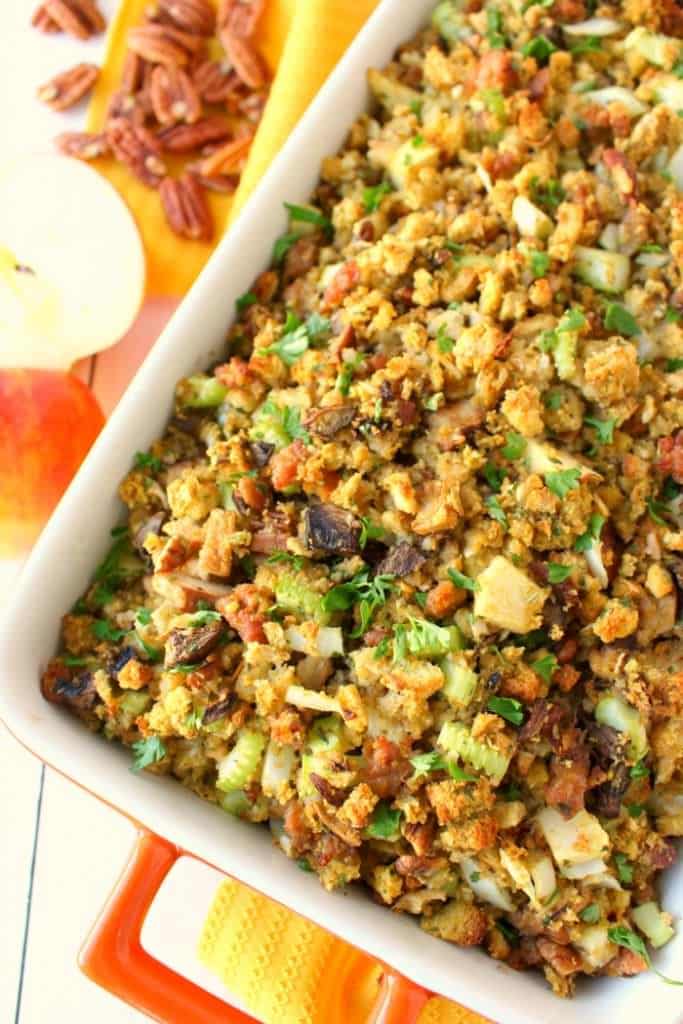 What does this Easy Stuffing Recipe include?
This stuffing has onion, parsley, celery, pecans, apples, sausage, mushrooms, along with the cornbread and seasoned stuffing cubes and seasoning. You'll moisten the mixture with broth for the most perfect side dish that will grace your holiday table! The texture of this stuffing recipe is amazing.
I came up with this stuffing recipe a number of years ago when I first hosted Thanksgiving for my husbands family. It has the perfect amount of flavor, texture and crunch that pairs perfectly with the other sides in your holiday menu.
What is the difference between stuffing and dressing?
Traditionally, stuffing is typically baked inside a turkey. Dressing is baked in a baking dish.
With this recipe, you can do EITHER! To be honest, I've never "stuffed a turkey" with stuffing. It takes longer to cook the turkey, which you then have to worry about the meat over-cooking and drying out before the stuffing is cooked through.
To make sure everything is cooked evenly and at it's best, I recommend cooking your "stuffing" in a baking dish or pan.
Can I make this Thanksgiving Stuffing Recipe in the Slow Cooker?
Yes. This stuffing recipe can be cooked in the oven OR the slow cooker. I've done it in both, and it turns out amazing each way. I actually prefer the slow-cooker option, as it frees up desperately needed oven space on the day of your holiday dinner.
Slow Cooker or Crock Pot Directions: Make according to recipe directions. Add the stuffing to your crock pot or slow cooker, and cook on low for 4-6 hours.
You'll likely have dinner rolls, pies, other side dishes, and your Turkey that will need to go in the oven on the big day, so one less dish really helps with planning.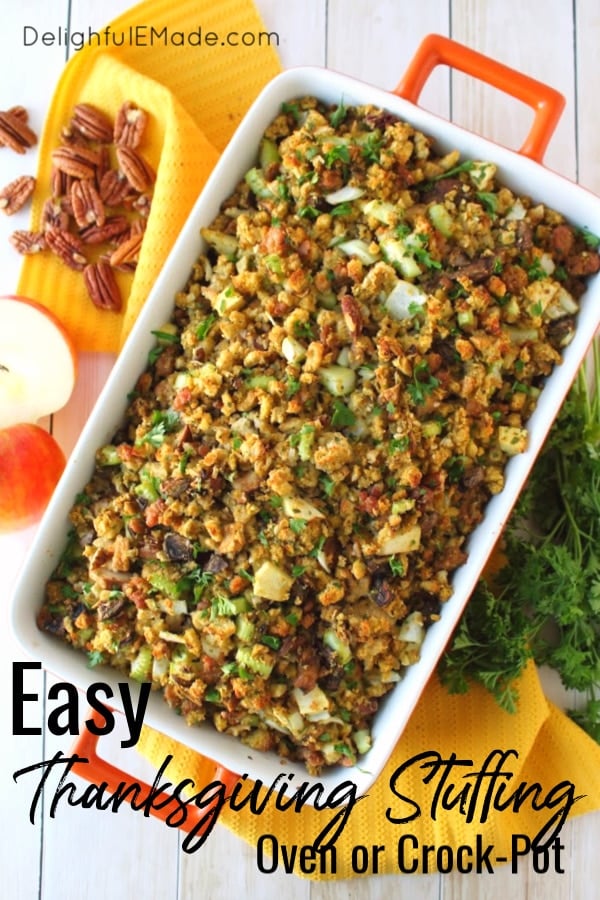 Can I make the stuffing the day before Thanksgiving?
Yes. You can do this two ways:
Option 1: Make the stuffing and bake entirely. Let it cool in the baking dish, then wrap with plastic wrap and refrigerate. On Thanksgiving day, pull out of the refrigerator and let it come to room temperature. Reheat in its original baking dish at 325 for 20-30 minutes until heated through.
Option 2: Prep all of the ingredients, combine with the stuffing mix and add to the baking dish. Leave off the broth. Wrap with plastic wrap and refrigerate. When ready to bake on Thanksgiving day, remove the plastic wrap, and add the broth. Toss well to combine the broth and other ingredients. Bake as directed.
Do you put eggs in stuffing?
Not necessarily. I've made stuffing with and without eggs. I do NOT include eggs in this recipe, as I feel the broth and other ingredients keep it plenty moist. If you prefer a more bread-pudding or souffle-like consistency, you can add 1 egg to the ingredients and mix well.
Here's a quick-reference grocery list of the ingredients you'll need for this Easy Stuffing recipe:
Bulk Italian Sausage
Olive Oil
Baby Bella Mushrooms
Shiitake Mushrooms
Yellow Onion, medium
Apple, medium
Celery
Seasoned Stuffing Cubes
Cornbread Stuffing Cubes
Pecans
Parsley
Sage
Chicken Broth
Salt and Pepper
(For exact ingredient amounts and full recipe instructions, scroll down to reference the recipe card below.)
(For exact ingredient amounts, be sure to reference the recipe card below.)
If you loved this fantastic Thanksgiving side, be sure to check out some of my other holiday sides and desserts:
Looking for some new turkey and main dish inspiration? Here are our most popular holiday main dish recipes:
Here's the easy and delicious recipe for this fantastic Thanksgiving Stuffing recipe:
Everything Thanksgiving Stuffing

Total Time:

1 hour

15 minutes

This stuffing recipe will be an instant Thanksgiving dinner favorite with everyone at the table! Loaded with apples, sausage, mushrooms, pecans and more, this dressing is the ultimate side dish for your holiday meal!

Ingredients

1/2 lb. bulk Italian Sausage
2 Tbsp. olive oil
1 (8 oz.) pkg, baby bella mushrooms, roughly sliced and chopped
1 (5 oz.) pkg, shiikake mushrooms, roughly sliced and chopped
1 medium yellow onion, chopped
1 medium apple, peeled and diced
2 ribs, celery, chopped
4 c. seasoned stuffing cubes
3 c. cornbread stuffing cubes
1/2 c. pecans, roughly chopped
1/3 c. fresh parsley, chopped
1 Tbsp. fresh sage, minced
2 (14.5 oz) cans, chicken broth
salt and pepper to taste

Instructions

In a large skillet, brown the sausage over medium high heat until no longer pink. Drain off any excess grease, and transfer to a large mixing bowl.
In the same skillet, add the olive oil, and bring heat back up to medium high. Add both types of mushrooms, onion, apple and celery and sautee for 7-10 minutes or until tender. Transfer sauteed ingredients to the large bowl with the sausage.
To the bowl with the cooked ingredients, add both types of stuffing cubes, pecans, parsley, and sage. Stir all ingredients together to combine and gradually add the chicken broth to moisten the stuffing mixture. Season with salt and pepper to taste.
Oven: Spray a 9 x 13" baking dish with non-stick cooking spray. Transfer stuffing mixture to prepared dish, and bake for 40-45 minutes at 350 degrees.
Slow Cooker: If cooking in a slow cooker, transfer mixture to the slow cooker, set on low for 3-4 hours. Stir 1-2x while cooking.

Nutrition Information:

Serving Size:

1 Amount Per Serving:

Calories:

2831

Total Fat:

161g

Saturated Fat:

32g

Cholesterol:

134mg

Sodium:

8928mg

Carbohydrates:

216g

Sugar:

25g

Protein:

72g
Hope you have an amazing Thanksgiving and blessed holiday season! ~Erin