The VERY BEST Pumpkin Poke Cake, EVER!!
The ultimate fall dessert!  This pumpkin poke cake is drizzled with caramel sauce, frosted with a fluffy cream cheese frosting and topped with even more caramel sauce!  You'll love every single morsel of this uber moist, delicious pumpkin cake!
This post may contain affiliate links. Delightful E Made is a participant in the Amazon Services LLC Associates Program, an affiliate advertising program designed to provide a means for us to earn fees by linking to Amazon.com and affiliated sites.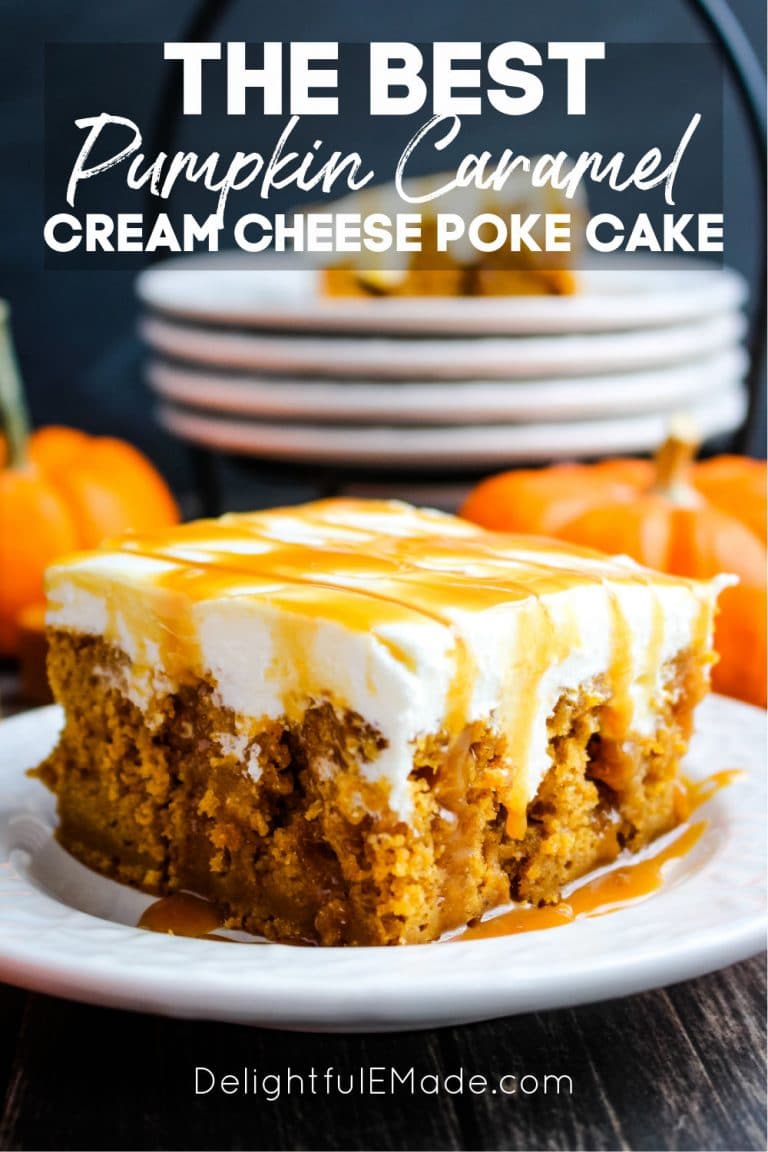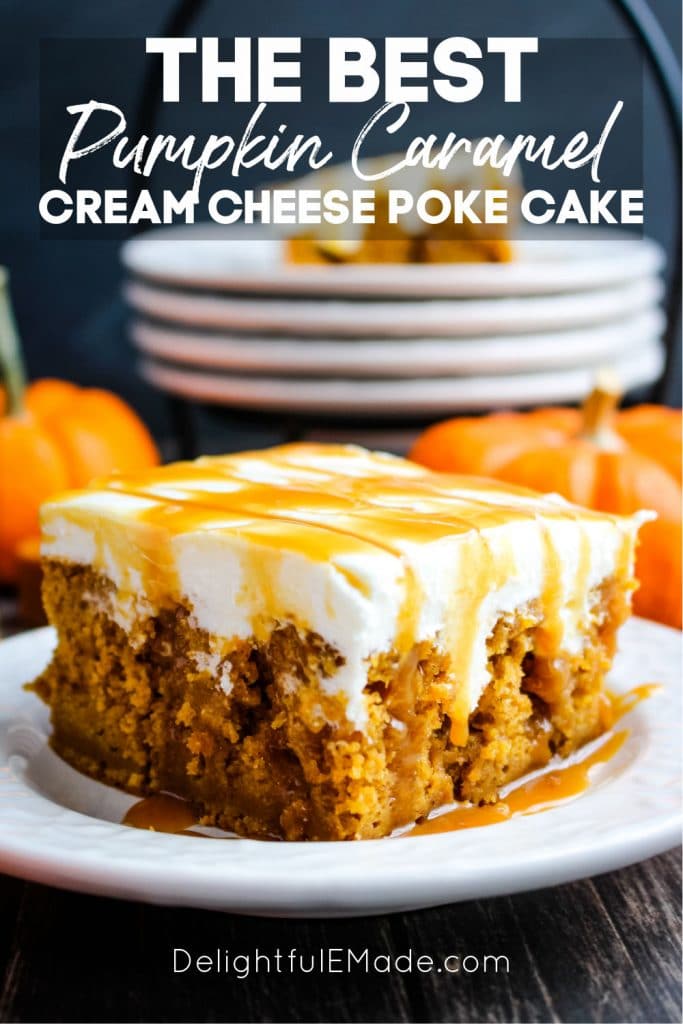 These past few days were the quintessential family fall weekend! We traveled down to Charlottesville, VA to see a college football game (UVA played our favorite BSU Broncos. Broncos won big!) The leaves are just beginning to turn color and the weather was cool and rainy which was the perfect setting for the first weekend of fall.
To usher in my favorite season of the year, I made a delicious pot roast, mashed potatoes, and this incredible Pumpkin Poke Cake!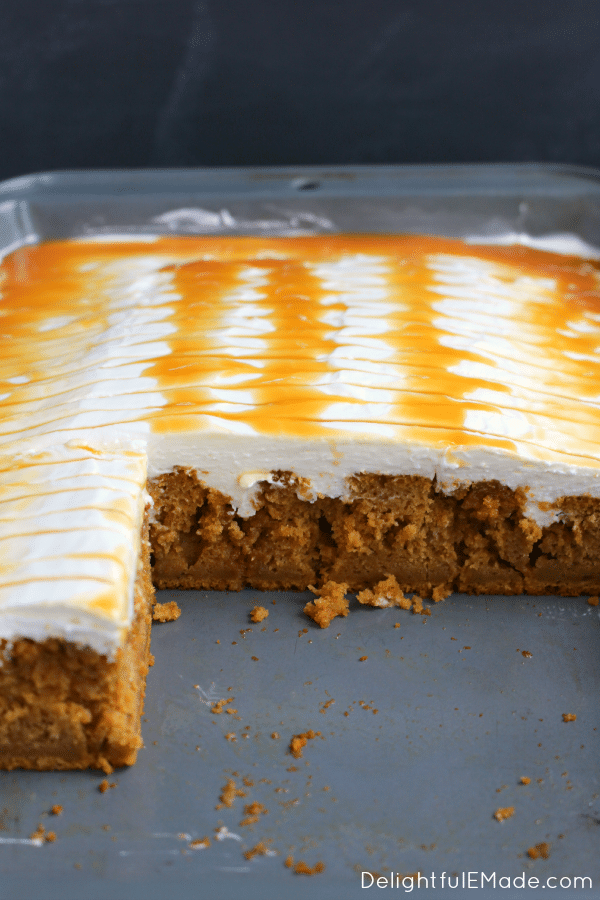 I absolutely LOVE making poke-cakes!  This past summer I made a Coconut Cream Poke Cake, and vowed that I would make a fall version, which had to include pumpkin. My Lemon Poke Cake is amazing if you love great lemon flavor.
Much like the coconut version, this poke cake is pretty simple to make, as it starts with a store-bought cake mix. Adding a few extra goodies to the cake, takes it from good to spectacular!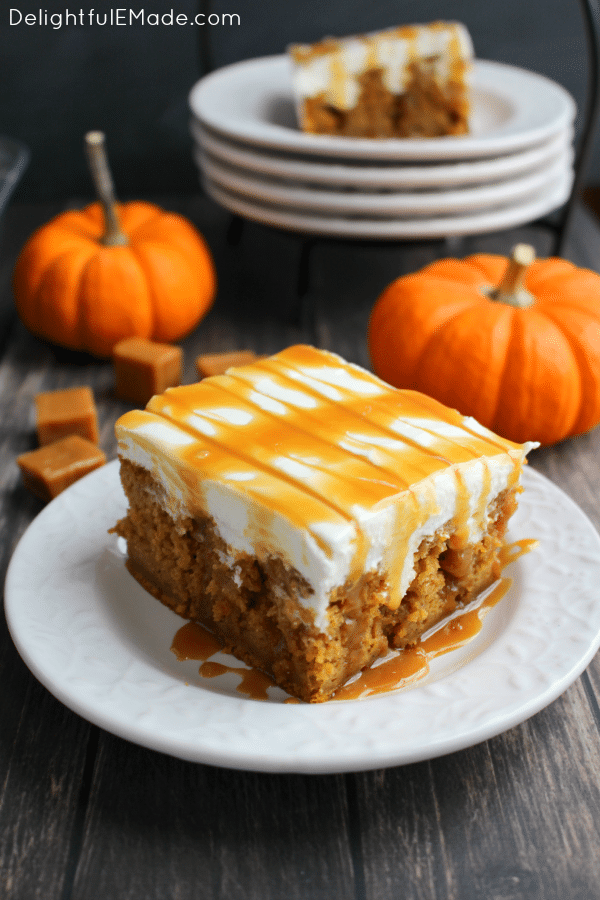 How this delicious pumpkin poke cake comes together:
When making this cake, I use a technique that I also use when making the Coconut Cream Poke cake. To keep the cake extra moist, I poke the holes in the cake just as it comes out of the oven while it is still hot.
Into the hot cake, I pour about a 1/2 cup of caramel sauce into the holes of the hot cake. Wow – what an amazing way to keep this cake extra moist and flavorful!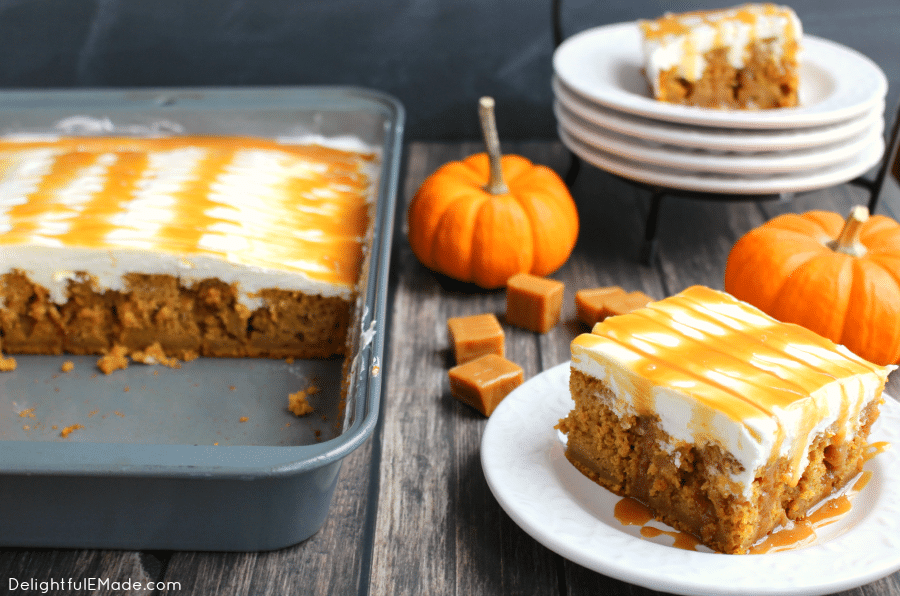 Frosting the Cake:
Once the cake cools, and the caramel has set into the cake, I then add a delicious, fluffy layer of cream cheese frosting. I've used this frosting also as a filling for other recipes, but for this particular dessert, it works wonderfully!
The frosting is fluffy enough to set up nicely, but is also has just the right texture to fill the holes of the poke cake. I firmly believe that pumpkin and cream cheese are a match made in heaven! My Carrot Bundt Cake recipe also includes a cream cheese frosting.
Love a great cake recipe? This Buttermilk Chocolate Cake is one that my grandma Dona is famous for!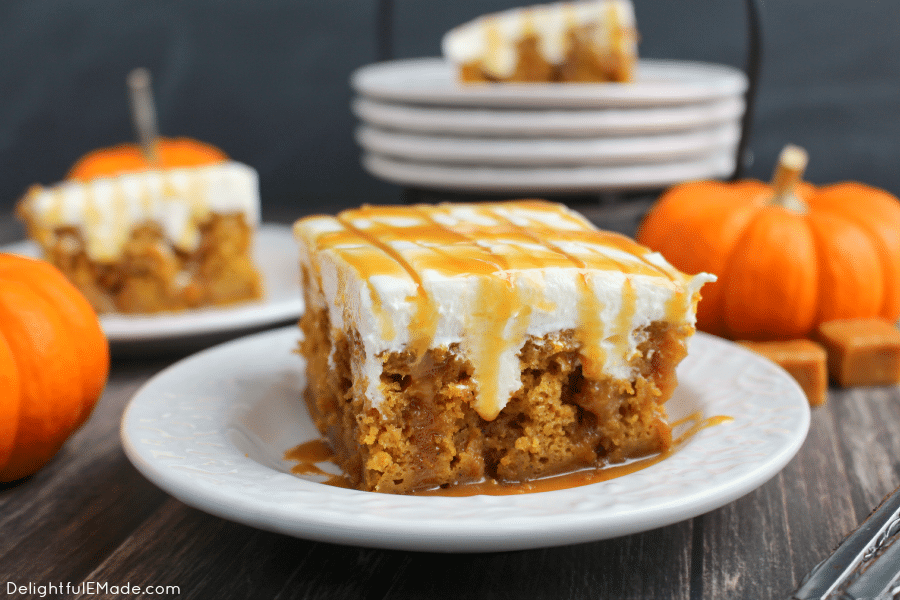 More Caramel Sauce!
To bring this dessert full circle, I then top the cream cheese frosting with another drizzle of caramel sauce. Making the cake extra pretty, I used a toothpick to drag lines through the icing to cream a pretty herringbone design.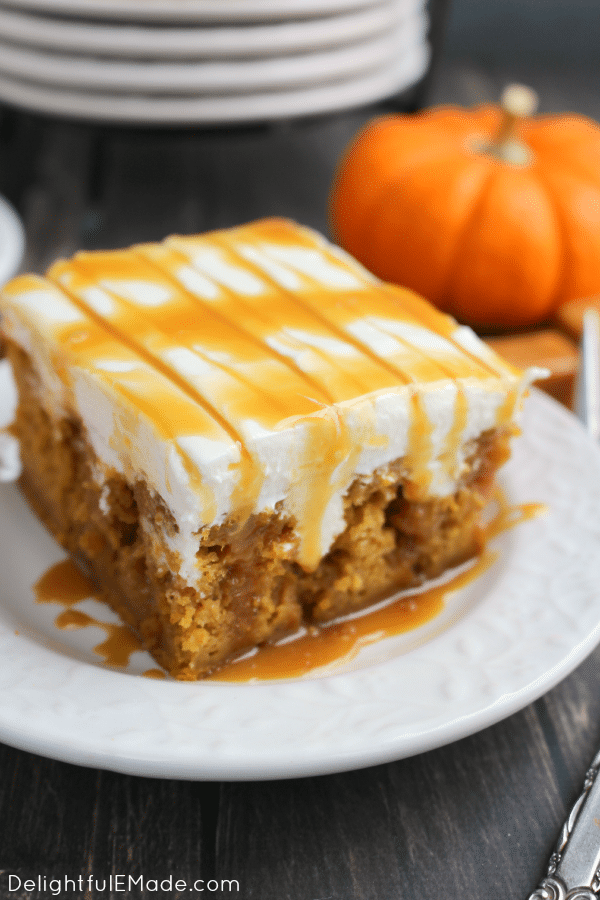 Here are some of the tools I use in my kitchen to make this amazing dessert (these are affiliate links):
Here's a quick-reference grocery list of the ingredients you'll need to make this fantastic pumpkin poke cake:
1 Spice Cake Mix (you can also use a yellow cake mix)
Canned Pumpkin Puree
Eggs
Vegetable Oil
Caramel Ice Cream Topping, like Smuckers or Torani Caramel Sauce
Cream Cheese
Milk
Powdered Sugar
Cool Whip – you can also use Homemade Cool Whip if you prefer.
For exact ingredient amounts and complete recipe directions, be sure to scroll down to the recipe below.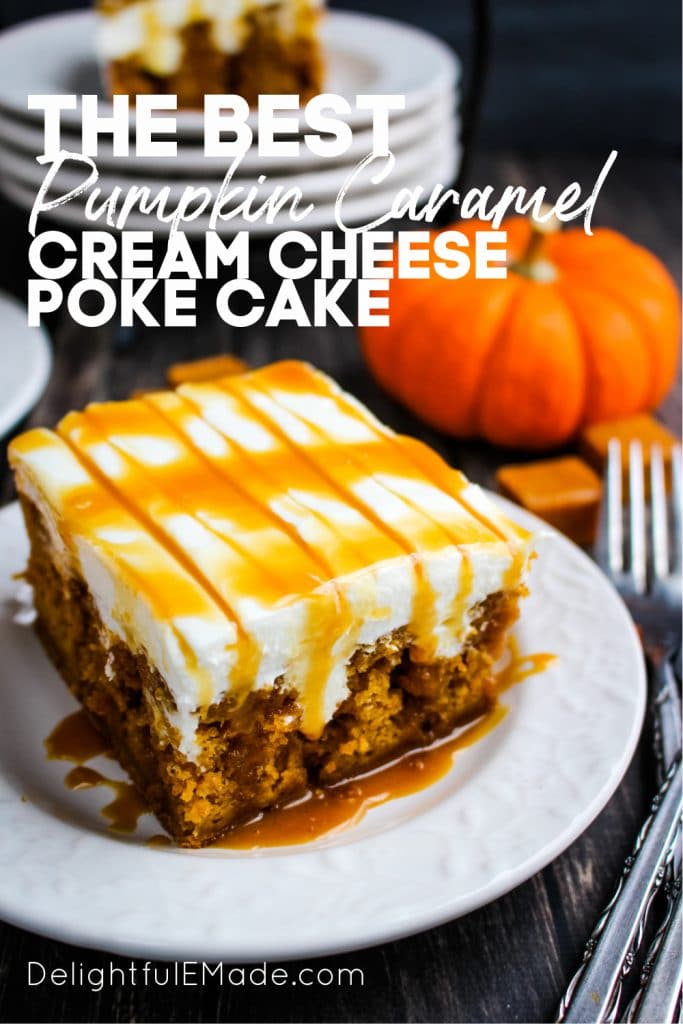 If you loved this delicious pumpkin poke cake, check out these other pumpkin recipes:
Be sure to check out some of my other poke cake recipes: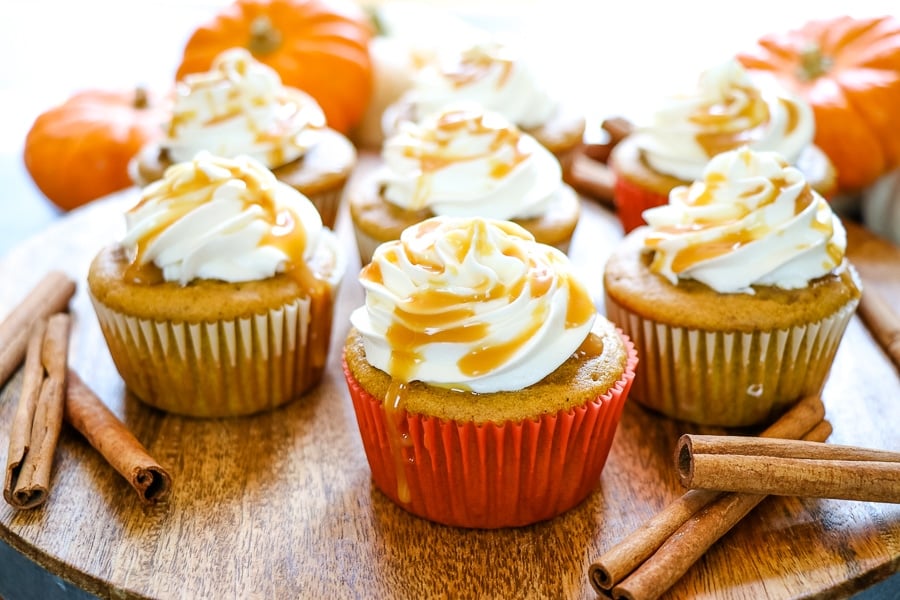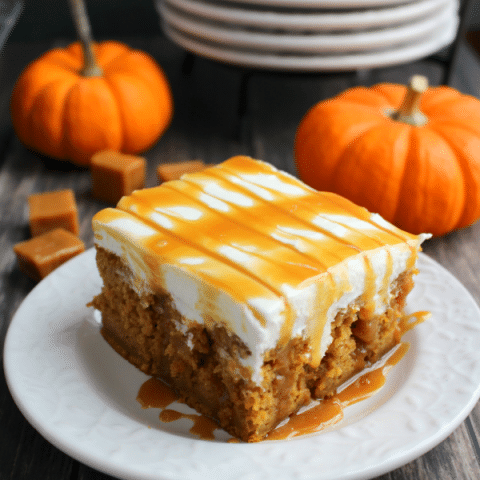 Pumpkin Caramel Cream Cheese Poke Cake
Looking for an amazing pumpkin poke cake recipe? This pumpkin caramel cream cheese poke cake is an amazing fall dessert and even better for your Thanksgiving dinner dessert table!
Ingredients
1 (15.25 oz.) box, spice cake mix
1 cup, canned pumpkin puree
1 cup water
3 large eggs
1/2 cup, vegetable oil
3/4 cup, caramel dessert topping, like Smuckers or Torani Caramel sauce
1 (8 oz.) pkg. cream cheese, room temperature
2 tbsp. milk
1 cup powdered sugar
1 1/2 cup, whipped topping (like Cool Whip), or my Homemade Cool Whip
Instructions
Preheat oven to 350 degrees. Lightly spray a 9x13" pan with non-stick baking spray. Set prepared pan aside.
With a hand or stand mixer, mix together the cake mix, pumpkin, water, eggs and oil. Stop occasionally to scrape down the sides of the mixing bowl. Mix until smooth. Pour the batter into the prepared pan and bake at 350 for 30-33 minutes or until a toothpick inserted into the center of the cake comes out clean and crumb-free.
Once the cake comes out the oven, while it is still warm, poke holes into the cake with the end of a chopstick or straw. In a microwave safe bowl, heat up 1/2 cup of the caramel sauce for 20-30 seconds, just to warm (this makes it easier to drizzle onto the cake.) Pour the warm caramel sauce over the top of the warm cake, making sure the majority of the sauce goes into the holes of the cake. Let the cake cool completely.
While the cake is cooling to room temperature, prepare the cream cheese topping. With a hand or stand mixer, cream together the cream cheese, powdered sugar and milk until smooth and creamy. Add the whipped topping by folding it into the cream cheese mixture with a rubber scraper. You can also use my Homemade Cool Whip as an alternative to store-bought Cool Whip.
Once the cake has cooled to room temperature, spread the cream cheese mixture over the top of the cake, gently pressing the topping into the holes of the cake. Smooth the topping evenly.
Drizzle the top of the remaining caramel sauce over the top of the cream cheese topping. Optional: for a decorative effect, drag a toothpick through the opposite lines of the caramel sauce in the opposite direction. This will make a herringbone design.
Slice into 20 squares. Enjoy
Notes
Storage: refrigerate any leftovers. Either store in the original pan and cover with plastic wrap, or store the cake slices in an airtight container.
Ingredient substitutions and recommendations:
Cool Whip - yes, you can substitute homemade Cool Whip for store-bought Cool Whip.
Cake Mix - if you cannot find a spice cake mix, you can substitute a yellow cake mix and add 1 tsp. cinnamon, 1/4 tsp. ground cloves and 1/4 tsp. ground nutmeg.
Recommended Products
As an Amazon Associate and member of other affiliate programs, I earn from qualifying purchases.
Nutrition Information:
Yield:

20
Serving Size:

1
Amount Per Serving:
Calories:

238
Total Fat:

9g
Saturated Fat:

3g
Trans Fat:

0g
Unsaturated Fat:

6g
Cholesterol:

29mg
Sodium:

258mg
Carbohydrates:

38g
Fiber:

1g
Sugar:

27g
Protein:

2g