If you like Chick-fil-A's frosted lemonade, then you're gonna love this copycat recipe! Made with just a few simple ingredients, this cold, creamy Frosted Lemonade recipe is perfect on a hot day!
Frosted Lemonade – just like Chick-Fil-A!
My car thermometer was reading 95 degrees today. It is May 3rd….it shouldn't be this hot. And to add insult to injury, we barely had a spring. Up until the middle of April we were having snow flurries. I will say that one of the best remedies for the hot weather is a delicious, homemade Frosted Lemonade!
We discovered the delicious frosted lemonade at our local Chick-fil-A, who have made this cold, frosty drink a cult-favorite. As much as we love Chick-fil-A, I decided to make this cold, refreshing drink at home. It's incredibly simple and needs just a few ingredients.
Here's how to make this super delicious Frosted Lemonade:
Step 1: Make simple syrup
If you've never made simple syrup before, it's actually quite easy. Start with a ratio of 1 part water to 1 part granulated sugar. (I did one cup water, to one cup sugar.) Add both to a sauce pan, and whisk or stir together over medium heat. As you stir, the sugar will dissolve into the water. Bring to a low boil, and then remove from heat and let the syrup cool to room temperature. Once it has cooled, store in an airtight container and refrigerate.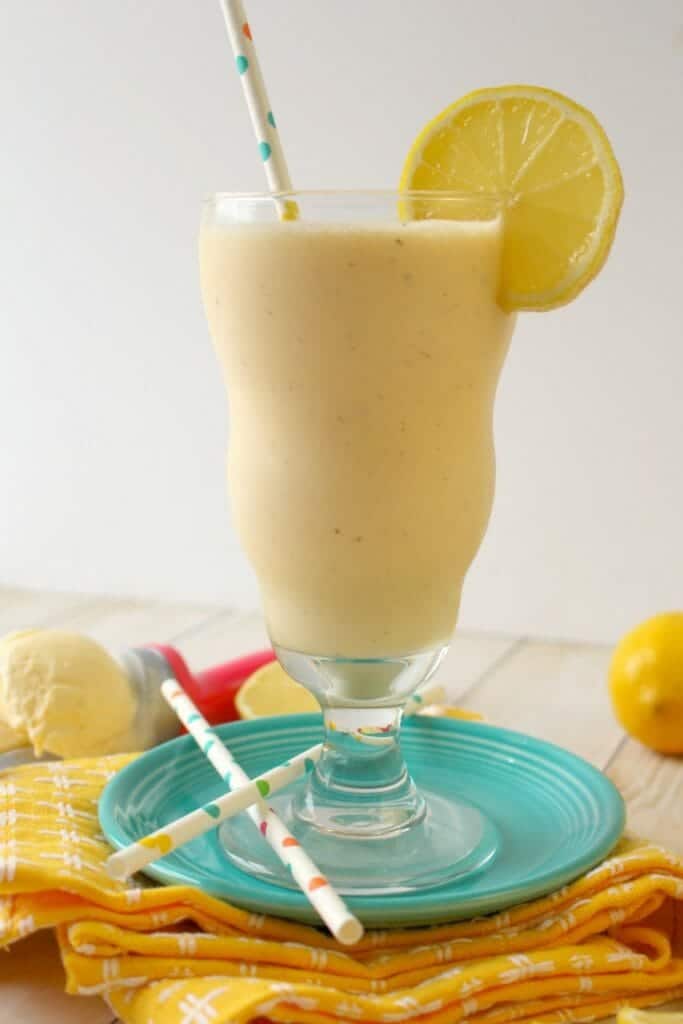 Step 2: Add ingredients to your blender
To a blender, add fresh squeezed lemon juice, simple syrup, lemon extract and vanilla bean ice cream.  A few notes about the ingredients:
Lemon juice – I recommend using fresh squeezed juice. This will be the juice of one large lemon or two small lemons. DONT use the bottled stuff. The quality is just not the same.
Simple syrup – (see instructions above in step 1.) Make sure the simple syrup is cold.
Lemon extract – this is actually an optional ingredient, however, I feel it adds some really amazing lemon flavor to this frozen lemonade. Give it a try. If you feel it's too much, use less or leave it out completely the next time you make it.
Vanilla bean ice cream – Vanilla bean is my personal preference. I love the delicious, natural vanilla flavors. However, if you prefer French vanilla or any other vanilla ice cream, feel free to use it. I just recommend that you use good quality vanilla ice cream.
Optional Ingredients: Should you like to "spike" your frosted lemonade (which I think is a great idea), feel free to use lemoncello liqueur, lemon vodka, or even a creme liqueur like Rum Chata. Give it a try and see what tickles your fancy.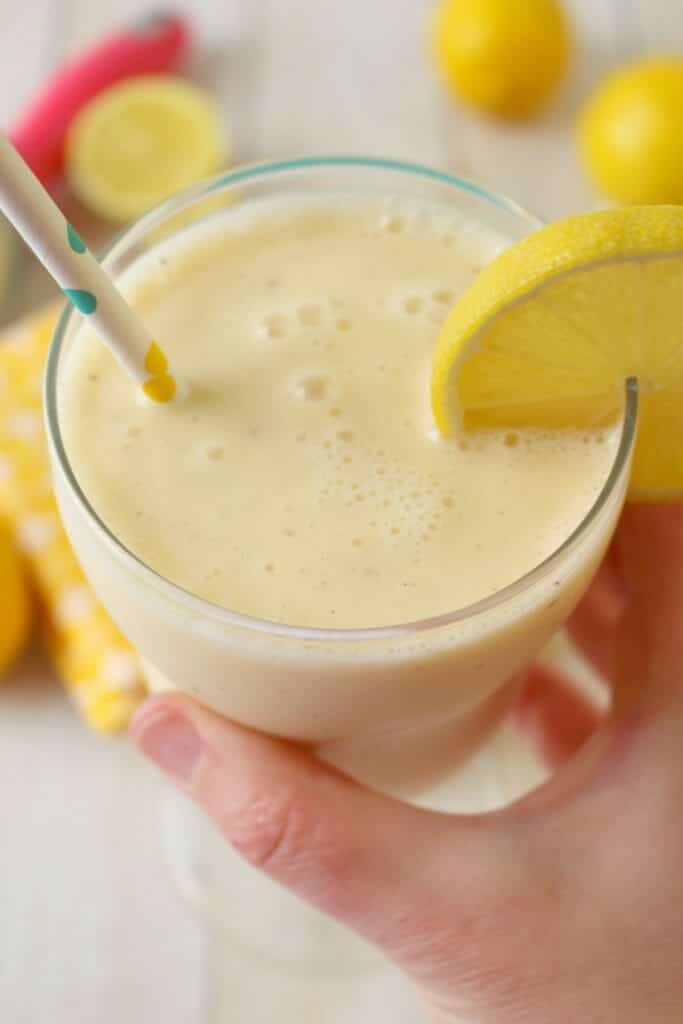 Blend the ingredients together until smooth and creamy. Pour into a glass and enjoy right away while cold. Feel free to top with a little whipped cream if you like, otherwise, this delicious frosted lemonade is fabulous just the way it is.
This will quickly become your new favorite cold, frosty beverage on the hottest days of summer. Blend one of these drinks up and enjoy in your favorite lawn chair outside on your patio – hopefully in the shade. Enjoy! ~Erin
If you loved this delicious Frosted Lemonade recipe, check out some of my other similar posts:
Copycat Chick-Fil-A Peach Milkshake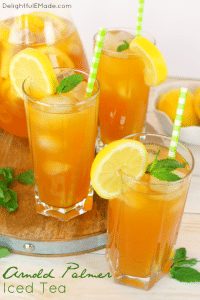 Erin @ Delightful E Made
Yields 1 drink
Frosted Lemonade
5 minPrep Time
5 minTotal Time
Ingredients
1/3 c. fresh-squeezed lemon juice
1/3 c. simple syrup, cold
1/4 tsp. lemon extract (optional)
1 c. vanilla bean ice cream (or any good quality vanilla ice cream)
Instructions
In a blender add the lemon juice, simple syrup, lemon extract and ice cream. Blend until smooth. Enjoy right away while cold.
Notes
For simple syrup: In a sauce pan, combine 1 cup of water with 1 cup of sugar. (You can use any amount you like, just be sure the ratio is 1:1.) Continually stir the water and sugar together over medium heat, and bring to a boil. Sugar should be completely dissolved into the water. Once the liquid boils, remove from heat and let cool to room temperature. Refrigerate in an airtight container.
7.8.1.2
357
https://delightfulemade.com/2018/05/03/frosted-lemonade/
Copyright by DelightfulEMade.com