Meet your new favorite BBQ Pork Chops recipe! These super-simple grilled pork chops are made with a homemade honey bourbon barbecue sauce, and grilled to perfection. This will be your new favorite way to grill pork chops!
This post may contain affiliate links. Delightful E Made is a participant in the Amazon Services LLC Associates Program, an affiliate advertising program designed to provide a means for us to earn fees by linking to Amazon.com and affiliated sites.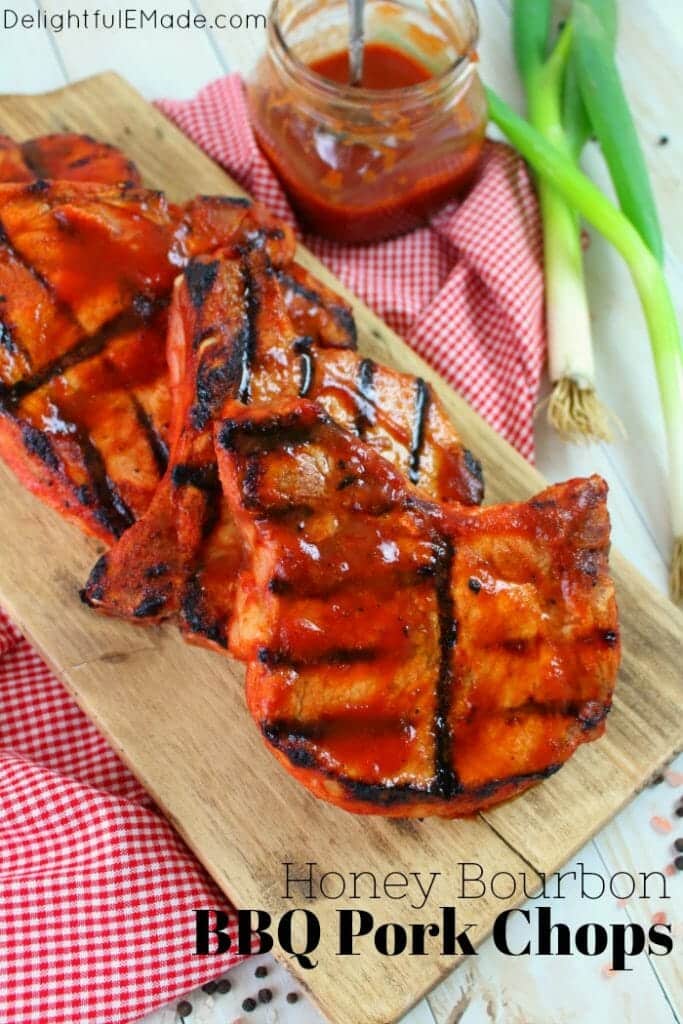 Honey Bourbon BBQ Pork Chops – Perfect Grilled Pork Chops!
Pork chops are on a continual rotation for dinner here at our house. I will occasionally bake them, but for the most part we prefer a juicy, delicious grilled pork chop any day of the week! Pork is not only a healthy, lean cut of meat, but it's also economical – perfect for when you're trying to feed a hungry family.
This simple recipe for Honey Bourbon BBQ Pork Chops is not only tasty, but so simple to make and grill. It will quickly become your new favorite grilling recipe!
Here are the simple steps to making these amazing BBQ pork chops!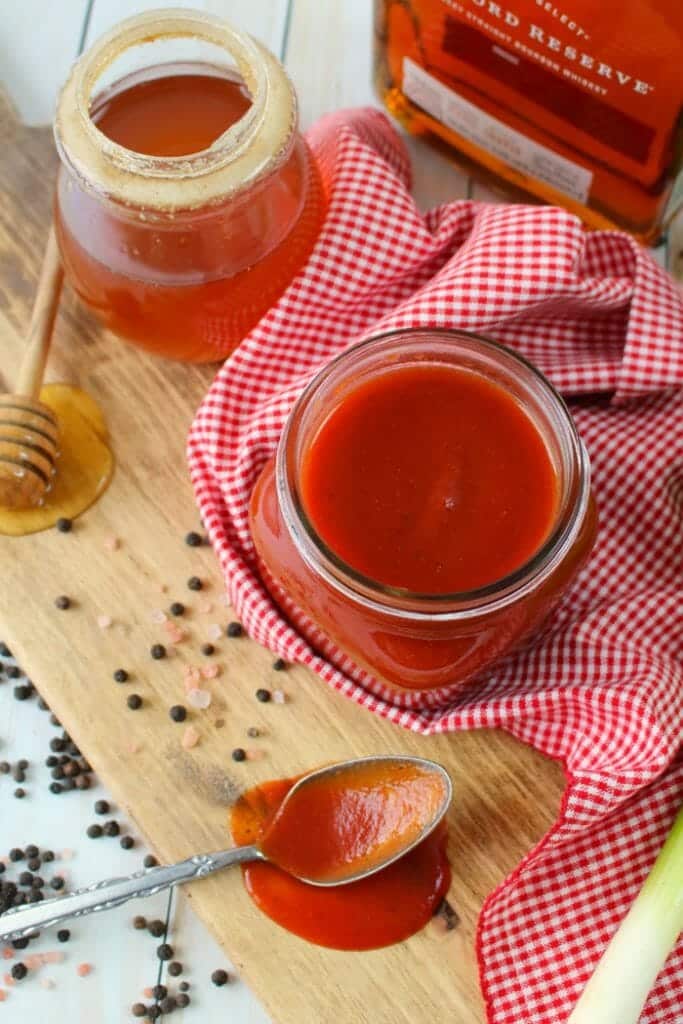 Step 1: Start by making the Honey Bourbon BBQ Sauce
If I know that I'm going to be making these pork chops in the near future, I'll make the sauce a day or two ahead of time. The sauce is not only incredibly simple to make (literally just put all the ingredients into a sauce pan and simmer), but it tastes wonderful!
Don't let the bourbon in the sauce scare you – all of the alcohol burns off when the sauce cooks, and what's left is a rich, savory and slightly spicy barbecue sauce that is way better than anything you'll find in a bottle!
Either refrigerate your sauce and bring it out when you're ready to use it, or let it cool to room temperature before you marinate the pork chops.
Some other great sauces for pork chops is my Carolina Gold BBQ Sauce, Smokey Chipotle BBQ Sauce and Homemade Honey BBQ Sauce.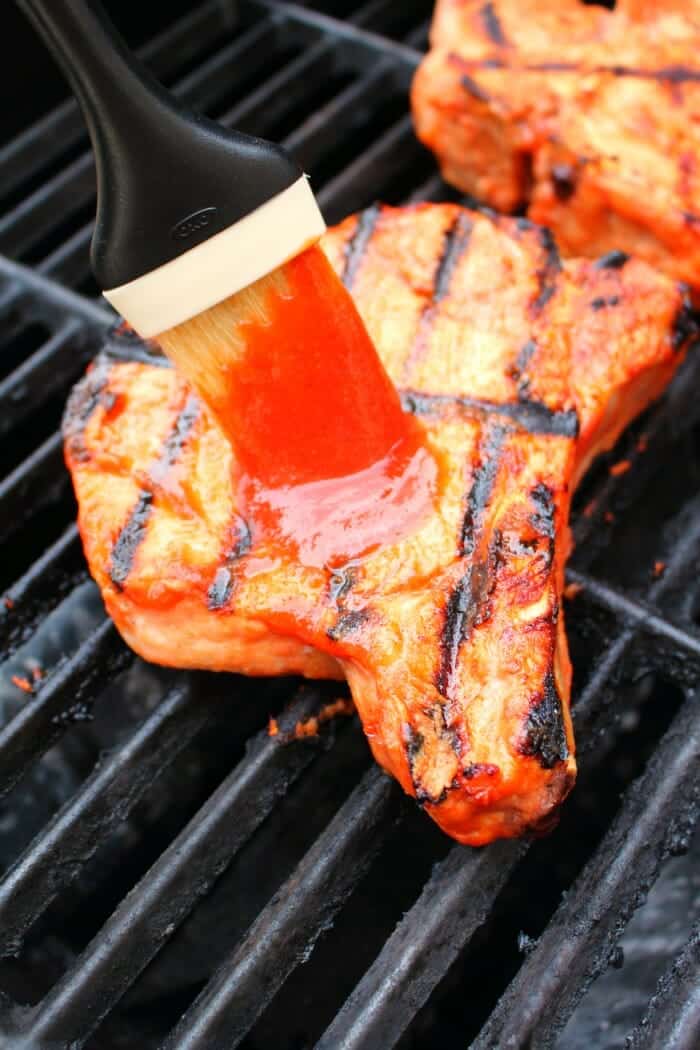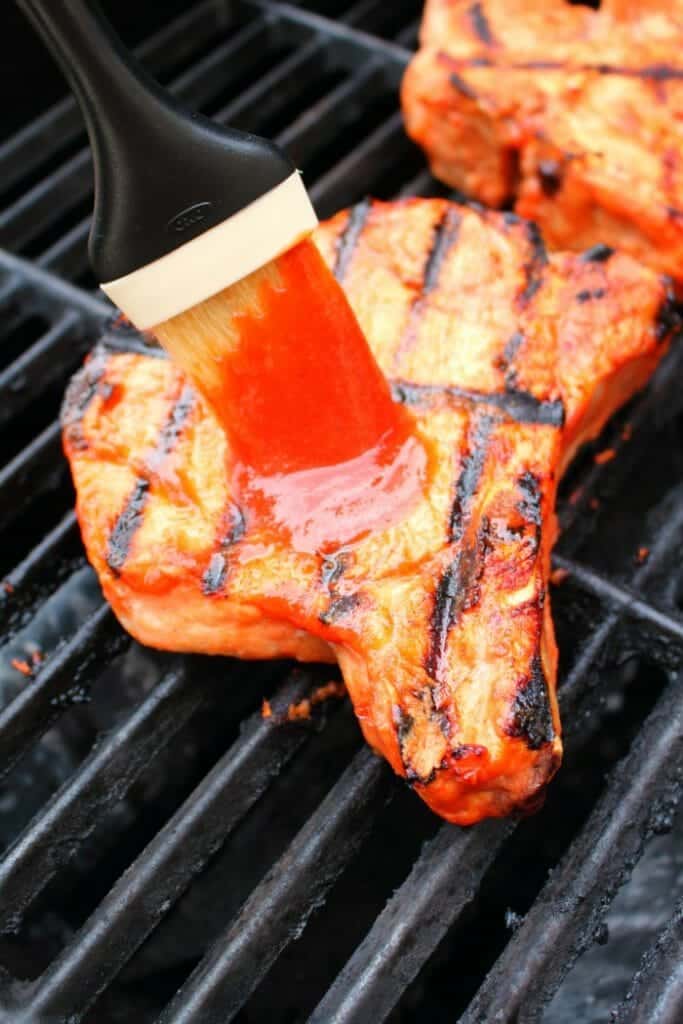 Step 2: Marinate the Pork Chops
Marinating pork is a fantastic way to infuse flavor into the meat. Because pork chops tend to be on the leaner side, any additional flavor you can add, either with seasoning or with a marinade is always helpful.
Season the pork chops with the salt, pepper and chili powder, and add a portion of the honey bourbon bbq sauce to the chops. Make sure to reserve some of the sauce for brushing while they're on the grill. I also like to save some sauce for serving, too.
Marinate the pork chops anywhere from 30 minutes up to 24 hours. The longer the chops sit in the sauce, the more flavorful they will become!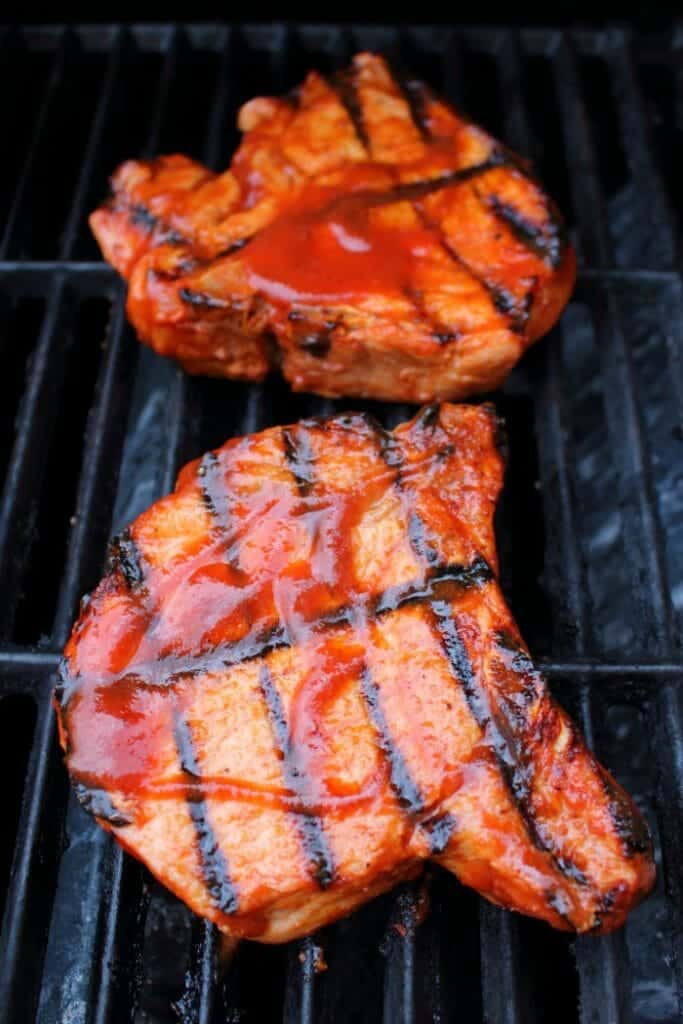 Step 3: Grill the Chops and Brush with Additional Sauce
Preheat your gas or charcoal grill to medium-high heat. Place the marinated pork chops on the hot grill, making sure to discard any leftover marinade sauce.
These particular pork chops are bone-in loin chops. They were a thicker cut at a little over 1″ thick. Given that these chops are bone-in and on the thicker side, determined the grilling/cook time.
These chops took approximate 7-8 minutes per side to cook. (If the chops are thinner, reduce the grilling time accordingly.)  Once you flip the chops to the other side, brush on the reserved bbq sauce.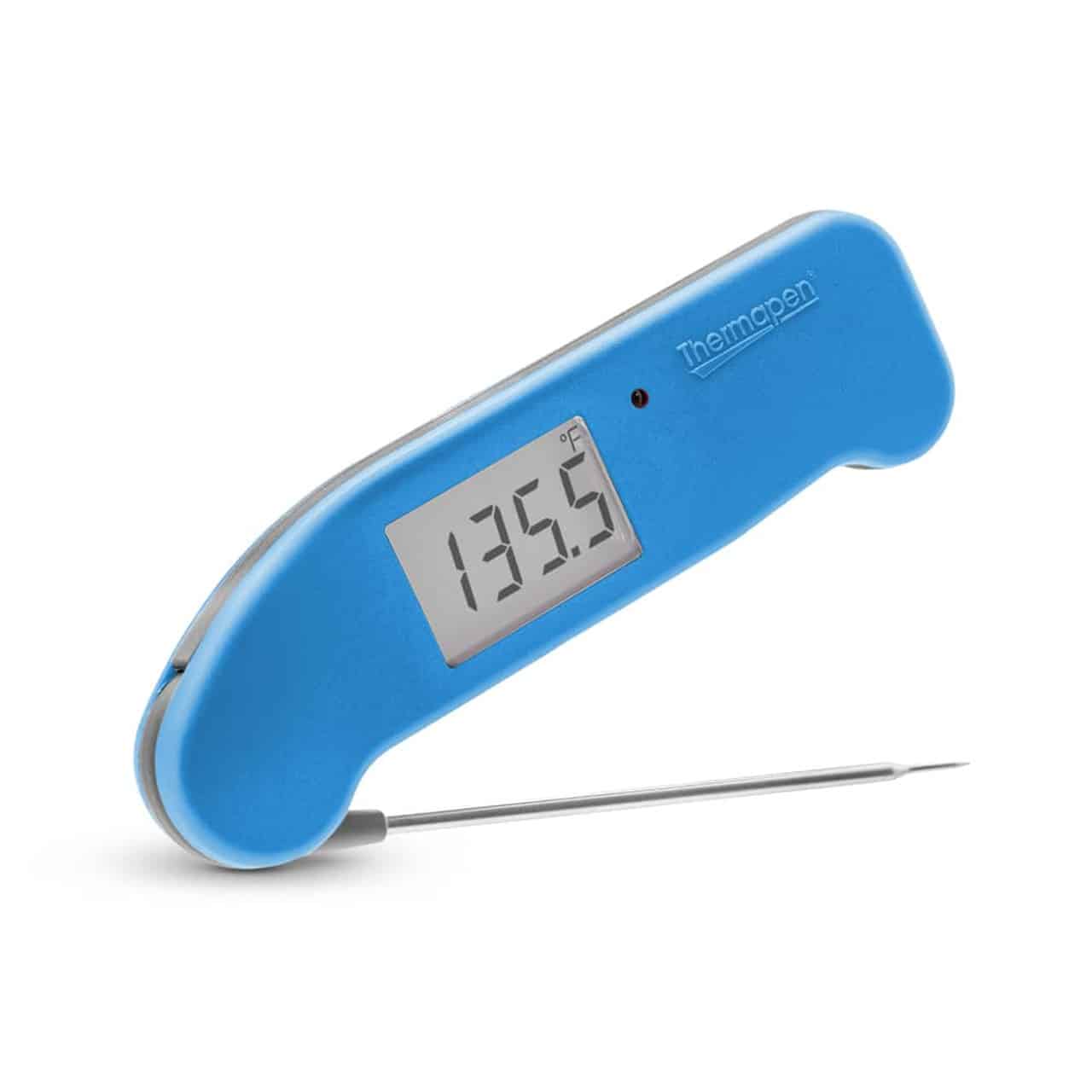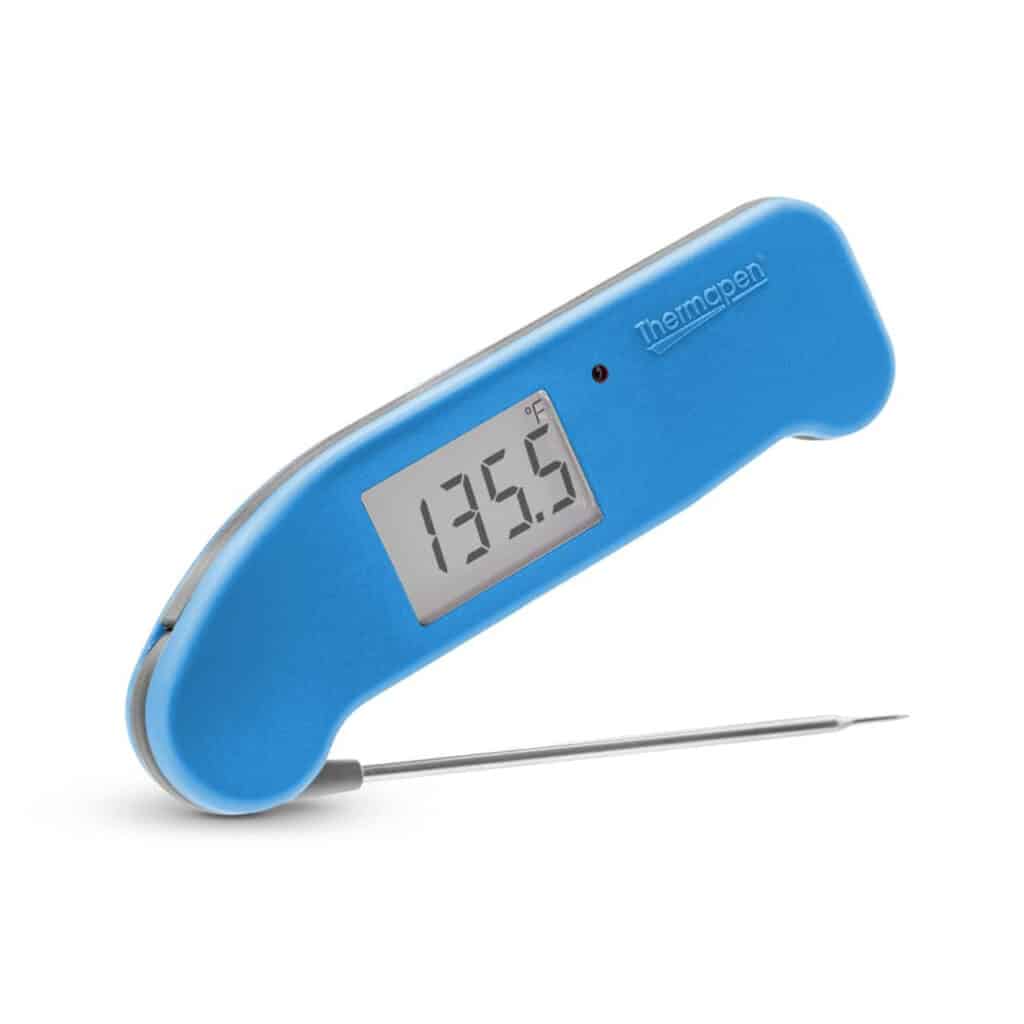 Thermapen ONE Instant Read Digital Thermometer
This is my go-to tool for grilling and roasting! With a Thermapen there's no guessing if or when the meat is done. The precise temperature will provide you with meat that is perfectly cooked, juicy and delicious EVERY time!
If you're unsure the pork chops are done, you can do a couple of things:
Cut into the pork chops (as close to the bone as possible) to insure there is no remaining deep pink color. You're looking for a primarily white meat throughout the chop – a slight amount of light pink in the center of the chop is okay.
Use a meat thermometer to gauge the temperature of the meat. For pork, the recommended minimum internal temperature of the meat should read 145 degrees Fahrenheit.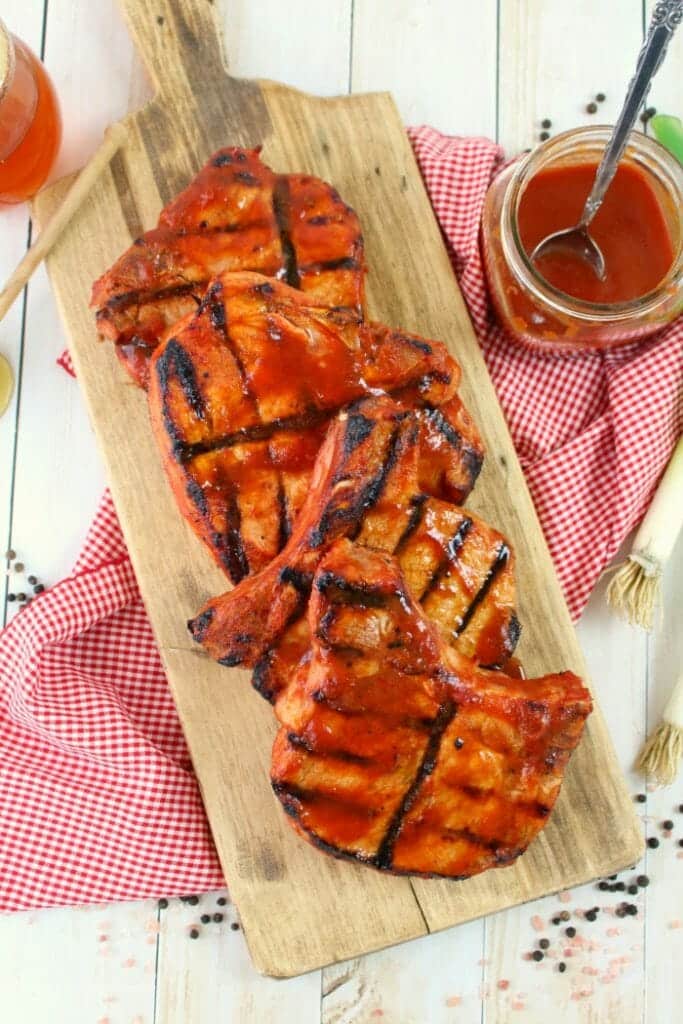 Step 4: Remove from the Grill and let set for a few minutes
Resist the urge to dig into these pork chops the second they come off the grill. Give the chops about 5 minutes to set prior to serving. This will give the meat some time to rest, and the juices will distribute throughout the meat. This will give you a nice, juicy flavorful pork chop!
Once these barbecue pork chops have rested, they are ready to serve and enjoy!
If you love pork chop recipes, be sure to check out my recipe for these Apricot Glazed Pork Chops over at Real Housemoms!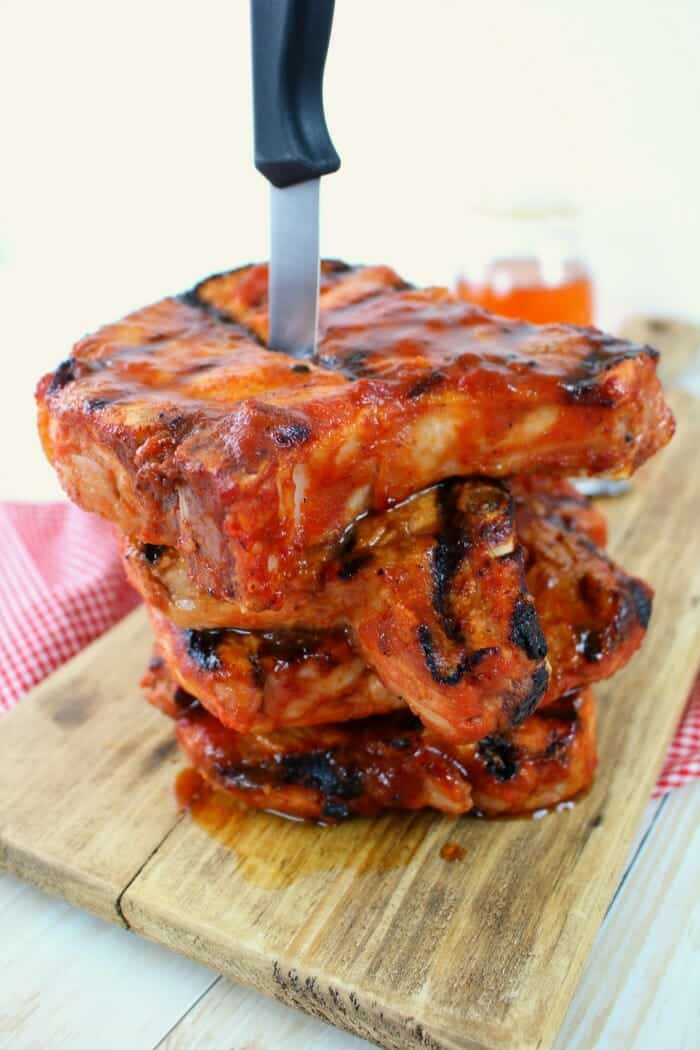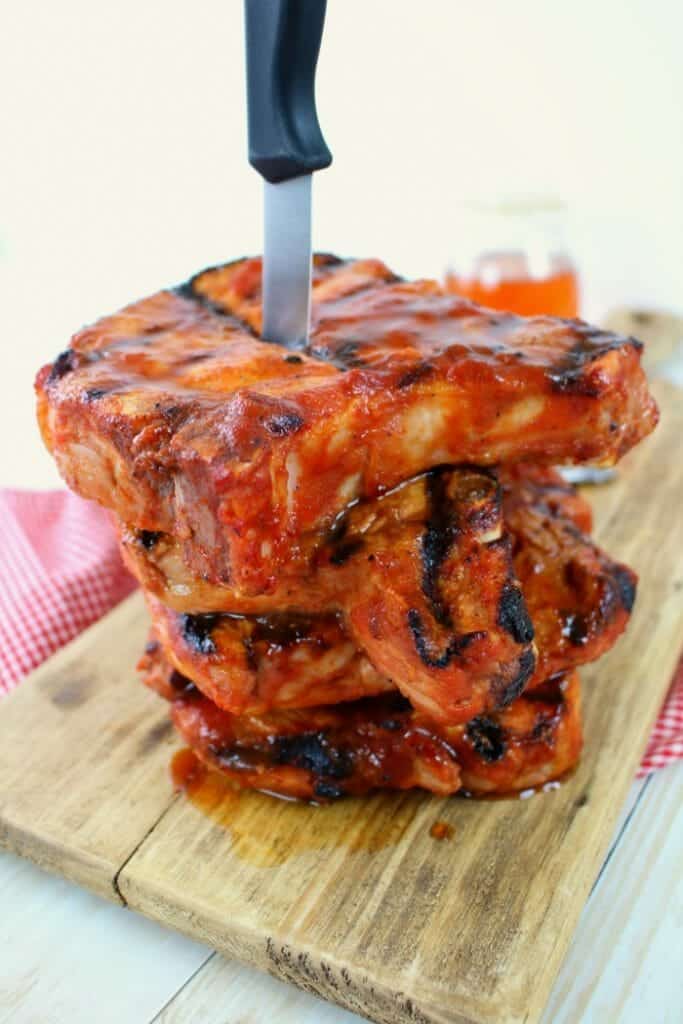 Wondering what to serve with bbq pork chops? These side dish recipes are great options:
If you loved these delicious BBQ Pork Chops, check out some of my other similar recipes: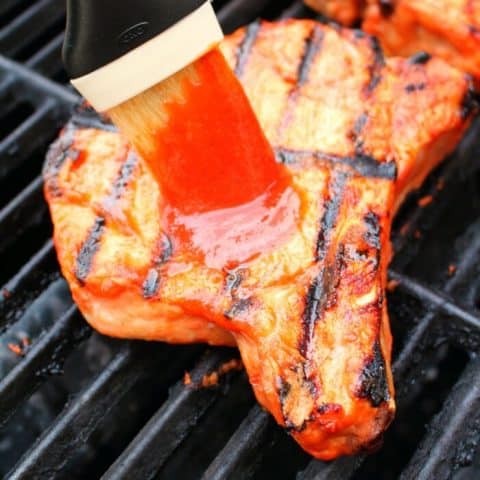 Honey Bourbon BBQ Pork Chops
Meet your new favorite BBQ Pork Chops recipe! These super-simple grilled pork chops are made with a homemade honey bourbon barbecue sauce, and grilled to perfection. This will be your new favorite way to grill pork chops!
Ingredients
2-3 lbs. bone-in pork chops (about 3-4 chops)
1/2 tsp. salt
1/2 tsp. pepper
1/4 tsp. chili powder (sprinkling)
1 cup Honey Bourbon BBQ Sauce, divided
Instructions
Place pork chops on a clean surface. Lightly sprinkle with salt, pepper and chili powder on all sides of the chops.
In a resealable plastic bag or container with tight fitting lid, add the seasoned pork chops, and 2/3 cup of the honey bourbon bbq sauce. Make sure the pork chops are evenly coated. Place in refrigerator, and marinate the chops for at least 30 minutes or up to 24 hours.
Preheat your gas or charcoal grill to medium high heat.
Remove chops from marinade, and place on the hot grill. Grill one side for approximately 6-8 minutes (for bone in chops). Flip the chops, and brunch with the remaining 1/3 cup of reserved bbq sauce. Grill for another 6-8 minutes.
Remove from grill and let sit for 5 minutes before serving to allow the juices to remain in the chops. Serve and enjoy.
Notes
You can also use boneless loin chops or a whole pork loin with this recipe. Marinate as directed in the recipe.
Cook times for boneless loin chops will be less - 4-5 minutes per side, based on how thick the chops are cut.
A full pork loin will need to be turned 3-4 times, and grilled approximately 8-10 minutes for a small pork loin, or 25-30 minutes for a large/full loin roast.
Always use a meat thermometer to test the internal temperature of grilled meat. Minimum internal temperature should read 145 degrees.
Nutrition Information:
Serving Size:

1
Amount Per Serving:
Calories:

1529
Total Fat:

81g
Saturated Fat:

17g
Cholesterol:

635mg
Sodium:

1699mg
Carbohydrates:

1g
Protein:

186g
Get the recipe for my Honey Bourbon BBQ Sauce here