Do you love ordering a Chick-fil-A Southwest Salad when you're on the go? You can now make this amazing Southwest Chicken Salad at home. Made with simple ingredients, this crisp, savory salad is perfect for meal prepping for some smart, healthy lunch options.
This post may contain affiliate links. Delightful E Made is a participant in the Amazon Services LLC Associates Program, an affiliate advertising program designed to provide a means for us to earn fees by linking to Amazon.com and affiliated sites.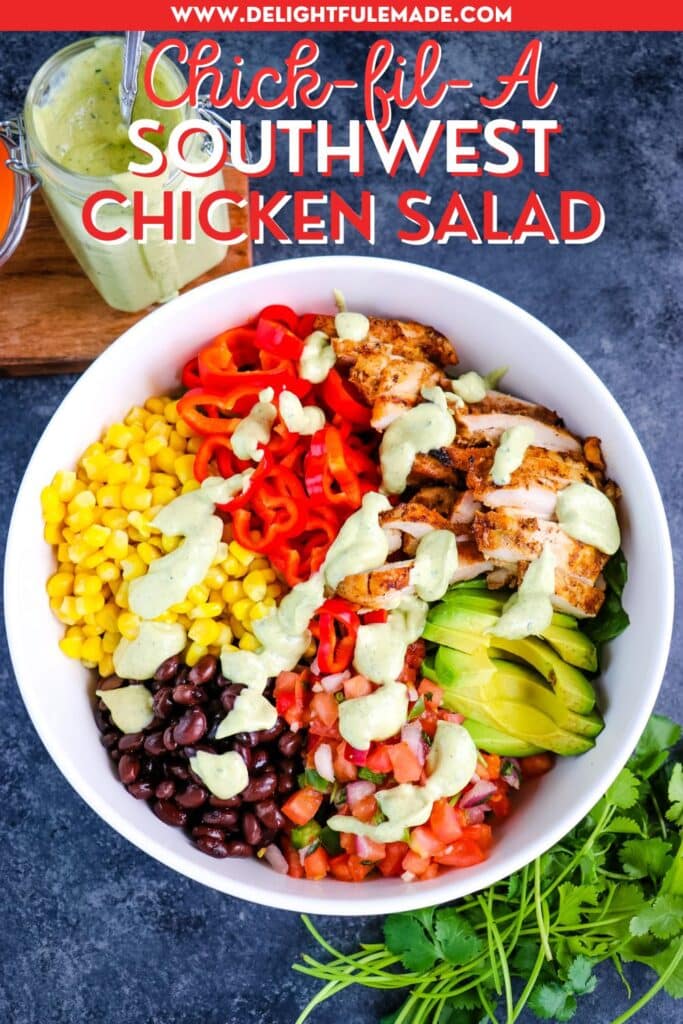 When you're out and about, do you enjoy hitting the drive-thru at Chick-fil-A for one of their spicy Southwest Salads? It includes their signature chicken, along with corn, black beans, tomatoes and more.
But with all the extra topping and heavy dressings, the calories in the spicy southwest salad can quickly add up. It tops out at 690 calories with the tortilla chips, pepitas and creamy salsa dressing.
We can do better than that! When making this salad at home, we'll save on calories and even add some volume by adding extra veggies.
What do I need to make a Southwest chicken salad?
Romaine Lettuce – Romaine is what Chick-fil-A uses for its salads. It will hold up well with the rest of the ingredients and stay crunchy if you're meal prepping it in containers for later in the week.
Grilled chicken – I used my Pollo Asado grilled chicken for this recipe. It has a wonderful Tex-Mex seasoning and goes great in this salad.
Pico de Gallo salsa – I like to make my own batch of pico de gallo salsa and keep it in the fridge. Feel free to use store-bought pico de gallo or toss in a few chopped tomatoes.
Red bell peppers – I chose the smaller sweet red peppers, but feel free to buy larger bell peppers in any color.
Black beans – great for adding some extra protein and fiber to this salad.
Frozen corn – I use frozen corn and defrost in the microwave for a few minutes. You can also use canned corn.
Avocado – a great way to add some healthy fats to your diet, adding sliced avocado to your salad is a really nice addition.
Tortilla chips – these are optional, but a good way to add a little extra crunch. Choose a good quality tortilla chip.
Avocado Ranch Dressing – Chick-fil-A recommends this dressing with their spicy southwest salad. I've got a great recipe here for Avocado Ranch Dressing.
For exact ingredient amounts and full recipe instructions be sure to scroll down to the bottom of the post for the recipe. Thanks!
How do I make a Southwest salad?
Start by adding washed and chopped romaine lettuce to a large bowl. Add in the rinsed black beans and corn. Also add in the sliced bell peppers and pico de gallo salsa.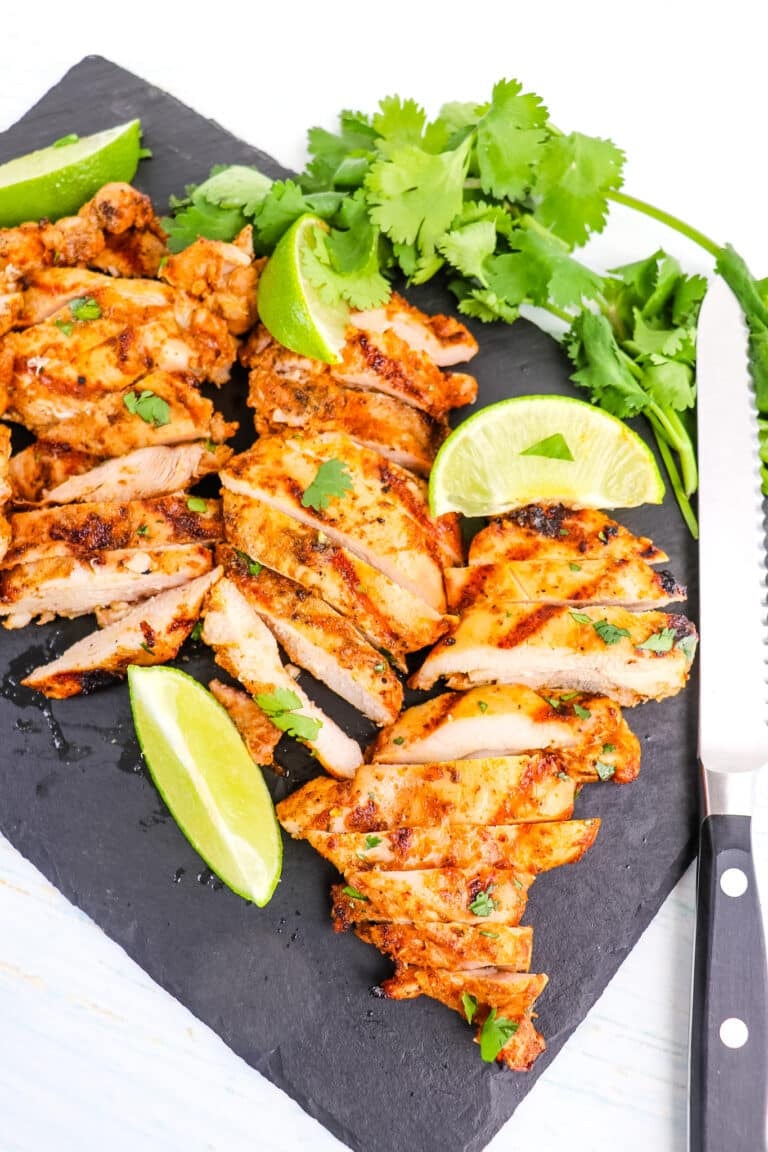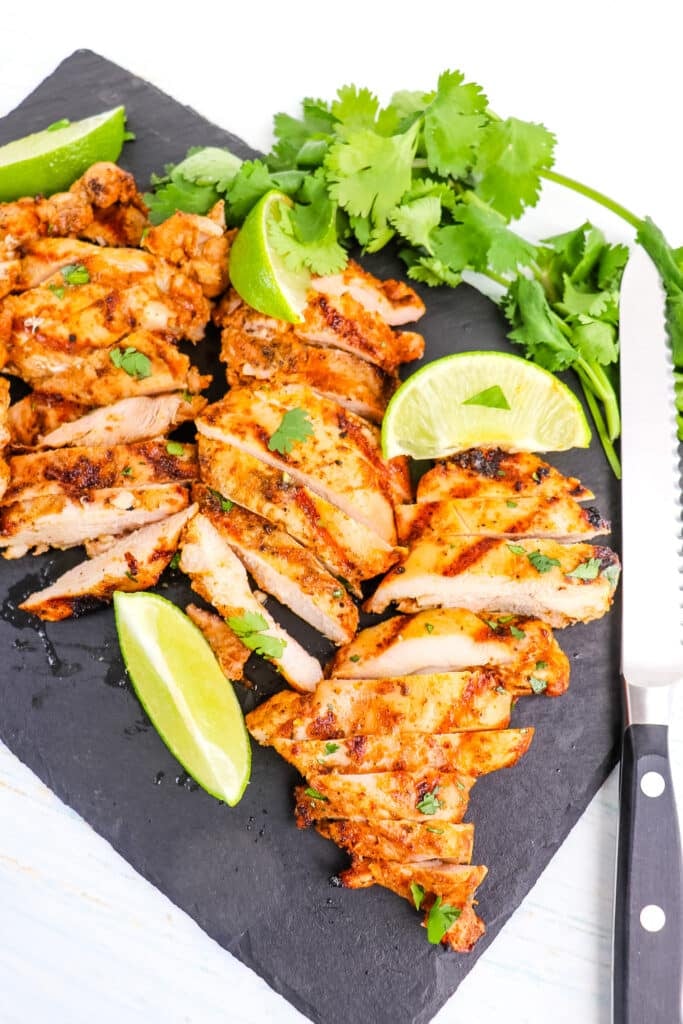 Slice the grilled chicken and add it to the salad bowl along with a sliced or diced avocado.
What chicken is best for a salad?
Grilled chicken breast or thighs are most traditional in a salad. After grilling, let the chicken set for at least 10 minutes to let the juices settle into the meat. This helps prevent tough, dry chicken.
Chicken can definitely be cooked in advance and refrigerated until ready to be added to a salad.
There is no need to reheat chicken before adding it to a salad. Chicken can be enjoyed cold, as long as it has been thoroughly cooked and properly refrigerated and stored.
Ingredient Substitutions and Recommendations:
Chicken – Need to save some time? Feel free to purchase pre-cooked chicken or use rotisserie chicken. I also like my Cilantro Lime Grilled chicken in this recipe.
Pico de Gallo Salsa – don't have salsa on hand? Feel free to substitute cherry, grape or chopped Roma tomatoes.
Cheese – Chick-fil-A adds a bit of shredded cheese to its salad. Feel free to add a Mexican blend shredded cheese. Cheddar or Jack shredded cheeses would also be a good option.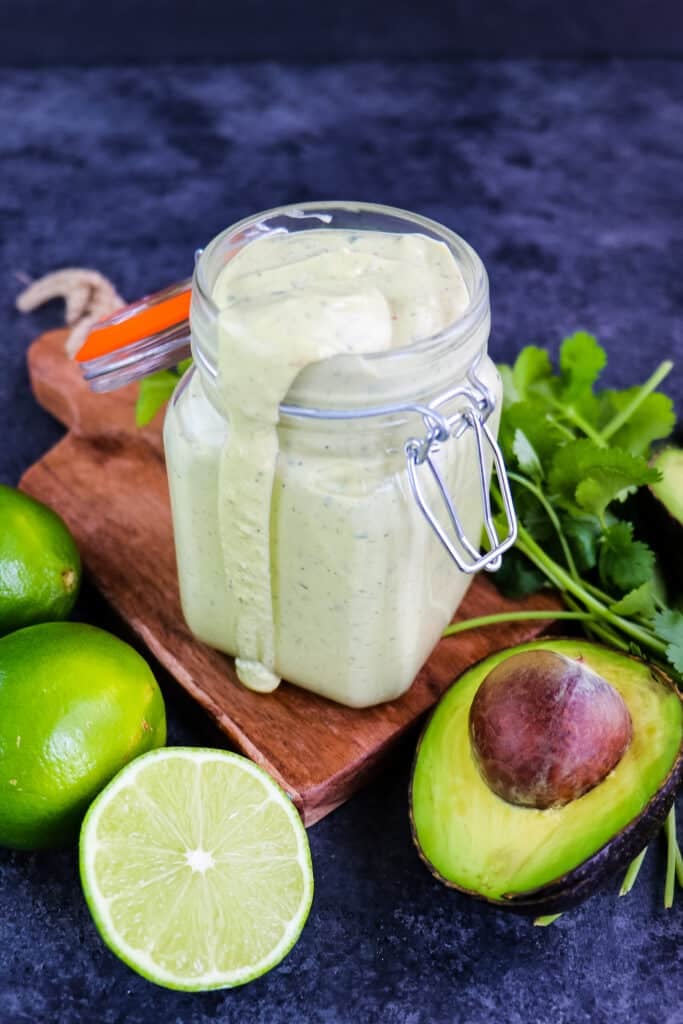 What dressing is best on a Southwest chicken salad?
We love this creamy Avocado Lime Ranch Dressing on the southwest salad. It is made with cilantro, lime juice and avocado along with some complimentary spices, making it the perfect addition to this salad.
Need some other dressing options? Here are a few we love:
How do I meal prep a salad?
Planning on making a few salads for your lunches this week? This is a great way to make a healthy choice in advance when you're trying to eat in a healthy way.
To meal prep a salad, choose a resealable container, and add the lettuce to the bottom. Then top the lettuce with the salsa, beans, corn, avocado (squeeze a bit of lime juice over the top to prevent browning), and the grilled chicken.
Store the dressing in a small separate container and dress the salad just before eating. I don't recommend adding the dressing to the salad in advance. This will make the other ingredients soft and undesirable. Check out my post for Best Meal Prep Containers for the containers I love and use regularly.
Frequently asked questions about making a Southwest salad:
What is a Southwest salad made of?
A Southwest salad will typically include romaine lettuce, grilled chicken, black beans, corn, tomatoes or salsa, avocado, bell peppers and shredded cheese.
Is a Southwest salad healthy for weight loss?
A Southwest salad can be healthy if you choose the right ingredients. Load up on fresh vegetables, like bell peppers, corn, black beans and tomatoes. Skip the tortilla chips and choose a small amount of dressing.
How many calories are in a Chick-fil-A Southwest Chicken Salad?
According to the Chick-fil-A nutrition menu, their Southwest Chicken Salad has 690 calories, 49 grams of fat and 1570 mg of sodium. This includes the calories from the optional tortilla strips, lime pepitas and the creamy salsa dressing.
What is the healthiest salad at Chick-fil-A?
According to the Chick-fil-A nutrition menu, their healthiest salad is the Market Salad, which includes their grilled chicken, strawberries, blueberries and apples. It has 540 calories, 31 grams of fat and 28 grams of protein when enjoyed with their apple cider vinaigrette dressing.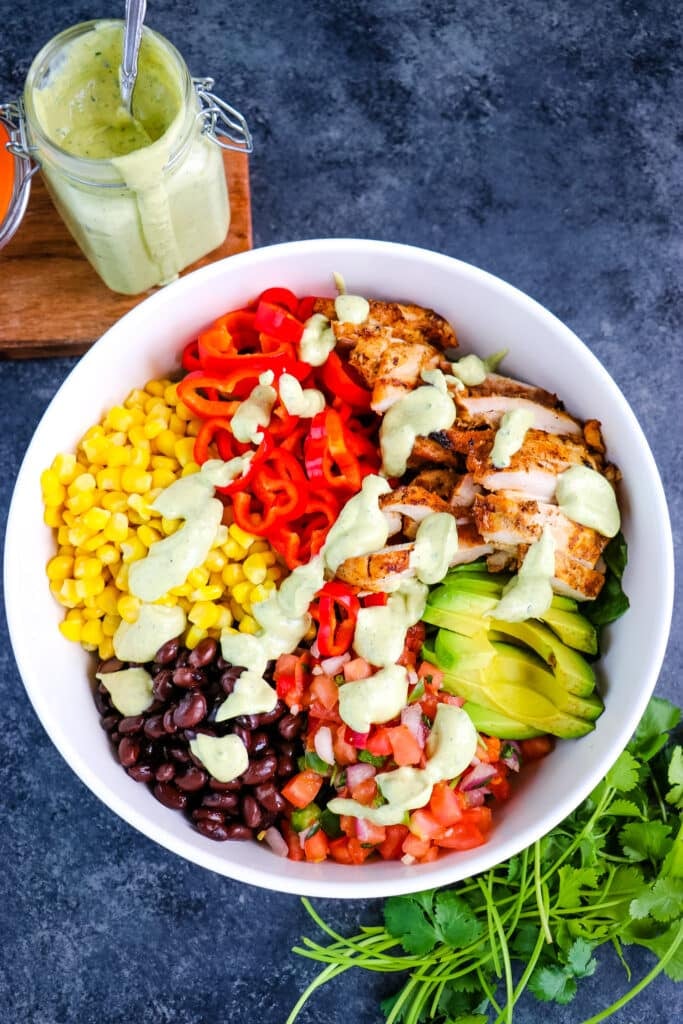 Love Chick-fil-A? Check out some of our other copycat Chick-fil-A recipes:
If you loved this chicken salad recipe, check out these other similar posts: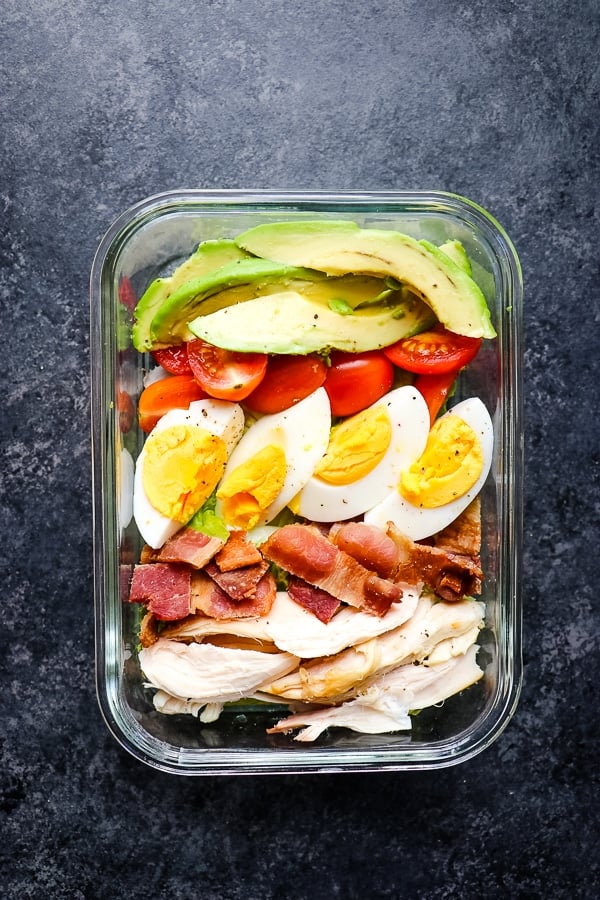 ---
---
Southwest Chicken Salad
Yield:
1 individual salad
Love ordering a Chick-fil-A Southwest Salad? You can now make it at home with this easy Southwest chicken salad recipe. Amazing with the avocado lime ranch dressing! Great for meal prepping, too!
Ingredients
2 cups romaine lettuce, washed and torn
4 oz. (1/2 cup) grilled pollo asado chicken, cooled
1/4 cup pico de gallo salsa
1/4 cup bell peppers, sliced
1/4 cup black beans, rinsed
1/4 cup frozen corn, thawed
1/4 cup avocado, sliced or cubed
2 tablespoons avocado lime ranch dressing
Optional ingredients:
2 tablespoons shredded Mexican blend cheese
6-8 tortilla chips
Instructions
To a large bowl or meal prep container, add the romaine lettuce.
Add in the grilled chicken, salsa, bell peppers, beans, corn, avocado, and if desired cheese and tortilla chips.
If enjoying right away, top with the dressing and toss together to dress all the ingredients. Enjoy right away.
If you're meal prepping this salad for later, store the dressing in a separate container. Add a tight fitting lid to the salad and refrigerate the salad and dressing until ready to enjoy.
Recommended Products
As an Amazon Associate and member of other affiliate programs, I earn from qualifying purchases.
Nutrition Information:
Yield:

1
Serving Size:

1
Amount Per Serving:
Calories:

417
Total Fat:

20g
Trans Fat:

0g
Unsaturated Fat:

73g
Cholesterol:

50mg
Sodium:

680mg
Carbohydrates:

30g
Fiber:

13g
Sugar:

11g
Protein:

33g