An amazing Vanilla Iced Coffee right at home!
Forget the morning rush at your local coffee shop – make your favorite vanilla iced coffee drink right at home! My Vanilla Bean Iced Coffee is made with a simple vanilla bean syrup, cold brew coffee, and half and half. An amazing drink to start your day!
This post may contain affiliate links. Delightful E Made is a participant in the Amazon Services LLC Associates Program, an affiliate advertising program designed to provide a means for us to earn fees by linking to Amazon.com and affiliated sites.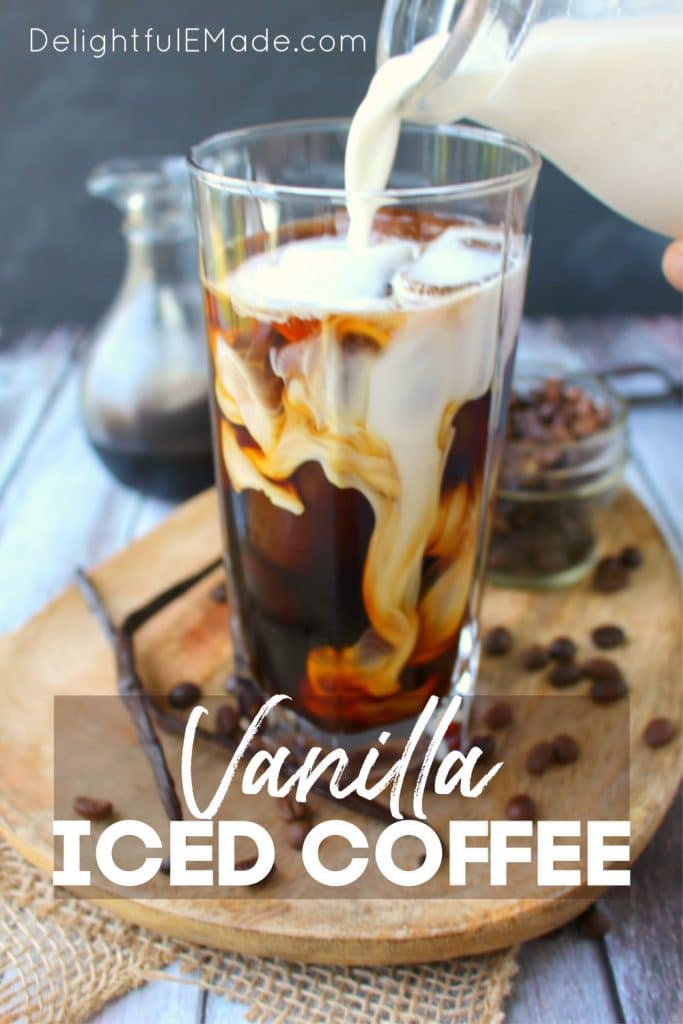 When its 90+ degrees outside before 9am, its definitely time for vanilla iced coffee. Don't get me wrong, I love nothing more than drinking a warm, comforting, delicious cup of joe first thing in the morning, but when the heat is overly oppressive, iced coffee is where it's at! A cold, refreshing iced coffee always hits the spot!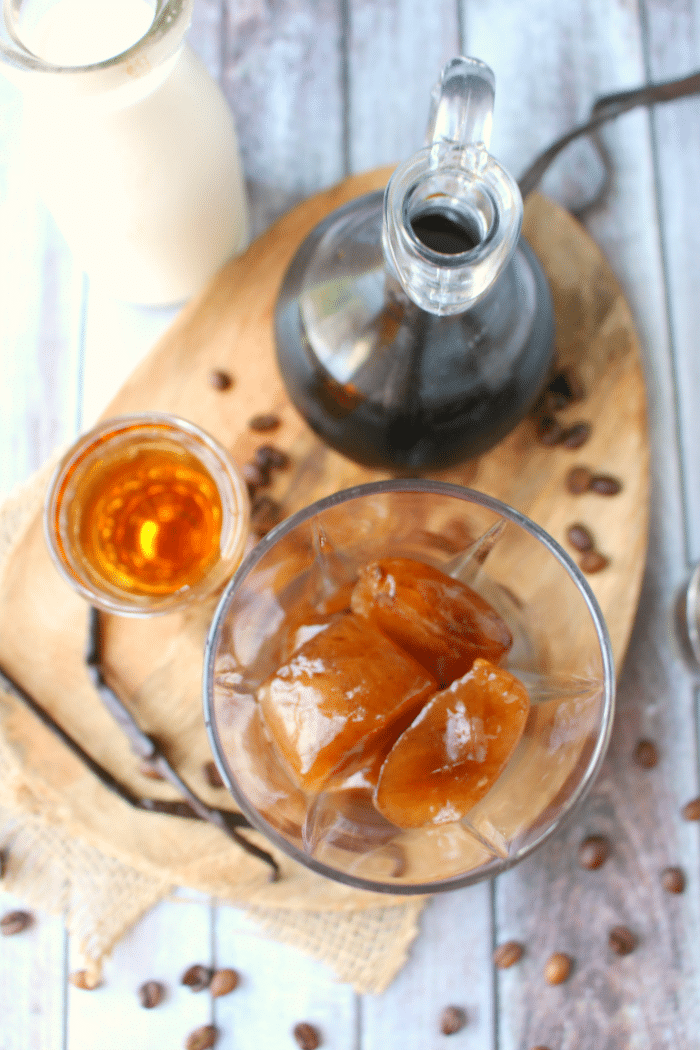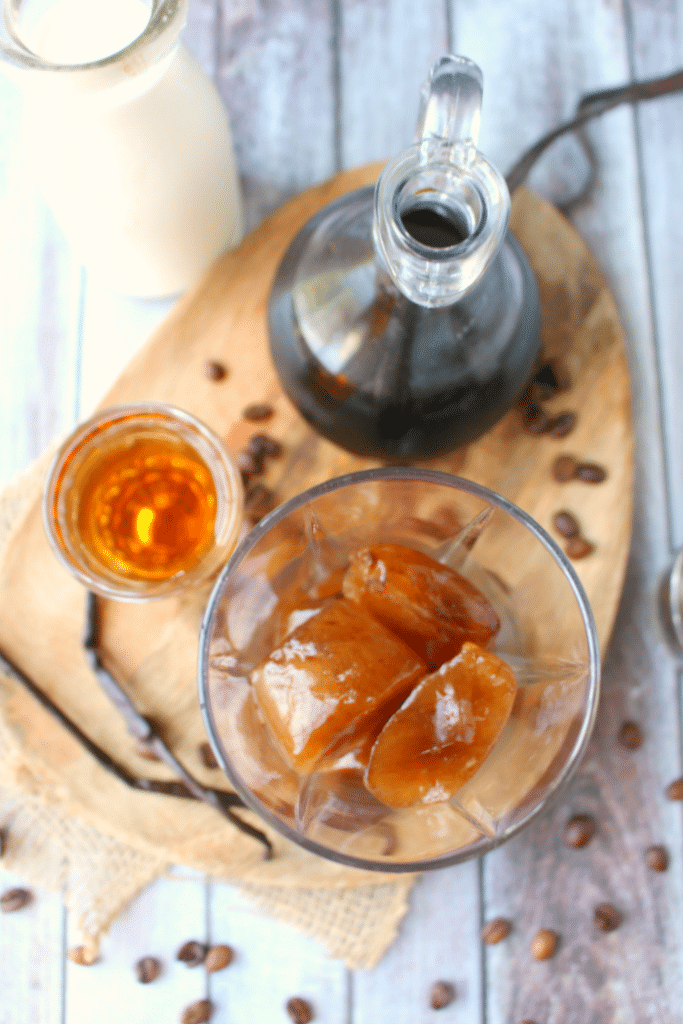 How to Make Cold Brew Coffee:
I just recently tried cold brew coffee (I know, I know….sometimes I can be slow at trying new things.) Well, I don't know what I was waiting for, because cold brew is AMAZING!!
Cold brew has all of the amazing flavor and smoothness of coffee, but none of the bitterness or acidity that regular brew can sometimes bring. As soon as I tried cold brew, I knew I had to make my favorite vanilla iced coffee drink.
Here's my tutorial for how to make Homemade Cold Brew Coffee.
---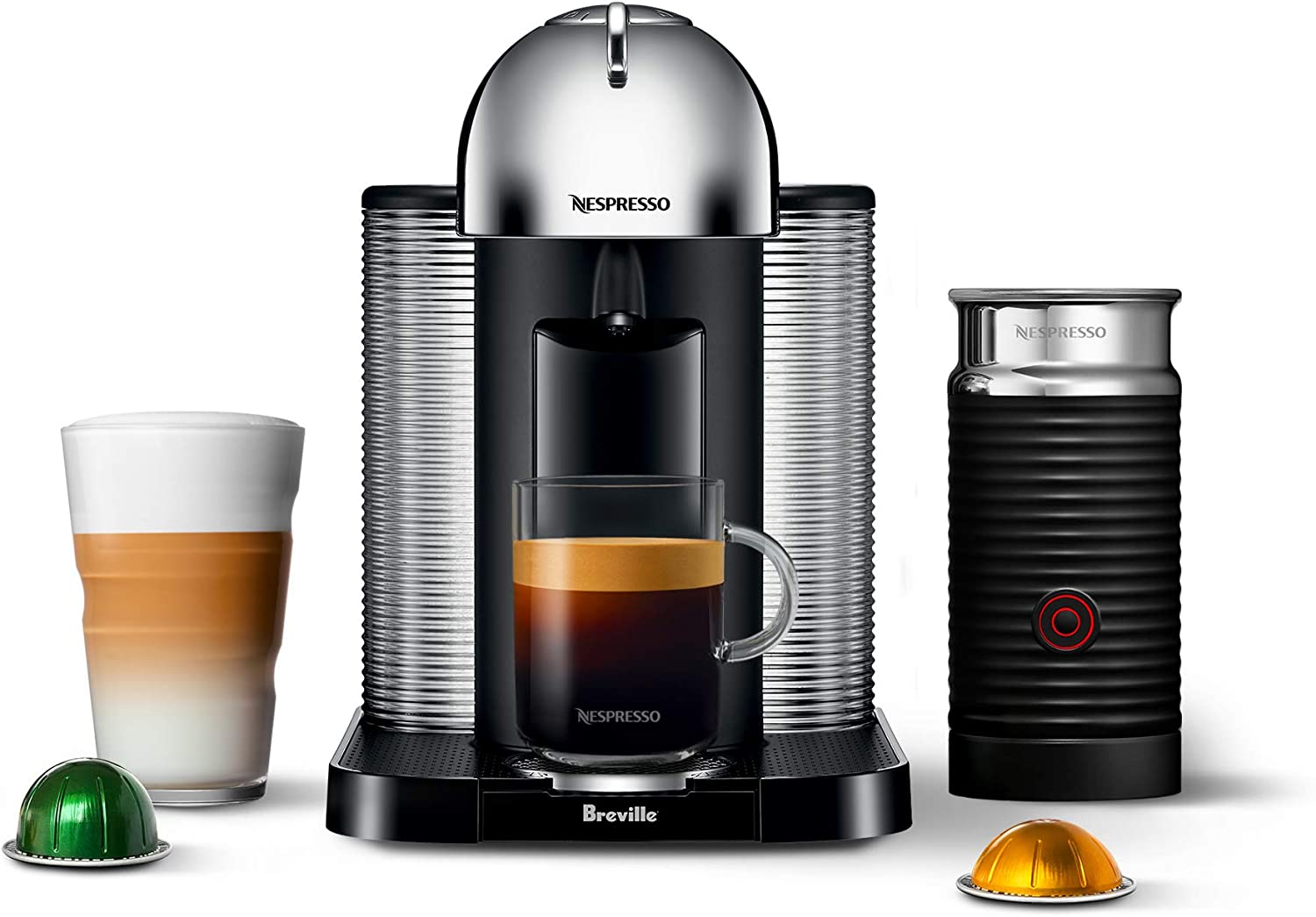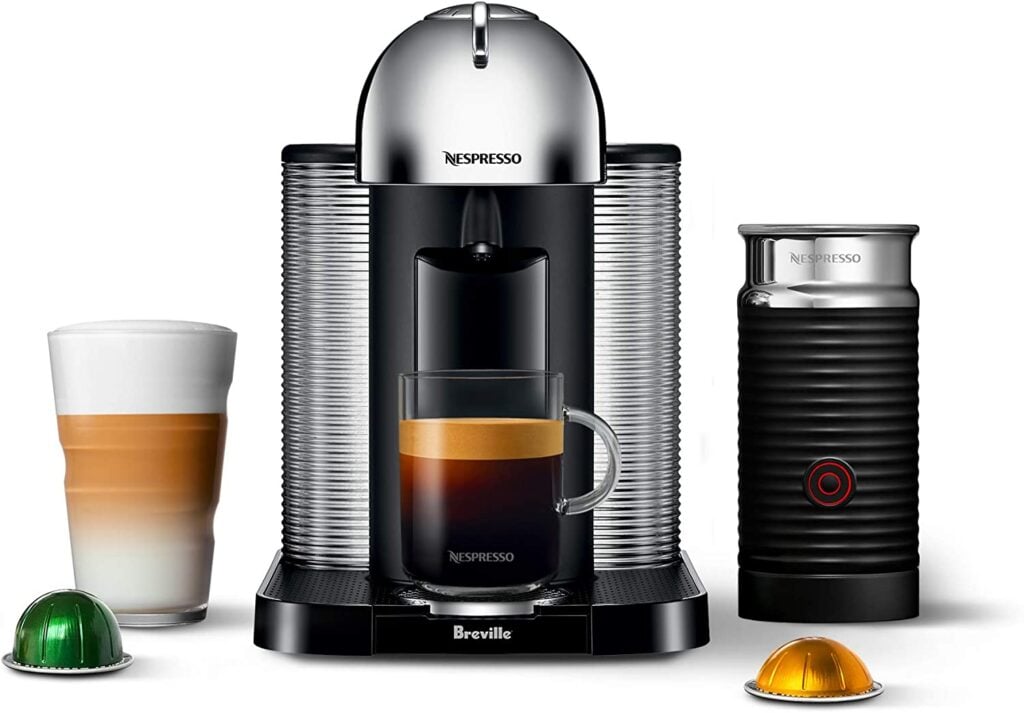 Nespresso Vertuo Coffee and Espresso Machine
Want to make both coffee AND espresso at home? This is the machine I use and LOVE. The fresh espresso is amazing and the brewed coffee tastes equally fantastic. I highly recommend!
---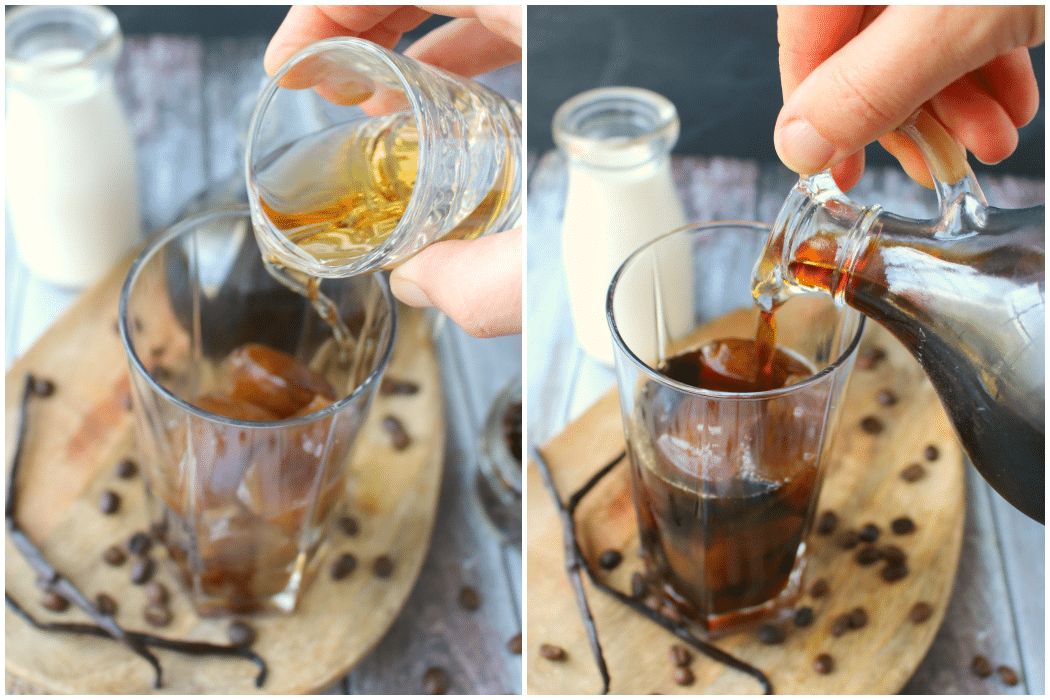 How to Make Vanilla Syrup:
In addition to the cold brew, I made my own vanilla bean syrup. I'm so glad I did. Not only was is really easy, but the flavor was so much better than the store-bought bottled stuff and gives this vanilla iced coffee the perfect amount of flavor.
Making syrup is simply a matter of bringing sugar, water, vanilla, and a vanilla bean to a simmer. You'll dissolve the sugar, and then let cool. That's it!!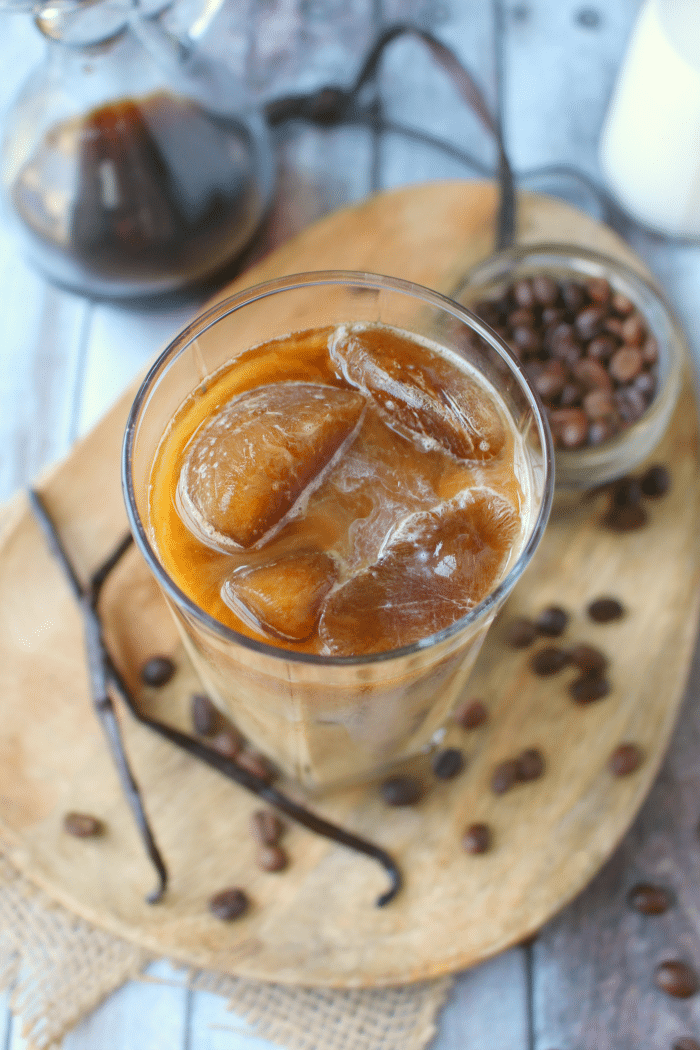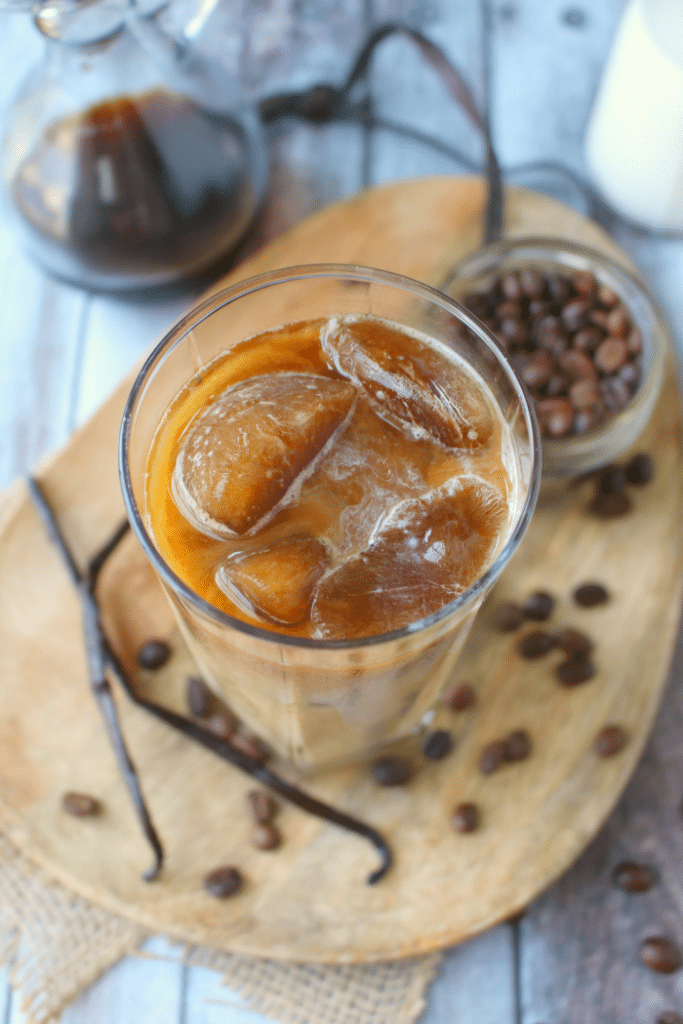 How the Vanilla Iced Coffee comes together:
To make the iced coffee recipe, I added a shot (1 oz., or 2 Tbsp.) of my homemade vanilla syrup, along with 1/2 c. of the cold brew coffee over coffee iced cubes. FYI – making coffee ice cubes is a great way to not end up with watered-down iced coffee.
From here, you'll add half and half (about 1/4 cup), or your choice of milk. Voila!! You've got an amazing iced coffee drink in just moments!
Is half and half not your thing? Here are some other milk suggestions that are great in this iced coffee:
Whole Milk, 2% or Skim – Dairy Milk
Heavy Cream
Almond Milk
Cashew Milk
Coconut Milk
Oat Milk
Be sure to check out my Google Web Story on How to make this delicious Vanilla Bean Iced Coffee.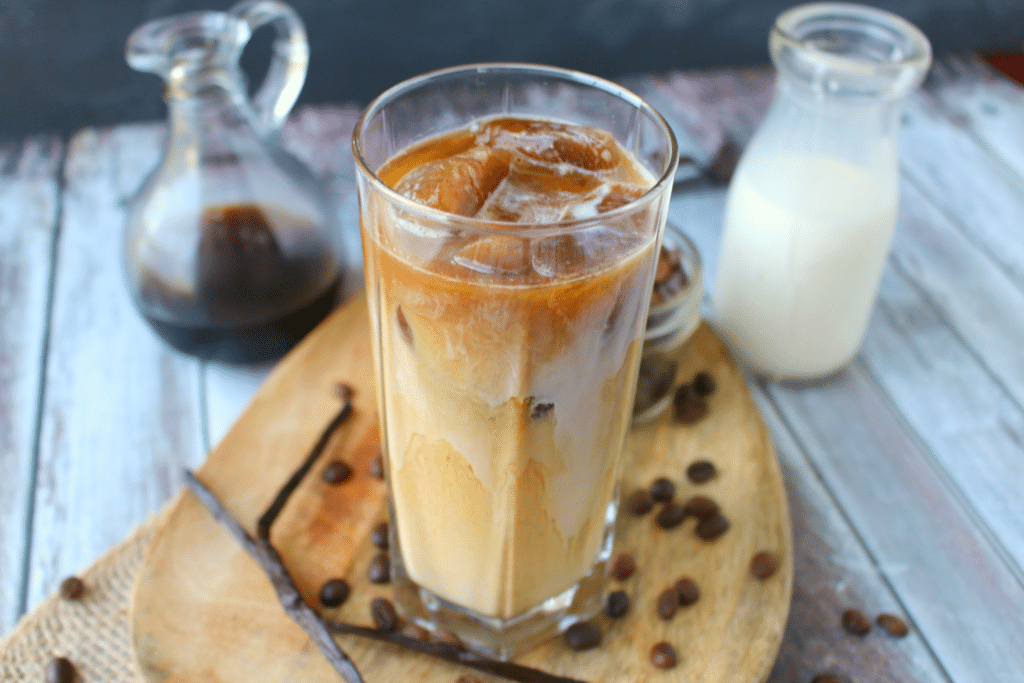 Wondering what to serve with vanilla iced coffee? Here are some treats that would be a perfect snack:
If you loved this awesome coffee drink, check out some of my other coffee and tea recipes:
Here's the easy, delicious recipe for my Vanilla Iced Coffee:
Vanilla Bean Iced Coffee

Forget the morning rush at your local coffee shop - make your favorite iced coffee drink right at home! My Vanilla Bean Iced Coffee is made with a super-simple vanilla bean syrup, as well as cold brew coffee, and half and half. An amazing drink to start your day!

Ingredients

1/2 c. cold brew coffee (homemade or store-bought)
2 Tbsp. (1 oz.) vanilla bean syrup
1/4 c. half and half
coffee ice cubes

Vanilla Bean Syrup:

1 c. water
1 1/4 c. granulated sugar
1 tsp. vanilla extract
1 whole vanilla bean, split

Instructions

For the Vanilla Bean Syrup: In a small saucepan, add the water, sugar, extract and split vanilla bean. When adding the bean, split the bean lengthwise with a sharp knife, and scrape out the caviar adding it to the pan.
Bring the ingredients to a low boil over medium low heat. Simmer for about 5 minutes to reduce the liquid slightly. Let cool completely. Transfer the ingredients to a jar or resealable container. Can be used for up to two weeks if refrigerated.
For the Iced Coffee: In a tall glass, add 6-8 coffee ice cubes. Pour in the vanilla syrup, cold brew coffee, and top with half and half (or other milk preference.) Enjoy right away.

Nutrition Information:

Serving Size:

1 Amount Per Serving:

Calories:

1259

Total Fat:

14g

Saturated Fat:

9g

Cholesterol:

60mg

Sodium:

281mg

Carbohydrates:

279g

Sugar:

261g

Protein:

8g