There's nothing better than a cold, refreshing glass of raspberry iced tea to quench your thirst! Made with fresh mint, raspberries and steeped to perfection, this easy mint iced tea recipe is the perfect drink for sipping on a hot summer day!
This post may contain affiliate links. Delightful E Made is a participant in the Amazon Services LLC Associates Program, an affiliate advertising program designed to provide a means for us to earn fees by linking to Amazon.com and affiliated sites.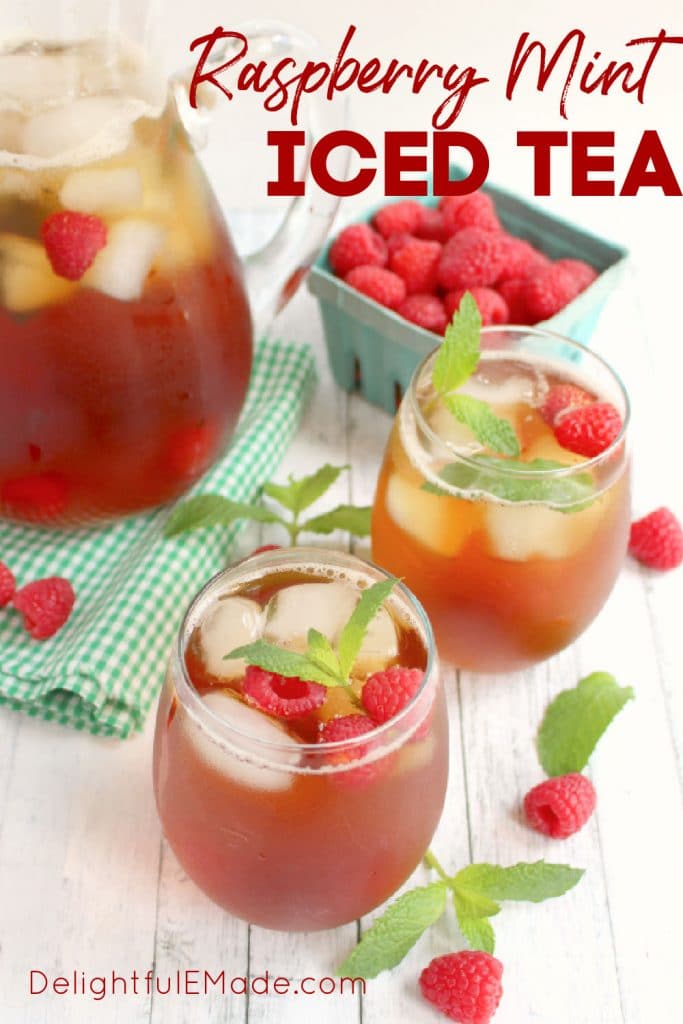 Forget buying raspberry iced tea! Making your own homemade raspberry mint iced tea is not only easy, it tastes so much better than any store-bought bottled version.
In this post I'll show you how easy it is to make your own homemade iced tea. I'll also talk about tips and tricks to make it easy and taste amazing!
Here's the simple steps to making homemade Raspberry Mint Iced Tea: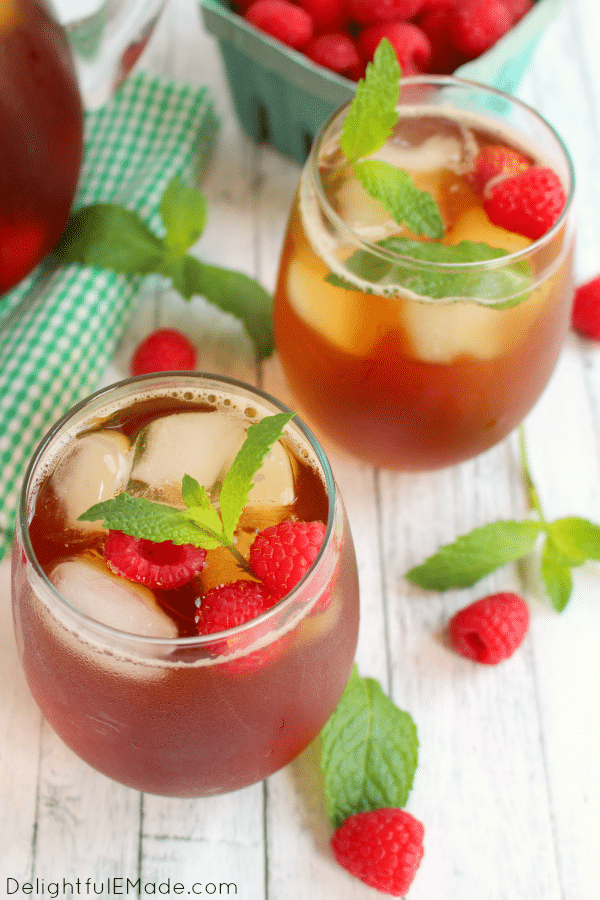 How do you make iced tea?
First, you will steep tea by adding boiling water to tea bags. Let the tea and water come to room temperature for approximately 30 minutes. This will create a tea concentrate.
Once the concentrate is cooled, pour into a large pitcher and top with additional water.
What is the ratio of water to tea bags for making iced tea?
The ratio of water to tea bags is 1:2. One cup of boiling water to two tea bags. Once the tea has cooled you will then add another cup of water.
For example 4 cups of boiling water to 8 tea bags. Once concentrate has been made and cooled, you will add another 4 cups of water.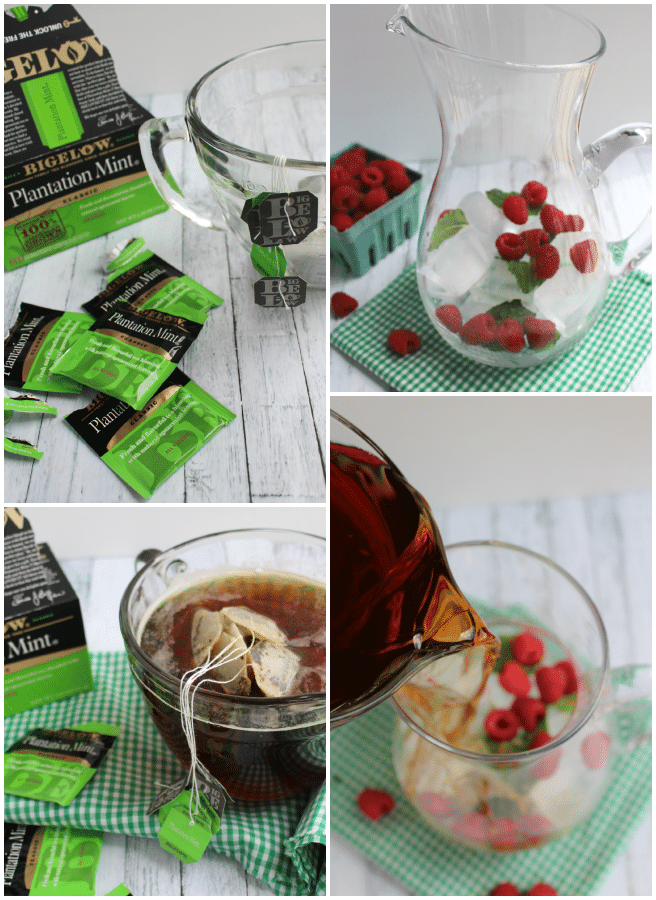 How do you flavor iced tea?
Once the tea concentrate has been made, add fresh raspberries and mint to your pitcher and then pour into the tea. Letting this chill together will infuse the berries and mint flavors.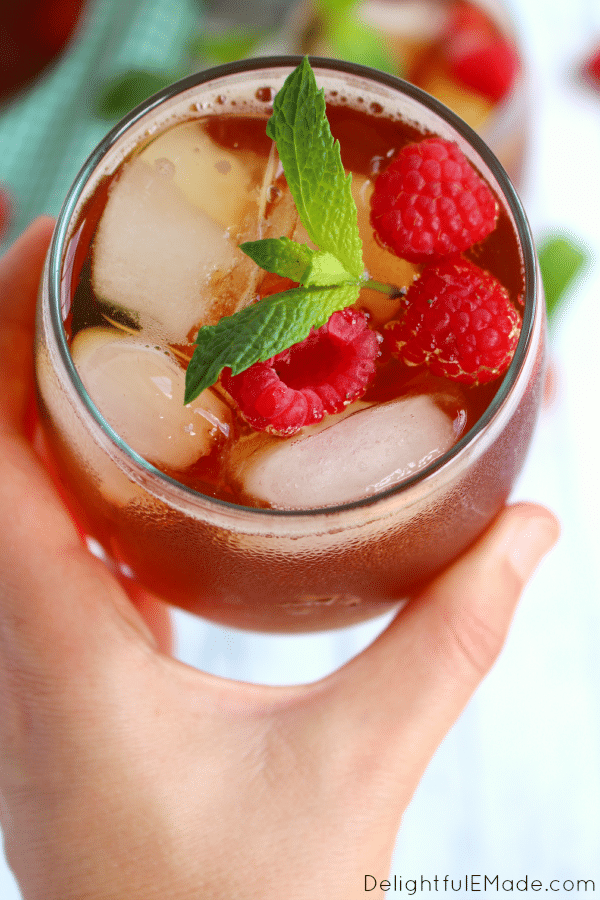 How much sugar should I add to make sweet tea?
If you prefer a "sweet tea", simply add the sweetener of your choice. For 8 cups of iced tea, I would add about 1/4 cup of granulated sugar – adapt to your taste preference for a sweeter, or less-sweet tea.
You can also create a sugar-free sweet tea by using a granular monk fruit sweetener, like Lakanto Monk Fruit Sweetener.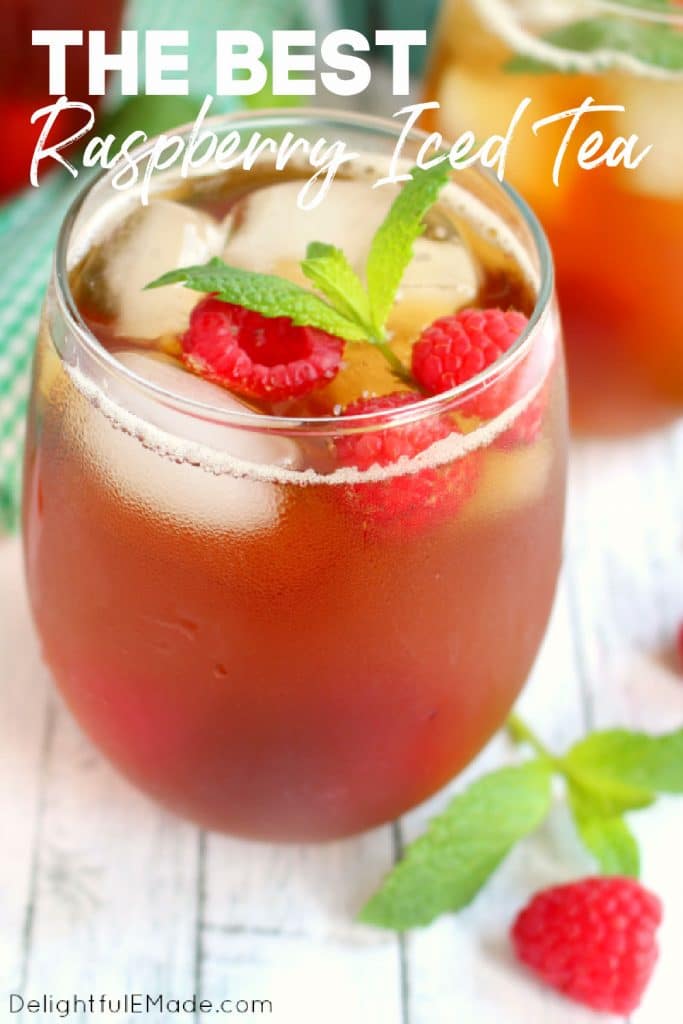 What should I serve with raspberry mint iced tea?
Top each glass of tea with fresh raspberries and sprigs of fresh mint leaves. The flavor of the fresh mint, and raspberries paired with the mint tea is fantastic!
Here are a few treat ideas that would go wonderfully with this Raspberry Mint Iced Tea: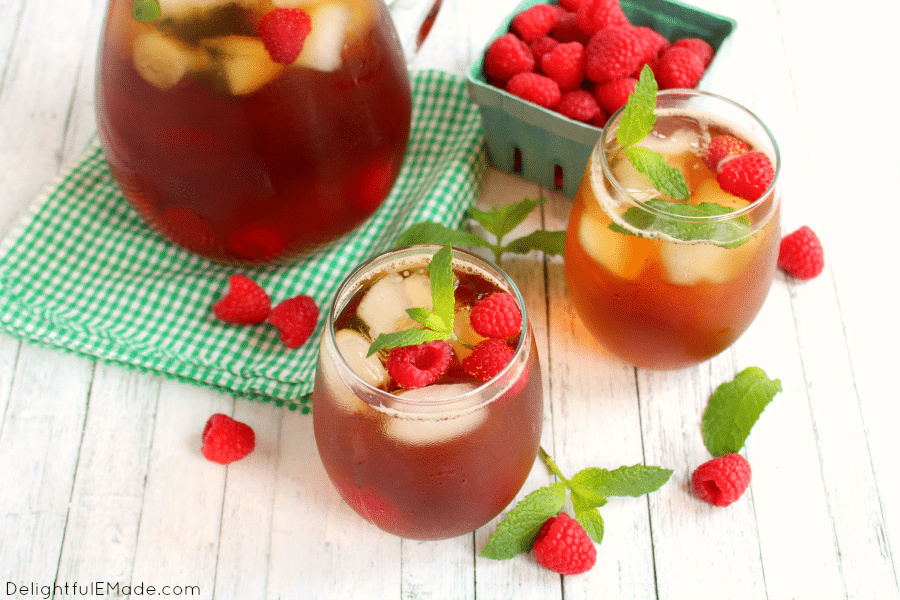 Here is a quick shopping list of the ingredients you'll need for this fantastic Raspberry Iced Tea:
Mint Tea – like Plantation Mint by Bigelow
Fresh raspberries
Fresh mint
Sugar, or any of your other preferred sweeteners
(For exact ingredient amounts and full recipe instructions please reference the recipe card below. Thanks!)
Need more cold drink recipes for summer? Check out these recipes:
Here's the easy recipe for this fantastic Raspberry Mint Iced Tea: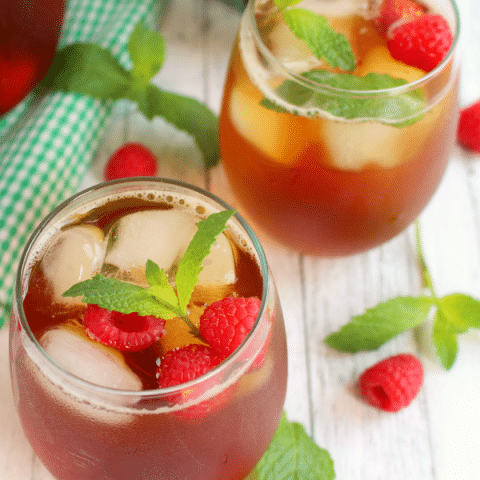 Raspberry Mint Iced Tea
There's nothing better than a cold, refreshing glass of iced tea! Made with fresh mint, raspberries and steeped to perfection, this tea is the perfect drink for sipping on a hot summer day!
Ingredients
4 c. boiling water
8 Bigelow Plantation Mint Tea bags
1 pint fresh raspberries
fresh mint leaves
1/4 c. sugar (optional)
Instructions
In a microwave or saucepan, bring 4 cups of water to a boil. Remove from heat and add tea bags. cover and let tea steep for at least 30 minutes.
In a large pitcher (2.5 qt.) add ice, several berries and 8-10 mint leaves. Pour warm tea concentrate over the ice mixture. Top with additional water and stir to combine. Add sugar if desired.
Pour into glasses with additional ice, berries and garnish with mint sprigs.
What's your favorite Bigelow tea flavor? I have several, however, this Plantation Mint is my new favorite! Let me know how you enjoy your tea in the comments.