Amazing Blueberry Ice Cream Recipe!
Made with fresh blueberries and sweet coconut, this blueberry ice cream recipe will knock your socks off! Super simple to make, this homemade blueberry ice cream is perfect in a cone, a dish and fantastic with cake and pie, too!
Disclosure: This post may contain affiliate links. Delightful E Made is a participant in the Amazon Services LLC Associates Program, an affiliate advertising program designed to provide a means for us to earn fees by linking to Amazon.com and affiliated sites.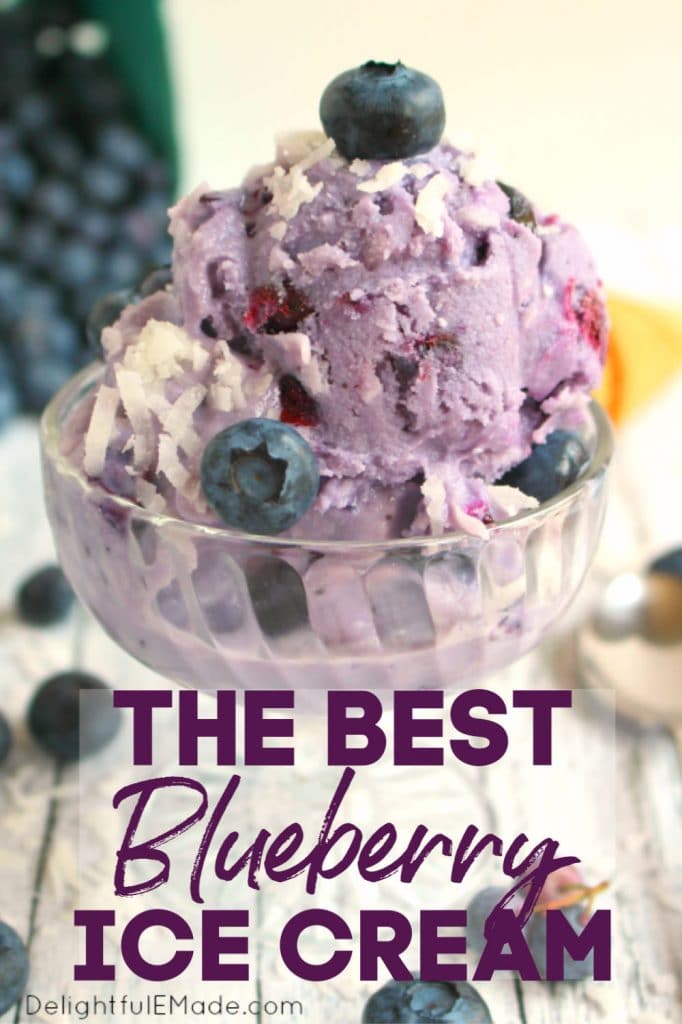 The Blueberry Ice Cream Recipe Perfect for Summer!
So when it gets especially hot in the summer, making a batch of this delicious blueberry ice cream is usually at the top of my list. I love using fresh berries from my local farmers market, and adding yummy toppings as well. Making ice cream at home is a wonderful way to control the ingredients that go into this delicious frozen dessert.
Here's how this simple, delicious blueberry coconut ice cream comes together: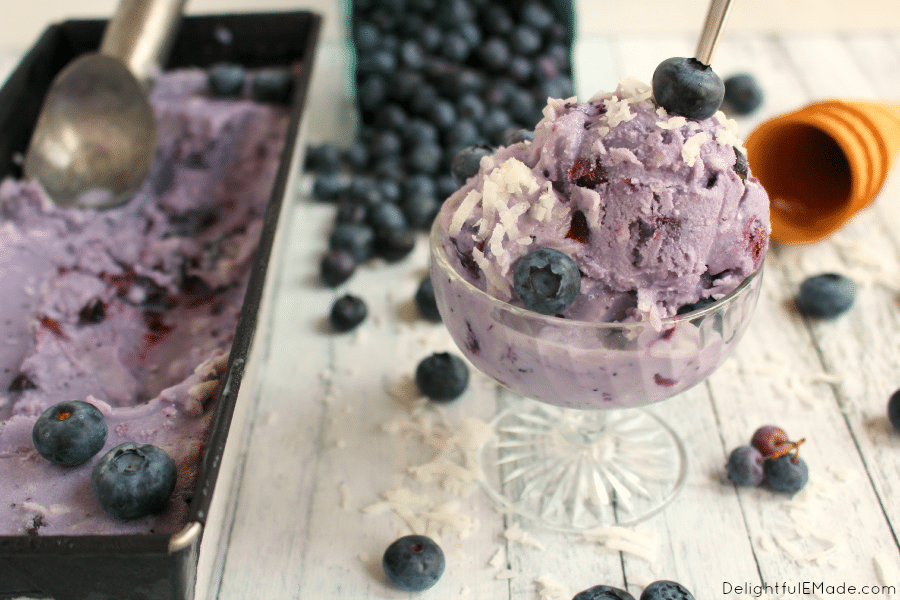 The ingredients you'll need to make this blueberry ice cream recipe:
Whole milk
1 can, sweetened condensed milk
Evaporated milk
Vanilla extract
Salt
Blueberries: fresh or frozen
Sugar
Water
Optional: Flake Coconut (sweetened or unsweetened)
For exact recipe amounts and full instructions be sure to scroll down to the recipe card at the bottom of this post.
Making ice cream is a pretty simple process, as it just involves a few steps and a bit of waiting for the freezer to do its job. This blueberry ice cream recipe that starts with sweetened condensed milk, evaporated milk and whole milk as the base. I also used a full pint of blueberries and cooked the berries before adding them to the ice cream. If blueberries are out of season or you cannot find fresh, feel free to thaw some frozen berries.
Note that the coconut in this recipe is completely optional, however the blueberries and coconut go wonderfully with each other. Give it a try!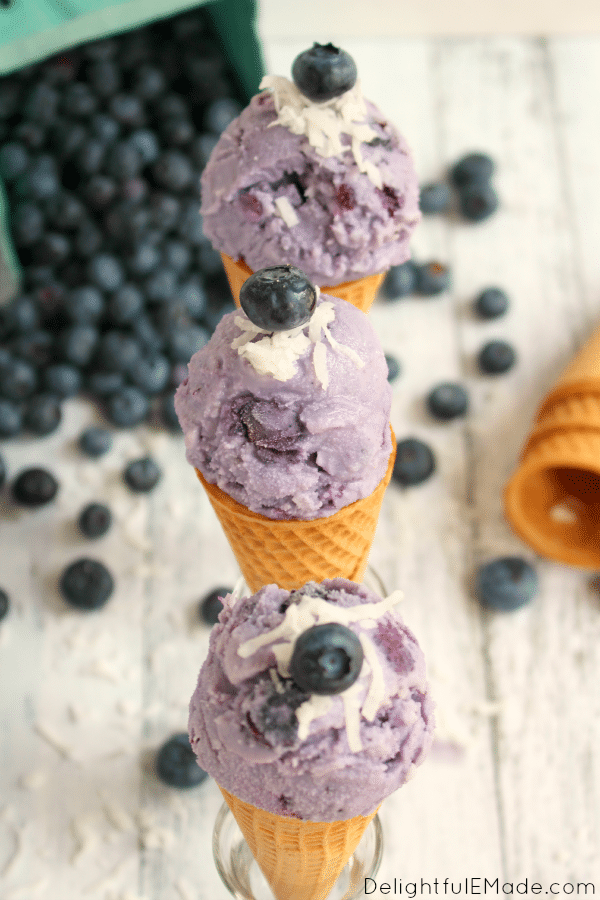 How should I serve blueberry ice cream?
This ice cream is perfect when it's scooped into sugar cones and topped with a bit of coconut and a fresh blueberry. Also, feel free to enjoy as a sundae, topped with whipped cream and a drizzle of melted white chocolate.
What goes well with blueberry ice cream?
This blueberry ice cream is fantastic served with cake, tarts or a delicious blueberry cobbler. Here are a few recipe ideas that would be great options:
Blueberry Cobbler with Cake Mix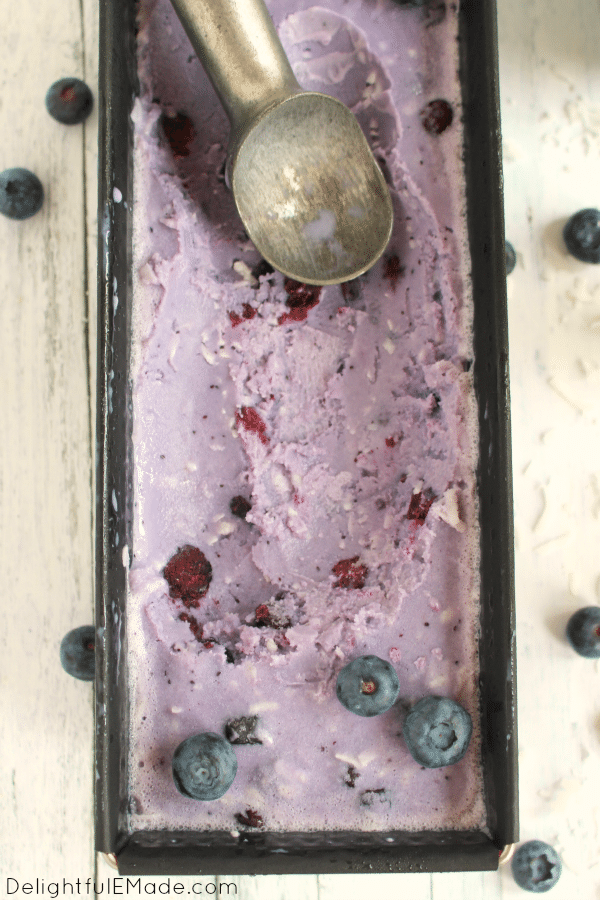 How long does it take to freeze ice cream?
After combining the blueberry ice cream ingredients, it's ready to go into a container and freeze. It will take 3-6 hours to freeze completely. I actually had mine freeze over night before we ate it, and it was the perfect consistency.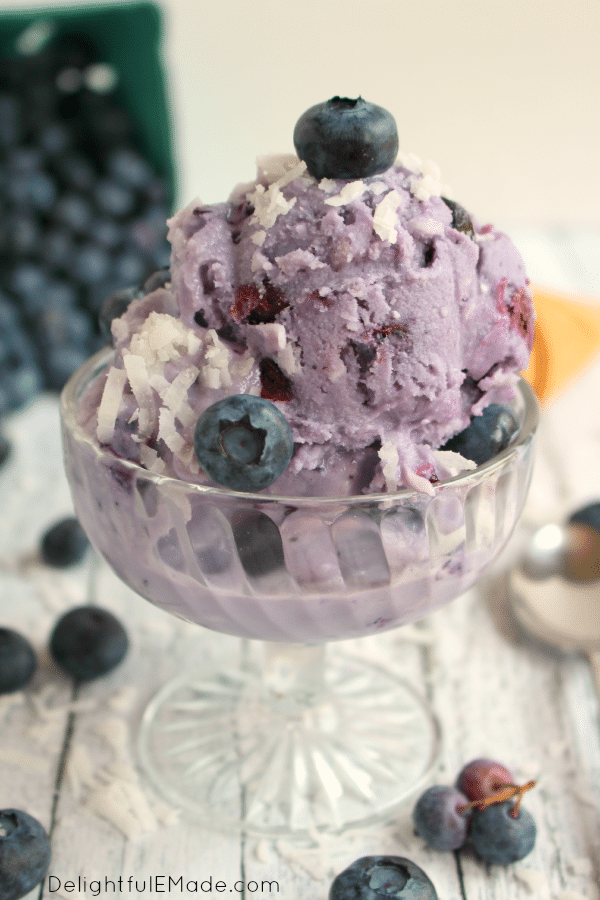 If you loved this homemade blueberry ice cream, check out some of my other ice cream recipes and ice cream treats:
Peanut Butter Brownie Ice Cream Cake
Copycat Chick-Fil-A Peach Milkshake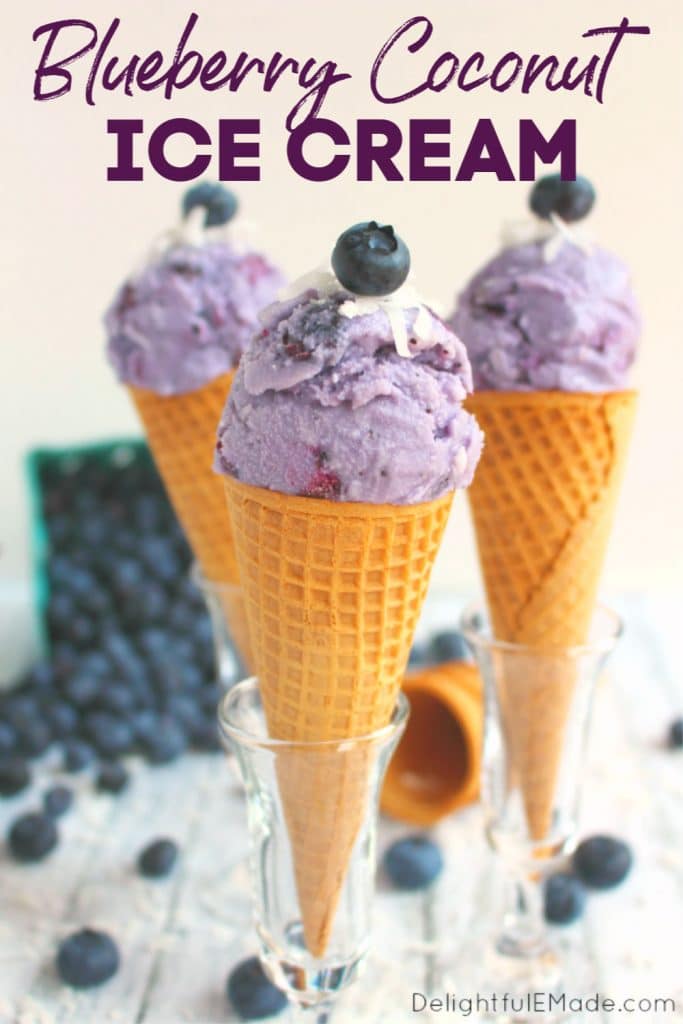 Here's the recipe for my Homemade Blueberry Ice Cream: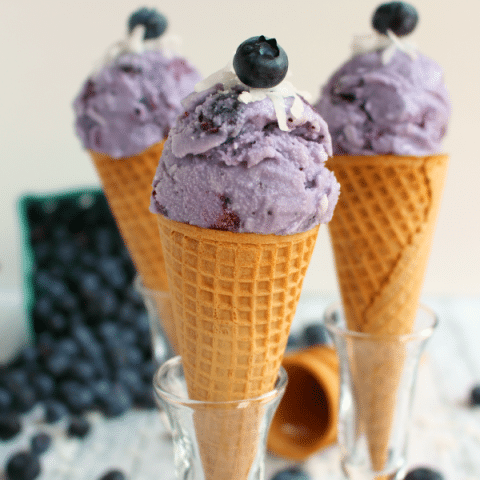 Blueberry Coconut Ice Cream
Loaded with fresh blueberries and sweet coconut, this ice cream will knock your socks off! Made with just a few ingredients, this homemade ice cream is perfect in a cone, a dish and fantastic with cake, too!
Ingredients
2 c. whole milk
1 can (14 oz.) sweetened condensed milk
2/3 c. evaporated milk
1 tsp. vanilla
salt, pinch (few grinds or shakes from grinder)
1 pint (about 2 cups) whole, fresh blueberries
1 c. flake coconut (sweetened or unsweetened)
2 Tbsp. sugar
2 Tbsp. water
Instructions
In a bowl, whisk together the whole milk, sweetened condensed milk, evaporated milk, vanilla and salt. Refrigerate for a couple hours or until completely chilled.
In a small saucepan, add the blueberries, sugar and water. Stirring often, bring the berries to a simmer. Berries will resemble a sauce. Let berries cool to room temperature and add to milk mixture and stir.
Using an ice cream maker, add the milk and berry mixture to the frozen insert (see manufactures directions for ice cream maker). Churn for 25-30 minutes. During the last 10 minutes add the coconut. Ice cream will be creamy. Add the ice cream mixture to a loaf pan or resealable container, and freeze for at least 3-6 hours or over night. Recipe makes about 1 quart. Enjoy!
Notes
Coconut is optional in this recipe. Feel free to omit if you prefer not to have it.
Nutrition Information:
Serving Size:

6 servings
Amount Per Serving:
Calories:

409
Total Fat:

14g
Saturated Fat:

11g
Cholesterol:

27mg
Sodium:

143mg
Carbohydrates:

62g
Sugar:

57g
Protein:

11g
I hope you and your family will be able to enjoy this ice cream as much as my family and I have. It's truly the perfect treat for a hot summer day. Great in either a cone, dish or on the side of a delicious cake, pie or pastry. Enjoy! ~Erin