Coconut Cream Poke Cake – Best Coconut Poke Cake Recipe!
A dreamy, delicious coconut poke cake that will have you coming back for seconds! This Coconut Cream Poke Cake uses a simple white cake mix, then topped with cream of coconut, coconut whipped topping and sprinkled with toasted coconut for the ultimate coconut cake recipe!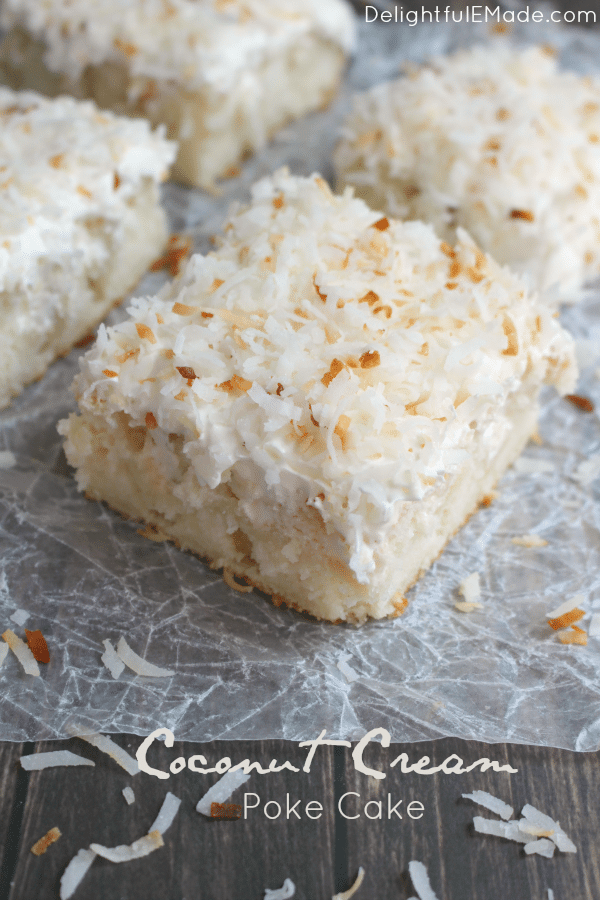 Since my son was born, we make it a point to travel back to South Dakota every summer. Nearly all of our family resides there, including my grandparents, parents, all of my brothers and their family, as well as Jason's mom, and siblings. When we go back we are typically there for at least a couple weeks, as it takes us that long just to see all of our family members.
This summer was a special one, as we celebrated my grandparents 60th wedding anniversary. There was a big weekend celebration, that included a nice open house reception where all of my grandparents kids, grand kids and great grand kids were in attendance. It was a wonderful time, and there were so many people there that we had not seen in years. It will definitely be a time to remember.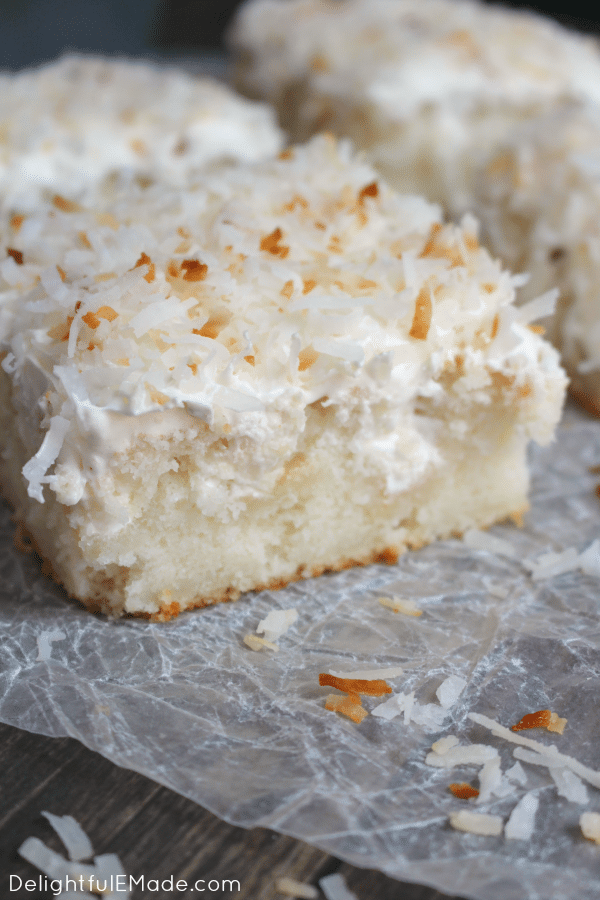 For the open house, my mom arranged to have a dessert bar for all of the guests. It was quite the sweet feast! One of the desserts that was enjoyed (and quickly disappeared!) was this delicious Coconut Cream Poke Cake. It is INCREDIBLE!!
In fact, this was one of several desserts that was served, and many people that had it were immediately asking for the recipe. (We also served my Cherry Almond Crumble Tart and Grandma's Famous Chocolate Cake!) The originator of this recipe comes from my sister-in-law's mother, Mavis Beckers. Mavis has made this delicious cake many times for their ladies league golf group back in Burke, and it is always enjoyed by everyone in the clubhouse!
Here's the simple steps to making this amazing Coconut Cream Poke Cake:
Step 1: Bake the Cake
This cake is quite easy to put together, it just involves a few steps, and some ingredients that make it extra amazing! You'll start with a simple, white cake mix. Mavis informed us to NOT to use an "extra moist" mix, and we found out why – this cake ends up being wonderfully moist with the extra ingredients.
Step 2: Poke holes into the Hot Cake and Drizzle with Cream of Coconut
Once the cake comes out of the oven, you'll "poke" the cake with the back of a wooden spoon to create holes for the coconut cream whipped topping to sink into. After you've poked the holes into the hot cake, you'll drizzle the cake with a portion of the coconut cream. Refrigerate the cake and let it cool completely.
Is cream of coconut the same as coconut cream?
No. The cream that rises to the top of coconut milk is coconut cream. Cream of coconut is a sweetened version (added sugar) of coconut cream. Because of the added sugar, these are not interchangeable.
Step 3: Mix the Cream of Coconut and Whipped Topping and Spread Over Cake
Once the cake has cooled, mix together the whipped topping and another portion of the cream of coconut. As you spread this over the cooled cake, the whipped topping will sink into the holes creating pockets of creamy, coconut deliciousness!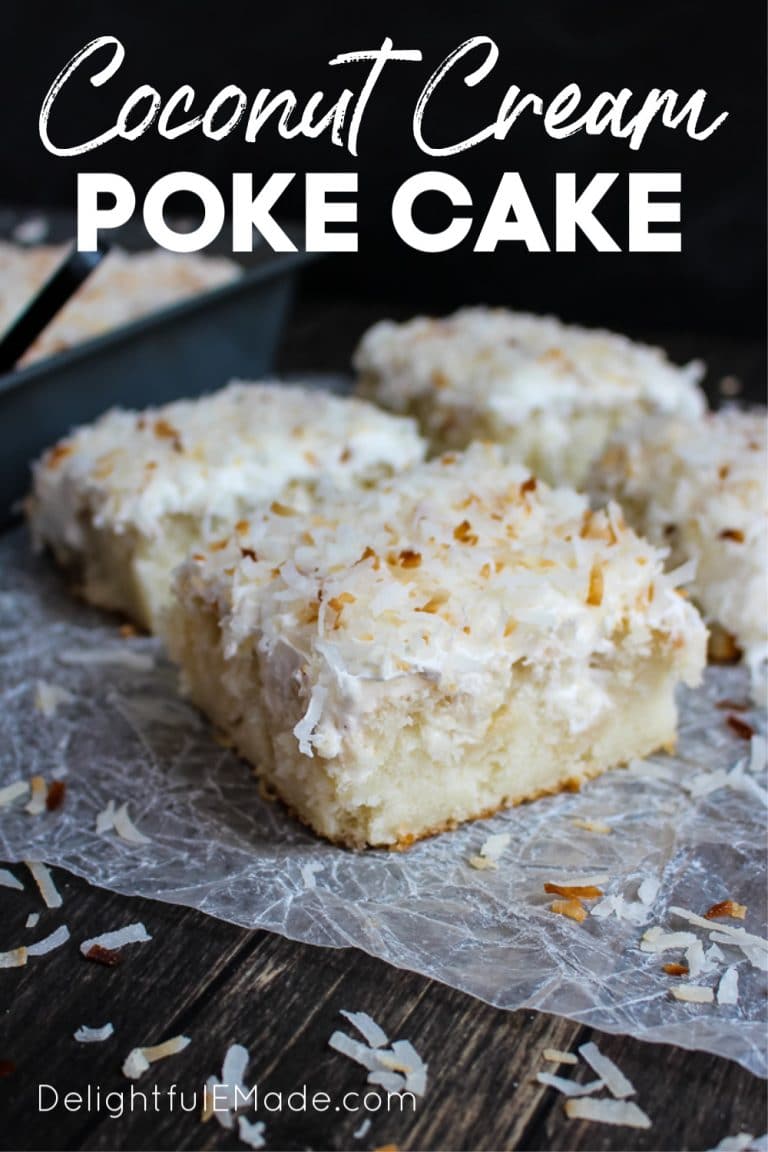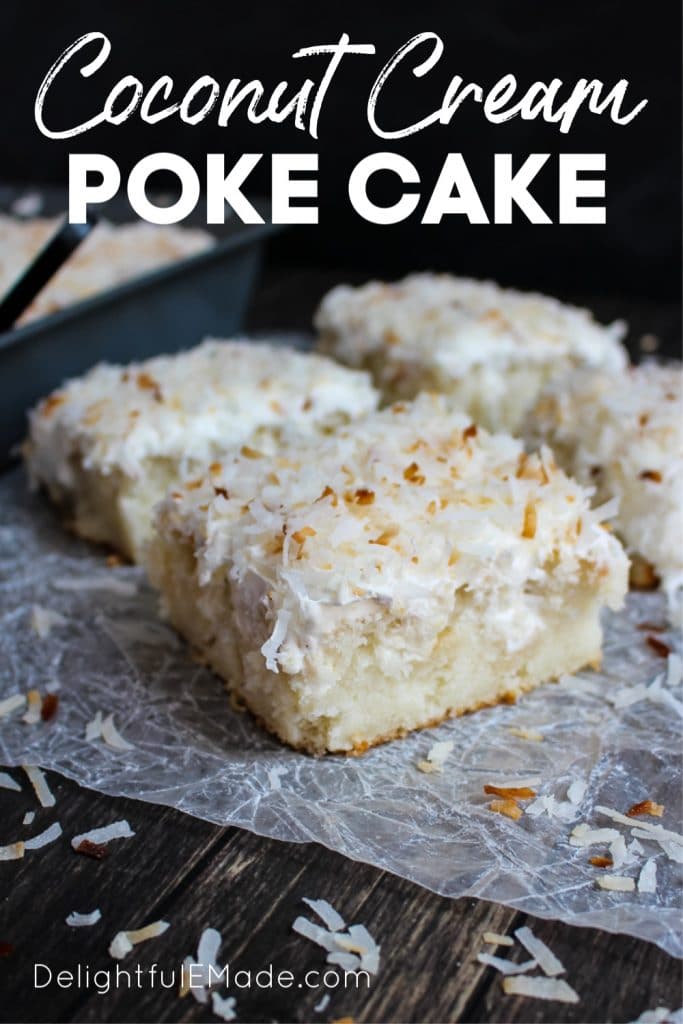 Step 4: Top the Cake with Sweetened Flake Coconut
Lastly, top the cake with sweetened flake coconut. I toasted just a portion of the coconut, simply for a little color and mixed it in with the rest of the un-toasted coconut. You can toast it all, or keep the sweetened coconut flakes completely un-toasted.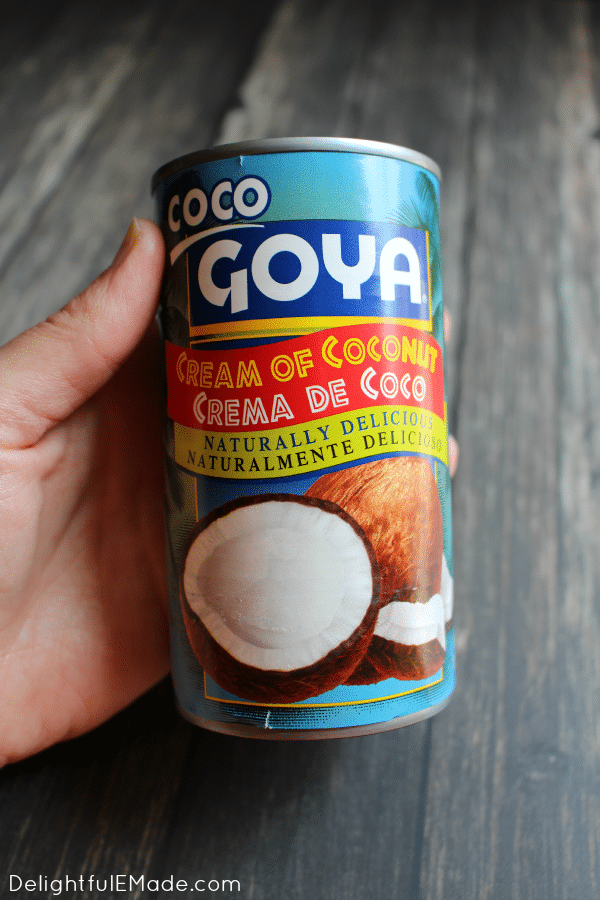 Here is the product that I use for this fantastic Coconut Cream Poke Cake. I actually use this same Cream of Coconut in my Coconut Cream Pound Cake.
Where do I find cream of coconut?
You can find Cream of Coconut or crema de coco in the Hispanic foods section of your grocery store. You'll use this entire can, as it is divided into 3, 1/2 cup portions – 1/3 in the cake batter, 1/3 drizzled on top of the hot cake, and the final 1/3 folded into the whipped topping.
Not only does the cream of coconut provide fantastic coconut flavor, it also makes the cake incredibly moist. Make sure you are not purchasing coconut milk, or coconut water.
If your grocery store does not carry Cream of Coconut, you can find it on Amazon here.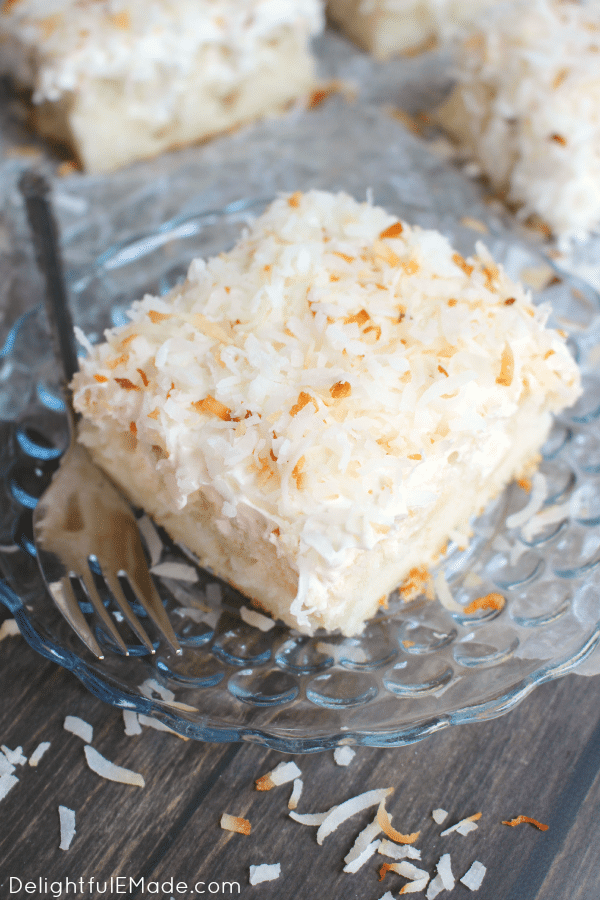 This cool, delicious cake is such a wonderful dessert for any occasion. It's perfect for a pot luck, a sweet treat to share at the office, and also makes for a fantastic party dessert.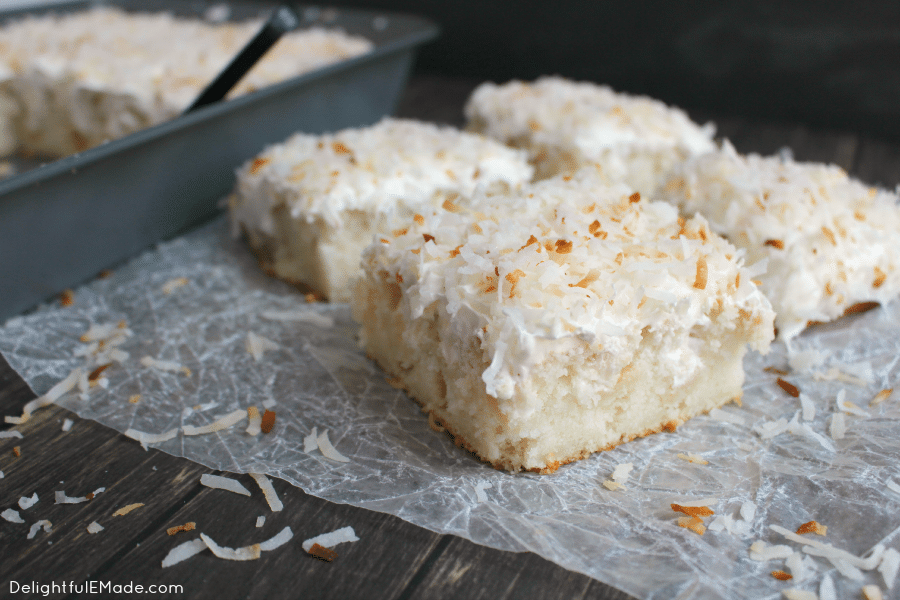 I love how the coconut whipped topping goes into the holes of the cake, making it super moist and delicious. The coconut on top adds a wonderful texture to the cake and completes the cake perfectly!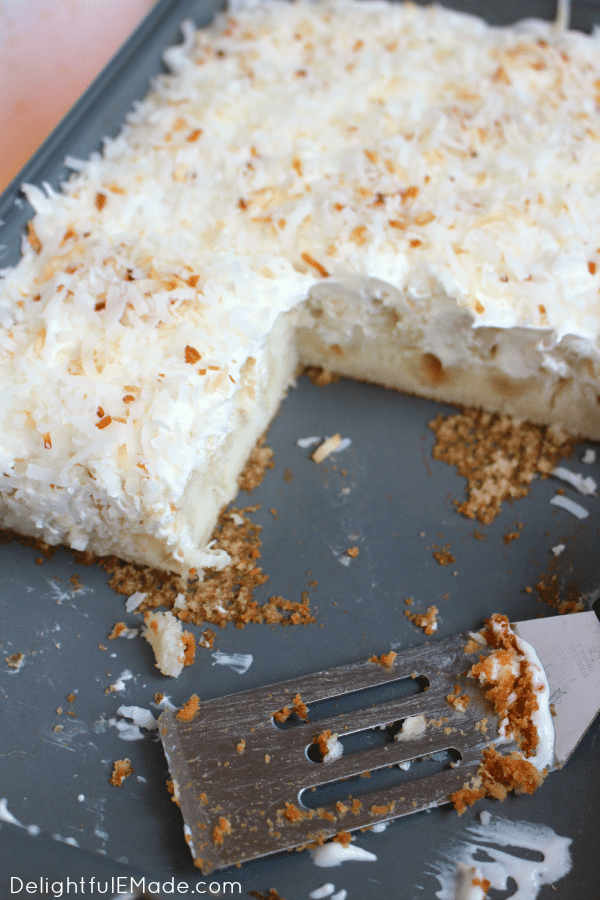 Here's a quick-reference shopping list of the ingredients you'll need to make this fantastic Coconut Poke Cake:
White Cake Mix (preferably not a "moist" mix)
1 (15 oz.) can Cream of Coconut
Eggs
Vegetable Oil
Frozen Whipped Topping
Sweetened Flake Coconut
For the full recipe with exact ingredients, be sure to scroll down to the recipe card below.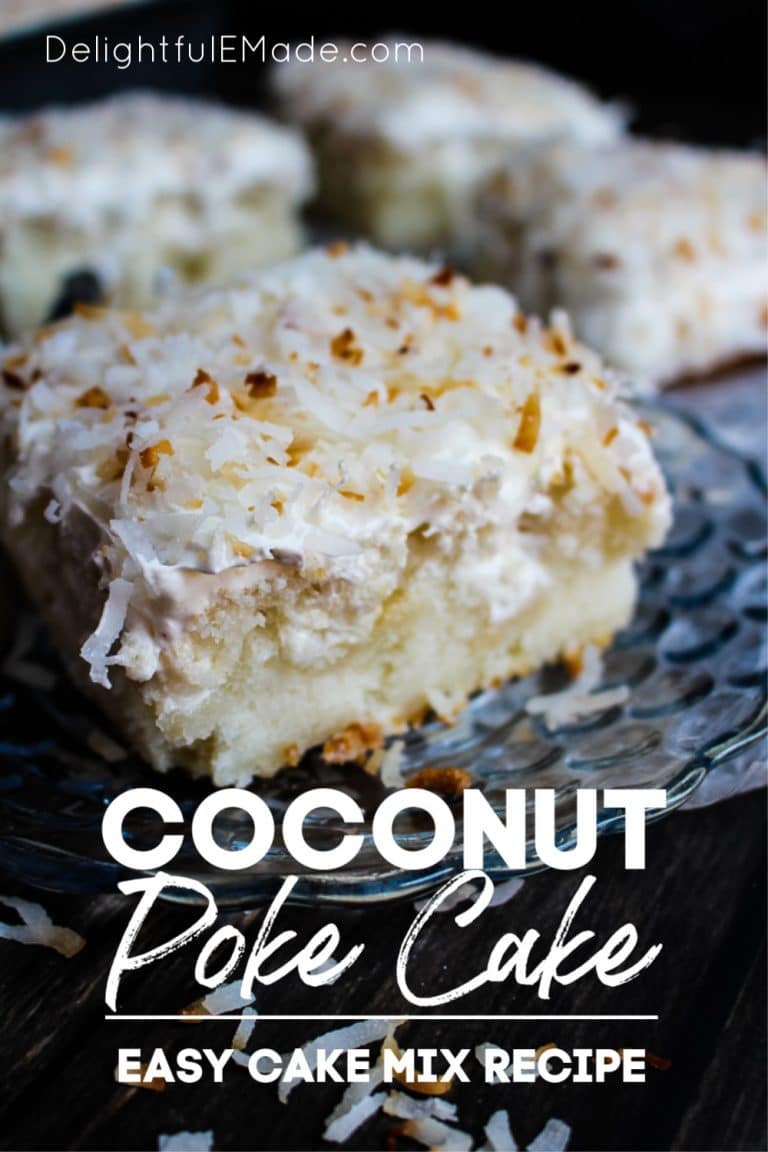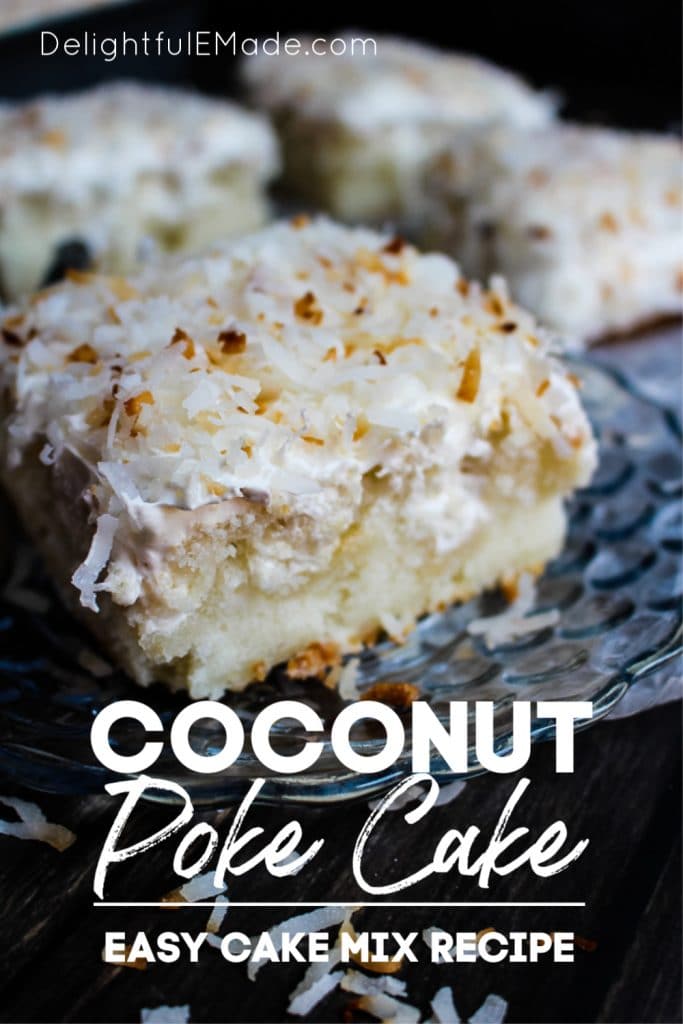 If you loved this coconut poke cake recipe, check out some of my other favorite cake recipes: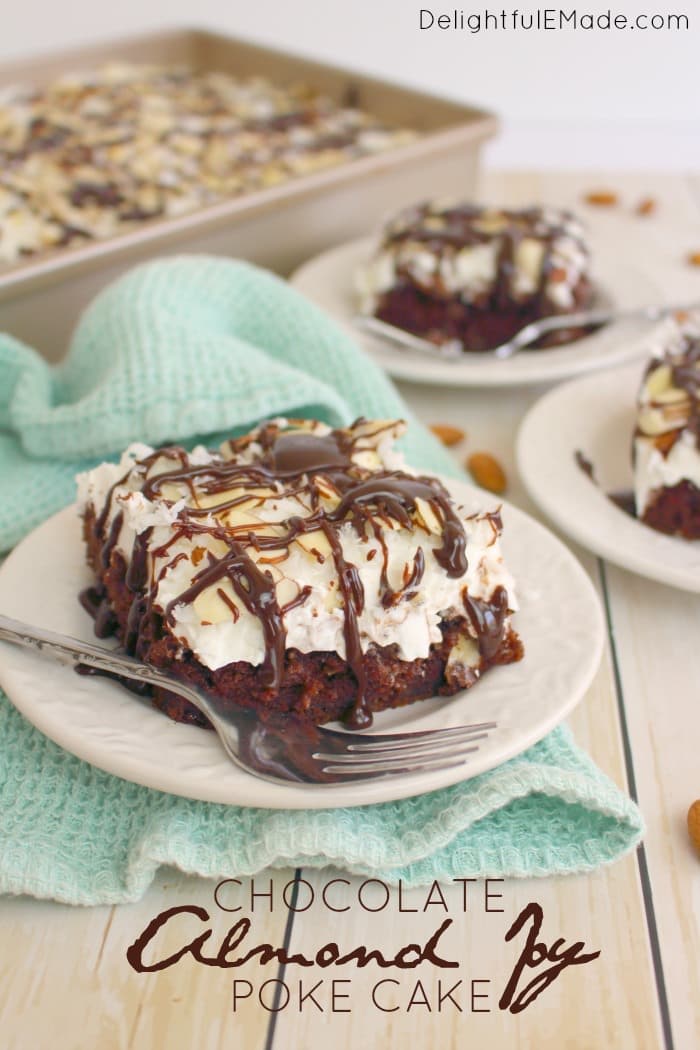 Chocolate Almond Joy Poke Cake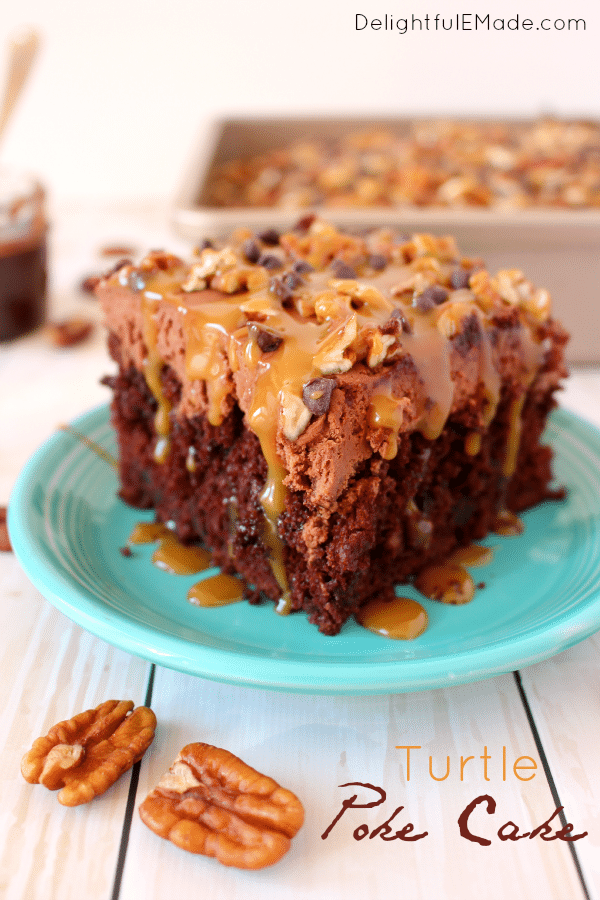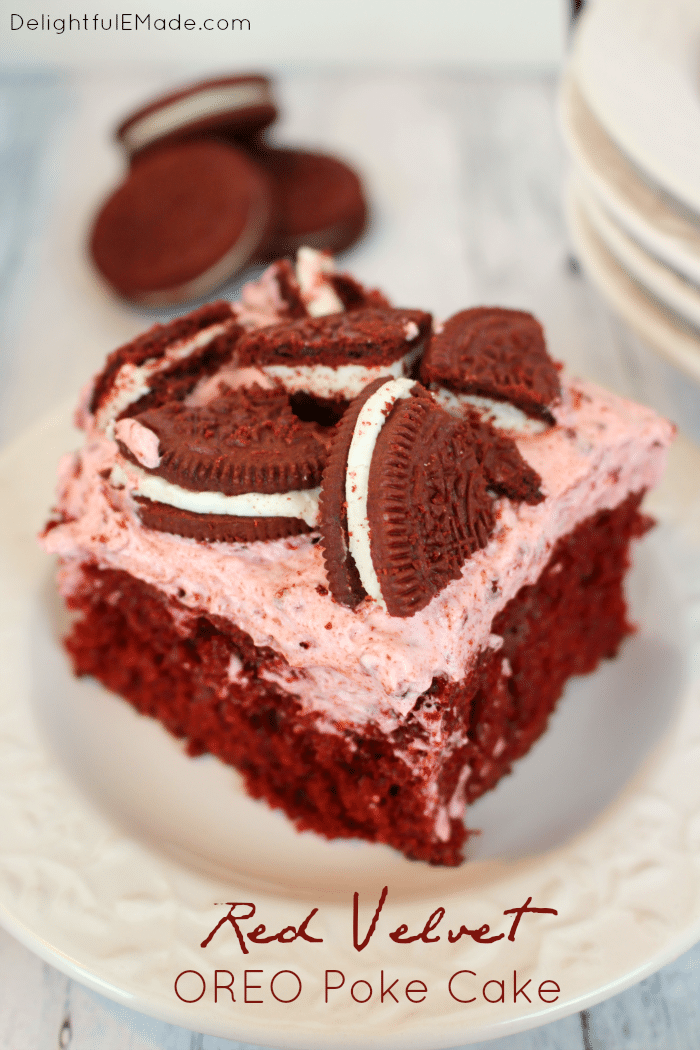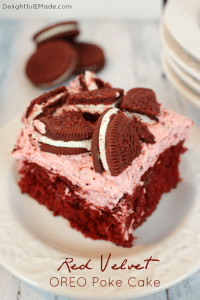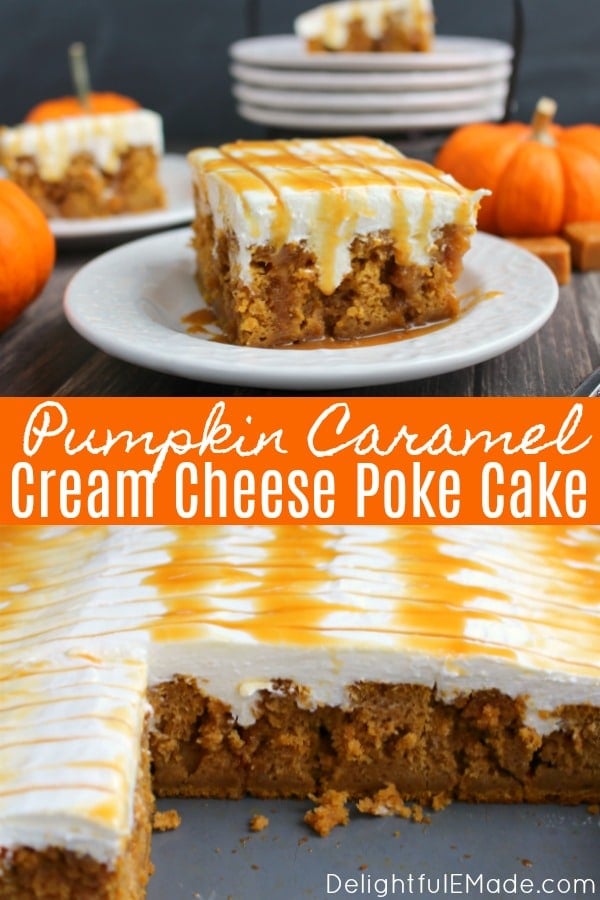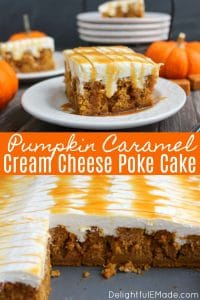 Pumpkin Caramel Cream Cheese Poke Cake
Here's the recipe for this amazing Coconut Poke Cake:
Coconut Cream Poke Cake

A dreamy, delicious coconut cake that will have you coming back for seconds! Creme of coconut is baked into a fluffy white cake making it super moist. The cake is then topped with coconut whipped cream and toasted coconut for the ultimate coconut treat!

Ingredients

1 white cake mix (NOT a "moist" mix)
1 (15 oz) can Goya Coconut Cream, divided into 3 - 1/2 cup portions
1 1/2 c. water
2 egg whites
1/2 c. oil
1 (8 oz.) container, frozen whipped topping, thawed
1 c. sweetened coconut flakes (toasted or untoasted)

Instructions

Preheat oven to 350 degrees. Spray a 9x13" pan with non-stick baking spray. Set aside.
With a hand or stand mixer, mix the cake mix, 1/2 c. of coconut cream, water, egg whites and oil. Mix batter until smooth. Pour into the prepared pan, and bake for 26-28 minutes until golden brown.
Remove cake from oven. Using the back end of a wooden spoon, poke holes in the cake. While cake is still hot, drizzle the cake with the second 1/2 c. portion of the coconut cream, making sure to drizzle into the holes and on top of the cake. Refrigerate the cake for at least 1 hour, or until completely cooled.
Fold together the remaining 1/2 c. of coconut cream into the thawed container of whipped topping. Spread evenly over the cake. Top with the coconut flakes. Slice and enjoy. Refrigerate any leftovers.

Notes

When opening the can of coconut cream, pour the entire contents into a bowl or large glass measuring cup. The coconut cream will have separated in the can. Using a whisk, make sure the entire contents of the can is evenly mixed together before dividing out the three, 1/2 c. portions.

Nutrition Information:

Serving Size:

1 Amount Per Serving:

Calories:

2559

Total Fat:

187g

Saturated Fat:

73g

Cholesterol:

28mg

Sodium:

6429mg

Carbohydrates:

136g

Sugar:

58g

Protein:

61g
We had an amazing time while we were back in South Dakota. Spending time with family and friends always makes the summer memorable. Having a great dessert to enjoy, just makes the times even sweeter, literally! Enjoy! ~Erin
You Might Also Like These Recipes