Coconut Cream Poke Cake – Best Coconut Poke Cake Recipe!
This delicious coconut poke cake will have you coming back for seconds! This Coconut Cream Poke Cake uses a simple white cake mix, topped with cream of coconut, coconut whipped topping and sprinkled with toasted coconut for the ultimate coconut poke cake recipe!
This post may contain affiliate links. Delightful E Made is a participant in the Amazon Services LLC Associates Program, an affiliate advertising program designed to provide a means for us to earn fees by linking to Amazon.com and affiliated sites.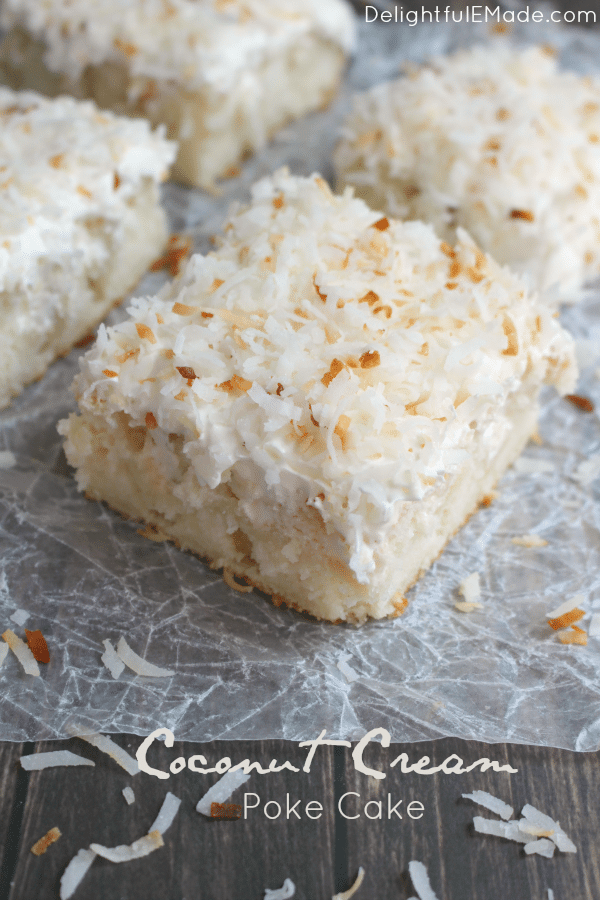 Love coconut cake? This super moist coconut poke cake is much more simple to make than a layer cake, and tastes even better!
Made with the help of a simple white cake mix, along with a few other ingredients to give it an amazing coconut flavor. This coconut cream poke cake recipe is perfect for your next pot luck, cookout or celebration where sharing dessert is encouraged.
What do I need to make coconut poke cake?
Here's a quick-reference shopping list of the ingredients you'll need to make this poke cake:
White Cake Mix, 15.25 oz.
1 can Cream of Coconut, 15 oz. (This can be found in the International Foods section of your grocery store. Goya is a popular brand.)
Water
Eggs
Vegetable or Coconut Oil
Whipped Topping, like Cool Whip – 8 oz. container. You can also use my Homemade Cool Whip recipe, which is a much healthier alternative to store-bought whipped topping.
Sweetened Flake Coconut
For exact ingredient amounts and full recipe instructions be sure to reference the recipe card at the bottom of this post. Thanks!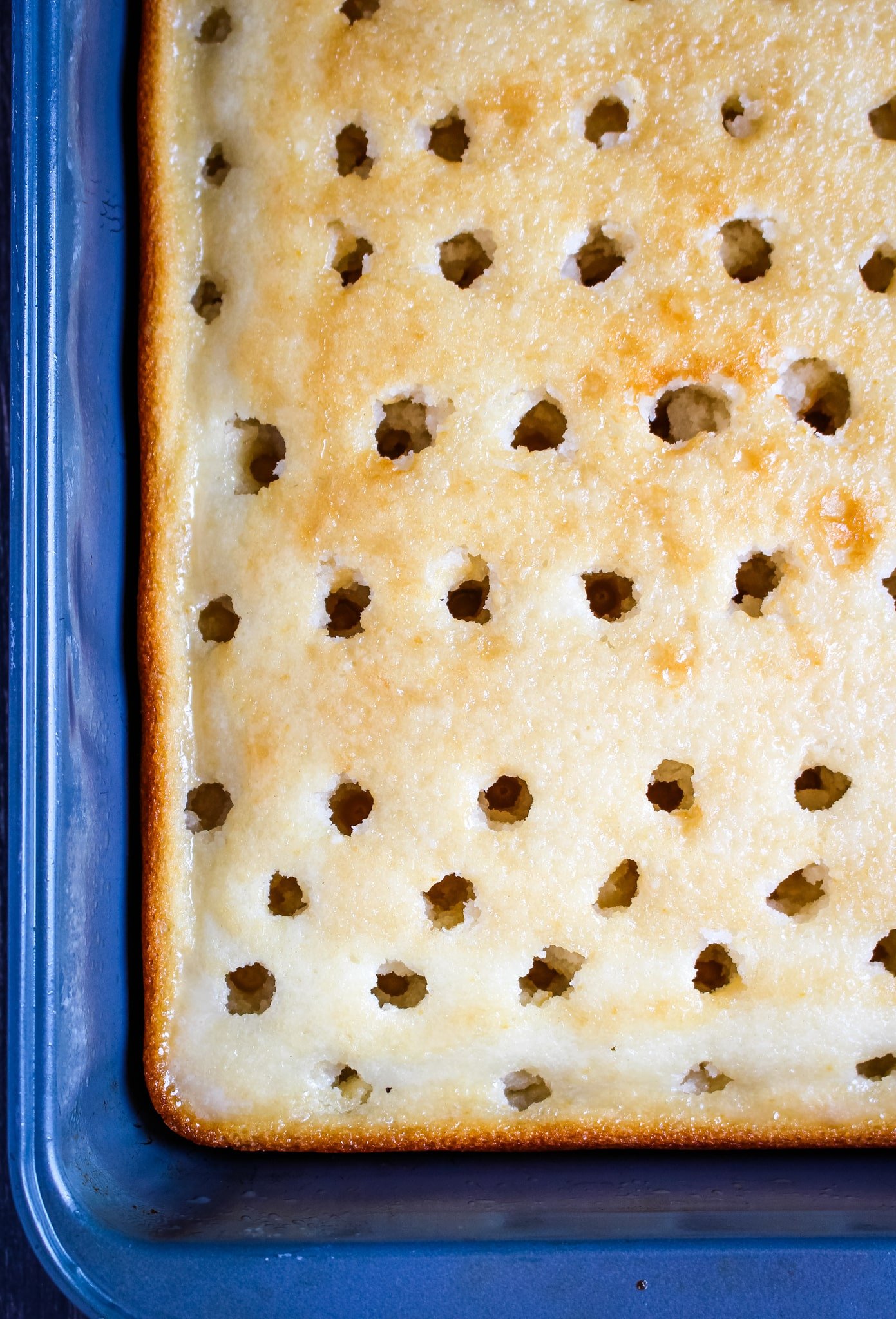 How do you make coconut poke cake?
Begin by baking the white cake in a 9 x 13″ pan. After coming out of the oven, let rest for 5-10 minutes. While the cake is still warm, poke holes in the cake about 1″ apart. Using a chop stick or the end of a wooden spoon works well.
Once the holes are poked in the cake, drizzle the cake with 1/2 cup of the cream of coconut. Drizzle into the holes and on top of the cake.
Refrigerated the cake for one hour or until completely cooled.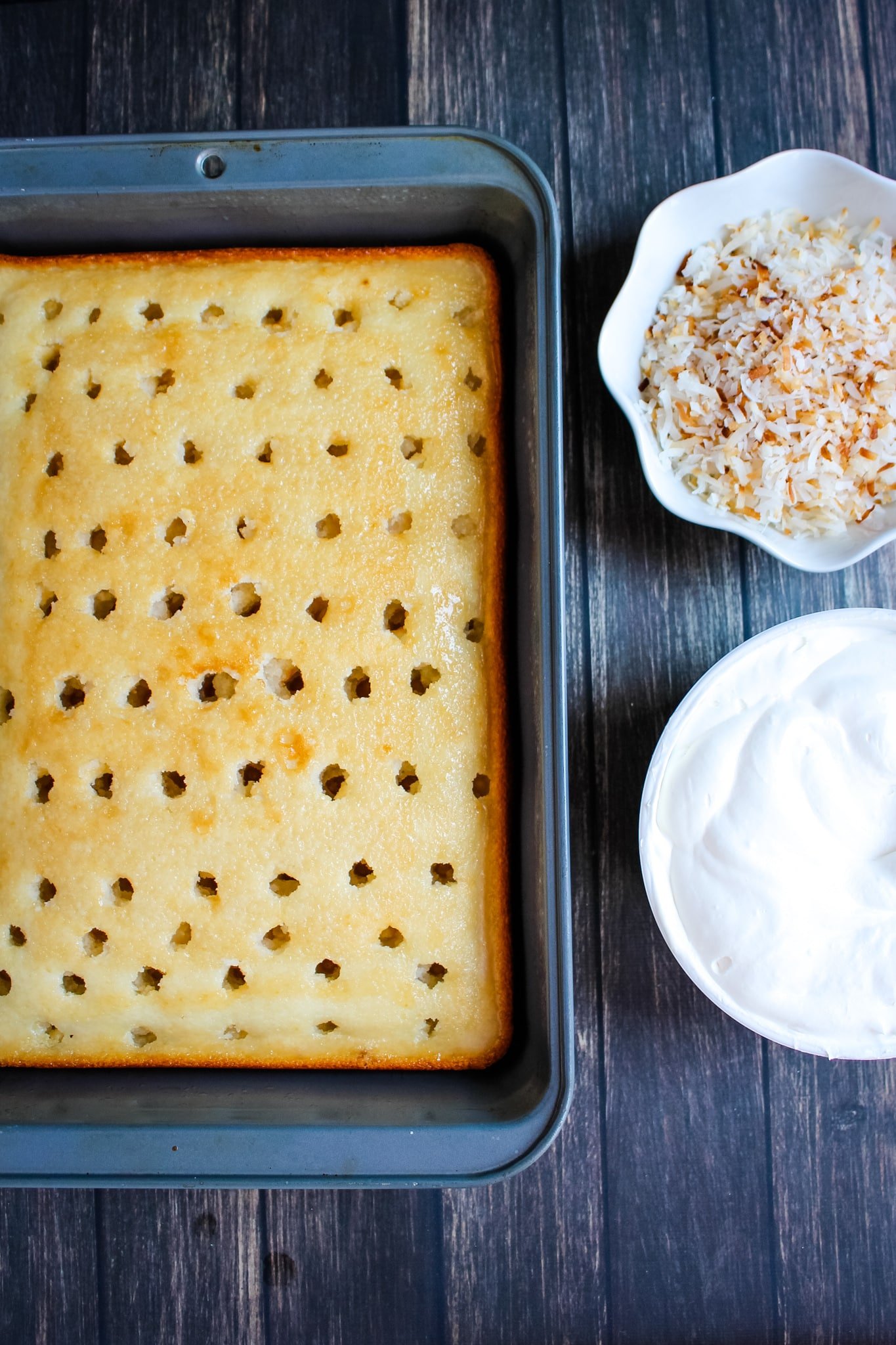 While cake is cooling, mix together the whipped topping with the remaining 1/2 cup of cream of coconut.
To the cooled cake, spread the whipped topping mixture over the top, gently pressing the topping into the holes of the cake.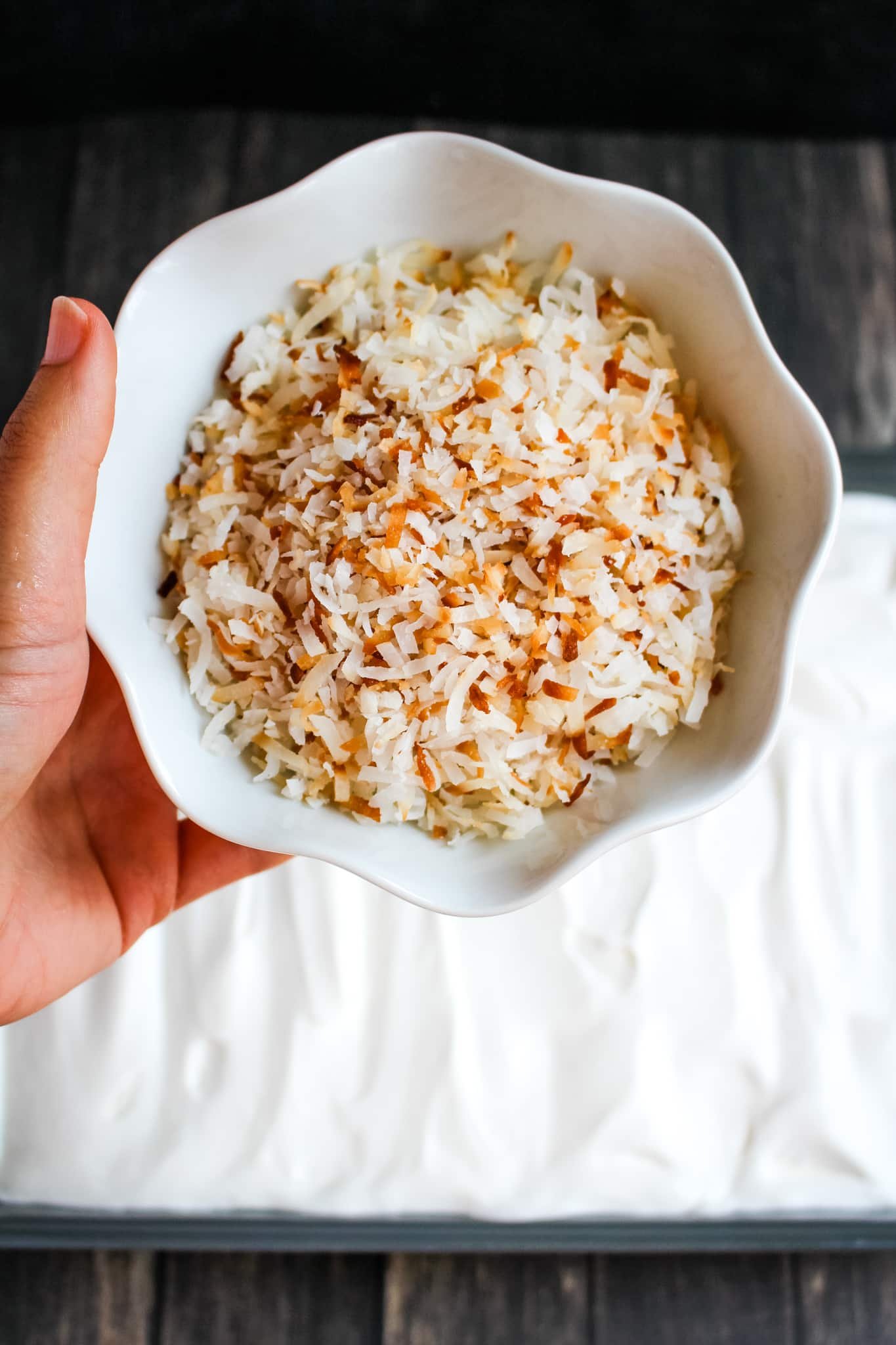 Next, top the cake with coconut. Feel free to toast some (or all) of the sweetened flake coconut if you like. To toast the coconut, sprinkle on a baking sheet. Bake at 350 for 8-10 minutes, stopping to stir/toss the coconut every 2 minutes as to not over-brown. Toasting the coconut is optional.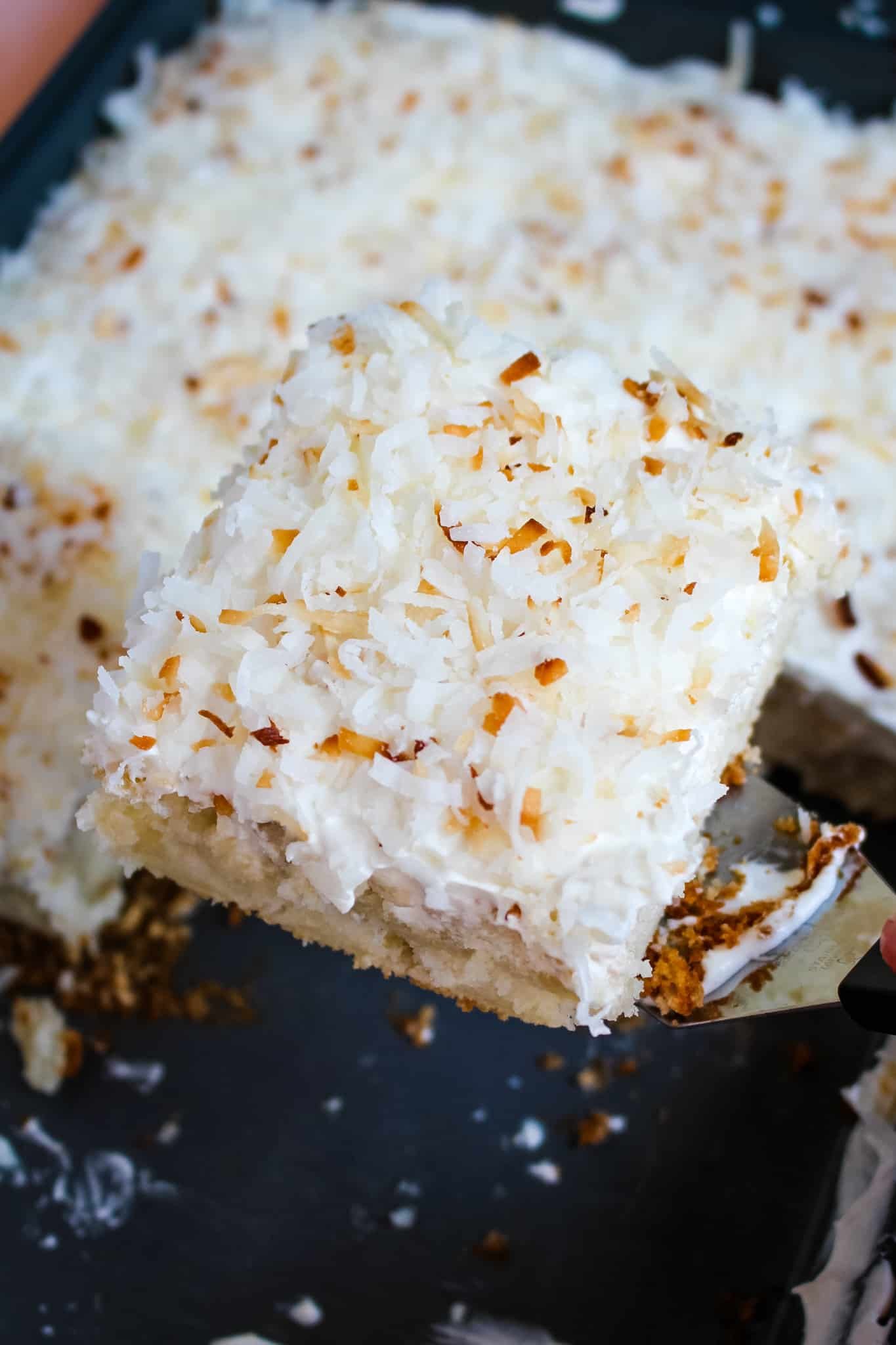 Slice your cake into squares and enjoy. This cake makes 12 servings, so slicing 3 squares by 4 squares is ideal.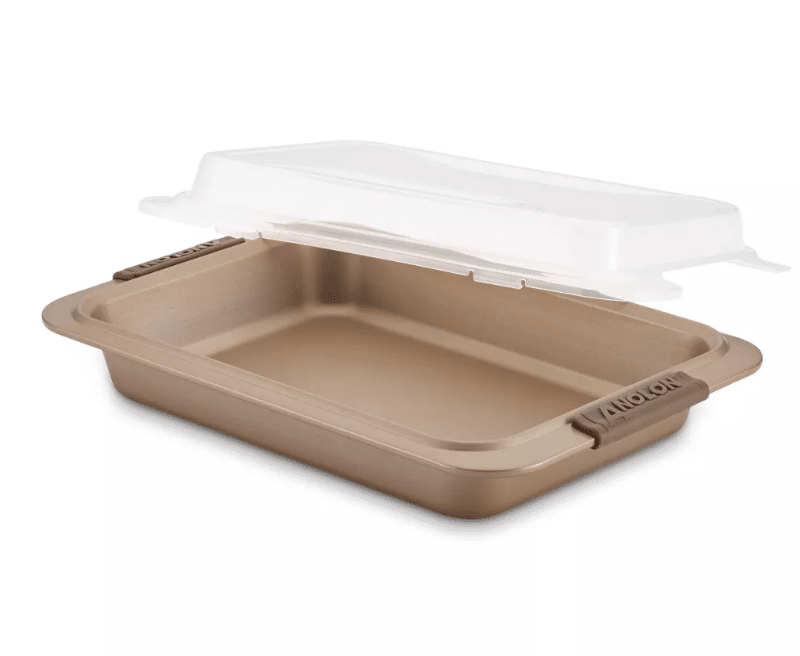 Need A New 9 x 13″ Pan? This Anolon 9 x 13″ Bronze Pan with Lid is Amazing!
This 9 x 13″ non-stick pan is a staple in every kitchen. Great for cakes, desserts, casseroles and more, it includes a lid, which makes it ideal for transporting.
Ingredient Substitutions and Recommendations:
White Cake Mix – Can't find a white cake mix? A boxed coconut cake mix, vanilla or yellow cake mix can be used instead. Note: a yellow cake mix will change the appearance (be much more yellow) but flavor will be consistent.
Whipped Topping/Cool Whip – Instead of Cool Whip, you can substitute stabilized whipped cream.
Cream of Coconut – Some readers have used coconut milk instead of cream of coconut with success. I have not tested this, so I cannot confirm the results. Cream of coconut and coconut milk are two very different products. Coconut milk has a lower fat content and more water, while cream of coconut is much thicker.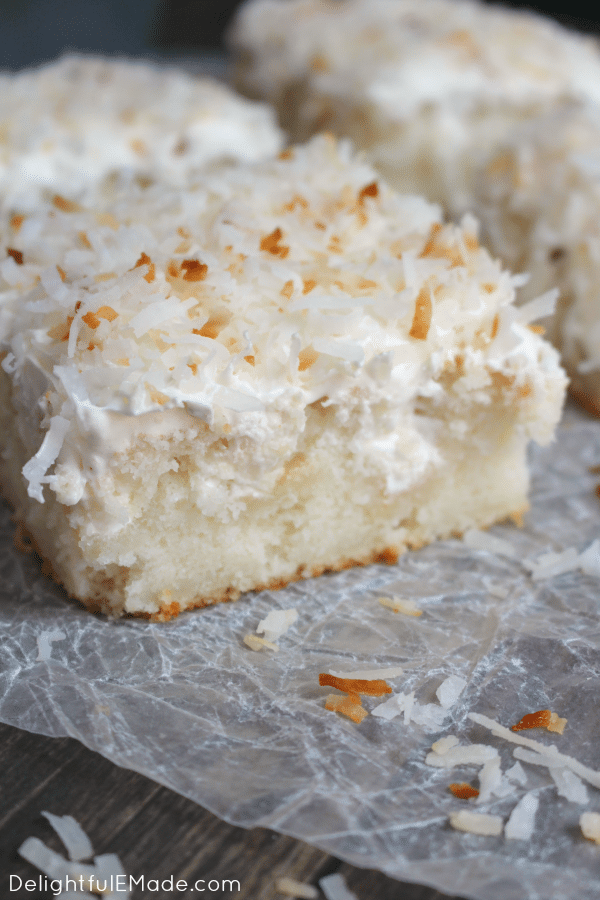 Frequently asked questions about making coconut cream poke cake:
Is cream of coconut the same as coconut cream?
No cream of coconut and coconut cream are not the same. The cream that rises to the top of coconut milk is coconut cream. Cream of coconut is a sweetened version (added sugar) of coconut cream. Because of the added sugar, these are not interchangeable.
Is a vanilla cake mix the same as a white cake mix?
No. While the flavor will be similar, a vanilla cake mix will vary in color slightly from a white cake mix.
Can real whipped cream be used instead of Cool Whip?
Yes, real whipped cream can be used as a substitute for Cool Whip topping. For best results, make sure you're using a stabilized whipped cream recipe.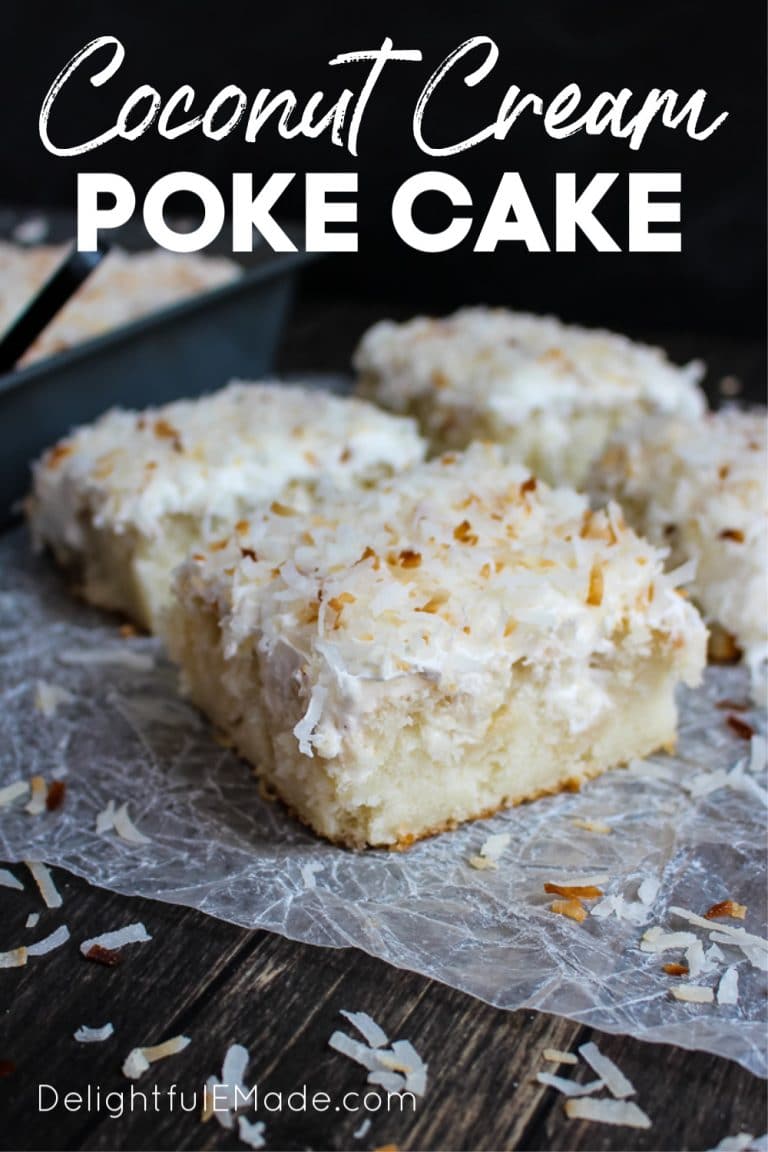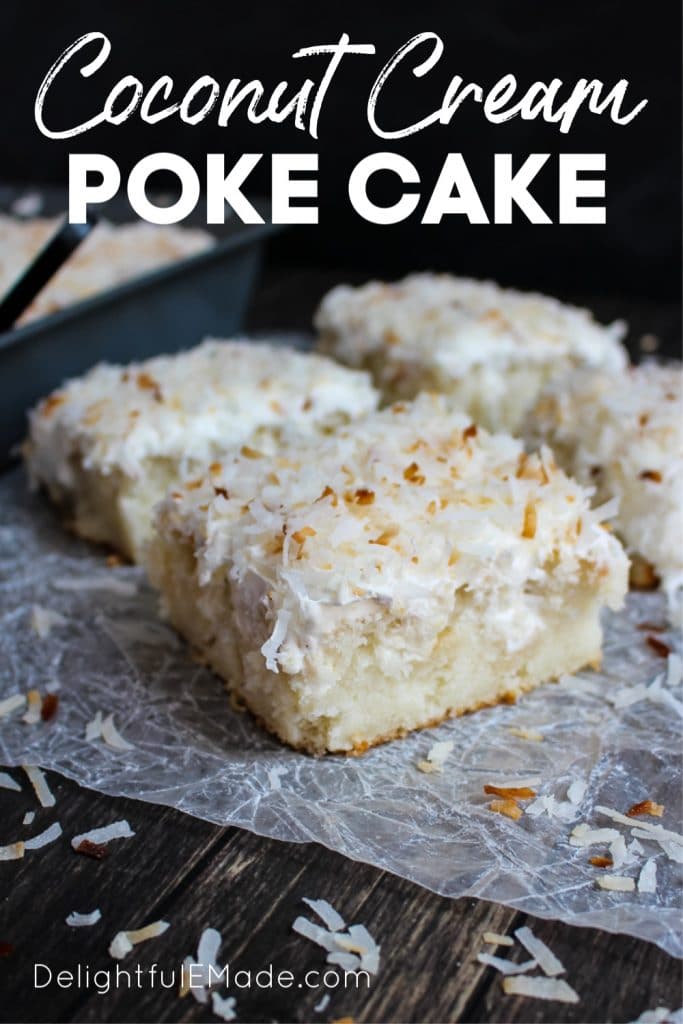 What can I serve with coconut cake?
Coconut cake goes great with coffee or tea. Here are a few of my drink recipes and cocktails that would be complementary to this coconut cream poke cake: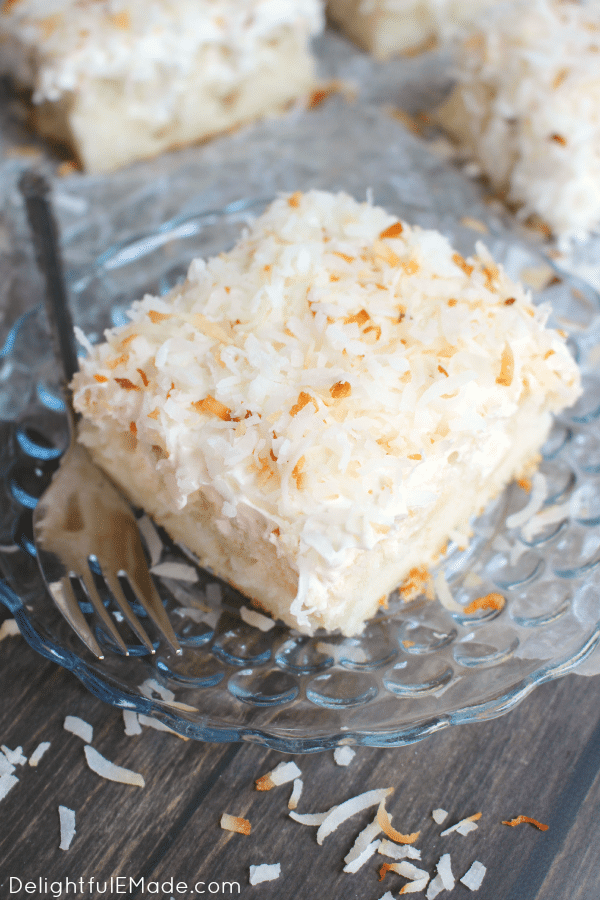 This cool, delicious cake is such a wonderful dessert for any occasion. It's perfect for a pot luck, a sweet treat to share at the office, and also makes for a fantastic party dessert.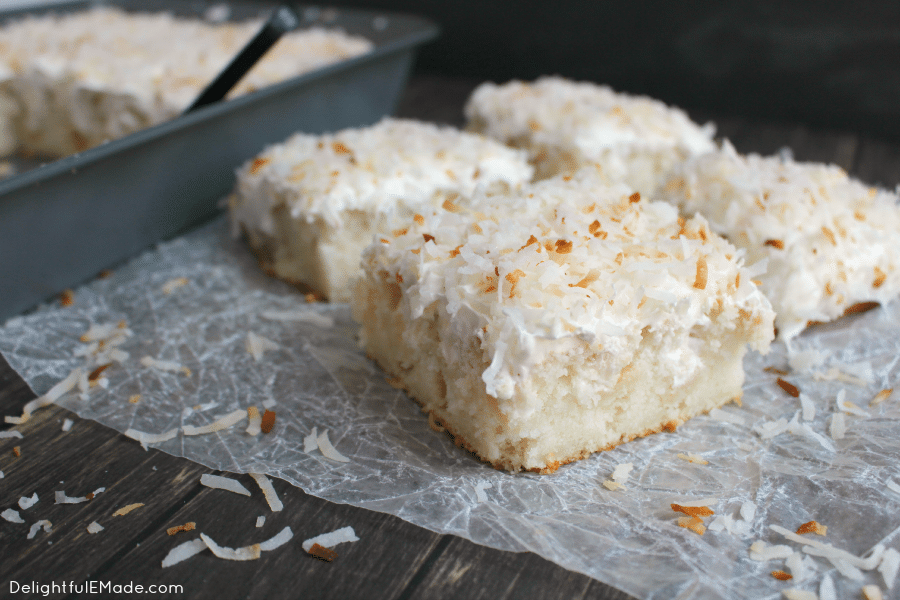 I love how the coconut whipped topping goes into the holes of the cake, making it super moist and delicious. The coconut on top adds a wonderful texture to the cake and completes the cake perfectly!
Love coconut? Check out my Coconut Smoothie, Chocolate Coconut Date Balls, and my Pina Colada Cupcakes.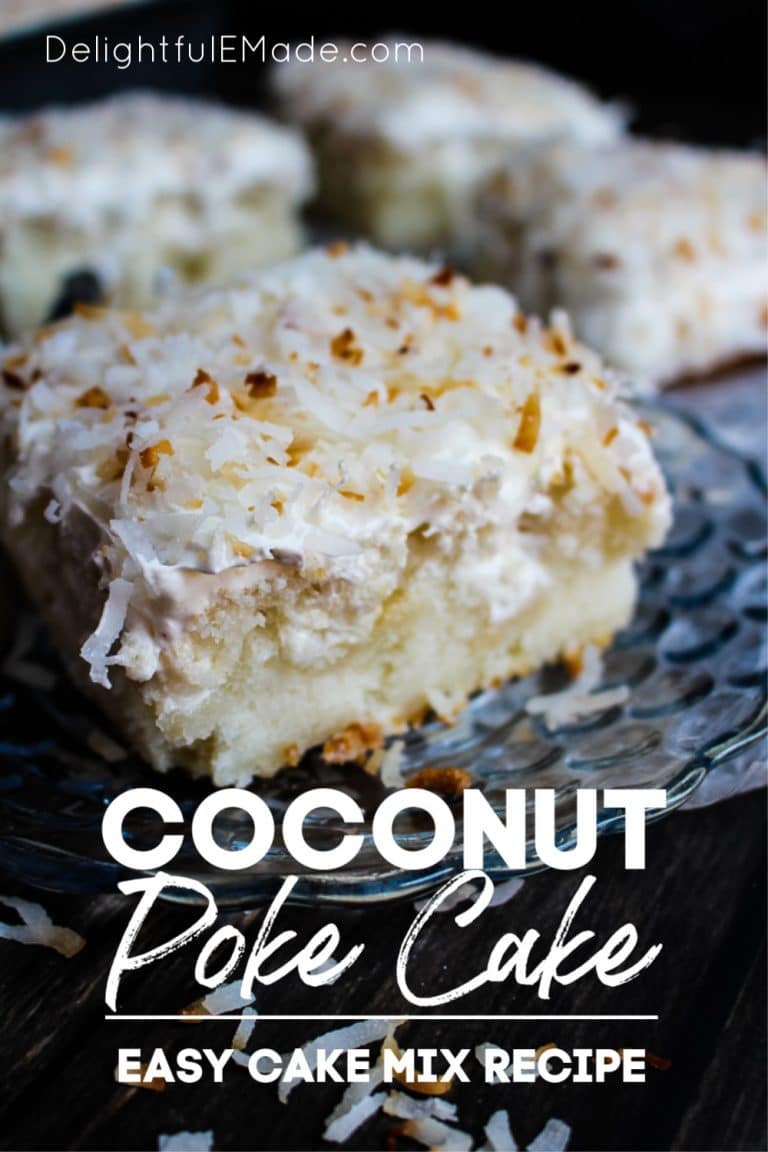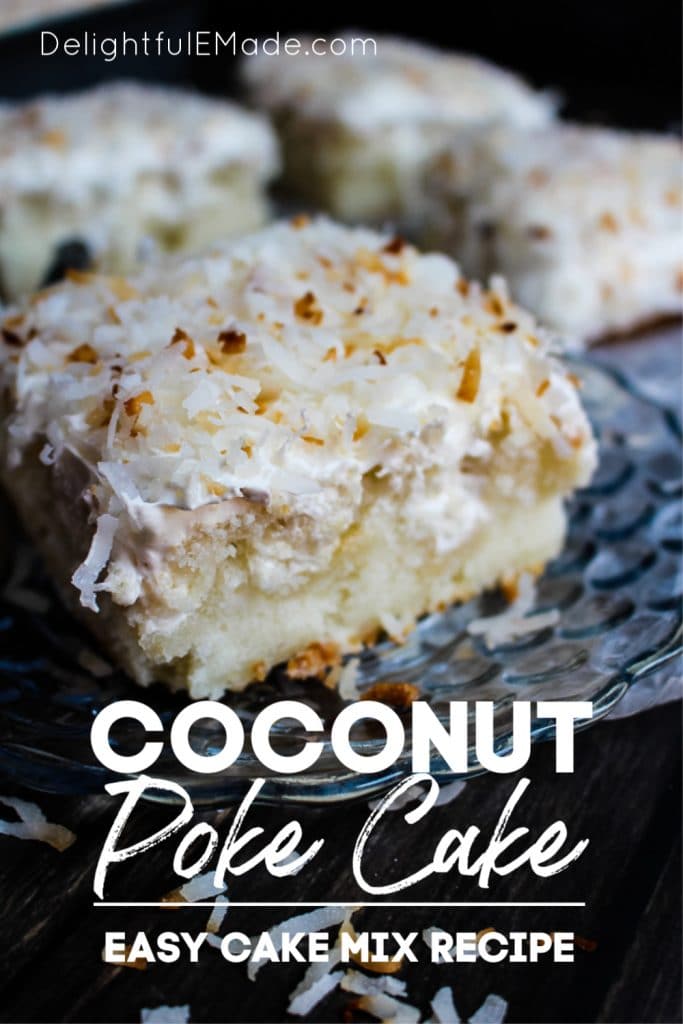 If you loved this coconut poke cake recipe, check out some of my other favorite cake and coconut recipes:
Here's the recipe for this amazing Coconut Poke Cake:
Coconut Cream Poke Cake
Yield:
20 servings/slices
If you love coconut cake, this coconut cream poke cake will be your new favorite dessert. Make with simple ingredients, this coconut poke cake recipe is easy to make.
Ingredients
1 (15.25 oz) white cake mix
1 (15. oz) can, Cream of Coconut (like Goya brand), divided into (3) 1/2 cup portions
1 1/2 c. water
2 egg whites
1/2 c. vegetable oil (or coconut oil)
1 (8 oz.) container, Cool Whip (thawed) - you can also use stabilized whipped cream
1 c. sweetened flake coconut (toasted or untoasted)
Instructions
Preheat oven to 350 degrees. Spray a 9 x 13" pan with non-stick baking spray. Set aside. If you want to toast some or all of your flake coconut, place on a flat baking sheet at toast in the oven at 350 degrees for 8-10 minutes, stirring/tossing the coconut ever 2 minutes or until the coconut becomes light brown.
With a hand or stand mixer, mix the cake mix, 1/2 cup of cream of coconut, water, egg whites and oil. Mix batter until smooth. Pour into the prepared 9 x 13" pan and bake at 350 degrees for 26-28 minutes. Cake will be light golden brown on top. (Note about cream of coconut: once you open the can, the cream of coconut has likely separated. Be sure to stir it well to combine completely.)
Remove cake from oven. Let set for 10 minutes to cool slightly. While still warm, poke holes into the cake using the end of a chop stick or wooden spoon. Drizzle the second 1/2 cup portion of the cream of coconut on top of and into the holes of the warm cake.
Refrigerate the drizzled cake for one hour or until completely cooled.
Fold together the Cool Whip (or use my Homemade Cool Whip recipe) and the final 1/2 cup portion of the cream of coconut. Spread the cream topping over the top of the cooled cake, lightly pressing the cream into the holes of the cake.
Top with the sweetened flake coconut. Slice and enjoy.
Notes
Cake storage: this cake will need to be refrigerated. For best results cover cake with plastic wrap or a tight fitting lid in pan. Cake slices can also be refrigerated in an airtight container.
Cream of Coconut: once opening the can, you'll likely discover the cream has separated. This is normal. To recombine, pour the entire contents of the can into a bowl. Using a whisk, mix together well before using in the recipe.
Recommended Products
As an Amazon Associate and member of other affiliate programs, I earn from qualifying purchases.
Nutrition Information:
Yield:

20
Serving Size:

1 slice
Amount Per Serving:
Calories:

250
Total Fat:

14g
Saturated Fat:

7g
Trans Fat:

0g
Unsaturated Fat:

7g
Cholesterol:

19mg
Sodium:

223mg
Carbohydrates:

29g
Fiber:

1g
Sugar:

16g
Protein:

2g