The BEST Healthy Blueberry Smoothie
Looking for an easy, 5 minute blueberry smoothie recipe? This healthy blueberry smoothie is the perfect healthy breakfast or snack. Also makes a great kid-friendly blueberry protein smoothie after-school snack or quick breakfast!
This post may contain affiliate links. Delightful E Made is a participant in the Amazon Services LLC Associates Program, an affiliate advertising program designed to provide a means for us to earn fees by linking to Amazon.com and affiliated sites.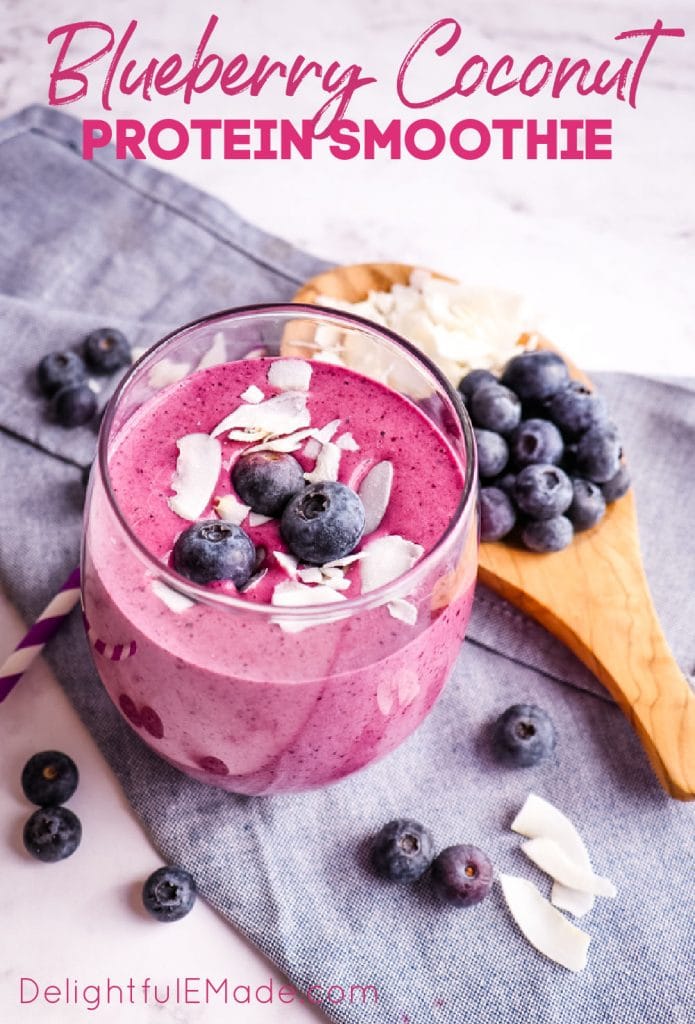 The Easiest 5-minute Blueberry Protein Smoothie
Do you and your family love healthy smoothie recipes? They're a great way to add whole fruits, protein and nutrients to your diet. Smoothies are also a great alternative to unhealthy processed foods that many people go to for breakfast. (Ahhh hem, I see you Pop Tarts, donuts and sugary cereal!)
This healthy blueberry smoothie has everything you need for the perfect start to your day. This blueberry protein smoothie offers antioxidants, calcium, protein and fiber – everything you need to nourish your body in a healthy way.
Like this recipe? Be sure to pin it to your SMOOTHIE or HEALTHY FOOD board!
Follow DelightfulEMade on Pinterest!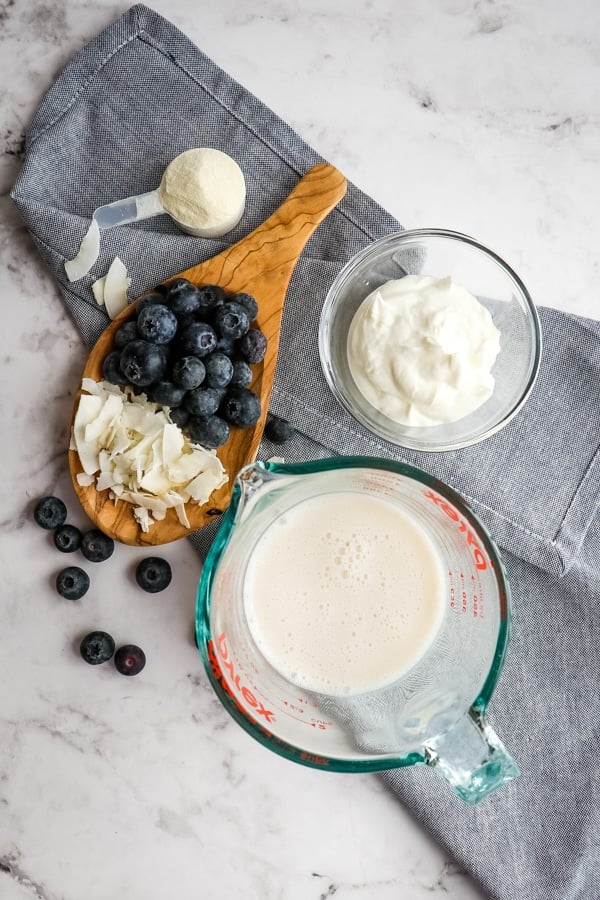 How do I make a healthy blueberry smoothie?
Here's the ingredients you'll need to make this quick and easy blueberry protein smoothie:
fresh or frozen blueberries
Almond milk (or any other milk of your preference, dairy or plant-based)
Plain Greek yogurt
Unsweetened flake coconut
Unflavored collagen protein (vanilla protein powder also works)
(For exact ingredient amounts and full instructions be sure to scroll down to the bottom of this post for the complete recipe. Thanks!)
Do you love blueberries? Check out some of my other popular blueberry recipes:
I also use plain Greek yogurt in my Greek Yogurt Fruit Dip, which is another fantastic healthy snack option.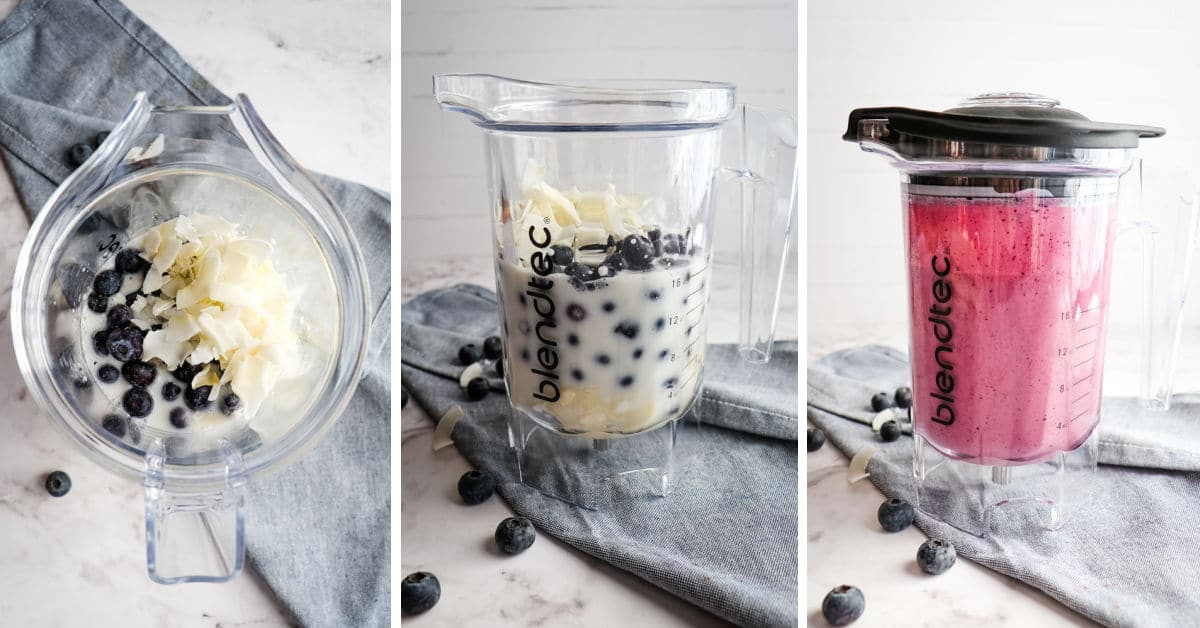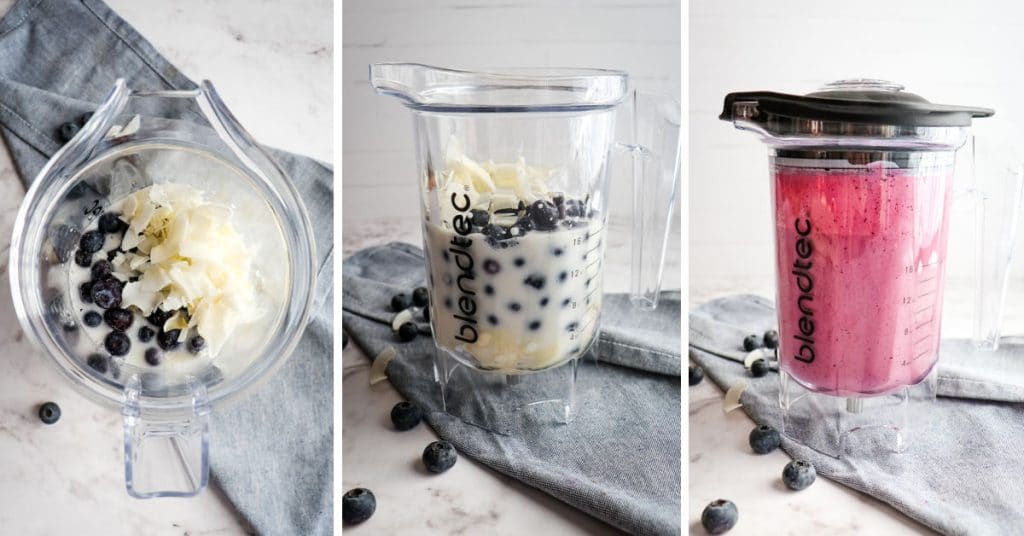 What blender do I use for making smoothies?
I have the Blendtec Designer Series Blender which is a smoothie power house! Not only is this blender great for smoothies, it's fantastic for making blender muffins and pancakes (perfectly smooth batter!) as well as soups, nut butters and more!
You can get 20% off this or other blenders by using the discount code DELIGHTFULEMADE at checkout. Visit the Blendtec site to see all of their fantastic blenders and accessories.
Try these recipes with your Blendtec blender: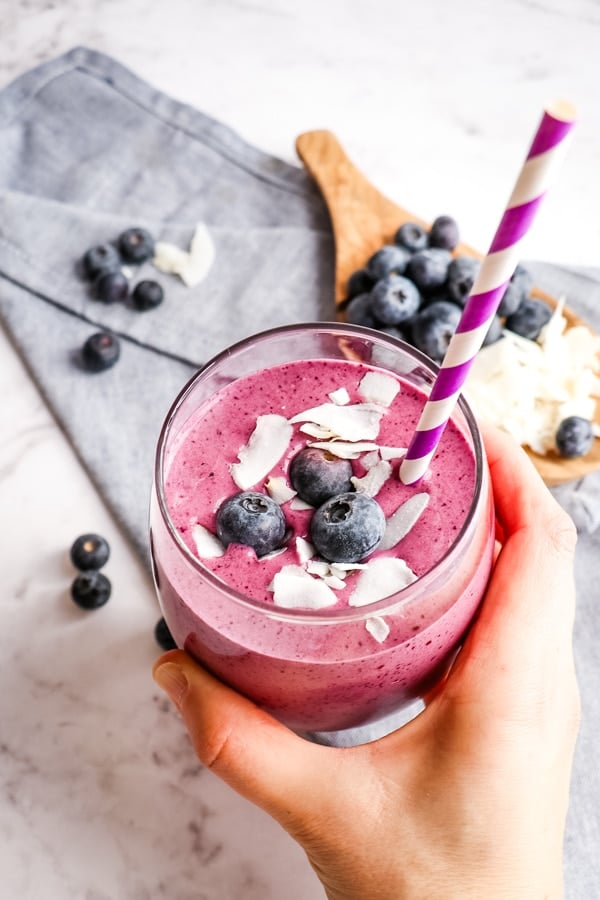 What are the healthiest things to put in a smoothie?
Smoothies are wonderful for their versatility in ingredients! Here are just a few ideas for ingredients to add to your smoothies to make them even healthier:
Dark leafy greens like spinach and kale
Protein sources like Greek yogurt, cottage cheese and good quality protein powder
Good fats, like nut and seed butter, almonds, walnuts and cashews
Fresh berries and fruits: raspberries, strawberries, blueberries, blackberries, apples, bananas, oranges, pineapple, cantaloupe, and kiwi
I wrote the book on smoothies…literally!
Yes, that's right! I'm the author, photographer and creator of The Protein Smoothie Bible cookbook.
It offers simple, 5-minute smoothie recipes that are perfect for quick, healthy breakfasts, snacks, or post-workout recovery.
I've even got a chapter all for kids! That's right! Simple, easy, kid-friendly smoothie recipes that will get your kids and grandkids excited about making healthy food.
You can get The Protein Smoothie Bible here!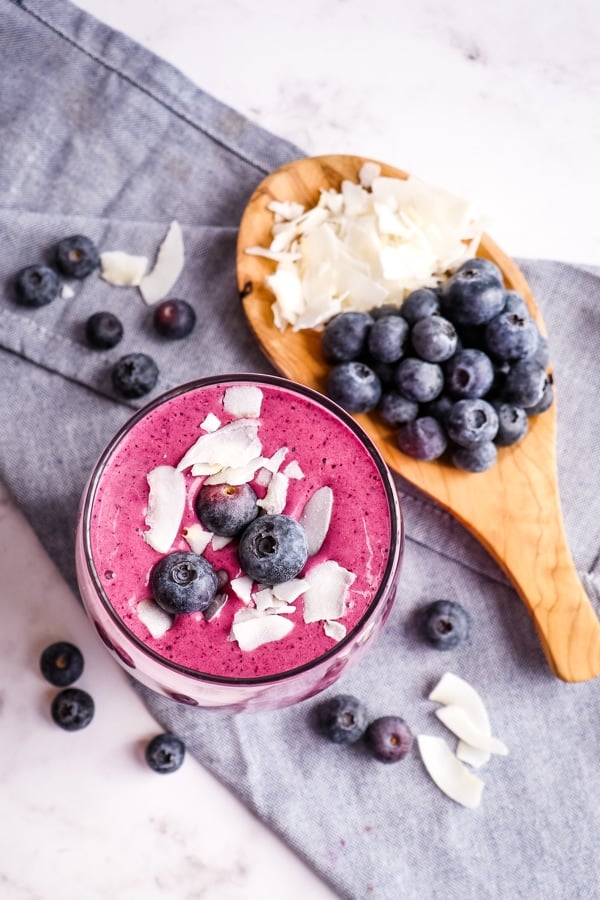 Does drinking fruit smoothies help you lose weight?
Adding healthy fruit smoothies made with whole, healthy ingredients can be a useful tool in losing weight. However, make sure you are keeping your portion in check (8 oz, or 1 cup is a serving for a smoothie).
Also remember to add plenty of good sources of lean protein, limit processed foods, limit refined sugar and stay at a consistent and reasonable calorie deficit for your weight.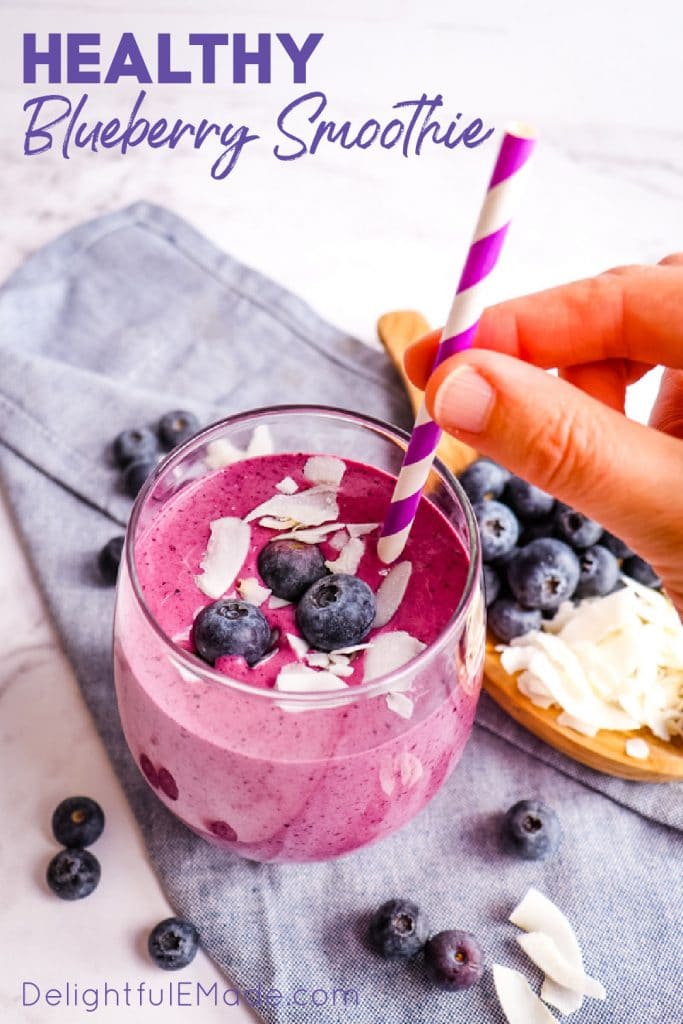 If you loved this delicious healthy blueberry smoothie check out some of my other smoothie recipes:
Here's the recipe for this healthy, delicious Blueberry Protein Smoothie:
Healthy Blueberry Smoothie
Looking for an easy, 5 minute blueberry smoothie recipe? This healthy blueberry smoothie is the perfect healthy breakfast or snack. Also makes a great kid-friendly blueberry protein smoothie recipe!
Ingredients
1 c. almond milk (dairy or your preferred plant-based milk)
1/2 c. plain Greek yogurt
1 scoop (approximately 2 Tbsp.) unflavored collagen protein
1 c. frozen blueberries
1/4 c. unsweetened flake coconut
Instructions
In a blender, add all ingredients.
Blend for 45 seconds to 1 minute or until all ingredients are blended to a smooth consistency.
Pour into two glasses and enjoy right away while cold.
Serves 2.
Notes
Substitutes for the collagen protein: you can also use any good quality vanilla flavored protein powder.
Milk: you can use either dairy or plant-based milk. This will affect the protein and fat content.
Recommended Products
As an Amazon Associate and member of other affiliate programs, I earn from qualifying purchases.
Zhou Collagen Peptides Hydrolyzed Protein Powder – Grass Fed, Pasture Raised, Unflavored, Hormone-Free, Non-GMO,18 Ounce

Shredded Coconut Unsweetened, 1 lb. Unsweetened Coconut Flakes, Dried Coconut Shavings, Dry Coconut Shredded, Flaked Coconut Shreds. All Natural, Non GMO, Pure Unsweetened Shredded Coconut 16 oz.
Nutrition Information:
Yield:

2
Serving Size:

1
Amount Per Serving:
Calories:

217
Total Fat:

5g
Saturated Fat:

3g
Trans Fat:

0g
Unsaturated Fat:

2g
Cholesterol:

5mg
Sodium:

88mg
Carbohydrates:

22g
Fiber:

4g
Sugar:

16g
Protein:

22g