The Most AMAZING Chicken Caesar Pasta Salad Recipe!
This delicious Chicken Caesar Pasta Salad will be your new favorite Healthy Pasta Salad recipe! Loaded with all of your favorite ingredients, this pasta salad with chicken, bacon, tomatoes, and a healthy Caesar dressing is perfect for your next pot-luck and great for meal-prepping!
This post may contain affiliate links. Delightful E Made is a participant in the Amazon Services LLC Associates Program, an affiliate advertising program designed to provide a means for us to earn fees by linking to Amazon.com and affiliated sites.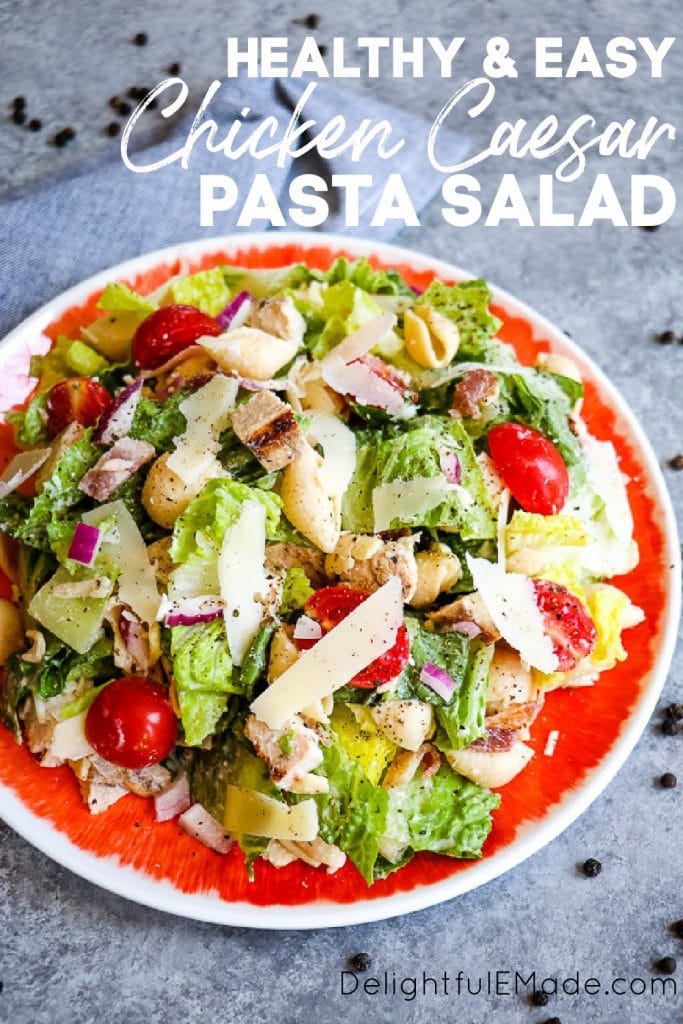 The BEST Healthy Pasta Salad recipe!
Could you use a Healthy Pasta Salad option? My recipe for Chicken Caesar Pasta Salad is a great option for those of us that want something a little healthier, but not compromise on the flavor. I've made some great ingredient swaps and made my own Healthy Caesar dressing to make this delicious Pasta Salad with Chicken great for lunch or a light dinner!
Like this recipe? Be sure to pin it to your Salad board on Pinterest!
Follow DelightfulEMade on Pinterest for some of the very best Healthy recipe ideas!
I adapted the traditional Caesar Salad, added some of my Italian Grilled Chicken for protein, and included some Chickpea pasta, bacon and veggies.
This salad takes on the traditional flavors of Caesar salad, and becomes a fantastic entree salad that you can feel good about feeding yourself and your family.
Here's how this delicious Healthy Pasta Salad comes together: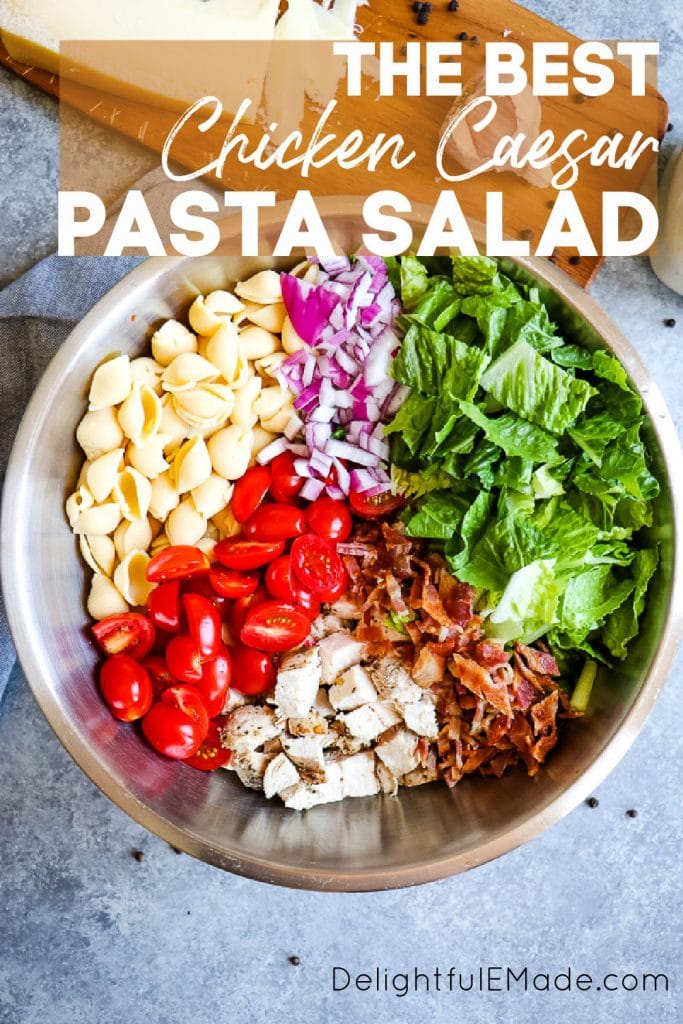 Step 1: Chop salad ingredients and cook pasta
Pasta Salad with Chicken is one of my favorite light summer dinner ideas. This is one of those salads that are great when you need to use up leftovers. I'll often grill up some of my Italian Grilled Chicken (fabulous, BTW!) and grill up a couple extra chicken breasts just so I have extra chicken the next day to add to this salad. There is no need to reheat this chicken – it's best cold.
You'll also need the following:
Romaine lettuce – I'll chop up a couple of small-to-medium romaine hearts (or one large) for this salad.
Cherry or Grape tomatoes – I will just slice these in half. If they are big, I will quarter them.
Red Onion – you don't need much – maybe a quarter of a large red onion.
Crisp Bacon – 2-3 slices are just the right amount for this salad. Cut or crumble into small pieces.
Pasta – to make this recipe a little healthier I chose Banza Chickpea pasta. (Amazon Affiliate Link)
(For exact ingredient amounts and full recipe instructions be sure to reference the recipe card at the bottom of this post. Thanks!)
Banza is a healthier version of pasta, as it has more protein, higher fiber and less net-carbs than traditional pasta. It does have the about the same calories – something to be mindful of when considering your serving. I do like this pasta as a good alternative to regular pasta!
Cook the pasta according to the package directions, then rinse under cold water. Let it sit in the colander for a few minutes to cool.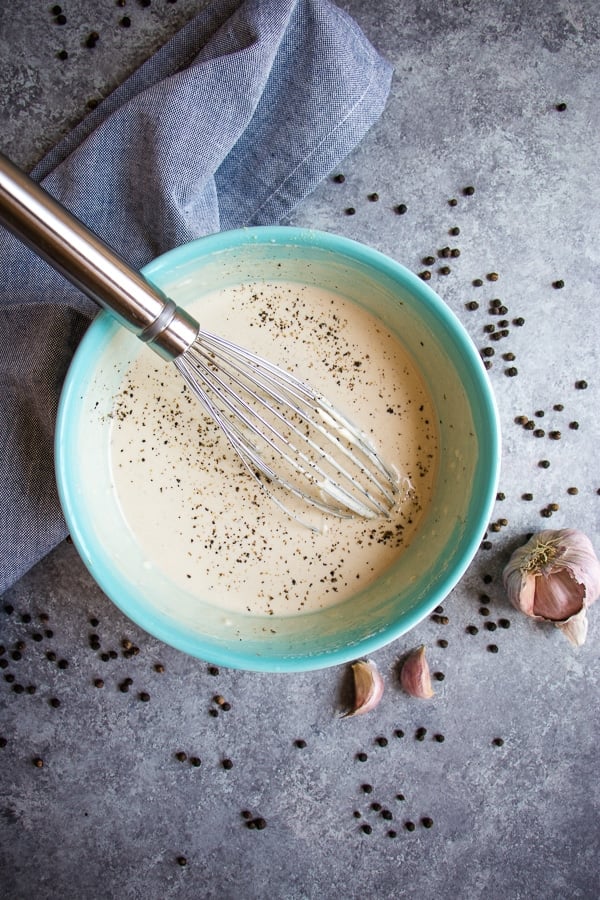 Step 2: Mix together the Caesar Dressing
My recipe for Healthy Caesar Dressing is absolutely delicious! This dressing is on the healthier side as it is made with Greek yogurt and olive oil. There are no raw egg yolks. There are also no fake, bad-for-you oils like soybean or canola oil, preservatives, or sugar, which most bottled dressing have loads of. (FYI – Sugar is sometimes the second or third ingredient in bottled dressing!)
My husband, who is known to order a Caesar side salad at just about every restaurant in town, absolutely LOVES this dressing. And take my word for it, he is NOT easy to please!
Best of all, this Healthy Caesar Dressing comes together in 5 minutes! No blender or food processor needed – just whisk together and it's ready to go into your salad.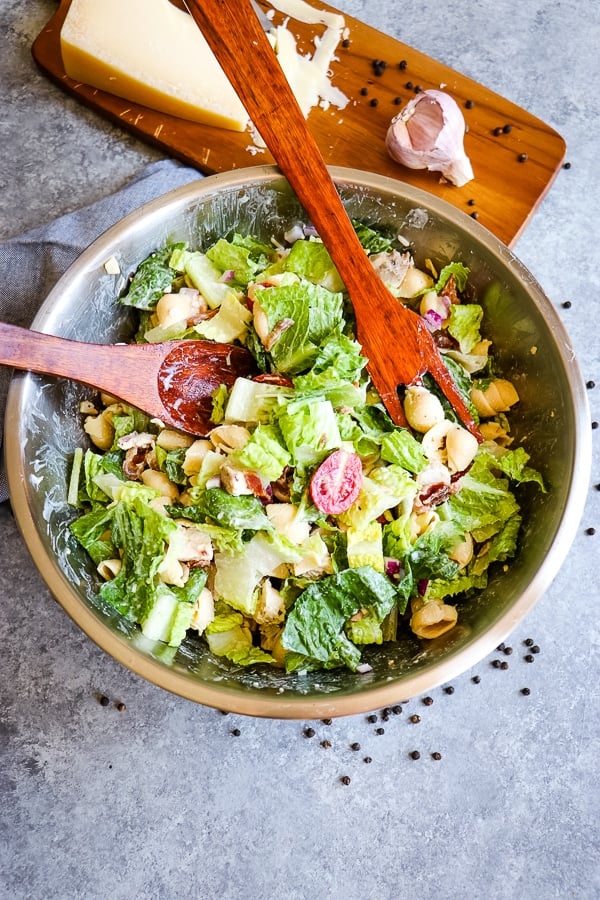 Step 3: Toss the salad together with the dressing
Once the pasta has cooled (I usually give it 5-10 minutes in the sink after rinsing), add it to the lettuce, tomatoes, onion, bacon and chicken. Then, add about 1/2 cup of the homemade Caesar dressing. Toss all the ingredients together to coat.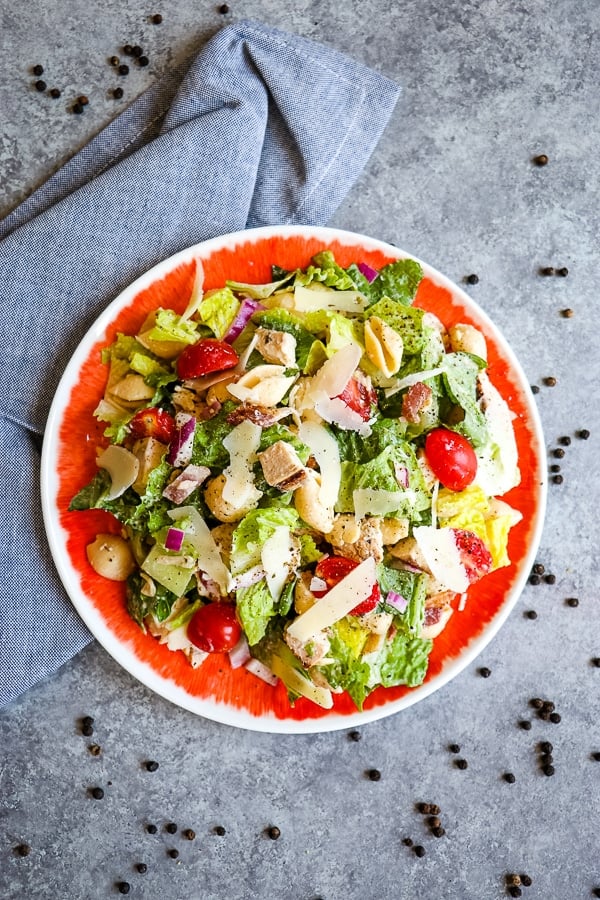 Step 4: Plate the Healthy Pasta Salad and add some Parmesan Cheese
Plate up your salad (fyi – the plate above is a salad plate, not a dinner plate), keeping in mind, a portion of this salad is about 2 cups.
An optional topping is some shaved or shredded Parmesan cheese. Parmesan is a traditional ingredient in Caesar salad, and who am I to break tradition! 😉 I personally LOVE Parmesan, and it adds a great flavor and slight richness to this salad.
Another optional topping that I didn't include is seasoned croutons. I purposefully left these out, as I had a hard time finding a healthier option for these.
You can always make your own, if you like croutons on your Caesar salad. A good choice/option would be Parmesan crisps, but since I added fresh Parmesan, I just decided to omit the croutons all together.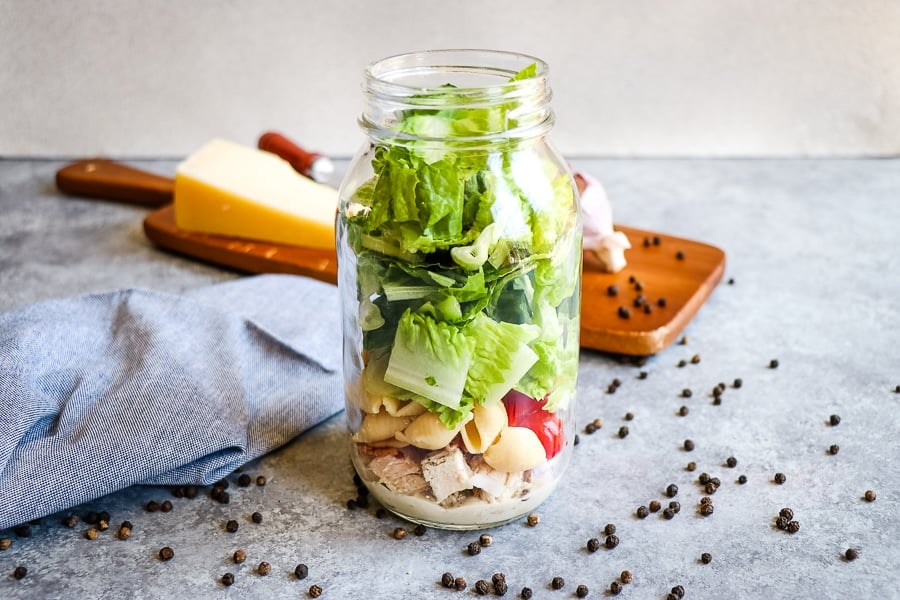 Meal Prep Salad Option:
This Chicken Caesar Pasta Salad is a great meal prep salad recipe and perfect for making in advance and taking to work. Layering into a quart-sized mason jar is idea for packing a few at a time and keeping in your refrigerator. Here's how you do it:
Start with the Caesar dressing on the bottom. This will prevent the veggies from getting soggy.
Add the chicken next. It will create a moisture barrier between the dressing and veggies.
Next add the pasta
Next, add the tomatoes, onion and bacon
Lastly, add the romaine lettuce. Putting the lettuce on top of the rest of the ingredients will keep it crisp.
Product recommendation: These 32 oz. Clear Glass Wide Mouth Ball Mason Jars – Set of 4 (amazon affiliate link) are fantastic for meal prepping, and great for mason jar salads. These mason jar salads will keep in your refrigerator for up to 4-5 days. Great for packing on a meal prep Sunday, and having them ready for lunch during the week!
If you loved this delicious Healthy Pasta Salad, then be sure to check out some of my other pasta salad recipes:
If you're looking for Healthy Entree Salad ideas, I've got ya covered in that department, too! BTW, all of these are great for meal prepping!
Get the recipe for my Italian Grilled Chicken here: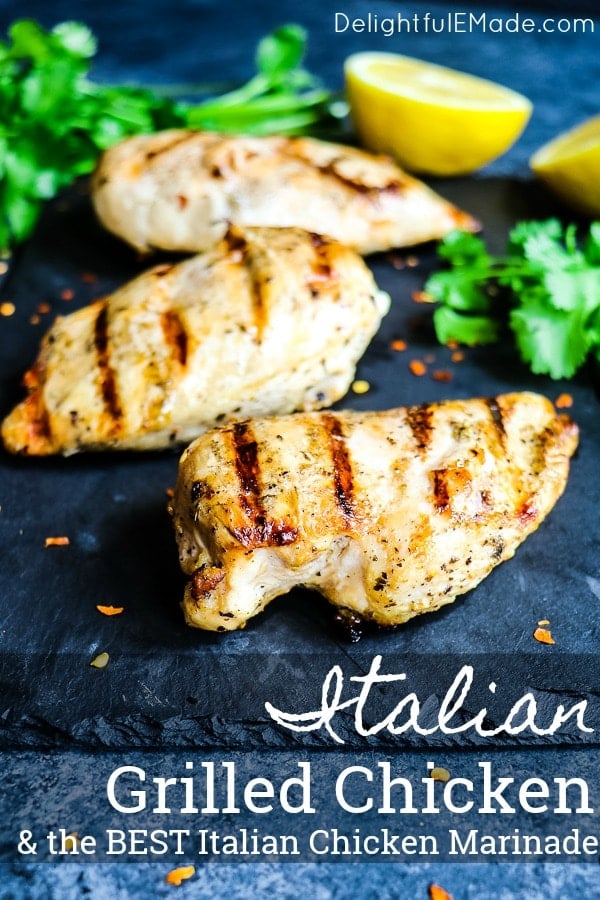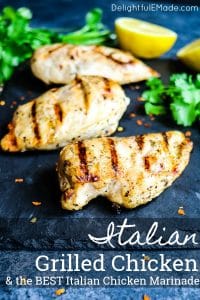 Get the recipe for my Healthy Caesar Dressing here:
Here's the recipe for my delicious Chicken Caesar Pasta Salad: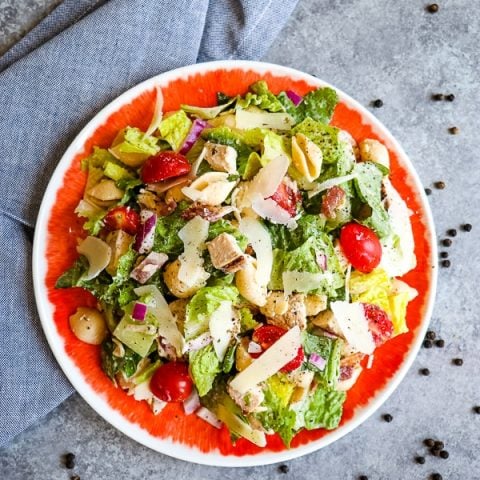 Chicken Caesar Pasta Salad
This delicious Chicken Caesar Pasta Salad will be your new favorite Healthy Pasta Salad recipe! Loaded with all of your favorite ingredients, this pasta salad with chicken, bacon, tomatoes, and a healthy Caesar dressing is perfect for your next pot-luck and great for meal-prepping!
Ingredients
1 (8 oz. box) Banza Chickpea Pasta (cooked according to package directions)
5 c. romaine lettuce, chopped (about 2 medium romaine hearts or 1 large)
2 c. (1 lb) of Italian Grilled Chicken (cubed)
1 c. cherry tomatoes, halved
1/3 c. crisp bacon, crumbled
1/3 c. red onion, chopped
1/2 c. Healthy Caesar dressing
1/4 c. shredded Parmesan Cheese (for topping)
Instructions
Cook pasta according to package directions. Drain and rinse with cold water. Let cool.
In a large mixing bowl, add the chopped lettuce, chicken, tomatoes, bacon and onion. Add the cooled pasta.
Top with the Caesar dressing and toss together to coat.
Plate the salad and top with Parmesan cheese.
Notes
If you are meal prepping (making this salad in advance) be sure to reserve the dressing on the side. Place in a separate container - 2 Tbsp. is the standard dressing serving. Instructions are in the text above for how to layer into a mason jar.