Looking for an amazing Italian chopped salad recipe? This Italian antipasto salad has all your favorites, like salami, olives, mozzarella, pepperoncini's and even pasta! Perfect for serving with your favorite Italian meal.
This post may contain affiliate links. Delightful E Made is a participant in the Amazon Services LLC Associates Program, an affiliate advertising program designed to provide a means for us to earn fees by linking to Amazon.com and affiliated sites.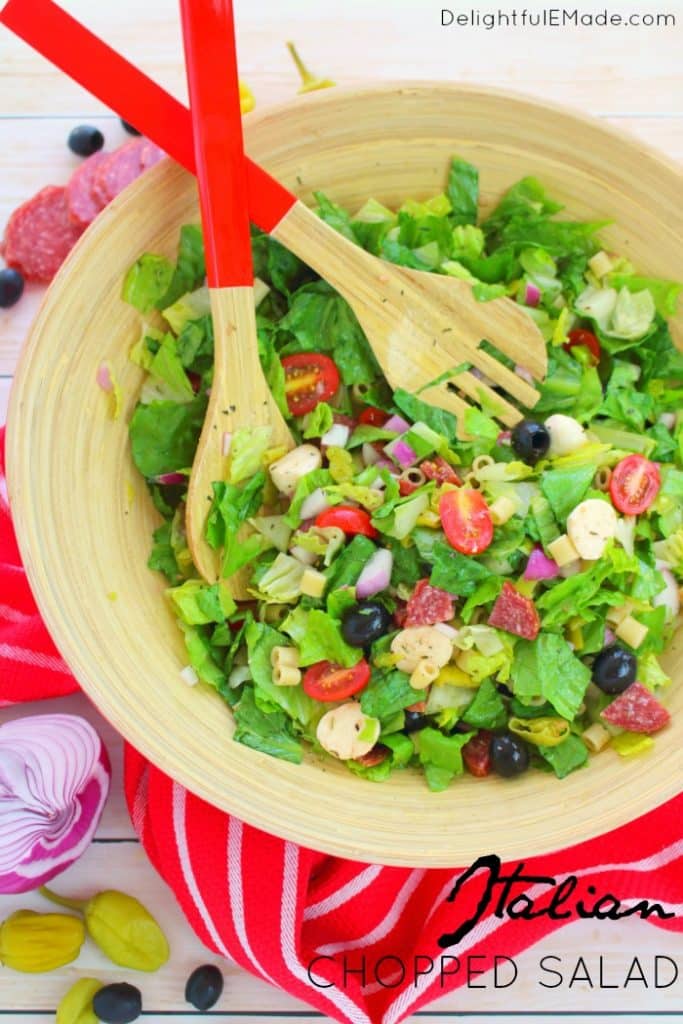 If you love a salad that you can make a meal out of, this Italian chopped salad recipe is for you. Made with all of your favorite antipasto like salami, mozzarella, olives and vegetables, this salad makes for the perfect light lunch.
This Italian chopped salad also makes a great side dish for just about any meal.
What do I need to make Italian chopped salad?
Here's a quick-reference grocery list of the ingredients you'll need to make this easy salad recipe:
Romaine lettuce (or romaine hearts)
Small pasta – like ditalini
Salami
Fresh mozzarella
Grape tomatoes
Red onion
Small black olives
Yellow Pepperoncini peppers – jarred (found in the condiments aisle near olives)
Red wine vinegar
Olive oil
Italian herbs – dry
Minced garlic
For exact ingredient amounts and full recipe instructions be sure to scroll down to the bottom of this post to the recipe card. Thanks!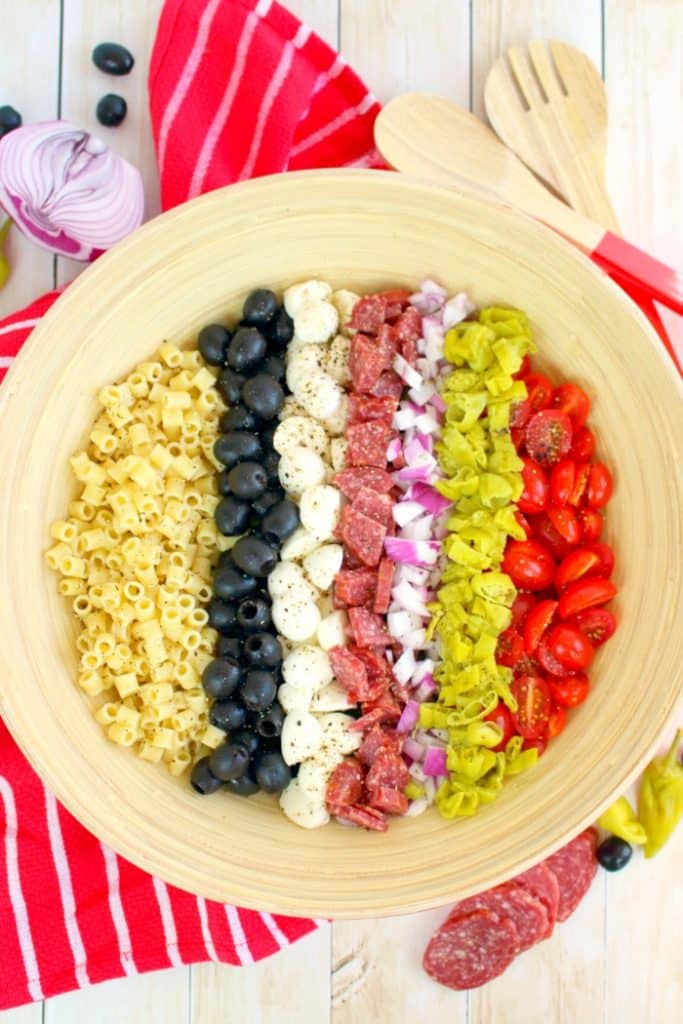 How do I make chopped salad?
Start with a big bowl where you can add all of the ingredients with extra room for tossing. I tend to start with the romaine lettuce on the bottom, and then add the additional ingredients on top of that.
Add cooked ditalini pasta (or any other small pasta), small black olives, fresh mozzarella balls, thick-cut salami that has been quartered, chopped red onion, sliced yellow pepperoncini peppers, and grape tomatoes.
Pro-Tip for cooking pasta for a salad: only cook the pasta to al dente according to the package directions. Once done cooking, immediately drain and thoroughly rinse with cold water. This will stop the cooking and prevent the pasta from becoming sticky.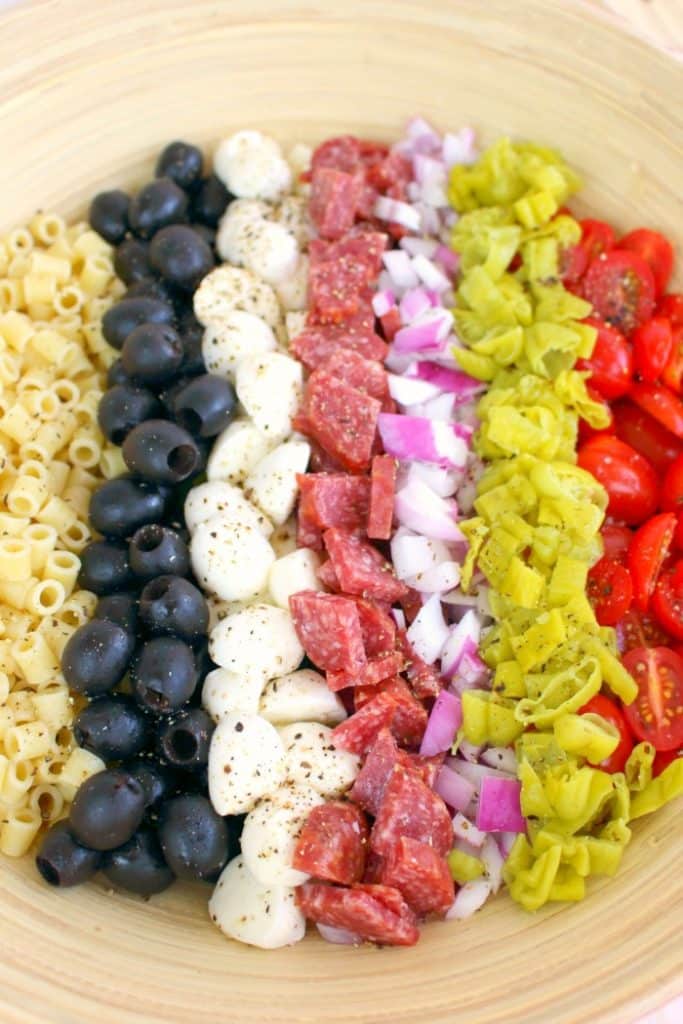 Add a grind of black pepper and salt for seasoning.
Ingredient substitutions and recommendations:
Salami – using a hard salami, cut into thick slices and then into quarters is fantastic for this salad. However, if you want something pre-cut, you can substitute mini pepperoni slices.
Mozzarella cheese mini balls or pearls – Containers of these are found wherever your fresh mozzarella is sold. However, if the small mini-balls or pears are not available, grab a fresh mozzarella ball, slice and cut into small pieces. Freshly grated Parmesan cheese would also be a great addition.
Extra veggies – chopped green, yellow or red bell peppers add a great crunch. Marinated artichoke hearts would also add a great savory flavor to the salad.
Beans – the addition of cannellini beans or chickpeas would be a good protein source to make this an even heartier salad.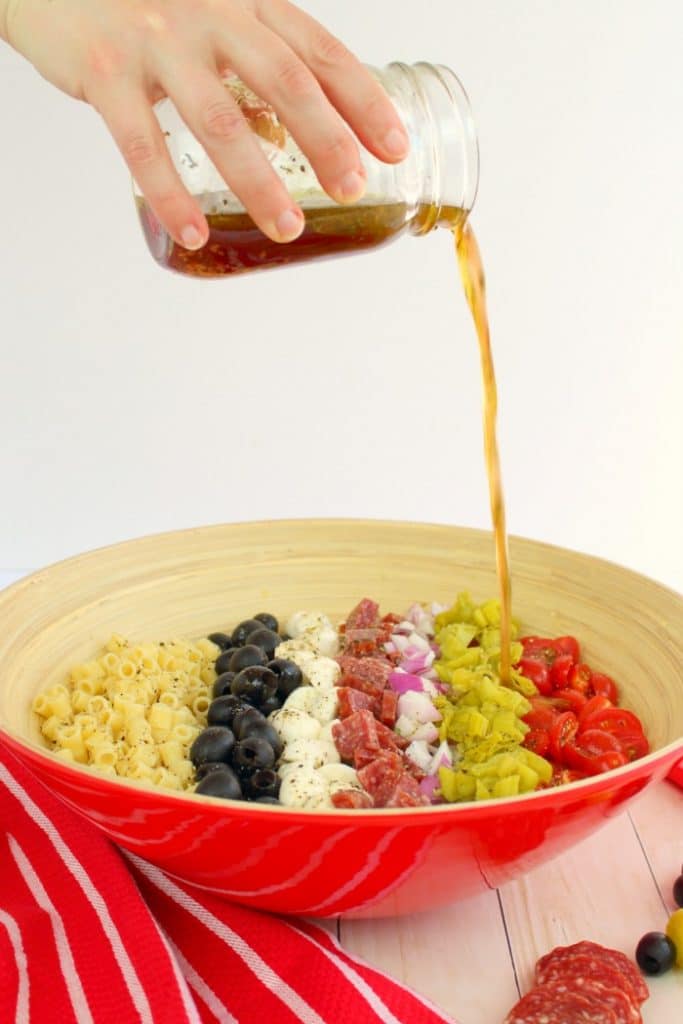 What dressing is best for an Italian chopped salad?
A basic Italian vinaigrette is perfect for an Italian chopped salad. This dressing includes red wine vinegar, olive oil, garlic and Italian seasoning.
Whisk together the vinegar, olive oil, garlic and Italian seasoning. You can also add the ingredients to a mason jar with a tight-fitting lid and shake the dressing. Pour the dressing over the salad.
If you're making the salad before your meal, be sure to wait until just before serving to dress the salad. This will help keep the lettuce as crisp as possible.
Could you use some delicious homemade dressing ideas? Here are my favorites: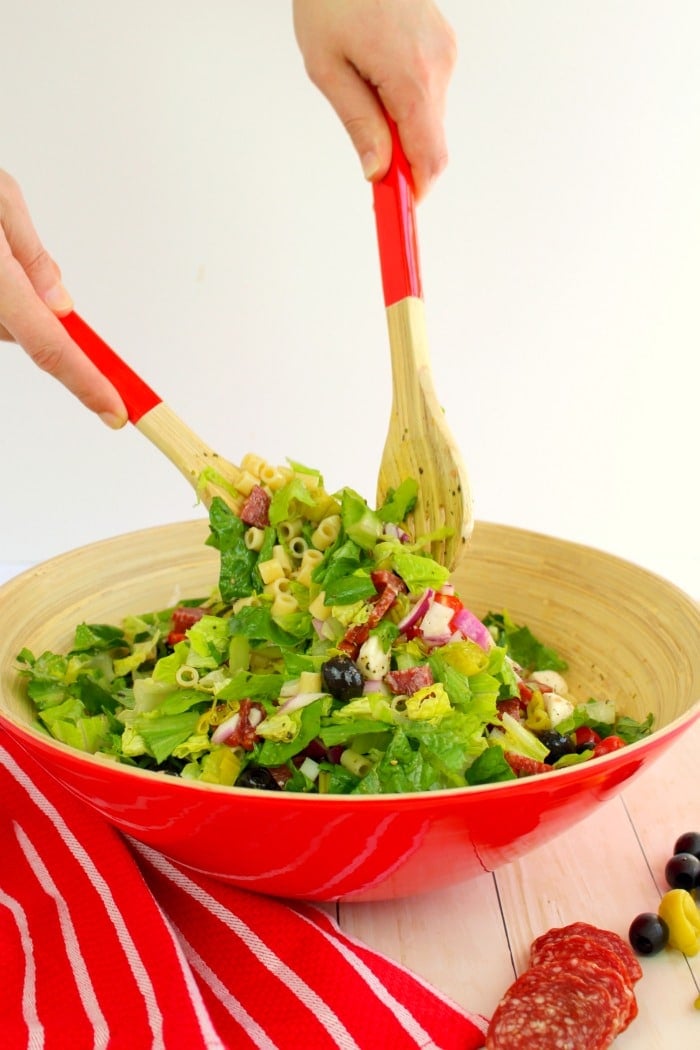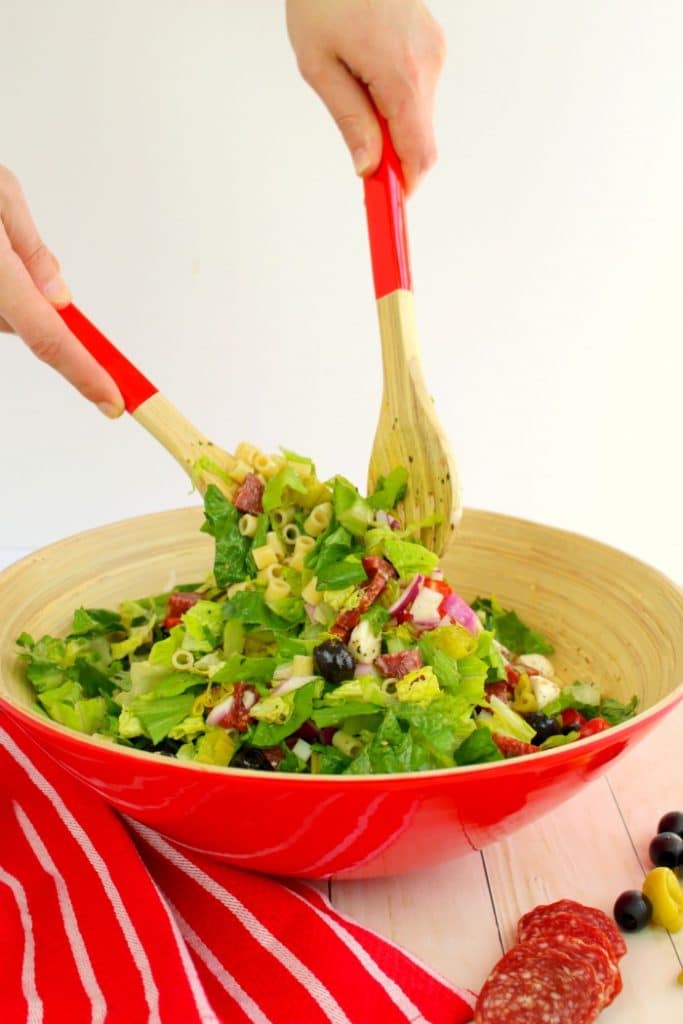 Once you've poured the dressing over the top of the salad, toss well to coat all of the ingredients. The salad is now ready to serve and enjoy!
Enjoy this fantastic chopped salad at your next cookout or potluck – it's a fantastic side dish that will quickly disappear! Be prepared to be asked for the recipe.
Do you love an amazing salad recipe? Check out some of our other popular side salads: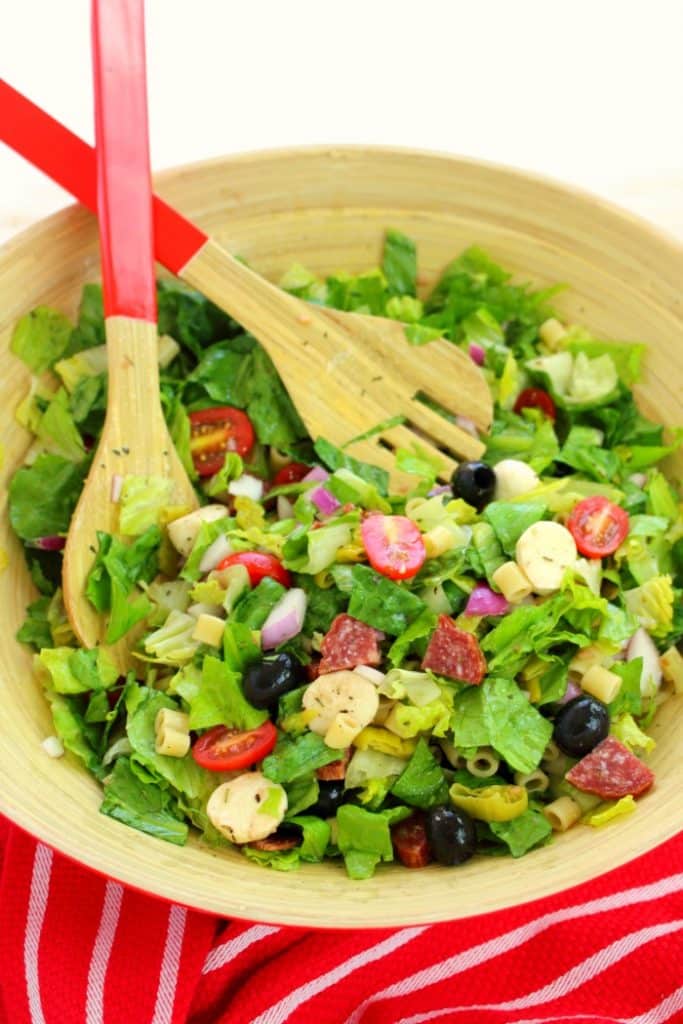 FAQ's about making chopped salad:
What does chopped salad mean?
Chopped salad just means that all of the salad ingredients have been uniformly chopped to bite size. The ingredients are then all tossed together and dressed with a vinaigrette or dressing.
What is Italian salad made of?
Italian salad most commonly consists of salad greens, tomatoes, olives, peppers, red onion and cheese. It is most commonly dressed with an Italian vinaigrette made of vinegar, oil, garlic and Italian seasoning.
What is antipasto salad made of?
Antipasto salad typically includes ingredients that you would find on a charcuterie or antipasto plate. These ingredients include meats like salami or pepperoni, cheeses like mozzarella and Parmesan, marinated vegetables like olives, pepperoncini's and artichokes, as well as fresh vegetables like tomatoes and onions.
Wondering what to serve with your Italian Chopped Salad? Here are some fantastic options:
Here's the easy recipe for this Italian Chopped Salad:
Italian Chopped Salad
If you love Italian anitpasto, then this chopped salad recipe is right up your alley! Loaded with fresh romaine lettuce, mozzarella, olives, salami and more, this incredible anitpasto salad will quickly become a family favorite for every potluck, cookout, and picnic this summer!
Ingredients
1 large romaine heart, chopped
2 c. cooked Ditalini pasta (1 c. uncooked)
1 c. thick cut salami, quartered
1 c. fresh mozzarella balls, halved
1 pint, grape tomatoes, halved
3/4 c. red onion, chopped
3/4 c. yellow pepperoncini peppers, sliced
salt and pepper to taste
Dressing:
1/3 c. red wine vinegar
1/3 c. olive oil
1 tsp. minced garlic (1-2 cloves)
1/2 tsp. dry Italian herbs
Instructions
In a large bowl add the chopped romaine lettuce to the bottom of the bowl. Top the lettuce with the cooked pasta, olives, mozzarella, salami, onions, peppers and tomatoes.
For the dressing: In a small bowl whisk together the vinegar, olive oil, garlic and herbs.
Pour the dressing over the salad and toss well to dress. Serve right away.
Notes
If prepping the salad beforehand, wait until just before serving to dress the salad. This will ensure the lettuce stays crisp.
Nutrition Information:
Serving Size:

1
Amount Per Serving:
Calories:

215
Total Fat:

14g
Saturated Fat:

6g
Cholesterol:

30mg
Sodium:

244mg
Carbohydrates:

13g
Sugar:

5g
Protein:

8g
I hope this recipe inspires you to make an amazing salad to enjoy at your next cookout, picnic or grill-out. Enjoy! ~Erin