This bacon ranch pasta salad is perfect for any potluck, cookout, or back yard BBQ! This ranch pasta salad recipe is loaded with bacon, tomatoes, peas and topped with a healthy ranch dressing. Make extra – this pasta salad disappears FAST!
This post may contain affiliate links. Delightful E Made is a participant in the Amazon Services LLC Associates Program, an affiliate advertising program designed to provide a means for us to earn fees by linking to Amazon.com and affiliated sites.
Does your idea of a summer side dish consist of a creamy, delicious pasta salad? This Bacon Ranch Pasta Salad recipe is fantastic for all of your summer cookouts, potlucks and neighborhood get togethers!
Made with simple ingredients, this delicious ranch pasta salad recipe comes together with minimal prep. It's great to make ahead as a side dish served with grilled chicken, burgers, chops and sausage.
What do I need to make ranch pasta salad?
Here's a quick-reference grocery list of the ingredients you'll need to make this pasta salad recipe:
Pasta – medium shells, bow-tie or rotini work well.
Thick-cut bacon
Grape tomatoes
Frozen peas
Green onions
Plain Greek yogurt
White vinegar
Dried Parsley
Garlic salt
Onion powder
Black Pepper
For exact ingredient amounts and full recipe instructions be sure to reference the recipe card at the bottom of this post. Thanks!
What type of pasta is best for a pasta salad?
Small to medium sized pasta is best for a pasta salad. Shell, penne, rigatoni, bow-tie, rotini, fusilli and gemelli are all great options for a pasta salad. I would not recommend long pasta, like spaghetti, fettuccini, linguini, angel hair or lasagna.
How long do I cook pasta for pasta salad?
When cooking pasta for pasta salad, only cook it to al dente or even 30 seconds short of al dente. Once the pasta is mixed with the dressing, it will absorb the dressing a soften. A slightly overcooked pasta will quickly become soft, gummy and will easily tear or fall apart after refrigeration.
Should I let pasta cool before adding the dressing?
Yes. When cooking pasta for pasta salad, drain from the water, then immediately rinse with cold water to stop the cooking. For best results, transfer the cooked and rinsed pasta to a sheet pan and place in the refrigerator before mixing with the dressing and other pasta salad ingredients.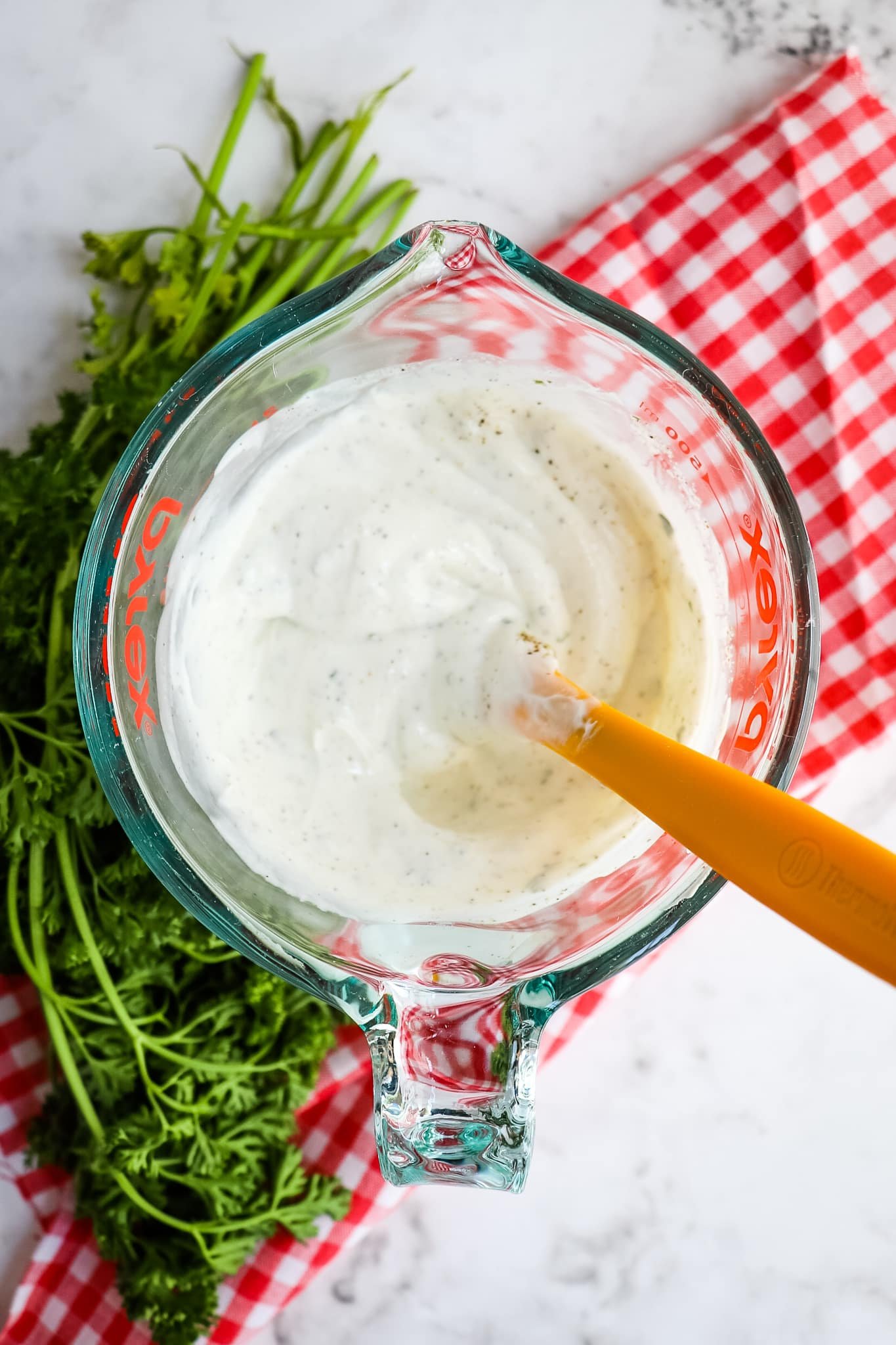 How can I make pasta salad healthier?
A great way to cut down on calories in pasta salad is to substitute the mayonnaise for plain Greek yogurt. A 2% or 5% Greek yogurt (I like Fage brand) makes a great alternative to mayonnaise that contains unhealthy oils and fats.
If you're looking for a delicious, healthy ranch option, my Greek Yogurt Ranch Dressing. At just 44 calories a serving, it's the only way I do ranch. Soooo good! I also have a container of my Greek Yogurt Veggie Dip on hand at all times.
Ingredient Substitutions and Recommendations:
Pasta – I used a medium shell pasta, however any medium-sized pasta will work well in this salad. Penne, rigatoni, bow-tie, rotini, fusilli and gemelli are all great options
Greek yogurt – Greek yogurt is a great, healthier option for a creamy pasta salad. However, if you want other options, you can also do 1/2 Greek yogurt, 1/2 sour cream, or 1/2 sour cream and 1/2 mayonnaise. Look for a good quality mayonnaise, like the Primal Kitchen brand.
Peas – if you're not a fan of peas, you could certainly substitute another fresh vegetable, like diced celery, cucumbers or bell peppers.
FAQ's about making pasta salad:
How long should I refrigerate pasta salad before serving?
Before serving, it is best to chill a pasta salad 1-2 hours. This gives the dressing a chance to integrate with the rest of the ingredients and for the pasta to become cold.
What other ingredients can I add to this bacon rand pasta salad recipe?
Along with the bacon, lettuce and tomatoes, other ingredient options would be sliced olives, diced bell peppers, shredded cheese, avocado slices or pickled red onions.
How long can a pasta salad sit out?
A pasta salad can sit out at room temperature for 1-2 hours at most. If the salad is outdoors where temps are warm (like a cookout, picnic, or pot-luck), it is usually best to discard any leftover salad after the event.
How long will a pasta salad last?
If kept in an airtight container, refrigerated, a pasta salad can last for up to 5 days. After the second day, you may need to add extra dressing, as the pasta will likely absorb what was initially put on the salad.
What is creamy salad dressing made of?
Traditionally, a creamy salad dressing is made of either sour cream or mayonnaise. To reduce calories and unhealthy oils, using Greek yogurt is a great option for a cream salad dressing base.
Why does mayo disappear in pasta salad?
Once pasta is coated with a dressing, the pasta absorbs the moisture, making it less creamy. To make leftover pasta salad creamy again, your best option is to add additional dressing to coat the pasta and other ingredients in the salad.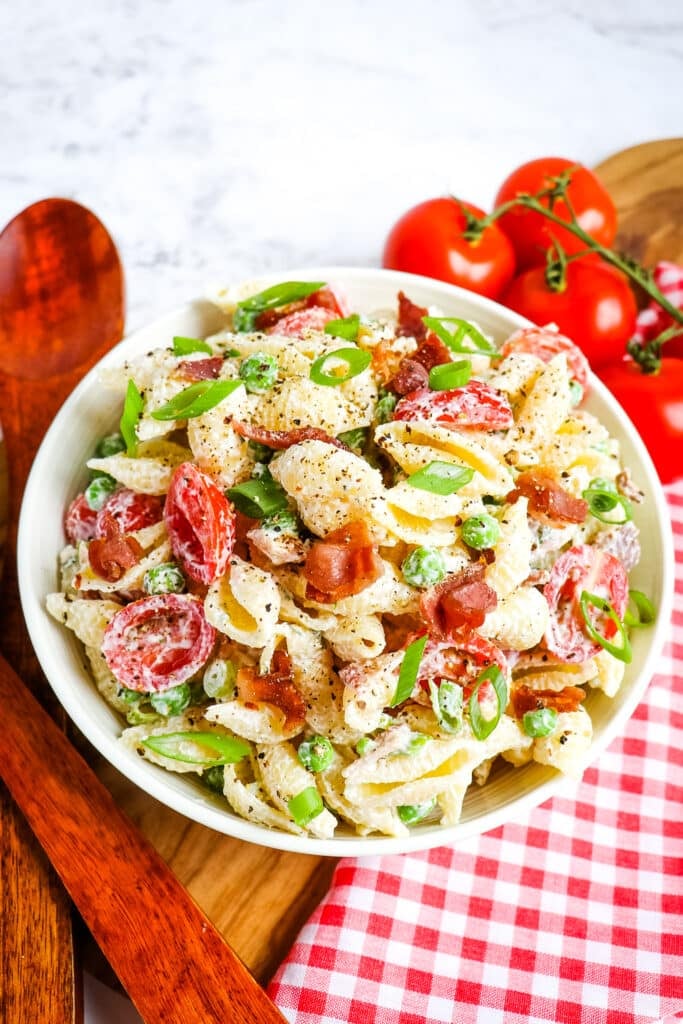 If you loved this delicious Bacon Ranch Pasta Salad recipe, check out some of my other salads and sides:
What can I serve with ranch pasta salad?
Pasta salad goes well with grilled meats, like chicken, pork chops, burgers and sausage. Here are some recipe ideas that go great with pasta salad:
Bacon Ranch Pasta Salad
This creamy bacon ranch pasta salad recipe is the perfect summer side dish. Made with simple ingredients, this ranch pasta salad recipe is great for a cookout, pot-luck or your next BBQ.
Ingredients
10 oz. medium shell pasta, or other medium pasta shape
1 pint, grape tomatoes, halved
1 c. thick-cut bacon, cooked crisply, chopped
1 c. frozen peas, thawed
1/3 c. green onions, chopped (about 2 green onions)
Ranch Dressing:
1 c. Greek yogurt
2 Tbsp. white vinegar
1 tsp. dried parsley
1/2 tsp. garlic salt
1/2 tsp. onion powder
1/2 tsp. black pepper
Instructions
In large stock pot or Dutch oven, boil water to cook pasta. Cook to al dente package directions, but no longer. When done cooking, immediately drain and rinse with cold water to stop pasta from cooking. Transfer rinsed pasta to a sheet pan and refrigerate to chill.
In a bowl, whisk together the dressing: yogurt, vinegar, parsley, garlic salt, onion powder and pepper.
To a large mixing bowl, add the halved tomatoes, bacon, peas and onions. Add the chilled pasta and toss together gently. Pour dressing over the top and toss once again to coat all ingredients.
Serve right away and enjoy!
Notes
Leftover pasta salad should be refrigerated in an airtight container. Salad will keep for up to 5 days.
Dressing substitute: instead of 1 c. Greek yogurt you can substitute with the following: 1/2 c. Greek yogurt and 1/2 c. sour cream, or 1/2 c. sour cream and 1/2 c. mayonnaise.
To refresh the salad after refrigeration, mix together 1/2 of the dressing: 1/2 c. yogurt, 1/2 tsp. parsley, 1/4 tsp. garlic salt, 1/4 tsp. onion powder and 1/2 tsp black pepper. Pour over the leftover salad and toss to coat.
Nutrition Information:
Yield:

8
Serving Size:

1 cup
Amount Per Serving:
Calories:

256
Total Fat:

11g
Saturated Fat:

4g
Trans Fat:

0g
Unsaturated Fat:

6g
Cholesterol:

29mg
Sodium:

605mg
Carbohydrates:

22g
Fiber:

2g
Sugar:

3g
Protein:

17g