Craving a fresh, crisp entree salad? This savory, and slightly sweet Balsamic Grilled Chicken Salad will totally hit the spot! Made with fresh greens, fruit, pistachios and balsamic grilled chicken, this salad is healthy, filling and completely delicious!
Balsamic Grilled Chicken Salad Recipe
This Balsamic Grilled Chicken Salad recipe is one of my favorite dinner or lunch ideas for summer. I often crave a big, filling salad for lunch or a light dinner during the summer, and especially when it's hot and humid during our sweltering mid-Atlantic summers. I love including loads of fresh flavor from fresh Virginia peaches and blueberries and plenty of crunch from kale, celery, onion and pistachios. The grilled chicken and goat cheese add amazing flavor and richness that balances out this salad beautifully. This salad quickly becomes the perfect dinner for just about any night of the week!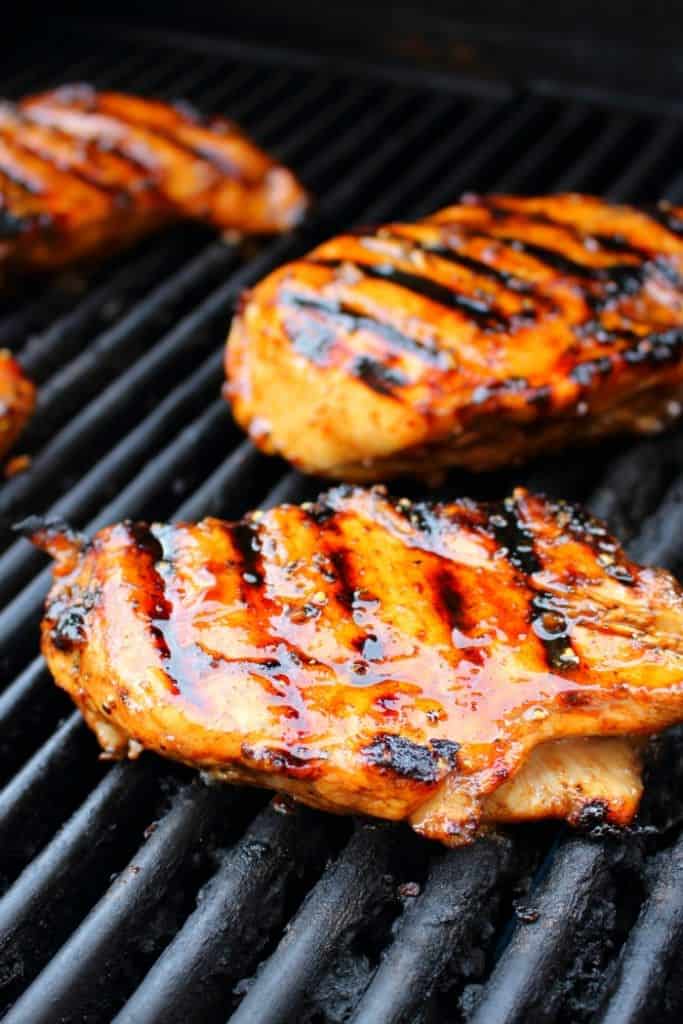 Oh, that grilled chicken!
This Brown Sugar Balsamic Grilled Chicken is one of the most popular summer recipes on my site! Not only is this chicken incredibly flavorful, it's super simple to throw together and grill up for an easy weeknight meal. It also happens to be quite healthy, lean and loaded with protein. (It is, after all, chicken breasts, which are a go-to healthy protein source for many.)
Sometimes people get a little bored with plain 'ole chicken. This delicious brown sugar-balsamic marinade is the perfect way to adds some amazing flavor to chicken breasts, and mix it up a little. FYI – you can also use legs, wings or thighs in this delicious marinade as well.
If you're a grilled chicken lover, check out some of my other grilled chicken recipes, like these:
Leftovers turned into a gorgeous salad
As you can see, this salad is not short on flavor, color or deliciousness! It originated by me literally throwing together leftovers from my fridge into a bowl. When I'm making a salad, this is often how it goes – I've got leftover grilled meat from the night before, and then start throwing in fresh fruits and veggies. I often surprise myself with the flavor combinations that I come up with, and more times than not, they're amazing!
Here's what I've included in this delicious Balsamic Grilled Chicken Salad recipe:
Greens: for this salad I chose baby kale, but feel free to sub in whatever you have (spring mix, baby spinach, and Romaine are all great!)
fresh peaches, sliced
fresh blueberries
green onion
celery
goat cheese crumbles
chopped pistachios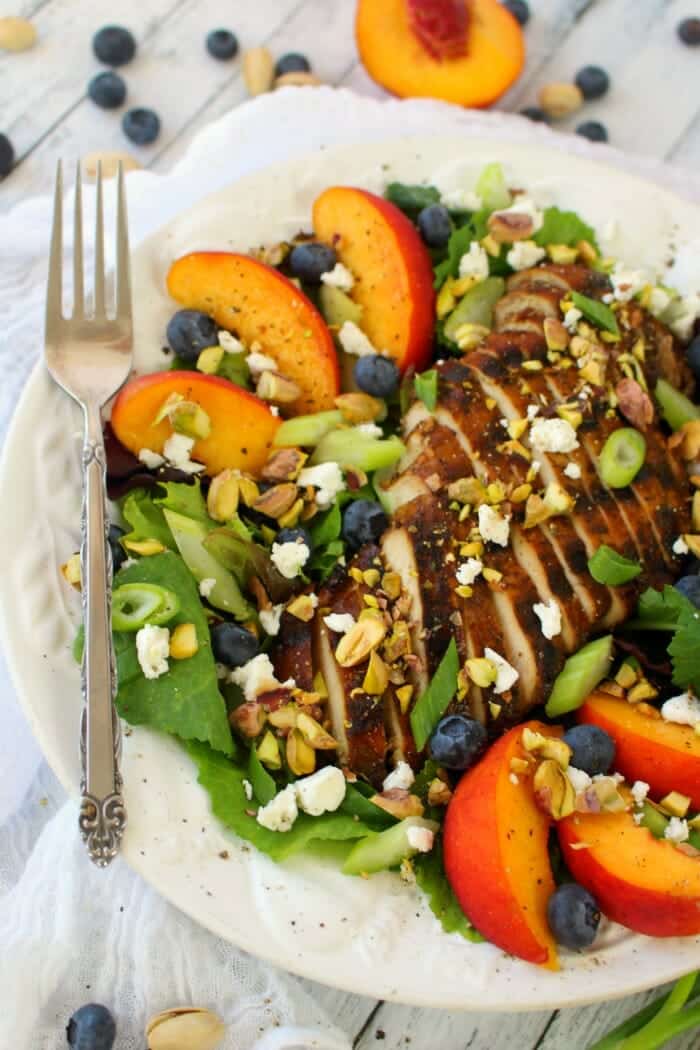 The dressing – super simple, and only 4 ingredients
The dressing for this salad couldn't be more simple to make. In fact, this simple balsamic dressing is my go-to dressing for most salads I make. I love putting this dressing on a steak salad, or anytime I have leftover rotisserie chicken. It goes with just about any protein and veggie combination, and is perfect when you add fruit.
Here's what you'll need for the balsamic dressing:
balsamic vinegar
olive oil
salt & pepper
minced garlic (optional)
honey (optional)
The honey and garlic are totally optional, but are a fantastic addition for some sweet and savory components.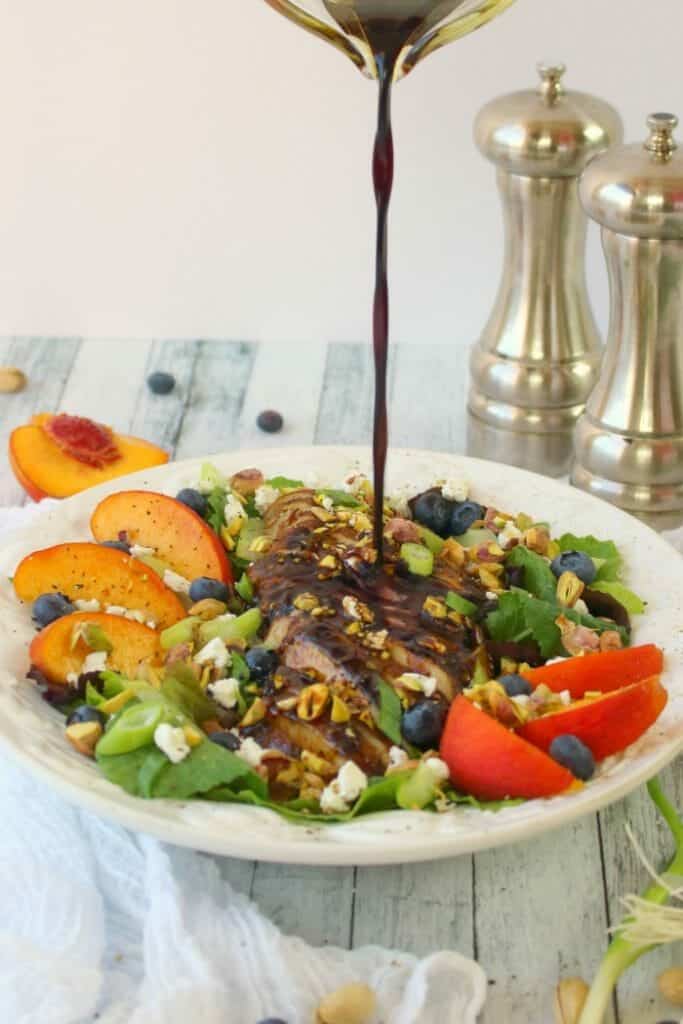 The next time you're craving a fresh, crunchy salad make this Balsamic Grilled Chicken Salad! It's light enough to keep you on track for swimsuit season, and filling enough to satisfy. Enjoy! ~Erin
If you loved this delicious Balsamic Grilled Chicken Salad recipe, check out some of my other salad ideas: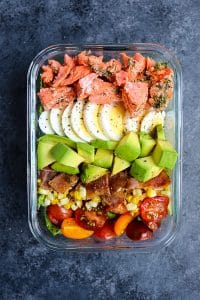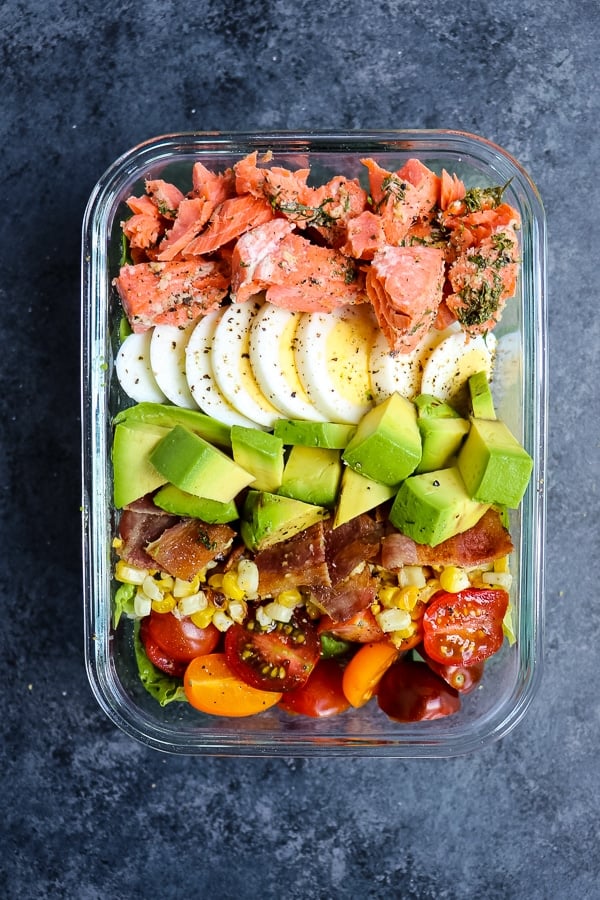 Grilled Salmon Salad – The Perfect Meal Prep Salad idea!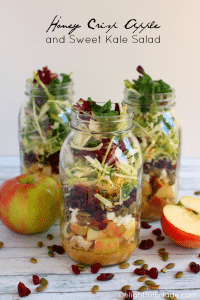 Honey Crisp Apple & Sweet Kale Salad
Grapefruit & Spinach Salad with Glazed Mahi Mahi
Sweet Kale & Grilled Sirloin Salad
Here's the recipe for my Balsamic Grilled Chicken Salad:
Erin @ Delightful E Made
Yields 1 large salad
Balsamic Grilled Chicken Salad
10 minPrep Time
10 minTotal Time
Ingredients
2 c. fresh salad greens
1 (8 oz.) Brown Sugar Balsamic Grilled Chicken breast, sliced
1 fresh peach, sliced
1/2 c. fresh blueberries
1/4 c. green onion, sliced
1/4 c. celery, chopped
2 Tbsp. pistachios, chopped
2 Tbsp. goat cheese crumbles

Dressing:

1/4 c. balsamic vinegar
1 Tbsp. olive oil
Salt and Pepper, to taste
1 Tbsp. honey (optional)
1 tsp. minced garlic (optional)
Instructions
To a large bowl or dinner plate, add the salad greens. Then add the sliced chicken breast. Add the sliced peaches, blueberries, green onion, celery, pistachios and goat cheese crumbles.
In a small bowl, whisk together the balsamic vinegar with the olive oil. Add the salt and pepper, and if desired honey, and minced garlic. Whisk until completely incorporated. Pour over the salad, and enjoy right away.
Notes
If packing this salad for a lunch, or if you're making ahead and serving at a later time. Be sure to store the dressing separately from the salad. Dress the salad just before serving.
7.8.1.2
368
https://delightfulemade.com/2018/07/20/balsamic-grilled-chicken-salad/
Copyright by DelightfulEMade.com
Here's the recipe for my Brown Sugar Balsamic Grilled Chicken: