Need a healthy, easy mason jar salad idea? This Apple Kale Salad with Apple Cider Vinaigrette is the perfect lunch solution. This kale and apple salad can be assembled in mason jars, and will stay fresh and crisp for the perfect make-head lunch!
This post may contain affiliate links. Delightful E Made is a participant in the Amazon Services LLC Associates Program, an affiliate advertising program designed to provide a means for us to earn fees by linking to Amazon.com and affiliated sites.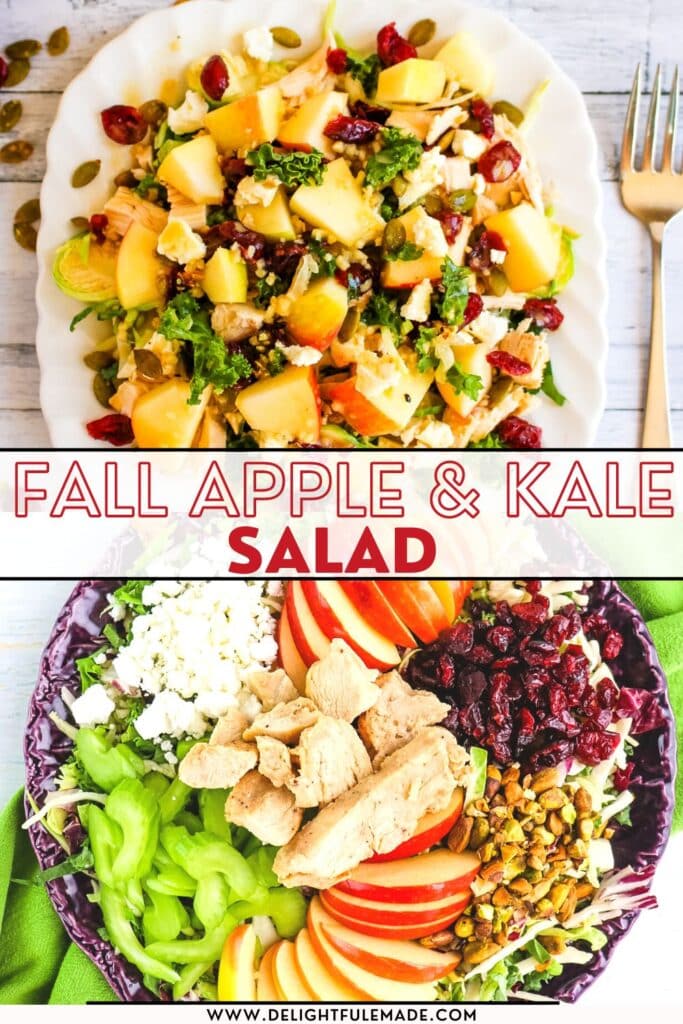 Do you struggle with making healthy lunches? This fresh, healthy kale and apple salad is a great option for lunchtime. Made with ingredients that can be easily assembled with minimal prep, this delicious fall salad is great for packing to take to work or enjoying at home.
This delicious kale apple cranberry salad also includes crisp celery, pistachios, goat cheese crumbles and an amazing apple cider vinaigrette.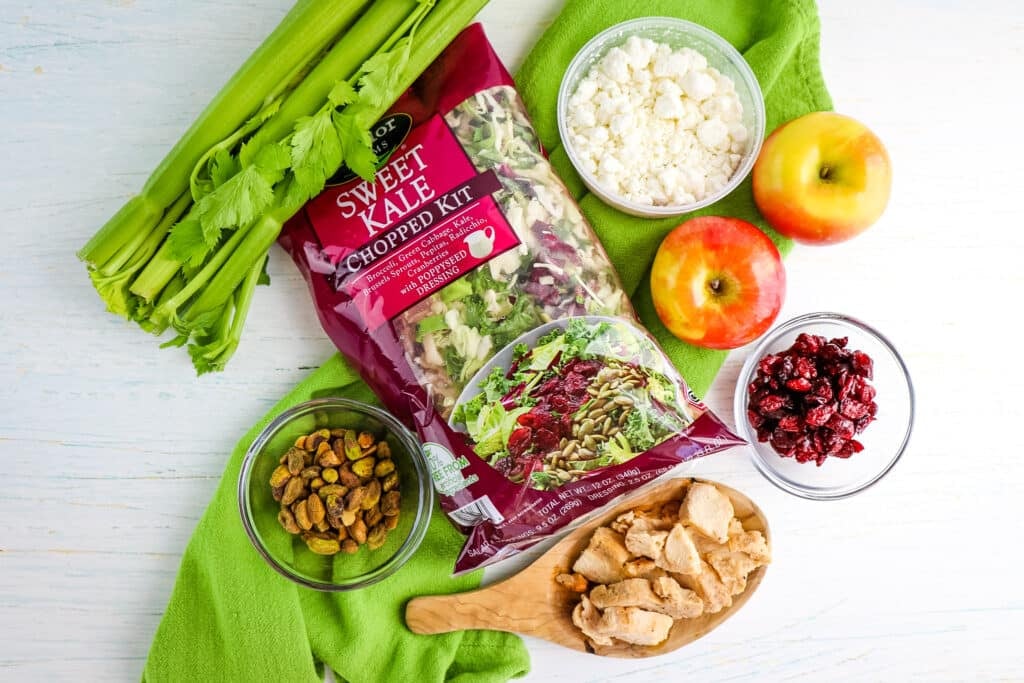 What do I need to make a kale apple salad?
Here's a quick reference grocery list of the ingredients you'll need to make this apple salad:
Baby kale or kale salad mix – purchasing pre-cut and pre-washed salad mix is a big timesaver, especially when you are prepping several salads at once.
Rotisserie chicken – buying pre-cooked rotisserie chicken is another time saver that will help quickly and easily assemble your salads. Costco sells packages of pre-shredded rotisserie chicken in vacuum sealed packages. Check out my page on the 15 Things I Buy at Costco for Healthy Meals.
Honey crisp apples – especially in the fall, these are incredibly crisp, sweet and flavorful. They are fantastic in salads!
Goat cheese crumbles – you can also substitute feta or blue cheese.
Dried cranberries – look for reduced-sugar cranberries or make your own dried cranberries.
Pistachios – you can also substitute pumpkin seeds (pepitas) or walnuts for a great crunch.
Celery – also adds great texture, volume and fiber to your salad.
For exact ingredient amounts and full recipe instructions please scroll down to the bottom of this post to the recipe card. Thanks!
I love getting my rotisserie chicken at Costco! Check out my post for 15 Things I Buy at Costco for Healthy Meals and Snacks!
Here are some of my other recipes where I use pre-cooked rotisserie chicken:
What dressing is best for a kale and apple salad?
Pairing your kale salad with this simple and delicious apple cider vinaigrette is a great option. Here's what you'll need to make this easy, delicious apple cider vinaigrette:
Apple cider – if apple cider is out of season or unavailable, feel free to substitute apple juice.
Apple cider vinegar – every dressing needs an acid, and apple cider vinegar is the perfect fit for this dressing recipe.
Olive oil – you could also use avocado oil, which is a great healthy option for any dressing.
Dijon mustard – Dijon gives this dressing some zest and body.
Garlic – great for flavor.
Salt and pepper to taste
For exact ingredient amounts and full dressing instructions please scroll down to the bottom of this post to the recipe card. Thank you!
Most store-bought, bottled salad dressings are loaded with unhealthy oils and refined sugar. Here are some other great homemade salad dressing options that are much healthier than store-bought: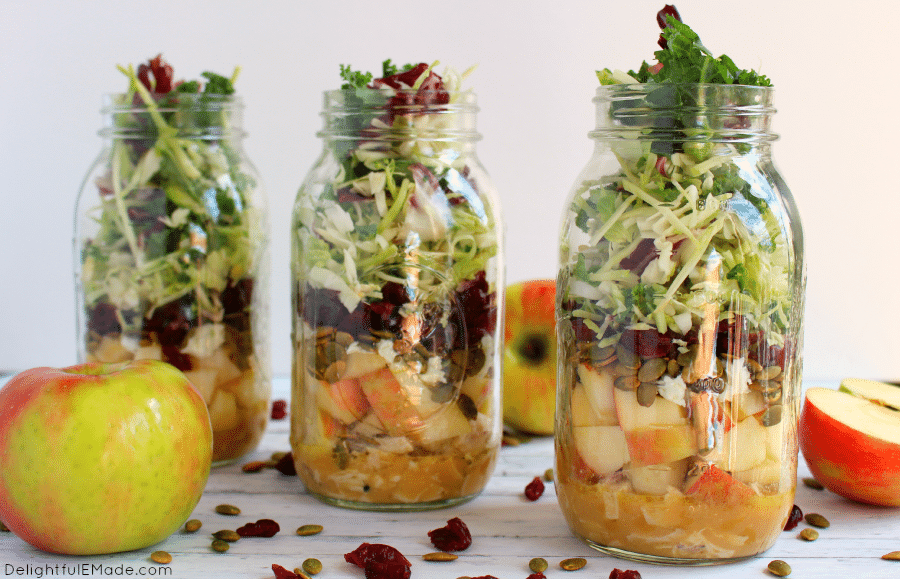 Why meal prep a salad?
Packing salads in advance is a great way to have a healthy lunch option ready to go. The way you assemble the salad is critical, especially if you're adding the dressing to the salad.
Having salads prepped for your work week is a great option for busy days – simply grab a pre-made salad, and head out the door.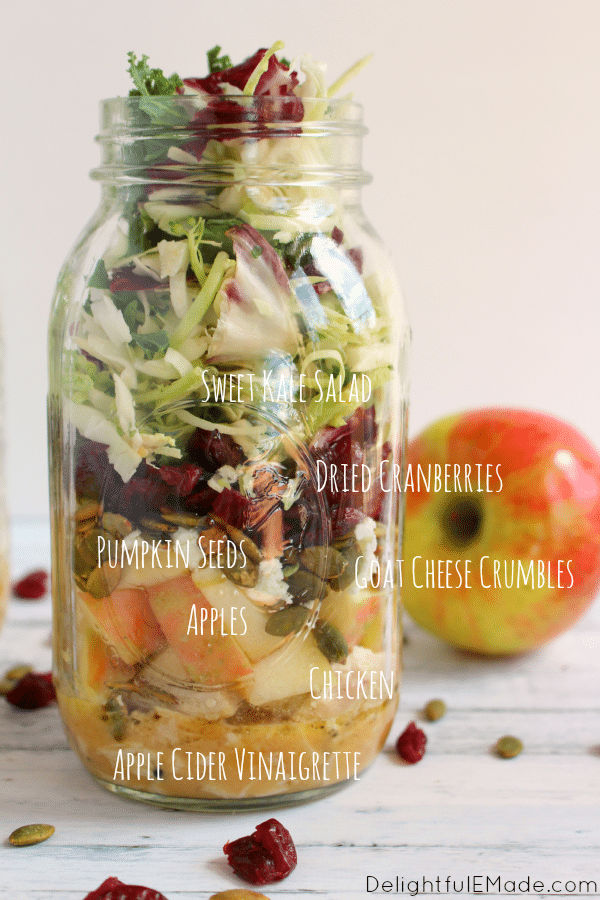 How do I make a mason jar salad?
Putting the ingredients in a specific order is key to keeping your salad fresh and crisp without getting soggy from the dressing. Starting with the dressing at the bottom, then layering the other ingredients over it will keep your salad fresh for a few days.
Here's the order to assemble for keeping your salad fresh:
Start with the apple cider vinaigrette at the bottom of the jar. Keeping the dressing at the bottom will keep your other ingredients from becoming soggy.
Add your chicken next. Having the chicken next to the dressing will add some great flavor, and also act as a barrier to the other ingredients.
Honey crisp apples (or any other apple you're using).
Nuts – pistachios, pumpkin seeds or walnuts can go in next.
Goat cheese crumbles
Dried cranberries
Kale salad mix
What jar is best for a mason jar salad?
I recommend using quart-sized 32 oz., wide-mouth mason jar. These jars will give you the most room, and are easy to pack in lunch bags for transporting to work.
Be sure to check out my page for all of my favorite meal prep containers that I use and recommend.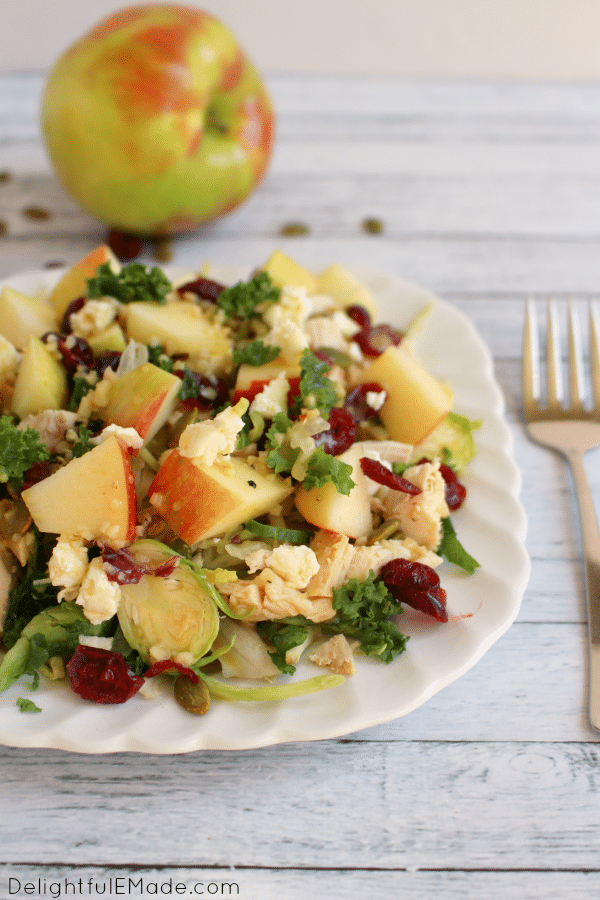 Once lunchtime rolls around, you can take your salad out of the fridge and pour directly onto a plate or bowl. Your salad will be fresh, crisp and filled with the wonderful flavors of fall. It's also the perfect way to make a healthy choice, and save some time in the process.
Love meal prep salads? Check out these other delicious salad recipe that are great for prepping in advance: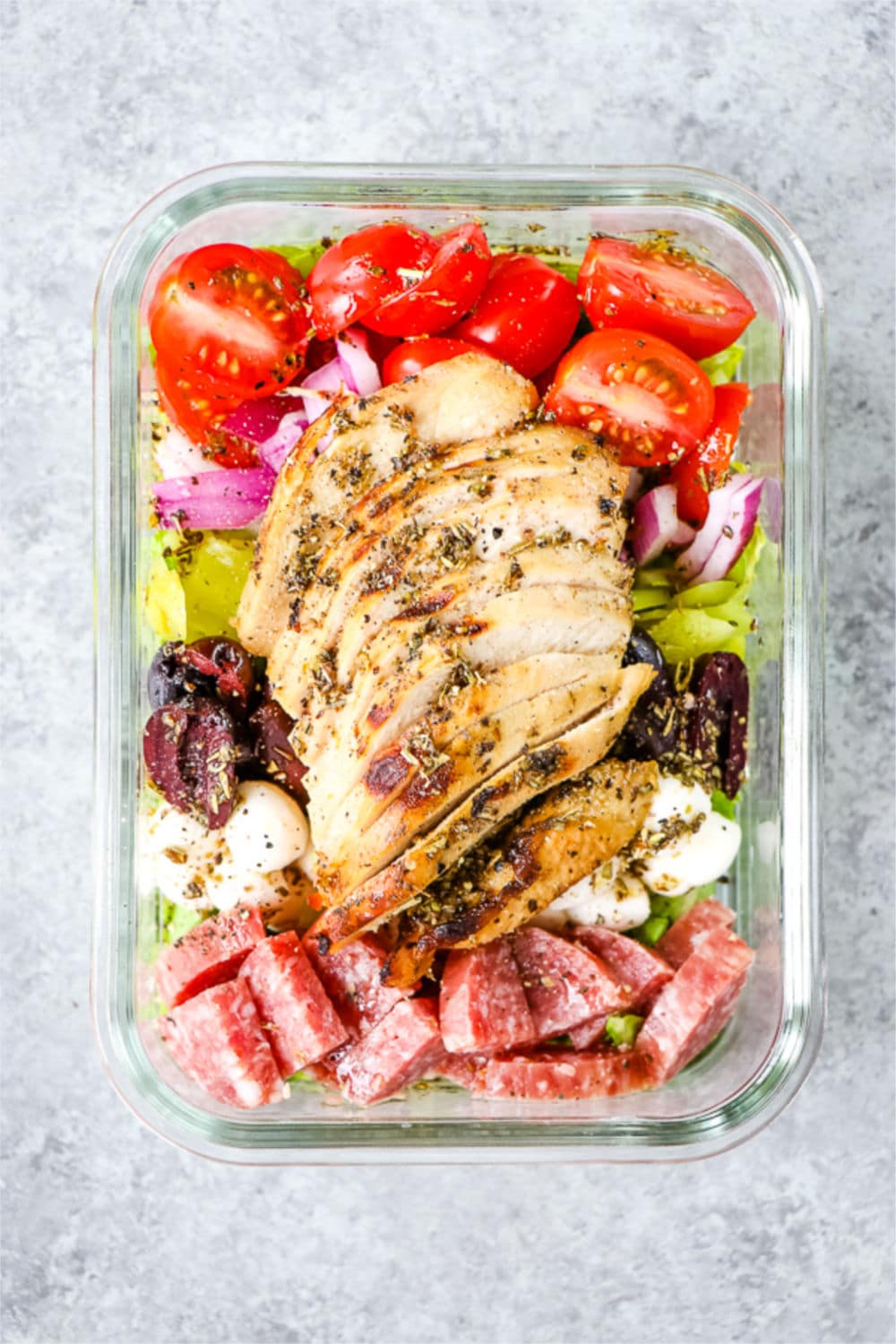 ---
Want to make your own dried cranberries without all the refined sugar?
In this post I'll show you How to Make Dried Cranberries without using refined sugar. This dried cranberries recipe is fantastic for adding to salads, your own granola and granola bars, cookies, and stirring into your yogurt and oatmeal.
Best of all you need just 3 ingredients to make these EASY dried cranberries! These are such a great way to reduce the added sugar in your diet!
Kale Apple Salad
Yield:
2 lunch sized salads
Looking to pack a mason jar salad for lunch? This easy, delicious kale apple salad is healthy, filling and super flavorful!
Ingredients
1 (12 oz. bag) kale salad mix (or you can use pre-chopped kale)
1 1/2 cup cooked, rotisserie chicken
1 large Honey Crisp apple, cored and chopped (about 1 cup)
1/4 cup chopped celery
2 tablespoons goat cheese crumbles
2 tablespoons reduced sugar (or homemade) dried cranberries
2 tablespoons chopped pistachios
Apple Cider Vinaigrette:
1/2 cup apple cider (or apple juice)
1/4 cup apple cider vinegar
3 tablespoons olive oil
1 tablespoon Dijon mustard
2 teaspoons minced garlic
salt and pepper to taste
Instructions
Mix your apple cider dressing. To a bowl or large glass measuring cup, add the apple cider, apple cider vinegar, olive oil, mustard, garlic, salt and pepper. Whisk well to combine.
Pour the dressing evenly into two (2) quart-sized, 32 oz. mason jars.
Next, layer the remaining ingredients over the top of the dressing to the jars. Start by adding the chicken first to the dressing. Next, the chopped apples, celery, then the goat cheese crumbles. Next the pistachios, then dried cranberries. The last thing you will add to the jar is the salad mix. Pack the salad mix onto of the remaining ingredients. The 12 oz bag can be divided between the two jars.
Place the mason jar lid onto each jar and refrigerate the salads. The salads will keep for 3-4 days refrigerated. Once ready to eat, simply pour the salad into a bowl and enjoy!
Notes
It is important to layer the salad in the sequence that I outline. Placing the dressing at the bottom of the jar, and layering the chicken on top of it will help keep the remaining ingredients fresh and crisp.
Nutrition Information:
Yield:

2
Serving Size:

1
Amount Per Serving:
Calories:

543
Total Fat:

28g
Saturated Fat:

9g
Trans Fat:

0g
Cholesterol:

129mg
Sodium:

1152mg
Carbohydrates:

38g
Net Carbohydrates:

25g
Fiber:

13g
Sugar:

4g
Protein:

37g