The BEST Cinnamon Banana Bread Recipe!
Tired of your same-old banana bread recipe? This Cinnamon Swirl Banana Bread might just become a new family favorite. Super moist, flavorful and topped with a swirl of cinnamon sugar, this Cinnamon Banana Bread recipe is one you'll make over and over again!
Disclosure: This post may contain affiliate links. Delightful E Made is a participant in the Amazon Services LLC Associates Program, an affiliate advertising program designed to provide a means to earn fees by linking to Amazon.com and affiliated sites.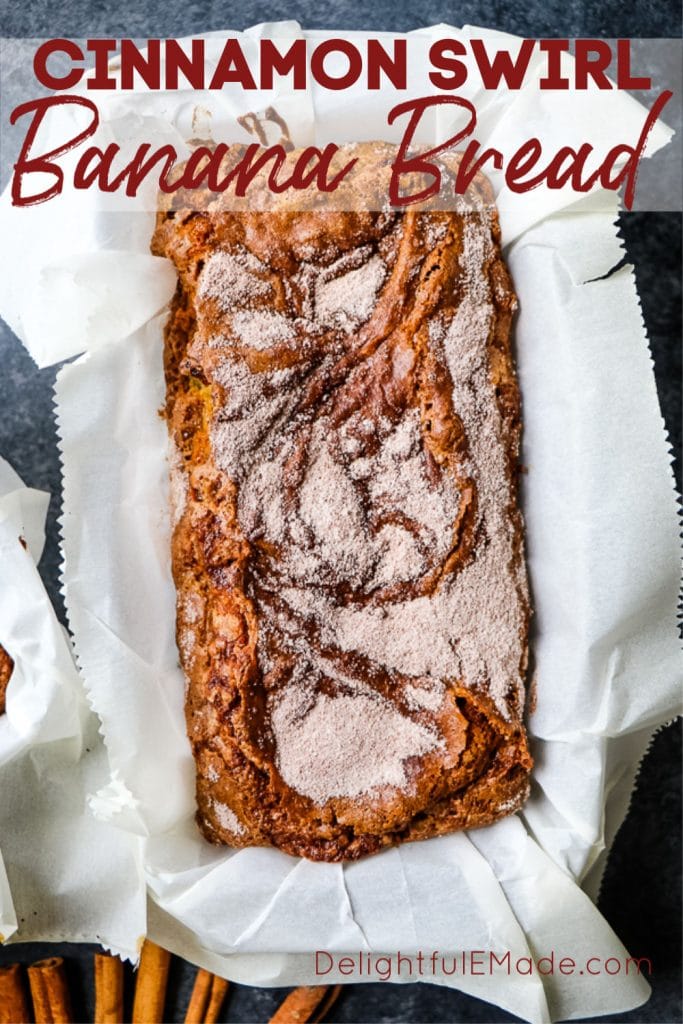 There is something incredibly comforting about banana bread. As a kid, Cinnamon Banana Bread was always made on a cold, rainy day or a lazy Sunday afternoon. It's perfect for snacking or enjoyed with a fresh cup of coffee or tea.
I created this recipe by combining two of my popular quick bread recipes; my Cinnamon Swirl Zucchini Bread and my Award Winning Banana Bread recipe. It's definitely a match made in heaven!
Like this recipe? Be sure to pin it to your BREAD board!
Here are the simple steps to making Cinnamon Swirl Banana Bread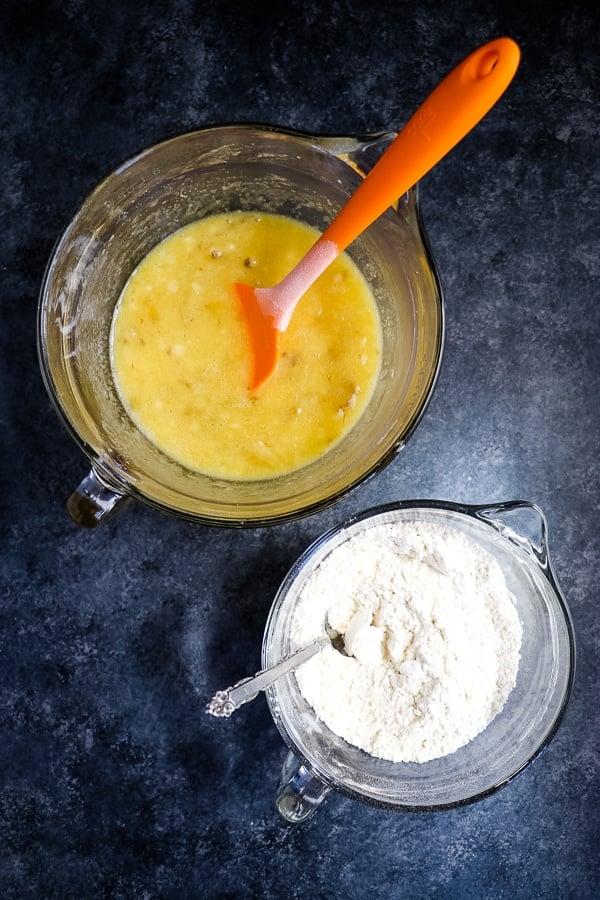 Step 1: Mix your wet and dry ingredients in separate bowls
Start by mashing three RIPE bananas, and mix together with the oil, sugar, eggs and lemon juice.
Whisk together the dry ingredients: flour, baking powder, baking soda and salt.
Gradually mix together the dry ingredients into the wet ingredients to make the batter.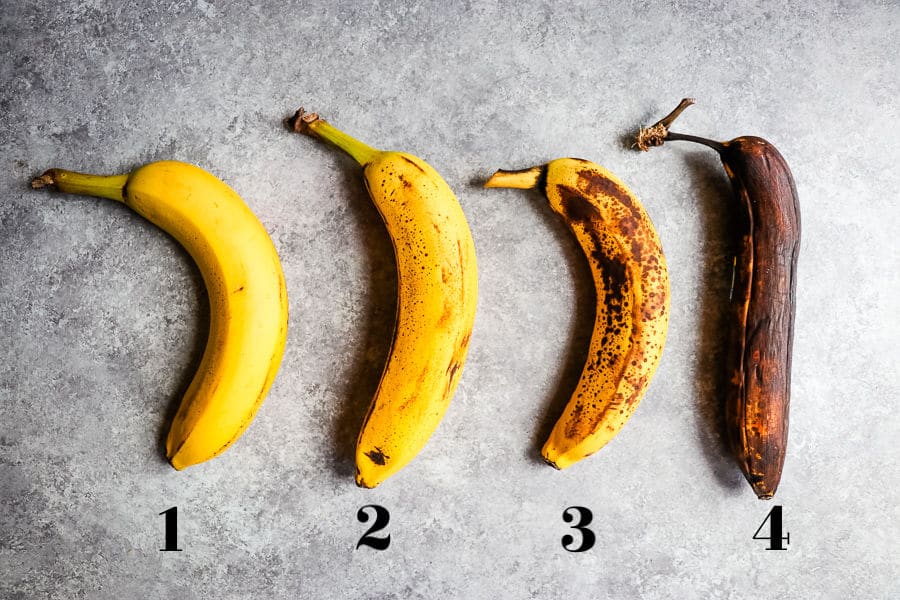 What bananas are best for banana bread?
The darker and riper, the better. Bananas that are not over ripe are too firm, and will leave large chunks of banana in your batter. Conversely, bananas that are over-ripe have converted over to sugar and are much sweeter and softer for baking. A banana that is a 3 or 4 is ideal for baking into banana bread.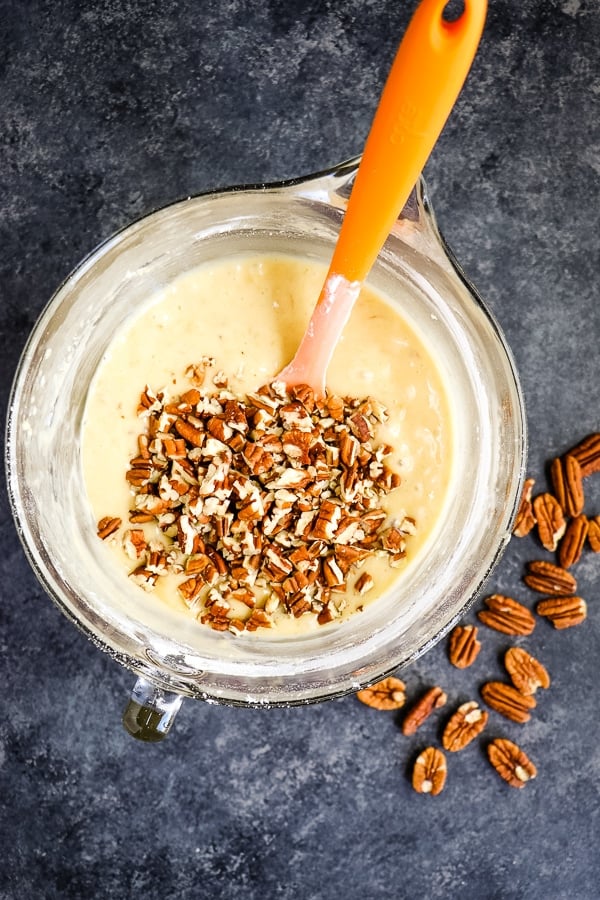 Step 2: Fold the nuts to the batter
I have a personal love for pecans, so naturally, I added chopped pecans into this batter. If you would prefer your cinnamon banana bread to be without nuts, feel free to leave them out entirely.
What can I add to banana bread?
Nuts, like walnuts or pecans are a traditional mix-in to many banana bread recipes. Chocolate chips, peanut butter chips, peanut butter, almond butter or strawberries, blueberries or raspberries are great mix-in options.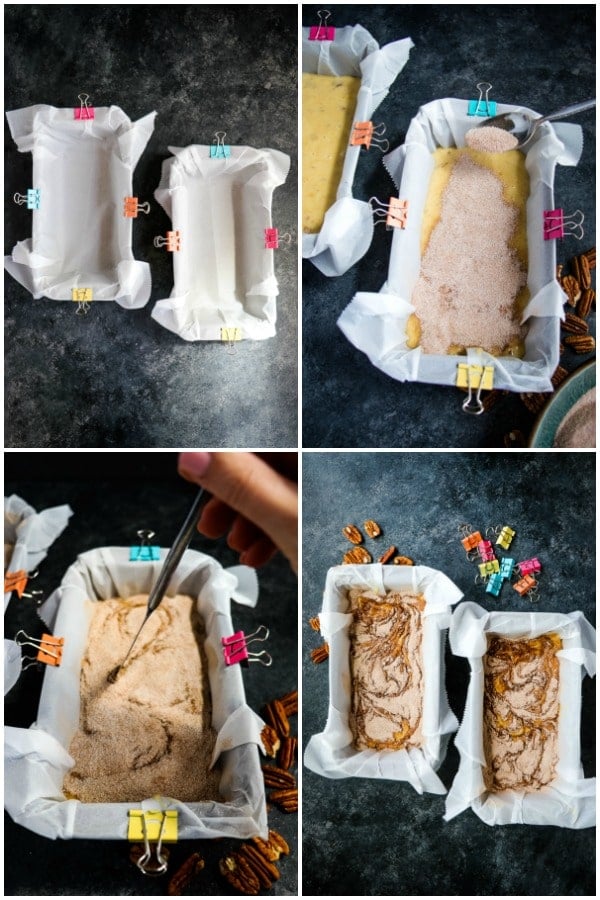 Step 3: Add the batter to the pans and create the cinnamon swirl
This recipe will make two medium-sized loaves of banana bread. Divide the batter evenly between two 3 1/2″ x 7 1/2″ loaf pans that have been lined with parchment paper.
Protip: secure the sheets of parchment paper with binder clips. This helps keep the paper in place while you pour the batter into the pans.
Once the batter is divided into the two pans, sprinkle the top of each loaf with a generous amount of cinnamon sugar. Next, using a table knife, swirl the sugar mixture into the batter (shown above.)
Can you bake 2 loaves of banana bread at the same time?
Yes. Just be sure the loaf pans are the same size. If the pans are NOT the same size, baking will be uneven and one loaf will take longer to bake than the other.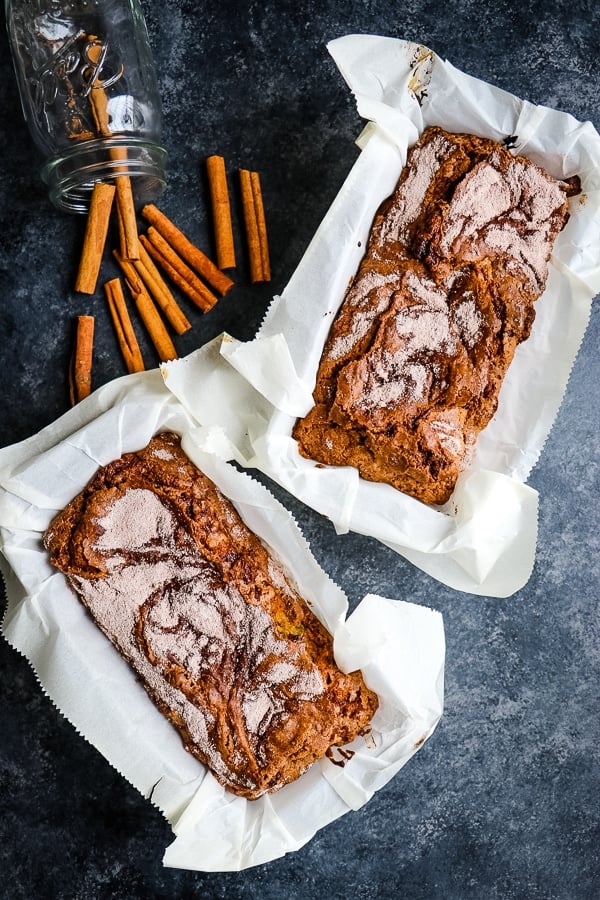 Step 4: Bake and let cool
Once you've swirled the cinnamon sugar to create your cinnamon banana bread, bake the loaves at 350 degrees for 40-45 minutes.
How do I know when my banana bread is done?
Banana bread will be a golden brown on top, and the batter will usually crack down the middle. This is common and normal for most quick bread recipes. Test the bread by inserting a toothpick into the center of the loaf. If the toothpick comes out clean and crumb-free the bread is done baking.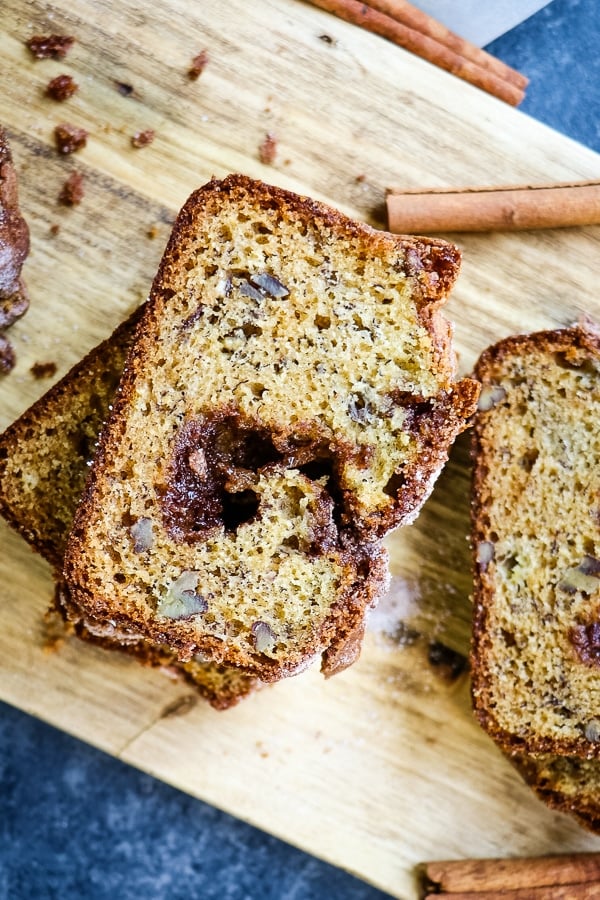 Once you slice your cinnamon swirl banana bread, you'll find a beautiful cinnamon center inside each slice. Tasty and beautiful!
FAQ's about cinnamon banana bread:
Why is my banana bread dry?
Dry banana bread can happen for a couple of reasons. First, you've likely added too much flour. Make sure to measure your flour by spooning the flour and leveling off the measuring cup for an accurate measure. Another culprit of dry banana bread is baking the bread for too long. Overbaking draws out moisture from the loaf and leaves it overly dry.
How do you keep banana bread moist?
Once you've let your banana bread cool to room temperature after baking, store in an airtight container. Don't let it sit out uncovered, as this will dry out the bread.
How long will banana bread keep?
Banana bread will be at its freshest the day it is made. It will keep at room temperature, stored in an airtight container, for up to three days. If refrigerated and stored in an airtight container, the banana bread will last for up to 5 days.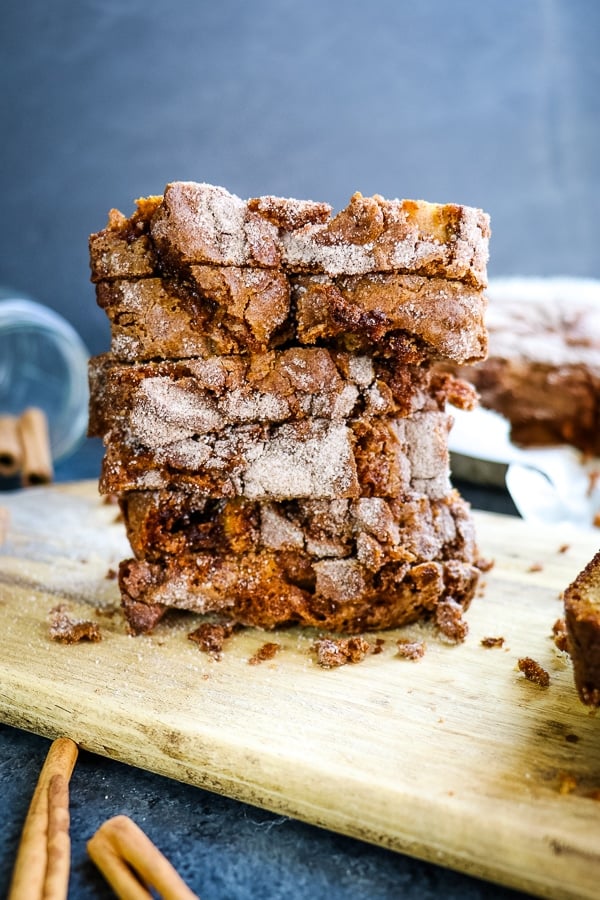 If you loved this delicious Cinnamon Banana Bread, then be sure to check out some of my other banana bread recipes:
You'll also love these other quick bread recipes: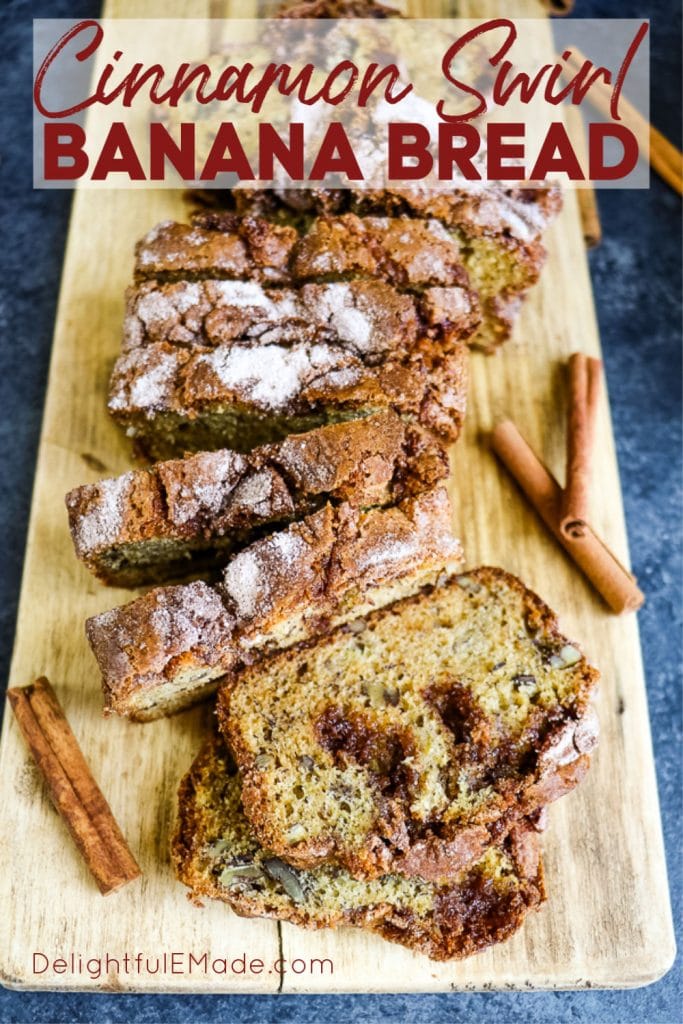 Here's the recipe for my delicious Cinnamon Swirl Banana Bread
Cinnamon Swirl Banana Bread
This Cinnamon Swirl Banana Bread might just become a new family favorite. Super moist, flavorful and topped with a swirl of cinnamon sugar, this Cinnamon Banana Bread recipe is one you'll make over and over again!
Ingredients
3 large ripe bananas, mashed
1/2 c. coconut oil (or vegetable oil)
1 c. granulated sugar
2 eggs
4 1/2 tsp. lemon juice
2 c. flour
1 tsp. baking soda
1/2 tsp. baking powder
1/2 tsp. salt
1/2 c. chopped pecans or walnuts
Cinnamon Swirl Topping:
1/2 c. granulated sugar
1 Tbsp. cinnamon
Instructions
Preheat oven to 350 degrees. Line (2) 3 1/2" x 7 1/2" loaf pans with parchment paper. Secure with binder clips. Set prepared pans aside.
In a large mixing bowl, mash the bananas, and mix in oil, sugar and lemon juice. Set aside.
In another bowl, whisk together the flour, baking soda, baking powder and salt. Gradually add the dry ingredients to the wet ingredients. Stir the batter until well combined. Lastly, stir in the chopped nuts. pour the batter evenly into the two prepared pans.
For the cinnamon sugar topping: in a small bowl, stir together the sugar and cinnamon. Divide the sugar topping evenly over each loaf. Using a table knife, swirl the cinnamon sugar into the batter.
Bake at 350 degrees for 40-45 minutes or until toothpick inserted into the center of the loaf comes out clean and crumb-free. Remove from oven and let cool at least 10 minutes before removing from pans.
Slice warm or let cool. Enjoy!
Nutrition Information:
Serving Size:

16 slices
Amount Per Serving:
Calories:

222
Total Fat:

10g
Saturated Fat:

1g
Sodium:

177mg
Carbohydrates:

32g
Sugar:

19g
Protein:

3g