Looking for an easy Strawberry Banana Bread recipe? This simple, delicious and healthy strawberry banana bread is made without refined sugar and with some other healthier ingredients. A great option when looking for a healthier strawberry bread recipe.
This post may contain affiliate links. Delightful E Made is a participant in the Amazon Services LLC Associates Program, an affiliate advertising program designed to provide a means for us to earn fees by linking to Amazon.com and affiliated sites.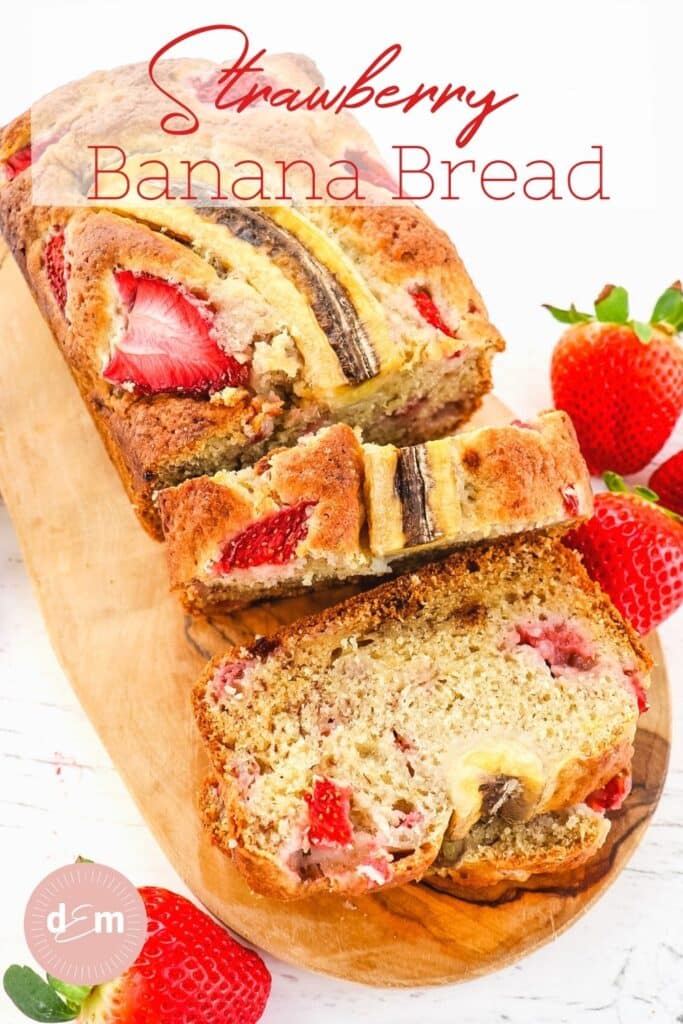 Have you tried strawberry banana bread yet? It's the perfect way to enjoy a classic banana bread recipe and add some springtime flair with fresh strawberries.
This easy strawberry bread recipe is simple to make, as I've adapted my award winning banana bread recipe and added strawberries.
To make this a healthy strawberry banana bread, I've replaced the refined sugar with a granular monk fruit sweetener, and substituted the vegetable oil with unflavored coconut oil.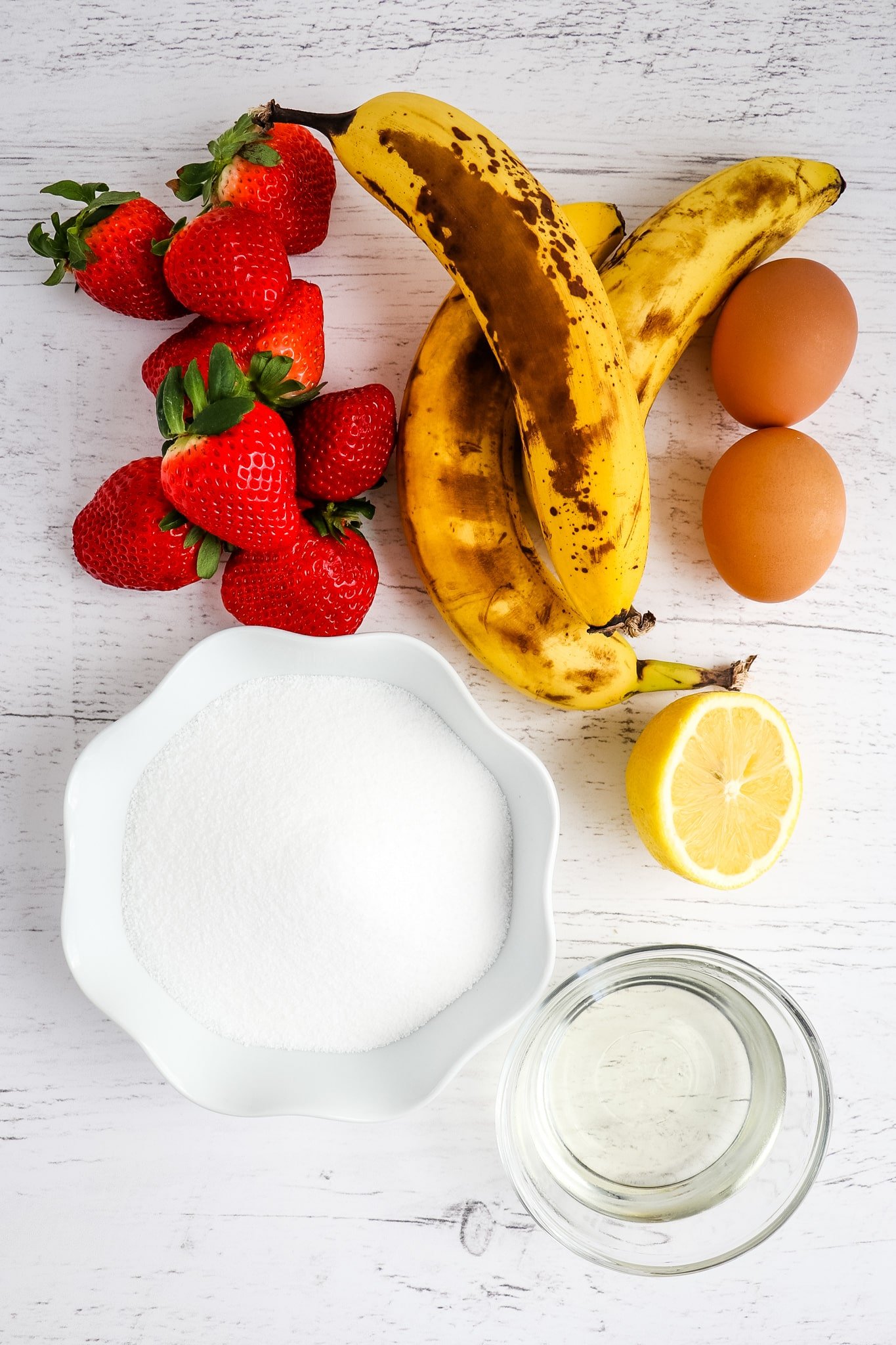 What do I need to make strawberry banana bread?
Ripe bananas – you know the ones! Overly brown that have been sitting on your counter for a little too long. Those bananas are actually perfect! (See photo below)
Unflavored coconut oil – I like Carrington Farms Unflavored Coconut Oil for baking
Granular monk fruit sweetener – I like either Whole Earth or Lakanto
Eggs
Fresh squeezed lemon juice (juice of a 1/2 lemon)
All-Purpose flour
Baking powder
Baking soda
Salt
Fresh strawberries – for the batter and for topping.
For exact ingredient amounts and full recipe instructions please reference the recipe at the bottom of this post. Thank you!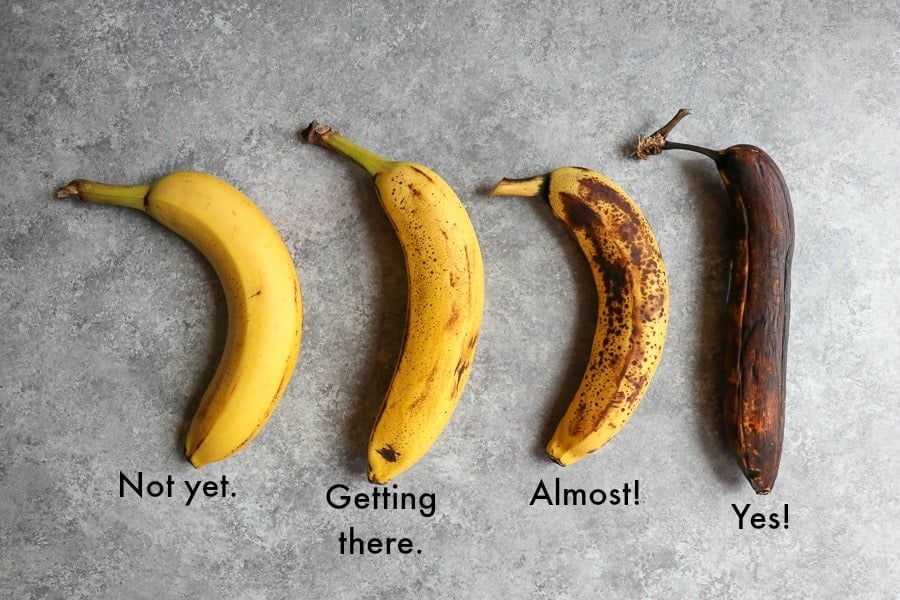 What bananas are best for banana bread?
Bananas that have dark brown spots and are nearly fully dark are ideal for banana bread. As bananas get darker, they become sweeter and sweeter, which makes them ideal for baking.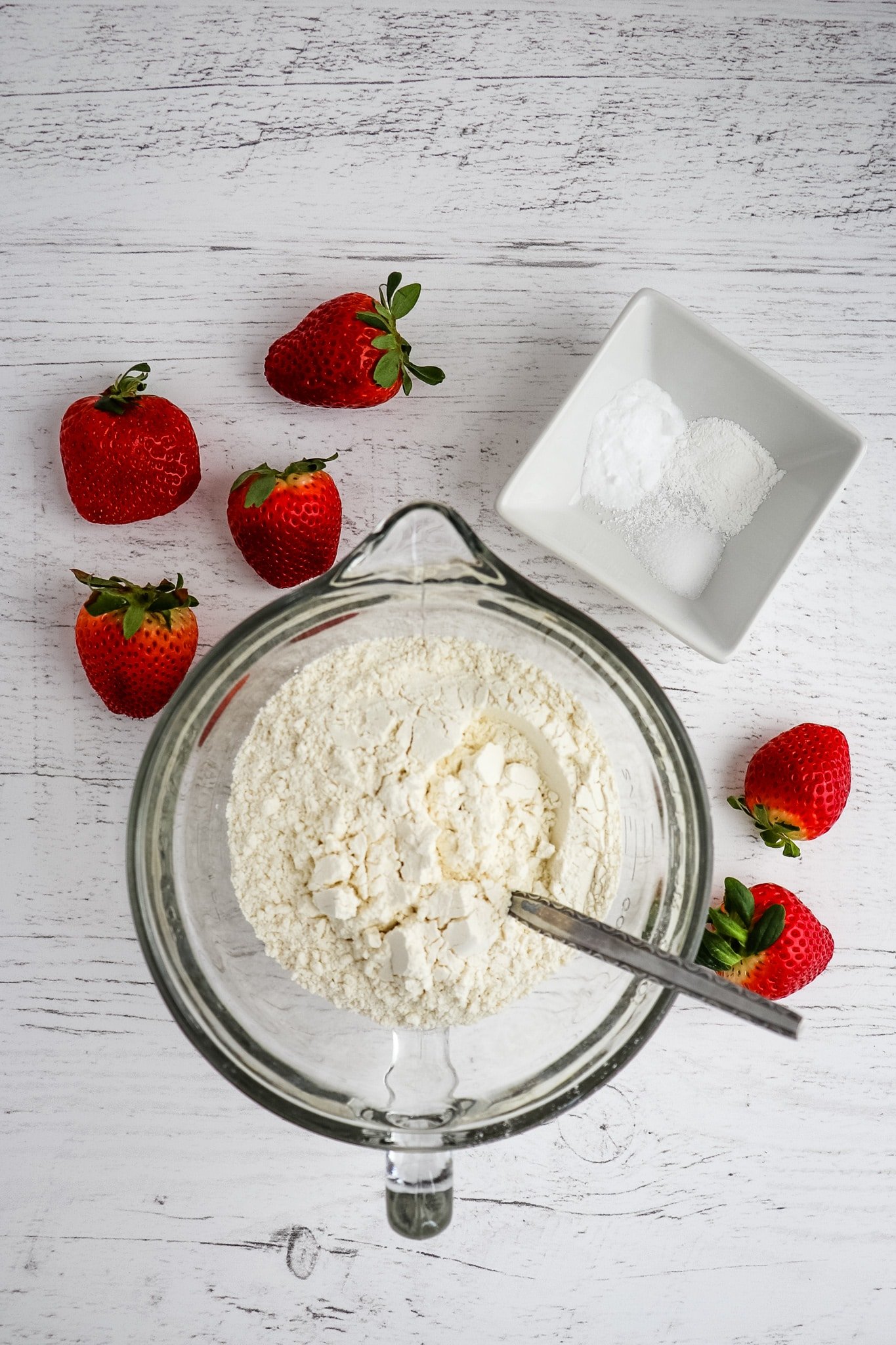 How do I make strawberry banana bread?
First, start by mashing your ripe bananas with a fork or potato masher. To the mashed bananas add the sweetener, oil, eggs and lemon juice. Mix together well and then set aside.
Next, combine the dry ingredients; flour, baking powder, baking soda and salt in a separate bowl. Gradually add the dry ingredients to the wet ingredients to form the banana bread batter.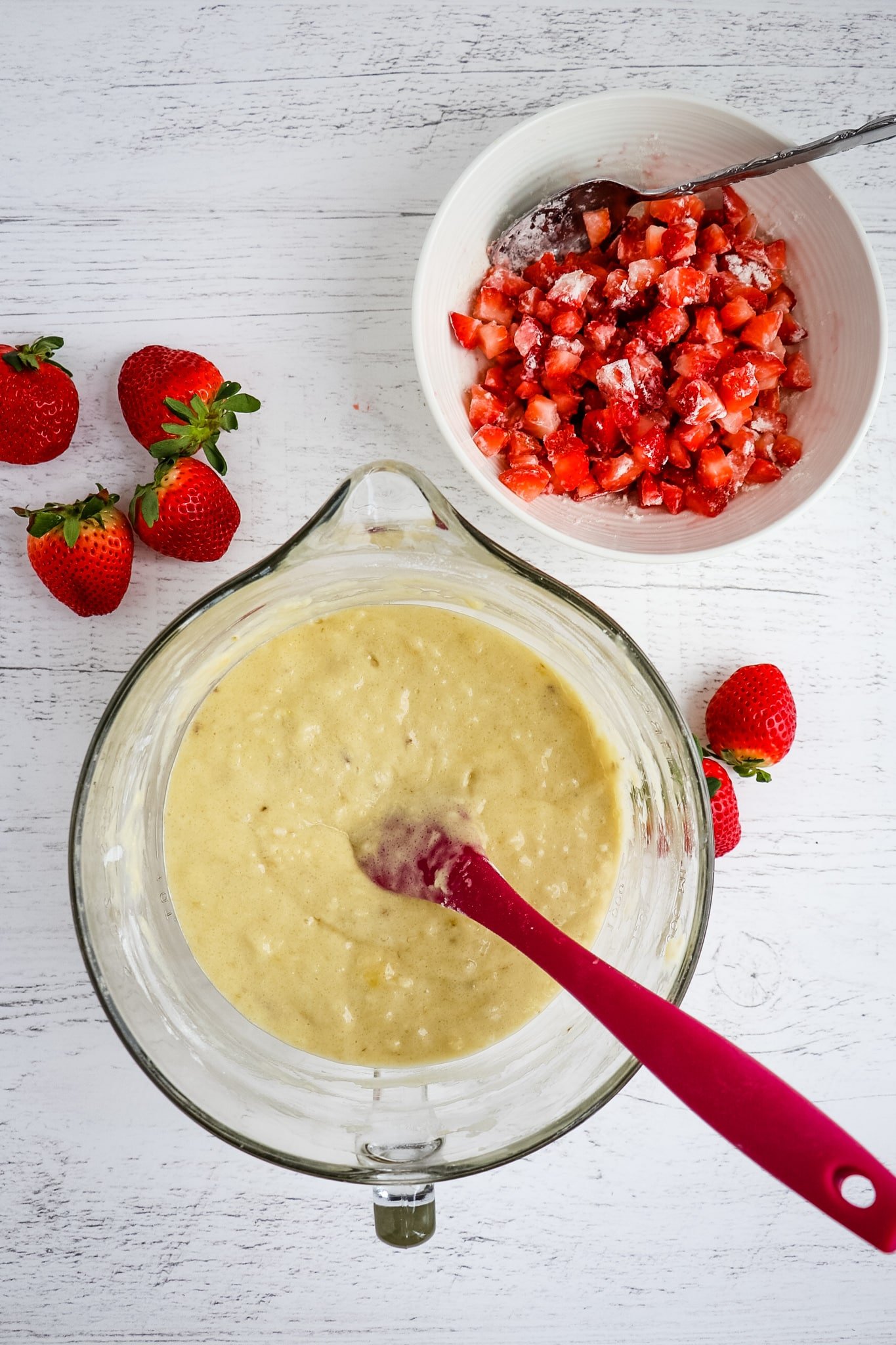 Once the banana bread batter has been fully mixed (wet and dry ingredients) in one bowl. Dice the strawberries and coat them in 1 tablespoon of flour. Coating the strawberries in flour will help them not sink to the bottom of the pan while baking.
Mix the coated strawberries into the batter.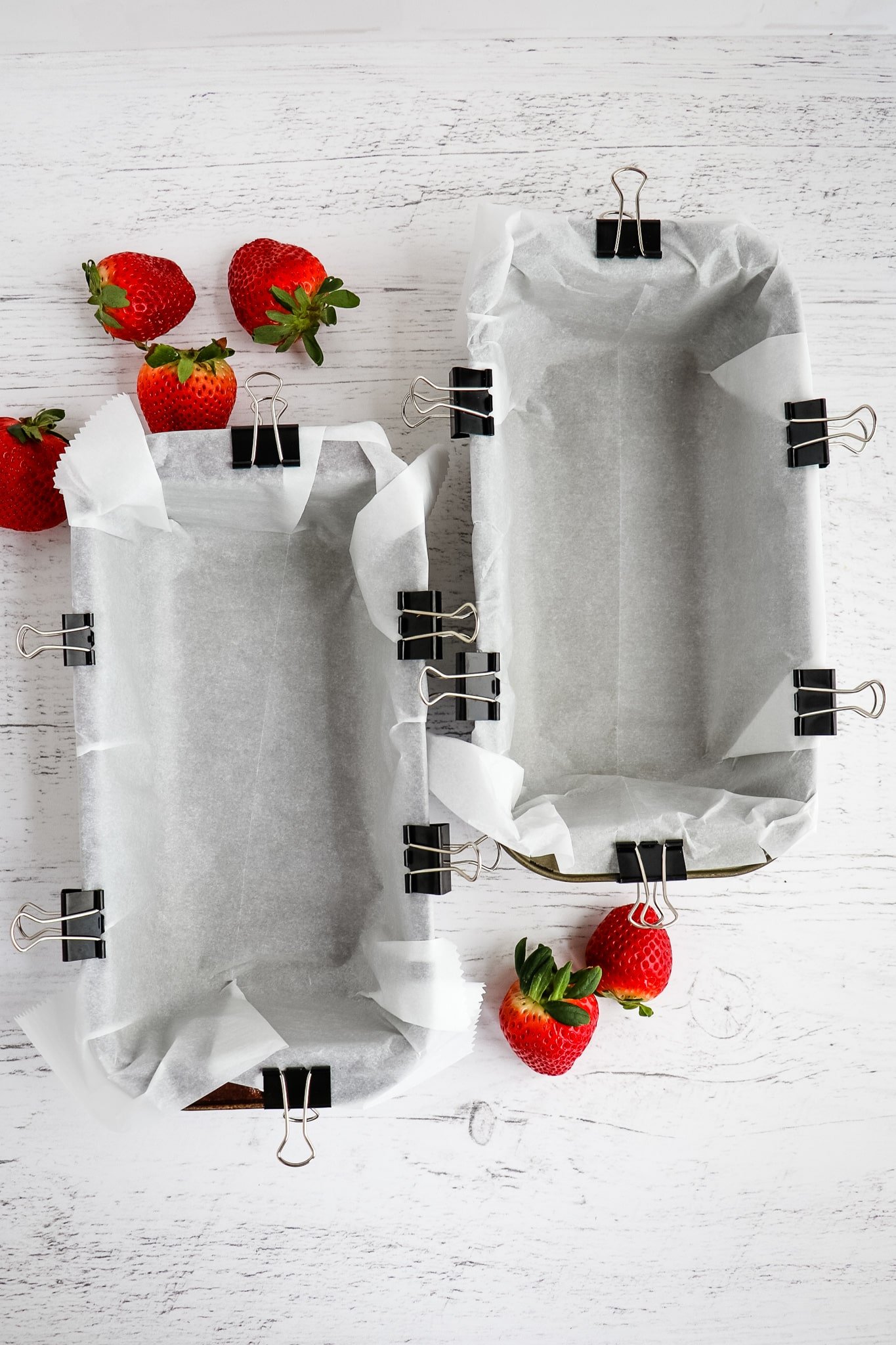 Prepare two 8″ loaf pans by lining them with sheets of parchment paper. Securing the parchment paper with binder clips helps keep the paper in place when pouring the batter into the pan.
Divide the batter evenly into the two prepared pans. If you like, top each loaf with extra sliced strawberries and a horizontally sliced banana. (These are optional and for a garnish.)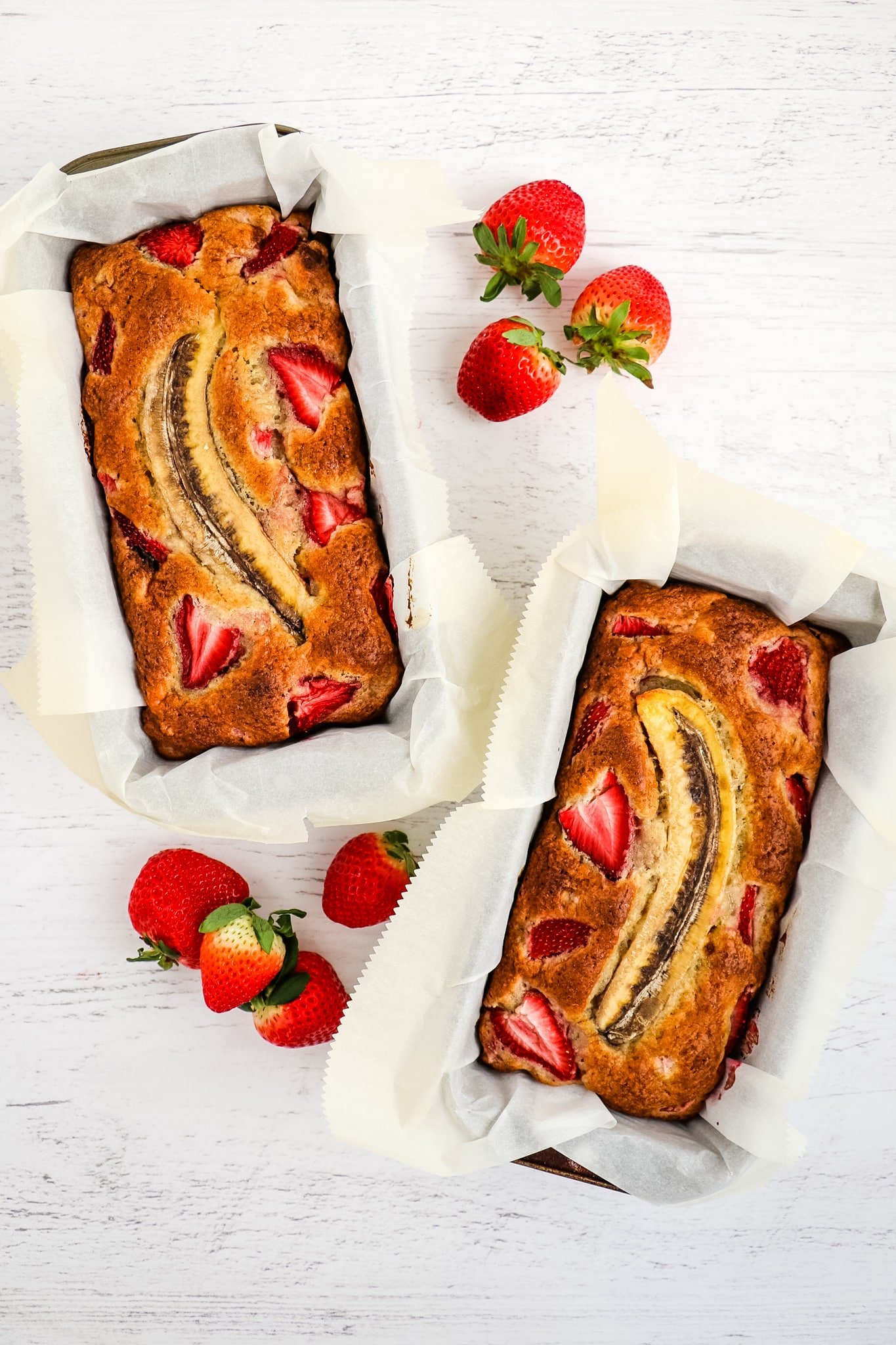 Bake the two loaves of strawberry banana bread at 350 degrees for 55-60 minutes or until toothpick inserted into the loaf comes out clean and crumb-free.
Once the banana bread cools, slice and enjoy!
Looking to use up over-ripe bananas? Try my Banana Cake with Cream Cheese Frosting or my Banana Protein Muffins.
Ingredient Substitutions and Recommendations:
Flour: instead of all-purpose flour you could use whole wheat or a gluten-free flour. Bob's Red Mill makes a great gluten-free flour that performs really well in banana bread recipes.
Sweetener: I used Whole Earth Granular monk fruit sweetener in this banana bread recipe to minimize the refined sugar and make it healthier. If you prefer, you can use regular, granulated sugar.
Toppings: To make this strawberry banana bread extra pretty, I added sliced strawberries and an halved banana to each loaf. These are optional.
Why lemon juice? Yes, I absolutely realize that lemon juice is not a traditional ingredient in banana bread. However, I've been baking banana bread with my Award-Winning Banana Bread Recipe for over 30 years. I will say that the addition of lemon juice takes the flavor over the top! It balances the sweetness and flavor of the loaf beautifully. I highly recommend using lemon juice and will never NOT use it in these banana bread recipes. I also use lemon juice in my super delicious Zucchini Banana Bread.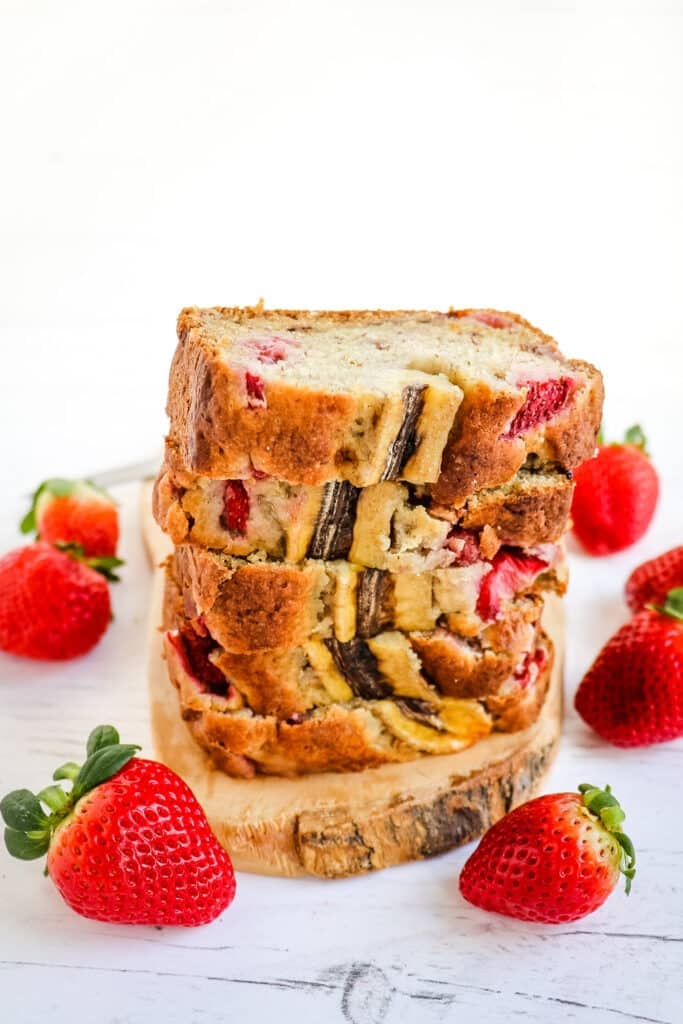 Frequently Asked Questions about baking banana bread:
What happens when you overmix banana bread?
Typically, the gluten in the flour becomes overly-activated, making the banana bread rather dense and rubbery. When mixing the batter, try to hand mix and only until all the ingredients are evenly combined.
Can you substitute any fruit in banana bread?
Not really. While applesauce is a good substitution for bananas, the banana bread will not have the same flavor or consistency. The same goes with other fruits, as their sugar, carbohydrate and water contents are not the same.
What pan is best for banana bread?
It's best to use a 9 x5″ loaf pan for baking banana bread and other quick breads. You can use larger loaf pans, however, because it takes longer to bake the center of the bread, the top of the loaf becomes overly browned and rather unappealing.
Can banana bread be left out at room temperature?
Yes, banana bread can be left at room temperature for 1-2 days. However, if you want it to last longer than a couple days, store in an airtight container in the refrigerator for up to 5 days.
Can banana bread be frozen?
Yes. Banana bread freezes well. Stored in an airtight freezer container, banana bread can be frozen for up to 3 months.
If you love strawberries, check out some of these other recipes:
Love baking banana bread? Here are some of my other quick bread recipes that you'll love: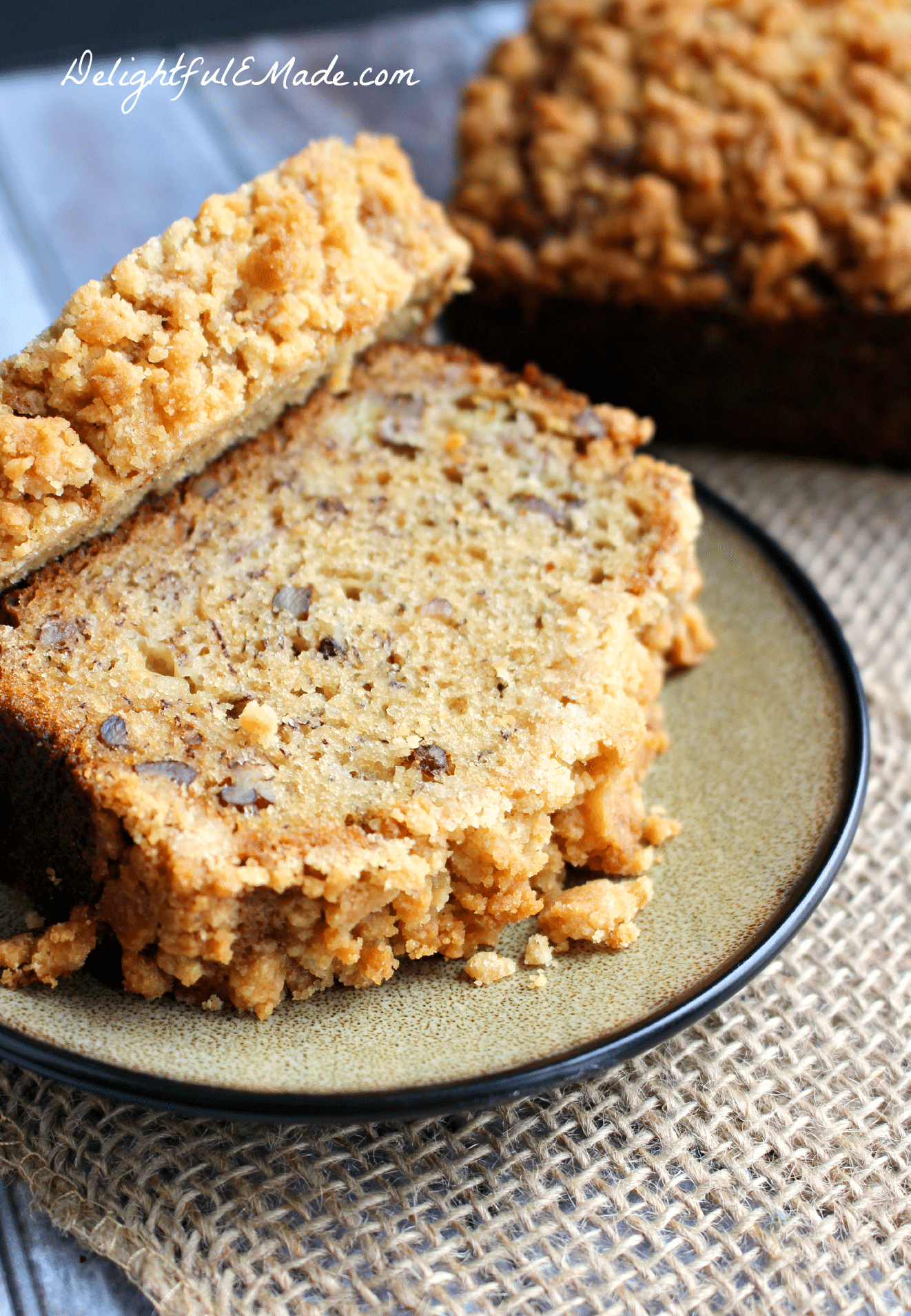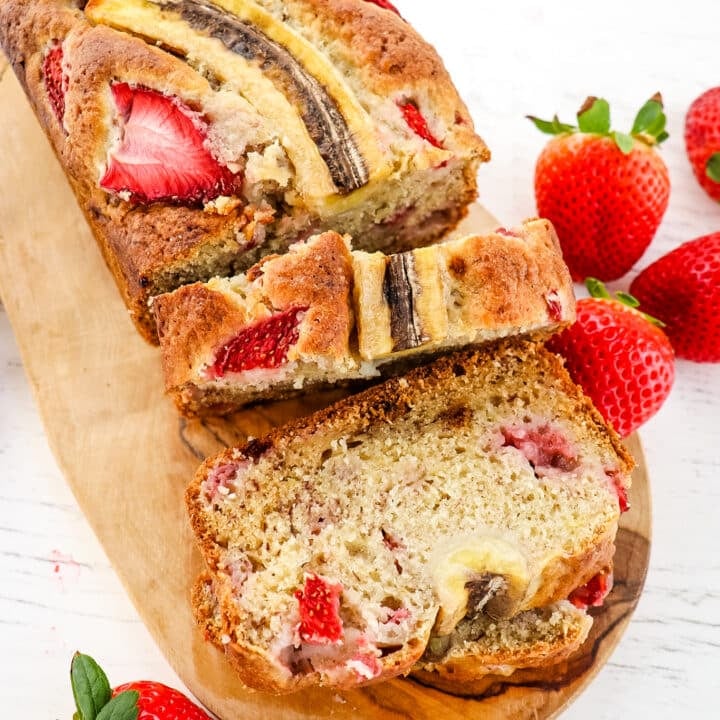 Strawberry Banana Bread
Yield:
2 loaves, 20 slices
Total Time:
1 hour
15 minutes
Looking for an easy strawberry banana bread recipe? This healthy strawberry banana bread is perfect for enjoying as a snack or with your breakfast.
Ingredients
3 medium ripe bananas, peeled and mashed
1 c. granular monk fruit sweetener, like Whole Earth
1/2 c. unflavored coconut oil
2 eggs
4 1/2 tsp. lemon juice (juice of 1/2 lemon)
2 c. all-purpose flour, plus 1 Tbsp.
1 tsp. baking soda
1/2 tsp. baking powder
1/2 tsp. salt
1 1/2 c. fresh strawberries, chopped
Optional Toppings:
1/2 c. sliced strawberries
1 banana, halved horizontally
Instructions
Preheat oven to 350 degrees. Line two 9" x 5" loaf pans with parchment paper, securing edges with binder clips. Set aside.
In larger mixing bowl, mash ripe bananas, and add sweetener, eggs, oil and lemon juice. Stir well to combine.
In another bowl, whisk together the 2 cups of flour (reserving the 1 tablespoon), baking soda, baking powder and salt. Gradually add the dry ingredients to the wet ingredients, using a whisk. Stir until the batter is just combined and without lumps.
Chop the fresh strawberries and sprinkle with the reserved 1 tablespoon of flour. Stir to coat the strawberries. Pour coated strawberries into batter and fold in with a rubber scraper.
Evenly divide the batter into the two prepared loaf pans. Top the batter with sliced strawberries and halved bananas for garnish, if desired. Remove the binder clips (if you used them to secure the parchment paper), and bake loaves at 350 degrees for 55-60 minutes or until a toothpick inserted into the loaf comes out clean and crumb free.
Let loaves cool for 10-15 minutes before slicing. Enjoy!
Notes
Banana bread can be left out at room temperature, but will only keep for 1-2 days.
For best results, refrigerate any leftovers in an airtight container. Bread will keep refrigerated for up to 5-7 days.
Strawberry banana bread can be frozen. Store in an airtight container. Will keep frozen for up to three months.
Nutrition Information:
Yield:

20
Serving Size:

1, 1" slice
Amount Per Serving:
Calories:

89
Total Fat:

6g
Saturated Fat:

5g
Trans Fat:

0g
Unsaturated Fat:

1g
Cholesterol:

19mg
Sodium:

141mg
Carbohydrates:

8g
Fiber:

1g
Sugar:

5g
Protein:

1g