My Double Chocolate Banana Bread is the most moist banana bread recipe you'll ever find! This chocolate chip banana bread recipe is made with brown sugar, ripe bananas and loads of big chocolate chips, making it even better than chocolate cake!
This post may contain affiliate links. Delightful E Made is a participant in the Amazon Services LLC Associates Program, an affiliate advertising program designed to provide a means for us to earn fees by linking to Amazon.com and affiliated sites.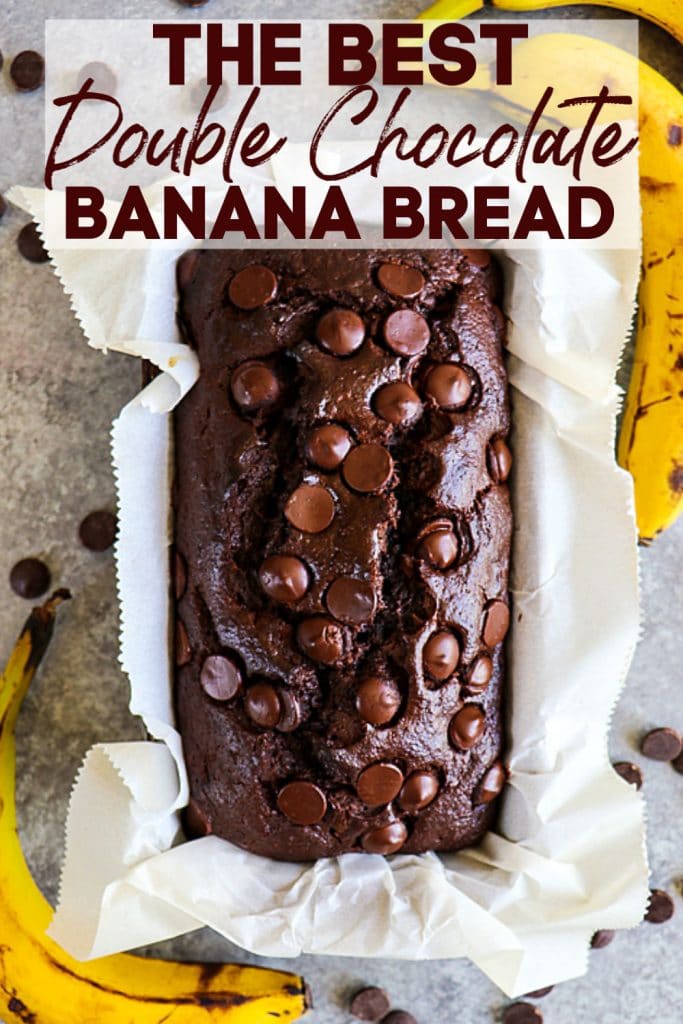 Much like my Award Winning Banana Bread recipe, this Double Chocolate Banana Bread will knock your socks off when it comes to flavor. One of the most moist banana bread recipes I've ever made (and I make A LOT of banana bread!), this chocolate chip banana bread recipe is really simple to make and tastes just like chocolate cake.
Like this recipe? Be sure to pin it to your Baking board on Pinterest!
Follow DelightfulEMade on Pinterest for some of the very best baking ideas!
Learning how to make banana bread was one of my very first attempts at baking as a kid. With the help of my mom, I learned how to measure dry ingredients, wet ingredients and use measuring spoons and cups.
Once I learned the fundamentals of baking, my curiosity for cooking and baking took off. By the age of 8, I could make French Toast by myself and had mastered some simple baking and cooking recipes that were really helpful for my family of six.
It also set me up for being a healthy adult, as I feel comfortable and confident in the kitchen.
Here are the simple steps to making this delicious Double Chocolate Banana Bread: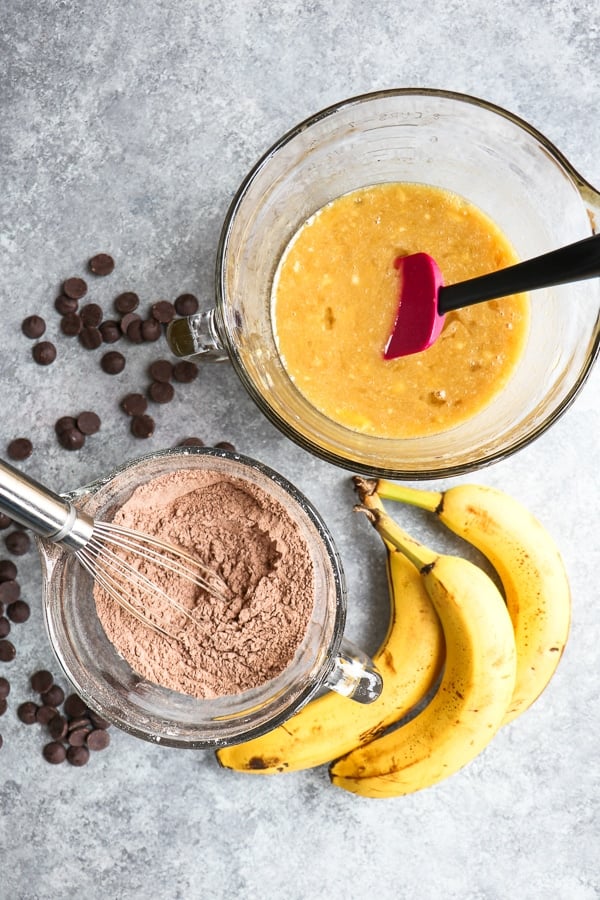 Step 1: Start by mixing your wet and dry ingredients
Much like my award winning banana bread recipe, this is a banana bread with oil. Vegetable oil is a key component in making cakes and quick breads super moist. Yes, butter is delicious, and I a firm believer in a good butter-based recipe, however, in this instance, oil is what makes this chocolate chip banana bread recipe ultra moist! Butter often yields a quick bread or cake that is overly-dry.
This is also a banana bread with brown sugar. Much like my Double Chocolate Zucchini Bread, brown sugar helps make this batter extra rich. It compliments the cocoa powder and creates a thick, delicious batter that bakes beautifully!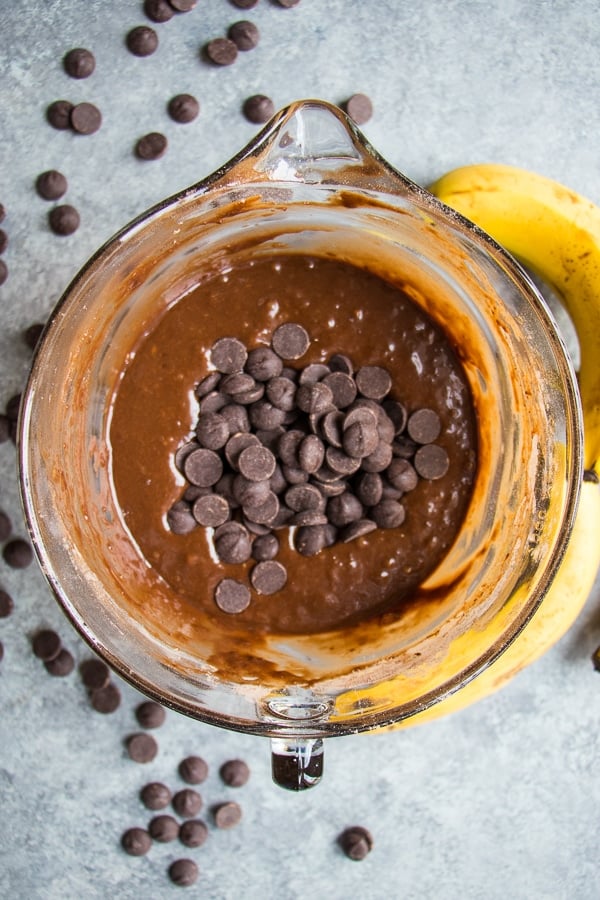 Step 2: Mix the batter and Add Chocolate Chips
You guessed it! What makes this double chocolate banana bread so delicious is a copious amount of chocolate chips. I actually use Ghirardelli Bitter Sweet 60% Cocoa Chocolate Chips (Amazon Affiliate Link) which are a slightly larger chip.
I enjoy bitter-sweet chips in this recipe, as it compliments the batter perfectly. If you prefer semi-sweet, milk or dark chocolate feel free to substitute those in equal amounts.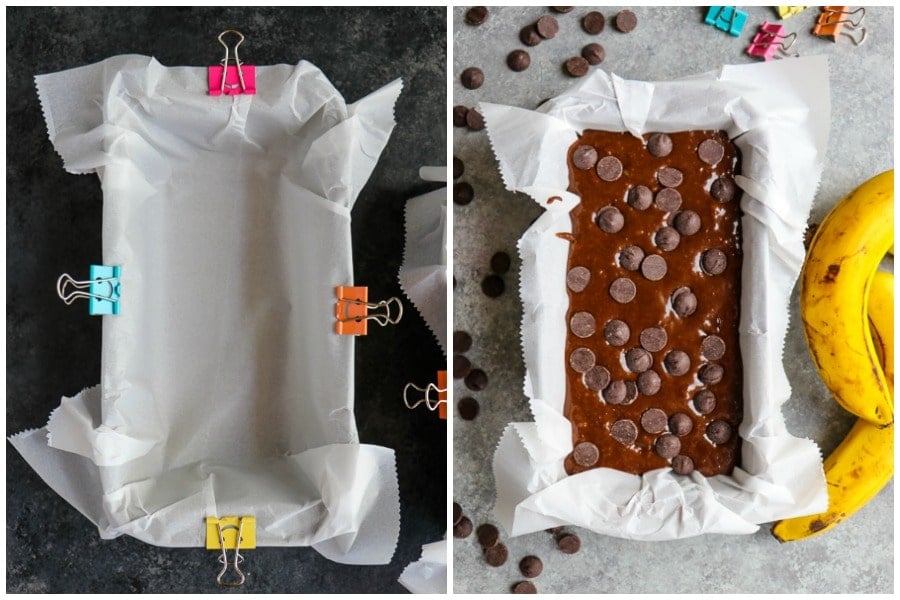 Step 3: Pour Batter into Prepared Loaf Pan
A hack that I started implementing a few years ago is using a large piece of parchment paper fitted into my 9×5″ loaf pan. Secure the edges with binder clips. Doing helps the paper stays in place while you pour the batter into the pan.
Once the batter is in the pan, I remove the clips. (Don't bake the bread with the binder clips still on the pan. Binder clips are NOT oven safe.)
My 9 x 5″ Loaf Pan which is perfect for just about any quick bread recipe!
These super-handy Parchment Paper Pre-Cut Baking Sheets are absolutely perfect for lining loaf pans. You can also use them to line baking sheets when making cookies!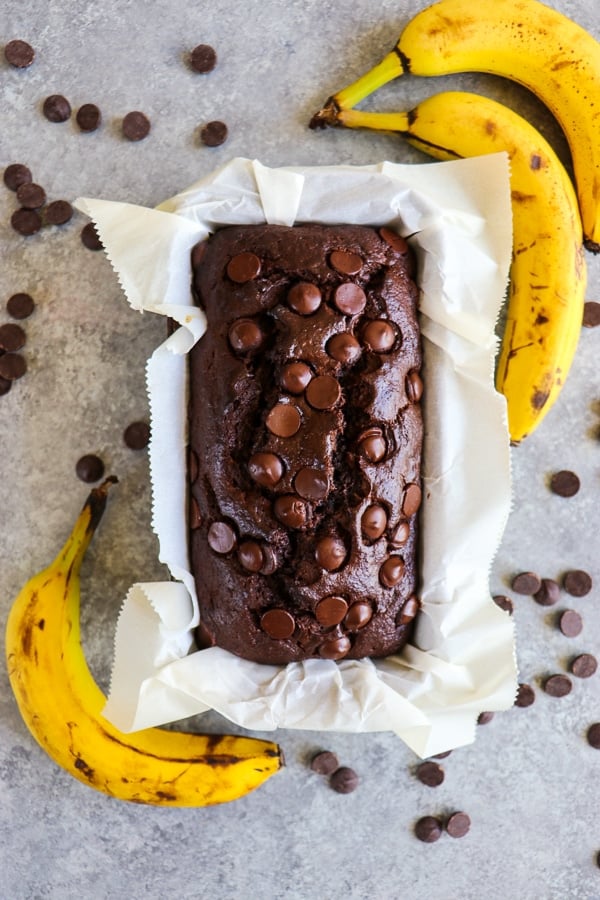 Step 4: Bake the Chocolate Chip Banana Bread
You'll bake this moist banana bread recipe for 55-60 minutes, or until a toothpick inserted into the center of the bread comes out clean and crumb-free.
Remove from the oven and let cool to room temperature before lifting the loaf out of the pan.
I love using parchment paper for making quick bread, as it makes it super-easy to remove the bread from the pan. Simply lift the edges of the paper, and it easily slides right out. No need for greasy non-stick spray.
Love an amazing chocolate treat? Check out my recipes for Buttermilk Chocolate Cake and my No Bake Chocolate Cheesecake recipes.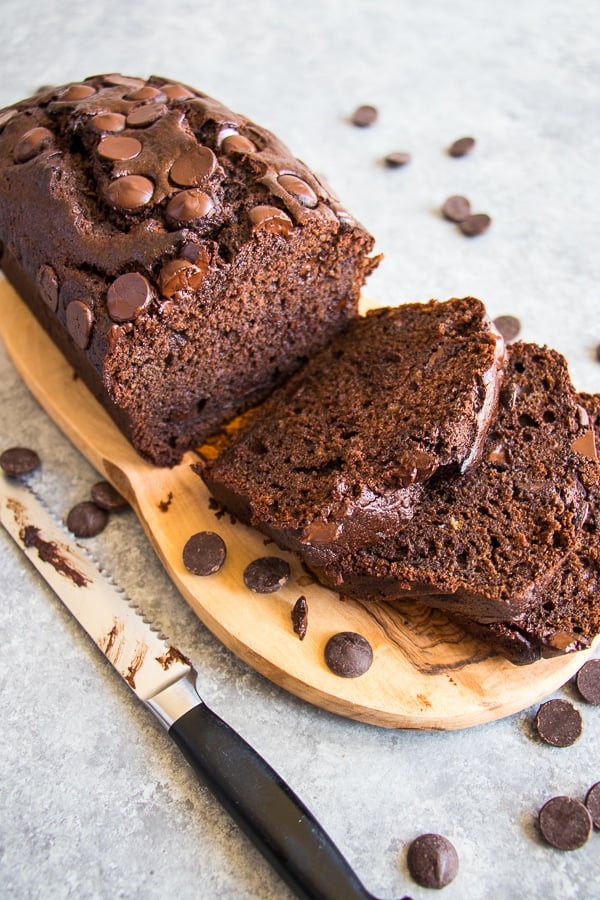 From here, slice and enjoy this decadent, delicious double chocolate banana bread! Fantastic with a cup of coffee or tea, and great as a yummy breakfast treat, this Chocolate Chip Banana Bread recipe might just become your favorite.
Banana Bread Q&A:
1. How ripe should bananas be for banana bread?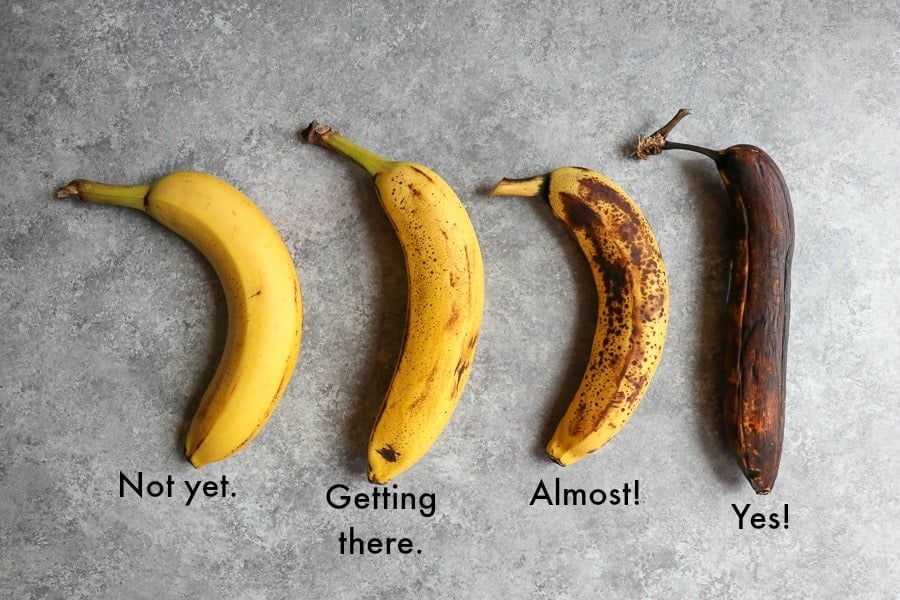 The darker the better. When bananas have a yellow stem, it means they are not ripe enough. Once the banana is brown, and almost black, it is great for banana bread. It will be soft and very sweet, which will help your bread be extra moist!
2. How can I quickly ripen bananas for banana bread?
You can place under-ripe bananas in a paper bag and loosely close. This will help speed up the ripening process, but will still take a day or two.
3. Can I freeze bananas for banana bread later?
Yes. Place your ripe bananas in a resealable freezer bag or plastic container. When ready to make banana bread, allow the bananas to thaw completely before adding to the batter. The bananas will be slightly watery once thawed. Drain off any excess water before mashing and adding to the batter.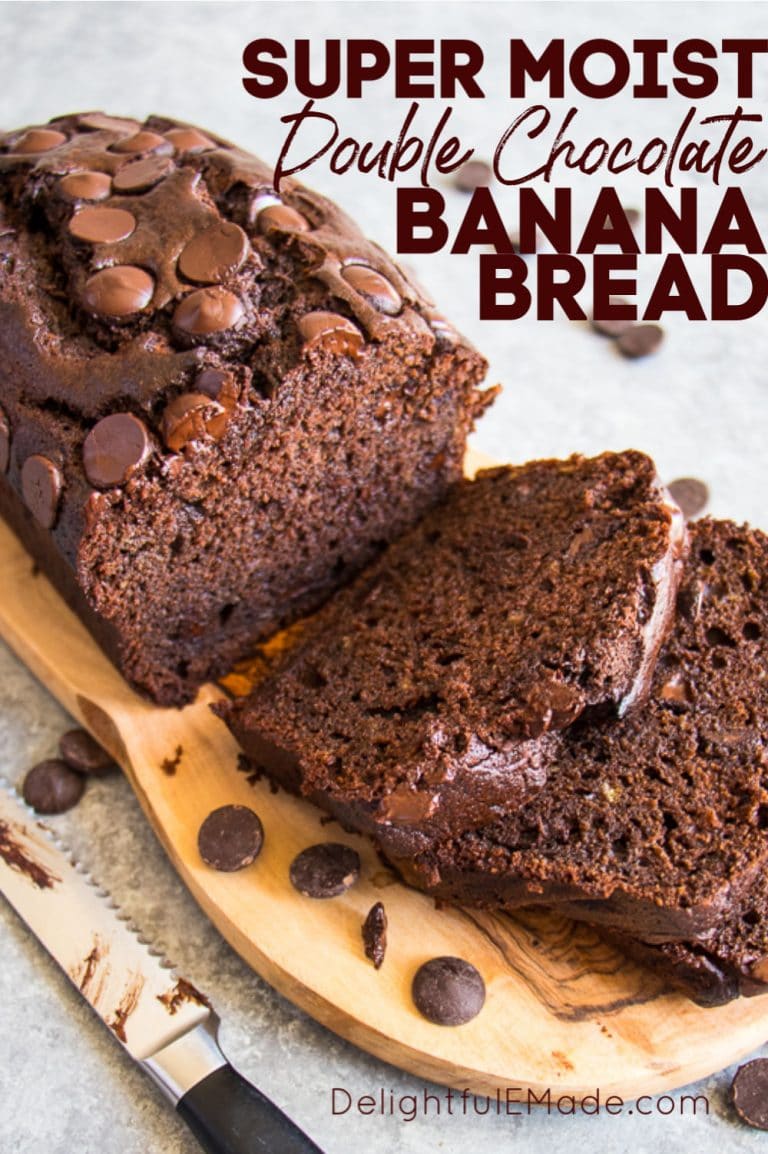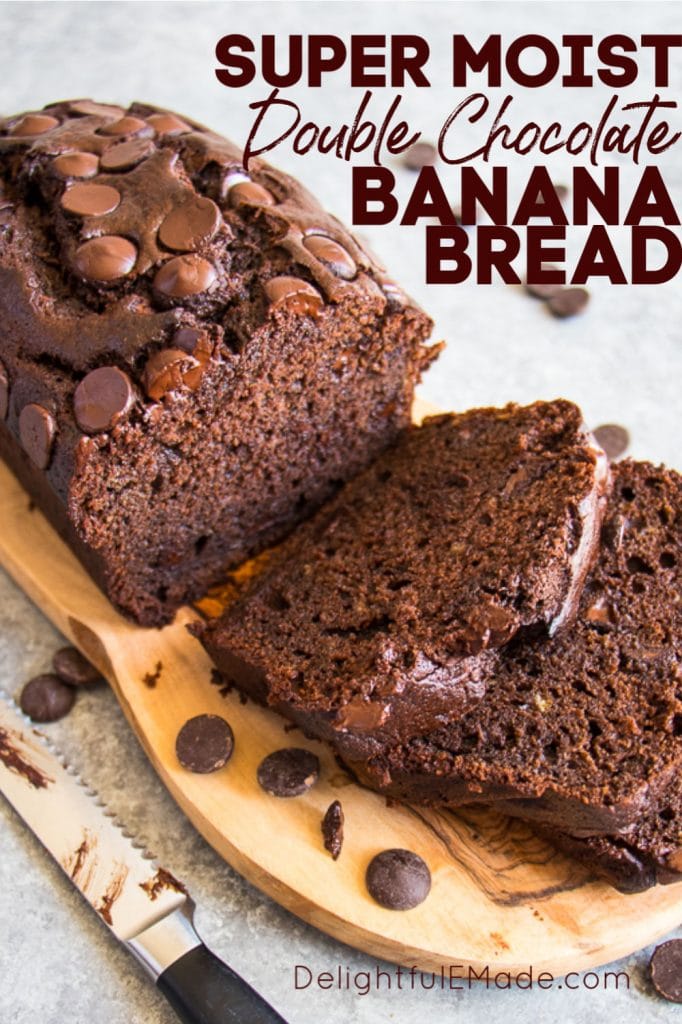 If you loved this delicious Chocolate Chip Banana Bread recipe, then be sure to check out some of my other similar banana recipes:
Check out some of my other Quick Bread recipes:
Here's the recipe for my delicious Double Chocolate Banana Bread recipe: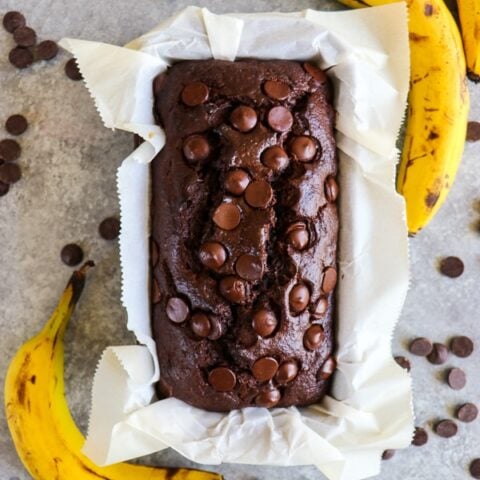 Double Chocolate Banana Bread
Total Time:
1 hour
10 minutes
Looking for a super moist chocolate banana bread recipe? This double chocolate banana bread tastes just like chocolate cake and is loaded with chocolate chips!
Ingredients
3 ripe bananas, mashed well
3/4 c. brown sugar, or Swerve brown sugar substitute
1/2 c. vegetable oil, or unflavored coconut oil
2 eggs
1 tsp. vanilla extract
1 c. all-purpose flour
1/2 c. cocoa powder
1/2 tsp. baking soda
1/2 tsp. salt
1 c. bitter-sweet or semi-sweet chocolate chips, divided
Instructions
Preheat oven to 350 degrees. Line a 9 x 5" loaf pan with parchment paper. Set aside.
In a large mixing bowl, mash bananas well. Mix in the brown sugar, oil, eggs and vanilla, making sure to bread apart any lumps of brown sugar.
In a separate bowl, sift together the flour, cocoa powder, baking soda and salt. Don't skip the sifting. This will help break apart any fine lumps of cocoa powder or flour.
Begin gradually adding the dry ingredients to the wet ingredients. After all wet and dry ingredients are combine, fold in 2/3 cup of the chocolate chips, reserving 1/3 cup of the chocolate chips for the top of the loaf.
Pour the batter into the prepared pan. Top the batter with the reserved chocolate chips. Bake at 350 degrees for 55-60 minutes or until a toothpick inserted into the center of the loaf comes out clean and crumb-free.
Remove from oven and let cool to room temperature before removing from the pan. Use the sides of the parchment paper to lift the banana bread out of the pan. Slice and enjoy.
Store any leftovers in an airtight container at room temperature. Will keep for up to 5 days.
Notes
Feel free to substitute milk or dark chocolate chips in place of the bitter-sweet. After testing several loaves, we found that bitter-sweet chocolate chips tasted the best and were most complimentary to this chocolate chip banana bread recipe. This is certainly subjective, so customize to your flavor preference.
Recommended Products
As an Amazon Associate and member of other affiliate programs, I earn from qualifying purchases.
Nutrition Information:
Yield:

12
Serving Size:

1
Amount Per Serving:
Calories:

294
Total Fat:

16g
Saturated Fat:

4g
Trans Fat:

0g
Unsaturated Fat:

10g
Cholesterol:

31mg
Sodium:

166mg
Carbohydrates:

37g
Fiber:

3g
Sugar:

23g
Protein:

4g