My famous, award winning Banana Bread recipe! The best (and only!) recipe for banana bread you'll ever need. This Purple Ribbon Banana Bread recipe is moist, flavorful and super delicious!
This post may contain affiliate links. Delightful E Made is a participant in the Amazon Services LLC Associates Program, an affiliate advertising program designed to provide a means for us to earn fees by linking to Amazon.com and affiliated sites.

Purple Ribbon Banana Bread – my Award Winning Banana Bread Recipe!
If you need a seriously good recipe for banana bread, look no further than my Purple Ribbon Banana Bread. Made with super simple ingredients, and a delicious streusel topping, this award winning banana bread recipe is the only recipe my family makes!
4-H is where I really learned the essentials of cooking and baking. How to measure wet and dry ingredients, how to properly mix ingredients, and how to use an oven and stove. This Purple Ribbon Banana Bread is a recipe that taught me the fundamentals of all of those things.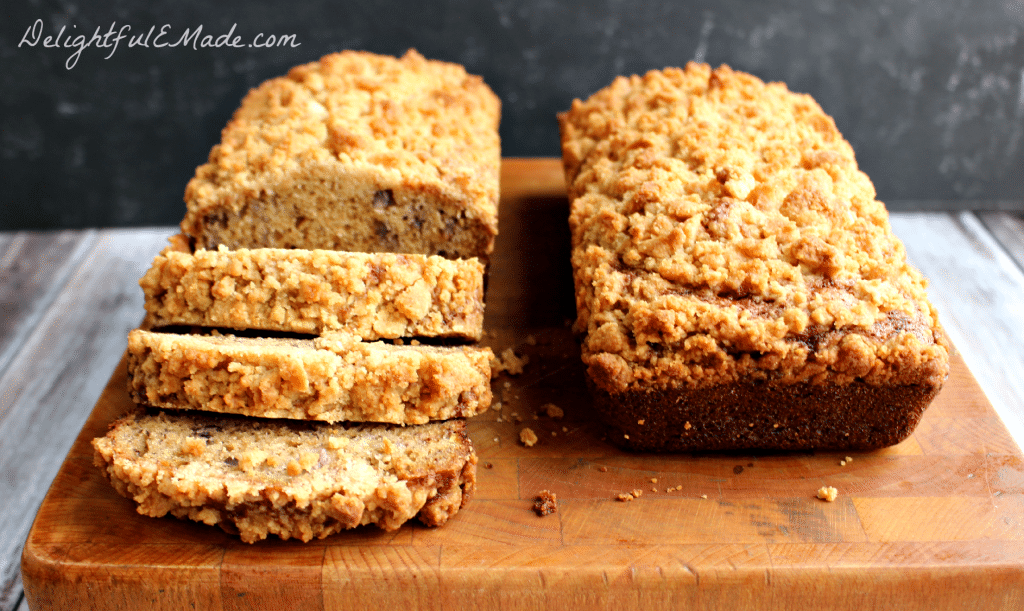 Where this recipe won its awards and notoriety
Summer is usually when my brother and I were the most active in 4-H, as this was the time to prepare all of your exhibits for county achievement days. For several years, my mom's car would be packed full of stuff that we were taking to be judged at Achievement days.
If you did an especially good job creating your item/exhibit, you would receive a purple ribbon. You could then submit that item again for the State Fair. This Purple Ribbon Banana Bread is one of my very favorite recipes that I've been making since about 8 years old. And it ALWAYS won a purple ribbon!! (Thus, the name!)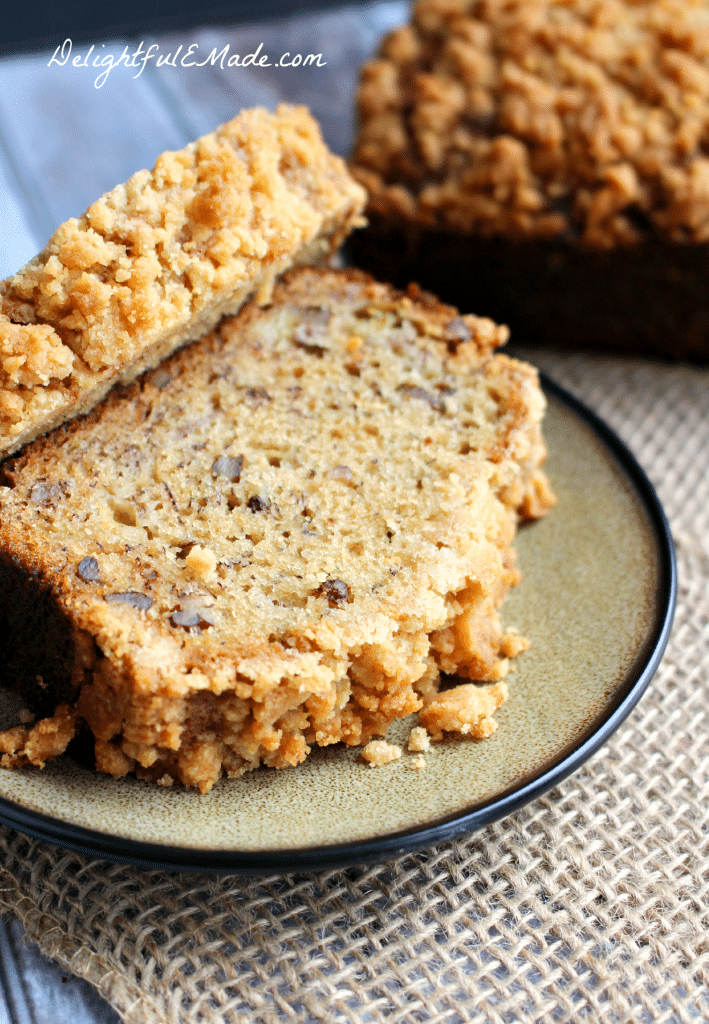 What makes this banana bread so good?
I attribute the exceptional flavor of this banana bread recipe to a very untraditional ingredient: lemon juice. Instead of an extract, I use lemon juice to boost the flavor. It also helps enhance the flavor of the bananas.
I've been making this award-winning banana bread recipe for over 30 years. I always attribute the amazing flavor to this unconventional ingredient. I never NOT use lemon juice in this recipe!
This Banana Bread recipe is moist, delicious and super flavorful!  When its baking in the oven, your entire house smells of the most beautiful, sweet delicious aromas you can possibly imagine.  
Its topped with a delightful crumble topping which gives in an amazing texture that complements the bread beautifully!  The bread itself it not overly dense or heavy – in fact is has a lightness that melts in your mouth!
Looking to use up over-ripe bananas? Here are some other banana recipes you'll love: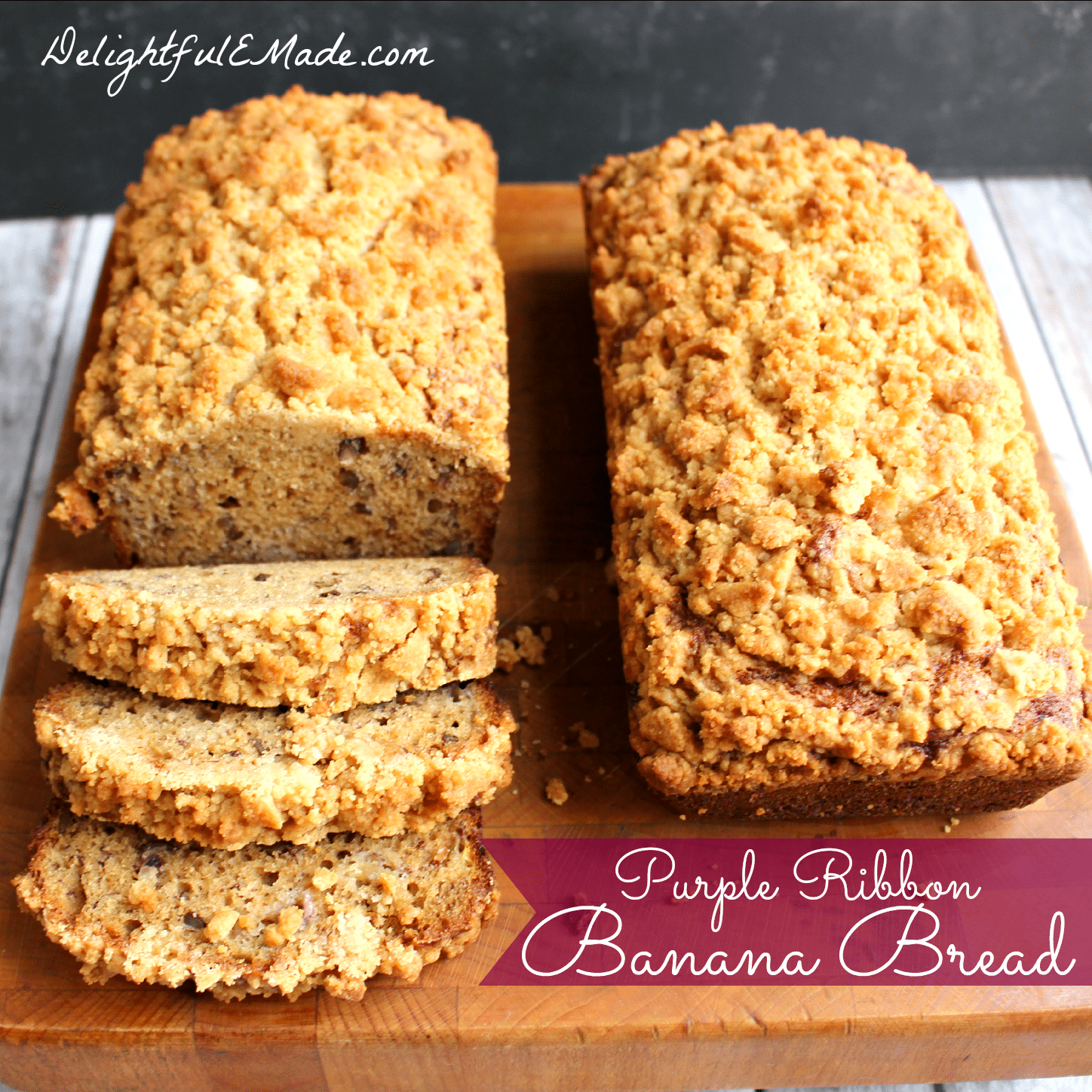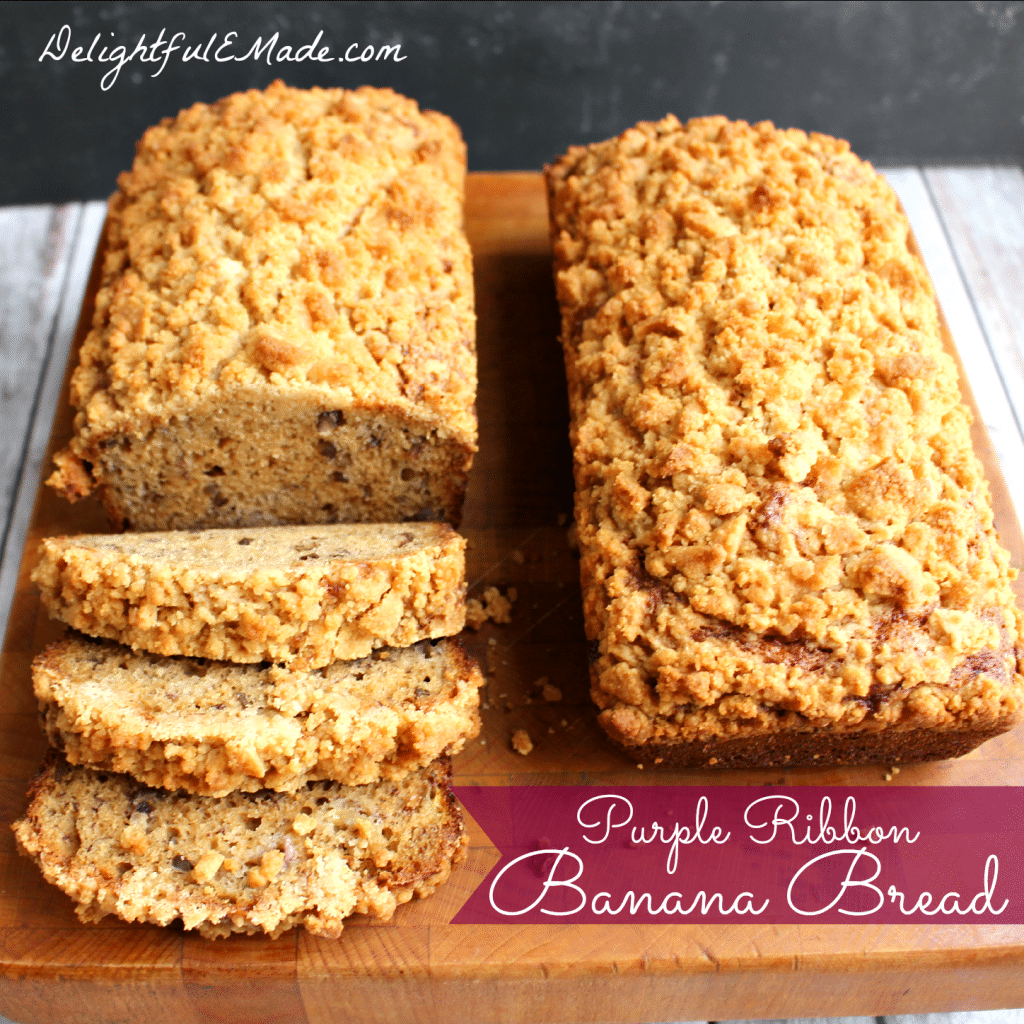 This Award Winning Banana Bread is VERY Easy to make!
The best thing about this recipe is how easy it is to make! The recipe makes two loaves if you're using the 8″ x 5″ pans, but you can also make mini loaves if you have the pans for it. (Adjust your baking times accordingly – mini pans usually require around 30 min of baking time. Always test with a toothpick before removing from the oven.)
Can this banana bread recipe be made as muffins?
Yes! Instead of using two loaf pans, the batter can be added to a lined muffin tin. This recipe will make approximately 18 muffins. Bake at 375 degrees for 18-20 minutes.
Make sure you test the muffins by inserting a toothpick into the center of a muffin. If toothpick comes out clean and crumb free, the muffins are done.
Check out some of my muffin recipes here:
This Award Winning Banana Bread recipe has been in my family for decades! Its a classic, and my dad will even whip up a batch when he's in the mood.
He's also been known to throw some chocolate chips into the batter on occasion. I hope you get to enjoy this recipe with your family – as it has been enjoyed for many years by mine!
Ingredient Substitutions and Recommendations:
Flour: Instead of all-purpose flour, you can substitute whole wheat flour, or gluten-free flour, like King Arthur Gluten Free Flour.
Sugar: To cut down on refined sugar you can substitute the refined sugar for Whole Earth Granular monk fruit sweetener. It's a great granular sweetener that bakes well in breads and muffins.
Nuts: If you or someone in your household has a nut allergy, it is completely fine to omit the nuts from this recipe.
Why lemon juice? Yes, I realize that lemon juice is not a traditional ingredient in banana bread. However, I've been baking banana bread recipe for over 30 years. I will say that the addition of lemon juice takes the flavor over the top! It balances the sweetness and flavor of the loaf beautifully. I highly recommend using lemon juice and will never NOT use it in these banana bread recipes.
If you loved this delicious award winning banana bread recipe, be sure to check out some of my other delicious quick bread recipes: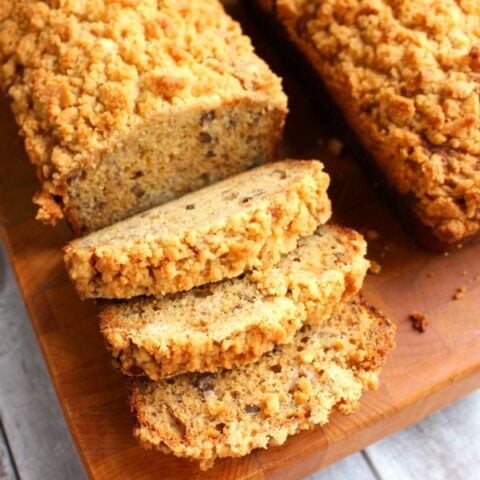 Purple Ribbon Banana Bread
Yield:
2 loaves, 20 slices
Total Time:
1 hour
10 minutes
One of the best banana bread recipes you'll ever make. Moist, delicious and a crumble topping that sets it apart from the rest.
Ingredients
3 medium, ripe bananas, mashed
1/2 c. vegetable oil
1 c. granulated sugar
2 eggs
4 1/2 tsp. lemon juice (juice of 1/2 of lemon)
2 c. all purpose flour
1 tsp. baking soda
1/2 tsp. baking powder
1/2 tsp. salt
1/2 c. chopped walnuts or pecans
Crumb Topping:
1/3 c. softened butter, (not melted, just softened)
1/3 c. light brown sugar
2/3 c. all purpose flour
Instructions
Preheat oven to 350 degrees. Line two 8" x 5" loaf pans with parchment paper. Helpful tip: secure paper to edges of pan with binder clips. This prevents paper from sliding when batter is added to pan. Set pans aside.
In mixing bowl, combine mashed bananas with oil, eggs, sugar and lemon juice. Mix until all ingredients are well combined.
In another bowl, whisk together the dry ingredients; flour, baking powder, baking soda and salt. Gradually add the dry ingredients to the wet ingredients, using a large whisk to combine. Stir the batter until just combine and until there are no more lumps.
With a rubber scraper, fold in the chopped nuts.
Evenly divide the batter into the two prepared pans.
For the crumb topping; in a bowl, combine the softened butter, brown sugar and flour. Mix the a fork until crumbly. Sprinkle over the top of each loaf.
Remove the binder clips from the edges of the pans (if you were using to secure the parchment paper) and place loaves in oven. Bake at 350 degrees for 45-50 minutes or until a toothpick inserted comes out clean and crumb free.
Let cool 10-15 minutes before slicing.
Notes
Storage: banana bread can be left out at room temperature, however, it will only last a day or two. For best results, refrigerate any leftovers in an airtight container. Refrigerated, the banana bread will last up to 5-7 days.
Freezing: Banana bread loaves do well frozen. Freeze whole or sliced loaves in an airtight container or freezer bag for up to 3 months.
Nutrition Information:
Yield:

20
Serving Size:

1, 3/4" slice
Amount Per Serving:
Calories:

229
Total Fat:

11g
Saturated Fat:

3g
Trans Fat:

0g
Unsaturated Fat:

8g
Cholesterol:

27mg
Sodium:

166mg
Carbohydrates:

30g
Fiber:

1g
Sugar:

15g
Protein:

3g