Your new favorite Caprese Chicken Recipe!
This Grilled Caprese Chicken includes fresh tomatoes, basil and mozzarella topped on balsamic vinaigrette marinated chicken breasts, and grilled to perfection. Done and on the table in 25 minutes!
This post may contain affiliate links. Delightful E Made is a participant in the Amazon Services LLC Associates Program, an affiliate advertising program designed to provide a means for us to earn fees by linking to Amazon.com and affiliated sites.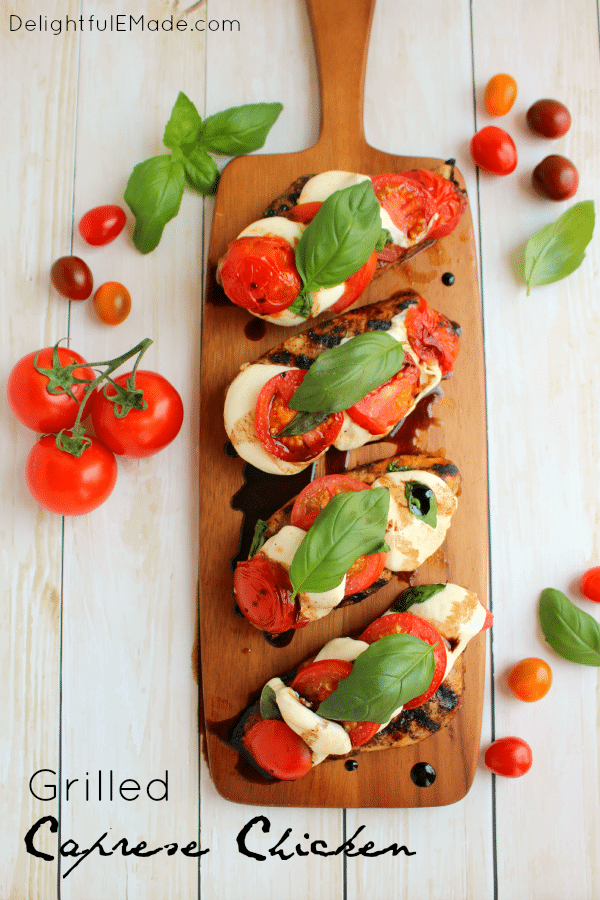 As soon as the warm weather hits, I'm all about firing up the grill for dinner time. I love the fact that it doesn't heat up my house, and the flavors of whatever I'm grilling taste so much better with that smokey, fire-roasted goodness!
Grilled chicken is such an easy, go-to dinner option at our house, so much so that it becomes a bit boring. Can you relate to boring chicken dinners? Yeah, I thought so. Here is a new, delicious and super-easy way to grill chicken…everyone, please meet your new favorite Grilled Caprese Chicken!
I've basically combine one of my summer favorites of Italian Caprese Tomato Salad (tomatoes, fresh basil and mozzarella, drizzled with olive oil and balsamic vinegar), and marinated Balsamic chicken breasts. My recipe for Brown Sugar Balsmic Grilled Chicken is also super simple, delicious and just 6 ingredients!
Here are the simple steps to making this easy, delicious grilled chicken:
Step 1: Marinate the Chicken Breasts
In a resealable plastic bag, add the chicken, along with the balsamic marinade. Coat the chicken well, and refrigerate anywhere from 1 hour to 24 hours. The longer you marinate the chicken, the more infused it becomes with the marinade flavors.
Step 2: Heat Grill and Add Chicken
We have a propane grill that heats relatively quickly. Set the temperature on medium heat and add the chicken skin side down. Grill for approximately 6 minutes on the first side and then turn over.
To ensure your cooking your chicken all the way through, cut a small slit in the chicken near the thicker side. Juices should run clear, and you should have only minimal pinkness to nearly white color of meat.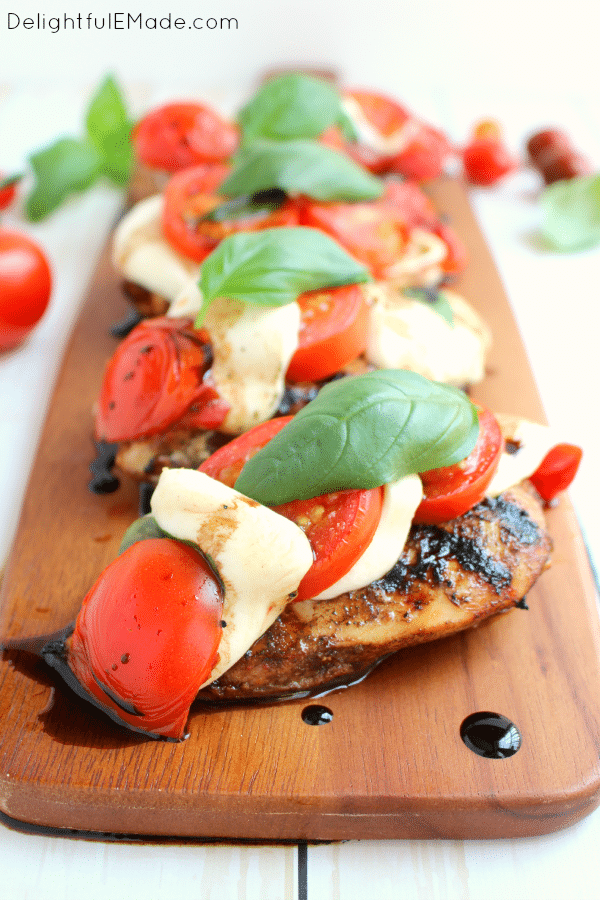 Step 3: Add Mozzarella, Tomato and Basil
Once you've flipped the chicken to the second side, you can then add the mozzarella, tomato and basil. As you can see, I got a little overzealous with the tomatoes and mozzarella – as usual, my eyes were bigger than my stomach, and I overloaded these chicken breasts.
The tomatoes wanted to slide off the chicken while grilling. To prevent this, go for a wider sliced tomato and use slices from the large mozzarella ball, as they will stay in place much better than the smaller ones I used.
Grill the chicken for another 5-6 minutes on the second side.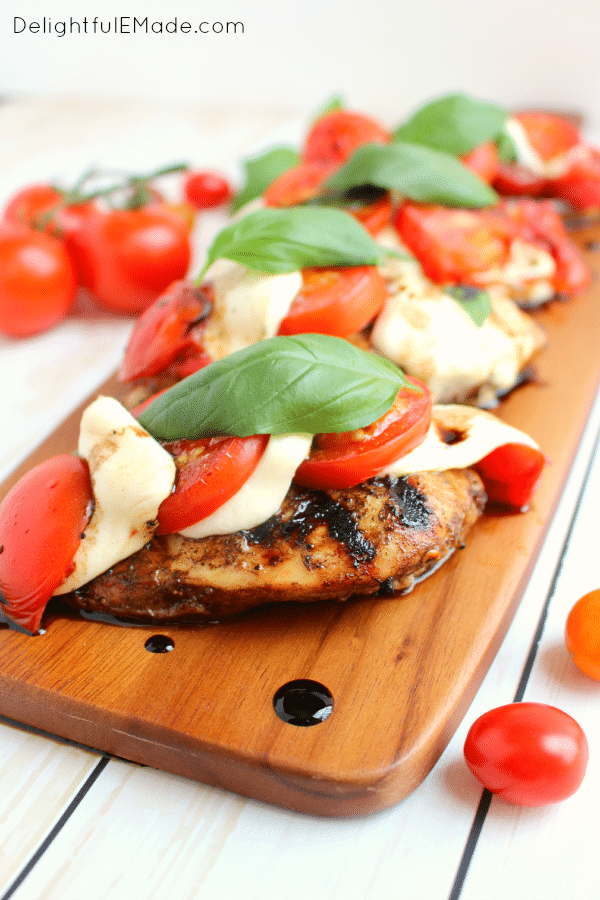 Once I brought these babies inside, I topped the chicken with an additional basil leaf, and drizzled with a balsamic reduction. Oh, man! The flavor is absolutely amazing!
The fresh flavors of the tomatoes and mozzarella paired with the peppery basil go wonderfully with the balsamic marinated chicken. I'm telling you, this is the perfect dinner for eating outdoors practically any night of the week!
Pair this chicken with a simple side salad and a glass of Pinot Gris and dinner will be amazing!
Here's a quick-reference shopping list of the ingredients you'll need to make this simple Caprese Chicken recipe:
1 lb. Chicken, boneless skinless chicken breasts (4 medium or 2 large)
Balsamic Vinegar
Brown Sugar
Olive Oil
Garlic
Fresh Mozzarella (1, 8 oz. ball)
Tomatoes (2 medium or 1 large)
Fresh Basil
If you loved this delicious caprese chicken, check out my other chicken recipes recipes:
Wondering what to serve with this caprese chicken? Check out these sides that will pair perfectly:
Here's how this delicious Grilled Caprese Chicken comes together:
Grilled Caprese Chicken

One seriously amazing grilled chicken recipe! Fresh tomatoes, basil and mozzarella top these balsamic vinaigrette marinated chicken breast, and grilled to perfection. Done and on the table in 20 minutes! Perfecto!!

Ingredients

4 - medium, boneless, skinless chicken breasts
1/4 c. balsamic vinegar
1/4 c. olive oil
2 cloves garlic, minced
salt and pepper (a few grinds of each)
1 - 8 oz. ball, fresh mozzarella
2 medium or 1 large, tomato
12 fresh basil leaves
Balsamic reduction:
1/2 c. balsamic vinegar
2 Tbsp. brown sugar

Instructions

Prepare chicken marinade by mixing together the 1/4 c. balsamic vinegar, olive oil, garlic, salt and pepper. In a large resealable bag, place chicken breasts and pour marinade over the chicken. Seal and refrigerate for 30 minutes to 12 hours.
Preheat your outdoor gas or charcoal grill to a medium high heat. Remove chicken from refrigerator. Slice the tomatoes and mozzarella, and have ready to go along with the basil leaves, reserving 4 basil leaves for after the chicken has cooked. Prepare balsamic reduction by combining the 1/2 c. balsamic vinegar and 2 T. brown sugar in a small saucepan. Bring to simmer and stir continually for about 6-8 minutes. Will reduce by half. Set aside reduction.
Place the chicken on the hot grill, and cook skin side down for about 5 minutes. (If your grill requires a non-stick spray, spray grill BEFORE lighting.) Turn chicken over and top with slices of mozzarella, tomatoes and basil leaves. Cover grill and let cook for an additional 5 minutes. Remove chicken from grill and drizzle with balsamic reduction and additional basil leaves. Enjoy right away.

Nutrition Information:

Serving Size:

1 Amount Per Serving:

Calories:

729

Total Fat:

60g

Saturated Fat:

12g

Cholesterol:

20mg

Sodium:

143mg

Carbohydrates:

50g

Sugar:

24g

Protein:

5g
With a little prep beforehand, this chicken comes together quickly and easily. The next time you're wondering what you should have for dinner, give this Grilled Caprese Chicken a try. So easy and delicious, and you might even have a new go-to chicken dinner! Enjoy! ~Erin