An EASY Caprese Chicken Recipe!
This Grilled Caprese Chicken includes fresh tomatoes, basil and mozzarella topped on balsamic vinaigrette marinated chicken breasts, and grilled to perfection. Done and on the table in 25 minutes making it the perfect caprese chicken recipe!
This post may contain affiliate links. Delightful E Made is a participant in the Amazon Services LLC Associates Program, an affiliate advertising program designed to provide a means for us to earn fees by linking to Amazon.com and affiliated sites.
For many, grilled chicken breasts are a summertime go-to dinner. But, this summertime classic can quickly become pretty boring. Can you relate to boring chicken dinners?
This delicious caprese chicken recipe is a fantastic way to mix up your grilled chicken game. Made with fresh, delicious flavors, this Grilled Caprese Chicken will be your new favorite way to enjoy chicken.
What do I need to make caprese chicken?
Here's a quick-reference shopping list of the ingredients you'll need to make this caprese chicken recipe:
1 lb. Chicken, boneless skinless chicken breasts (4 medium or 2 large) – sizes of chicken breasts can vary greatly. You can also use boneless chicken thighs for this recipe as well.
Balsamic Vinegar – a dark colored, thick vinegar that brings amazing flavor for marinades.
Brown Sugar – you can use either light or dark brown sugar for this marinade. As a substitute, you can also use brown sugar substitute, like Swerve Brown Sugar Alternative.
Olive Oil – choose a the best quality olive oil you can afford. As a substitute, you can also use Avocado oil, which is excellent for grilling, as it has a very high smoke point temp.
Garlic – amazing for flavor in this marinade.
Salt and Pepper – just a few grinds of each.
Fresh Mozzarella – a ball of fresh mozzarella can be found in the deli section of your local grocery store. Feel free to choose either a whole, uncut ball, or pre-sliced.
Tomatoes – Tomatoes on the vine are typically a good size and flavor. If they are in season, heirloom tomatoes are a very flavorful option as well.
Fresh Basil – fresh basil leaves can be found in the produce section of the grocery store. They are sold in individual packs or bundles, or sold as small live plants.
For exact ingredient amounts and full recipe instructions be sure to scroll down to the bottom of this post to the printable recipe card. Thanks!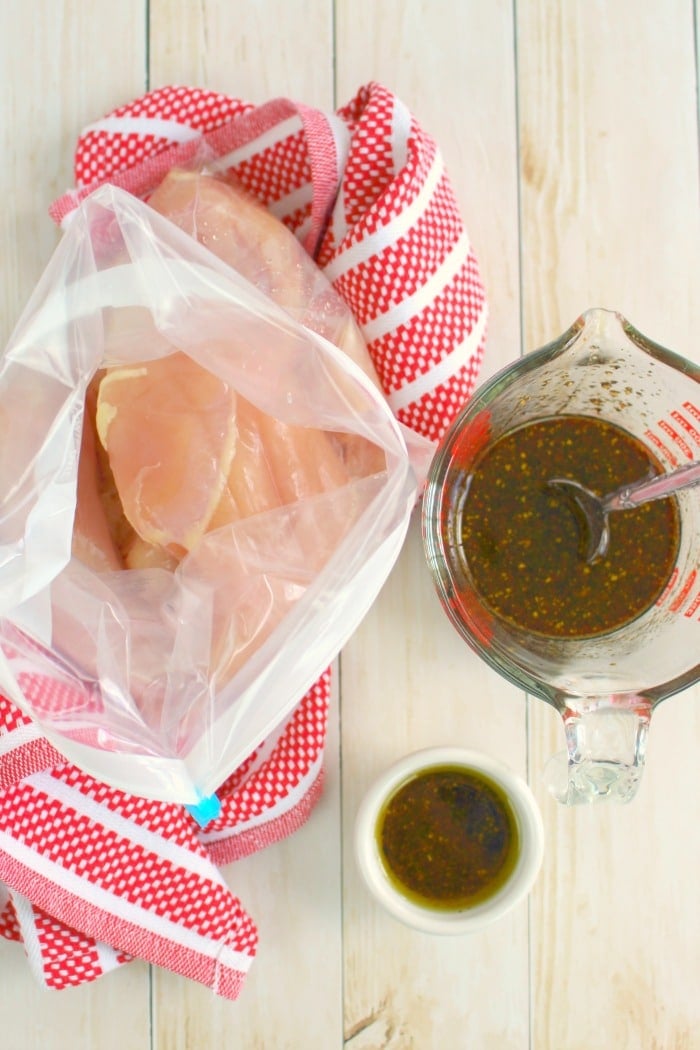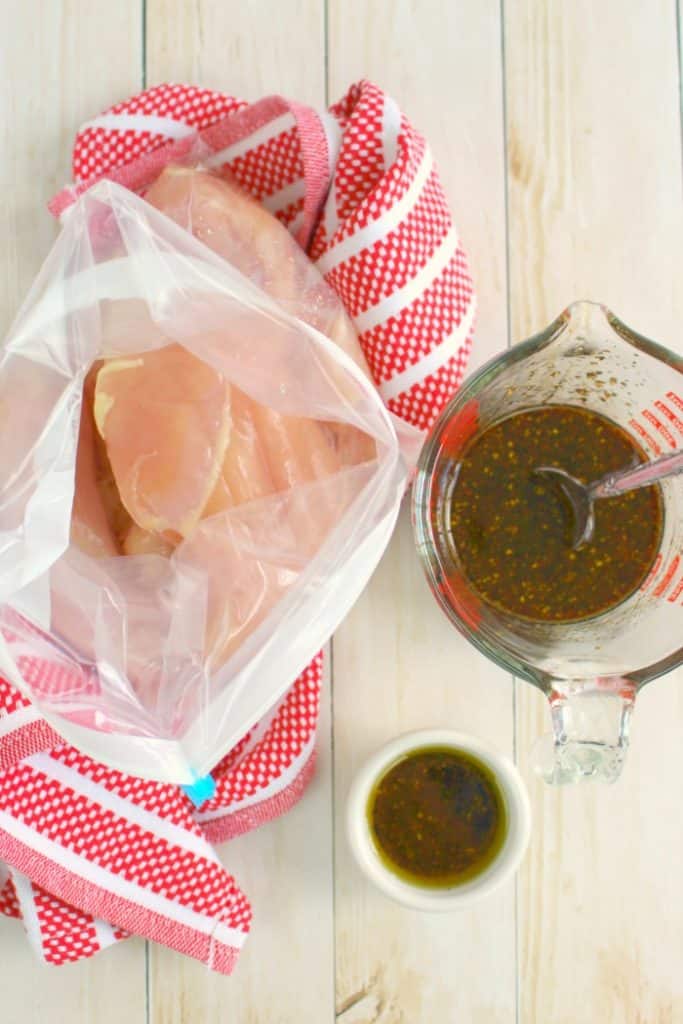 How do I make grilled caprese chicken?
Start by marinating the chicken breasts. To a resealable plastic bag or resealable container, add the chicken.
In a small bowl make the marinade by whisking together the vinegar, oil, brown sugar, garlic, salt and pepper. Reserve about 3 tablespoons of marinade, to glaze the chicken while its cooking. Pour the rest of the marinade into the plastic bag along with the chicken.
Coat the chicken well, and refrigerate anywhere from 1 hour, up to 24 hours. The longer you marinate the chicken, the more infused it becomes with the marinade flavors.
Benefits to marinating chicken
The most significant benefit to marinating chicken is the addition of flavor. When the chicken is allowed to sit in a solution of vinegar, oil, garlic and spices, the meat will take on those flavors.
Another benefit of marinating chicken is the tenderizing aspect. The vinegar will help to loosen the protein fibers of the meat. Once it is cooked it will have a more tender, juicy texture.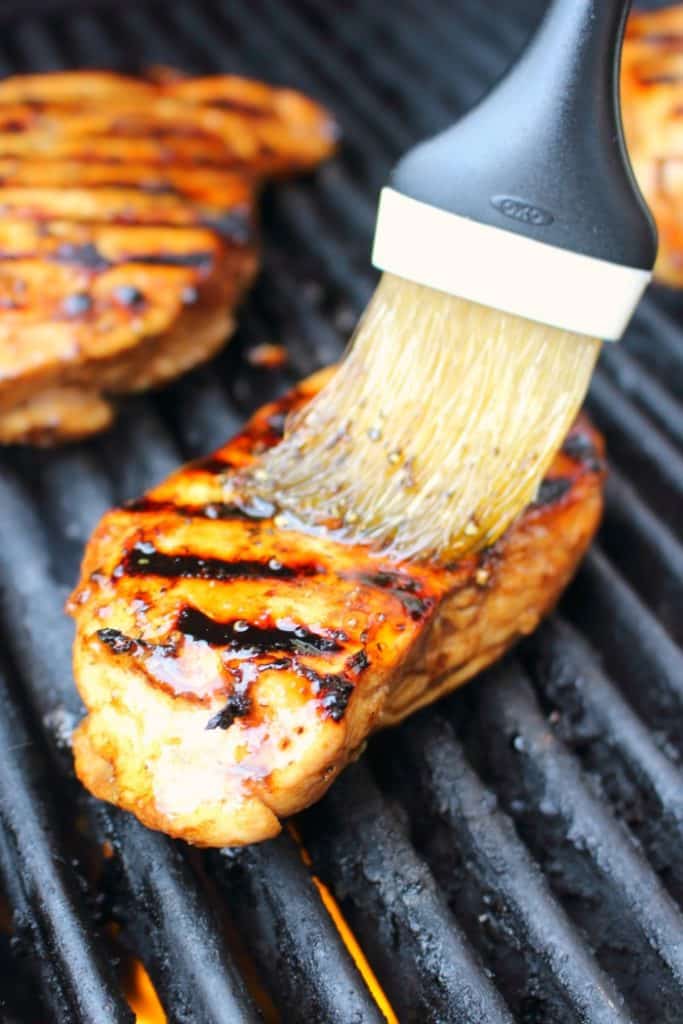 Grilling the chicken breasts
For grilling on an outdoor gas grill: Preheat the grill by setting the temperature on high heat. Bring the grill to approximately 400 degrees.
Once the grill comes to temperature, adjust the burners to medium-low. Add the chicken to the grates skin side down. Grill the chicken for approximately 6 minutes on each side.
How do I know when chicken breasts are done?
Chicken breasts need to be at an internal temperature of 165 degrees. For best results, use an instant read digital thermometer, like the Thermapen ONE, to ensure the chicken is fully cooked through.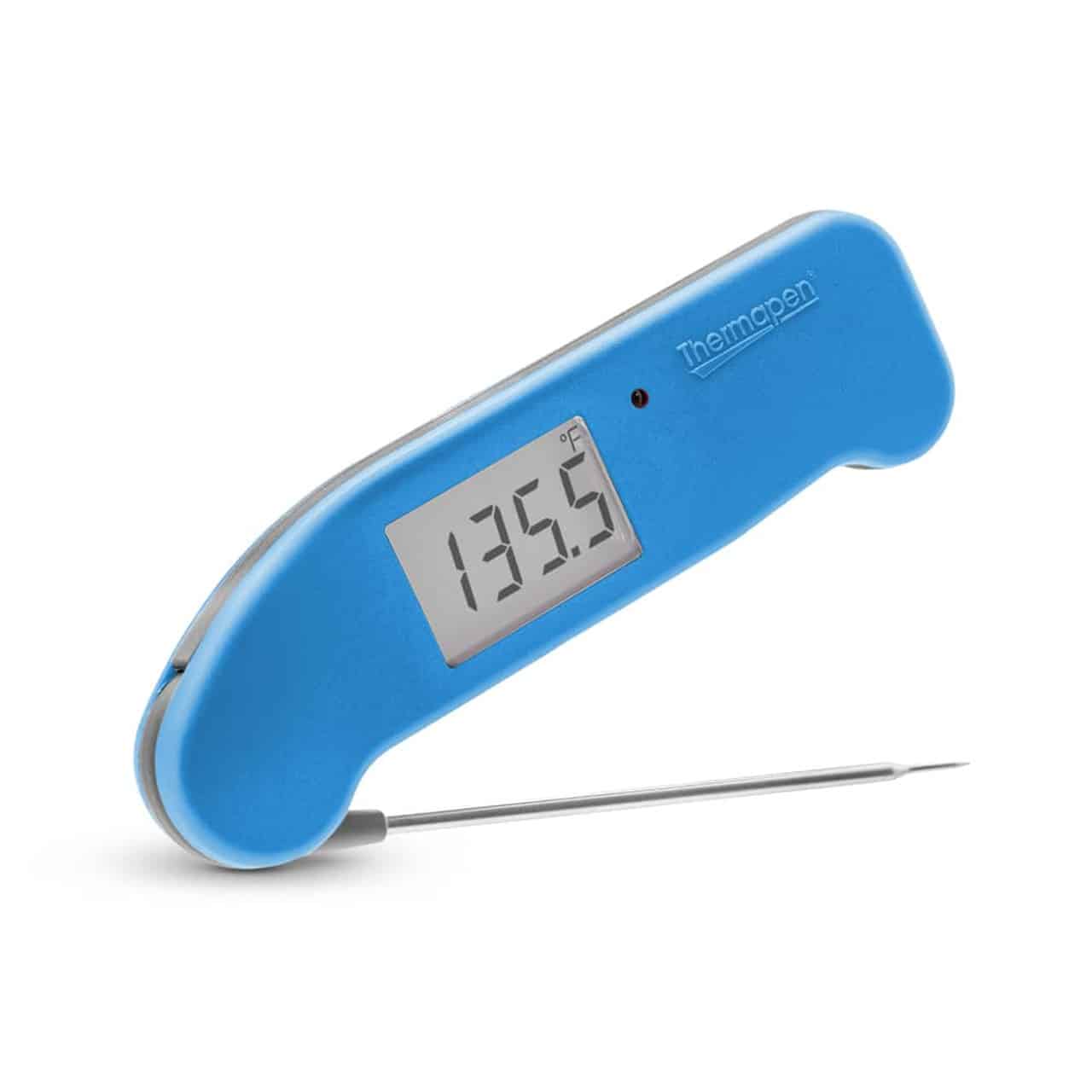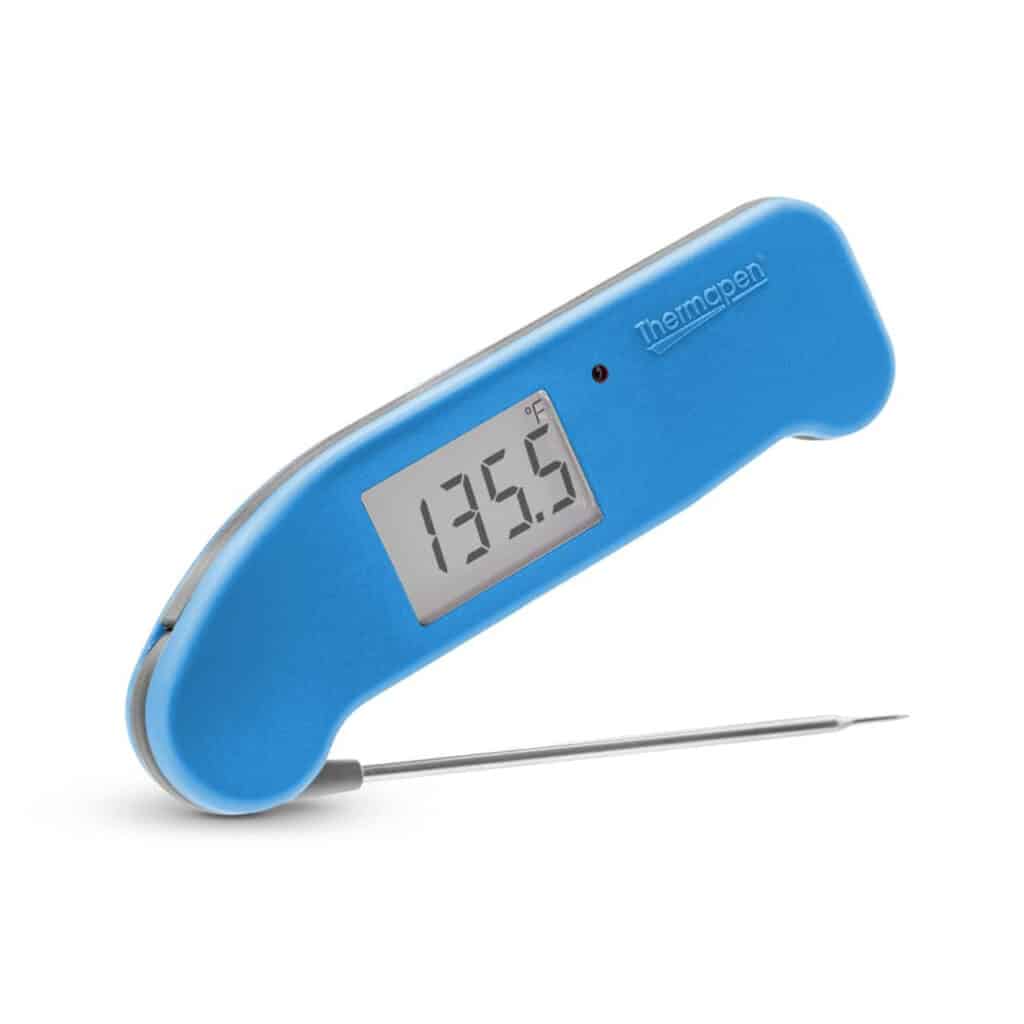 Thermapen ONE Instant Read Digital Thermometer
This is my go-to tool for grilling and roasting! With a Thermapen there's no guessing if or when the meat is done. The precise temperature will provide you with meat that is perfectly cooked, juicy and delicious EVERY time!
Don't have a thermometer? To ensure your cooking your chicken all the way through, cut a small slit in the chicken near the thicker side. Juices should run clear, and you should have only minimal pinkness to nearly white color of meat.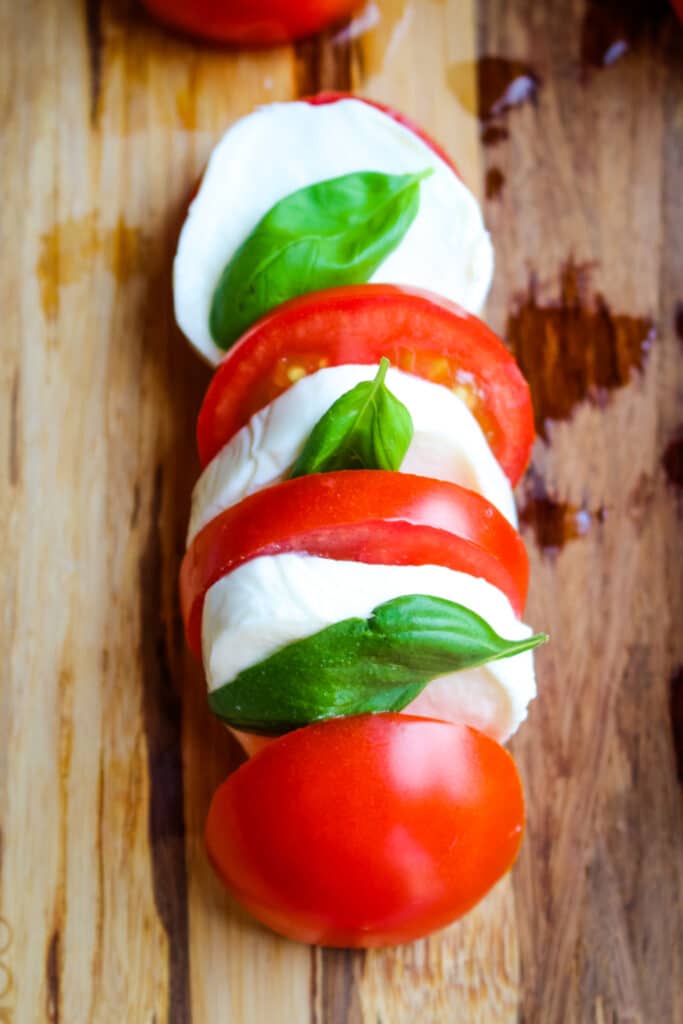 Topping the grilled caprese chicken
In the last 1-2 minutes of grilling, top the chicken breasts with the caprese ingredients. Fresh basil, sliced tomatoes and mozzarella, are all you need. For best results, don't overload the chicken. Just 1-2 slices of each are all you need.
Let the ingredients warm slightly for 1-2 minutes before removing from the grill.
FAQ's about making caprese chicken:
What is caprese chicken made of?
Caprese chicken is made with balsamic marinated grilled chicken, fresh mozzarella, fresh basil leaves and tomatoes.
How many carbs are in caprese chicken?
Caprese chicken is relatively low in carbs. This recipe has approximately 18 grams of carbs per serving.
What does caprese mean in Italian?
Caprese is derived from salad of Capri. Salad, or ensalada that possibly originated from the Italian island of Capri included cheeses, tomatoes and fresh basil leaves.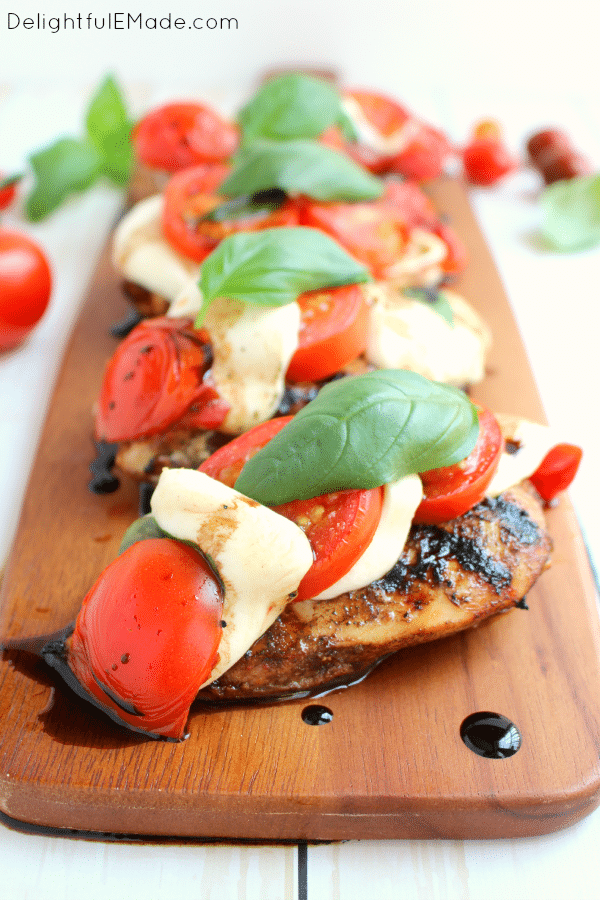 What can I serve with caprese chicken?
Caprese chicken would be ideal served with any cold pasta salad. Here are some of our most popular recipes:
Pair this chicken with a simple side salad and a glass of Pinot Gris and dinner will be amazing!
If you loved this delicious caprese chicken, check out my other chicken recipes recipes: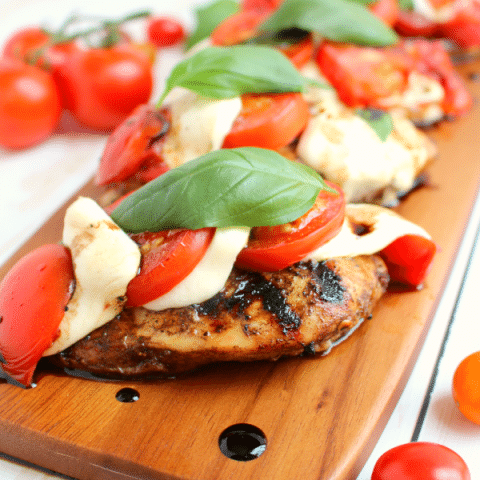 Grilled Caprese Chicken
An amazing caprese chicken recipe! Fresh tomatoes, basil and mozzarella top these balsamic marinated chicken breast, and grilled to perfection. Done and on the table in 20 minutes!
Ingredients
4 - medium, boneless, skinless chicken breasts (about 1 - 1 1/2 lbs)
Balsamic marinade:
1/2 cup balsamic vinegar
1/3 cup olive oil
3 Tablespoons brown sugar, or Swerve brown sugar
2 cloves garlic, minced
salt and pepper (a few grinds of each)
Caprese topping:
1 - 8 oz. ball, fresh mozzarella
2 medium or 1 large, tomato
12 fresh basil leaves
Instructions
Prepare marinade by mixing together the balsamic vinegar, olive oil, brown sugar, garlic, salt and pepper. Reserve 1/4 cup of the marinade in a separate container for brushing on the meat when grilled. In a large resealable bag, place chicken breasts and pour the remaining marinade over the chicken. Seal and refrigerate for at least 30 minutes, or up to 24 hours.
Preheat your outdoor gas or charcoal grill to a medium high heat. Remove chicken from refrigerator. Slice the tomatoes and mozzarella, and have ready to go along with the basil leaves, reserving 4 basil leaves for after the chicken has cooked.
Place the chicken on the hot grill, and cook skin side down for about 5 minutes per side. (If your grill requires a non-stick spray, spray grill BEFORE lighting.) In the final minute of cooking, top each chicken breast with slices of mozzarella, tomatoes and basil leaves. Cover grill and let caprese ingredients warm as the cheese melts slightly.
Remove chicken from grill and let rest 5-10 minutes before serving to help keep the chicken moist and juicy.
Notes
If you prefer, you can add the caprese ingredients after the chicken has cooked. Remove the chicken from the grill, and while the chicken is still hot, top each breast with the caprese ingredients. Promptly tent with foil to allow the cheese to soften and warm.
Chicken breast sizes can vary greatly. To ensure doneness, test with an instant read digital thermometer, like the Thermapen ONE. Internal temperature of chicken breasts needs to reach 165 degrees.
Leftovers - store any leftovers in an airtight container. Leftovers will keep for up to 5 days refrigerated.
Recommended Products
As an Amazon Associate and member of other affiliate programs, I earn from qualifying purchases.
Nutrition Information:
Yield:

4
Serving Size:

1
Amount Per Serving:
Calories:

367
Total Fat:

18g
Saturated Fat:

10g
Trans Fat:

0g
Unsaturated Fat:

21g
Cholesterol:

138mg
Sodium:

464mg
Carbohydrates:

18g
Fiber:

1g
Sugar:

15g
Protein:

48g