Need a quick yet satisfying dinner idea? This tortellini alfredo recipe is the perfect dinner solution! Made with a homemade alfredo sauce that comes together in just 5 minutes, this chicken tortellini alfredo is comfort food at its best!
This post may contain affiliate links. Delightful E Made is a participant in the Amazon Services LLC Associates Program, an affiliate advertising program designed to provide a means for us to earn fees by linking to Amazon.com and affiliated sites.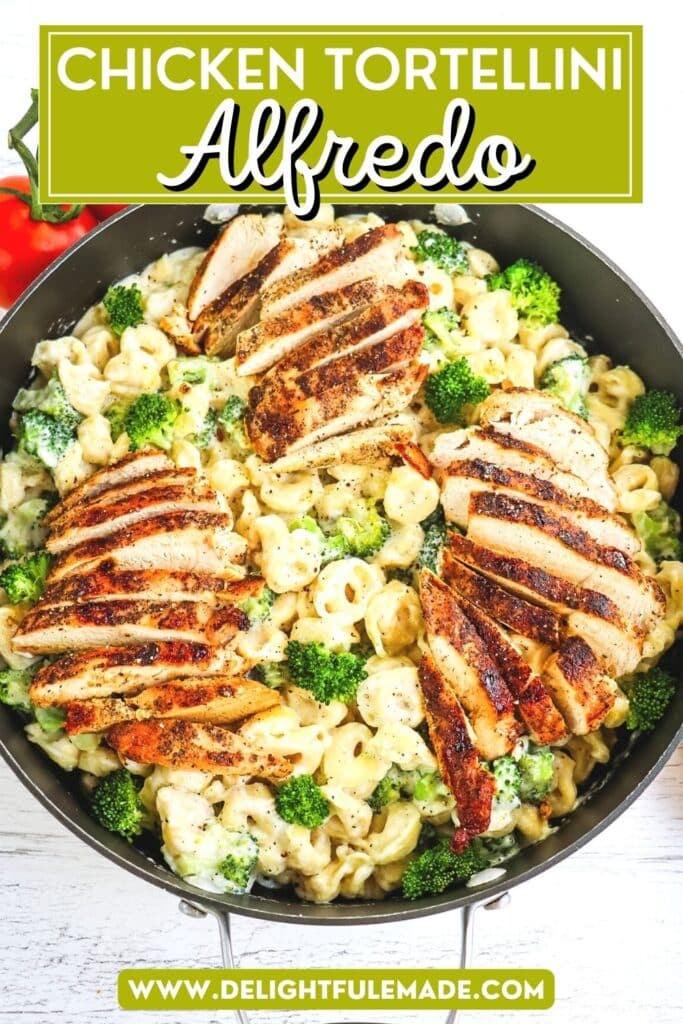 If your family loves tortellini for dinner, this tortellini alfredo recipe is definitely for you. Made with a simple homemade alfredo sauce recipe, this dinner comes together from start to finish in 20 minutes or less.
This recipe includes pan-seared chicken breasts, which are a great addition for extra protein. It also includes steamed broccoli for the perfect amount of green and added veggies. This one-pan dinner solution is perfect for any night of the week.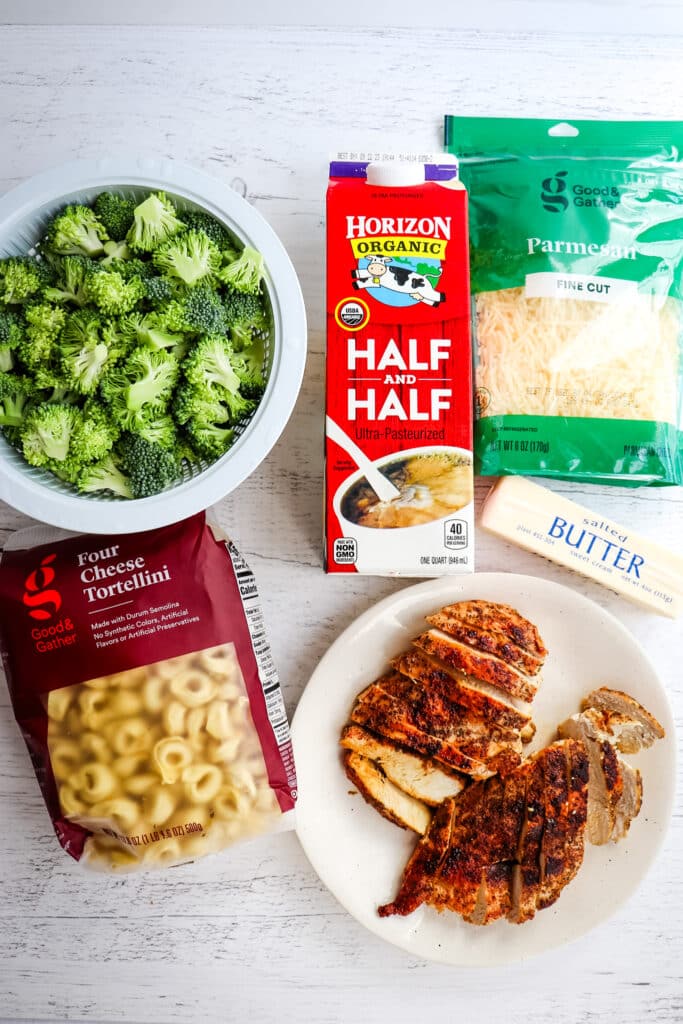 What you'll need to make this tortellini recipe:
Tortellini – this recipe can use either dry (shelf-stable) tortellini pasta, refrigerated tortellini which is found in the refrigerator section of the grocery store, or frozen tortellini. I was able to find this medium-sized tortellini at Target in their pasta section.
Chicken breasts – a single package of chicken breasts (typically 1 1/2 – 2lbs of chicken) is ideal for this recipe. You could also purchase frozen chicken breasts, just make sure they are thawed prior to starting the recipe.
Broccoli – I used fresh broccoli that I cut into small florets. You could also purchase fresh pre-cut broccoli, from the produce section (a great time saver!) or a package of frozen broccoli florets from the freezer section.
Seasoning – you'll need garlic salt, pepper and Italian seasoning for the chicken breasts, and garlic salt, pepper and nutmeg for the homemade Alfredo sauce.
Butter – butter is essential in making the Alfredo sauce
Flour – essential in making the roux for the Alfredo sauce
Half and Half – I prefer half and half, but you could also use heavy cream (for a thicker, richer sauce) or whole milk for a lighter sauce.
Shredded Parmesan cheese – an essential ingredient for making Alfredo sauce. You can save time by buying pre-shredded cheese. You can also grate your own Parmesan cheese from a wedge.
For exact ingredient amounts and full recipe instructions be sure to scroll down to the bottom of the post for the recipe. Thanks!
How do I make chicken tortellini alfredo?
Start by cooking your chicken. If you're using packaged chicken breasts (fresh/thawed), lightly season with garlic salt, pepper and Italian seasoning.
Add 2 tablespoons olive oil to a large skillet and heat over medium-high heat. Add the seasoned chicken breasts to the skillet and brown on each side for 8-10 minutes or until the internal temperature of the chicken reaches 165 degrees.
Once cooked, transfer the chicken to a cutting board, and let rest. Cover the chicken with foil to keep warm.
While you're cooking the chicken, bring a large pot of water to a boil to cook the tortellini according to package directions. (Note that dry tortellini, frozen tortellini and refrigerated tortellini will all have different cook times. Cook until al dente or one minute short of the listed cook time.)
Love tortellini? Make sure you check out my recipes for Italian Tortellini Salad, Greek Tortellini Salad, Creamy Tomato and Tortellini Soup and my Baked Tortellini and Meatballs at Real Housemoms.
Steam the broccoli in the microwave. To a microwave safe bowl, add the broccoli florets and 1 cup of water. Steam for approximately 4 minutes or until the broccoli is slightly fork-tender. Be sure to check out my simple recipe for Sauteed Broccoli with Garlic for a simple vegetable side dish.
How do I make homemade Alfredo sauce?
In a large skillet, melt the butter over medium-low heat. To the melted butter add the flour and whisk together until the mixture begins to bubble and cook. This is how you make a roux, and is very helpful in getting the sauce to thicken.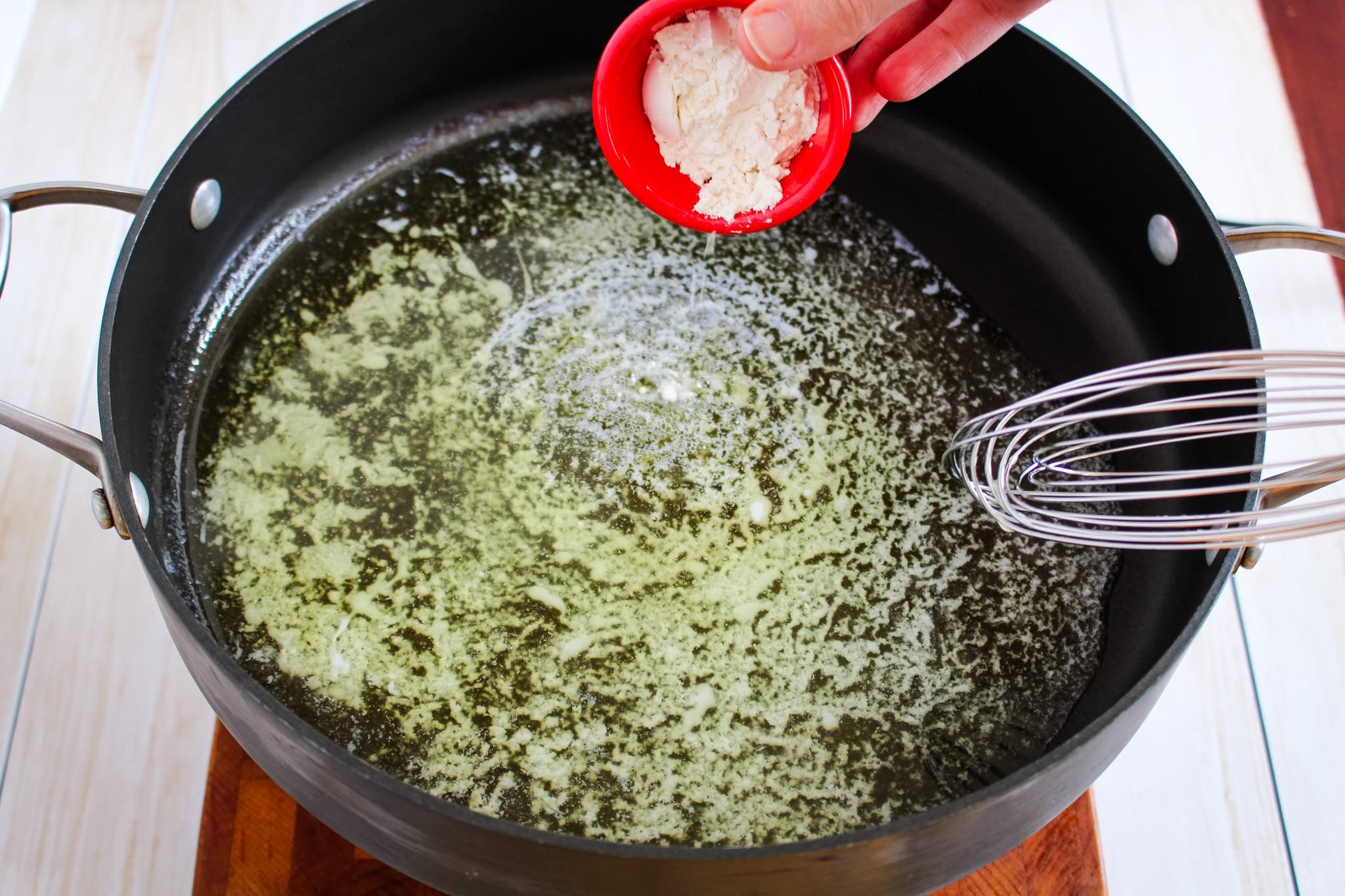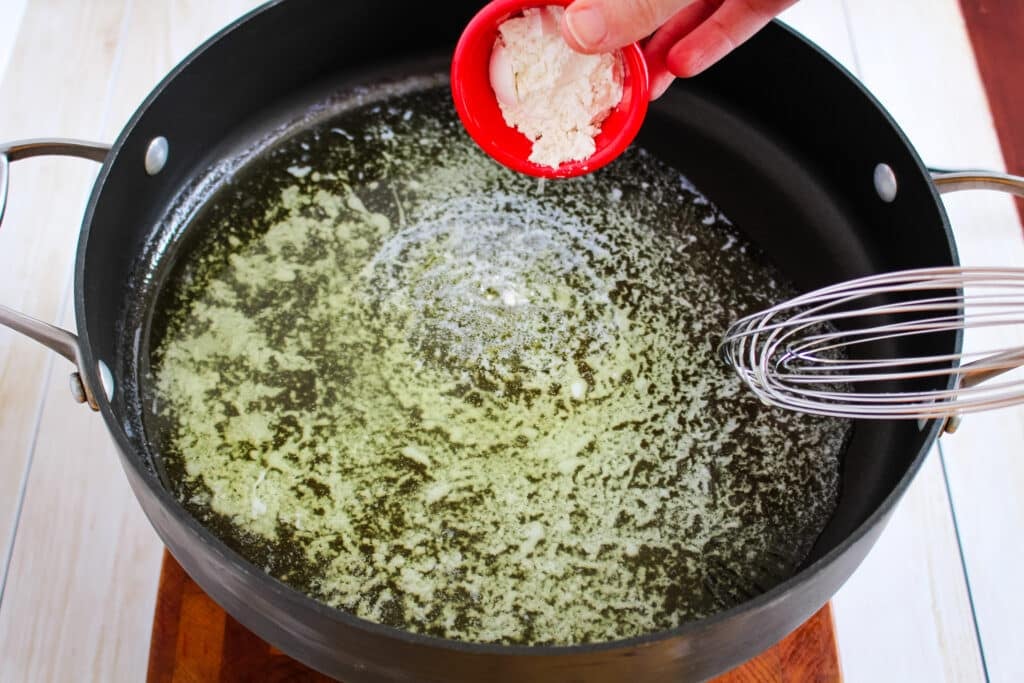 To the roux, add the half and half or cream. Continually whisking over medium low heat, the mixture will begin to thicken. Add in the Parmesan cheese and spices. Stir until the cheese melts. Reduce the heat to low to keep the sauce warm.
Want detailed, step-by-step photos of how to make Alfredo sauce? Check out my post for Easy Homemade Alfredo Sauce and my web story for How to Make Homemade Alfredo Sauce.
To the Alfredo sauce, add in the cooked tortellini and the steamed broccoli.
Stir the broccoli and tortellini together to coat in the Alfredo sauce. Top the tortellini and broccoli with the chicken breasts that have been sliced. Serve the chicken tortellini Alfredo right away.
Ingredient Substitutions and Recommendations:
Tortellini – want to mix it up? Swap in mini ravioli or another medium-sized pasta instead of the tortellini.
Chicken – This dish would be great with chicken sausage or meatballs.
Broccoli – instead of broccoli, you could use sauteed spinach or frozen peas as your vegetable.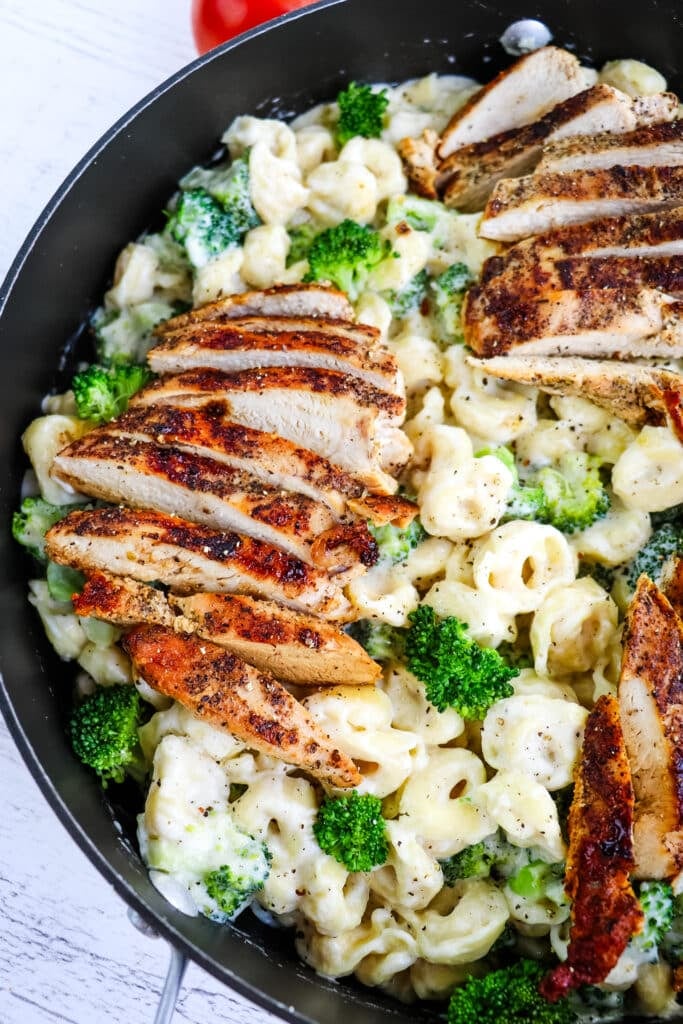 What to eat with tortellini Alfredo?
This delicious chicken tortellini Alfredo has just about everything you need, including protein and a vegetable. However, this dish would be great with an Italian inspired salad like my Tomato Basil Mozzarella Salad, Italian Chopped Salad or my Cucumber Tomato Avocado Salad.
Frequently asked questions about making a tortellini alfredo recipe:
What is the best way to serve tortellini?
Like other pastas, tortellini is great tossed with homemade Alfredo sauce, a marinara sauce, Vodka sauce, or a pesto sauce. Add in your preferred steamed vegetable and protein and you've got yourself the perfect pasta dinner.
Did Panera get rid of the tortellini Alfredo?
Much to the dislike of their customers, Panera removed their tortellini Alfredo from their menu a few years ago. There are no current plans from Panera to add it back to their menu.
Are tortellini and gnocchi different?
Tortellini and gnocchi differ in that tortellini is a pasta stuffed with a filling of cheeses, spinach or meat. Gnocchi is considered a type of dumpling and does not have a filling.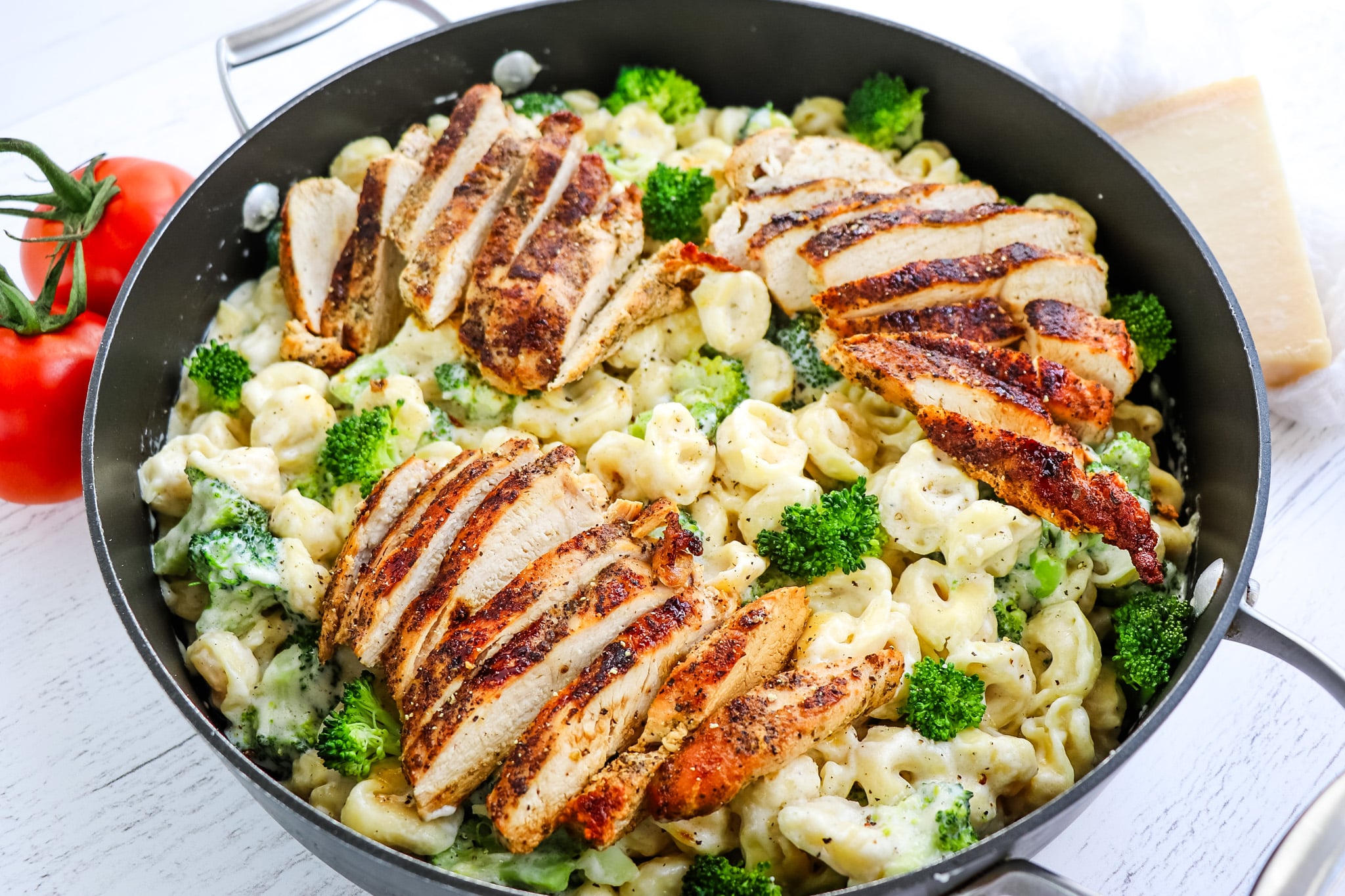 If you loved this tortellini Alfredo recipe, check out some of our other recipe ideas: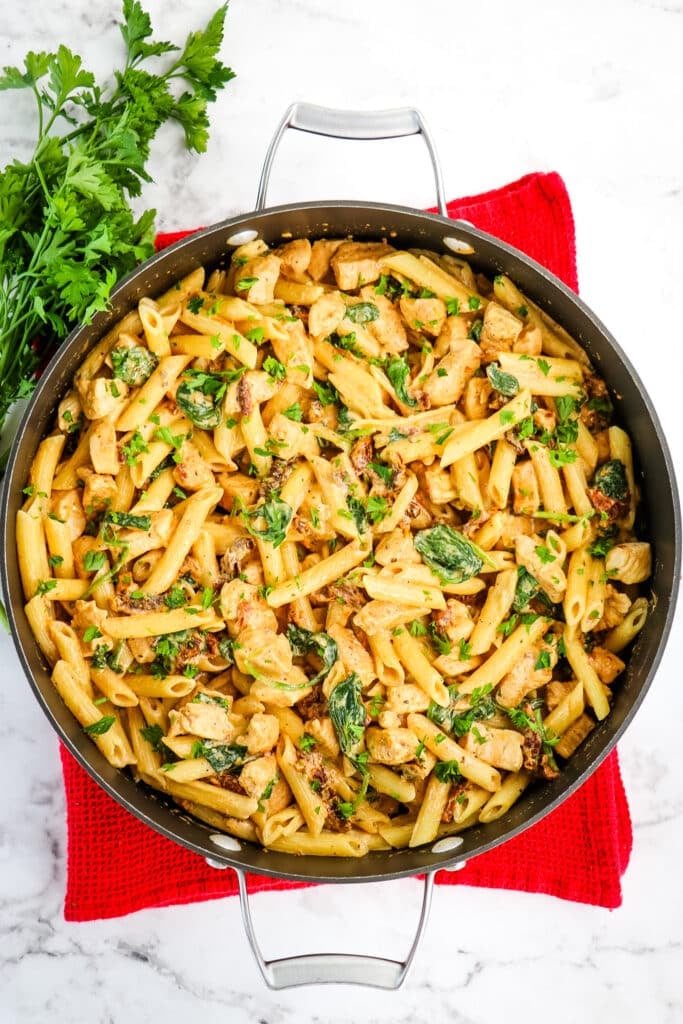 ---
---
Chicken Tortellini Alfredo
Looking for an easy tortellini Alfredo recipe? This delicious chicken tortellini Alfredo is incredibly delicious an comes together quickly and easily. The perfect dinner idea for any day of the week.
Ingredients
1 1/2 lbs. boneless, skinless chicken breasts
2 tablespoons extra virgin olive oil
1/4 teaspoon garlic salt
1/4 teaspoon ground pepper
1/4 teaspoon Italian seasoning
4 cups fresh or frozen broccoli florets
Alfredo Sauce:
1/2 cup butter (1 stick)
2 tablespoons flour
1 1/2 cup half and half
1 1/2 cup shredded Parmesan cheese
1/2 teaspoon garlic salt
1/4 teaspoon pepper
1/8 teaspoon ground nutmeg
Instructions
To a large skillet, heat the olive oil over medium-high heat. Season the chicken breasts with the garlic salt, pepper and Italian seasoning. Cook the chicken breasts over medium-high heat for 8-10 minutes per side, covering the skillet with the lid when cooking. Because chicken breast sizes vary greatly, test for doneness using an instant read digital thermometer. Internal temperature should read 165 degrees. Once done cooking, transfer chicken to a cutting board and cover with foil to keep warm.
While chicken is cooking, steam the broccoli in the microwave. Place broccoli florets in a microwave safe bowl. Add 1 cup of water and cook for approximately 4 minutes or until the broccoli is tender, but not mushy. When done, cover broccoli to keep warm
While chicken is cooking, cook the tortellini according to package directions. Depending on which tortellini you purchase (dry, refrigerated or frozen), will determine the cook time. I recommend cooking the tortellini only until al dente, or 1 minute less than package directions indicate. This will help the tortellini hold its shape when tossed together with the sauce, broccoli and chicken.
For the Alfredo Sauce: In a large non-stick skillet, melt the butter. Using a whisk, add the flour and cook for about 2 minutes whisking continually. The mixture will bubble and create a roux, which will help thicken the sauce. Pour in about 1 cup of the half and half, continually whisking until the sauce begins to thicken. (About 2 minutes.) Once the sauce thickens, add the shredded cheese, and continue to whisk until the cheese melts. Add the garlic salt, pepper, nutmeg and the remaining half and half. Once cheese has completely melted and smooth, the sauce is done.
Add the cooked pasta and steamed broccoli to the Alfredo sauce. Toss together to coat in the sauce. Slice the cooked chicken breasts and add to the top of the pasta or mix in to coat with the sauce. Serve right away.
Notes
Store any leftovers in an airtight container. Will keep for up to 5 days refrigerated.
Recommended Products
As an Amazon Associate and member of other affiliate programs, I earn from qualifying purchases.
Nutrition Information:
Yield:

6
Serving Size:

1
Amount Per Serving:
Calories:

567
Total Fat:

36g
Saturated Fat:

19g
Trans Fat:

1g
Unsaturated Fat:

15g
Cholesterol:

173mg
Sodium:

823mg
Carbohydrates:

13g
Fiber:

4g
Sugar:

4g
Protein:

48g