Brown Sugar Balsamic Grilled Chicken + an easy recipe for Balsamic Chicken Marinade
This super simple balsamic grilled chicken will be your new favorite dinner idea! Made with a 5-ingredient balsamic chicken marinade, this balsamic chicken recipe is done and on the table in under 20 minutes!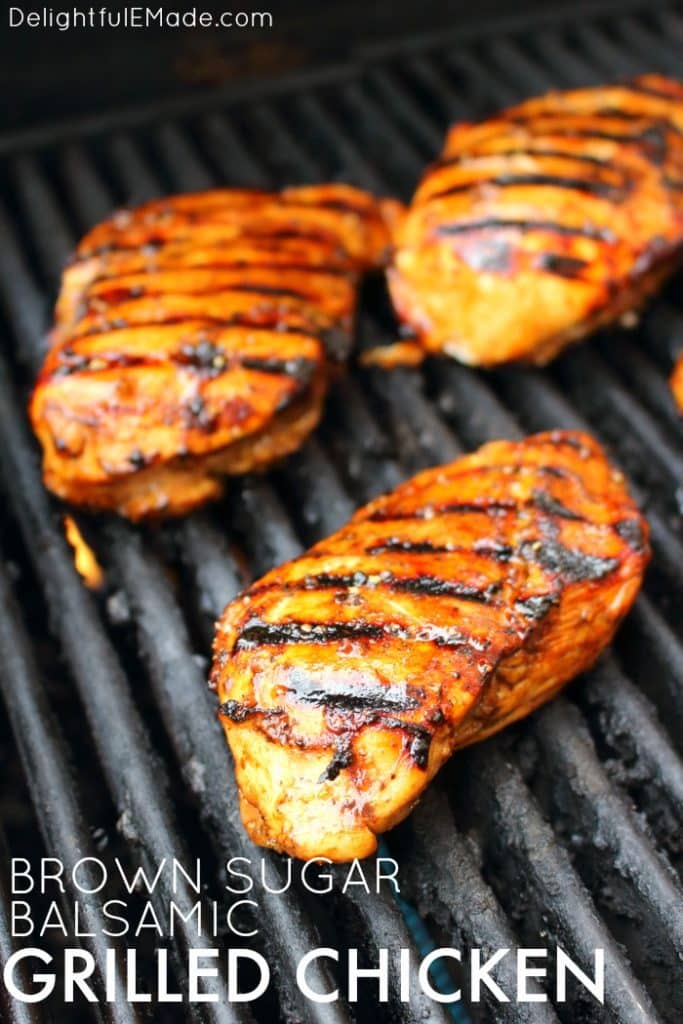 Do you and your family enjoy grilled chicken? If you're anything like our family, chicken is on the table at least once a week, because it's something everyone enjoys. Not only is it a great healthy option for lunch or dinner, but chicken can often be a blank canvas to be dresses up with just about any sauces, rubs and marinades. This fantastic Brown Sugar Balsamic Grilled Chicken is one of those amazing chicken recipes, perfect for throwing on the grill any night of the week! The flavors are fantastic, as the balsamic vinegar and brown sugar work together to make a sweet, and slightly tangy flavor to every bite of this juicy grilled chicken.
Not only is this amazing balsamic grilled chicken absolutely delicious, it's incredibly simple to make. It's done in a little less than 20 minutes, which means it's perfect for the busiest of nights. Here's the easy steps to making the marinade and grilling up a fantastic dinner!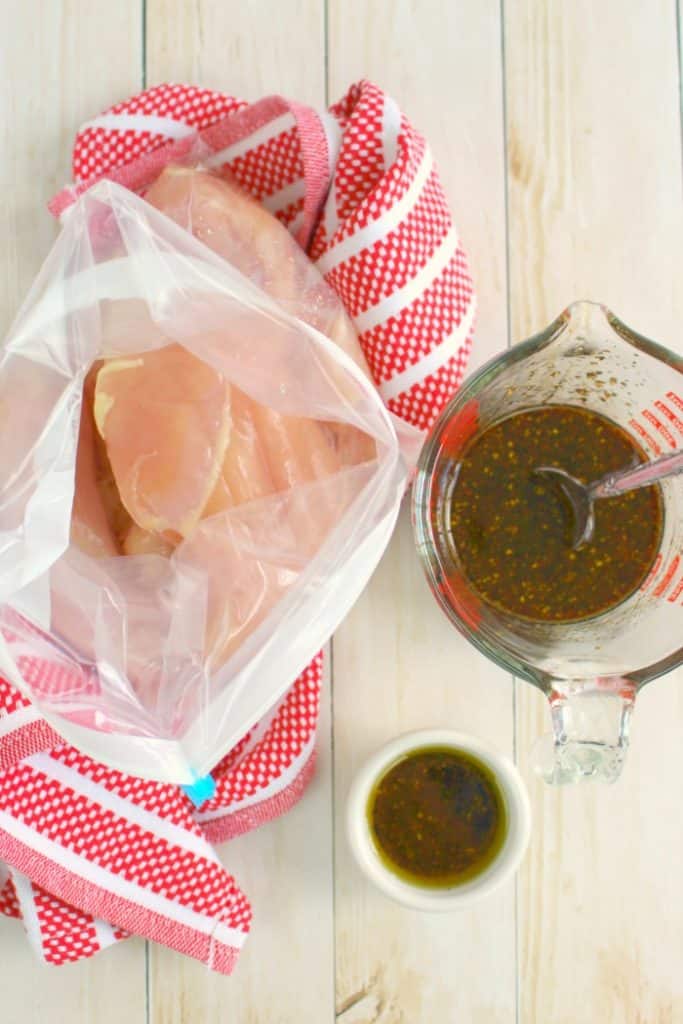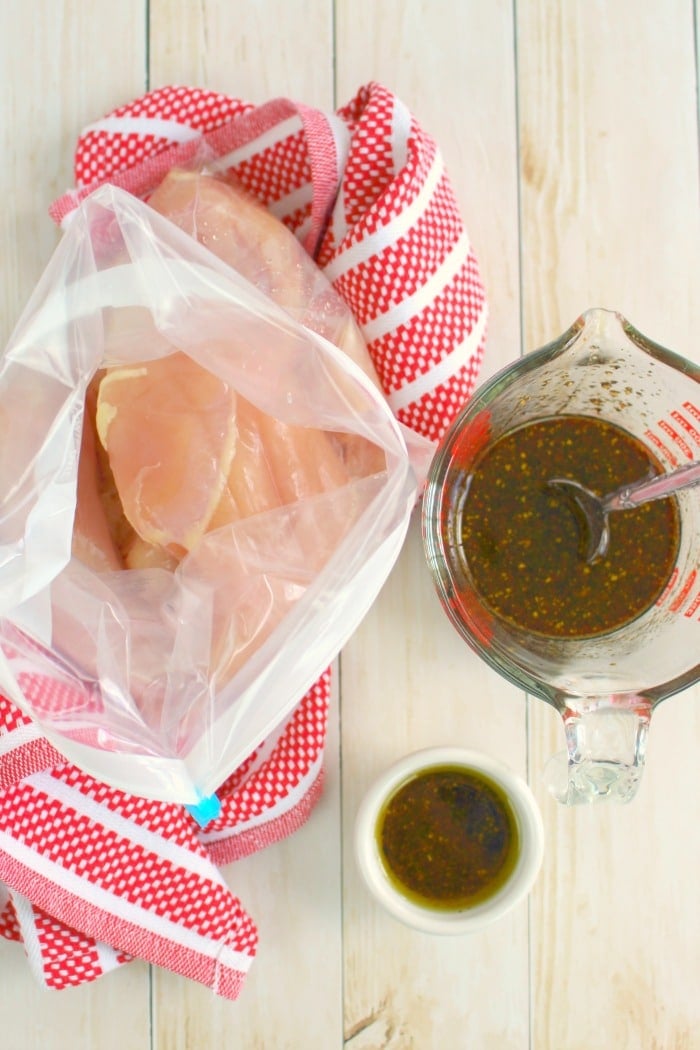 Step 1: Mix together the marinade
This balsamic chicken marinade recipe is not only delicious, it's made with just 5 ingredients (6 if you decide you want a little salt), and comes together in about 2 minutes. As you can see from the photo above, I literally just mix this marinade together in a glass measuring cup that I use to measure out the olive oil and vinegar. From there I add in the brown sugar, garlic and pepper. Whisk together to combine. Pour out and reserve a few tablespoons of the marinade to brush on the chicken as it grills, and then pour the rest over the chicken.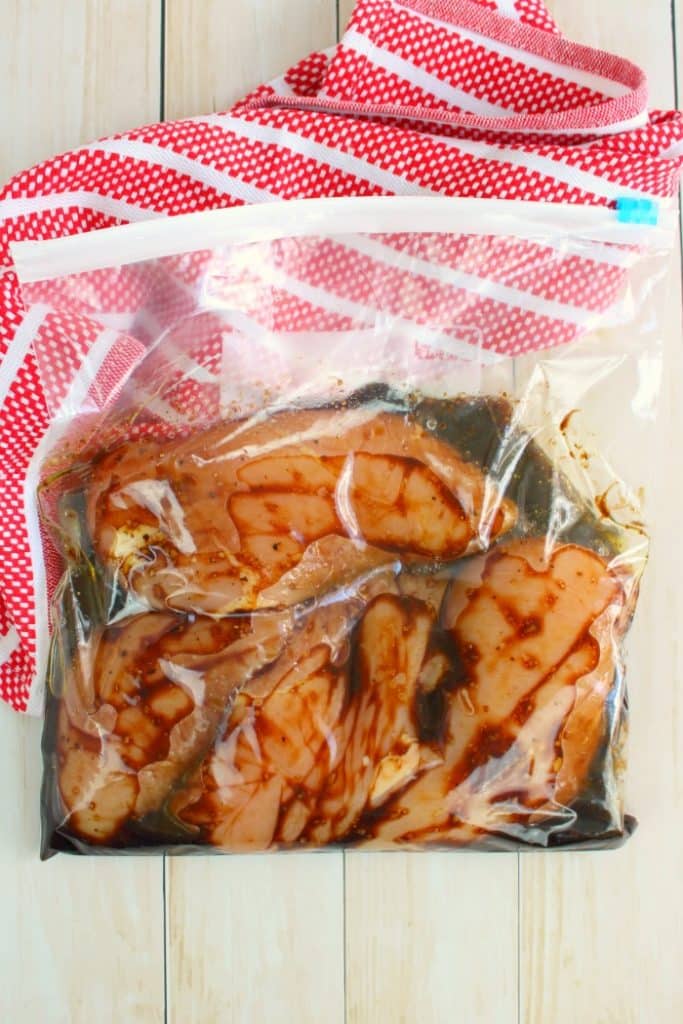 Step 2: Pour the Balsamic Chicken Marinade Over Chicken and Refrigerate
I like to marinate in a resealable zip bag, as it's really easy to coat the chicken, however a resealable container or deep dish covered with plastic wrap works well also. I then toss the marinated chicken in the fridge. You can marinate anywhere from 30 minutes to 24 hours. Many times I've marinated chicken in the late morning or early afternoon, for dinner that evening. The longer the chicken can marinate, the more flavors it will have once cooked. I wouldn't recommend marinating for more than 24 hours.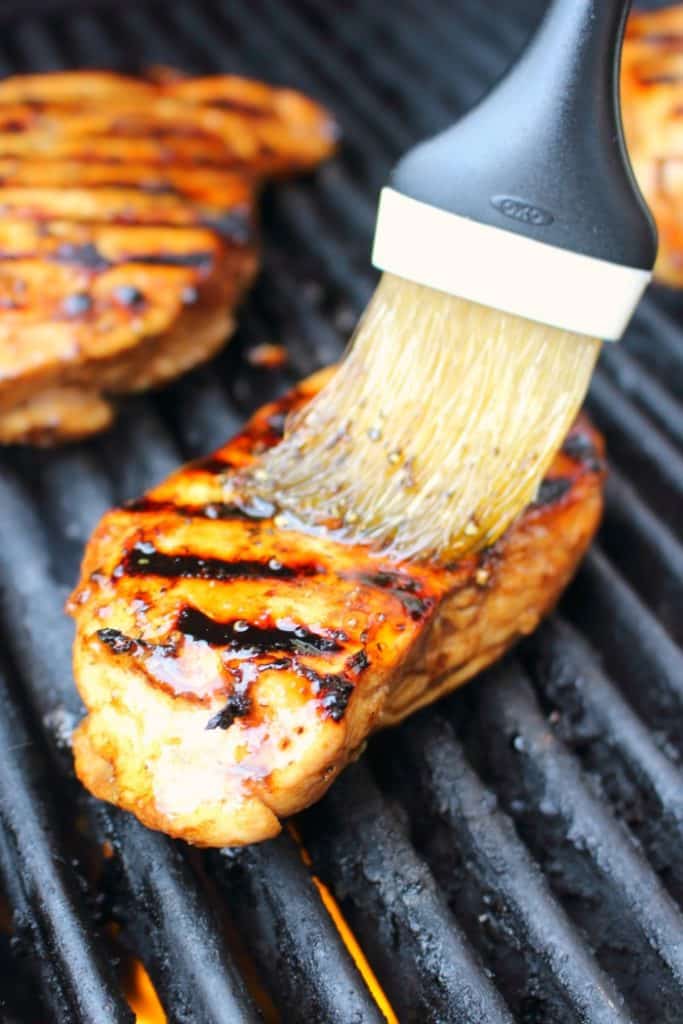 Step 3: Grill and Brush with Reserved Marinade
Once you're ready, heat your grill on medium high heat. Coat the grill grates with some olive oil, or a little non-stick grilling spray. (Take safety precautions when using the spray. Be sure to turn off the grill, spray, and then turn grill back on.) Remove the chicken from the bag or container, and discard the marinade. Place the marinated chicken over indirect heat, and let it cook for approximately 6 minutes. Turn the chicken breasts, and then generously brush the chicken with the reserved marinade. Adding additional brown sugar balsamic marinade is a really great way to add some additional flavor to the chicken as it cooks. Cook another 6 minutes on the second side.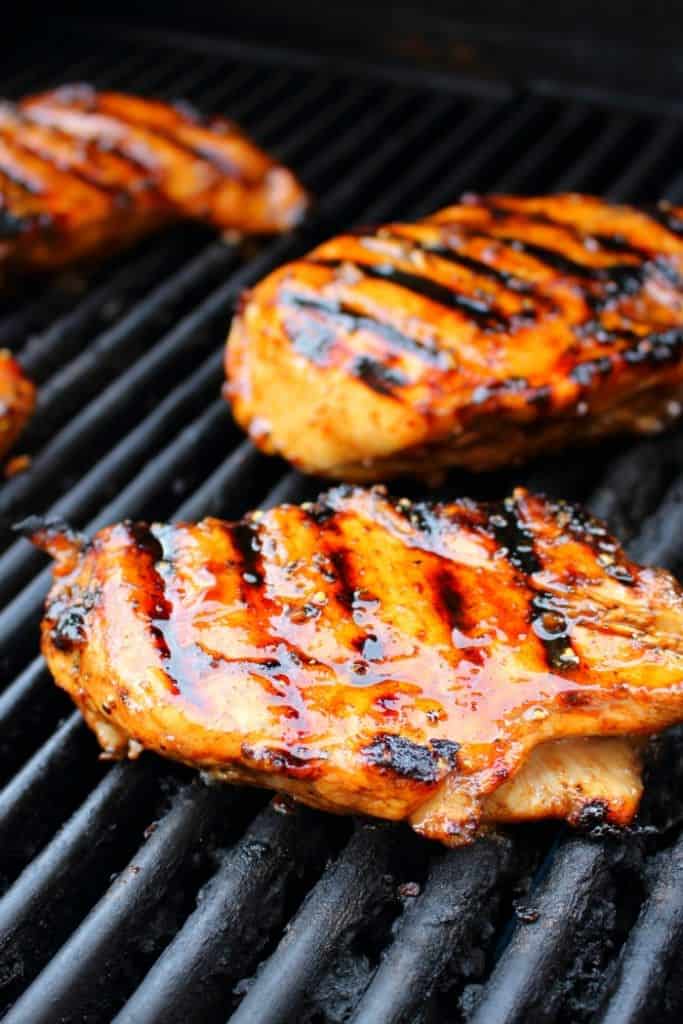 Step 4: Test for Doneness
All grill temperatures vary, and depending on the thickness of the chicken breasts, your cook times may vary. These chicken breasts were on the thicker side, and cooking them over medium-high heat for 6 minutes per side seems to be the sweet spot for my grill. To test the doneness of chicken you can do a couple things; 1)use a meat thermometer to check internal temperature. Recommended temperature for chicken needs to be near 165 degrees. 2)You can also determine doneness by cutting through the thickest part of the chicken. If the meat is completely white, no pink remains, and the juices run clear, the chicken will be done.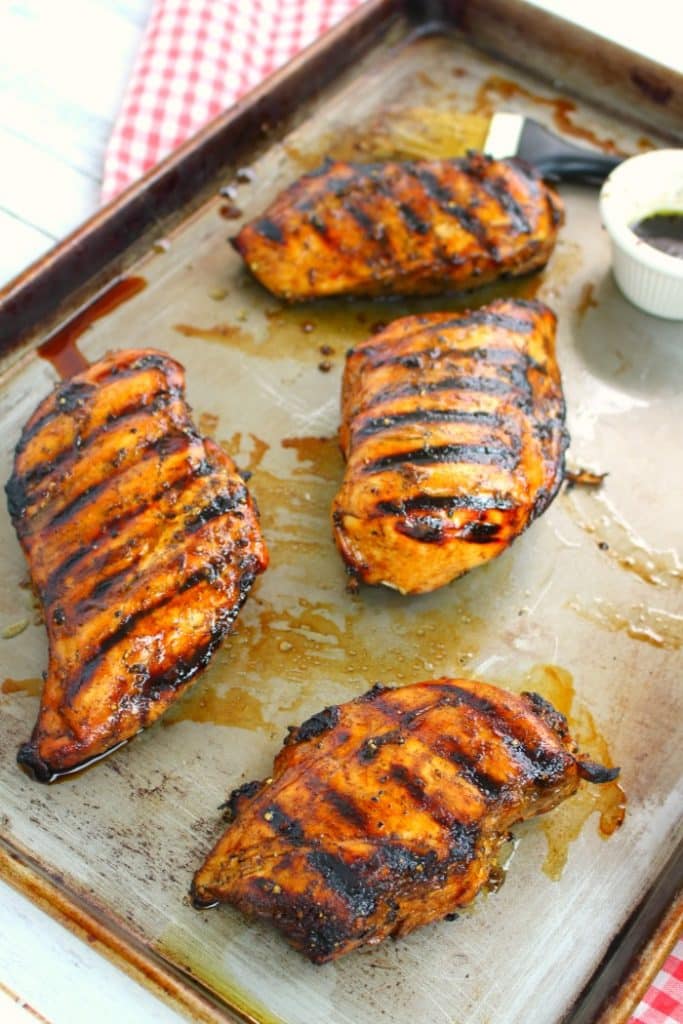 Step 5: Serve and Enjoy!
In a little less than 20 minutes, you can have an amazingly simple and delicious meal on the table. I also love this chicken on top of a spinach salad – check out my post for Balsamic Grilled Chicken Salad below.
Here's your shopping list of all the ingredients you'll need to make this fantastic balsamic grilled chicken recipe:
Chicken Breasts, 3-4 breasts or 1 lb.
Balsamic vinegar
Good quality olive oil
Garlic – you'll need about 2-3 cloves, or you can purchase a jar of pre-minced garlic
Brown sugar
Salt and pepper
Looking for a delicious salad to go with your Balsamic Grilled Chicken recipe? These are all fantastic:
Want an awesome way to enjoy this delicious grilled chicken in a salad? Check out my Balsamic Grilled Chicken Salad!
Balsamic Grilled Chicken Salad
If you loved this fantastic Balsamic Grilled Chicken, be sure to check out some of my other grilled chicken recipes: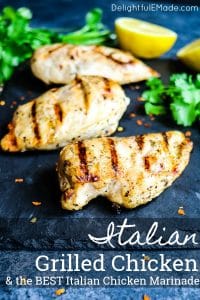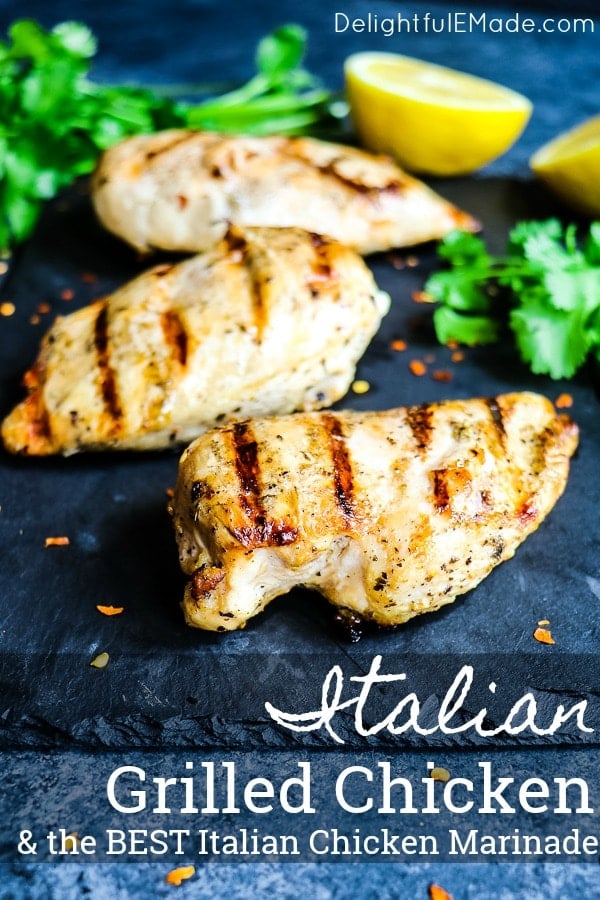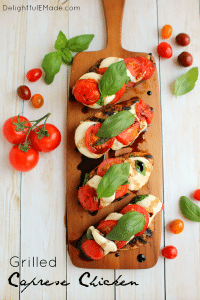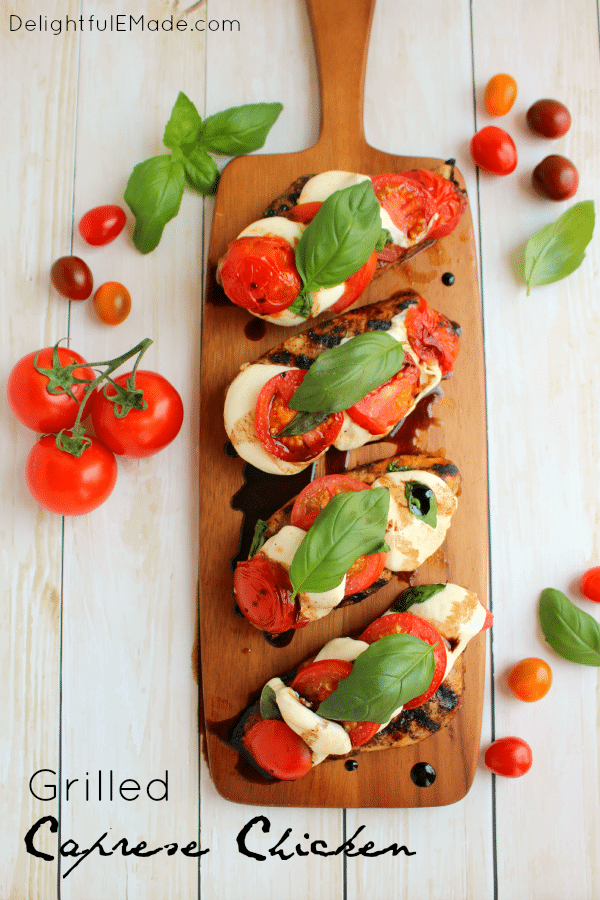 Barbecue Chicken and Red Grape Skewers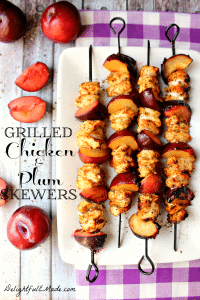 Grilled Chicken and Plum Skewers
Grilled BBQ Chicken Legs at Real Housemoms
Here's the recipe for this fantastic Balsamic Grilled Chicken recipe:
Erin @ Delightful E Made
Yields 4 servings
Brown Sugar Balsamic Grilled Chicken
5 minPrep Time
12 minCook Time
17 minTotal Time
Ingredients
1 lb. chicken breasts (about 3-4 medium breasts)

For marinade:

1/2 c. balsamic vinegar
1/3 c. olive oil
3 Tbsp. brown sugar
2 tsp. minced garlic (about 2-3 cloves)
1 tsp. ground pepper (several turns of the pepper grinder)
salt, optional (about 1/2 tsp.)
Instructions
In a medium bowl, whisk together the vinegar, olive oil, brown sugar, minced garlic and pepper. Reserve about 3 Tbsp. of the marinade and set aside.
Place the chicken breasts into a resealable bag (or resealable container with lid), and pour the remainder of the marinade over the chicken. Coat chicken well and refrigerate for 30 minutes to 24 hours.
Heat grill to medium-high. Treat grill grates with olive oil, or non-stick grilling spray. (If using spray, be sure to turn OFF the grill, spray, and then turn back on.) Place chicken over indirect heat, and grill approximately 6 minutes (per side.) Once you turn the chicken, brush with the reserved balsamic marinade, and let it cook for its final 6 minutes.
Remove chicken from grill, transfer to serving plate, and enjoy right away.
Notes
Be sure to check the chicken for doneness by either testing with a meat thermometer, insuring it has reached an internal temperature of 160 degrees. You can also cut into the chicken - the meat is done when it is all white (no pink) and the juices run clear. You can also use other types of chicken pieces besides breasts - legs, thighs, and even wings are great with this marinade.
7.8.1.2
310
https://delightfulemade.com/2017/05/16/brown-sugar-balsamic-grilled-chicken/
Copyright by DelightfulEMade.com