Looking for a simple sheet pan shrimp recipe that's also healthy and low carb? Look no further – this super easy Lemon Pepper Shrimp with Vegetables is the perfect healthy dinner or easy meal prep recipe!
This post may contain affiliate links. Delightful E Made is a participant in the Amazon Services LLC Associates Program, an affiliate advertising program designed to provide a means for us to earn fees by linking to Amazon.com and affiliated sites.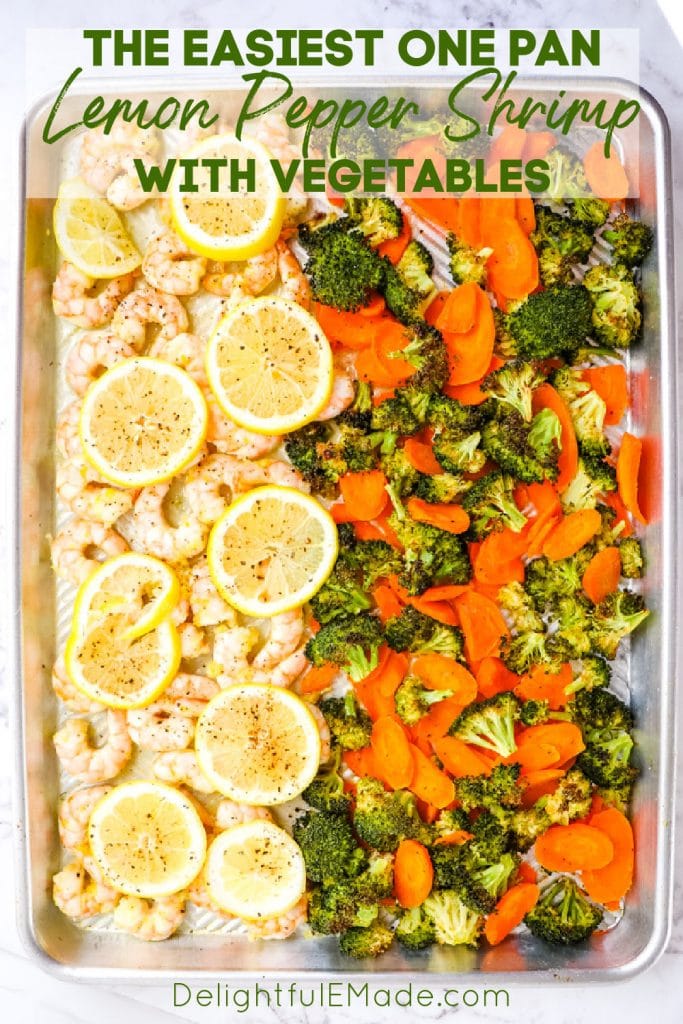 Healthy & Low Carb Sheet Pan Shrimp Recipe
If you love my Lemon Pepper Grilled Chicken, then this Lemon Pepper Shrimp is definitely for you! Made with the same delicious lemon marinade, this shrimp with vegetables recipe is baked instead of grilled making it a super simple weeknight dinner option.
Just like my grilled lemon pepper chicken, this sheet pan shrimp recipe is made with a simple lemony marinade that includes lemon zest, lemon juice, lemon pepper seasoning and olive oil.
Here's how to make Lemon Pepper Shrimp
Like this recipe? Be sure to pin it to your HEALTHY DINNER board!
Follow DelightfulEMade on Pinterest!
What do I need to make lemon pepper shrimp?
You'll make this simple lemon pepper shrimp recipe is two parts; the roasted vegetables and the marinated shrimp:
For the marinated shrimp, you'll need:
Olive oil
Zest of one lemon
Juice of two lemons
Minced garlic
1 lb. Raw (uncooked) Shrimp, peeled and deveined
Pro Tip: I've found the best place, and the best price for raw, frozen shrimp is Costco. Check out all of my favorite foods I get for Costco Meals
How long do I marinate shrimp?
Marinating shrimp doesn't take much time at all. In fact, you can do this while you prepare and bake your vegetables. In about 20 minutes the shrimp will take on the wonderful lemon flavors of the marinade.
How do I make a lemon pepper marinade?
Start by whisking together the olive oil, lemon zest, lemon juice, garlic and the lemon pepper seasoning. In the same bowl, add the raw shrimp and refrigerate.
What can you season shrimp with?
Lemon pepper seasoning is a great option to season shrimp. I also like my homemade taco seasoning as a seasoning for my Sheet Pan Shrimp Fajitas.
Bake the Vegetables First – they will need more time to cook.
Once you have your shrimp in the marinade, you can then cut and prepare your vegetables to roast.
To a sheet pan you'll add the carrots and broccoli. Drizzle with olive oil and sprinkle with the lemon pepper seasoning. Toss together to coat. Then bake at 425 for 20 minutes WITHOUT the shrimp.
What veggies go well with seafood?
Hearty vegetables like broccoli, carrots and cauliflower go well with shrimp. Asparagus is also another great vegetable that goes with seafood.
Try my Quinoa Chickpea Salad, which shares similar flavors to this sheet pan dinner.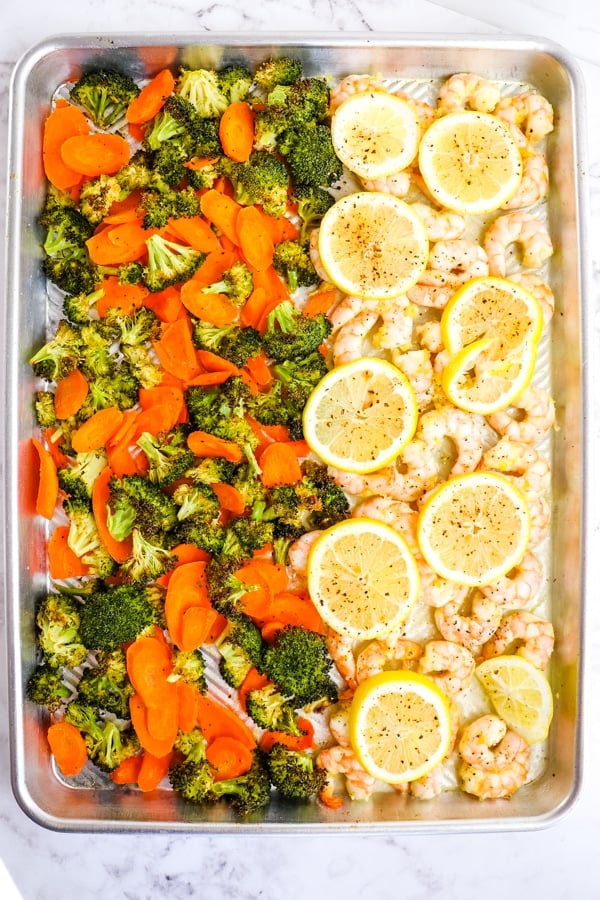 Add the Shrimp then bake for a little longer
Once the vegetables have baked for 20 minutes, take out of the oven, and then add your marinated shrimp. Don't pour all of the marinade onto the pan, just spoon on the shrimp. (You'll want to discard the marinade after you take the shrimp out.)
Top with sliced lemons and a few extra grinds of pepper if you like, then bake for another 8 minutes.
How do I know when shrimp is done cooking?
You'll know shrimp is done cooking when it takes on a whiteish-pink color and is no longer gray or translucent.
Do you love shrimp? Be sure to check out some of our other popular shrimp recipes: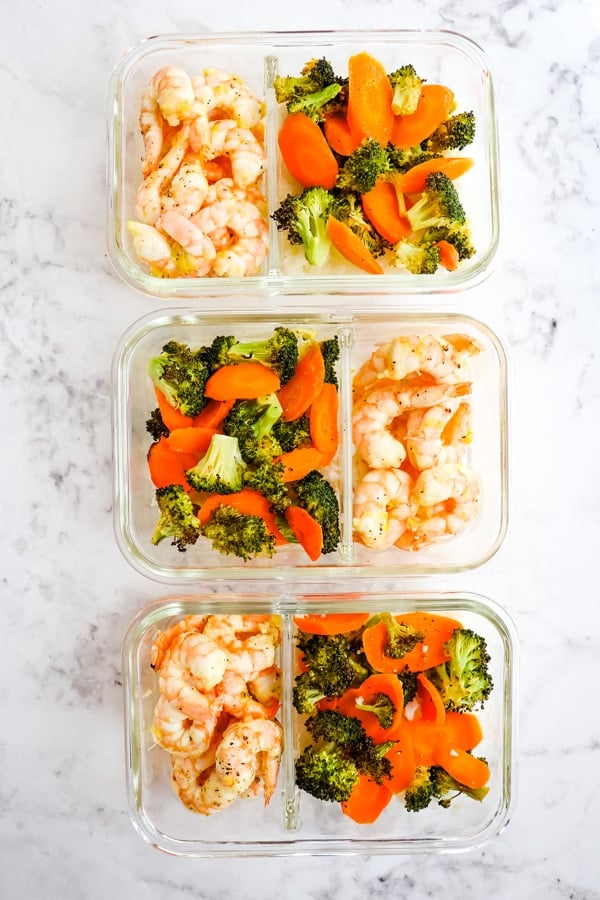 How to Meal Prep this Lemon Pepper Shrimp Recipe:
I like to pair this shrimp and vegetables with cauliflower rice. It's a great low carb side keeping this recipe very healthy.
In addition to the shrimp I get my frozen cauliflower rice at Costco as well. This is a great Costco Meal Prep recipe!
If you loved this delicious Sheet Pan Shrimp, check out some of my other similar recipes:
Here's the recipe for the Lemon Pepper Shrimp with Vegetables
Lemon Pepper Shrimp with Vegetables
Ingredients
Lemon Pepper Marinade:
1/4 c. olive oil
2 Tbsp. lemon zest (zest of 1 lemon)
1/2 c. fresh lemon juice (juice of 2 lemons)
3 cloves garlic, minced
1 tsp. lemon pepper seasoning
1 lb. raw shrimp, peeled and deveined
Optional: 1 lemon, sliced
Roasted Vegetables:
3 c. broccoli florets, rinsed and trimmed
3 c. carrots, peeled and sliced
2 Tbsp. olive oil
2 tsp. lemon pepper seasoning
Instructions
Begin by marinating the shrimp. To prepare the marinade, in a medium bowl, whisk together the olive oil, lemon juice, lemon zest, garlic and lemon pepper seasoning. Place the shrimp into the marinade and refrigerate while you prepare, shop and roast your vegetables.
Preheat oven to 425 degrees.
Directly on a 18x13" shallow sheet pan, toss the carrots and broccoli with the olive oil and lemon pepper seasoning. Bake the vegetables for 20 minutes BEFORE adding the shrimp to the pan.
Once the vegetables have baked for 20 minutes, remove the sheet pan from the oven and add the marinated shrimp to the pan. (Discard remaining marinade.) Optional: top with lemon slices and a few additional grinds of pepper, if desired. Continue baking for 8 minutes. Once shrimp is pink and no longer translucent, it's done.
Remove the shrimp and vegetables from the oven and let cool about 5 minutes before serving.
Refrigerate any leftovers in airtight containers for up to 5 days.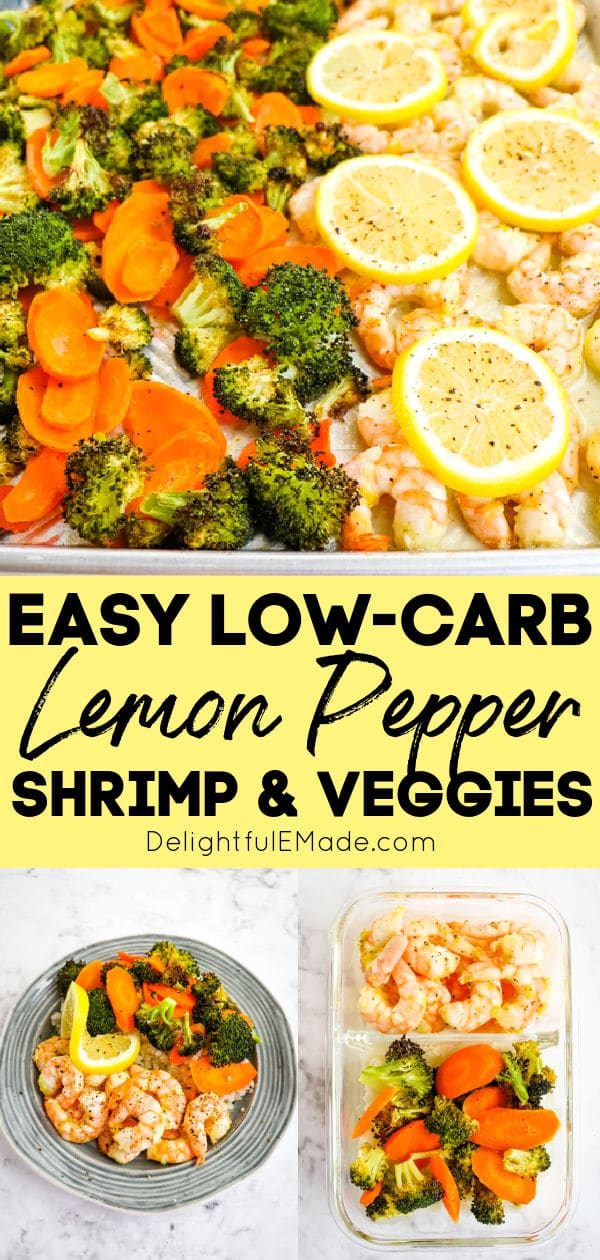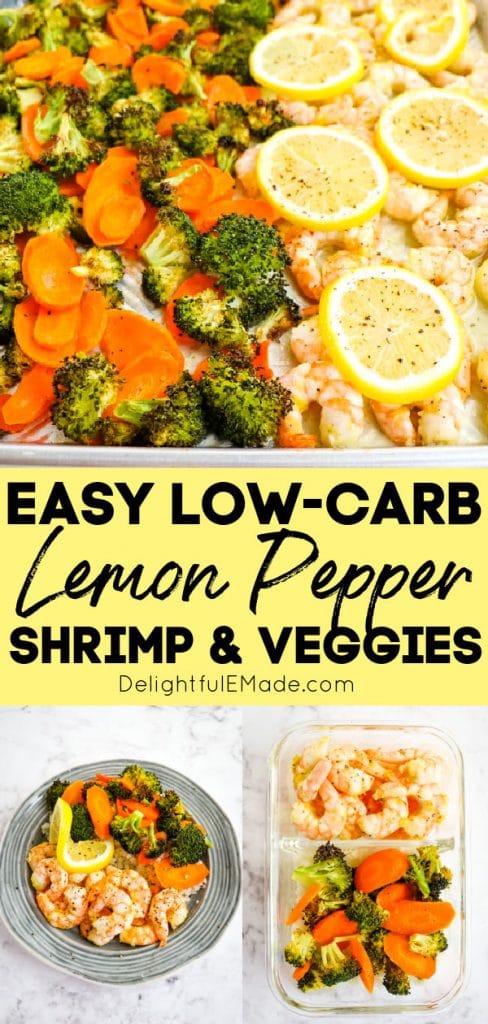 You Might Also Like These Recipes